Bolt, Nails & Screws

The real epitome of fasteners! Inevitably, they have become a necessity in our daily life, amply and aptly to narrate, for binding structures, components or various other merchandises, to keep things intact and strong. As exceptionally useful and practical products, they've have left indelible footprints of evidences through astonishing relics or vestiges, monuments, heritage buildings or conventional apartments, making new traces for the ages to come, by living up to man's expectations, and serving various fastening needs of his. May it be furniture, large constructions, or household fittings, building elements or decorative pieces to ornate our decor with aesthetics, they have proved indispensably handy.
They erased off all the stories of inconveniences, and belied the parables of discomforts of joining things with the most primitive objects, since the time they were identified or discovered.
It is supposed that the invention of corkscrew took place some 2000 years ago. The trivia emanates from multiple quarters in different forms regarding the origin or discovery of nails and screws. The production of spiral nails began in 16th century, from which originated screws, that became an inexpensive alternative, also proving to be a stronger fastener, saving the percussions of hammers on nails. The first screwdriver was seen in London, in 1780.
A perfect accompaniment to drive down screws deep in to a metal or wooden furniture or dowels. It is also said that Saxon house builders resorted to carpentry and joinery, substituting them with the ironwork that used to be available freely to them formerly. The usage of nails made of iron and bronze was in bounty, mostly by the Romans, for various purposes viz. decorative pieces, mechanical merchandises or building structures.
Weapons, wagons, ships, packaging or harnesses, or hob-nails or boundless assortment of domestic products were made, using nails. It is assumed, in Neolithic age, people always wandered to find different ways to fix a wooden piece to another with the help of pinned fixings.
More often than not, they were pegs made to fit into an auger hole. The green wood used to be distorted, later its very fibrous, cellular nature enlarged, to wholly fill the void and create an effective friction fitting, when it was pushed. Medieval carpentry and Saxons were entirely dependent on this principle and so did the great timber-framed buildings.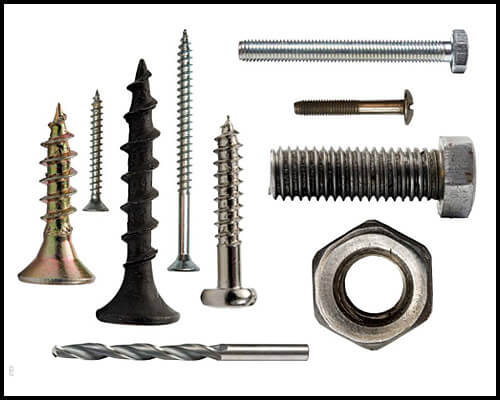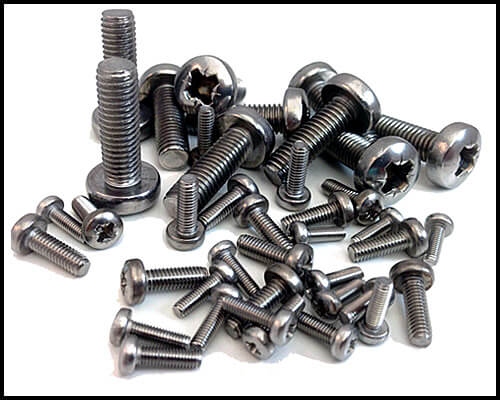 The very word 'Nail' originated from Saxon. It is said that over a million hand-made nails were found buried, secretly hidden from the enemy pressing forward, at the Scottish fort of Inchtuthill. It is also inferred that, in 3400 BC, bronze nails were found in Egypt. Indescribably, overwhelming is its range and varieties that can be over 2000 in number.
Its sizes are determined by its length; a 2d nail is 1 inch in length. It can range up to 60d, which is 6". The 'penny' length increases by quarter inches. England was the largest manufacturer of nails, until the American Revolution took place. Many established manufacturers made wire nails, in the 1850s. For specific functions such as boat nails, masonry or flooring nails, cut nails are still being used, mainly, for its marvellous property of hardness and holding power.
Established in 1819, The Tremont Nail Company of Wareham, Massachusetts, manufactured cut nails. Such has been the history of Nails & Screws. Citing a reality more pragmatically, they are the dependable binders when it is about multiple elements clasped together to make a whole. Invariably, Bolts, Nails & Screws used universally for various things to get structured, to look wholesome.