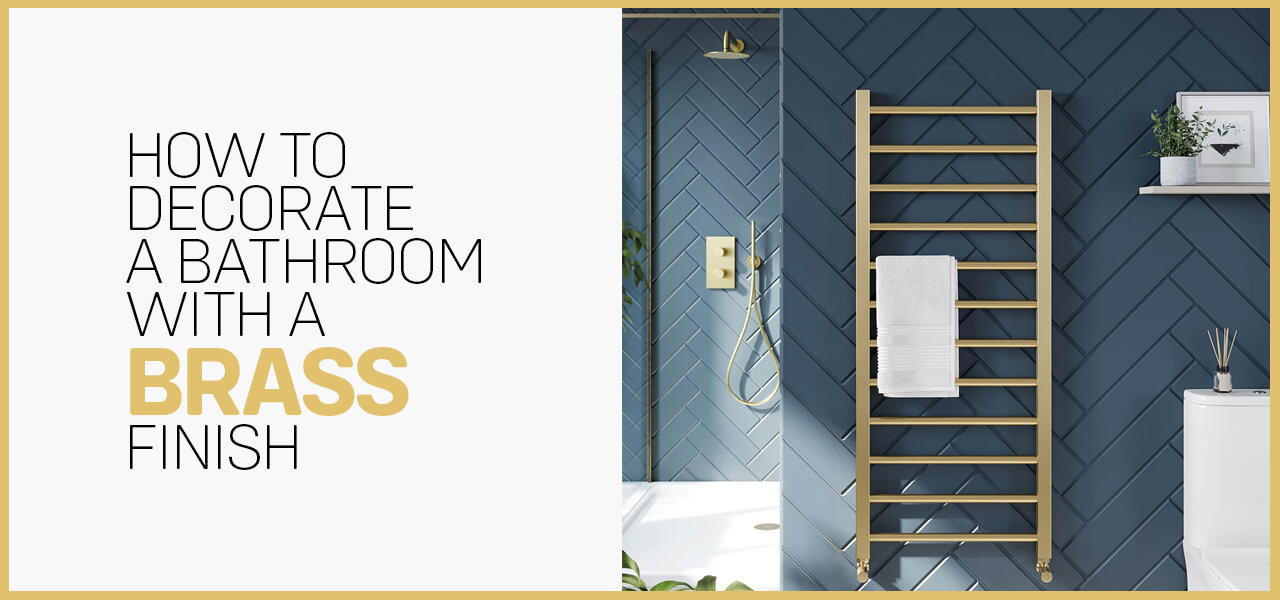 Brass is one of the biggest home design materials to make a comeback in recent years. Steadily popping up in homes all over the UK and beyond, this timelessly alluring metal can transform ordinary interiors into something truly spectacular. But when it comes to home interiors, few spaces can benefit more from the warmth and elegance of brass than a bathroom.
While chrome, silver, and other cool-toned metals ruled the bathroom decor scene in the 2000s and early 2010s, people are now returning their attention to brass for its warming accents and ability to complement a wider variety of trending colours. Richly textured, classy, and incredibly versatile, there are so many different types of brass finishes worth exploring when redesigning your bathroom, or even simply elevating its style.
However, as is the case with all materials and finishes, knowing how to use brass in the right way is key to making it shine. Not only is there a range of different brass varieties to consider, but the methods for maintaining them can change depending on how and where you use them.
Give our brass guide a read if you need guidance on how to decorate your bathroom, which colours complement it best, and the top techniques for retaining its uniquely lustrous gleam.
---
The Appeal of Brass in Bathroom Design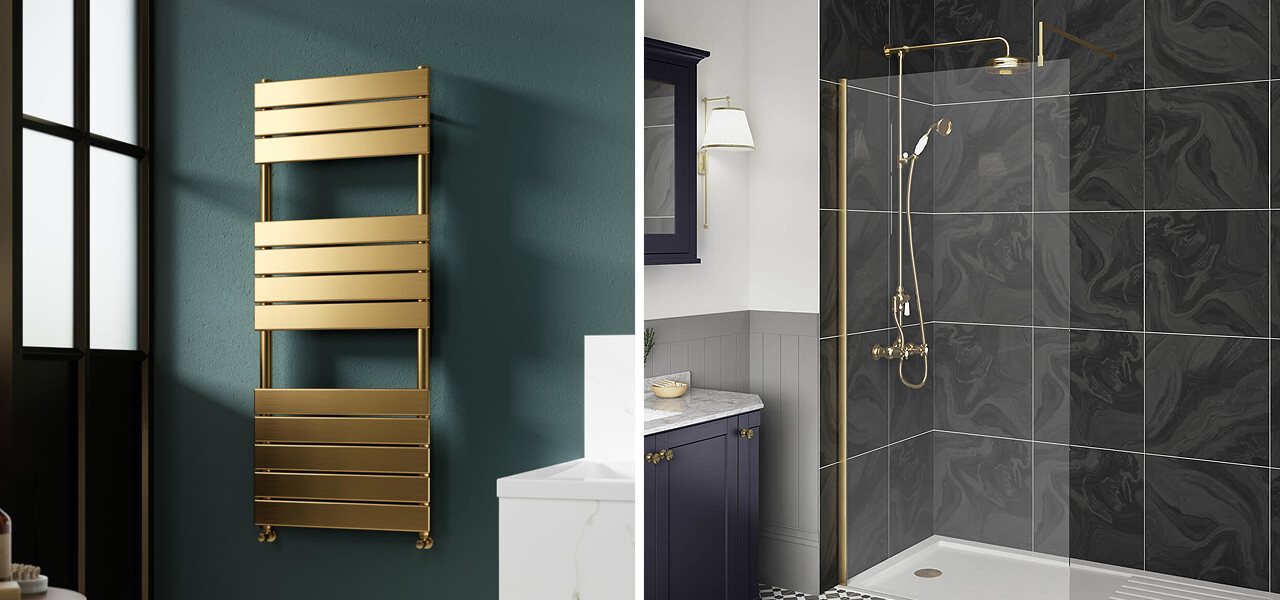 Brass has played a major role in the cultural evolution of home hardware, architecture, and decor. First discovered around 500 BC, the golden metal is an alloy mainly comprised of copper and zinc.
The ancient Romans were among the first to recognise its beauty and value, using it to intensify pipelines, warlike instruments, statues, and more. But it wasn't until Victorian times that brass rose to prominence for its uniquely gold-toned sheen in the home, as well as being a symbol of wealth. But in addition to its visual appeal of warmth and richness, brass is also anti-microbial, which makes it an excellent choice for bathroom fittings. It's also one of the softer metals, allowing more intricate designs to be engraved.
Brass has had a transformative effect on bathroom aesthetics. Cool-toned metals like steel and silver may blend into the background, but that isn't always what we want. Brass subtly yet irresistibly adds elegance and life to bathroom interiors, elevating the atmosphere of any room it graces.
---
Overview Of Different Brass Finishes

Brass is a deeply versatile and varied metal that can be found in a variety of different textures and finishes. Some of the most popular ones include:
Polished brass: This is the most commonly found type of brass finish. It has a bright golden-yellow hue and is very smooth, contributing to its reflective brilliance.
Satin brass - With a slightly textured surface, satin brass is muted in its reflection and takes on a silky, soft sheen that can be found in a variety of brass tones.
Brushed brass - Brushed brass has been scrubbed down with abrasions and is, therefore, more textured than satin brass, giving it a matte, gently rustic look.
Antique/aged brass - This type of brass undergoes a treatment that gives it a deeper surface tone of golden brown and beige. This makes it appear more antique and vintage style.
Unlacquered brass - Unlike the other types of brass, unlacquered brass has no protective coating, giving it a dark patina and complex, mottled texture.
---
Choosing the Right Brass Fixtures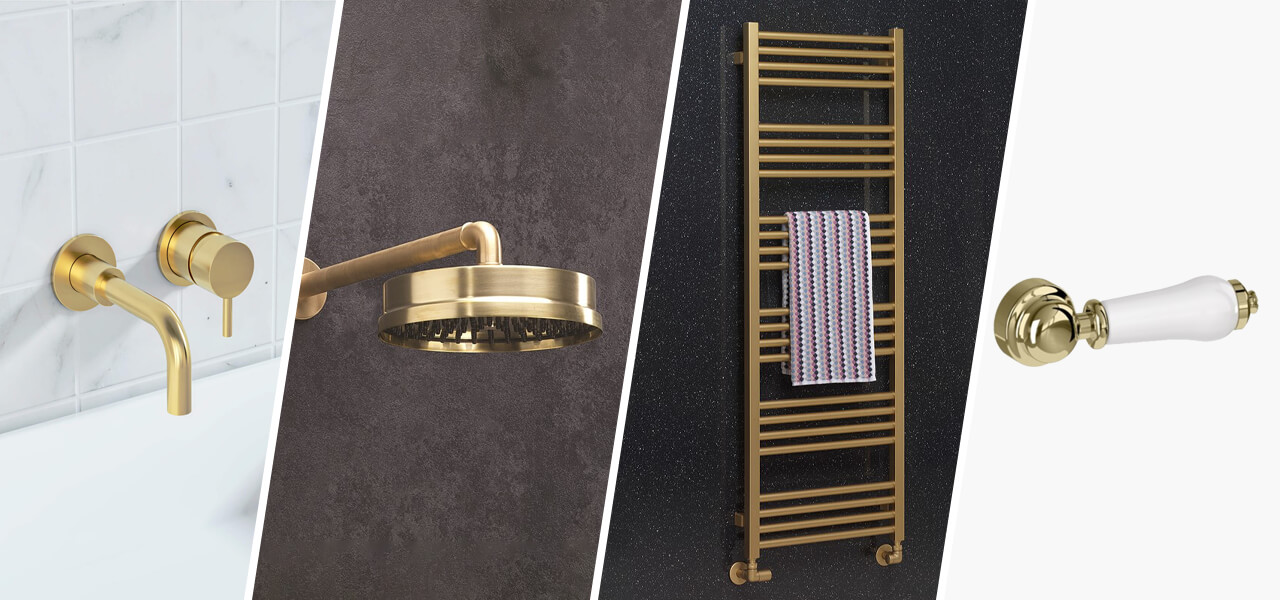 When it comes to bathroom decor, there are seemingly endless ways to invite brass to the party. Fixtures such as brass taps, shower heads, brass towel rails, and cistern flushers all look wonderful in brassware, giving your bathroom a sense of balanced quality and luxury.
---
Accenting with Brass Accessories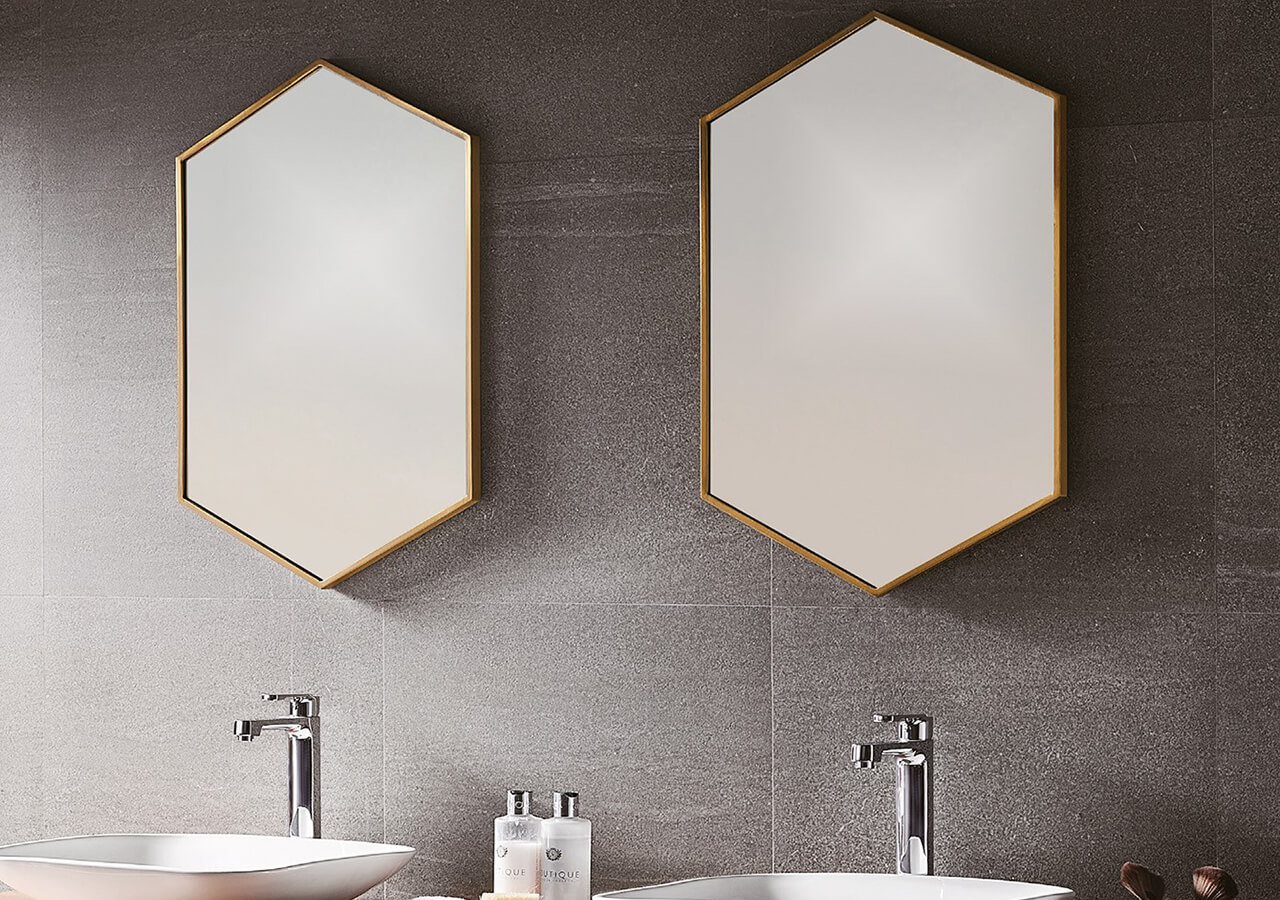 Brass bathroom accessories are one of the best ways to incorporate this warm metal into your bathroom without overwhelming it with a single material. Brass mirror frames have a particular vintage charm, while storage solutions and smaller accessories both create warm brass accents that leave your bathroom feeling classy and full of life.
---
Brass storage solutions
One of the many ways to incorporate brass into your bathroom is to use it to enhance your storage.
Towel racks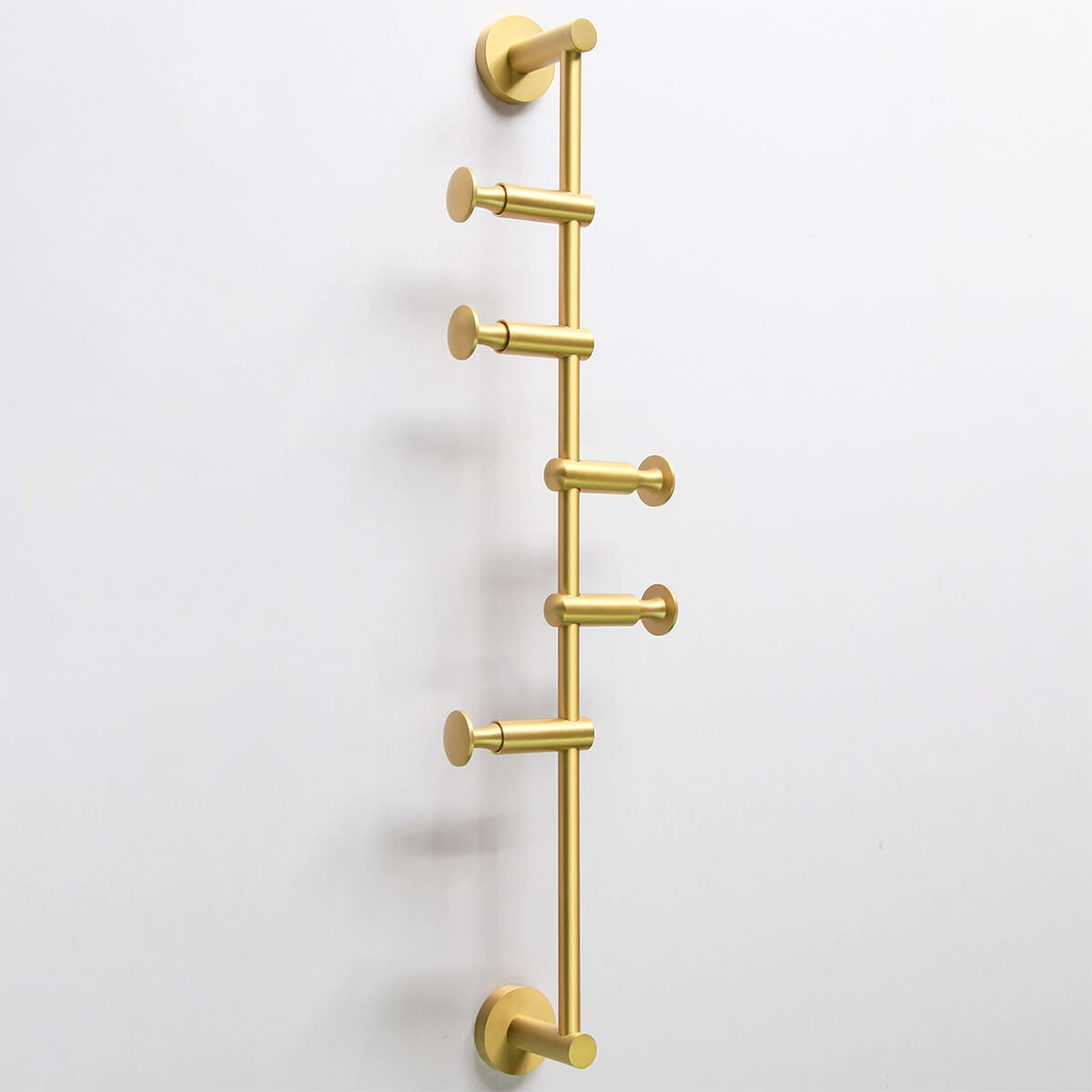 Towel racks add a sense of organisation to any bathroom by providing a designated place to store towels both before and after using them. You can get brass towel racks in a variety of styles and sizes, some of which even come with built-in heating for deliciously warm, crisp towels every day.
Shelves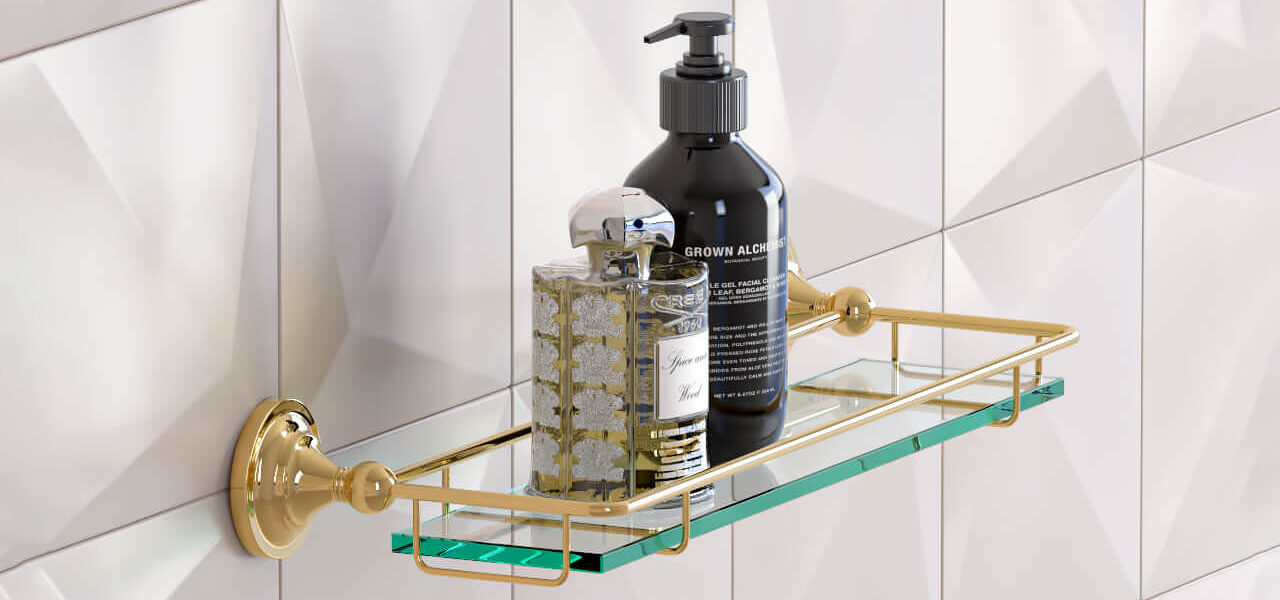 Brass shelving is an effective way to create space in your bathroom. Instead of traditional wooden planks, you can use lined brass piping to make small shelving nooks on your bathroom walls.
Wall-mounted units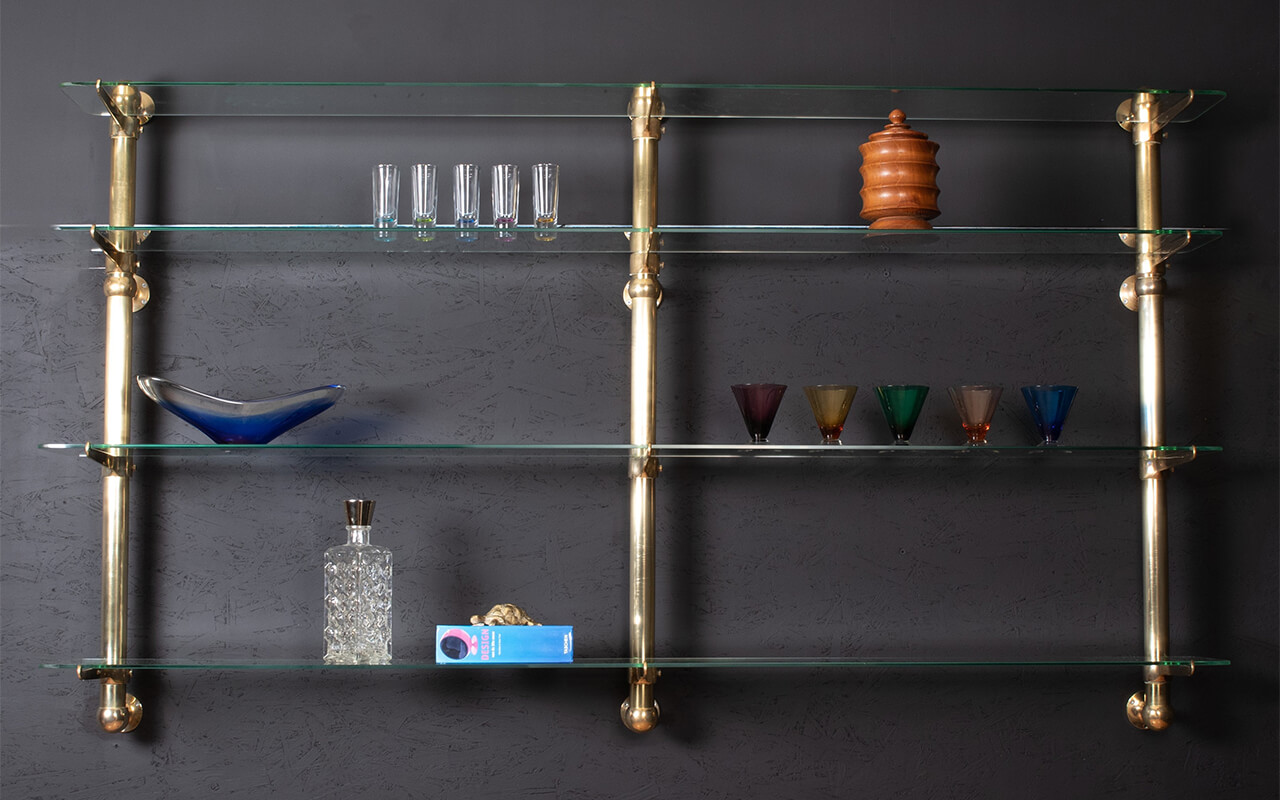 With a little bit of glass or refined wood, you can add brass wall-mounted units to utilise dead areas of your bathroom and make the most of your space. These units can be used to store rolled fresh towels, cosmetic products, or anything else you like to keep in your bathroom.
---
Smaller accessories:
If you want to decorate with just a touch of brass, there are plenty of ways to incorporate it. Brass accents with smaller accessories such as soap dishes, toothbrush holders, and other decorative items are all good options.
Soap dishes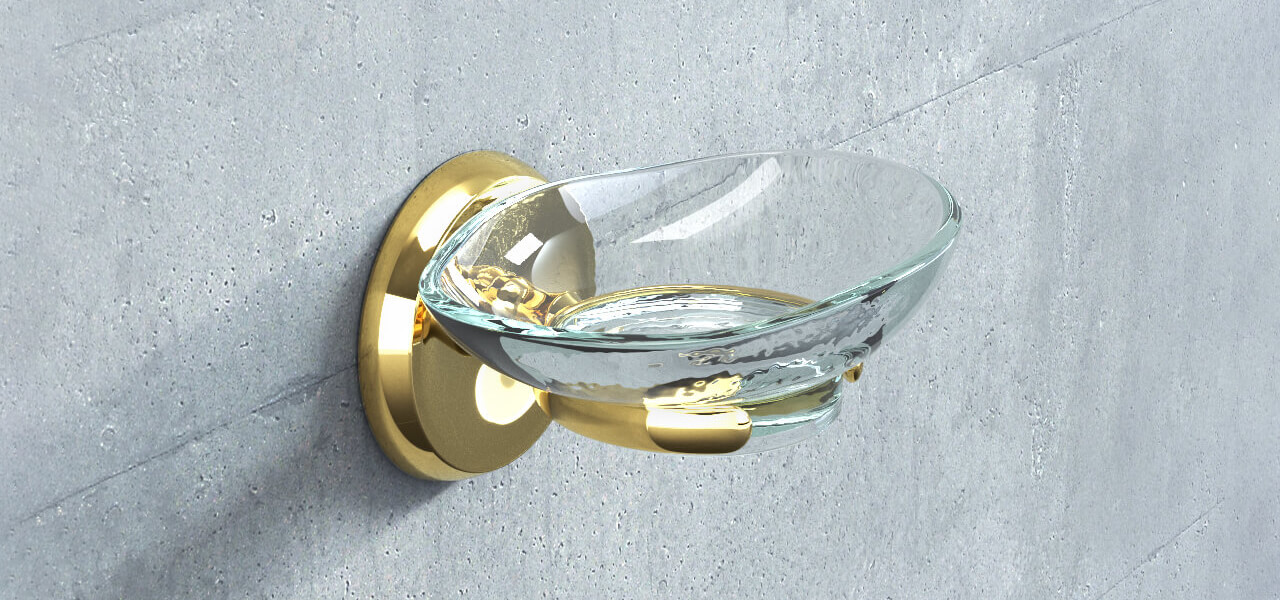 There are many elegantly designed brass soap dishes that add a subtle but impactful hint of brass to any bathroom environment. The fact that brass is anti-microbial makes it even better!
Toothbrush holders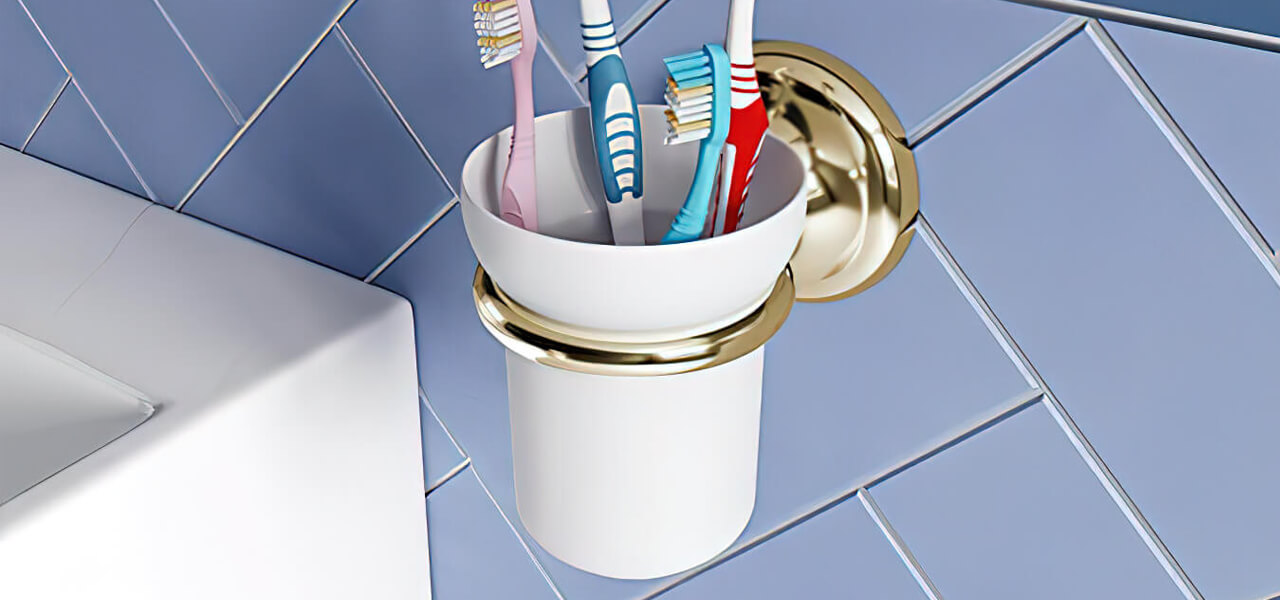 Brass toothbrush holders and cups make excellent additions to a bathroom space. Durable, beautiful, and highly practical, brass toothbrush holders can be found in a wide variety of shades - and once again, the anti-microbial aspect of this metal makes it perfect for keeping your toothbrushes hygienic.
Decorative items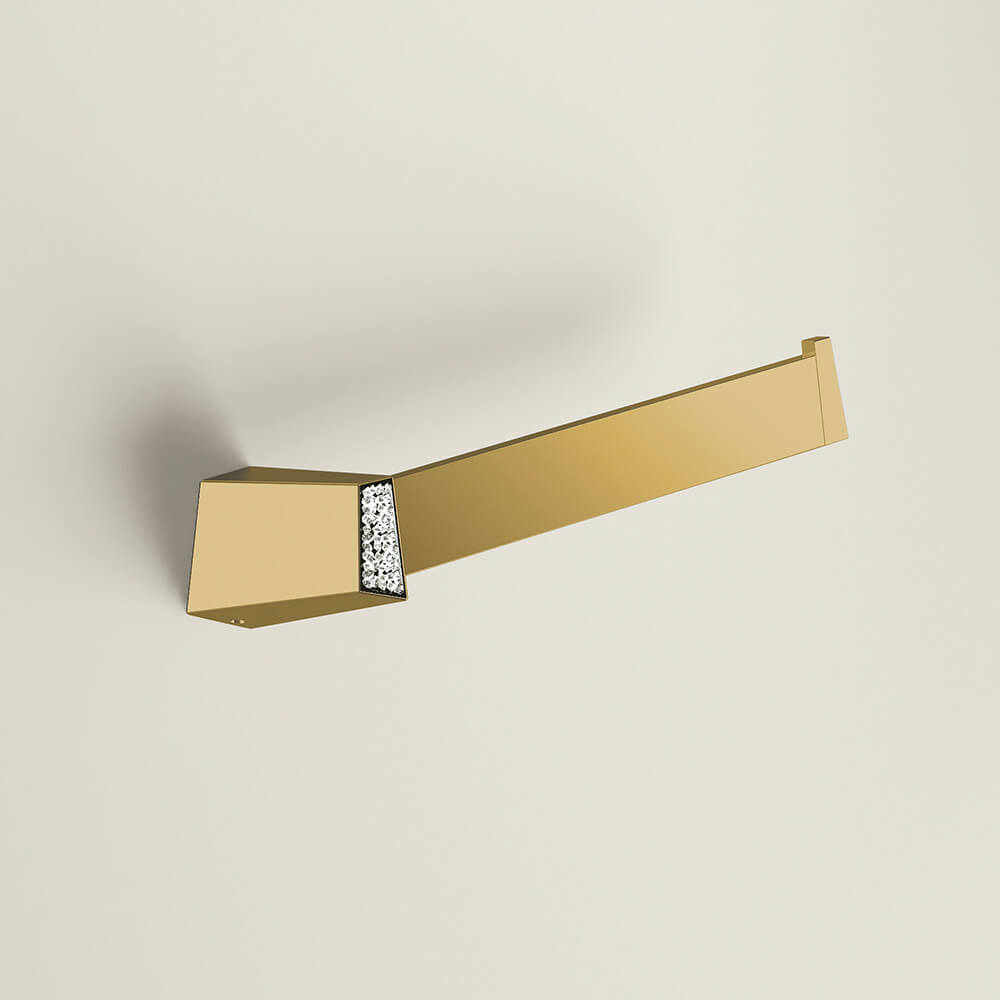 Brass doesn't need to be used exclusively for practical bathroom fixtures. It's such a unique and beautiful metal, you can appreciate it in the form of robe hooks, furniture handles, design finishes, mirror frames, and artworks, too.
---
Care And Maintenance Tips For Retaining Brass Lustre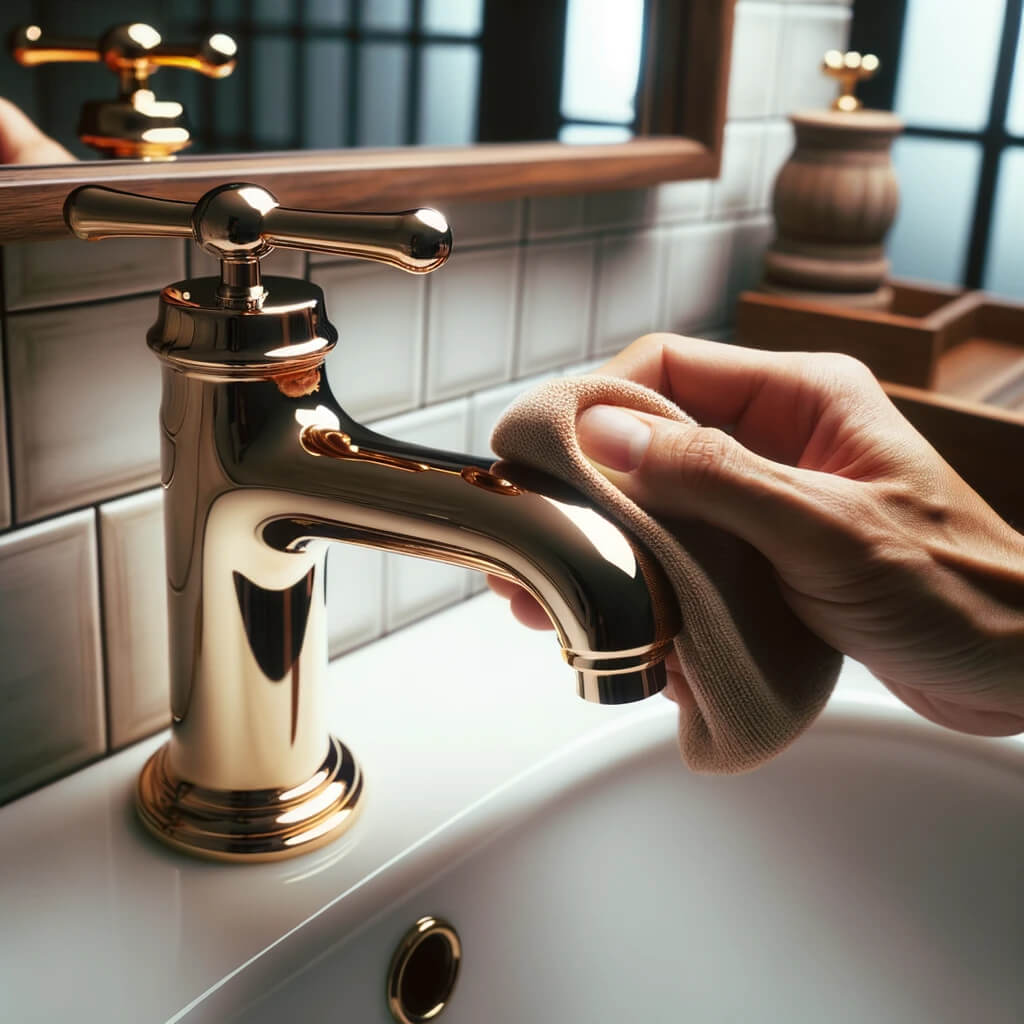 Just like most metals, brass does require a little bit of care and maintenance to retain its natural quality and shine. However, the effort is minimal when you know what you're doing.
Let's take a look at some tips for upkeeping your bathroom brassware:
Regular dusting - Don't let dust accumulate on your brassware. Give it a gentle wipe down or feather dust once a week or so.
Gentle cleaning - Mild, soapy, warm water and a soft cloth will keep your brass looking lustrous and beautiful all year round.
Quickly remove stubborn stains and tarnish - If textural or tarnish problems do arise, deal with them quickly rather than allowing them to worsen.
Apply a protective coating - There are loads of high-quality brass cleaners available, and investing in one is a great way to ensure your brassware is always shiny and clean. Protective coatings will prevent stains, rust, and tarnish from developing.
---
Complementing Brass with Colour and Texture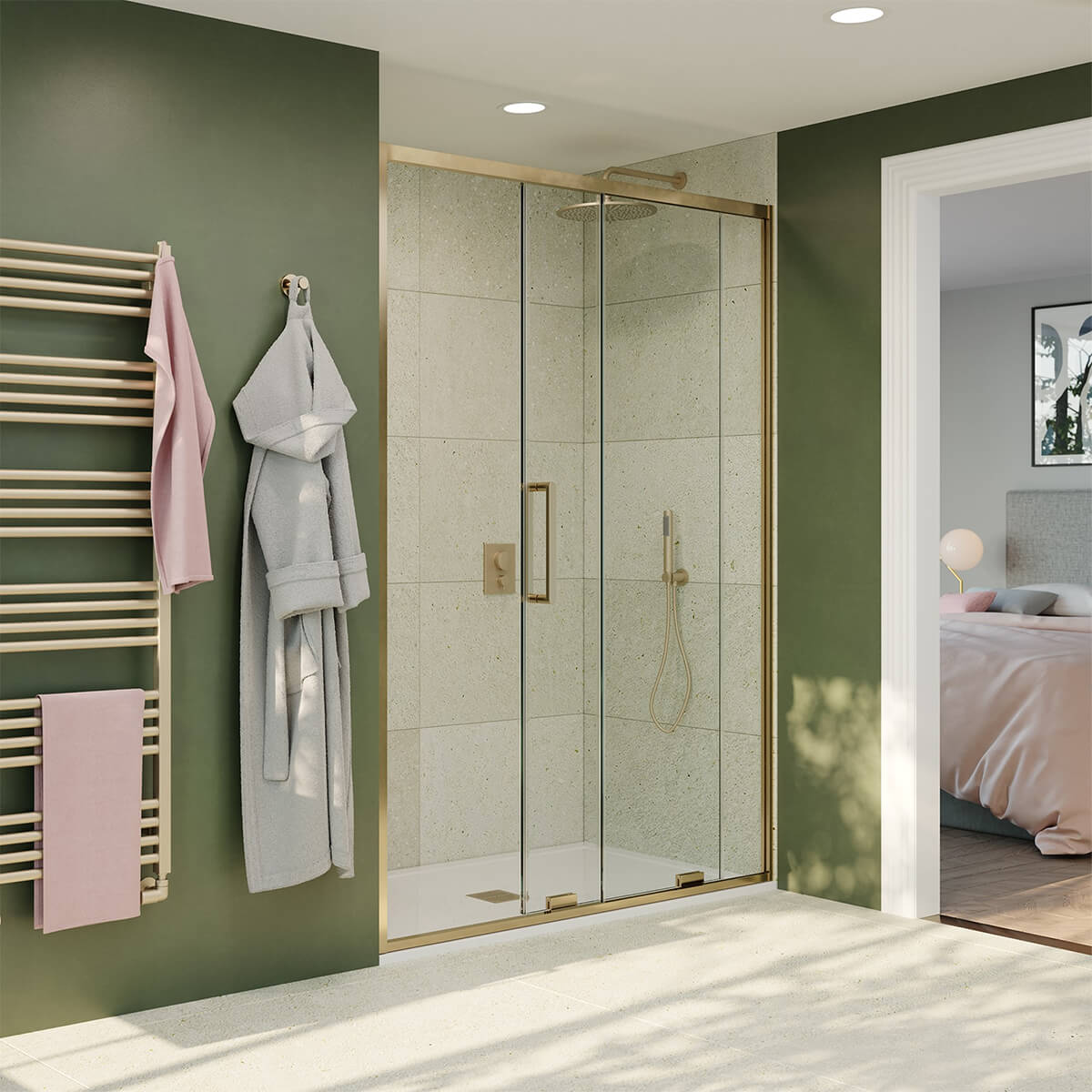 One of the many wonderful things about brass is that it pairs well with so many different colours, textures, and styles. This makes it a versatile bathroom design option with endless potential. The above image is one of our shower enclosure in brass finish.
---
Colours that pair well with brass:
Deep blues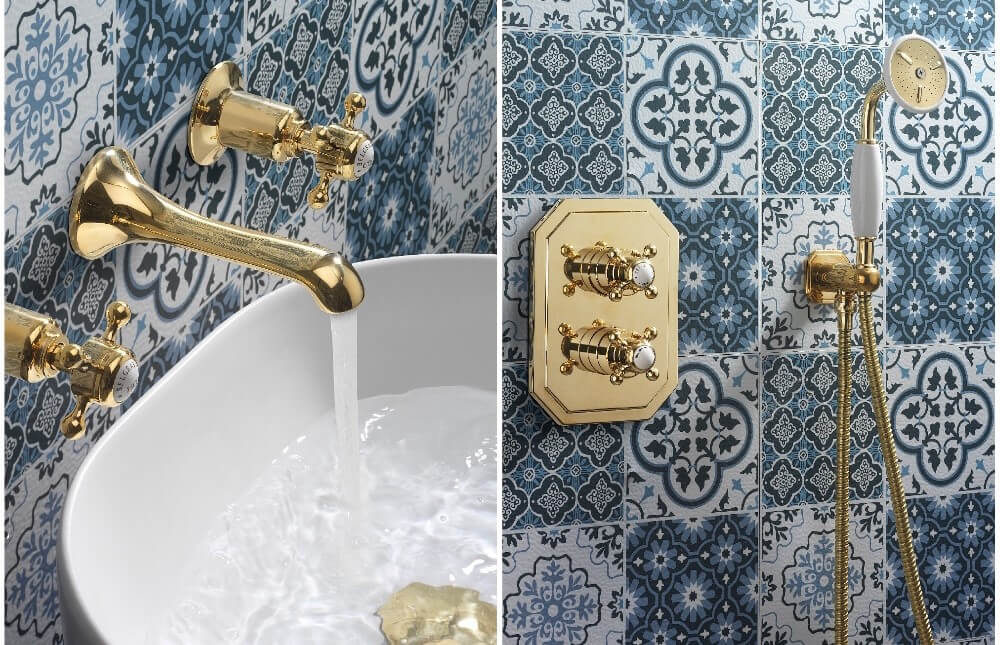 The rich, warm hue of brass makes it an excellent match for ultramarine blues and other oceanic tones.
Whites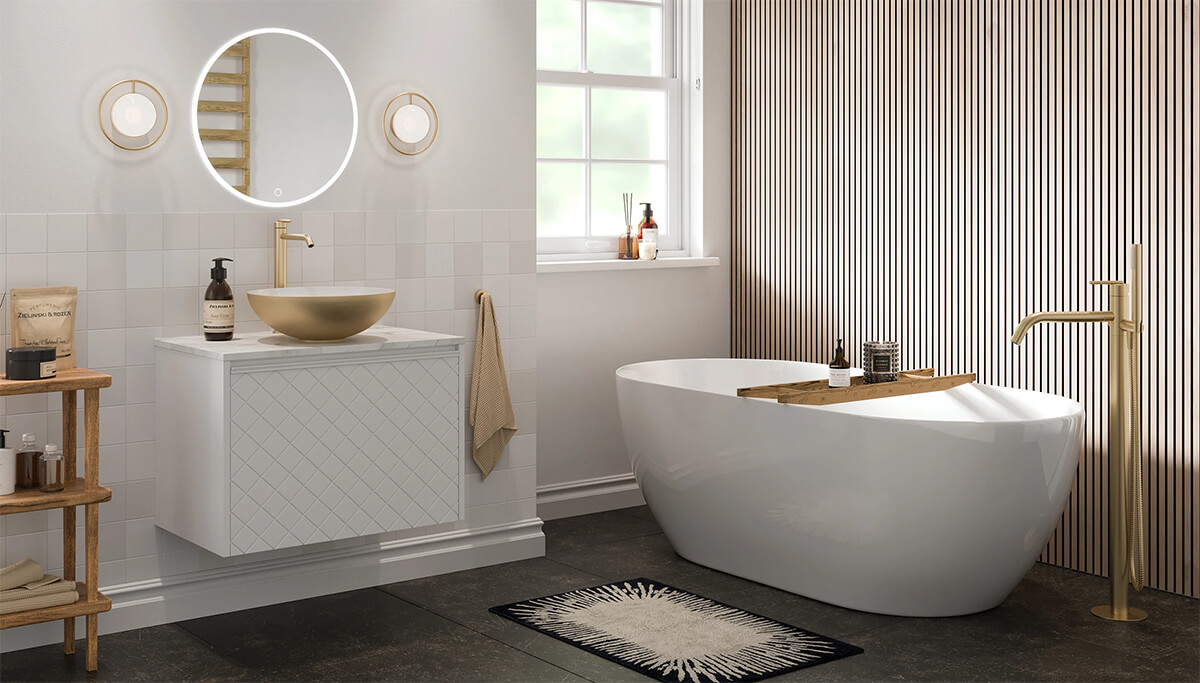 White is a classic bathroom colour that's considered pretty fail-safe in terms of decor. But brass and white have perfect visual chemistry; mixing lustrous metallic tones with simplistic, minimalist white creates a balanced effect.
Greens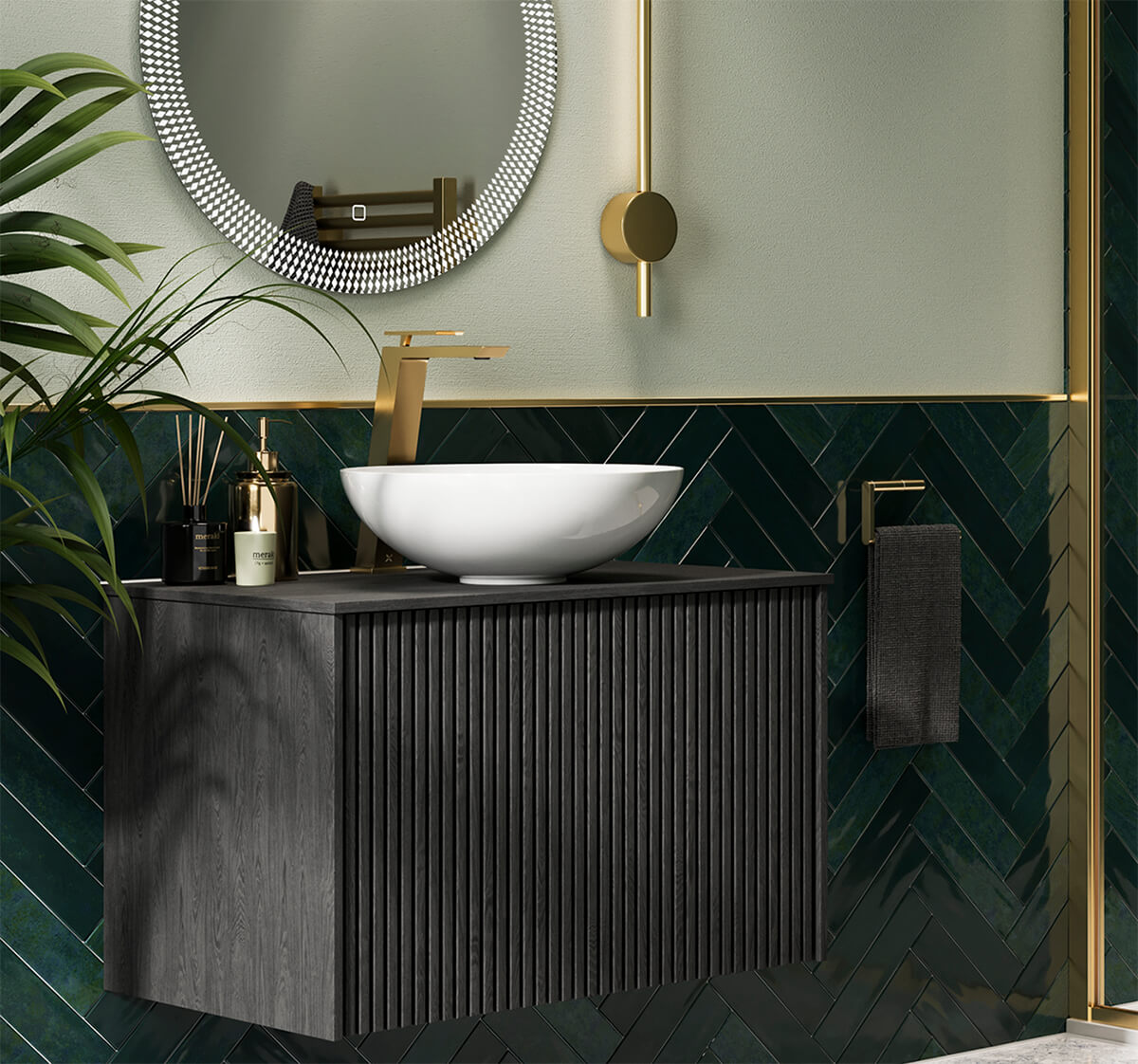 Deep emerald green and shades of forest green make beautiful accompaniments to brass tones, especially the more yellow and golden varieties.
Black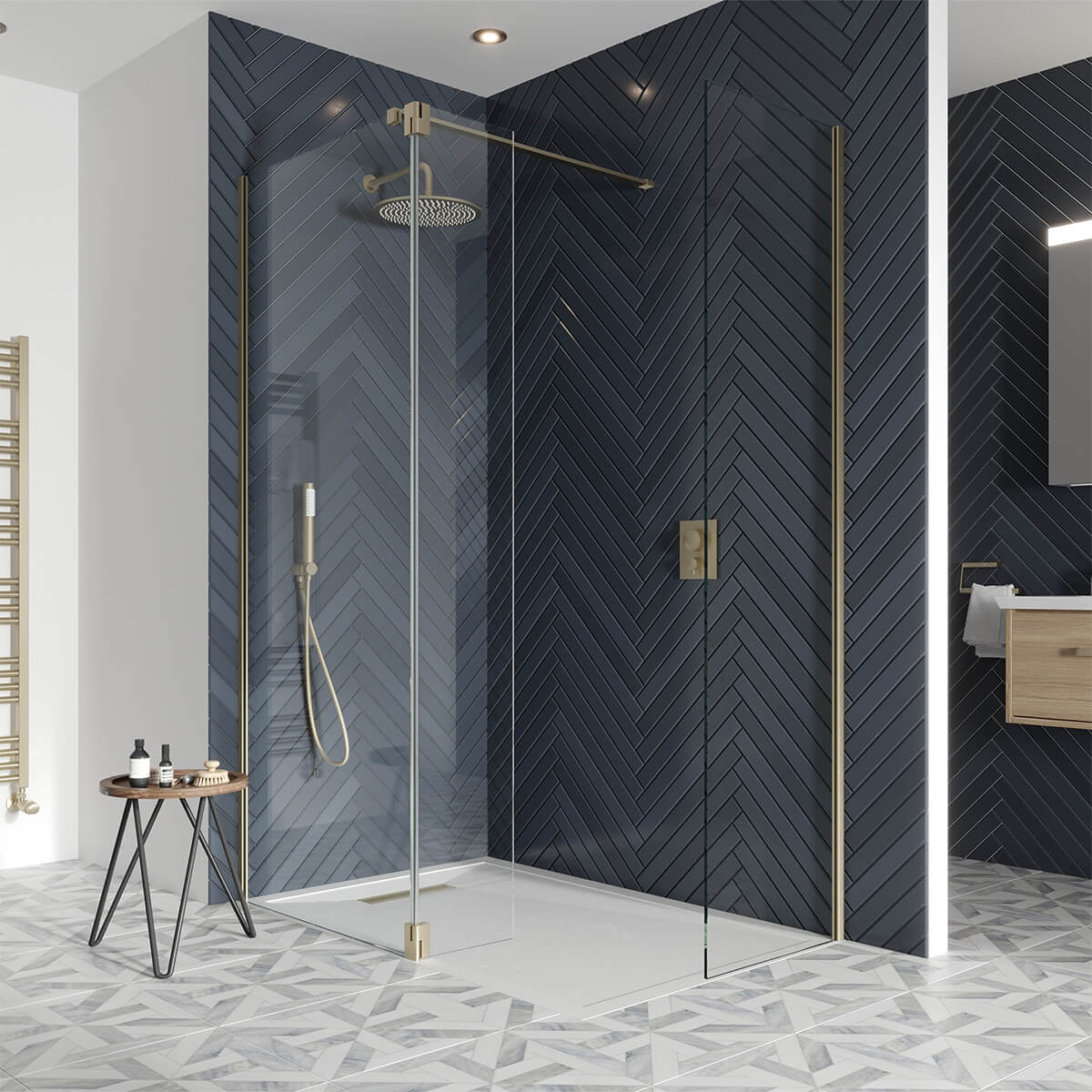 If you want a truly show-stopping bathroom, charcoal black and even muted tones of grey make metallic brass pop like nothing else. Black and white checkerboard patterns are also a fantastic element to add to brassware bathrooms.
---
Textures that enhance brass's appeal:
When it comes to modern bathroom design, texture is extremely important. In the past, brass was often paired with floral patterns and antique textiles. But today, a fresher, cleaner, and more organic look is rising in popularity.
Marble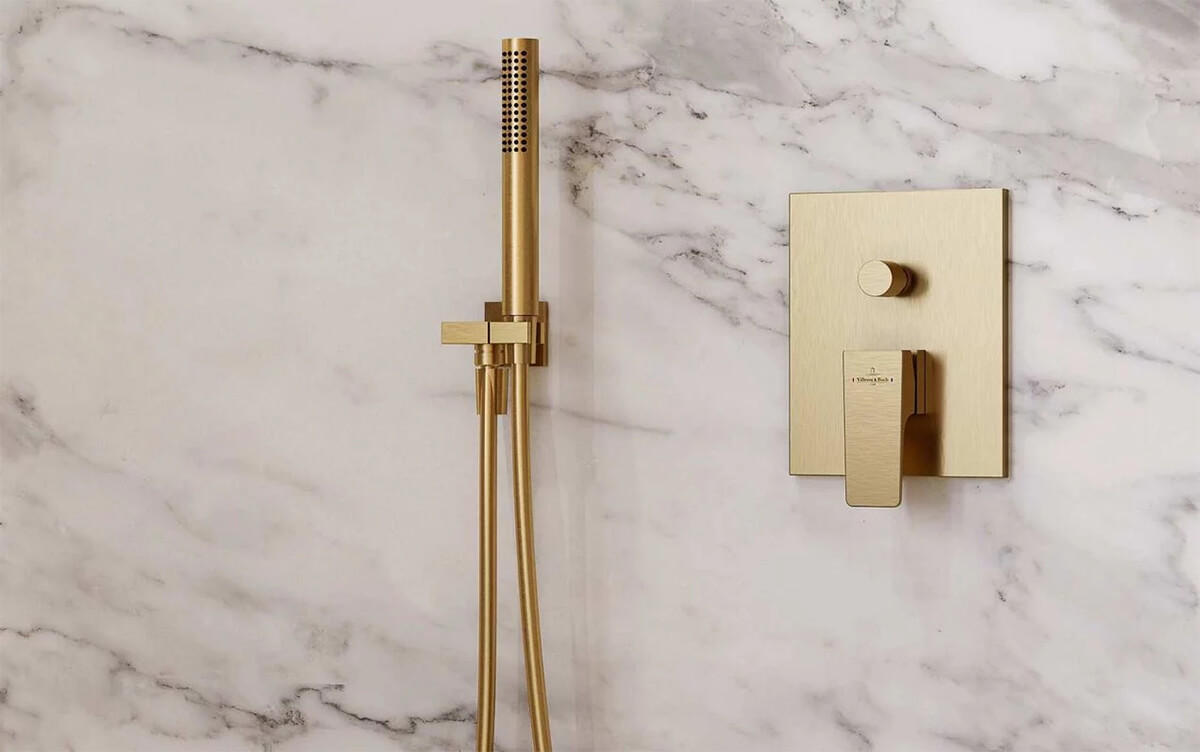 Streaked marble and stone automatically add depth, texture, and intensity to luxury bathrooms. Fortunately, it also happens to pair beautifully with lustrous brass.
Wood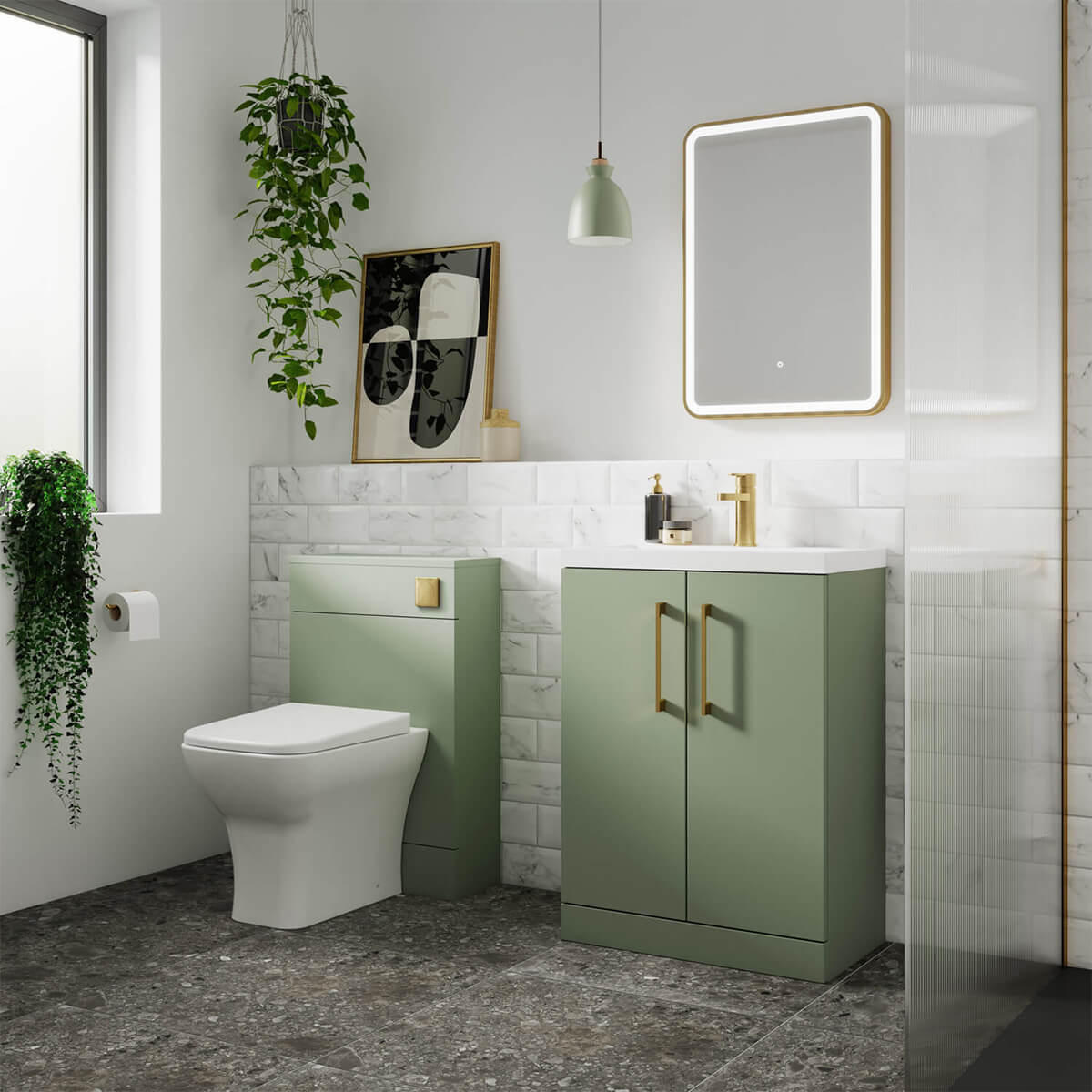 Both dark and light wood are known to complement bathroom brassware. When paired next to each other, they create an alluring balance of rustic nature and shimmering gold.
Ceramics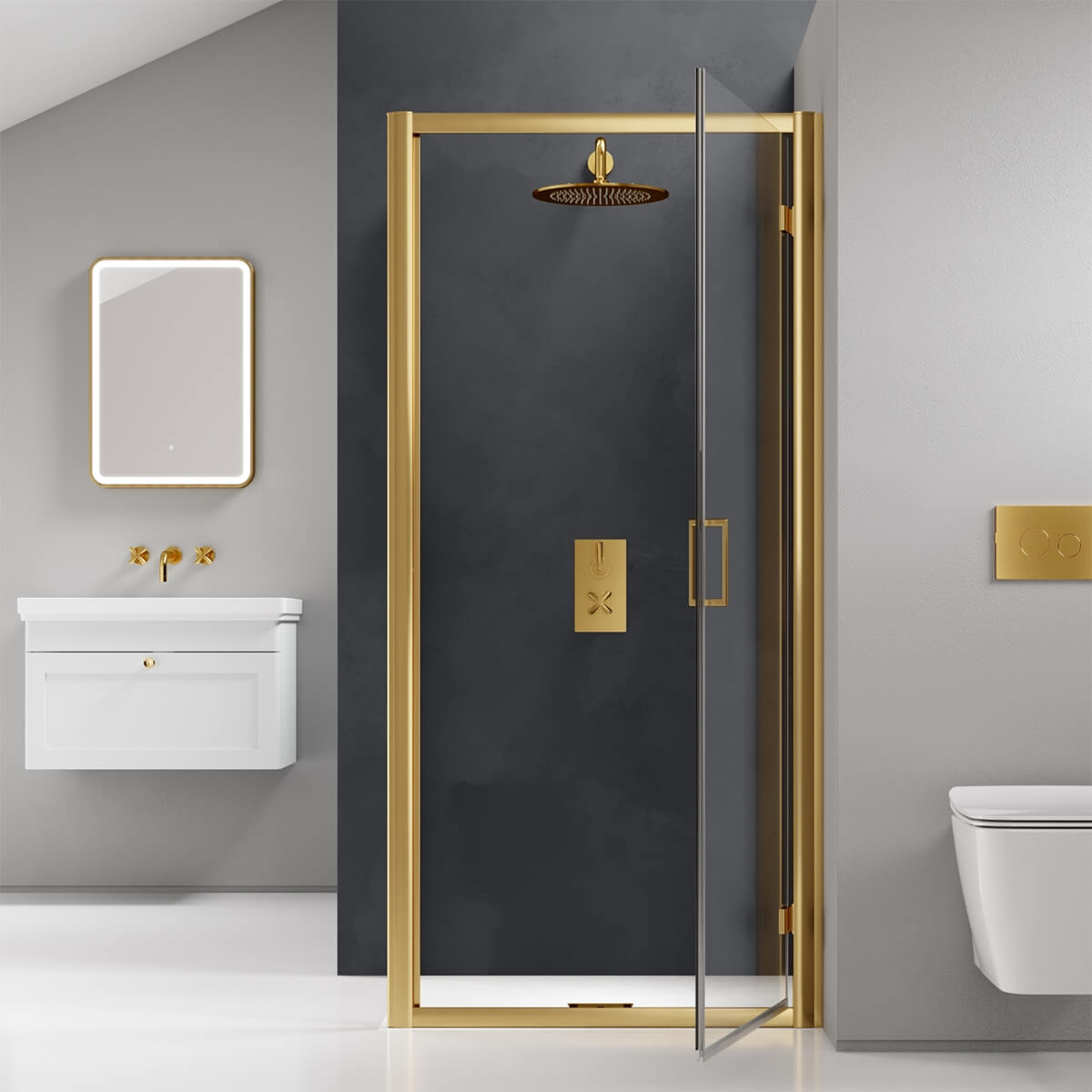 Ceramic earthenware such as terracotta vases, clay basins, and tiles all make great accompaniments to quality bathroom brassware.
---
Contrast With Other Metals: How To Mix And Match Without Clashing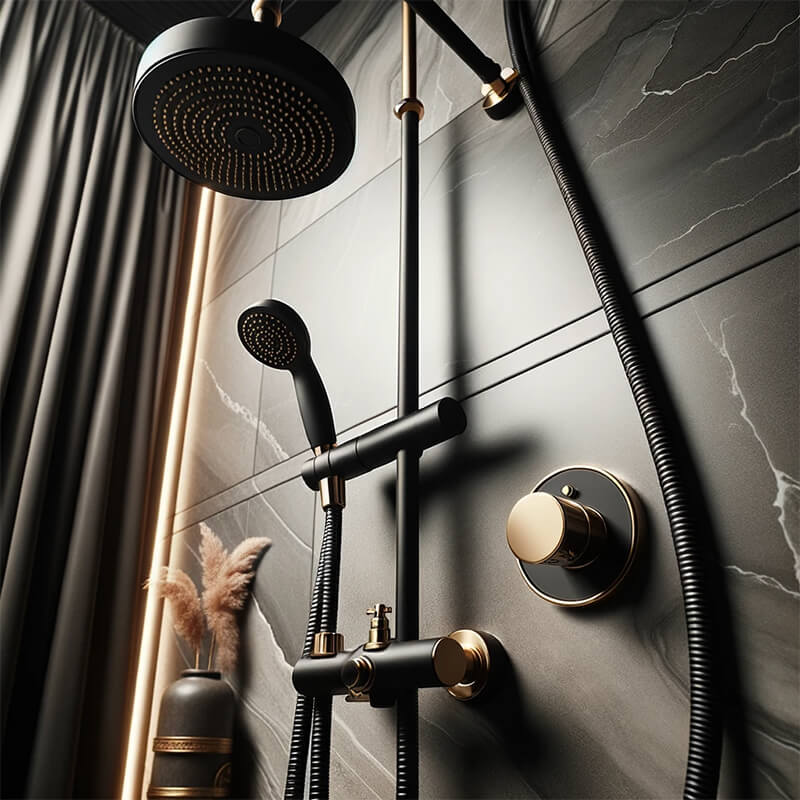 Brass looks great on its own, but adding other types of metal to your bathroom can create visual balance and healthy contrast. For instance, if you have golden brassware taps, consider pairing them with copper light fixtures, or perhaps a matte black metal showerhead.
Pro tip: If you use a mixture of metallics that are very similar but not quite identical, it may look like you've mismatched them by mistake. Instead, focus on creating contrast with opposing but complementary metals.
---
The Evolving Patina: Embracing the Age of Brass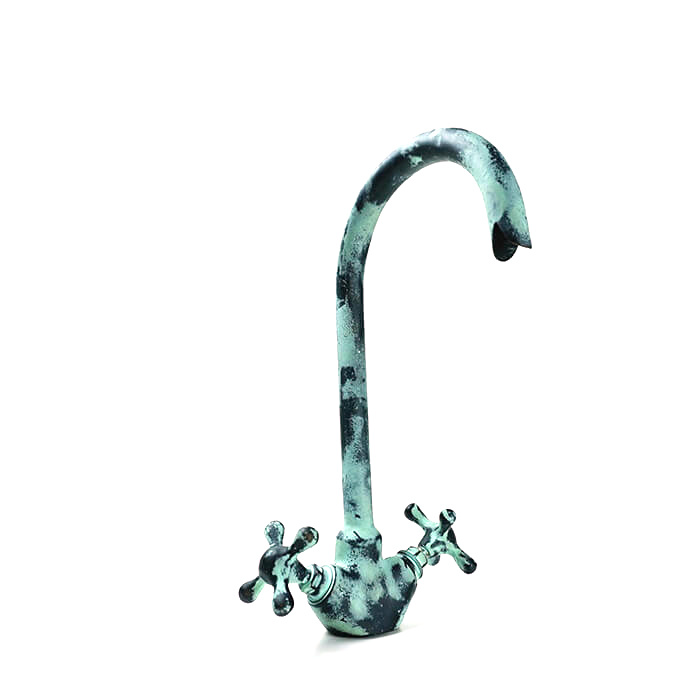 Patina is the green or brown film that develops on the surface of metals over time due to oxidation. It can also develop as a result of over-polishing. But despite its symbol of age or erosion, many people enjoy the uniquely beautiful textures and colours that arise with natural patinas - so much so that they intentionally speed up the ageing process or buy brassware with an already-evolved patina.
However, as beautiful and interesting as brass patina can be, it does come with some pros and cons. Let's take a look at each so you can decide if aged brass is the right choice for you.
Pros:
Less maintenance - If you intentionally choose patina brass, you don't have to put as much effort into keeping it clean. This can mean less overall maintenance.
Gives a rustic, timeless feel - The main benefit of allowing a patina to develop is the unique visual appearance it creates, making your brassware look both rustic and classic.
Control over the appearance of the patina - If you are ageing your brassware on your own, you can choose which areas to enhance the natural textures and colourations.
Cons:
Prone to tarnishing - You can have patina brassware without tarnishing, but it can be difficult to avoid. You may need to treat it with rust-prevention products to prevent the patina from growing out of control.
Non-hypoallergenic - Patina brassware can cause mild allergic reactions in some people, so it is always important to check before you start the process of ageing your bathroom metal.
---
How To Maintain Brass' Original Shine
If you prefer the classy, luxurious appearance of polished brass in a bathroom, it's important to know exactly how to treat and clean it for the best possible results. Fortunately, maintaining brass's original richness and golden colour is easy - and a lot of the cleaning supplies are likely already in your kitchen.
Vinegar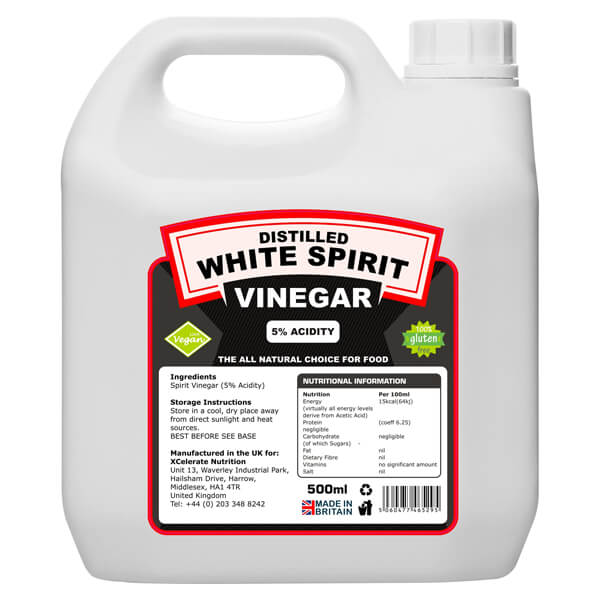 White spirit vinegar makes a great natural brass cleaner that helps the metal retain its shine and prevent tarnishing from overcoming the surface.
If your brassware is small enough to remove and submerge in a tub, you can soak your fixtures in a solution of one part white vinegar to two parts warm water. Let it soak for no longer than an hour before removing it and gently polishing it with a soft cloth until it's completely dry.
Lemon and salt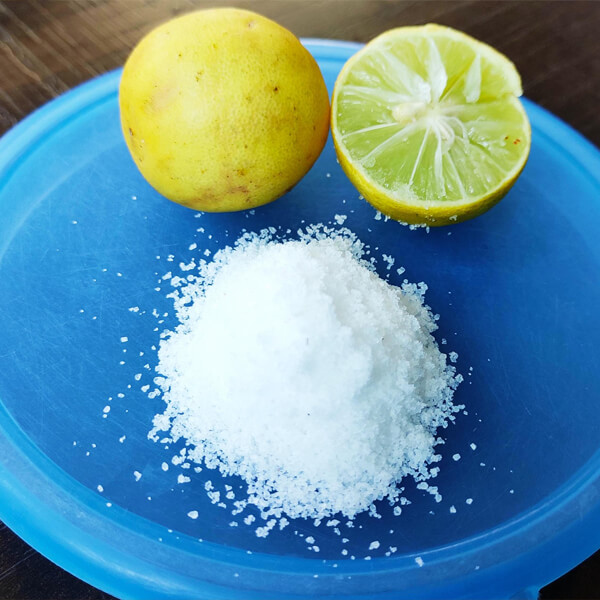 Much like vinegar, the acidity in lemon juice helps break down tarnishing on brass, and encourages a healthy sheen. This method works well for all kinds of brassware both in and out of the bathroom.
Simply cut a large lemon in half and sprinkle a tablespoon of salt onto the juicy side of each part. Then gently rub and scrub the areas of your brassware you want to clean, applying slightly more pressure to particularly tarnished zones. Rinse the brassware thoroughly with clean water and dry it completely.
Brass cleaner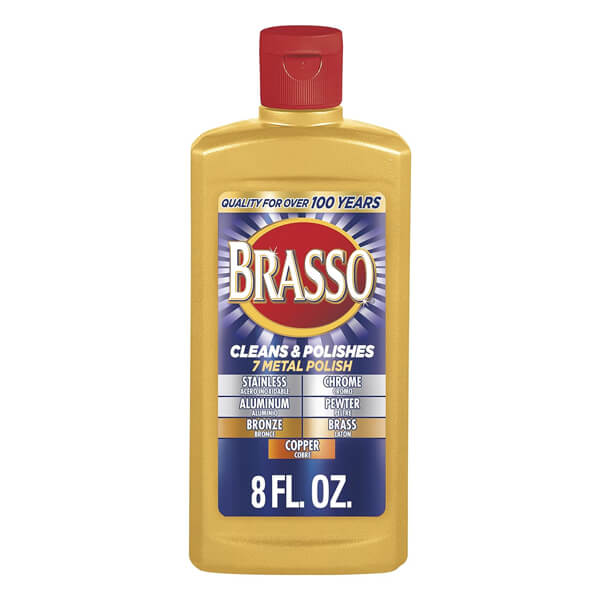 Brass cleaner and brass polish are widely available products that will help you keep your bathroom brassware in peak condition. Choose one that is specifically formulated for the type of brass and level of tarnishing that applies to your metallic fixtures, and follow the instructions on the bottle closely.
Use a microfiber cloth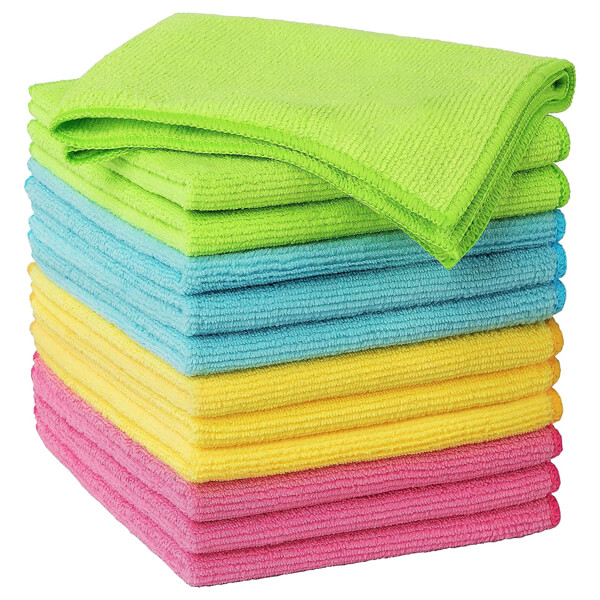 One of the most important things to remember when cleaning and polishing brassware is to always use a clean microfibre cloth. This ensures minimal streaking and maximum shine for this elegant metal.
---
Bring Brass Into Your Bathroom
Used in the right way, brass has the power to turn ordinary spaces into luxurious sanctuaries and make your bathroom feel warm and inviting while still retaining an atmosphere of class.
If you appreciate the richness of this varied and timeless metal, share your own brass-decorated bathrooms with us. We'd love to see what you've done! Or, if you're just starting your journey to creating the perfect brass bathroom, take a look at our range of luxury brass fixtures, taps, and other fantastic products made from this gold-hued metal.