World Map Depicting Tile Designs From Every Country
Published on: 09/05/2022
Last Updated: 09/05/2022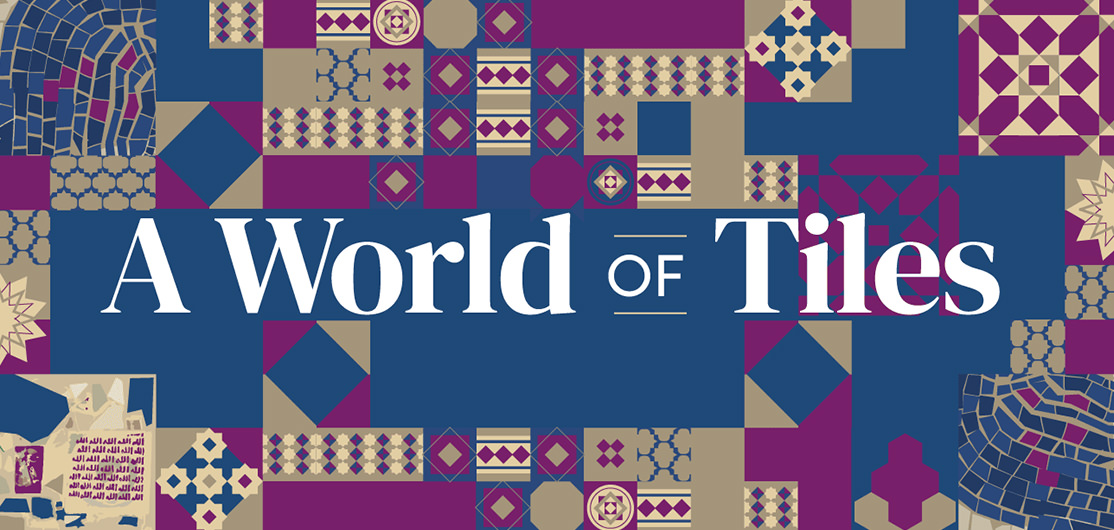 Decorative tiles are a quiet miracle: hygienic, durable, low-maintenance, and sustainable.
Tile aesthetics have developed over thousands of years and multiple civilizations, while tiling's basis in mathematics provides a link to the mysteries of the universe. Today, this art and science finds its ultimate expression at the hands of the hired craftsperson or the brave home DIY enthusiast.
But, perhaps because tiling as an industry took off in Victorian times, the wonder of the tile is often overlooked. After all, can there be true glamour in a decoration whose use depends on a substance called 'grout'? Actually, yes. From vintage patterns to streamlined sophistication, tiling can make anybody's bathroom or kitchen a place they want to be.
While some cultures have a world-famous tiling tradition from which to draw inspiration, others are less well known. Who better than QS Supplies to bring you a mapped guide to the most desirable tile designs from every country on Earth?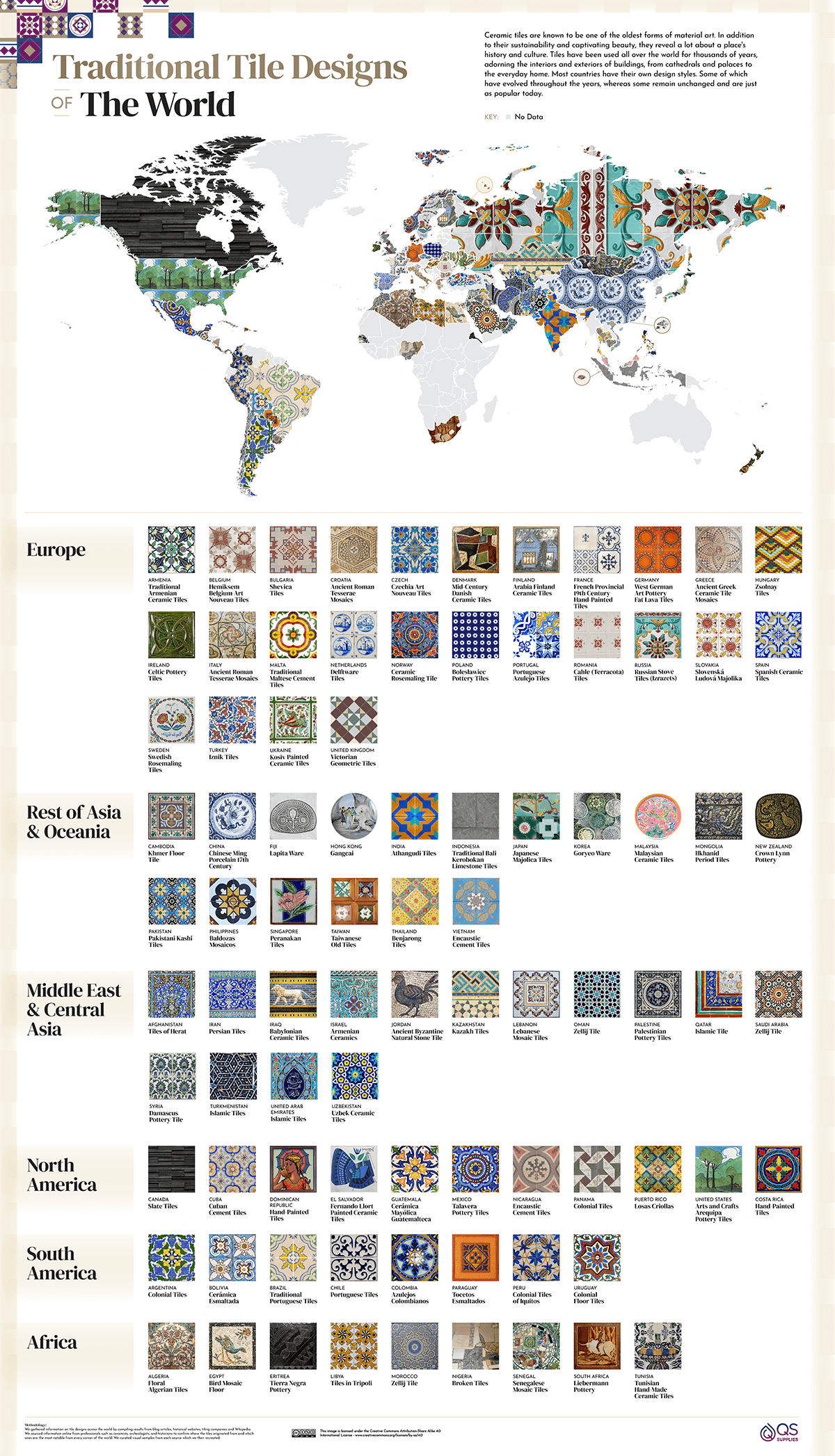 Click here to view full size
---
1. Europe
Europe is a meeting point of tiling traditions. The Arab conquests of the first millennium brought Islamic tessellation from the east to complement Ancient Greek and Roman ceramic mosaics. This and later migration from North Africa to southern Europe 'cemented' the influence, most famously admired in the azulejo form of tin-glazed ceramic. The azulejo was a Spanish take on North African traditions which found its most enduring expression on the walls of Portugal's gothic and Pombaline style buildings.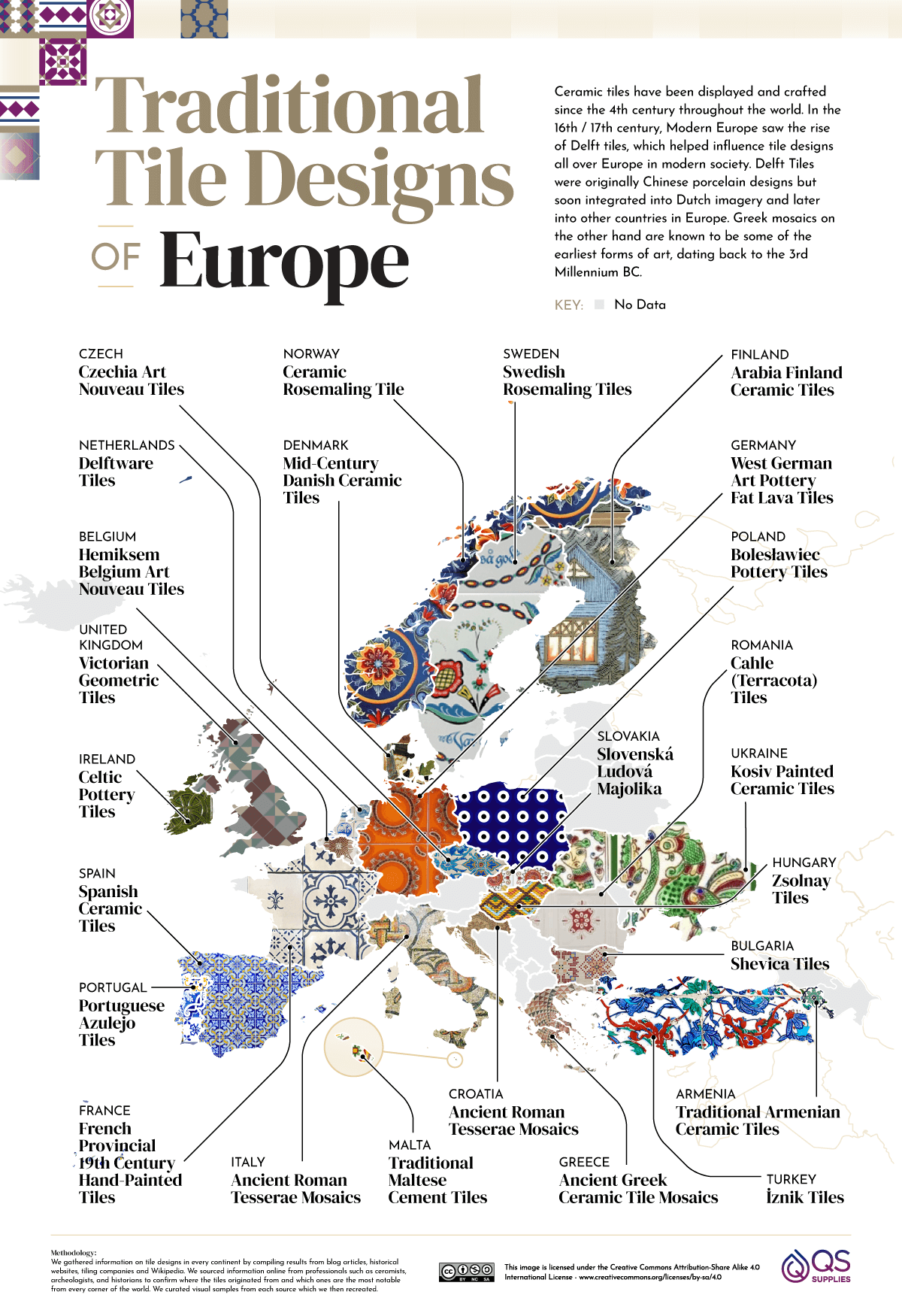 A perfect storm of Gothic revivalism and industrial advances made the geometric and encaustic tile highly popular in Victorian England. The pattern in the map exemplifies a style that was achieved by layering coloured clay rather than hand-painting glazed tiles.
---
2. North America
The United States imported most of its tiles up until 1870. At this point, demand soared due to the Victorian clamour for better hygiene. Technical advances made mass production viable, but the example on the map is an example of the Arts and Crafts style, which emerged against industrial tendencies. These tiles were produced at the short-lived Arequipa Pottery (1911-18) in California, where tuberculosis survivors worked with local clay as a form of therapy.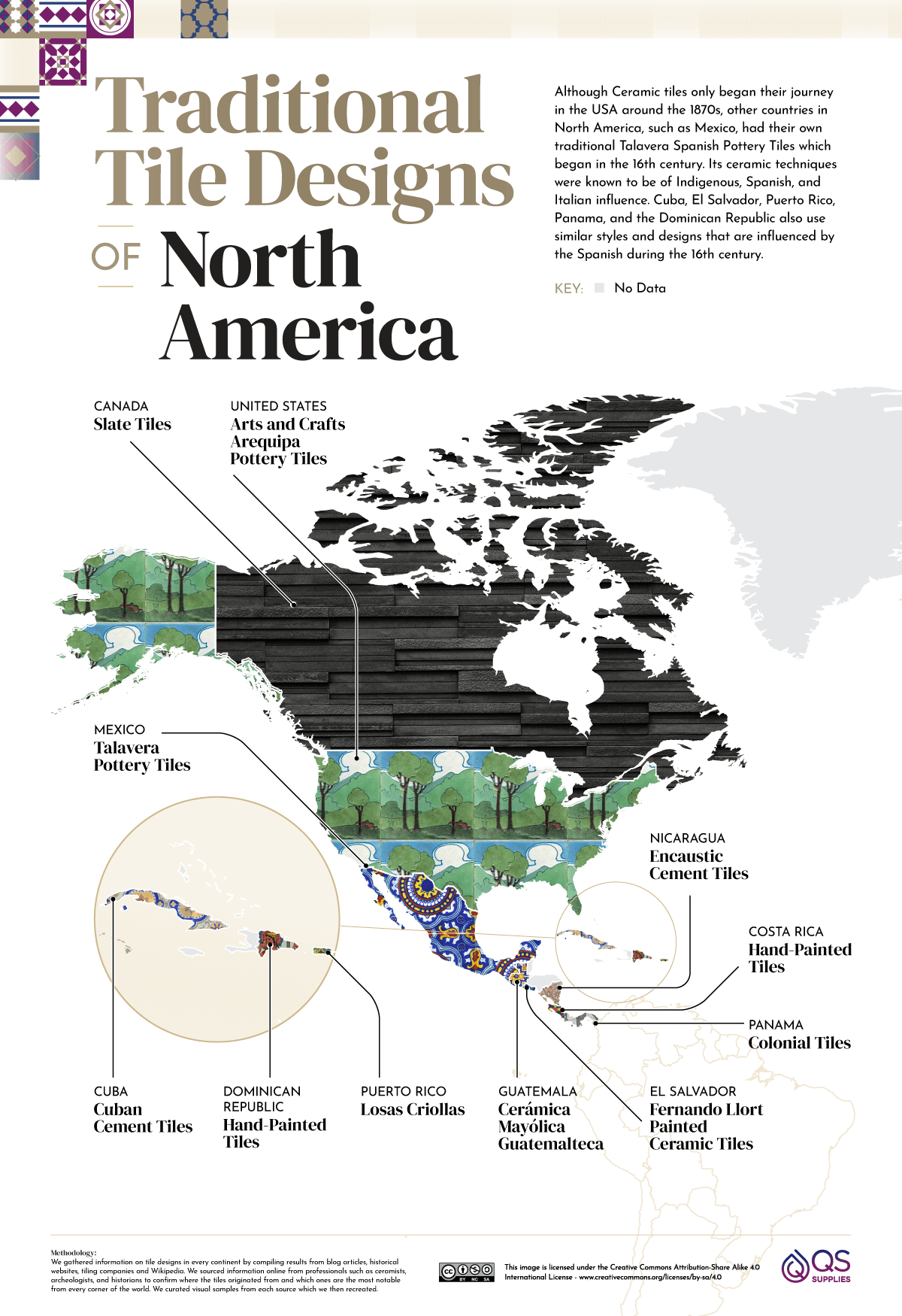 Other North American countries have a longer tradition of pottery. The Talavera Poblana style in Mexico grew from the application of Spanish traditions to fine local clays during the 17th-18th centuries. High demand for tiling for new churches fast-tracked the development of the craft. The natural cobalt blue in the mapped example is an expensive natural pigment. The value of these ceramics led to the phrase "to never be able to build a house with tiles" – meaning to never amount to anything. Today, only those made by certified local potteries can use the Talavera name.
---
3. South America
Colombia has its own take on the Portuguese azulejo (see Europe above). Interior design production was in short supply at the turn of the 20th century, leading builders to import and later re-produce European styles. The Colombian azulejo evolved through the modernist era from plant-like to geometric patterns, with important buildings enjoying a more diverse colour palette.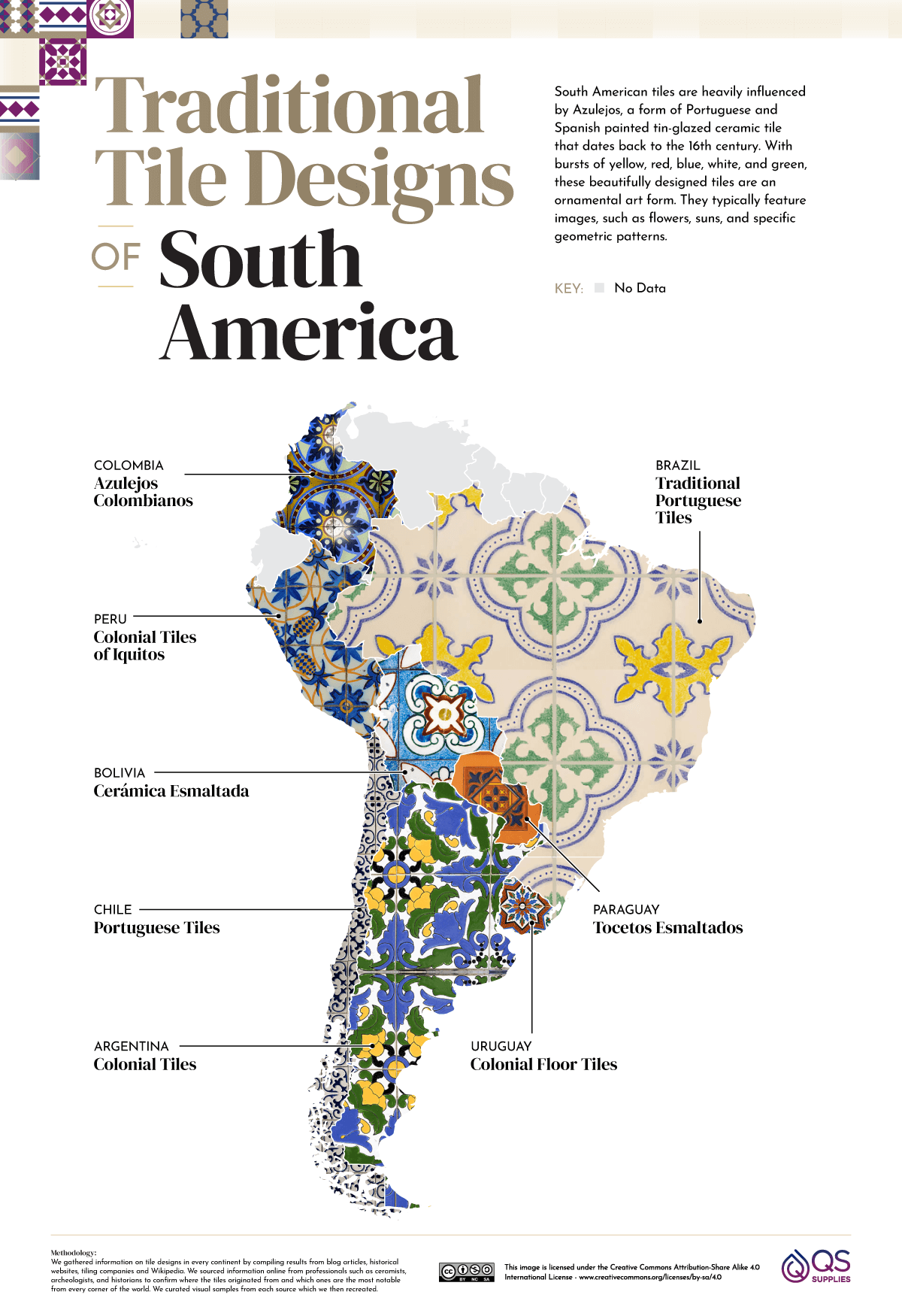 Colonial Brazil began importing Portuguese tiles at the peak of the art's sophistication in the early-mid 18th century. But the development of the traditional Brazilian tile also encompassed influences from Dutch, French, and English ceramics. Some say that Brazilians were the first to use decorative tiles like these on the exterior of buildings – to protect against tropical humidity.
---
4. Middle East & Central Asia
These Herat-style Afghan tiles are made by hand for the city's Great Mosque. Artisans draw the patterns with pencil and then fill tiny holes along the lines with charcoal and black paint. Colours are ground in the workshop and applied with careful reference to a handmade palette. The craft has been passed from generation to generation but is at risk due to competition from cheaper industrial production.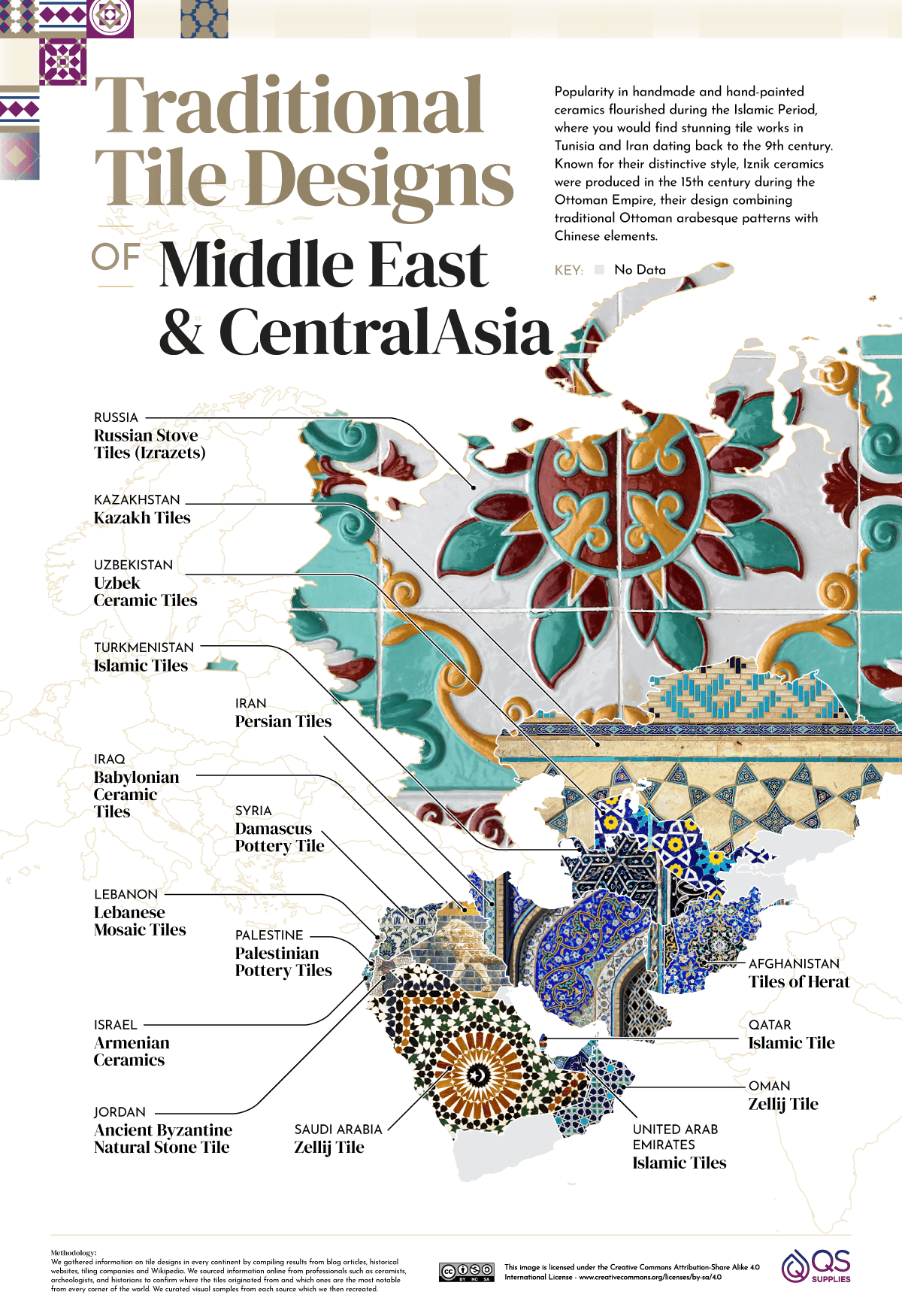 Suleyman the Magnificent sent ceramicists from the famous pottery town of Iznik in Turkey to fix tilework in Jerusalem in the mid-16th century. When the work was done, the workers settled in Damascus, Syria.They developed their style through a vegetal palette of greens and blues to depict floral and geometric patterns, abandoning the "vibrant tomato red" of their hometown. Today, the Damascus ceramics of Syria are celebrated as a style in their own right.
---
5. Rest of Asia & Oceania
The familiar blue and white ceramic look originated in Tang dynasty China with the use of cobalt blue pigment applied under the glaze with a brush. Chinese artisans became skilful at creating detailed narratives using contrasting shades of blue. One such technique was known as fenshui, which developed in the Ming era – the period from which the design in our map is from.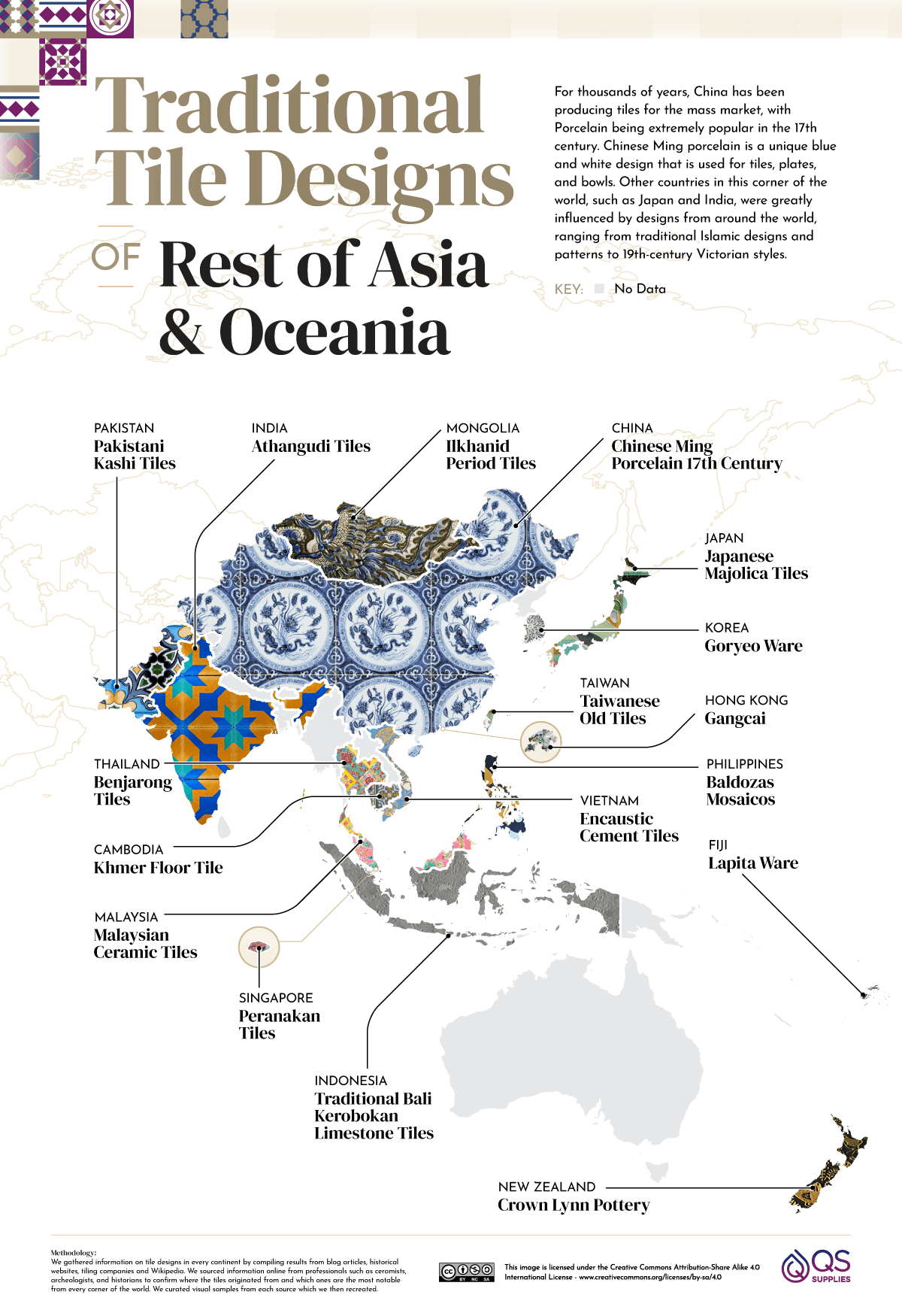 Majolica tiles took a long journey from Iberian Islamic roots via Italy and Victorian England into Taisho-era Japan (1912-26). Japanese ceramicists developed the picturesque, multi-coloured aesthetic of the Victorian tile, accentuating the tactile 'relief' aspect of designs that occurred due to the need for multiple layers of paint. Hindu iconography was introduced into the canon to exploit the Indian market, where Japanese ceramics were a welcome alternative to British colonial wares.
---
6. Africa
The zellij tiling of Morocco is both ancient and influential, having evolved into the azulejo style upon its entry into Europe and South America. In its purest form, the tile is a hand-chiselled geometric shape of a plain colour, used to create elaborate, polychromatic geometric mosaics. Today, the style offers an intricate alternative to patterned tiles or larger individual blocks of colour.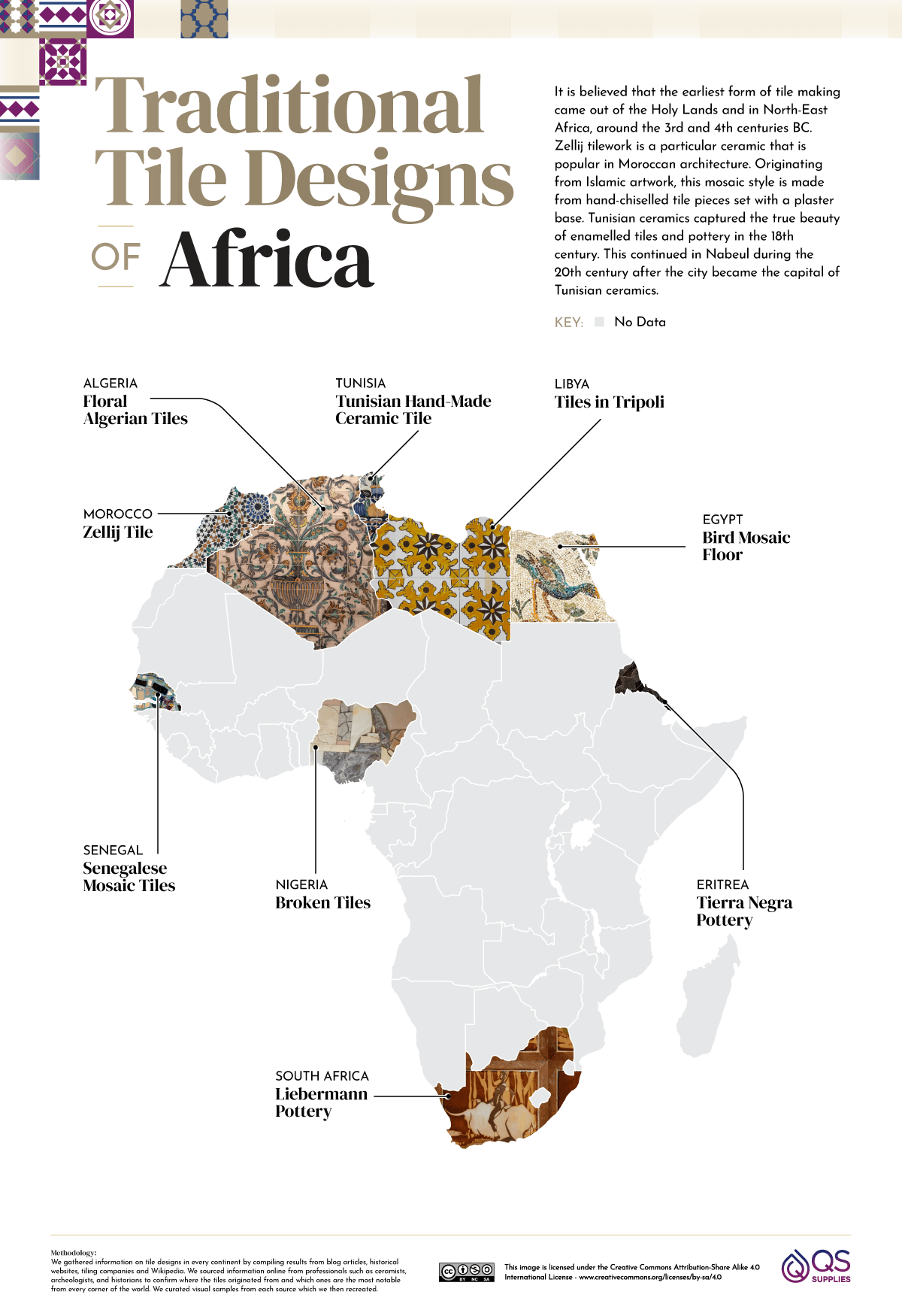 Algeria has a vibrant pottery culture, and the floral design seen here would have been created in the early 20th century using a technique called dry line. Its special shine is down to a technique called lustre painting, whereby metallic pigments such as copper or silver were added between repeat firings.
Your Home as Blank Slate
Tiling has a long and exotic history. And, thanks to its unique benefits, it is assured a long future. Indeed, tile design is only getting better, with recycled materials such as the glass from electronic appliances being used to create stunning new aesthetics. Is there anything you can't achieve with the marvellous little panel we call the tile? We at QS Supplies offer bathroom products such as vanity units, designer shower enclosures, free-standard roll-top bathtubs, and bathroom washstands that may blend well with these traditional-style bathroom tiles.
Browse the interactive gallery below for a more detailed look at the tile patterns in our international maps.
Methodology & Sources
We gathered information on tile designs throughout every country across the world. We began by working through a list of countries, obtaining notable design styles by reading articles such as
https://www.roccia.com/inspiration/tile-designs-around-world/ and https://blog.mozaico.com/greek-mosaic-designs/.
We cross-referenced this with information found on Pinterest and Dreamstime, which gave us a great vision for how tiles look worldwide and the subtle/vast differences between them.
The world of tiling dates back to as early as the 4th century BC. From that point, Egyptians, Assyrians, Babylonians, Ottomans, Victorians, Chinese, and the Dutch all had an artistic ideology around art, and all similarly took influence from previous styles and designs. This meant an extensive approach was required to make sure our information was correct. To ensure this, we sourced information from professionals such as ceramists, archaeologists, and historians to then decide on which tiles originated from/are the most notable from every corner of the world.
The data was collected in February 2022.