Corner Bathroom Cabinets

Cabinets for Corner Installation may be a little smaller because of their location, but this is a minor disadvantage. Some of the advantages are - it can suffice as a storage space, hiding all cluttering objects and items inside its space, concealing all unsightly things that may otherwise be an eyesore. These are another popular alternative to the mirrored bathroom cabinets option and are a great place to store the less frequently used items. Corner Bathroom Cabinets available at QS Supplies are available in a compact shape and small size and can be fitted in any corner of the room. These cabinets don't obstruct the normal operation of the bathroom. They serve to beautify the room when fixed on a bare corner. At QS Supplies, we have a few number of choices in this category and brands we offer are HIB, Rak and few more.
Latest Reviews
QS-V51833
Croydex Essentials C... WC258022 A strong & well designed corner unit in white. Looks superb with crome bars ideal for bathroom product storage.
Overall Rating:

From: Lee Wright
| | |
| --- | --- |
| Quality : | |
| Value for Money : | |
| Style : | |
QS-V34510
HIB Turin Corner Mir... 9101300 Beautiful, high quality cabinet. Doesn't hold a lot but was just right for us. We had a socket installed and keep our electric toothbrushes charging in there.
Overall Rating:

From: Tina Marshall
| | |
| --- | --- |
| Quality : | |
| Value for Money : | |
| Style : | |
QS-V76337
Croydex Avisio Stain... WC766105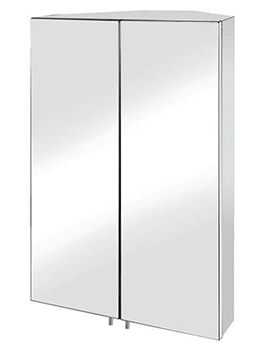 Easy to fix, good quality materials and looks great.
Overall Rating:

From: Robert Frost
| | |
| --- | --- |
| Quality : | |
| Value for Money : | |
| Style : | |