Embrace The Dark Side - Black Kitchen Tap Trends
Published on: 16/04/2022
Last Updated: 16/04/2022
Black will never go out of style, and in 2022, it's more popular than ever. Adding black taps to your kitchen might seem like a small detail, but it can add a sense of depth, elegance, and modernism to even the simplest of kitchen spaces.
Psychologically, the colour black brings mystery, power, and sophistication to mind. With more people spending time at home, investing in your living environment is a choice you won't regret.
Here are some of the most prominent and timeless trends for black kitchen taps in 2022 – and beyond.
---
Matte Black Taps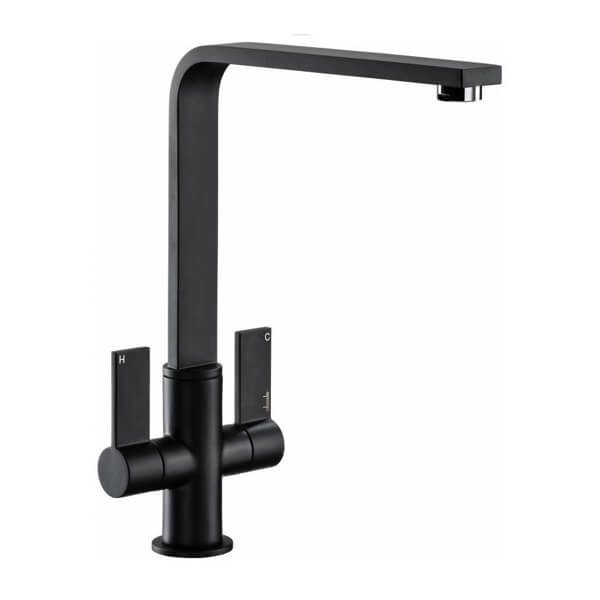 Matte black is a much softer, less shiny version of regular black. It works well in kitchens, which often feature very reflective surfaces, providing some balance to the level of light and contrast in your space.
Kitting out your kitchen with matte black taps instead of shiny ones adds a gentler note to your environment, making it easier to complement the furnishings with other colours and textures. Matte black is also a very trendy colour, adding an urban feel to your kitchen.
---
Hands-Free Black Taps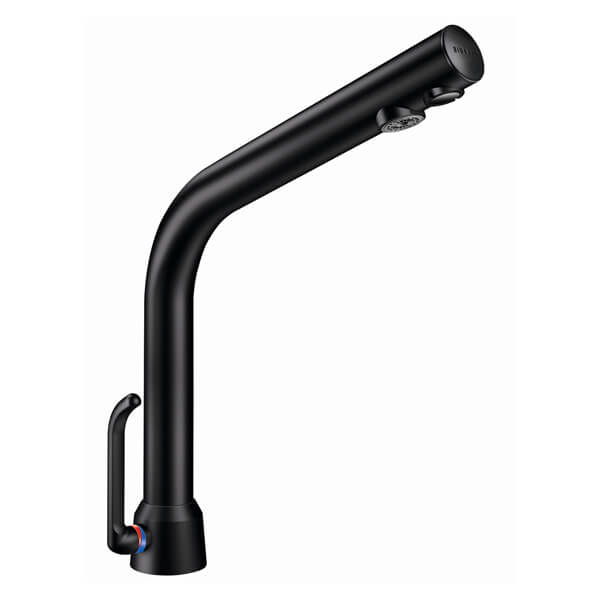 You can get black taps in a wide variety of different shapes, sizes, and styles. One of them is the hands-free tap, which uses technology to sense when something is placed beneath it before triggering a flow of water.
Hands-free taps are stylish and modern, perfect for people who are constantly on-the-go. They're ideal for kitchens as they allow you to wash your hands without touching the tap. If you're working with food, your hands may be sticky or dirty, and a hands-free tap is an excellent hygienic alternative. You'll have water on tap – whenever you need it – without touching a thing.
---
Curved Black Taps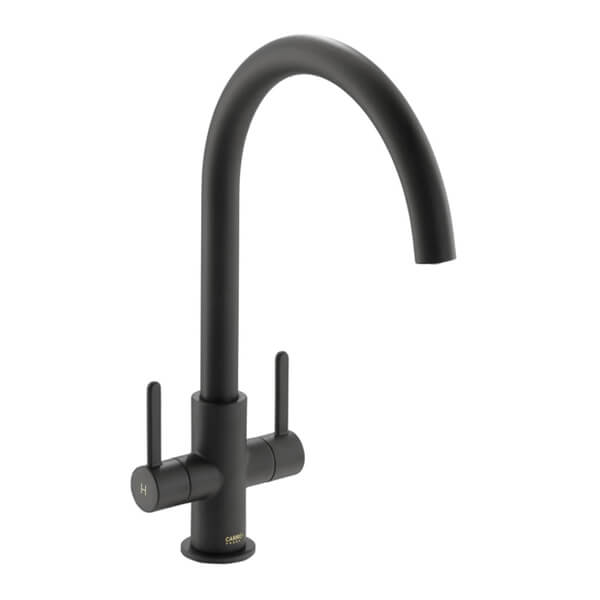 Long, sleek, curved taps look particularly fetching in the dark shade of black. These are great for larger kitchens that end up seeing a lot of dishes, because a longer nozzle makes cleaning up much easier – especially if there are children around.
You can find curved black taps in a number of differently angled curvatures and lengths. But any one of these slender-necked taps are bound to keep your kitchen looking bang on trend.
---
Wall Mounted Black Tap
Wall mounted tap is fixed into the walls as opposed to the countertops. This makes the tap itself more accessible for wide-rimmed pots and pans, a great addition for any avid home chef.
At first glance, these classically styled taps might remind you of a Victorian bathtub. But in reality, these are highly versatile taps that work great in any home. Their elevated point of fixture also makes cleaning significantly easier, so if you're a big fan of easy cleaning, this tap (in black, of course) is for you.
---
Luxury Black Tap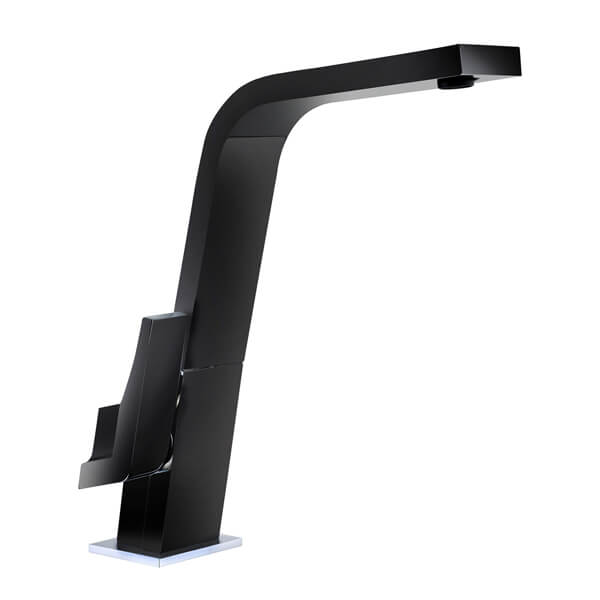 These days, we are spoiled for choice when it comes to luxury tap options. While still retaining plenty of functional value, luxury tap aims to add an extra layer of comfortability and grandiosity to your everyday routine.
There are multiple factors that can define "luxury" tap. Their price is often a little higher, but the payoff is well worth it.
Things like design, style, and finish are all small details that can take a regular kitchen tap into a next-level tap with the addition of rainfall spray patterns, rectangular tap heads and flush mounting that gives your kitchen an ultra-modern feel.
---
Smart Black Taps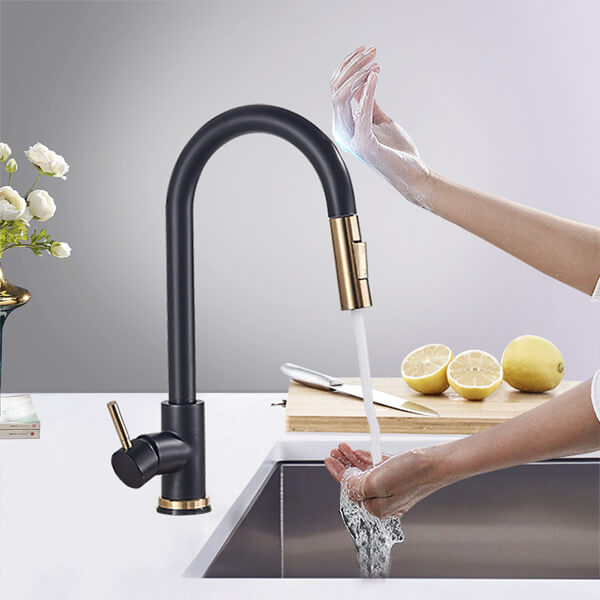 Smart appliances have been a big trend in the late 2020s, and that's not likely to change any time soon. The combination of a smart tap with black gilding creates a sleek, almost futuristic feel to your kitchen environment, no matter how simple or lavish it might be.
Smart taps can deliver special features such as one-touch activation, soap dispensing, or motion sensors that perform different talents depending on how you move your hands. They can even help monitor water usage for environmentally conscious buyers.
---
Pull-Down Black Tap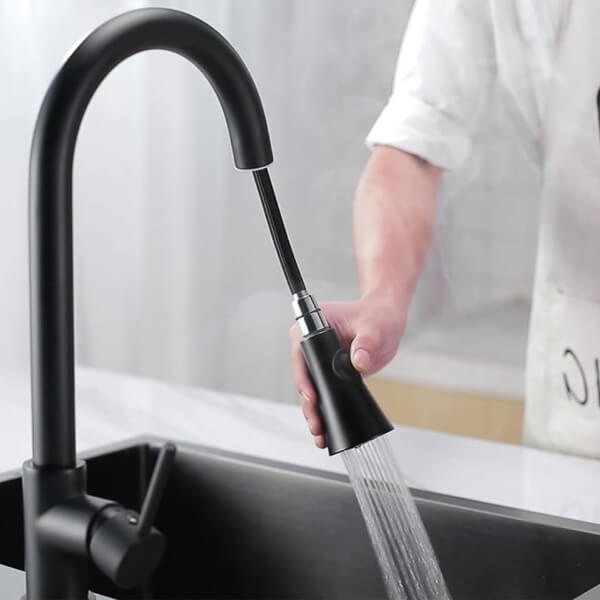 This is a great option for people with large farm style basins or kitchen. Able to simplify and streamline your washing up process, the Pioneer U Shape Pull-Out Kitchen Tap features a springy hose that can be pulled down and triggered into releasing a touch-sensitive flow of water.
The immediacy and accuracy of a pull-down tap is hard not to like. When you add in the practical convenience of a pull-down tap with the elegant appeal of black coating, you and your kitchen can have the best of both worlds.
---
Mixed Metal Black Tap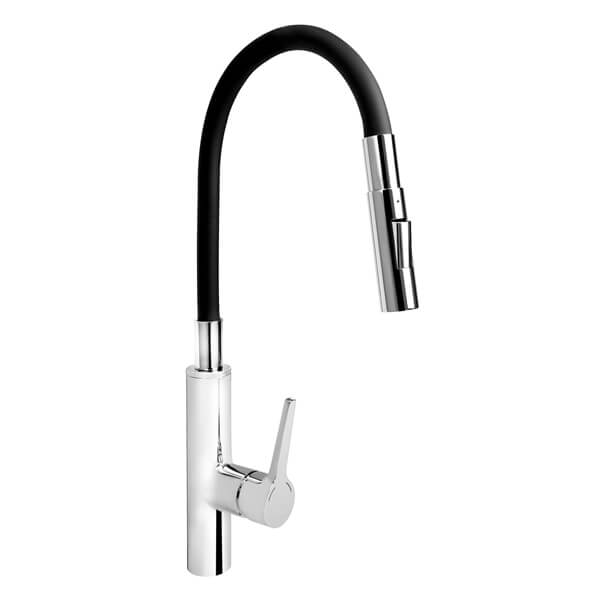 Mixed metal has been a consistently popular trend amongst tap varieties over the past year. But don't worry, if you can't quite decide between sophisticated black and rustic metal, you can opt for both.
Some of the trendiest metals on the market are copper, brass, gold, and bronze. Paired with the timeless elegance of black (or matte black), you can enjoy kitchen taps that is at once stylish, quaint, and wonderfully contemporary.
Give your kitchen sink a touch of the dark side. Black kitchen taps add style and sophistication, and as you can see, you have options to suit everyone – from avid chefs to busy parents!