Take a 3D Tour of 7 Kitchens of the Rich and Famous
Published on: 23/05/2022
Last Updated: 23/05/2022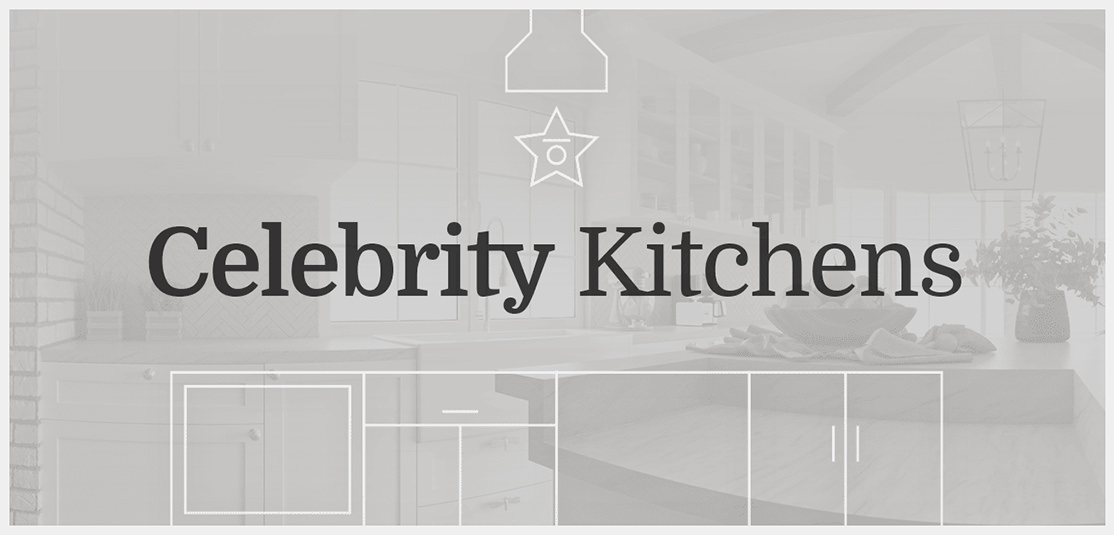 Everybody loves/envies a celebrity kitchen. But while other celebrity room reveals are often too good to be true, the kitchen photo shoot offers a true insight into the way a superstar thinks and lives.
A kitchen is a room for doing. And, let's face it, a room for socialising. Everything from elbow room to ambience, hygiene to convenience, must be perfectly arranged. A good celebrity kitchen reveals how you might do so if money were no object.
QS Supplies wanted to plunge deeper. We analysed multiple photos of seven desirable celebrity kitchens and modelled them in 3D to create floor-plans and 360° tours, where you can learn more about the features of each kitchen, and even discover some cheaper alternatives such as kitchen sinks, kitchen mixer taps, pull-out kitchen taps and black kitchen taps to the high-spec items on show.
---
1. Adele
Adele maintains three substantial houses on the same Beverly Hills street to keep her family close at hand. But the British singer has kept her own U.S. home in a European cottage style to touch in with her heritage. The powder blue of her kitchen certainly feels more genteel than Cara Delevingne's California Blue. However, the double door American fridge is a little out of character.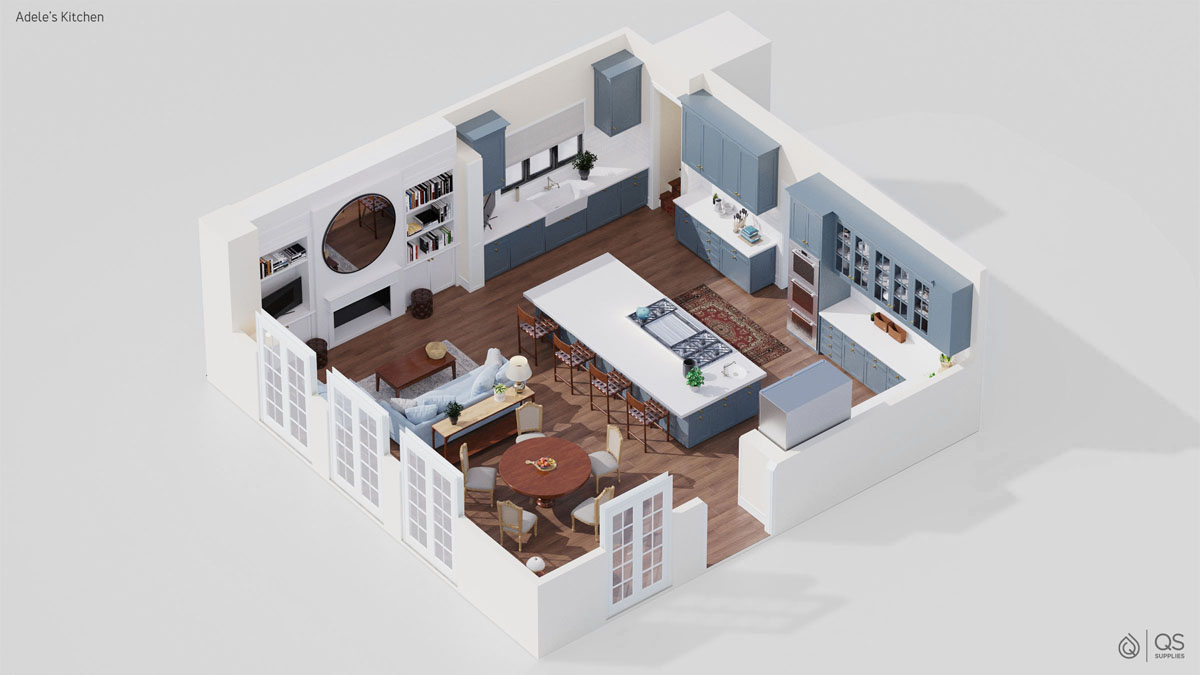 Click here to view full size
The rug-lined staircase leading up from the window and nearby Belfast sink bring the kitchen back on-script. The kitchen opens out onto a dining area, and Adele uses Persian rugs to link and zone the sprawling space and add warmth to a suite that's dominated by hard surfaces.
---
2. Jennifer Lopez
Few individuals have made their mark on 21st-century western culture like Jennifer Lynn "J.Lo" Lopez. But you gotta eat, right? The kitchen in J.Lo's $28m Bel Air mansion is pretty real, with an island 'block' that looks like it's genuinely used for sitting and talking around whoever's on chef duty. While a working open fire remains in the adjoining sitting area, the kitchen fireplace has been covered up to shelter a free-standing armoire cabinet.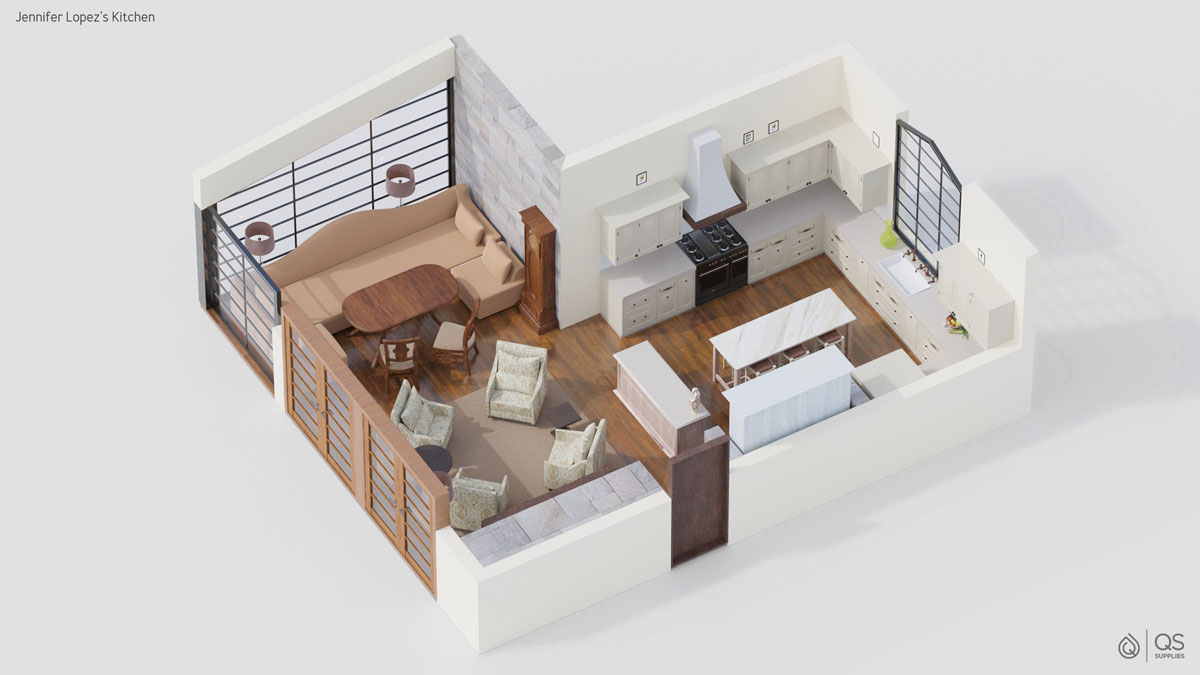 Click here to view full size
Lopez has maintained the home's original 1940s French country style, with a range oven and French limestone countertops. Even the faux-candle double chandelier fits the look. But the real design breakthrough is the wraparound skylight that floods the room with heavenly daylight.
---
3. Gordon Ramsay
How does a top celebrity chef keep their home kitchen? In the case of Gordon Ramsay, the answer is sleek, practical, and efficient. The dual island creates extra space to work while opening the chef's eyeline out to the dining area. The 2½-tonne Rorgue island oven in the middle cost a reputed £67,000 ($88,277). Although let's face it, it doesn't blend in as seamlessly as the built-in Miele ovens and hobs.
Click here to view full size
Ramsay's London kitchen cost £500,000 ($659k) in total, according to The Guardian. But the look is not totally out of reach of the average homemaker. The Belfast sink and copper cookware add a touch of vintage classicism to this professionalised home kitchen. Ramsay's country-style cabinet doors and other rustic frills add to the sense that the Rorgue oven must have crash-landed from space into a random old west ranch.
---
4. Dakota Johnson
There's only one shade of green in Dakota Johnson's kitchen. It's called Alligator Alley, and Benjamin Moore sells it at $75 (£57) a tin. The Fifty Shades star's kitchen is bijou for a superstar mansion, but this was part of the attraction. "I was immediately drawn to how it was clean but also cosy," Dakota says of her mid-century modern home in Malibu. "I thought, I'll never want to sell this place."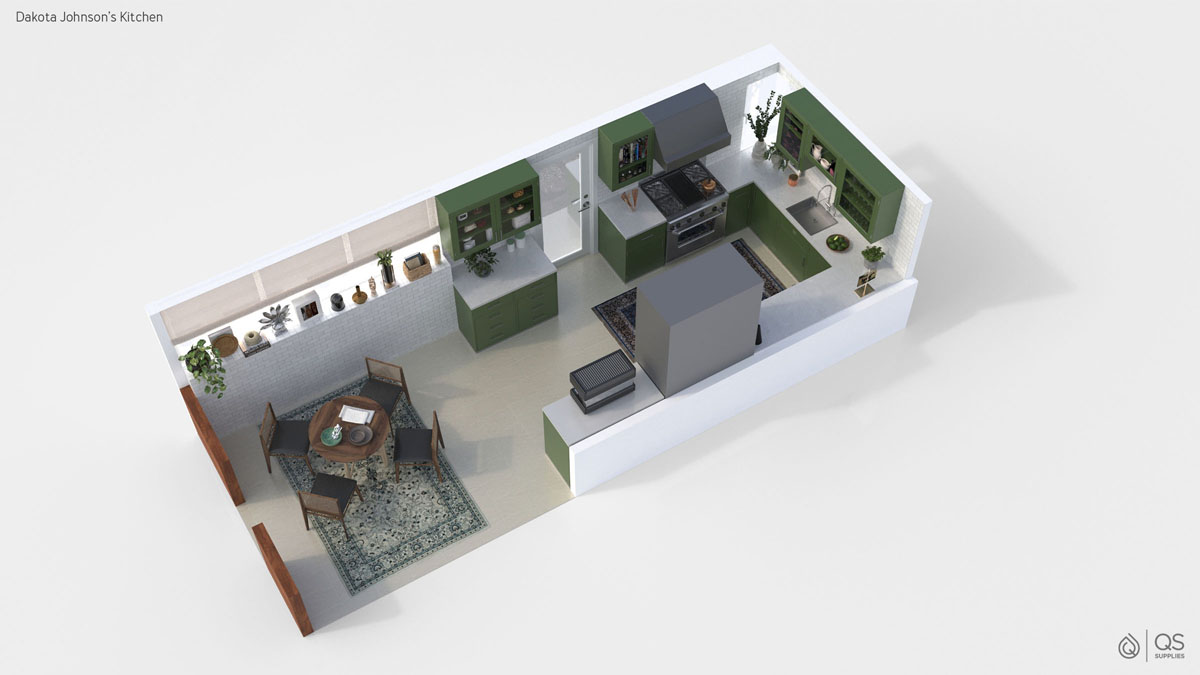 Click here to view full size
The skylight prevents the intimate space from feeling cramped, and the room opens up onto a wood-panelled dining area from which guests can slowly be syphoned into the kitchen gossip. The huge Sub-Zero fridge/bunker adds a welcome sense of abundance to an otherwise modest kitchen.
---
5. Cara Delevingne
Architect Nicolò Bini designed an eclectic LA home for supermodel Delevingne that is part art gallery, part playground. Despite the gimmicks, "It still feels like a home," insists Delavingne. "There's a proper dining room and living room and a great kitchen. But it's also a kind of journey. The deeper in you go, the more treasures you discover."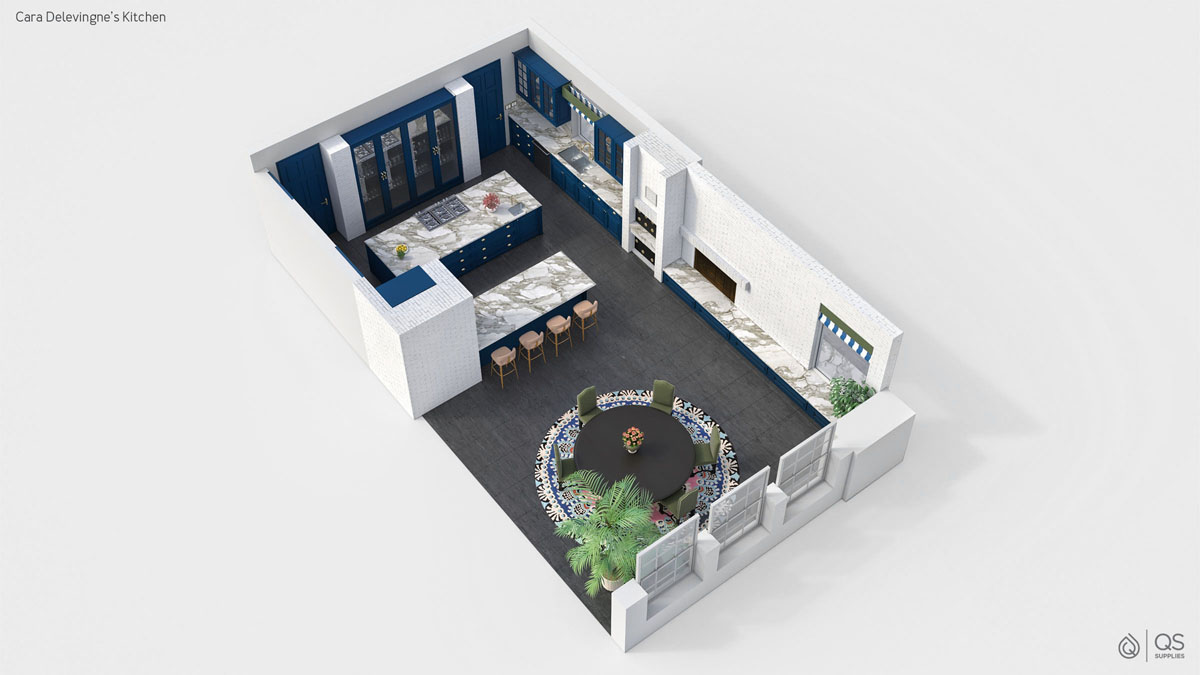 Click here to view full size
That unreal blue paint is called California Blue and is another Benjamin Moore product. Along with the deckchair window shades (fabric by Schumacher), there is a distinct ocean theme going on. The kitchen is relatively subdued compared to much of Delavingne's pad, but the bubblegum-coloured trim and that hyper blue paintwork keep things fun.
---
6. Chrissy Teigen & John Legend
Model Chrissy Teigen is known for her talent in the kitchen, having published two cookbooks and many a food-related Instagram snap. So, when she and musician hubby John Legend acquired their $17.5m Beverly Hills home in 2020, fans were eager to see there would be room for more than just a toaster. Her dual-island kitchen, which opens straight out onto the pool area, did not disappoint.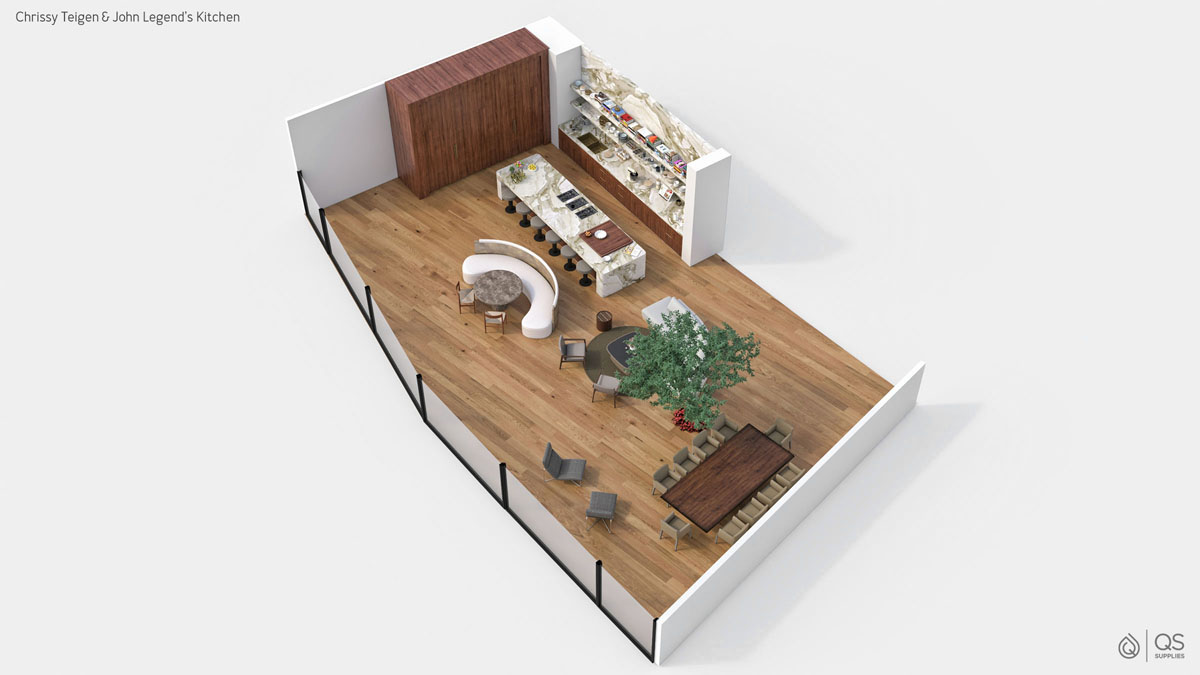 Click here to view full size
The kitchen is equipped to any self-respecting chef's standards, with Gaggenau hobs, a KitchenAid Professional Mixer, and hygienic marble counters and wall cladding. The twin ovens are concealed behind wood cabinet doors which, along with the imposing sculptural pendant lamp, keep this serious cook's kitchen in the realm of luxury.
---
Selena Gomez
Popstar Selena Gomez opened her LA kitchen (virtually) to fans and celebrity chefs alike during her lockdown show, Selena + Chef, and the room has become as iconic as the singer herself. It's all in the details, with the dragonfly cabinet handles, powder pink gadgets, and 'rainbow' knives adding an up-to-the-minute feel to the rustic minimalist setting.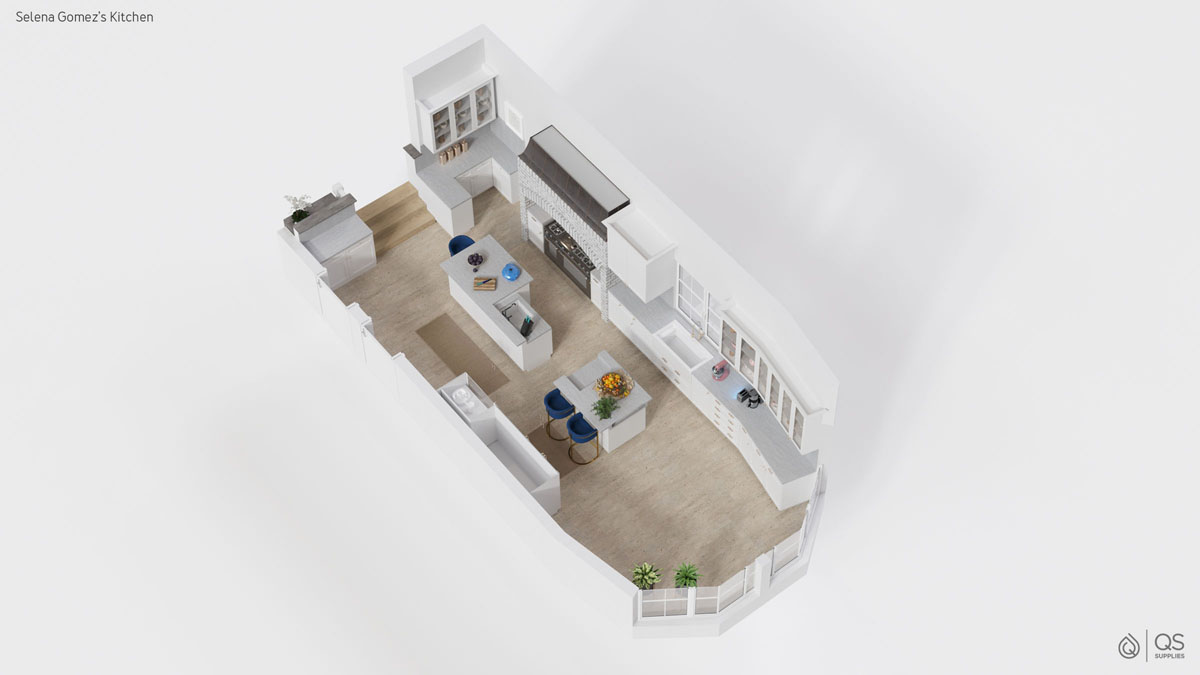 Click here to view full size
It's the stainless-steel Viking range nestled in that white brick fireplace that has become the most memorable angle on Gomez's kitchen. It forms a natural frame for the star's candid and extroverted presentation style, and her Le Creuset ovenware really pops against the restrained white and grey background.
The celebrity living rooms we see in glossy magazines may barely be used; the bedrooms keep their secrets close to heart. But beyond a once-over with a wet cloth, the celebrity kitchen tells it how it is – and how it could work for us. Which of the features above could you now not live without?