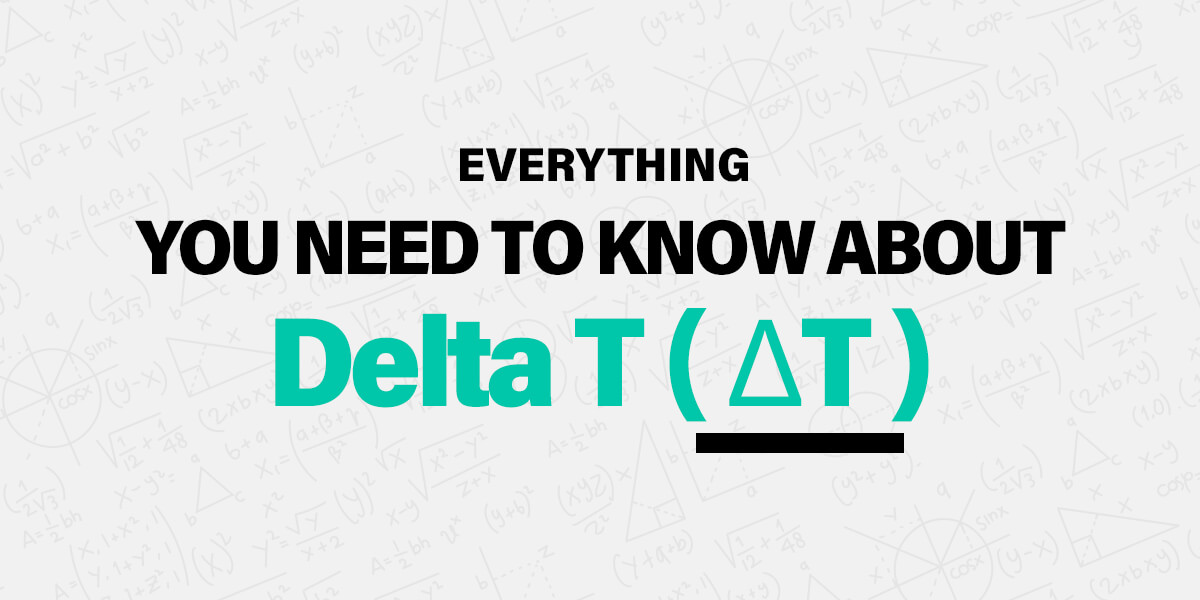 Selecting the right appliance can be tricky, and given that most come at a substantial cost, in-depth knowledge about the working of an appliance can go a long way in getting what you want. Once you decide the heating efficiency, you can then finalise the style, finish and size and any other specifications, so that overall, you get more value for your money. When we talk about heating appliances such as radiators, and heated towel rails heating efficiency is paramount, which means using optimal energy to generate more heat.
Radiators are heating appliances that significantly impact our lives, bringing warmth and comfort when temperatures drop. These come in traditional cast iron and contemporary styles, however, every model performs differently. The appliance's performance is measured by the amount of heat it emits, and its Unit is BTU or British thermal unit. However, simply looking at the BTU is only partially accurate. It would be best if you looked at it in conjunction with the Delta rating of the heater.
In other words, your decision must be based on the BTU at Delta T of the model in question. This article will tell you everything you need to know about Delta T (Δt) and will help you selecting the right appliance for your home or workplace. Delta T is a crucial figure in getting you optimal heating without under or overheating. Delta T or Δt will help you choose the appropriate radiator size for your space.
---
The BS-EN442 Standard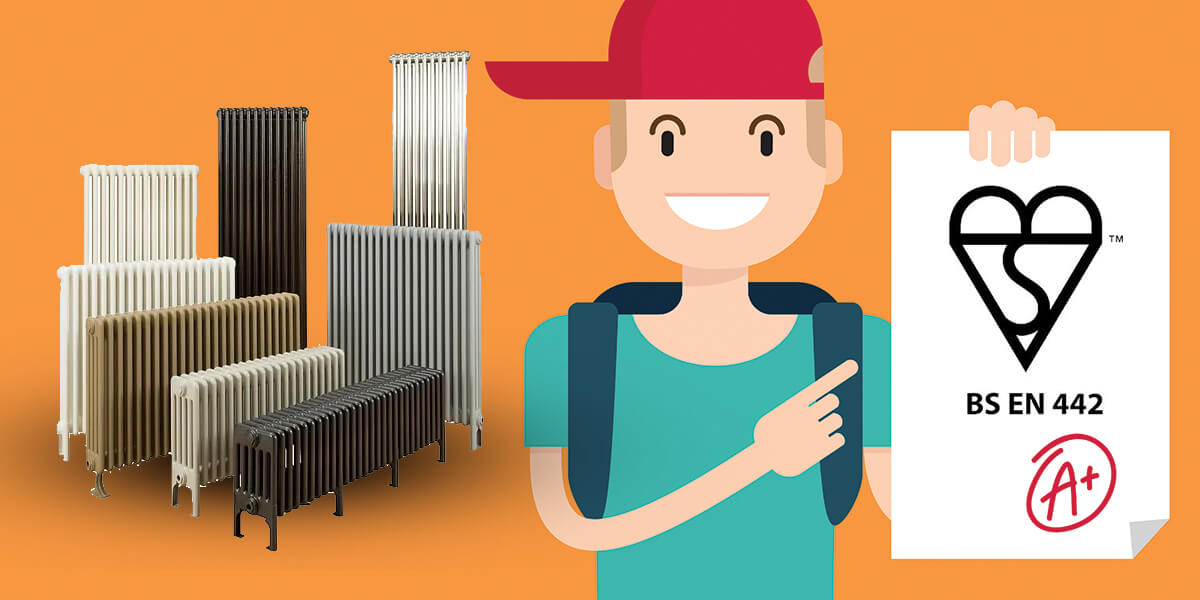 BS EN 442 is a European Standard dealing with radiators and convectors intending to get optimal performance from central heating systems, safely and effectively.
By law, manufacturers, retailers, wholesalers, and resellers must ensure all hydronic radiators and towel rails comply with the European Standard BS-EN442. Conforming appliances also come with a CE mark (Conformité Européenne). B2-EN442 states that all hydronic towel rails and radiator heat outputs are tested at Delta T 50° or ΔT 50°.
---
Our Stand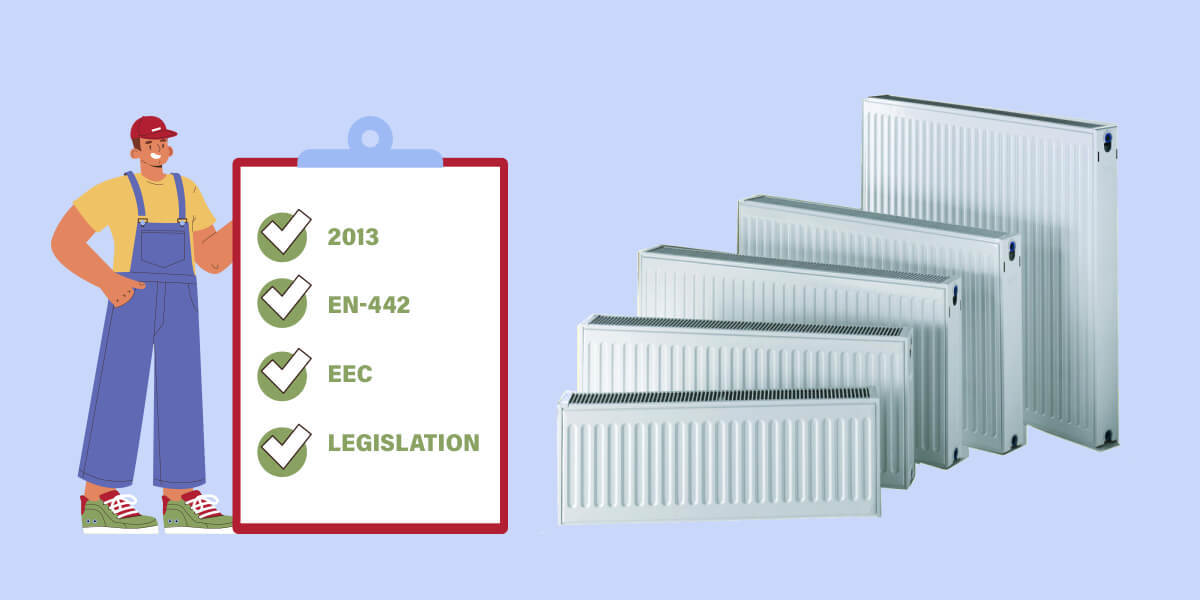 We share our knowledge with our customers, empowering them to make the best choices. It is required by law that all heating appliances comply with the 2013 EN-442 EEC legislation.
We ensure all our products use the correct Delta ratings as specified in the above legislation. We display the actual BTU of the radiators with the product information on our site and on manuals accompanying the product. Such transparency has been one of our philosophies from the start as an important link between manufacturer and consumer.
---
Delta T (ΔT)
The Delta T (ΔT) is the average difference in temperature between the water flowing through your central heating system and the temperature of the room to be heated.
Hence, if you measure the BTU using Delta T50 when the Standard of the particular radiator is a Delta T70, then your readings will be incorrect and can lead you to buy a less efficient product.
---
What is a Radiator Delta Rating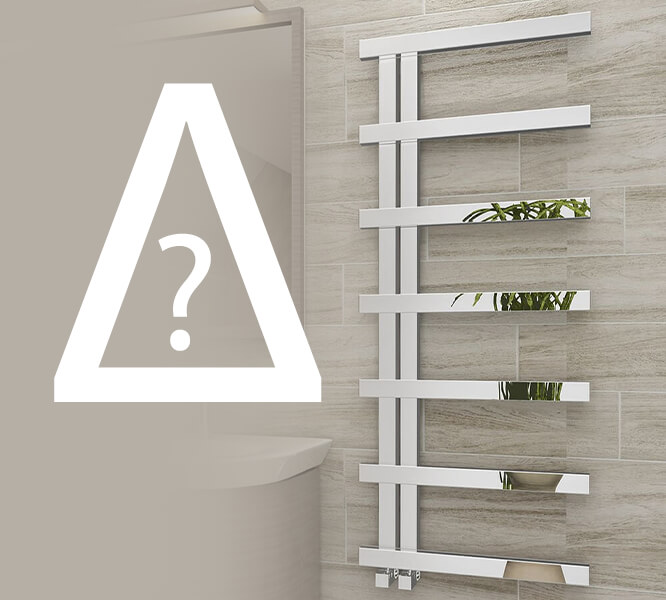 It can be challenging to compare the functionality of one radiator model to the next simply by looking at them. An accurate comparison means comparing the BTU ratings by comparing the heat outputs. But, the models being compared must have their BTU rating calculated using the same Standard Unit, and thus, an assumed temperature Delta 50 is used as the accepted unit to calculate the BTU. Sometimes Delta 60 and Delta 70 are also used as the Standard assumed temperature when calculating the BTU.
Within the UK, most radiators are manufactured and measured using the Delta T50 rating. The T50 rating shows the average in-flow temperature of a boiler or central heating system into the radiator and it's output temperature. Thus, with an input of 80 degrees and an output of 60 degrees, you get the average radiator temperature of 70 degrees.
Then, taking the average room temperature as 20 degrees and deducting that from the above, and you get 50 degrees, or Delta 50.
70C - 20C = 50C (delta t50).
Average Temperature of Radiator Water - Average Desired Room Temperature = Delta T
---
Why do we have Delta T50, T60, and Delta T70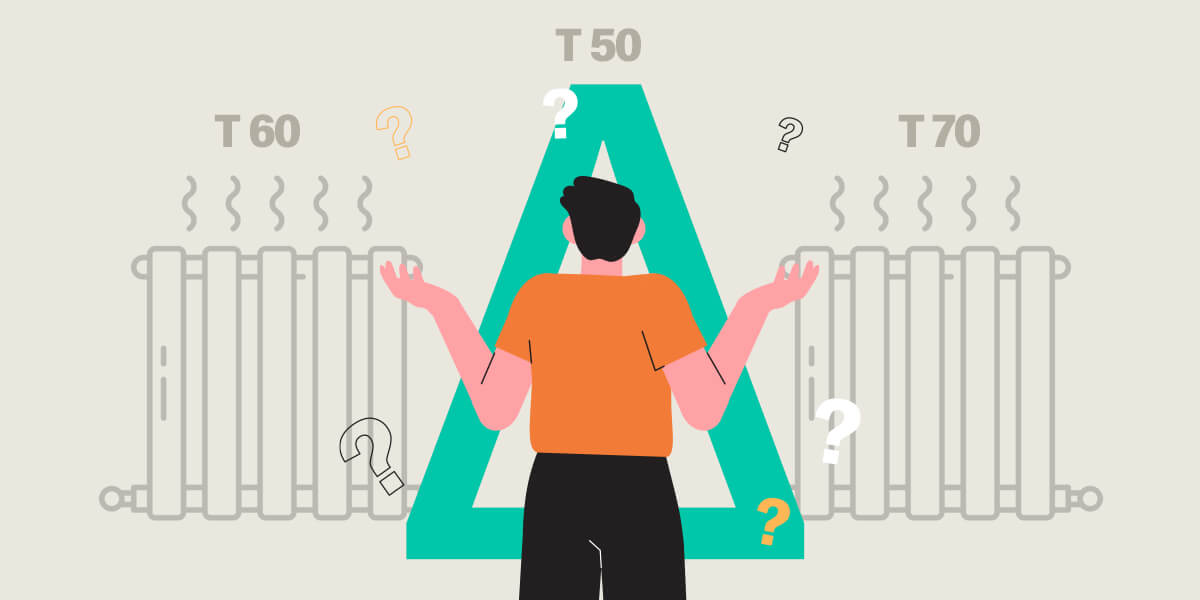 When buying a radiator, it is essential that you know your heating system and what exactly you are looking for. Buying a radiator or towel rail that uses Delta T60 output figures won't work well on a Delta T50 heating system. You cannot afford such an error as you will not have the heating you need, or the appliance will use more energy to warm the same space compared to a T50 model, which is compatible with the heating system.
Most modern plumbing systems powered by modern insulated boilers generally come with normal Delta 50 specifications. In fact, even Delta 30 and Delta 40 could work quite well with renewable and efficient heating systems which use lower water temperature systems. Many of these are made with eco-friendly heating in mind and thus use much lower temperature standards.
The higher Standard of T60 is still in use with some older systems before all models change to the currently accepted and legal T50.
Delta T70 is rare and is used by some manufacturers only, such as Reina. However, it is easy to convert a BTU at Delta T70 into T50 or T60 for comparison when needed.
---
Converting Delta T50, T60, & T70
If you know a radiator's BTU(output) at ΔT=60, then to find the heat output of the radiator at ΔT=50, you need to multiply the known BTU (at ΔT=60) by 0.787.
In the same way, to get the heat output of the radiator at ΔT=70, multiply the BTU at ΔT=50 by 1.55.
To find the BTU of a radiator at ΔT=60, when you know the BTU at ΔT=50, multiply the BTU known (at ΔT=50) by 1.27.
---
Delta T Correction Factors - Delta T 50°
Delta T
Correction Factors
75°
1.69
70°
1.55
65°
1.41
60°
1.27
55°
1.13
50°
1
45°
0.87
40°
0.75
35°
0.63
30°
0.51
25°
0.41
20°
0.3
15°
0.21
10°
0.12
5°
0.05
Delta T Correction Factors - Delta T 60°
Delta T
Correction Factors
60°
1
55°
0.906
50°
0.787
45°
0.705
40°
0.605
35°
0.519
30°
0.43
25°
0.344
20°
0.262
15°
0.185
---
If you find all these figures and calculations mind-boggling, call us for details. Our staff will be happy to guide you through it. We also have a user-friendly online free Radiator calculator, which may help you in finalize your buying decision.
Not just high BTUs, our top-quality radiators and towel rails give you plenty of style and finish choices. Opt for the ever-green vertical, horizontal or aluminium radiators. Made from premium quality, our appliances are also durable in construction, while some are eco-friendly and completely recyclable.