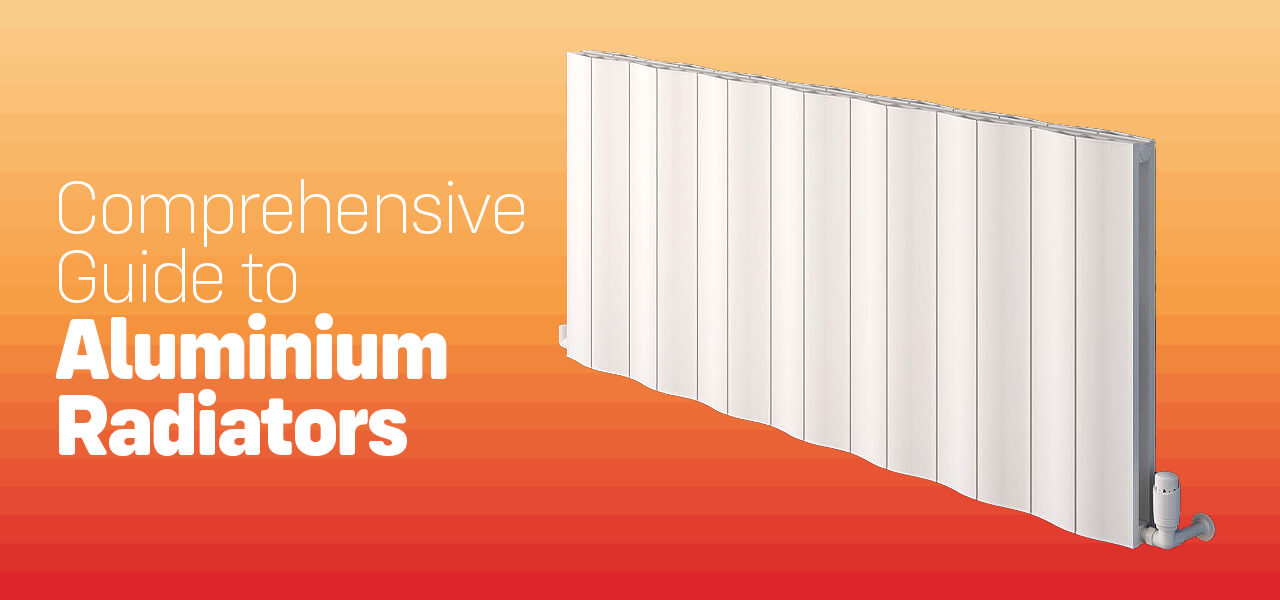 Aluminium radiators have quickly overtaken the market of traditional cast iron and steel radiators. Aluminium is the most popular radiator material today and will potentially expand further as demand soars. Abundant aluminium has many applications, like being suitable for cans, foil wrap or even a spaceship. It is also one of the better choices as a construction material for heating appliances like radiators and towel rails. Through the article, we will discuss and discover why it is the most used material in the construction of radiators the world over and how it puts the aluminium radiator ahead.
---
Brief History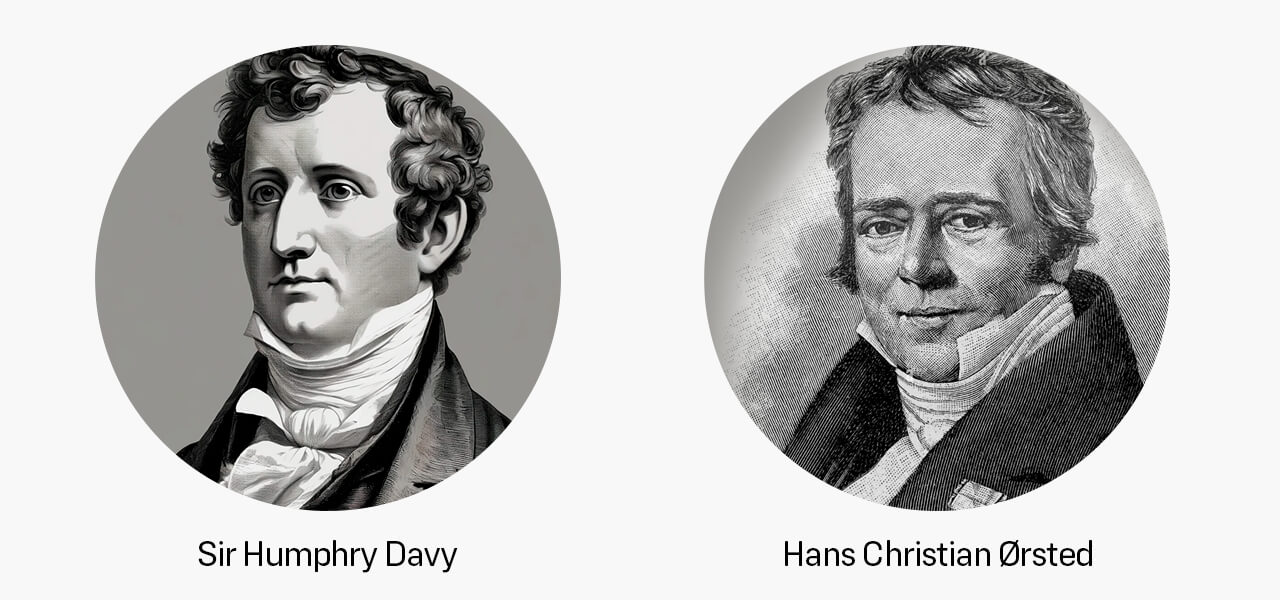 Aluminium gets its name after alum, which is called 'alumen' in Latin. It was named by Sir Humphry Davy, an English chemist who discovered aluminium by electrolytic reduction of alumina or aluminium oxide. Aluminium was first isolated by Hans Christian Ørsted (Oersted) in 1825 in Copenhagen, Denmark.
Aluminium radiators follow the evolution of radiators in general, which work as thermal energy exchangers from one medium to another. Radiators are used in cars, buildings, and the modern version has arrived after years of innovations, discoveries and developments.
The Roman hypocaust is one of the earliest known examples of a radiator-like system for indoor heating. It had hot circulating air and smoke generated by a furnace beneath the buildings, rising to heat the spaces above, similar to underfloor heating. The version close to the modern radiator design was developed in the 19th century by Franz San Galli, a Prussian-born Russian businessman. This was a big leap towards the development of radiators as we know them today. However, it is worth noting that using radiators for heating purposes has evolved simultaneously in different parts of the world. You can further read about history of heating here. The early materials used in radiators were cast iron and steel. But these came with several drawbacks, and with the discovery of aluminium, most manufacturers started shifting to this newer metal which was not only cheaper but also very abundant and easy to isolate from its ore.
---
Properties of Aluminium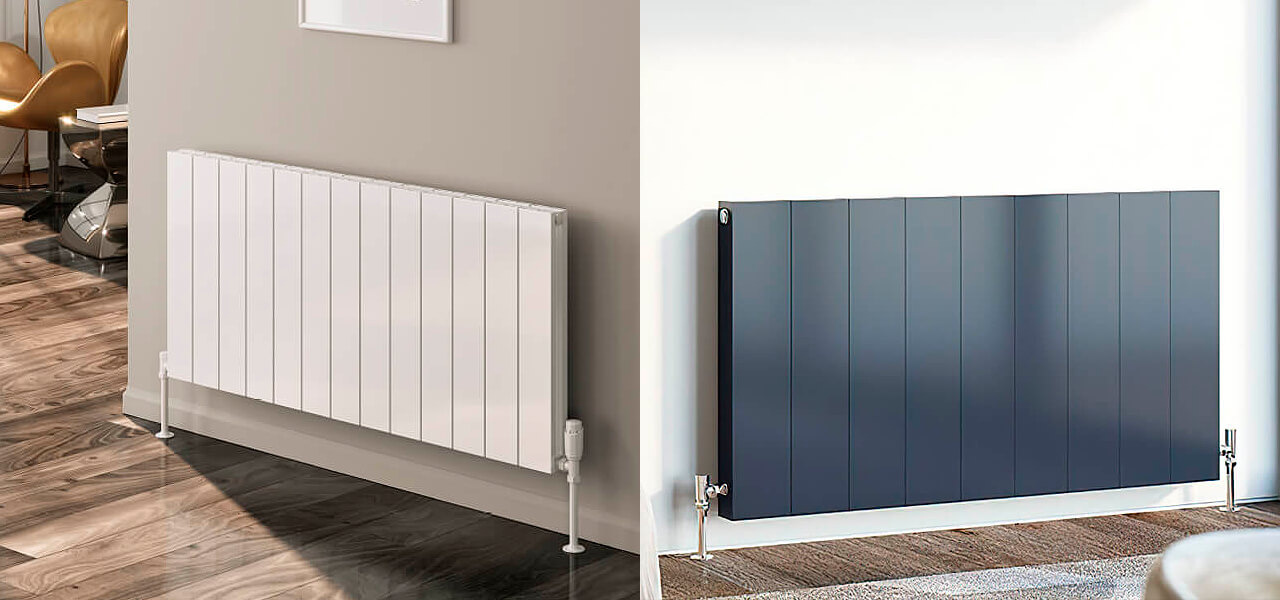 Early radiators were made of Cast Iron, and they worked well in traditional settings, and are still being used today to give homes a traditional touch. They have carried their charm through the ages. But these materials came with their share of problems, such as rusting over time, and needed to be quickly replaced. Besides, cast iron was bulky and expensive, compelling makers to experiment with alternatives such as steel, mild steel and aluminium. It was discovered that Aluminium radiators have a clear advantage over others in many aspects. By utilising various combinations of its advantageous properties such as strength, lightness, corrosion resistance, recyclability and formability, aluminium is being employed in an ever-increasing number of applications. This array of applications ranges from strong yet lightweight structural materials to thin packaging foils.
The other core properties of Aluminium have been outlined below.
Aluminium is abundant and easily available.
It is easily malleable and can be made into thin sheets and bars.
The metal is an excellent heat and electrical conductor.
It is light in weight and less dense as compared to steel or iron.
Unlike iron, it won't rust or corrode.
It can be easily recycled.
Aluminium is low-maintenance.
The above properties put the aluminium radiator ahead in the race for the best radiators, and it ensures versatile use and a whole lot more. Here are some of the key benefits:
Thermal Efficiency: Aluminium radiators heat up quickly, as aluminium is a very good conductor of heat. So, there is no long waiting time for the room to heat up with this radiator. These appliances also cool rapidly; thus, turning off the heat means you have a cool room pretty quickly.
Easy to handle: Aluminium radiators are much lighter. Moving, installation, and handling is, therefore, quite easy.
Energy Efficiency: Aluminium radiators heat up quickly and use much less energy as compared to steel or cast iron. This means you get all the benefits of a steel or cast iron radiator minus the hefty cost of energy incurred by a steel or cast iron model.
Low Water Content: Aluminium radiators do not need much water for heating, so they are designed with low water content and will not overstrain the boiler, giving it a longer life. Once again, this translates into reduced energy consumption and lower bills.
Anti-Corrosive nature: Unlike Steel and cast iron radiators that will rust over time, aluminium radiators will not rust on the outer surface. Reactive aluminium oxidises when it comes in contact with oxygen to form an aluminium oxide layer on the surface, protecting the metal underneath and preventing rust.
Eco-Friendly: Modern manufacturing has one important agenda, and that is giving back to the planet. Aluminium is a completely recyclable material, so you can take home that aluminium radiator without guilt.
Compatibility with other Heating Systems: Aluminium radiators can be used with underfloor heating and heat pumps. Whether you use them standalone or with the heating system, including low-temperature systems, these work well to give you the performance you need.
Versatile nature: If there is one type of radiator which can be customised to the T, it is the Aluminium radiator, as it can be moulded into the most unthinkable patterns, shapes and sizes. Getting the exact design you have in mind to meet the needs of your space is easy.
---
Installation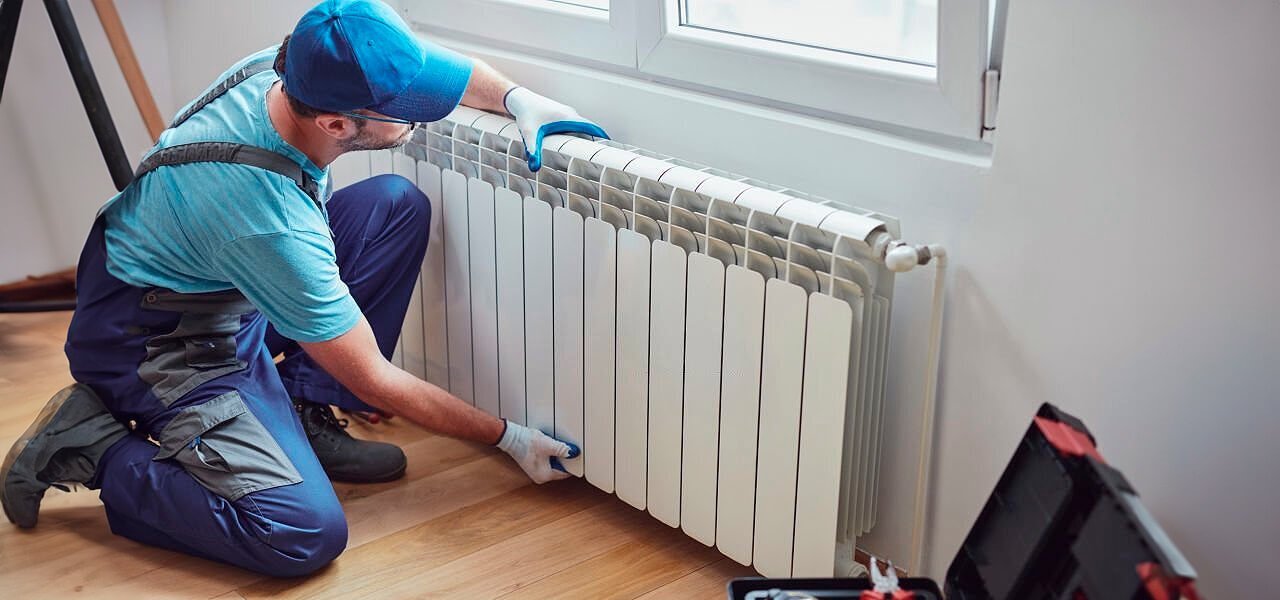 Once you have purchased the aluminium radiator according to your very specific requirements, the next obvious stage is the installation. Installing an aluminium radiator follows similar steps to installing radiators from other materials.
During the purchase of the radiator, you may get the radiator valves and brackets included with your purchase. But if not, you will need to buy them separately. It is simple to find compatible accessories from the same brands as the radiators. Besides the accessories, additional tools may be needed for the installation and must be kept handy. You will need a pipe wrench or adjustable spanner, pipe cutters, sealants, bleed key, mounting brackets, and PPE for your safety, such as gloves and goggles.
After you unbox the radiator, the next step is to select where you plan to place the radiator. We recommend choosing an wall under a window, as this makes for the most appropriate location with efficient heat distribution.
Then cut the pipes after measuring them to the appropriate length. A pipe cutter is a handy tool here for precise and neat cuts, provided the pipe is clean and debris-free.
The brackets must be fixed at the desired height. If your radiator comes with mounting brackets, attach them to the wall at the desired height. Measuring with a spirit level for a correctly aligned angle is a good idea. Read the instruction manual if needed.
Radiator valves must be installed next. These are to be fixed on both ends of the radiator. Before you proceed, apply a pipe sealant or PTFE tape on the valve threads and screw them to the radiator.
Next, carefully hang the appliance on the mounting brackets, ensuring that the installation is secure with no scope for it falling off and getting damaged.
Then the pipes must be connected to the valves. For this, make use of a pipe wrench or an adjustable spanner. Before you do this, you need to use a pipe sealant or PTFE tape on the pipe threads. Secure the connections by tightening them to the right degree, as overdoing it may damage the threads.
Bleeding the radiator is the next important step. Find the air bleed valve, which you will typically find at the top of the radiator. With the help of a bleed key, open the valve so any trapped air will simply come out. Once the water starts flowing through, shut the valve.
Open the valves to let the water flow through the radiator and the entire heating system. While doing so, check for any leaks in and around the connections, and if you find any, fix them either by tightening the connections or using other alternatives. Use the installation manual to guide you.
It's now time for a test run. Switch on your heating system and wait for the radiator to warm up. Test the heat generated; it must be even across the radiator's surface with no cold spots. If you find a cold spot, it's most likely a circulation problem, airlock, pipe blockage or problem of radiator balancing. Smoothen out these problems with the necessary solutions, and you are ready to use your brand-new appliance.
Installation Video of Radiator These general guidelines are useful as a whole, and if you have any specific needs or custom preferences, proceed to look through the instruction manual, as things may differ with the brand or model of the radiator.
An efficiently working aluminium radiator gives you the advantage of efficient heat conduction, low energy and water consumption, ultimately leading to reduced heating bills. Plus, they have the advantage of being cheaper to begin with.
---
Steel radiators V/S Aluminium radiators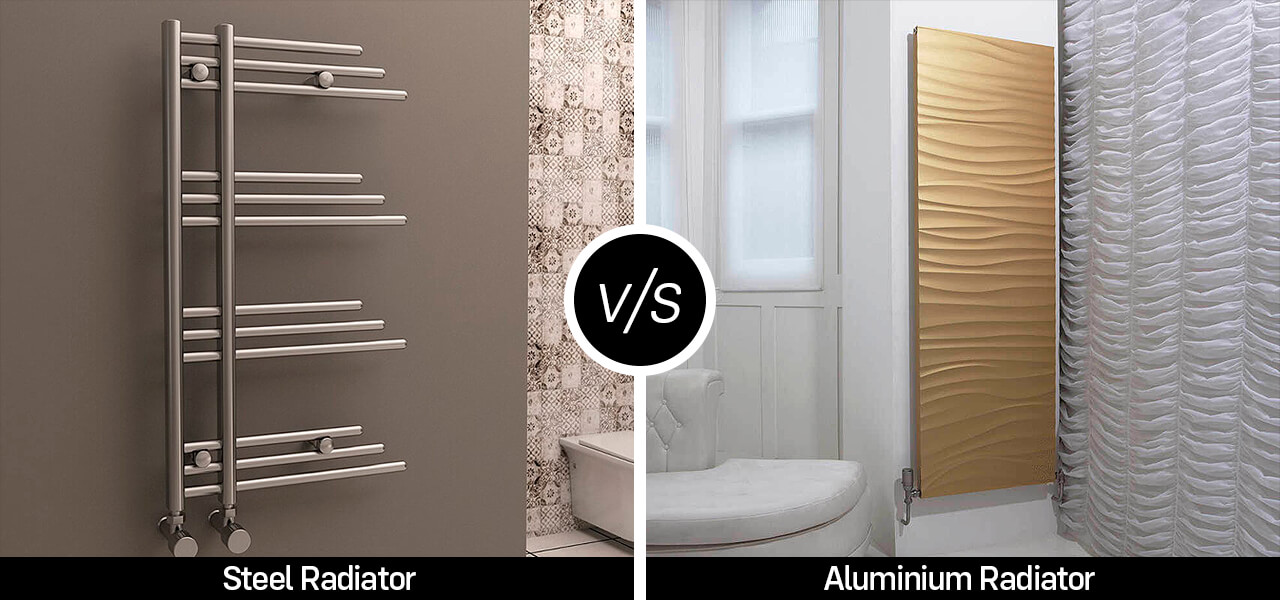 Steel radiators are fairly common. Steel is a versatile, durable material that's easy to work with and cheap too. It has a proven track record of being one of the best materials for making radiators since it conducts heat pretty well. But Aluminium radiators are stiff competition for steel versions. For most residential and commercial projects, the choice is usually steel or aluminium.
---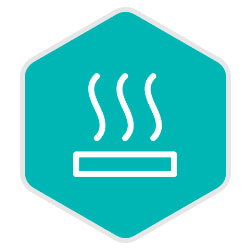 Heat Conductivity
Aluminium radiators have greater thermal conductivity compared to steel. They enable rapid transfer of heat, allowing for faster heating and cooling cycles. Therefore, they are quick to heat up a space using far less energy than steel or cast counterparts. Steel radiators will take longer to heat up but will stay hot longer even after the heating is switched off, giving steel radiators the edge in this aspect.
---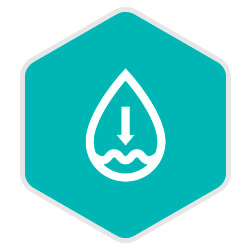 Low Water Content
The aluminium radiator design has low water content, so they don't need a whole lot of water for heating. Low water content coupled with the low thermal inertia of an aluminium radiator means it heats up about three times faster than an ordinary steel model. Compare this to steel, and these radiators have higher water content and will use up more energy to heat all the water and then transfer the heat to the room to be heated.
---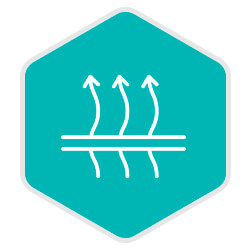 Response time and heat retention
The excellent thermal capabilities of aluminium radiators mean they heat and cool down quickly, giving the user faster comfort at the flick of a switch. Steel radiators take longer to heat but will retain heat for longer periods even after the heating system has been turned off. When it comes to heat retention, Steel radiators have an advantage over aluminium models, which cool off as fast as they heat.
---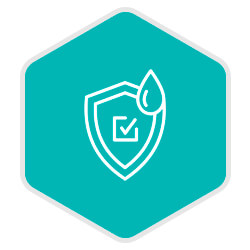 Density and Durablity
Aluminium is approximately one-third as dense as steel and is the perfect candidate for applications requiring high strength and low weight . This includes radiators which are lighter than steel and so easy to handle. Steel radiators are clearly the winners when it comes to durability and are much more robust compared to aluminium radiators. Their bulky bodies mean they can withstand physical impacts without denting or losing shape. Aluminium radiators, on the other hand, are softer and can suffer dents upon impact.
---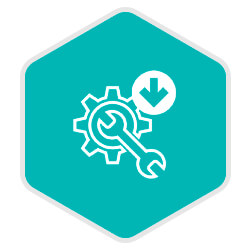 Maintenance
Both types of radiators are low on maintenance. The only difference is that a steel radiator has a higher risk of rusting and may need some attention to prevent corrosion. Aluminium radiators' automatic resistance to corrosion makes it almost zero maintenance in the long term.
---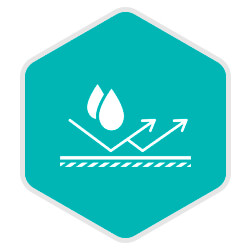 Rusting/Corrosion
Upon exposure to air, aluminium metal forms a protective oxide coating almost immediately. This oxide layer is corrosion resistant and thus gives the radiator excellent anti-corrosive properties. This can be further fortified with treatments such as anodising or painting. Steel radiators, on the other hand, will rust over time, sometimes leaching debris of rust into the heating system. This will cause wear and tear and degradation of the radiator, leading to leaks and compelling a replacement.
---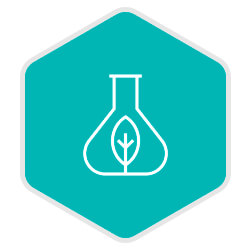 Toxicity
Aluminium radiators, like steel radiators, are not toxic in general. However, the metal can corrode under certain rare conditions, releasing aluminium particles or compounds into the water or air, and may have a potentially negative impact on human health and the environment. Steel radiators are also non-toxic. However, some lead-based paints or other volatile organic compounds (VOCs) come as a surface coating which could be harmful. Similarly, if a steel radiator is rusty, rust and metal particles can mix with air or water, posing a risk of ingestion or inhalation by humans. Aluminium radiators are more likely to maintain better indoor air quality than steel models.
---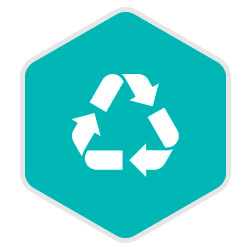 Environmental Impact/Sustainability
Aluminium offers unparalleled recycling potential. There is absolutely no degradation in properties upon recycling, and it retains the same properties as virgin aluminium. Also, it's recycling only uses 5% of the energy required to produce pure material. It is a 100 percent recyclable material, and radiators are also made from recycled aluminium. Steel radiators can also be recycled but may need more energy input for the recycling process. This makes an aluminium appliance a greener alternative to steel.
---
Should you buy Aluminium Radiators?
If you are looking for sustainable, versatile and stylish radiators with a rapid heat response time, Aluminium radiators are your go-to choice. These are, in fact, some of the best when it comes to smaller apartment blocks and closed rooms. In modern households where heating may not be necessary throughout the day and is needed in a time-bound fashion, these can work to save you a whole lot of bucks. Aluminium radiators do not corrode or oxidise in humid or damp environments and are perfect candidates for towel radiators and heated towel rails. This also means they are extremely durable and won't need frequent replacements. Of course, your budget and overall preference will also play an important role in your decision. Aluminium radiators themselves come in a huge variety of types, heating mechanisms, sizes, designs and more.
Our specific line of Aluminium radiators is proof as to why we are a popular name now synonymous with only the highest quality bathroom ware and accessories. Whether you're looking for a beautiful radiator design for the master bedroom or a custom-designed model to warm up a cold afternoon, QS Supplies have a product especially for you.
But sizes and designs aren't the only options we are interested in perfecting - not by a long shot. Our Aluminium radiators also are extremely efficient with high heat output or BTUs (British thermal units) and innovation mechanisms. Whether you're looking to buy a model and then custom finish it or merely looking to pep up a tired old space with a bright polished radiator, get in touch, and we will guide you to the best!