The UK Accessible Public Toilets Report

The Cities and Councils with the Lowest Proportion of Accessible Toilets
Published on: 01/02/2023
Last Updated: 01/02/2023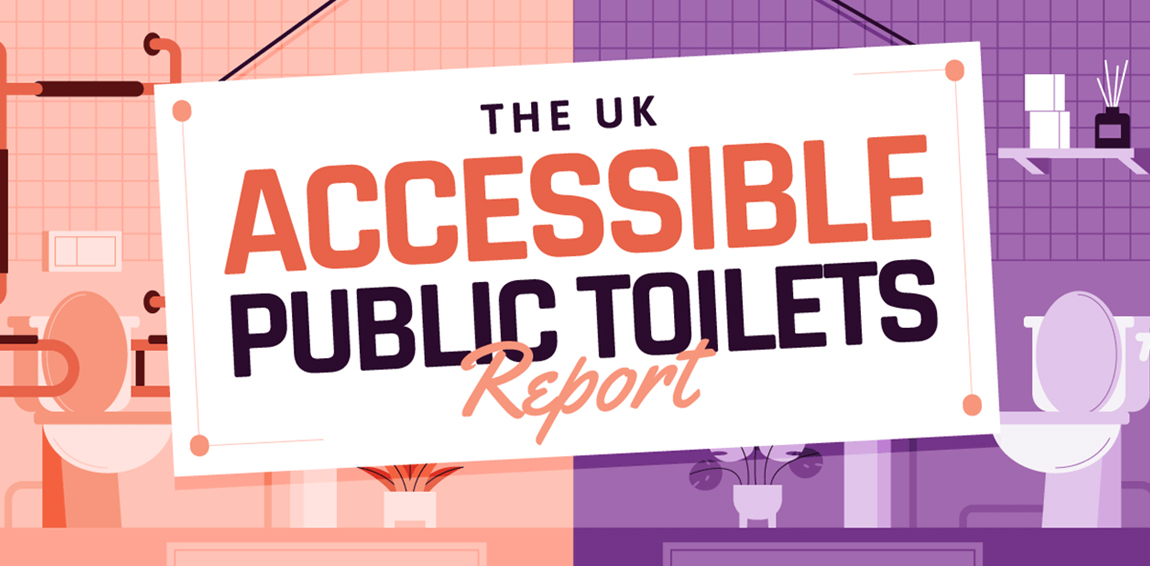 The UK has got caught short.
The number of local authority-funded public toilets has fallen by 19% in six years. The closure of cafés, pubs and shops during the pandemic just magnified the fact that it's hard to find somewhere to 'go' when you're out and about.
The situation is disproportionately tough on disabled people and others who need access-oriented toilets. Things are going backwards there, too: turnstiles on public bathrooms were banned for restricting accessibility as long ago as the 1960s; the ban has since been overturned to allow for paid entry. In one survey from Euan's Guide, 78% of disabled people said they avoided going somewhere that didn't have an accessible toilet. The same percentage said they'd "come across an accessible toilet they were unable to enter."
There are efforts to improve things. Accessibility hub Euan's Guide and The Great British Public Toilet Map empower citizens to share information on the whereabouts (and conditions) of local lavs. And new rules require large new public buildings to install accessible Changing Places toilets as standard.
But where does more work need to be done? Following our guide to the countries and cities with the most restrooms, QS Supplies has zoomed in on the UK council areas, cities and London boroughs with the highest and lowest proportion of accessible public toilets.
---
What We Did
QS Supplies scoured the Great British Public Toilet Map website to find the number of public toilets in every council, city and London borough and then calculated the proportion of accessible bathrooms against the total number for each area.
---
Key Findings
Neither Shetland nor Torridge District Councils have any accessible public toilets, making them the worst council providers in our report.
Fermanagh and Omagh District Council has the best provision, with 45 of its 53 public bathrooms (84.9%) accessible.
Edinburgh is the city with the highest proportion of accessible toilets, 78 out of 118 (66.1%).
Hounslow is the London borough with the lowest proportion, 13 out of 117 (11.1%)
---
UK Council Areas Vary Widely on Accessible Public Toilets
Local authorities are not obliged to provide bathrooms, and years of austerity have led local councils to close public toilets in their thousands. The impact on the public is far from equal: "The dwindling number of public toilets is a health and mobility inequality that we cannot afford to ignore," says Jyotsna Vohra, Royal Society for Public Health. "The burden falls disproportionately on already disadvantaged groups, including disabled people, older people, and people sleeping rough." Here are the councils where that inequality is most pronounced.

Click here to view full size
With no accessible public toilets at all in the area, the Torridge District Council and Shetland districts have the worst accessibility in the UK. The problem is particularly restrictive in remote Shetland, where access to the islands requires a ferry trip — but some ferries also lack accessible bathrooms or even access to the passenger saloon.
---
Some areas are far worse for accessibility than others, as the interactive above reveals. Use the dropdown lists to compare any two council areas and reveal not just the proportion of public access bathrooms but the total number. Useful information when you're deciding where to visit or relocate. For example, Shetland's neighbouring archipelago of Orkney boasts a 59.2% access rate, with 29 of its 49 public bathrooms categorised as accessible.
---
Edinburgh is the Top UK City for Accessible Public Toilets
The city channels a busy flow of workers, shoppers and flaneurs. Any of them may need to use the bathroom, but despite other access improvements to city centres, those with access needs have a tougher job of finding an appropriate facility. Ben Barker, who spearheaded a campaign to get Bristol businesses to make it clear if their bathrooms could be used for non-customers, says, "It doesn't matter how easy it is to walk around a neighbourhood — if there isn't provision for rest stops or public toilets, many people can't go there at all."
Click here to view full size
Edinburgh is the city with the highest proportion of accessible public toilets, while Brighton and Hove has very similar figures. In both of these cities, around two-thirds of the facilities are accessible. But numbers aren't everything, and the conditions and distribution of the city's toilets have come in for harsh criticism this year. "The state of public loos along the stretch of West Hove extending to Hove Lagoon are an embarrassment," says Councillor Robert Nemeth, "and there are big gaps where there is none… residents have recently spoken of filthy facilities, with toilet seats covered in excrement."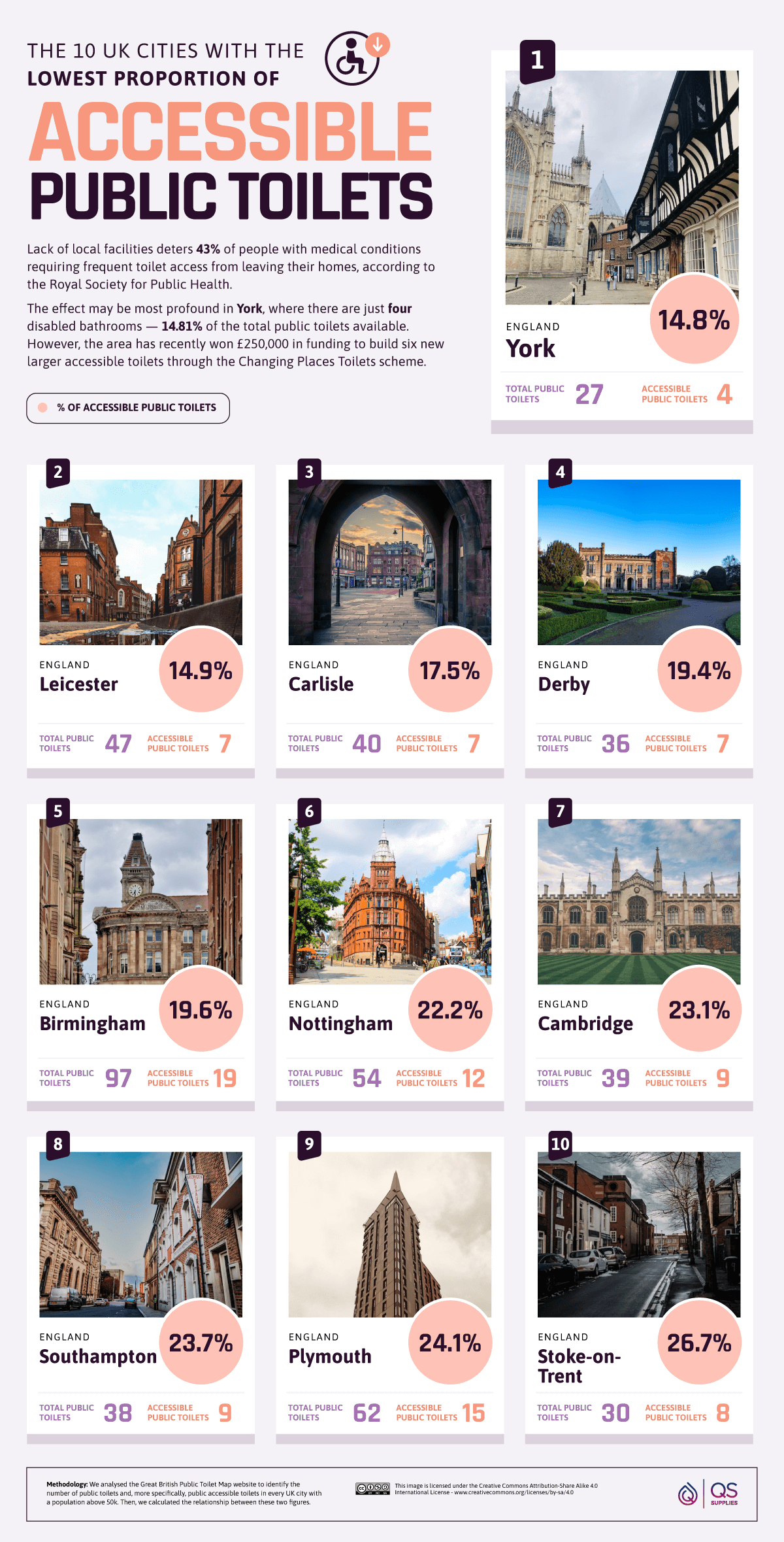 Click here to view full size
The ten UK cities that are worst for accessible public toilets are all in England. York is worst of all… but trying. The city has recently won a grant for new Changing Places bathrooms, and an exciting revamp of the famous Betty's Tea Rooms attraction will deliver a new baby changing room in addition to the accessible toilet that's already in place.
---
Barking and Dagenham, Tower Hamlets Have London's Most Accessible Bathrooms
London local authorities are among those who've ushered in the biggest decline in funding during the austerity years — a nearly 30% drop that has impacted public toilet provision. As our map reveals, the London Borough of Barking and Dagenham is left with the highest proportion (77.8%) of accessible toilets, although, since it only has nine public bathrooms in total, things aren't that rosy. In second-placed Tower Hamlets (75.0%), 24 out of 32 public bathrooms are accessible, which is a little more convenient.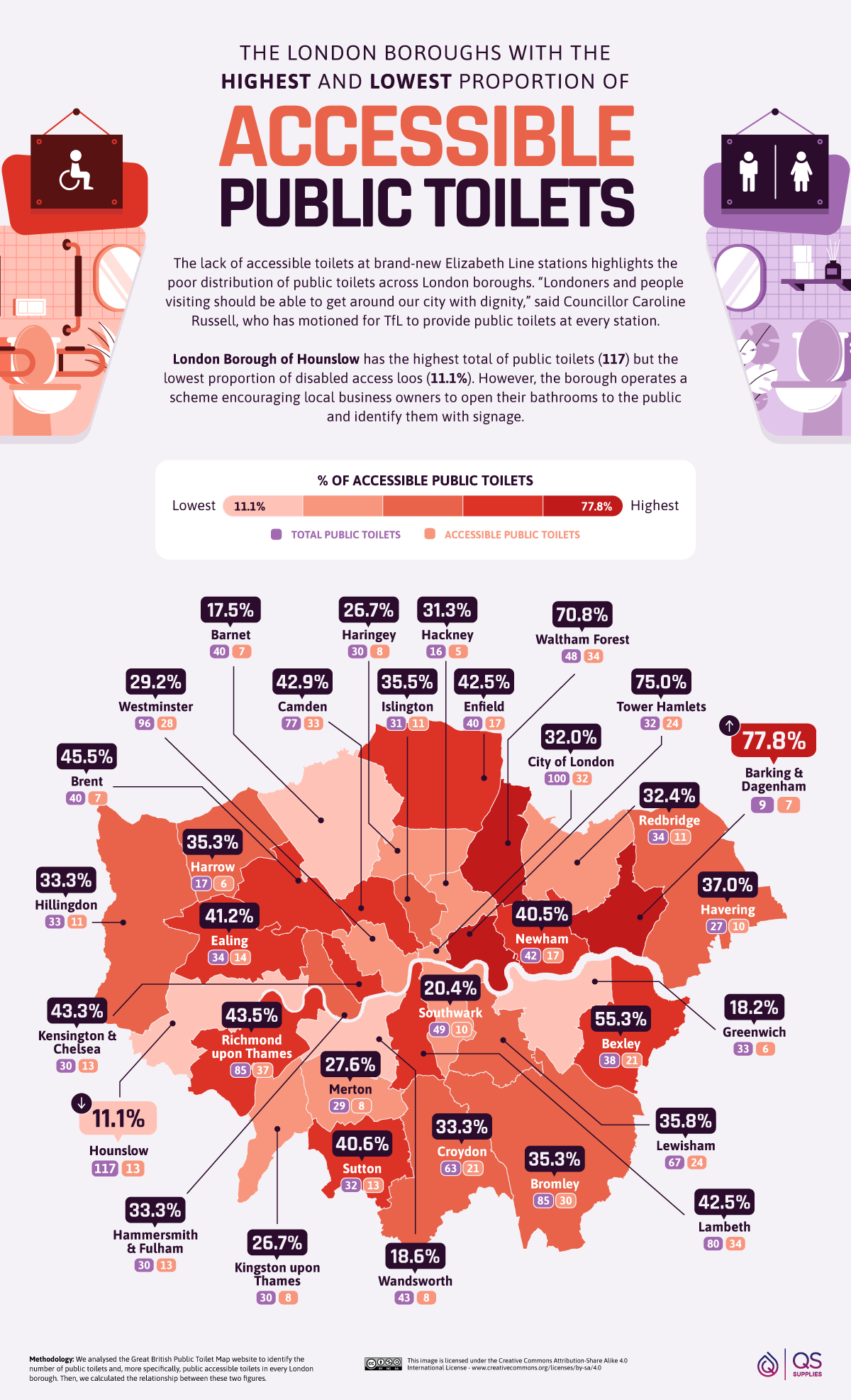 Click here to view full size
One suggestion is that the travel-intensive city introduces a 'Spend A Penny' campaign. Redirecting one penny from the price of every London bus and tube journey could fully fund nearly 700 public toilets, or more than 20 for each London borough, according to the Royal Society for Public Health. They are perhaps most sorely needed in Barnet, where just seven of 40 (17.5%) public bathrooms are accessible. Only Hounslow (11.1%) has a lower proportion.
---
Accessible Public Toilets: A Human Rights Issue
Accessible public toilets are a human rights issue — as highlighted in recent headlines when a woman with an invisible disability wet herself in River Island having been denied access to the shop's bathroom. "It was like stepping into an alternate universe of robots with no emotion or basic understanding of disability or just human decency," says Bianca Artwell. "They could see nothing wrong with their behaviour."
Human rights issues require not just cash but a humanitarian attitude to resolve. In addition to business toilet-sharing schemes such as Use Our Loos, education and visibility improvements are needed so that 'toilet gatekeepers' recognise genuine needs when confronted with them.
As Ruth Wakeman of Crohn's and Colitis UK puts it: "We're asking for access to public toilets, free of charge, and that they're suitable, without fear of public prejudice or judgement."
---
Within the UK, the steady degradation and decline in the availability of accessible toilets continues to grow. The elderly, disabled or wheelchair bound are the most affected by such unfavourable conditions of public restrooms. Awareness of the situation and the disparity in health and mobility services is necssary to make public spaces more enjoyable.
We believe that a quick resolution of this issue is necessary to improve the quality of our public as well as private spaces and thereby improvng overall sanitation and hygiene. Our products are designed to upgrade your comforts in the bathroom manifold and take care of the needs of different users. Our range includes close-coupled toilets, wall-hung basins, mirrors, showers, commercial taps, bath mixer taps, DOCM complaint packs and other accessories. To keep bathrooms free of clutter, we also stock some of the most dynamic and versatile storage options such as wall-hung vanity units or cabinets, and cloakroom vanity units. While improvement in public toilets will take time and awareness, personal bathroom improvements can lead the way so you can go home to a restful and visually appealing space. Our wide array of products meet all your bathroom needs, at reasonable rates.
---
Methodology & Sources
We pulled the location of every public toilet in the UK from the Great British Public Toilet Map website using their API. The definition of what constitutes a public toilet can be found below, as per the toilet map website. The results contained the coordinates of every public toilet in the database. Reverse geocoding was then used to convert the coordinates to addresses. We focused on accessible toilets — toilets that cater to people with physical and mental disabilities. The percentage of accessible toilets in every UK city with a population above 50k and every council and London borough was calculated by dividing the number of accessible toilets within the area by the total number of public toilets in that area. For the city and council rankings, we applied a threshold of at least 25 toilets (so locations with very few public toilets didn't skew the rankings).
The Great British Public Toilet Map defines accessible toilets like this:
"The project aims to map all publicly-accessible toilets - that means all toilets that the public can access without needing to be a customer.
This includes:
public toilets
toilets in train stations, bus stations, service/petrol stations, tube stations, ferry terminals, airports and other transport networks
shopping centre toilets
toilets in public buildings, such as town halls, libraries, hospitals, museums and leisure centres
toilets in other businesses where the business agrees that the public can use their toilets without buying anything. These are often part of Community Toilet Schemes (run by councils) and can include shops, cafes, supermarkets, restaurants, hotels and pubs.
We try not to show toilets where you need to ask permission to use them, such as those that are for customers only. The exception is platform-side toilets at stations. These are only accessible to ticket-holders but we feel it is still useful information, particularly when many trains don't have toilets onboard.