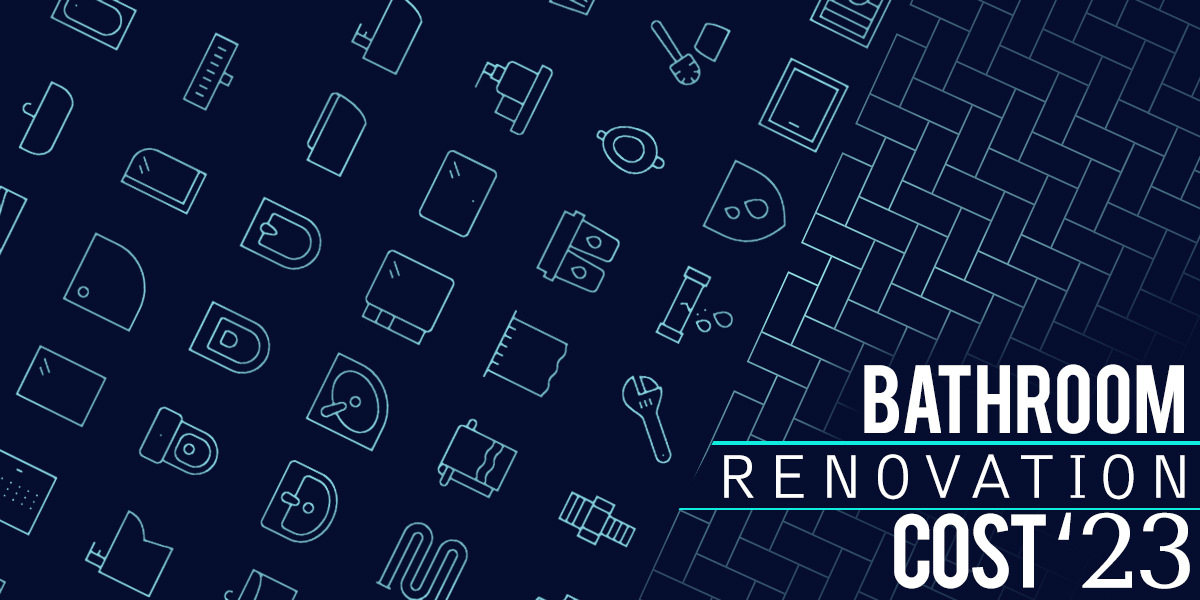 If you are planning to renovate your bathroom, it may require a complete or partial renovation. Remodelling a bathroom is a significant investment.
Renovating a bathroom may include bathroom layout changes, the scale of the project and the quality of the fittings you wish to install. If there are any last-minute changes, the cost may increase. Allocating the overall budget between individual tasks is necessary so that every penny is well-spent. Proper planning ensures a smooth renovation and a better bathroom experience.
This comprehensive guide gives you the costs of essential bathroom fixtures and renovation services like tiling, painting, plumbing, heating, electrical work, and fitting bathroom fixtures. Stay with us till the end to get a complete idea.
---
What we did?
To get near-accurate full and partial renovation costs, we surveyed the 20 most popular plumbers and electricians in the Leicester area, such as Linhart Bathrooms, Leicester Plumbing & Heating and Glen Tiling. After completing our survey, we collated the cost data, took averages and made our conclusions about the closest possible estimates. The prices may change from area to area and for your specific project, but rough estimates will likely remain the same.
---
| Task / Item (Installation) | Average Cost Range | Time Estimate |
| --- | --- | --- |
| Bathroom Sink with Brassware | £310 | 2 - 3 hours |
| Bathtub | £310 - £420 | Half a day |
| Close Coupled Toilet | £120 - £140 | 2 - 3 Hours |
| Hidden or Wall Hung Cistern | £300 - £400 | 4 - 5 Hours |
| Whirlpool System (Additional Electrical) | £550 - £650 | |
| Underfloor Heating | £9 per 20 sqm | Half a day - 2 days |
| Plumbed Radiator System | £350 - £400 | 2 - 4 hours |
| Electric Radiator System | £170 - £400 | 2 - 4 hours |
| Bathroom Extractor Fan | £200 - £250 | 2 - 4 hours |
| Shower Enclosure & Tray | £510 - £540 | 3 - 5 hours |
| Bath Shower Mixer | £330 - £450 | |
| Electric Shower | £500 - £550 | 8 hours (new) / 2 hours (replace) |
| Bathroom Cabinet Fitting | £80 - £90 per unit | 1 - 3 hours |
| Plastering | £80 - £90 per sqm | 6 hours - 3 days |
| Painting | £120 - £200 | |
| Tiling | £30 - £1,000 | 1 day - 5 days |
| Laminate or Vinyl Flooring | £45 - £60 per sqm | Depends on floor area |
| Total for New Bathroom (UK, 2023) | £4000 to £8,000 | |
Bathroom Sink with Brassware

The washbasin is a bathroom essential that usually comes with a pedestal and will require basin taps and waste. Fitting a basin is straightforward; all it needs is a clean connection to the home's water supply and waste outlet pipes. Sometimes wall-mounted models are more complex to install. The average cost of fitting a pedestal sink can be approximately £310, and the job can be finished within 2 to 3 hours.
Bathtub Installation

While not preferred by everyone, bathtubs remain a popular bathroom fixture. You can view our survey, soak or stand to know more about the popularity of bathtubs. The installation involves connecting the tub to the water supply and waste pipe and fitting bath mixer taps and waste components if needed. Some bathtubs can be enhanced with bath panels, while roll-top or freestanding models are visually appealing. However, the basic installation costs for these models tend to be higher than standard tubs. The average budget for bathtub installation ranges from £310 to £420, with the job taking about half a day. Bathtubs featuring a whirlpool system may necessitate additional electrical work, with costs ranging from £550 to £650.
Cost to install a standard bath shower mixer
With bath shower mixer taps, you can zero in on wall-mounted, deck-mounted, or tall models. The floor-standing tall models are perfect for roll-top baths. Installing one is a highly complex job with a plumbing professional best suited for the job as the installation needs an in-depth knowledge of the plumbing. The cost can come down if you replace your old mixer with a new one, while a brand-new installation can cost anywhere from £350 - £475.
Underfloor Heating

Underfloor heating systems are replacing radiators and towel rails in new home designs due to their efficiency, eco-friendliness, and high performance. This is an affordable heating solution in the long run. On average, underfloor heating can cost about £9 for a 20-square-meter room. Typical installation time can range from half a day to 2 days, depending on the size of the floor.
Cost to install laminate or vinyl flooring
Installing laminate or vinyl flooring instead of tiles is easy and affordable. Measuring the area to be covered is essential so you can purchase the units accordingly. Completing the job costs about £40 - £60 per square metre, and the time needed will depend on the floor area.
Radiator or Heated Towel Rail

Radiators or heated towel rails are viable alternatives for those who prefer traditional heating methods. Many prefer the heated towel rail over a radiator, which radiates warmth and heats wet towels. Many factors will influence the cost, including the brand, model, and installer's reputation. You can, on average, expect to pay £550 - £675 to install a plumbed radiator system. The electrical radiator is comparatively cheaper to install and costs £170 - £400. The time needed for the job would be between 2 to 4 hours.
Bathroom Extractor Fans

Extractor Fans are simple to install by yourself, but you will need to call in a professional electrician if the task involved requires additional electrical work. The charges could be between £300 - £330, and the job may need 2 to 4 hours.
Shower enclosure and Tray

The installation of shower enclosures can be simple or complex, depending on the type of enclosure and the brand. Almost all models have glass panels, doors, and shower trays involved in the installation and require a watertight fitting with no leaks. Besides, a glass-panelled enclosure is heavy and can pose safety risks if the installation is not secure. With the shower tray fixed with a riser kit alongside, the standard average cost of the enclosure installation is between £510 - £540, and the job needs an estimated 3 to 5 hours.
Electric Shower
When buying an electric shower, ensure you get a model with a higher kW rating. As the Shower uses electricity to heat water, electrical work is involved in the installation. Therefore, you will need the assistance of a qualified electrician, thereby taking up the installation costs. The average cost for installation ranges from £500 to £550. It may take about 8 hours to fit a new Electric shower and about 2 hours to replace your old one.
Fitting a Bathroom Cabinet

Cabinets help keep the bathroom organised and usually come ready to fit without cost. However, ordering a Vanity unit will likely involve plumbing fixtures and connections, in a new bathroom or renovations. You will need to hire the services of an electrician. The estimated average fitting cost ranges from £80 - £100 per unit and will take about 1 to 3 hours.
Plastering and Painting

Plastering is mainly used to fill and smooth ceilings and walls, evening out rough textures and creating a surface that is easier to paint or wallpaper. Plasters can be used to cover small areas or patches or the entire space and come in various options that offer varying degrees of water resilience and flexibility. There are even textured versions to add a rougher surface if required. The typical cost of plastering undertaken by an experienced plasterer ranges from £70 to £80 per square metre. The average job time varies from 6 hours to 3 days, depending on bathroom dimensions.
Tiling
Tiling cost depends on the quality of tiles, tile size, tile material, and the area to be tiled. Instead of tiling the entire bathroom, you can make significant savings if you tile only certain areas or areas prone to moisture, such as the shower or tub area. Oversized bathroom tiles can be expensive as specialised adhesives must be used for secure installation. Unique-shaped tiles can be labour-intensive, thereby raising bathroom remodel costs.
With the cost of the tiles ranging from just £10 per m² right up to £120+ per m² for high-quality porcelain tiles, tiling of the floor alone could cost anything from £30 to £1,000. Plus, the cost of tile backer boards, adhesive, grout, sealant, and labour must be worked on later. The tiling project will require a different timeframe as it depends on the size of the space to be covered and the type of tiles being fixed. A rough estimate would be a day to 5 days.
---
Bathroom Fitting costs in 2021? The average cost of fitting a brand-new bathroom in 2023 can be about £2800 to £8000. This figure can go up or down as everything is based on personal requirements and is priced accordingly. The quantity and quality of materials used in every job and unexpected hiccups such as damaged pipes or removing old fixtures will increase the cost.
In 2021, the average bathroom installation cost was about £2400 to £7000, which is approximately a 14% change. The average price of a Bathroom Suite in 2021 was about £500 at the lower end.
However, viewing the bathroom remodelling project as a cost is not the correct approach, as it is a wise investment and improves the home's value. The first rooms influencing a buying decision are the kitchen and the bathroom. A high-quality bathroom can quickly repay the initial investment manifold when selling your home.
---
Location Matters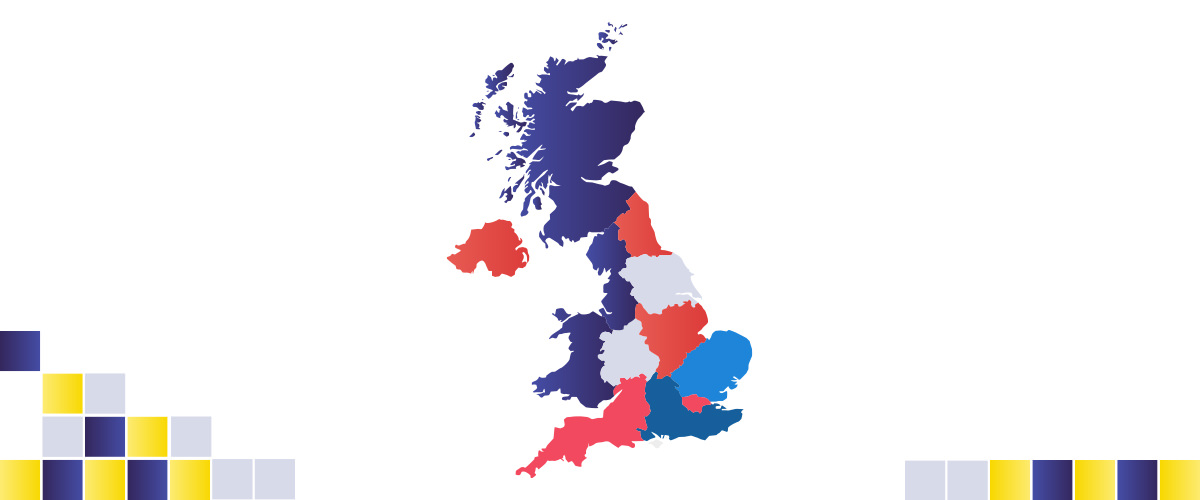 Installation costs vary based on the property's location, with homes in prime areas often incurring higher fees. In competitive markets, the prices may be more affordable. In metropolitan areas like London, anticipate an additional 10% - 20% above the average costs previously discussed, as wages are typically higher. Also, keep in mind that rates will likely be higher during the night hours and over weekends and Bank holidays. You can expect to pay about 25% - 30% more during these times.
You might be charged more in remote areas if the fitter needs to travel a considerable distance. Hiring an installer or contractor who operates locally is advisable to minimise expenses and enhance overall coordination. Picking the day service and avoiding weekends will also help keep costs in check.
---
How to Keep Your Bathroom Installation/Renovation within budget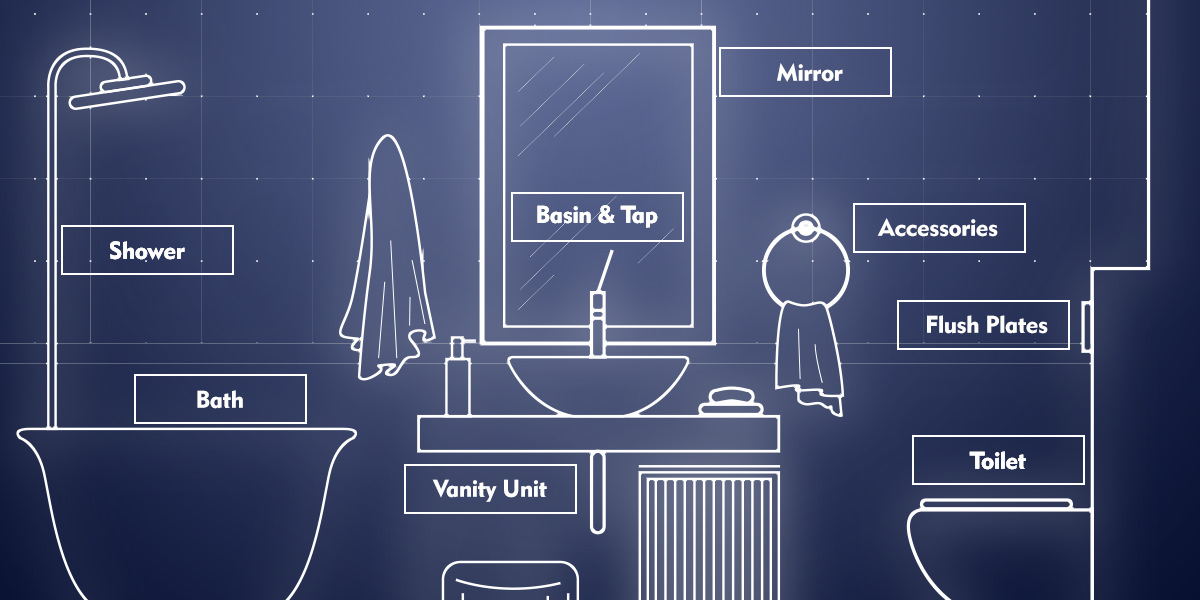 Avoid overdoing changes or installations, and opt for standard products, especially if you're on a tight budget. To reduce the bathroom renovation cost, you must be mindful of the fittings you choose, as these are usually the most significant expenses. A partial renovation is the best option, polishing, cleaning, and upgrading a few fittings. You should spend the least trying to create visual splendour and stick to the basics.
If you have a lavish budget, you can go for premium fittings, like installing a shower toilet or replacing the flooring to install underfloor heating.
---
What will a bathroom renovation include in different Budgets-Low/Medium/High?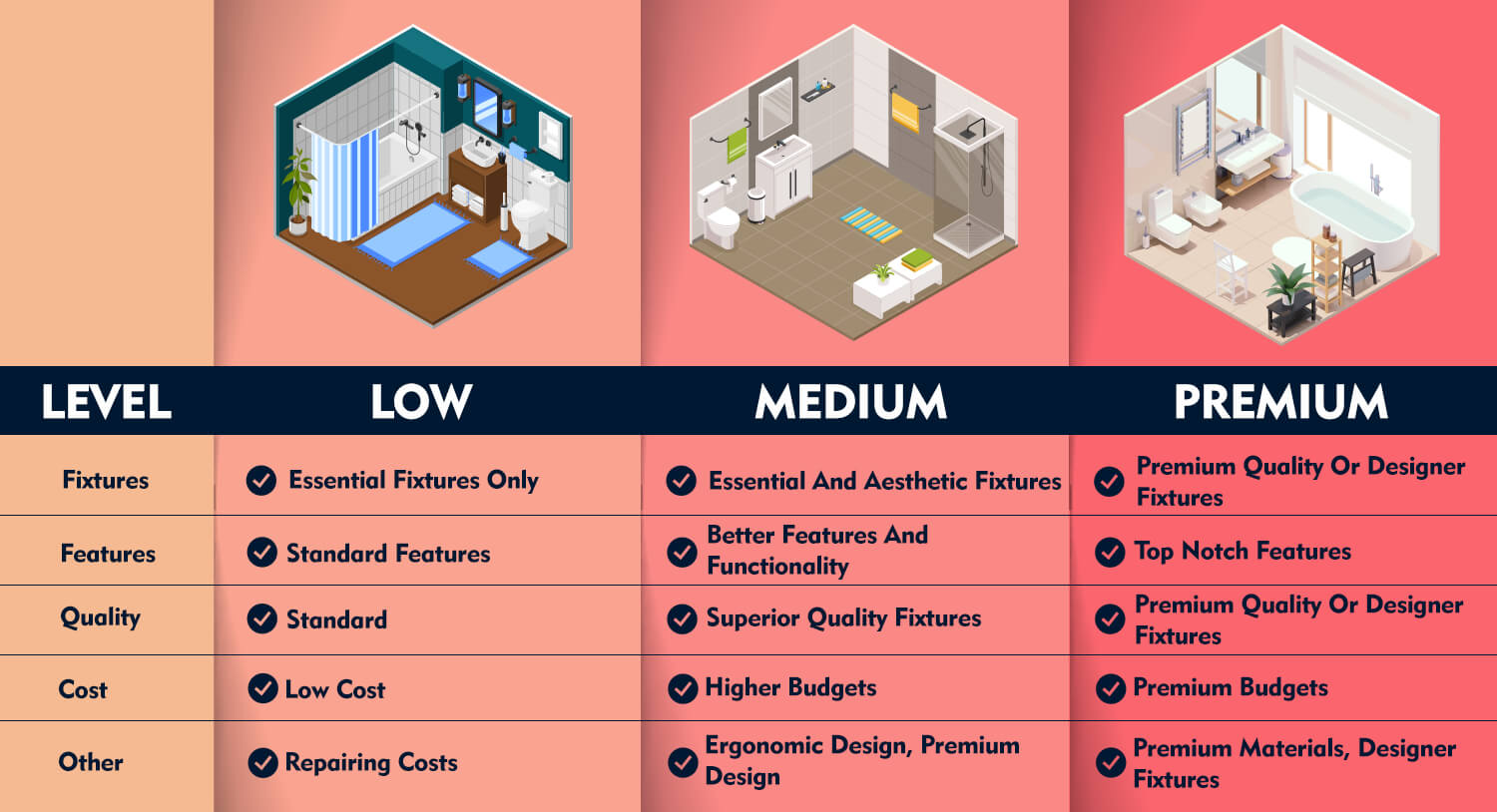 We have categorised bathroom installation projects as Low-budget, Mid-budget, and Premium renovations. Each project has a unique scope and will achieve the necessary results for your bathroom.
| Item | Price Range (Low) | Price Range (Average) | Price Range (High) |
| --- | --- | --- | --- |
| Bathroom Suite | £550 | £990 | £2500+ |
| Sink/Basin | £35 | £180 | £800 |
| Countertop Basins | £40 | £160 | £350 |
| Toilet | £74 | £260 | £650 |
| Rimless Toilet | £64 | £150 | £300 |
| Bathtub | £118 | £450 | £1500 |
| Straight Bath | £118 | £1,709 | £2,300 |
| Free-standing Bath | £300 | £700 | £1200 |
| Whirlpool Bath | £194 | £850 | £2500 |
| Shower (Showerhead) | £15 | £120 | £280 |
| Shower (Mixer) | £63 | £220 | £460 |
| Shower (Digital) | £89 | £320 | £600 |
| Tap (Basin Mixer) | £27 | £145 | £350 |
| Tap (Bath Mixer) | £39 | £150 | £350 |
| Bathroom Furniture | £82 | £250 | £650 |
Low-budget
A low-budget project will include tiling using basic tiles and electrical work. It will also include water-proofing and plumbing with the installation of sanitary fixtures such as toilet, basin and bath or shower. The scope allows the addition of mirrors and a cabinet or vanity unit. The fixtures used will be Standard, and labour, plumbing, and electrical works will be carried out in the day at Standard rates. You can expect to pay about £35 for the cheapest standard wall-hung basin, while a standard close coupled toilet can cost you as low as £74. The cost of a tap starts at just £27. And in case you need more value from your purchase, you can opt for Tap packs bundled together in value packs.
Mid-range installations
This type of project covers re-tiling with high quality, large-format tiles or patterned and vitrified tiles. The project scope includes waterproofing, electrical work, installation of fixtures with new plumbing, adding a false ceiling or countertop, a vanity unit, mirrors and other accessories. You can go for superior-quality taps and basins and splurge on a freestanding tub, if you so wish. A mid-range basin will cost you about £650, fit a mixer tap for about £300 and upgrade your toilet with a rimless model at £50.50.
Premium Bathroom renovation
When you have the budget to build the bathroom of your dreams, then go for the best! The project enables the selection of the finest materials, designer tiles, premium sanitary fixtures, spacious carved vanity units. You have the freedom to opt for everything from re-tiling to plastering and waterproofing using the services of expert plumbers and electricians. Lavish on a whirlpool bath you always wanted at about £2,500, or install a £600 digital shower.
At QS Supplies, we bring you high-quality bathroom ware that meets every budget's needs. The products are competitive in design and price and are well-proven to face the most adverse bathroom conditions. Browse our reputable brands, including luxury bathroom en-suites, bathroom accessories, brassware, and more.
---
Disposal of waste
Any bathroom renovation project will likely generate waste, much more than the general household garbage. The contractor should generally be able to dispose-off some materials or fixtures for you, but it will add to the renovation costs of about £80 per item. Removal of old tiles and fixtures will come at a price, plus you will need to hire a skip at the approx cost of £150. You will also need to consider the presence of hazardous waste and infestations. Disposal of hazardous waste such as Asbestos will cost more. Waste with termites, rats and other pests will also incur an extra charge for disposal.
However, it is sensible and cheaper to send items for recycling or reuse, before disposing of the rest to landfills.
If you have been putting off that much-needed renovation job, we hope our guide has made it easy to cement your decision.
---
Methodology and Sources
We surveyed 20 most popular plumbers and electricians in the Leicester area, and the survey included specific questions about renovations and new installations of collective items such as suites and packs, as well as individual fixtures, both electrical and non-electrical. Pipe replacements and plumbing charges were also covered on our list of questions, also installations of complete bathrooms starting from the ground up, such as tiling and plastering right up to the home's heating. The survey also included average hourly labour charges and timelines for each kind of job.
To find out whether we were on the right track, we ensured that every plumber was asked the same set of questions. This gave us near-accurate statistics which we present to you through this article. We also referred to https://www.pimlicoplumbers.com/rates/ for both Standard and Nightly charges for various plumbing and installation jobs.