Bathroom Cabinets with Mirror
A mirrored cabinet serves a dual purpose. It removes the need for a stand-alone mirror, and it can be used for shaving or applying make-up. Few cabinets displayed below can be tucked away in the corner. A cabinet fitted above a sink could be useful. It all comes down to individual needs and taste. Products displayed at our online store come with an option of various sizes and finishes. Few of them feature halogen downlights to illuminate the basin area. Our range also includes small medicine cupboards, which are right for smaller British bathrooms. A variety of choices is available to suit the needs of every individual. From sliding doors, doublewide traditional wooden cabinets, stainless steel cabinets, and many more, it is easy to get just the right one for your bathroom from the choices given below.
Latest Reviews
QS-V79472
Tavistock Observe Wh... OB60W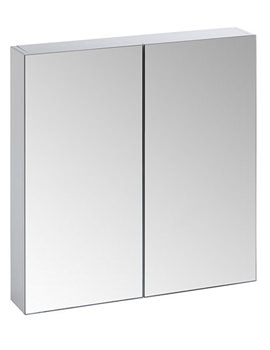 a rearly smart looking cabinet with plenty of storage space, very easy to fix to wall with good adjustment.
Overall Rating:

From: terry knight
| | |
| --- | --- |
| Quality : | |
| Value for Money : | |
| Style : | |
QS-V34092
HIB Nimbus 60 LED De... 45900 Quick delivery and well priced
Overall Rating:

From: Alan Daintith
| | |
| --- | --- |
| Quality : | |
| Value for Money : | |
| Style : | |
QS-V7053
HIB Eris 30 Single D... 45300 As seems to be typical of HIB stuff, this is a very well made product, really solid strong construction and a beauty to look at. Simple to fix after you realise it is actually hung on the two brackets that you are not 100% sure you have clipped into properly! HIB are obviously a quality brand worth paying that bit more for. I bought the 800 LED recessed mirror cabinet as well.
Overall Rating:

From: Roger Hannon
| | |
| --- | --- |
| Quality : | |
| Value for Money : | |
| Style : | |