Know more before you purchase!
Towel Warmers offer many benefits and are the perfect accessory for your washroom space. Advancements in technology have dramatically improved upon many aspects of our lives. While every area in a home has seen some technological advancement or the other, the trend is only beginning to reach the washroom space.
Today, there are a range of electronic accessories that can be used in a bathroom space and these accessories can help transform an ordinary looking washroom into a luxurious spa like space. Of many such different accessories, towel warmers have steadily been gaining popularity among consumers. While these products have been expensive in the past, the price point of such rail units has become quite affordable over the years, allowing consumers to experience the comfort of a spa or an exotic hotel right in their very homes. With a range of benefits to offer, these radiators are rapidly gaining popularity all over the world.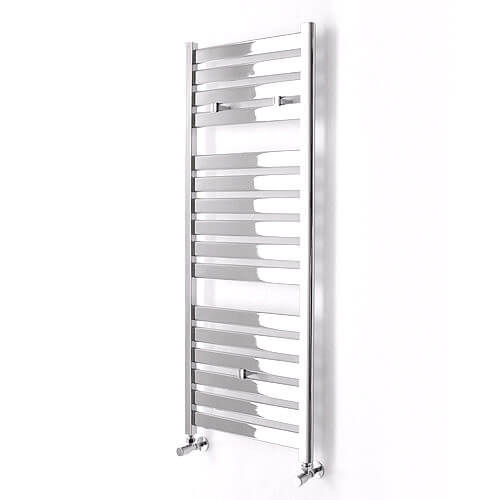 The main purpose of these radiators is to hold and heat towels. As well as this they provide an alternative source of heat in smaller bathrooms where larger heating systems may not be a practical solution. A range of different heat outputs are available and most of these accessories are suitable for electric, central heating systems and dual-fuel systems.
As a standard, most these towel radiators have straight bars on them and are also referred to as ladders. While this has traditionally been the design to be followed in the industry, today, these come in a large selection of shapes and sizes. As such, at our on-line store you would be spoilt for choice, with special designs for the bars and the tops of the systems. With a large selection of products, you can find many units, which complements the aesthetics of your washroom space.
Using a Curved over Straight Towel Rail
While there are not too many differences in using straight versus using curved or other fancy radiators apart from the aesthetical factors, there are a few basic differences.
You will need to consider the following points before deciding on a particular style:
1) Make sure to consider the size of the unit along with the style. Typically, curved versions take up more space than straight ones.
2) Curved versions present a larger surface area than straight ones. This means that for similarly sized units, the curved ones can offer better and faster heating.
3) If considering a curved system, try opting for a stainless steel finish, which will offer better performance and durability.
Latest from our blog
If you want to learn more about curved radiators, read our blog post 7 Things you want to know more about Washroom Radiators

In a small washroom the towel warmer can act as a source of heating for the room along with a place to warm your socks. Although they don't heat up to a significant degree, it's imperative that you never place any materials on or near these radiator, that are highly flammable. Ensure you read the manufacturers instructions and warnings thoroughly.