The Motorways and Highways With The Biggest Gaps Between Toilets
Published on: 15/06/2023
Last Updated: 15/06/2023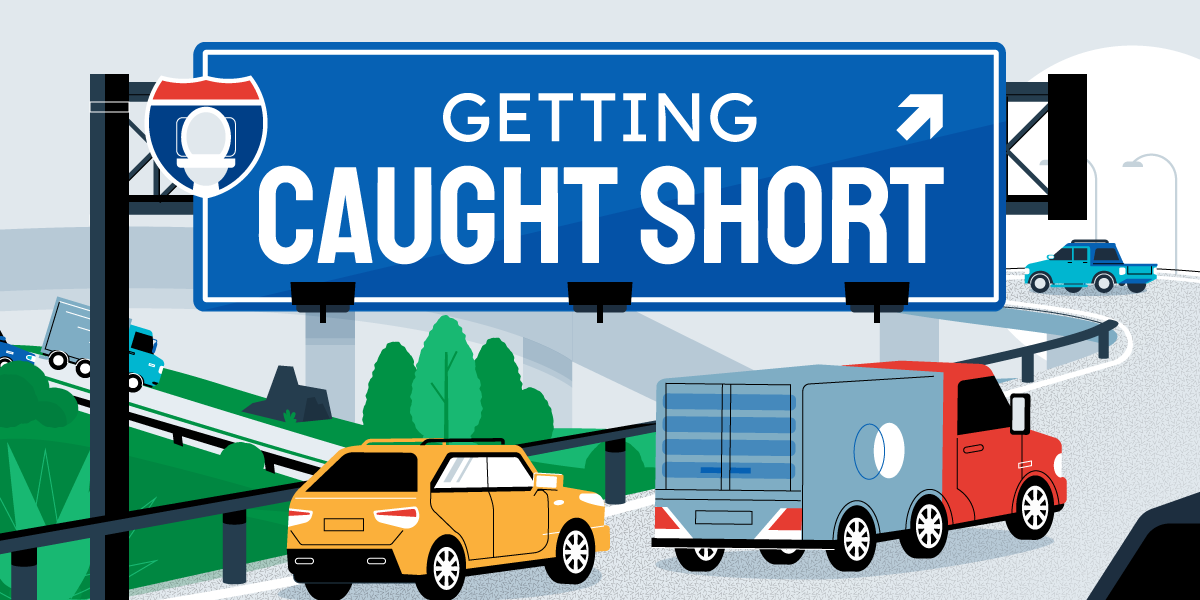 You've been there before. Snailing along the motorway, bladder full to bursting, you pass a sign: SERVICES 10 m.
You're lucky, because we found that the average distance to a toilet on UK motorways is 22.7 miles. But you don't feel lucky. You feel desperate. Your eyes search the horizon for a well-positioned tree, but even then, you can't just pull over.
The solution? Unfortunately, many choose to avoid drinking water before and during a journey to avoid an uncomfortable bladder. Not good. In one study, dehydrated motorists made more than twice as many driver errors as well-hydrated ones. Pretty much the same score that drunk drivers get. And driver error is the leading cause of road accidents by a long, long way.
In other words, if you feel tired, dizzy or light-headed, suffer cramps, lose your concentration or feel a headache come on, it's way past time to take a sip.
There are other ways to manage hydration — we'll take a look at them later. But first, QS Supplies wants to identify the UK motorways and U.S. highways with the longest gaps between toilets. So, we took a sip and headed out onto the information superhighway.
---
What We Did
QS Supplies collected the number of service stations on UK motorways (with a total length of 20 miles or more) from motorwayservices.uk and U.S. interstate highways (with a total length of 150 kilometres or more) from interstaterestareas.com. We excluded alternative service stations on roads that divert away onto new routes. Finally, we used each motorway and highway's length to calculate the average distance between each toilet if the driver travels in one direction along the full route.
---
Key Findings
There is an average of 60.3 m (97.04 km) between toilet breaks on the M8 - the worst-served UK motorway for service stations.
The worst road for toilet breaks in the U.S. is the I-49, which runs from Lafayette, Louisiana, to Kansas City, Missouri, with services at an average distance of 264.0 m (424.9 km).
The longest stretch of UK motorway without a bathroom is on the M25 between South Mimms and Cobham (44.6 m / 71.78 km).
The longest stretch of U.S. highway without facilities is the I-22 from Birmingham, Alabama, to Byhalia, Mississippi - a 202.22 m (325.44 km) road with no stop.
---
Vital London and Scotland Roads Among Worst for Toilet Breaks
We identified nine UK motorways with an average of more than 25 miles between rest stops - plus the M60, which is 34.8 m long with no toilet at all to be found. The M8, connecting Glasgow and Edinburgh in Scotland, has the most road to cover per service station, with just one stop on its 60.3 m route - Heart of Scotland Services, previously known as Harthill Services, which was Scotland's first service station and which featured a restaurant serving fresh fish and chips in the 1970s.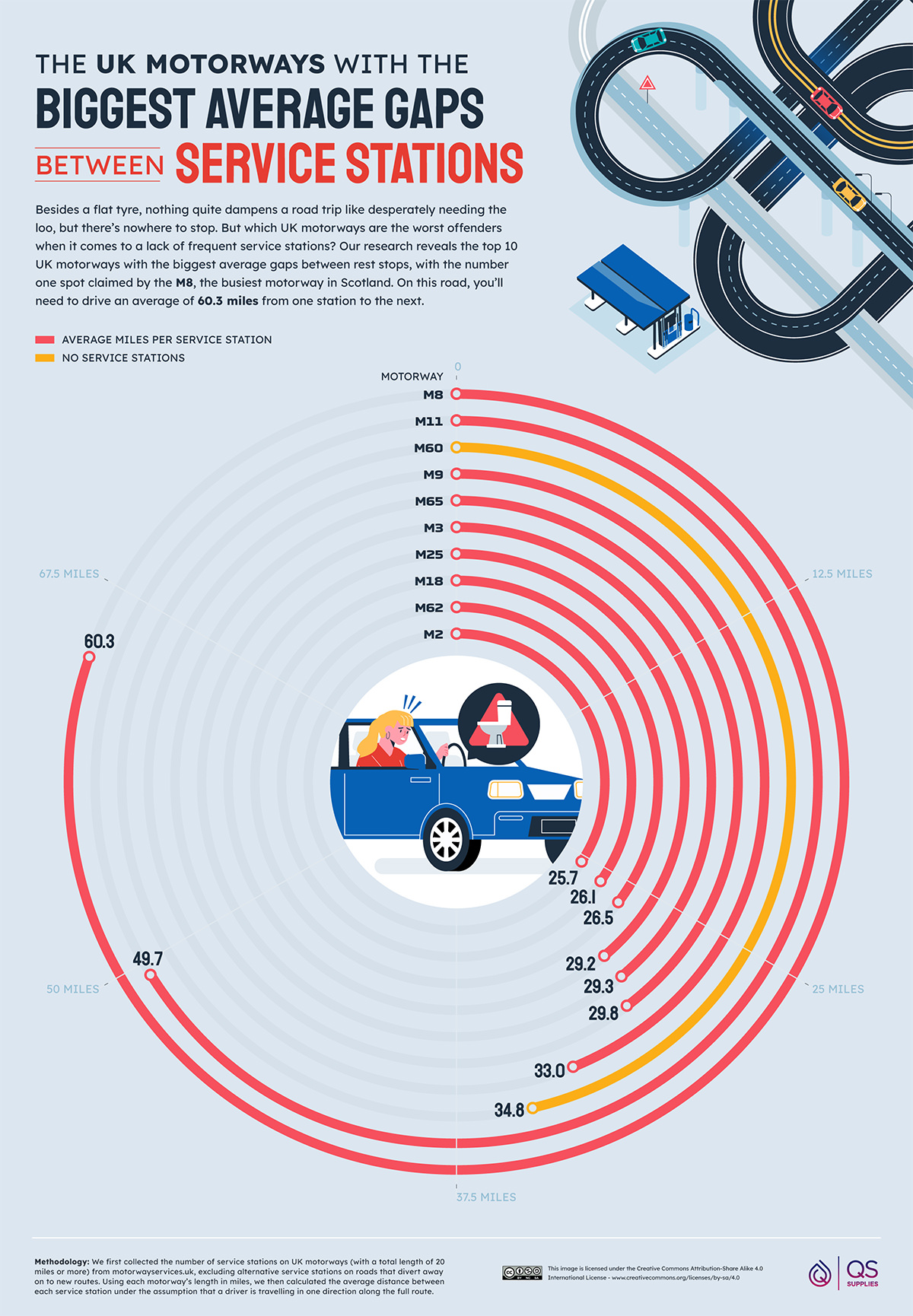 Click here to view full size
With one station along its 60.3 m length, the M8 has the most road per station - but you get a distinctly better deal if travelling from Edinburgh. Come in from the Glasgow end heading east from the motorway's start point near Langbank, and you'll travel two-thirds of its length - 37.0 m -before making it to Harthill, where you can't even get fish and chips any more.
---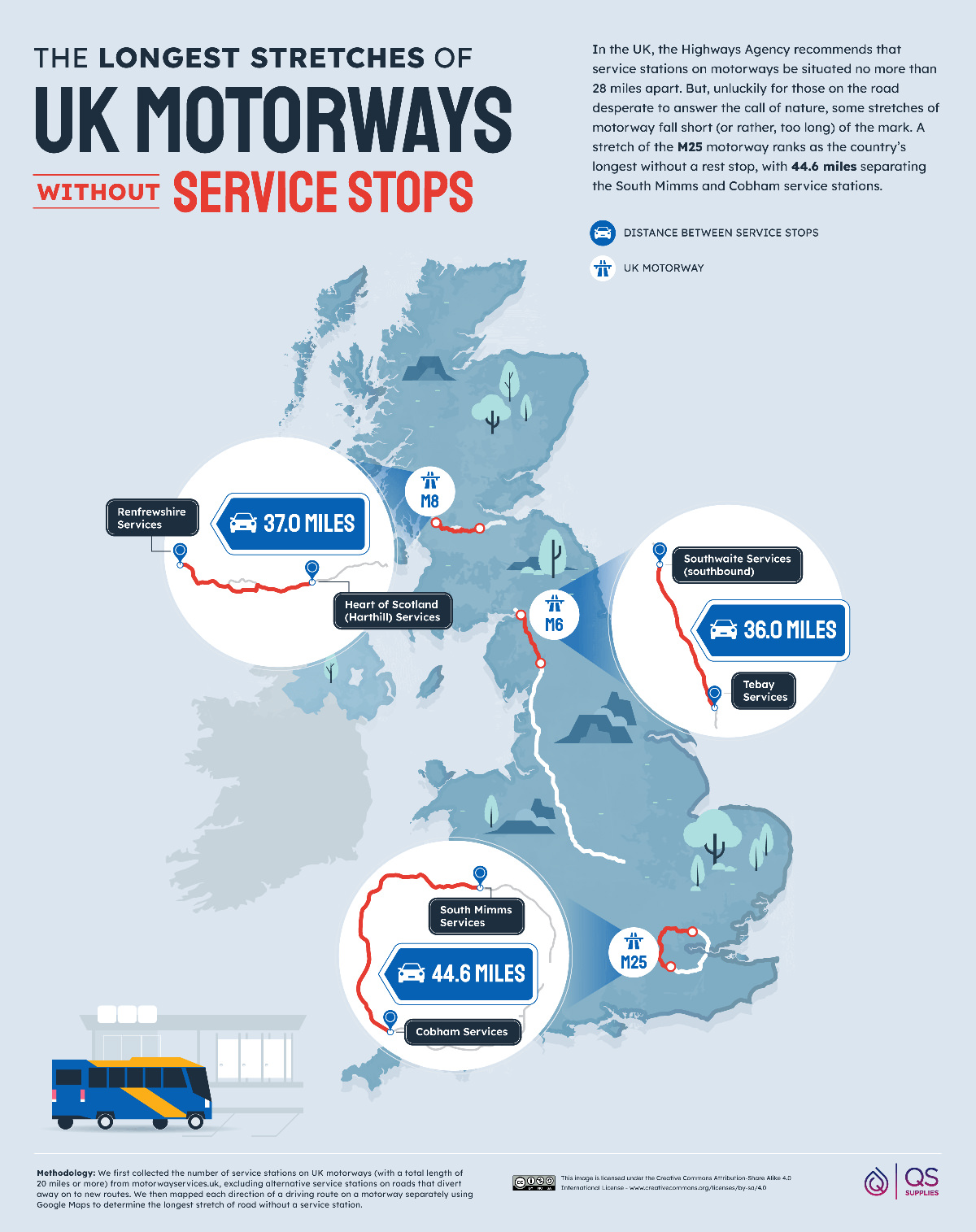 Click here to view full size
The M25 is a 116 m loop around London, and, with four service stations, you need to complete 29.2 m on average before you can stop to spend a penny - the seventh-highest average distance between services in the UK. However, motorists passing South Mimms or Cobham in the wrong direction have to hold it much longer, as the gap here is 44.6 m, the longest in the UK. If you see junctions 9/10 or 23 coming up, now is the time to stop, particularly if you're at the Cobham end, where the services boast a lakeside walk, which is a much more pleasant way to spend time than sitting on the M25.
---
I-49 and I-22 Leave U.S. Motorists Caught Short
Safety rest areas sprang up across the U.S. along with the interstate highway system in 1956, and these rest areas became an (almost) indivisible element of the great American road tour. "The toilet building was most often designed to be the architectural centerpiece of a rest area site," according to Rest Area History.org. "Picnic and information shelters were commonly designed to complement the architectural quality of the toilet building." Unlike regular truck stops, these were funded by state transportation departments and are forbidden from selling gasoline, food or hosting commercial businesses. Unfortunately, they have become a drain on state resources around the country, and many have now closed - widening the gap between toilet stops.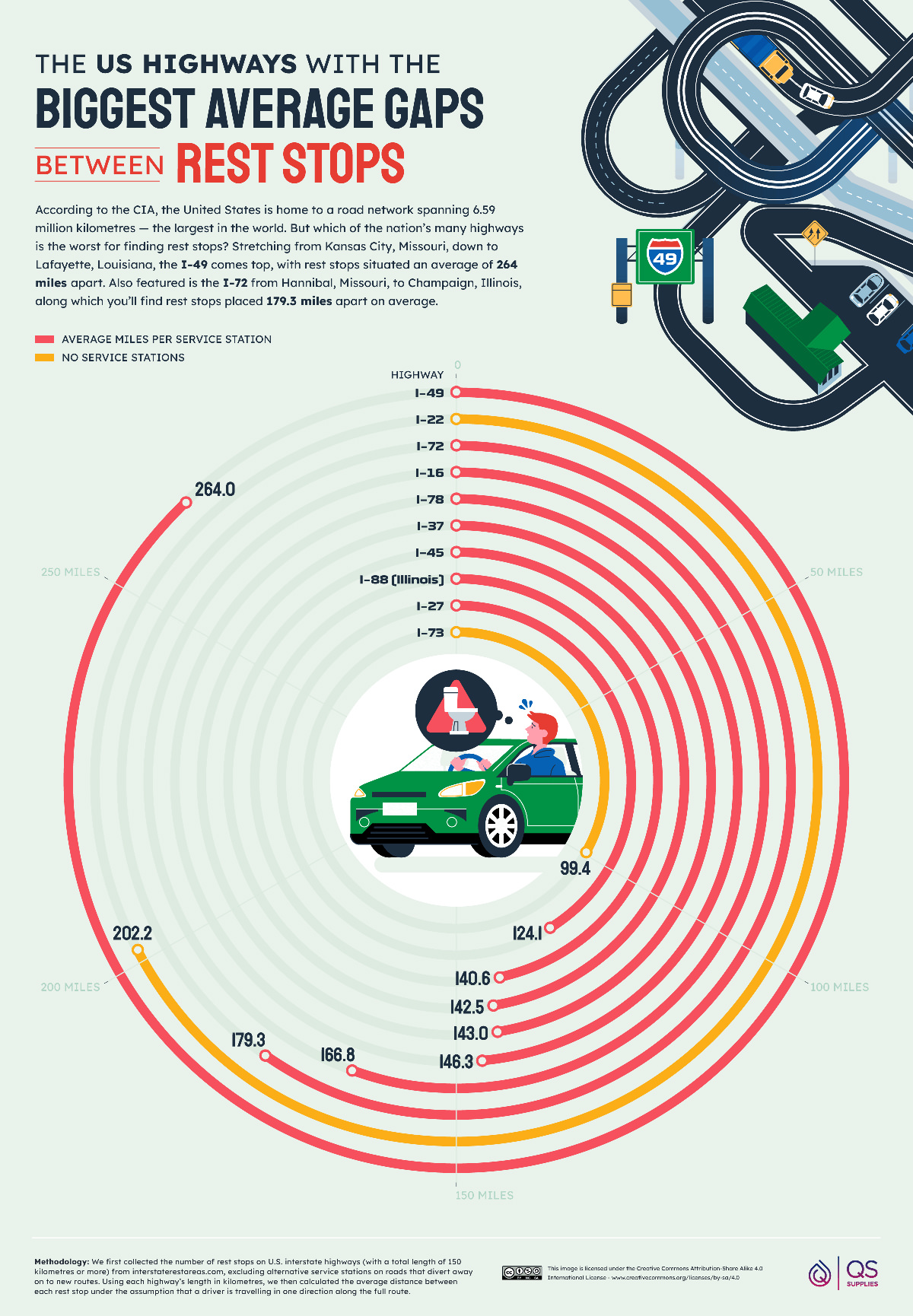 Click here to view full size
---
The I-49 has just two toilet stops along its 528 m (849.8 km) length, giving an average of 264.0 m (424.9 km) between facilities. Both of these are in Louisiana (one near Boyce, the other near Washington), where the original part of the I-49 first existed. The road also runs through Arkansas, but you'll have to hold it in that state until you reach the endpoint in Kansas City, Missouri. At some stage, the two sections of the I-49 will meet briefly in Texas when the final part is completed - and while public funding for the project is limited, it seems likely that private enterprises in Texas will take advantage of this major south-north thoroughfare by catering to the needs of motorists.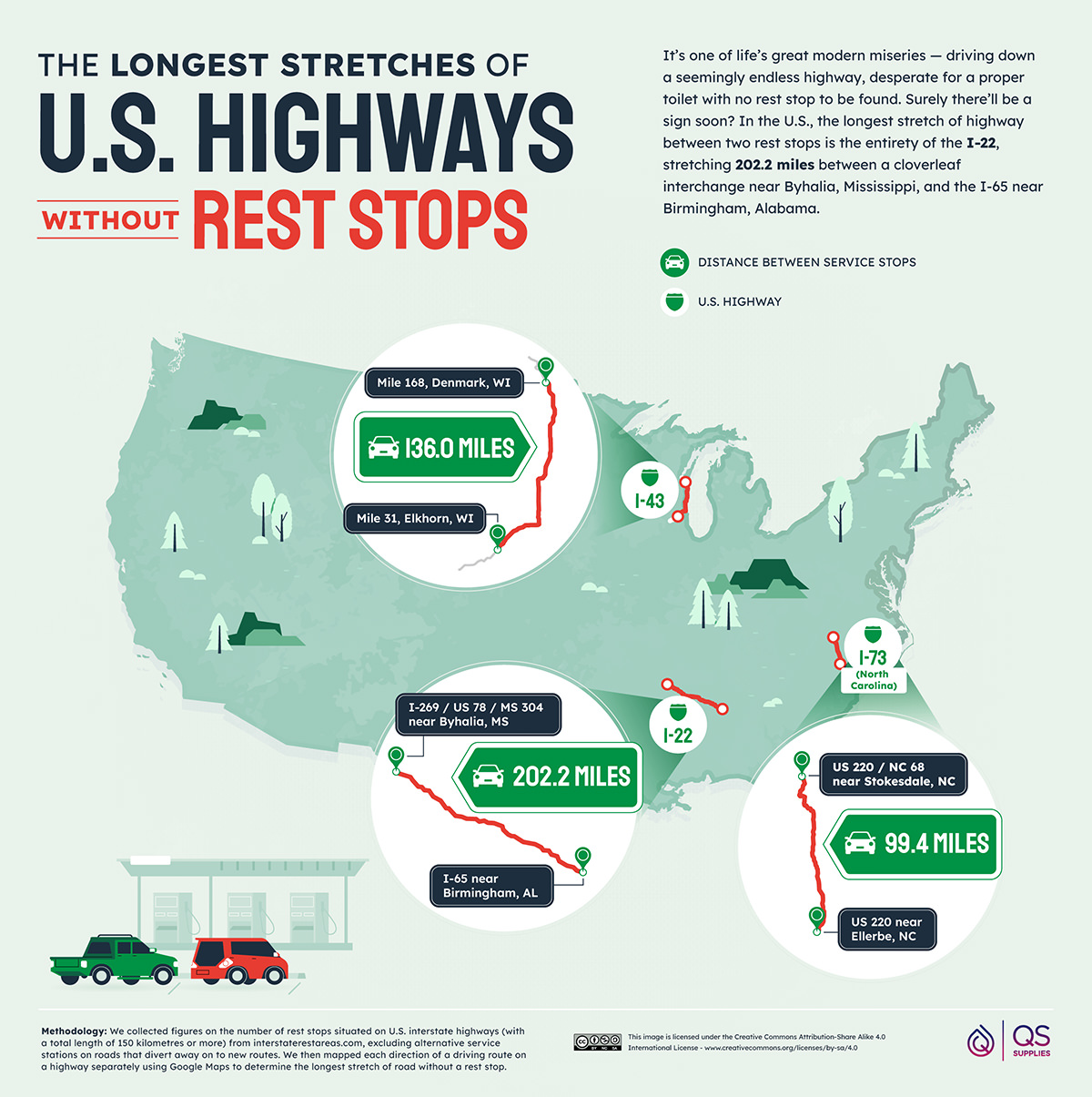 Click here to view full size
But if you think you've got things bad in Missouri, you'll be tying your legs in knots in Mississippi. The Birmingham, Alabama to Byhalia, Mississippi I-22 is 202.22 m (325.44 km) of hot, thirsty road without a single toilet stop. We reckon that's three hours of crossing your legs and your fingers - nearly twice the time you'll wait to relieve the pressure on the third-longest toilet-free stretch, which is on Route 220 in North Carolina.
---
Tips for Staying Hydrated - Without Getting Caught Short
To keep yourself hydrated on your journey, it's a good idea to sink a glass of water before you leave - since you're likely to forget or be too busy with your hands on the ride. Take water with you and go easy on the air conditioning since it dries the air, potentially leading to dehydration. You're particularly likely to become dehydrated if you have diabetes, have been vomiting, diarrhoea or you've had a lot of sun, alcohol or exercise.
You can use our full data below to help figure out how far you'll need to go to find a bathroom from your motorway of choice, and consider choosing a different route if it will be safer.
Of course, if you suffer from urinary incontinence or overactive bladder, you may be even less keen on downing glasses of water ahead of a trip. But unfortunately, this raises the chance of losing your concentration. Bladder training and Kegel exercises, smart food choices and disposable urinal products are among the solutions to managing your ins and outs while driving.
Because, as the RAC suggests, when you top up your oil, coolant and windscreen wash, it is in the interests of everybody's safety that you top up your own water levels, too.
Through this article, we have tried to highlight the many problems faced by drivers in the UK and US when on the road. Driving in the wilderness and long distances can take its toll and the lack of access to public toilets on major motorways only exacerbates the problems. Public restrooms and toilets can be hundreds of miles apart, leading to discomfort, dehydration and overall hygiene issues. On fewer occasions, drivers speed up which can lead to potential hazards.
At QS Supplies, we believe that such challenges should'nt make inroads into your home, where you can get all the comforts that are lacking outdoors. Our extensive line of products, is therefore, designed with your utmost convenience in mind. Our W.C, mirrors, basins, shower doors, basin mixer taps, bath mixer taps, and bathroom accessories, are brought to you by the best brands that keep your spaces shiny and perform to enhance your enjoyment. Reduce clutter-induced stress by keeping it out of sight in a durable and space-savvy wall-hung vanity unit or a tall cabinet or a small basin units. To get you quickly rejuvenated and rested after a long road trip, start a bathroom refresh with our range of products.
---
METHODOLOGY & SOURCES
To find the average distance between service stations on each motorway in the United Kingdom and each interstate highway in the United States, we collected figures on the number of service stations situated along both types of road from motorwayservices.uk and interstaterestareas.com. These do not include alternative service stations that are situated on roads that divert away onto new routes.
After also collecting official figures on the road lengths of motorways (miles) and interstate highways (kilometres), we considered each of their distances in isolation to calculate what the average distance was between each service station or rest stop under the assumption that a motorist is travelling in one direction along the full route. We include some highways or motorways that pass through cities where unofficial rest stops may be reachable by diverting away onto a different road but which weren't able to be counted in this analysis.
To determine the longest stretches of UK motorway and U.S. highway without a service station, we mapped the driving route for each highway using Google Maps. We applied this measurement separately for each direction to avoid inflated distances caused by having to use a return or detour to arrive at a service station on the other side of the road.
Our final rankings considered motorways with a distance of 20 miles or more in the UK and highways with a distance of 150 km or more in the United States.
The data for this research is correct as of April 2023.