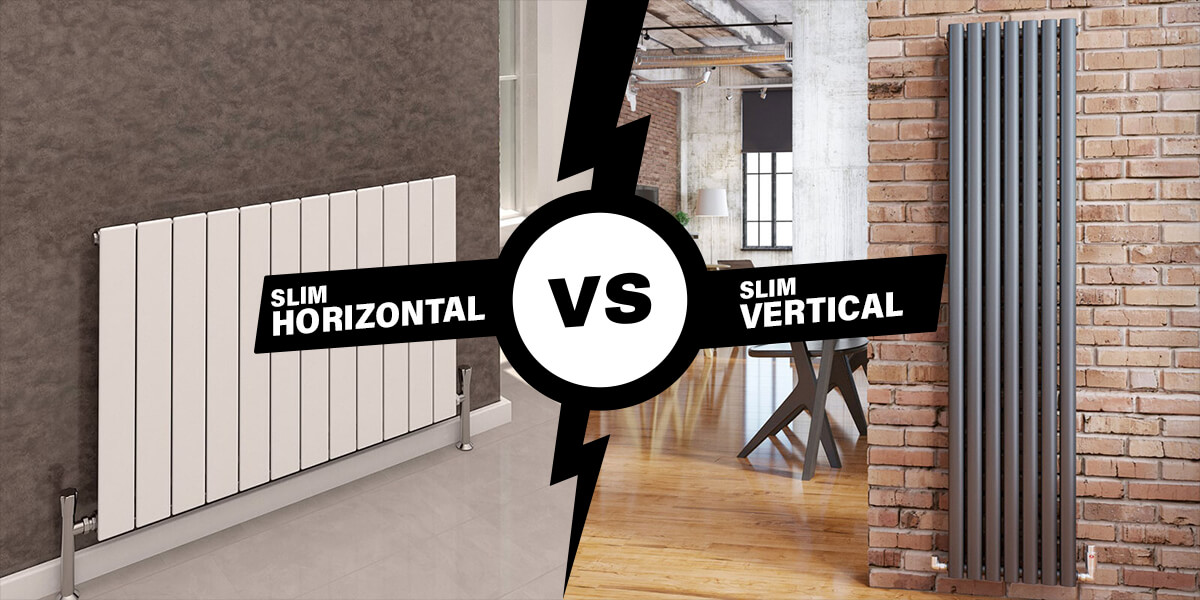 Modern radiators are available in many different versions, from the Standard traditional to the high-end designer models. The panels or columns that make up the radiator can be stacked in different ways to assemble the complete design. When these are placed horizontally, the radiator is called a Horizontal radiator. When they are fitted vertically, then they are called Vertical radiators. Both types are compatible for use with electricity or central heating. If you are looking for a radiator that is a perfect fit for your home, read on, as this article covers the difference between both these types, which are currently commonplace and in demand.
---
Horizontal radiators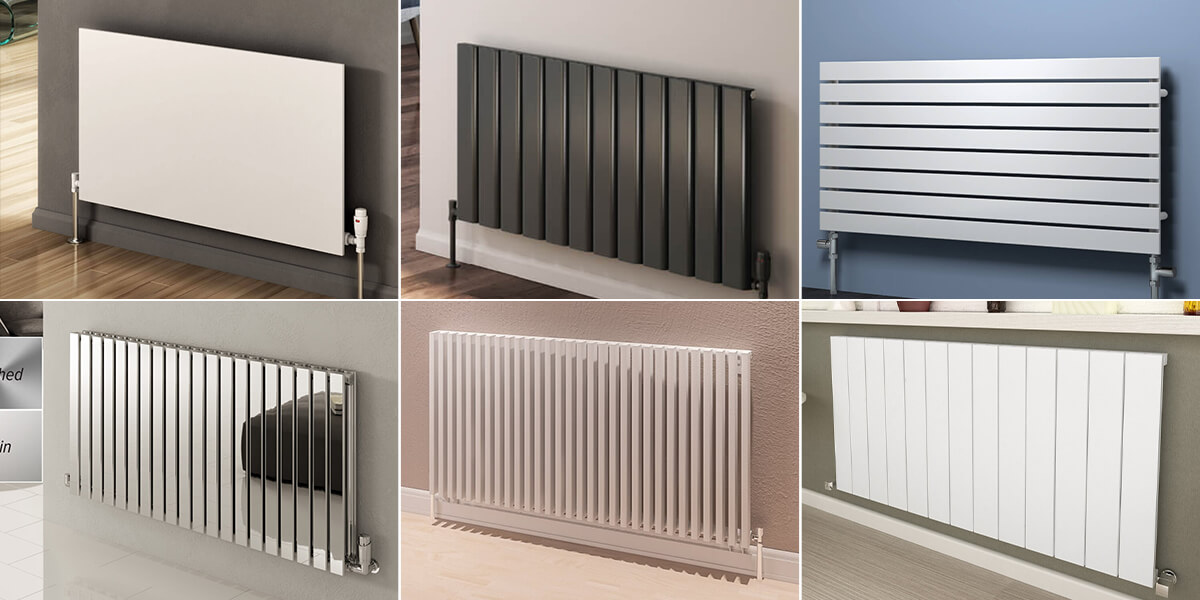 As discussed earlier, models with greater widths and minimal heights are often referred to as Horizontal radiators and come in Single and Double panel models. Those with more panels emitted more significant heat and were suitable for heating large spaces. The orientation, as such, is just for design purposes and will not affect the heating output of the appliance.
Therefore, you can opt for a horizontal radiator if you like the look and it integrates well with your home decor. In general, the flat profile reflects a more traditional taste and will enhance the aesthetics of a conventional home. Horizontal radiators are equally popular in modern times, as such a profile allows it to be installed directly below the window sill so that the outside air from the windows speeds up circulation and heating. However, keeping the immediate space around the radiator free of obstructions, such as furniture, is essential to maintain the heating efficiency. This also affects cost-efficiency so that every bit of energy generated is utilised. These can also sit low on the wall, out of sight.
The Horizontal models come in a vast range as these were the first kinds. Finding a replacement, even an exact match, is easy. These kind of radiators are also available in compact and slim formats to accommodate them in homes with limited space. Slim, flat-panel designs can be just the finishing touch your home needs.
The Reina Slimline Horizontal Radiator is an excellent model, available in a no-fuss minimal design. You are free to paint it in the colour of your choice. Made from Mild Steel, it can easily connect to your central heating system. If you are keen on a designer look, opt for the Reina Flat 600mm High Horizontal Single Panel Designer Radiator, with an elegant slim look. A point to note is that all Reina radiators are rated at delta T70, so ensure you get the calculations right on the BTU before finalising your purchase.
---
Vertical radiators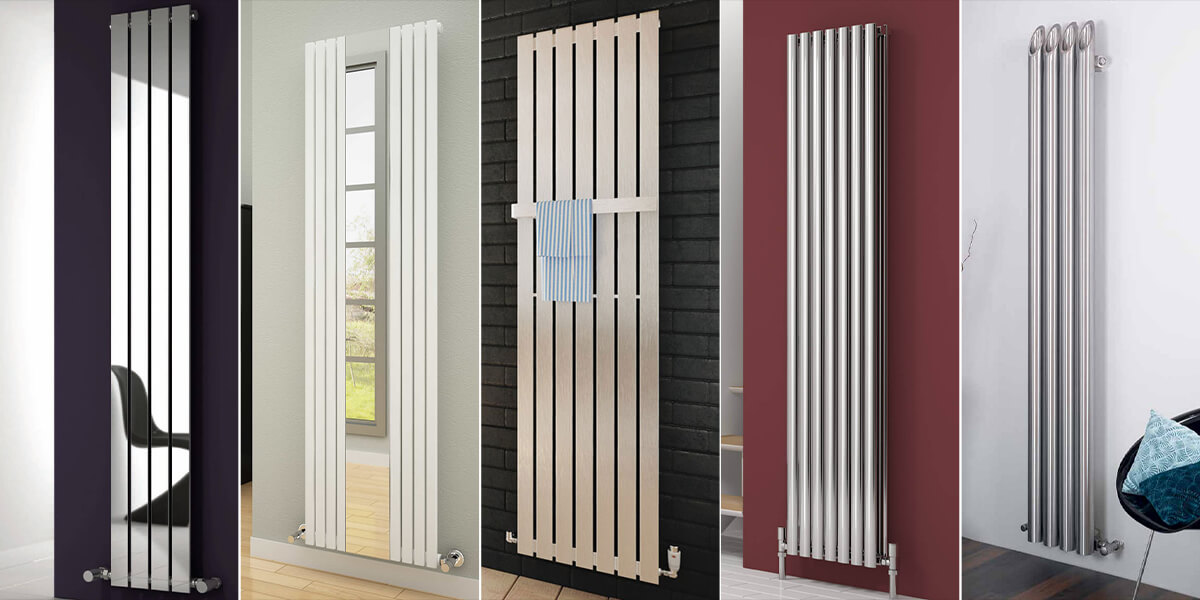 Vertical radiators have panels or tubes stacked one above the other and are taller than wide. The taller profiles give them a modern look and allow them to function equally well as a design element in addition to a heat emitter. In general, vertical radiators have a different heat output than similar horizontal radiators being less efficient in drawing up cold air for convection which horizontal models do very well. However, on its own, a well-designed vertical model is equally effective and better than a horizontal one, depending on the room's size and shape and the radiator's placement. Vertical radiators may have the heating advantage in larger commercial spaces over horizontal ones as there are no obstacles such as furniture or curtains.
Most vertical models are sleek and stylish with slim profiles that almost merge with the background wall and look elegant. Tall, slim radiators can bring you the best of both worlds - effective heating and a versatile design that does not take up any horizontal space. Plus, they make the most of unused vertical wall space, such as in high-roofed Victorian homes. The best part about such a slim, wall-hugging design is that it is at home in a modern setting and is an excellent fit for smaller apartments, studios, studies, and flats. Slim bathroom radiators can also be used in kitchens and hardly occupy space. They are also preferred in hallways, landings, and porches. Most designer and premium radiators are vertically oriented, and rightly so, as their visibility allows them to be creatively used compared to their older horizontal counterparts.
Take a look at the splendid Reina Slimline Vertical Steel Designer Radiator which has a profile that can serve as statement pieces when used with modern art and other elements with interior decor. Yet another unique offering is the Reina Fiore 1790mm High Designer Steel Radiator, with a vertical orientation and ultra-sleek presence.
---
Slim Horizontal or Slim Vertical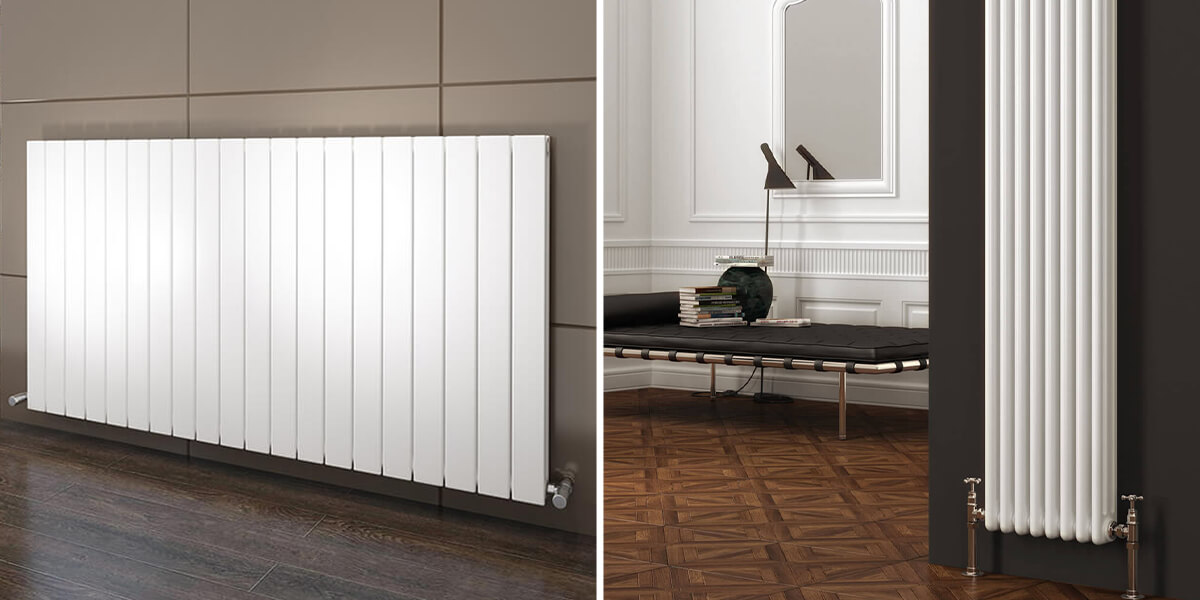 It is a myth that slim or flat panel radiators are less efficient heating solutions. These are just as effective as the traditional bulky or standard models. You only need to calculate the room's heating requirement and find the BTU match.
Whether you choose a horizontal or vertical slim model, you can find them at our store at some of the best price points. Slim radiators are popular with our clients for their sleek, minimalistic appearance, with chrome and anthracite being the top favourite finishes. Whether you are looking for a flat panel horizontal radiator for your larger rooms or a slim vertical one for your dormitory, QS Supplies have one that will fit just what you have in mind. Their premium constructions and high BTUs bring added peace of mind when selecting. If you have any more questions, please get in touch with our team today!
If you want to know the BTU output you need for optimal home heating, then you can use our free BTU calculator to calculate this precisely. You can also read our article about Delta T, another critical aspect when purchasing a radiator.