Radiators for Central Heating
Radiators emit heat through their panelled bodies and warm offices, homes and buildings effectively. In the past, radiators were used purely for their functional benefits. However, these are now an inherent part of the interior decor of living space. Therefore, your selection of the radiator must depend on practicality, space, specific heating requirements, and the existing decor. We stock a huge variety of these products for every decor and every budget.
We at QS Supplies have an impressive range of Radiators from market-leading manufacturers such as MHS, Smedbo, Reina, Kartell and Vogue. For those seeking designer, alternatives will also be equally pleased with our stunning choices. So whether you are looking for a towel rail or radiator, we have a model in every style, finish and colour choice that you can think of. We have a wide range of radiators from flat panel to compact and column to designer models.
Why select a Radiator from us?
Your search for the perfect radiator ends at QS Supplies online. At our online store, Central Heating Radiators come in different sizes and style. We also stock a range of electric and dual fuel models. Our Compact Radiators will impress you. Go ahead and make your selection depending on your choice of style and home area. Reliability and genuine prices are much easier if you select and compare- we assure you we are highly competitive in pricing and have an extensive collection for your choice. If you wish to know more, about which radiator to purchase, then our expert staff will gladly discuss it with you.
Shop By Category
Calculate Before your Buy!
Our radiator calculator allows a quick and easy method to determine the radiator size/sizes needed in a normal domestic environment. There are many different methods to calculate this requirement; ours is one born out of experience but may not suit everyone. No warranty is offered or implied as to the accuracy of this calculator, and it should be considered as a guide only. Please select from the options below as closely as possible to your room conditions; we have included as many variables as possible, plus an option to allow your preferred heating 'comfort type'.
Radiator Chart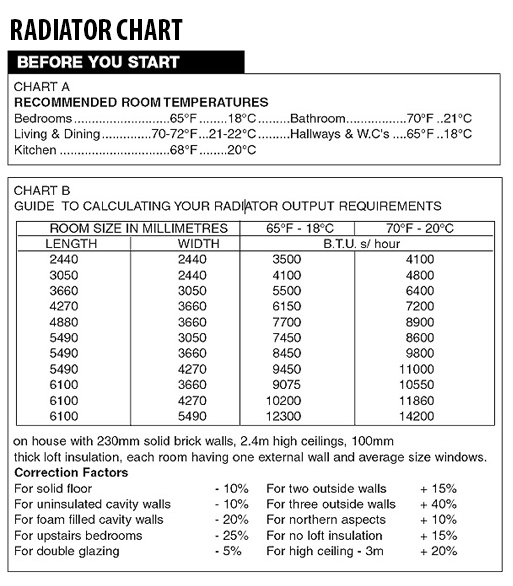 Before installing a radiator, you should always keep in mind the size of a radiator that needs to be installed. This will ensure the boiler is not overloaded and can save a lot of money on gas and electric bills. Heating system should be sized accordingly to the space to be heated and ensure the temperature is pleasant. Radiator efficiency is always calculated in BTU or British thermal units. It is defined as the amount of heat required to raise the temperature of one pound of water by one degree Fahrenheit. It is clear that larger rooms will require more heat to remain comfortable. To make a selection of the ideal radiator easier, we have provided a Chart alongside which shows how to calculate your room size and which radiator would be the correct fit.
Resources:
Read our Buying Guide on Central Heating Radiators