Taken for granted, but a game changer: In today's modern setting, central heating radiators are taken for granted. The sight of radiators, thermostatic controls and valves in any home or commercial setting will not turn heads; these are commodities that are simply taken at face value. However, the concept of central heating is a fascinating one, and today's systems are both strikingly similar in principle, yet masterfully evolved, from the first central heating systems that were designed. Check out our history of heating timline, to know more about history of heating.
How to Select the Right Central Heating System?
Selecting the right system can be a bit confusing. Here, we have provided few useful tips, tricks and suggestions. First you need to determine, which heating system is right for your home?

Condensing Boilers

The first consideration will determine the boiler itself. Recent laws require that all boilers in UK homes must be condensing boilers. What this means is that any heat that would normally be lost is re-circulated within the system. By reusing wasted heat, you could save up on huge energy costs. Some designs can offer up to 96 percent efficiency. There a few subcategories of boilers to choose from. These are combi, system or conventional.

Combination Boilers

Combination boilers and their associated radiators are extremely popular options. As water is heated directly from the mains, there is no need to wait to achieve the desired temperature. Therefore, a combi boiler does not require a water tank or a hot water cylinder. They are quite small, and most will not employ an external tank. So, a "combi" boiler is perfect for smaller homes or apartments that will not require a massive heating capacity.

System Boilers

A system boiler works by supplying heat to central heating and hot water to your storage cylinder. It is a heat only boiler having a working principle similar to a regular boiler; however, additional components such as expansion vessel and a pressure release valve are built into the boiler. It is necessary to include hot water storage tank for storing the heated water but it doesn't need a cold water tank.

System boilers are the perfect solution for households with more than one bathroom and a high water demand. These, therefore, require a bit of extra room. The main benefit with these systems is that hot water can be run from numerous locations without heat being lost. Sealed systems are commonly used in average-sized homes.

Conventional or Regular Boilers

This type is a large system comprising of many components along with the boiler itself. These include heating controls, hot water cylinder, a cold water storage tank and a feed and expansion tank. Conventional boilers are found in older UK properties and are being gradually phased out. Such a system comprises two tanks located in the loft. One tank draws in cold water from the mains supply while the other feeds the boiler and manages heated water.

Another critical component when selecting the right system revolves around the type of fuel that you desire. This will deal with cost as well as the type of system employed. Some energy sources include LPG, oil, natural gas and electricity. Over a ten-year period, natural gas is the cheapest option to choose while damage to the environment is minimal. The final concern is from a more practical point of view. It may be difficult to install certain systems within older homes or those with limited space. Keep in mind that central heating radiators and their associated systems are very real investments and they can add a great deal of value to your home.
How Can You Reduce Central Heating Costs?
There are several methods to help reduce cost of heating during the colder months of the year. It is critical to check the insulation of a home, for hundreds of pounds can otherwise be spent heating the great outdoors. Should you find that your central heating radiators are functioning properly, you then need to check suspect spots such as an attic. Improper insulation can have a drastic effect on heat loss. Should you notice a great deal of ice on your roof, this is likely the cause. However, also check for drafts around windows and doors. If you have the option, purchase double-glazed windows for added protection. A few other tips and tricks are:
Check to make sure your heating systems are running efficiently
Make certain that pipes are properly protected from the cold.
Open the blinds on your windows during sunny days to allow more light and warmth to enter.
What is the Difference between Underfloor Heating and Central Heating?
The primary difference between these two systems is how the heat is distributed. Central heating will make use of radiators, baseboard heaters and circulation systems to pass air through an environment. Underfloor heating (also known as radiant heating) employs a system of flexible pipes below floors such as tile or wood. In turn, the heat will rise from below and provide a uniform temperature. However, such systems can be expensive, and not all floors will be able to accommodate the installation requirements.
Disadvantages of using Central Heating
The starkest and noticeable disadvantage of central heating is the cost involved. Central heating requires water which is heated and constantly pumped through the home. All appliances in this process are expensive to run. Safety is also a concern for many. Boiler leaks are common in situations where they have degraded but not been replaced, or have been installed by non-accredited contractors; the consequences of neglecting such a system can, and have been, lethal.
It is important to remember, therefore, that any central heating system should be installed by an accredited and trusted plumber. The cost associated with this can often be as much as the system itself cost to purchase. However, the system will pay for itself within a short period. Also, regular maintenance is an absolute must.
Central Heating Radiator Guide
As the product options in this category come in a wide variety of shapes, designs and sizes. You must first decide units provide the appropriate heat within a particular area. Double-panel Compact radiators will produce the most heat although they take up slightly more room. Single-panel Compact Radiator are slimmer and are ideal for smaller dimensions. Still, heat output alone is not the only issue.
Do you like a traditional convector model or are you more interested in sleek and stylish designer radiators? Keep in mind that there is always a trade-off between looks and function. Still, even modern designer radiators boast impressive heating capabilities. There is a dizzying array of options to choose from such as gloss finishes, slender vertical tubes and robust columnar shapes. You will need to factor in cost, heating requirements and the allocated space to make the best choices possible.
Radiator Chart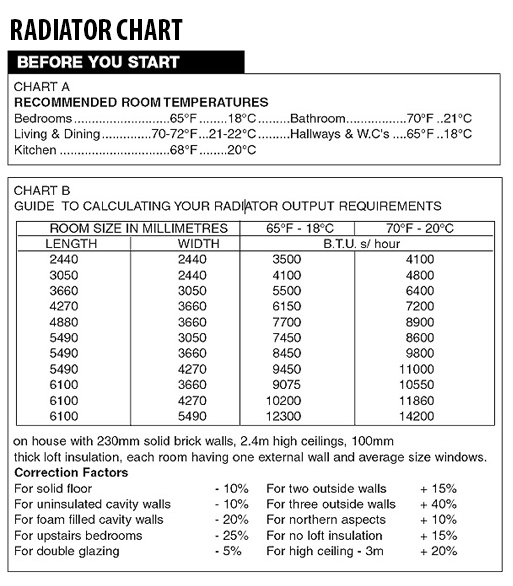 Before installing a radiator, you should always keep in mind the size of a radiator that needs to be installed. This will ensure the boiler is not overloaded and can save a lot of money on gas and electric bills. Heating system should be sized accordingly to the space to be heated and ensure the temperature is pleasant. Radiator efficiency is always calculated in BTU or British thermal unit. It is defined as the amount of heat required to raise the temperature of one pound of water by one degree Fahrenheit. It is clear that larger rooms will require more heat to remain comfortable. To make a selection of the ideal radiator easier, we have provided a Chart alongside which shows how to calculate your room size and which radiator would be the correct fit.
Calculate Before your Buy!
Our radiator calculator allows a quick and easy method to determine the radiator size/sizes needed in a normal domestic environment. There are many different methods to calculate this requirement, ours is one born out of experience but may not suit everyone. No warranty is offered or implied as to the accuracy of this calculator, and it should be considered as a guide only. Please select from the options below as closely as possible to your room conditions; we have included as many variables as possible, plus an option to allow your preferred heating 'comfort type'.
So, it is clear to see that there is much more than meets the eye in terms of central heating radiators and their associated systems. By assessing the variables that we have discussed, you can be able to make the best choices at the right times.