Taken for granted, but a game changer: In today's modern setting, central heating radiators are taken for granted. The sight of radiators, thermostatic controls and valves in any home or commercial setting will not turn heads; these are commodities that are simply taken at face value. However, the concept of central heating is a fascinating one, and today's systems are both strikingly similar in principle, yet masterfully evolved, from the first central heating systems that were designed.
Why Compact Radiators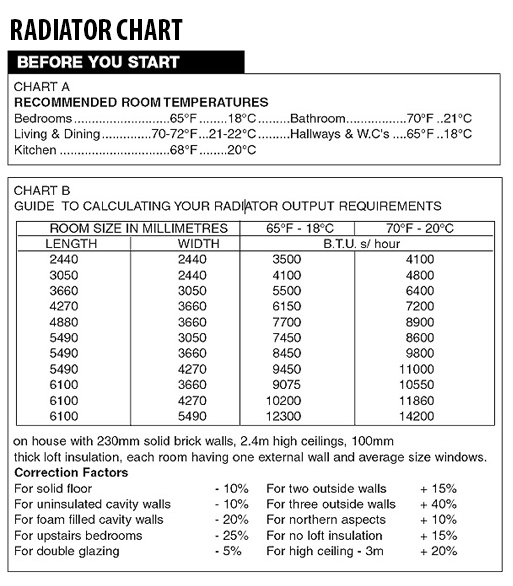 Radiators are available in a variety of sizes and shape to suit your interior decoration. There are many different types of Central heating System available in the market, and Compact Radiator is one of them. These are popular and are the first choice of home owners in UK, because it is capable in gaining heat and emitting its efficiency for a longer period of time. Compact Radiators take hardly few minutes to warm up the room.
But before installing a radiator you should always keep in mind the size radiator that needs to be installed. A correct size radiator will ensure the boiler is not overloaded and it can save a lot of money on gas and electric bills. Central heating radiators should be sized accordingly to the space to be heated and ensure the temperature is pleasant. Radiator is always calculated in BTU British thermal Units per Hour. We have also provided a chart how to calculate your room size and which radiator you require for a better heating result.
For better heating results we regularly update our range of Quinn Radiators. It is a well-known brand in Europe and is one of the leading manufacturers in domestic and commercial radiators. With a variety of sizes now available you can select 400mm radiator, 500mm rad, 600mm radiator or 700mm radiator depending on your room size. Also we have showcased all home heating solution products such as Heated Towel Rails, Designer Radiators and Central heating Cast iron Radiators.