A Complete Re-decoration
Straight towel rails can be purchased in differing lengths, allowing you to fit them in a variety of locations. Some people opt for multiple rails which allow a number of different towels to stay aired beautifully. Conversely, a single rail can be just the thing to hold a hand towel in the right place. For a cutting-edge contemporary accent, why not fit these of varying lengths? Remember to consider the shape and decoration on your towel rail, as these attributes form a vital part of the overall look of the rail. Selecting a new product from our range above is a fantastic way of giving your bathroom a superbly stylish new looks for far less than the cost of complete redecoration.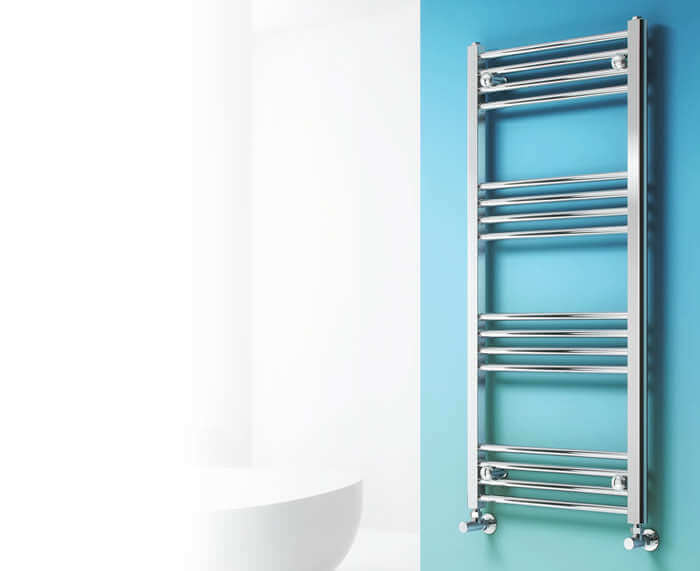 Precautions to take at the time of installation
There are precautions to bear in mind when getting these installed. Whether you are getting your towel rails installed DIY or even if you are getting installation done by a professional, there are a few precautions that you will need to observe:
For a wall-hung installation, make sure that the level at which the unit is assembled is accessible by all people using the bathroom. You will need to use toggle bolts for anchoring the rails securely onto walls. Ensure that the lowest bar on the unit lies at least 600 to 700mm off the ground.


For floor mounted and freestanding systems, you will need to determine, what's the best position around your bathroom is, such that the unit does not cause any obstruction and is also safe.


Make sure to install these in such a location that prolonged contact is never possible.


If you are going for an electric version, ensure that all electrical connections made are proper. You will need to refer to the instruction manual provided by your manufacturer in detail. If your manufacturer has not offered a proper manual, make to return your product and get something else.


For publicly used bathrooms, these accessory should always have a warning sign next to them


It should be installed such that they are away from the shower area and water
Also, heated units can be dangerous to children and they must never be allowed to use it without adult supervision. Units will also need to be installed such that there is little risk of a child or a toddler getting hurt.

A Good Idea

It is always a good idea to have these unit installed by a professional, licensed and qualified plumber. While there are many products out in the market today, with some also allowing DIY installation options, plumbers have the required expertise and knowledge to be able to carry out the installation smoothly. With experience, a plumber can even evaluate a bathroom space and offer advice on the best possible methods of installation.

At our on-line store we feature an excellent selection of washroom products and related accessories.