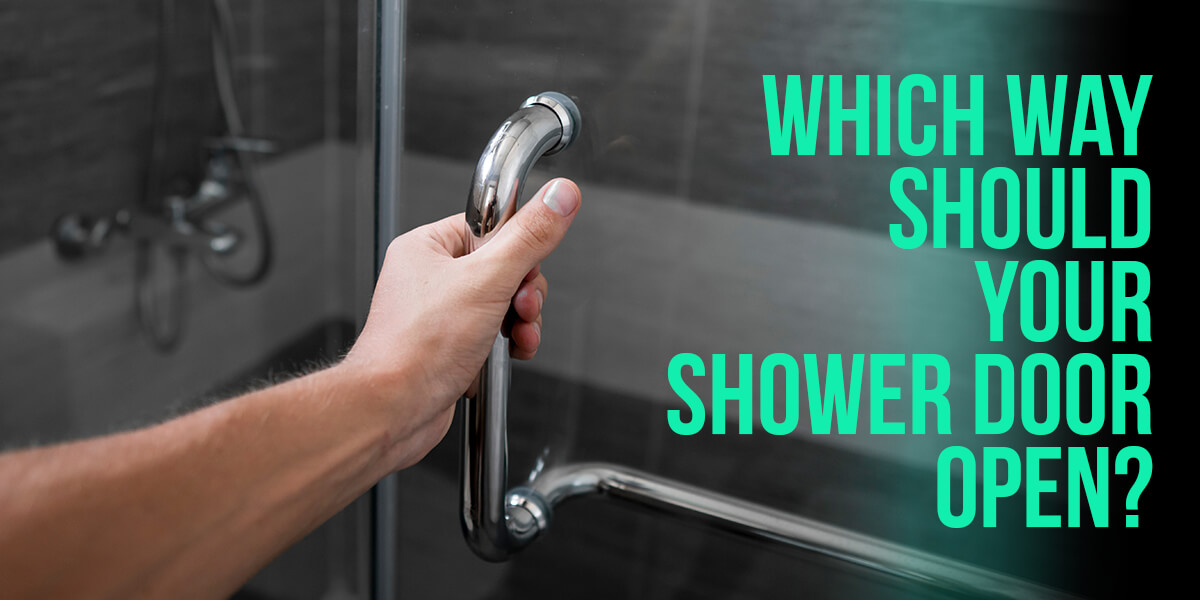 ---
Inwards or Outwards How Should Your Shower Door Open?
When it comes time to install a new shower door, there are more than a few things to bear in mind.
You want to make sure you invest in the type of door that works cohesively with the layout of your bathroom, as well as make sure it doesn't present any safety issues down the road.
One of the concerns regarding shower door installations is whether the door opens inwards or outwards. It might seem like a minor decision, but the impact is highly consequential considering the average bathroom size in the UK. It's easy to see why in or out is a pertinent question!
Take a closer look at what you should consider when installing a shower door and whether an inward or outwards opening is best for your bathroom and your home.
---
What To Consider When Installing A Shower Door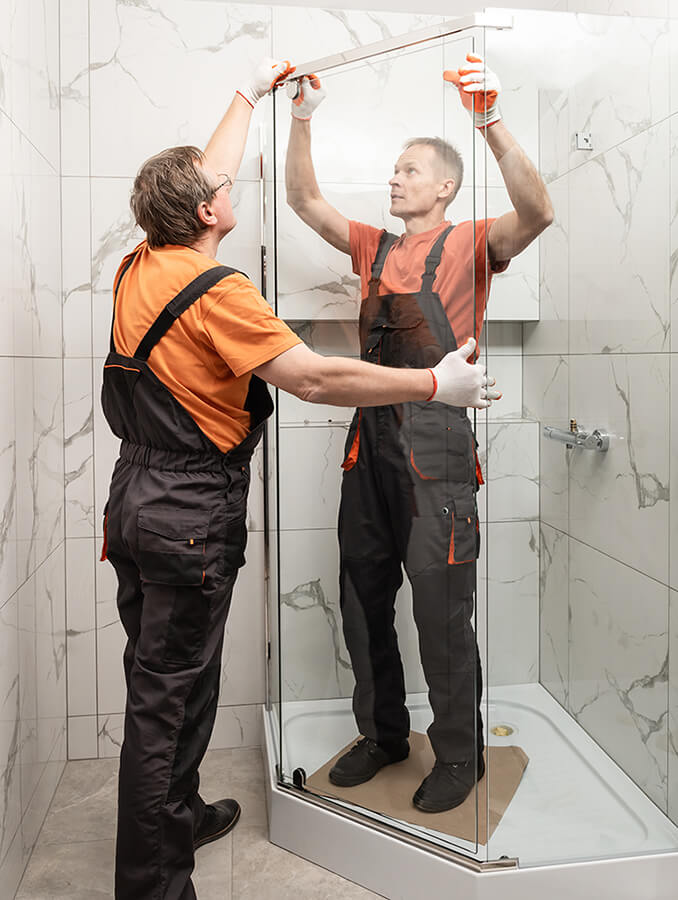 A shower door is a crucial element of any functional bathroom. It's the door you are going to interact with at the time of the shower. The first question you should ask yourself is, what would be the easiest and most convenient direction for your shower door to open? This is highly dependent on your bathroom layout. Opening inward might make more sense if it is locked into a corner. If your bathroom is spacious, opening outward should not be a problem. You also want to easily access both the inside and outside of your shower door so that it can stay clean.
1. Safety concerns
There is an unspoken code amongst builders in the UK and the rest of the world that indoor doors should always open in an outwards direction. This is because an inwards-swinging door can become more easily blocked should the shower occupant have a fall.
An outwards-swinging door is generally considered safer than an inwards-swinging one, but it does depend on the environment. Ideally, you want a shower door for maximum accessibility and mobility within the bathroom layout.
Free-swinging doors (doors that open both outwards and inwards) make great halfway alternatives. However, they are less effective when trapping steam and moisture inside the shower cubicle. To install one, you'll need at least 70-80 cm of clearance.
2. Space is Premium
The amount of space in your bathroom determines what kind of shower door you should install. The more space you have, the more outwards swinging space is available - opening up the potential for an outwards-swinging door.
However, if you have a compact bathroom opting for an inwards-swinging one does make more sense. If you try to install a pivot or hinged shower door in a small space, it could cause the door to hit other objects in its proximity.
3. Shower head & Valves location
The positioning of your shower head and valves also determines whether your bathroom door should swing outwards or inwards. Opening inwards toward the shower could become unnecessarily complicated if you have large exposed valves.
Shower doors that open outwards are much better suited to showers with large shower heads and valves. Alternatively, medium-sized shower heads or concealed valves are generally more compatible with doors that open in an inwards direction.
---
Different Types Of Shower Doors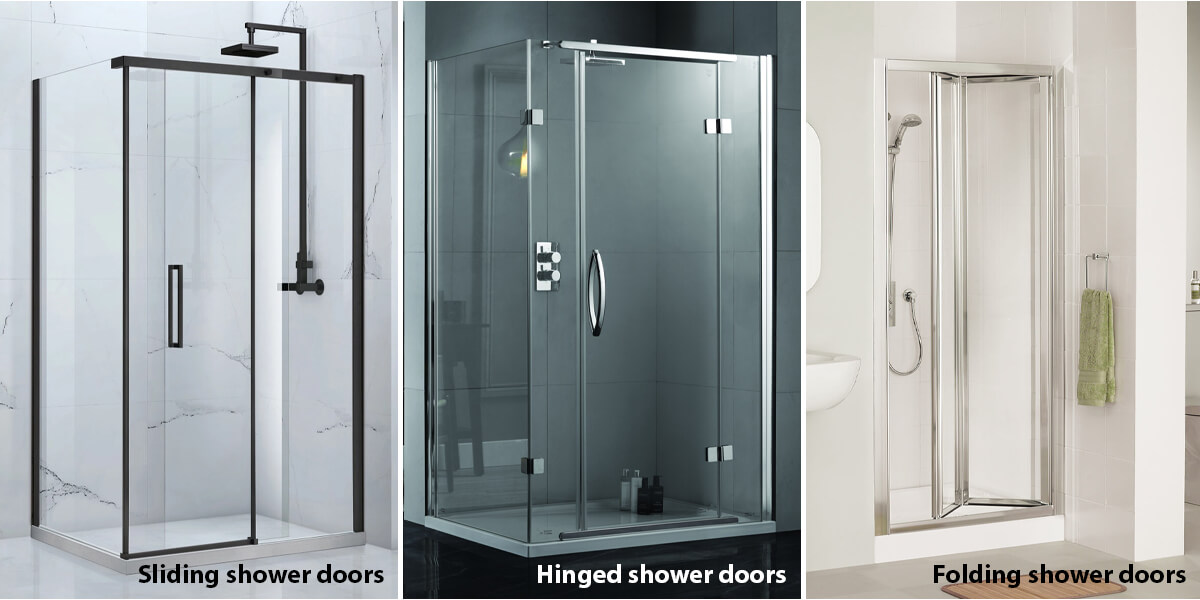 The type of door you choose can help you decide what direction it should swing in. Not all shower doors are made equal, so you must pick yours carefully if you've got specific ideas about how you want it to operate daily.
Sliding - Sliding shower doors work great for smaller bathrooms with limited space. Instead of swinging open like a regular hinged door, they slide either behind or over the shower cubicle walls to make entering and exiting a breeze.
Hinge - This is the most commonly found shower door type on the market. Just like a regular door, it functions by use of two or three hinges at its spine to make opening and closing easy. You can find both inwards and outwards-swinging hinge shower doors at QS Supplies.
Folding - Folding shower doors are best put to use in bathrooms with a limited capacity for space. Similar to a sliding door, this shower door type is mounted onto a gliding track, which allows it to unfold in an accordion-like fashion.
No matter what kind of bathroom you have at home, there is a shower door that will work for you. Now that you understand the basics of what is available and what considerations you should consider, you can make the most informed decision possible.
---
Open Is Best - Unless You Lack The Space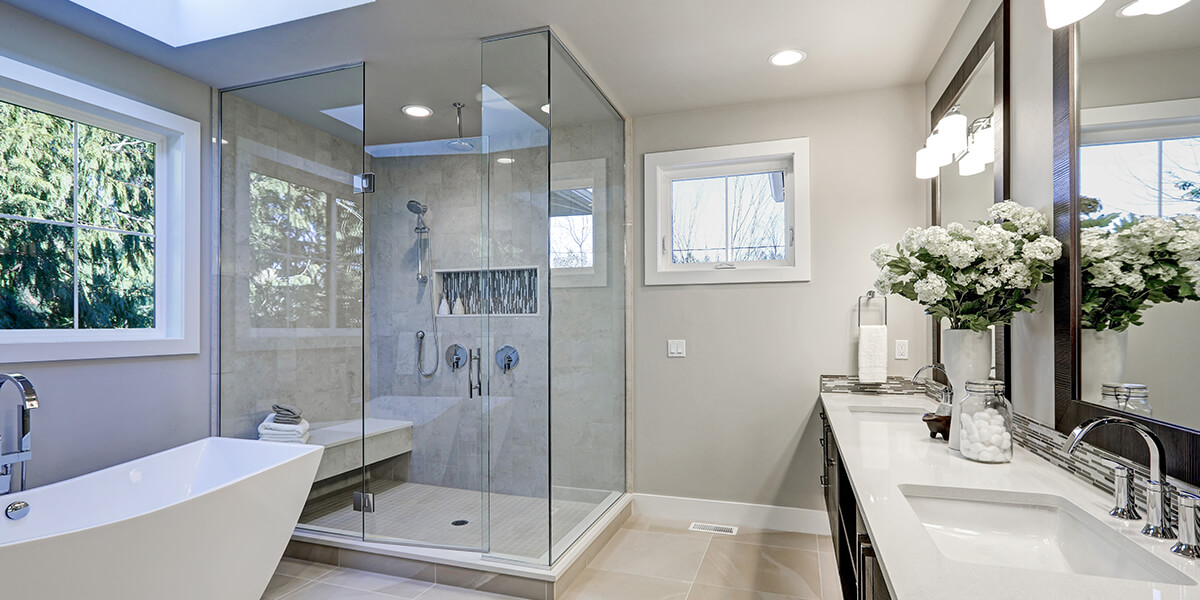 Realistically, you could make an outwards or inwards-swinging shower door work for you. However, the outwards-swinging shower door certainly comes with more perks.
It's safer, easier to operate, and often the most convenient choice. But if you lack the physical space for a door that swings outward, there is nothing wrong with opting for an inwards-swinging one.
If you do choose an inwards-swinging shower door, remember to take extra safety precautions to avoid slipping (such as an anti-slip shower tray). Either way, you can enjoy the comfort of a smooth-functioning shower door that adds value to any bathroom.