Where Is the World's Most Dangerous Drinking Water?
Published on: 08/03/2023
Last Updated: 08/03/2023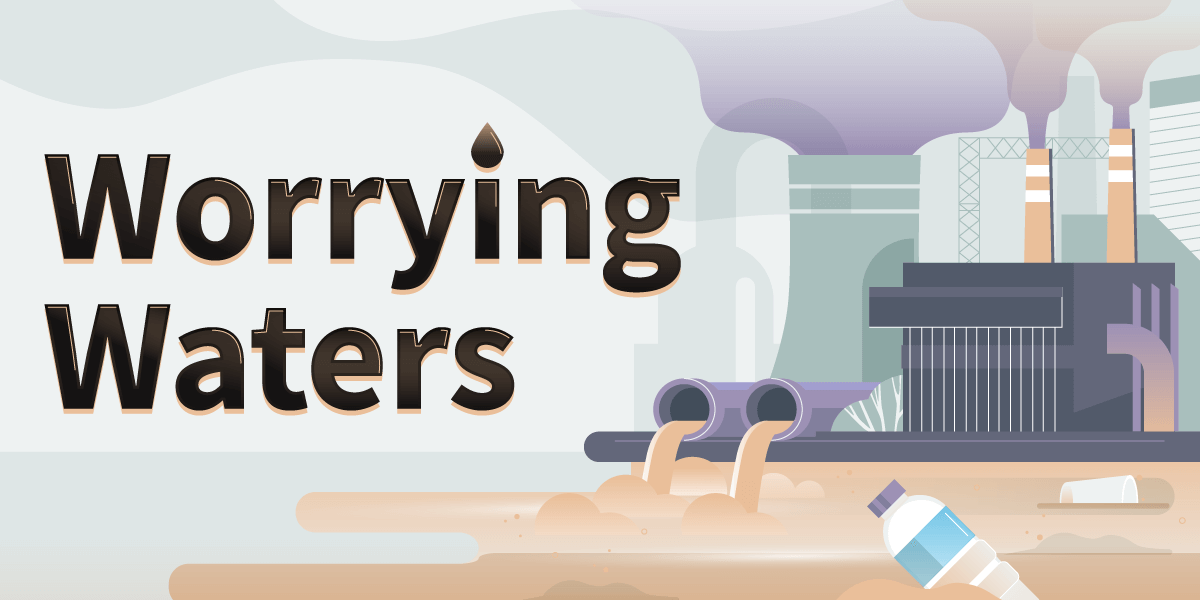 What could be simpler than drinking a glass of water?
In the UK, when you turn on the tap, you assume what comes out will be drinkable. Indeed, the UN General Assembly recognises access to safe drinking water as a human right. And yet, more than a quarter of the world's population lives in water-stressed countries, and a similar number use a drinking water source contaminated with faeces, according to the World Health Organization.
These conditions lead to people being infected with diarrhoeal diseases each year, with cholera, dysentery, typhoid and polio, among diseases spread through infected drinking water. Common chemical contaminants include lead, mercury, pesticides, pharmaceuticals and microplastics.
Unfortunately, national wealth can be a deciding factor in whether a person can pour a safe glass of water to drink. According to the Environmental Performance Index (EPI), "good [environmental health] policy results are associated with wealth (GDP per capita), meaning that economic prosperity makes it possible for nations to invest in policies and programs that lead to desirable outcomes." To make matters worse, the heavy industry poorer countries employ in the attempt to level up can further compromise the local water.
The EPI index is designed to rate and monitor water quality around the world. Experts assign each country a water quality score based on the number of (adjusted) life years lost per 100,000 persons (DALY rate) due to exposure to unsafe drinking water. This number itself is based on the IHME's Global Burden of Disease study.
To illustrate the starkness of the situation and to flag the countries where it is and isn't safe to drink the tap water, QS Supplies has used EPI and CDC data to create a set of new data visualisations.
---
What We Did
QS Supplies sourced each country's EPI score directly from Yale University's Environmental Performance Index, in which higher scores indicate safer drinking water, and created a data visualisation representing these scores by size. We based our map of countries where you can and can't drink tap water on Centers for Disease Control and Prevention (CDC) guidance.
---
Key Findings
Ten countries have the maximum 100 EPI score for water, and they're all in Europe.
However, the European countries of Albania (50.3) and Moldova (50.8) achieve barely half of this.
The 24 countries with the lowest EPI rating are all in Africa, and the CDC warns against drinking tap water anywhere in Africa.
The CDC discourages drinking tap water in much of Asia and Latin America.
Eastern European & Non-EU Countries Buck Continent Trend of Healthy Water
That big cluster of 100-rated countries in the middle of the data visualisation is made up entirely of European countries. Indeed, 19 of the 20 countries with the safest water are in Europe, and ten of those have a 100 score. The worst-rated European countries are Albania (50.3) and Moldova (50.8).
The European Union (EU) has recently recast its Drinking Water Directive with measures to tackle emerging pollutants and boost standards beyond World Health Organisation (WHO) recommendations. However, neither Moldova nor Albania are in the EU. According to the World Bank, 85% of the Albanian population has access to the piped water supply, but the infrastructure is in "dire condition." Even in urban hours, households may have access only a few hours a day, if at all, and water may be untreated for contamination.
---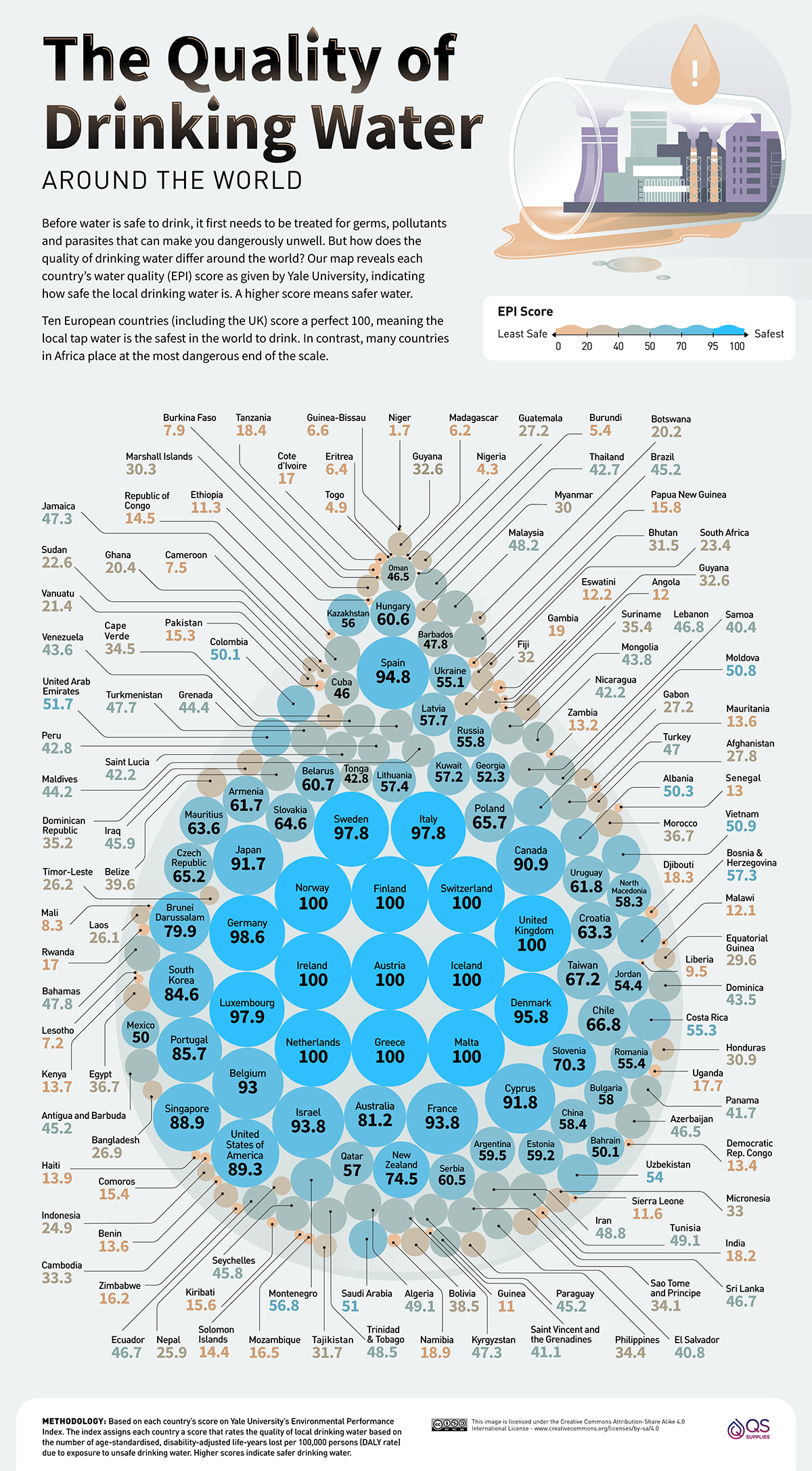 Click here to view full size
The 24 countries with the lowest rating are all in Africa, while the 25th is Haiti. Niger is rated lowest of all, with a score of just 1.7. Some 71% or more of Niger's population practice open defecation, while intense droughts put extra strain on the country's underdeveloped infrastructure — accentuating the spread of Covid-19 due to the lack of clean washing water.
Haiti has faced renewed obstacles to improving local water supply since the devastating 2010 earthquake, which itself led to a cholera outbreak that impacted 820,000 people. The 2021 earthquake was a cruel blow to progress made, with Save the Children's Perpetue Vendredi stating that "infectious diseases thrive when clean water is scarce. We are already facing a COVID-19 pandemic. We cannot add waterborne disease outbreaks to that."
---
Tap Water Warnings Across the Whole of Africa
While there are 50 countries that the CDC lists as having drinkable tap water, the organisation still considers some to be risky, advising not to drink the tap water "in most middle and low-income countries, even in cities." Not only is compromised tap water risky to drink, but visitors should avoid brushing their teeth with it and avoid ice cubes and fizzy drinks served from a soda fountain.
While 35 of the relatively safe countries are in Europe, parts of eastern Europe and the Balkans get the thumbs down from the CDC. The central European country of Hungary also gets a No, despite being an EU member. The European Commission has taken formal steps to push Hungary to comply with EU safety directives since tap water in 13 supply zones is contaminated with arsenic and/or boron.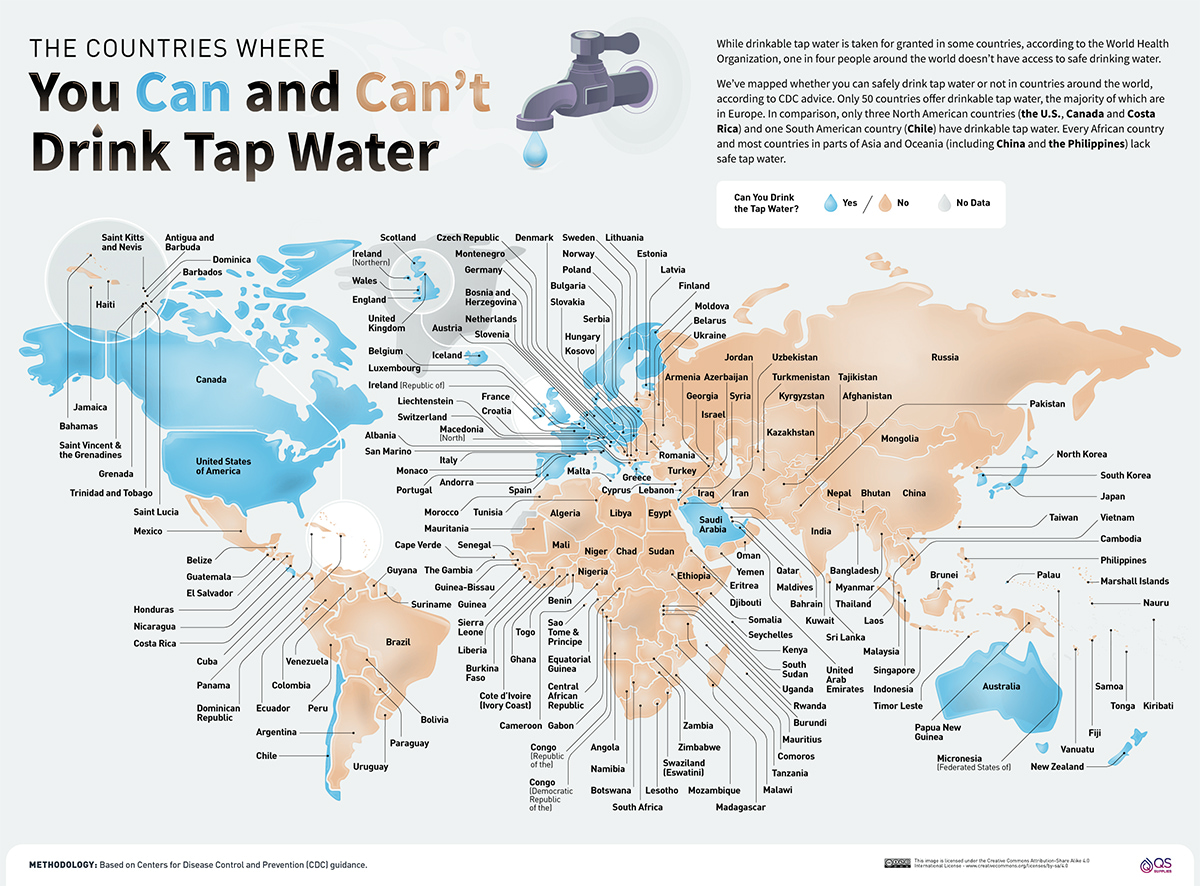 Click here to view full size
The CDC discourages drinking tap water in much of Asia and Latin America and every country in Africa (the grey area is the disputed territory of Western Sahara).
A 2022 UNICEF/WHO special report revealed that while basic drinking water became available to 500 million Africans between 2000-2020, that number was matched by the continent's population growth. According to UNICEF, "418 million people still lack even a basic level of drinking water service, 779 million lack basic sanitation services (including 208 million who still practice open defecation) and 839 million still lack basic hygiene services" — and few countries are on track to meet the continent-wide goal of universal safe water by 2030.
---
Risky Water Everywhere
While the most at-risk include those in countries without a developed drinking water network, every home is vulnerable to contamination through structural or infrastructural neglect. In 2021, a Guardian investigation found that "118 of the 120 locations tested across the U.S. had levels of PFAS or arsenic above the recommended maximum, or detectable amounts of lead" — and there's "no safe exposure level" for lead. You can read the full official EPI scores around the world and check for drinkability in the interactive table below.
Meanwhile, the UK government is failing to test drinking water for a range of toxic chemicals. If you live in an older home, lead pipes can be a cause of contamination, while illegal use of lead-based solder during plumbing work can also cause poisoning. Water filters may help protect against some particulates, and replacing dirty and corroded pipes can also help.
Methodology & Sources
To find out how safe the drinking water is in different countries, we took data from Yale University's Environmental Performance Index, specifically looking at the unsafe drinking water category.
This index looks at the quality of drinking water in 180 countries around the world based on the number of age-standardised disability-adjusted life-years lost per 100,000 persons (DALY rate) due to exposure to unsafe drinking water. All of the countries on our list are ranked by a score from 0 to 100, with the highest score of 100 indicating very safe drinking water and 0 indicating the most unsafe.
To find out whether tap water is safe to drink in each country, we visited the CDC (Centers for Disease Control and Prevention) website and retrieved all of the countries from its 'destinations' list, then looked at each country's 'stay healthy and safe' and 'eat and drink safely' sections to find out whether it is recommended or not to drink tap water in that country. This gave us either a 'yes' or 'no' answer.
The data is correct as of January 2023.
About QS Supplies "At QS Supplies, we're passionate about taps, be it a residential or commercial taps. From designer basin mixer taps to bath and shower mixers, or taps in black finish or gold finish you'll find everything you need to make your bathroom look fab. See them for yourself by visiting us at QSSupplies.co.uk today"