Making The Move
Published on: 02/02/2021
Last Updated: 02/02/2021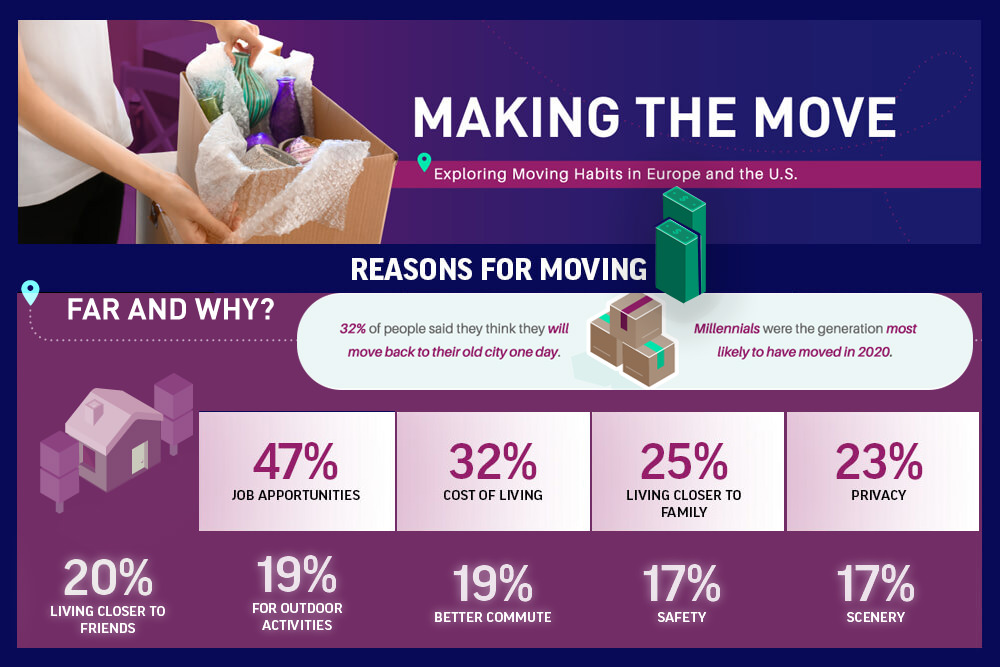 For years, major cities have been growing. As hubs of job opportunity and epicenters of education and wealth, urban areas have offered an allure that's hard to deny, regardless of age or industry. But like most aspects of life impacted by the COVID-19 pandemic, the virus is changing that trend. Now, people are escaping to the country in a mass exodus, stirred by the shift to remote work environments and the promise of technology to keep them connected, wherever they are.
So where are people moving now, and what's motivating these major migrations? To find out, we surveyed over 1,000 people across Europe and the United States to find out where they're living and why that might be changing. Let's take a closer look at whether migration patterns are favouring suburban or urban areas, how having children might propel those decisions, and how people are balancing the reality of cost of living with a desire to be closer to family.
---
Finding Somewhere Else to Live
According to the more than 1,000 people polled from Europe and the U.S., 24% indicated they'd moved from a suburban area to an urban area, though nearly as many (23%) said they'd decided to do just the opposite. Leaving the suburbs for a more cityscape environment was more common among Europeans surveyed (27%) than Americans (15%).
In contrast, we found 30% of Americans were opting to relocate to the suburbs from their urban home locations. In 2020, record numbers of people are moving out of New York City, many for suburban neighbourhoods. In London, 1.6 million people plan to relocate, largely as a response to remote work and no longer needing to live in the city. And while millennials were the most likely generation to have moved in 2020, nearly a third of those polled indicated they planned to move back to their old city at some point in the future.
Those still moving to urban cities in 2020, either from suburban (26%) or rural (20%) areas, were more likely to not be raising children, compared to those opting for suburban or rural homes. Nineteen per cent of people who moved from urban to rural areas in 2020 were raising children, compared to just 9% of those without kids at home. Overwhelmingly, 72% of people who moved were happy with their decision.
---
Long Distance or Around the Corner?
While a majority of people opting to relocate in 2020 were staying within their same state or region (including 53% of people from the U.S. and 38% of Europeans), many were also choosing to move much further away. Thirty-six per cent of Americans and 34% of Europeans moved to a different region within the country, and 16% of Europeans decided to move to a different country altogether. Long-distance moves, either to different states or regions (or even different countries), were more common among people without children at home.
The most popular reason for moving was clear: finding new job opportunities. While many employees value stability in their jobs, people are also willing to seek new opportunities if it means finding jobs with better benefits or that help them grow and evolve their skill sets. Other common reasons for relocating included the cost of living (32%), wanting to live closer to family (25%), and desiring more privacy (23%). Cost of living was a bigger impetus among Americans moving (39%) than Europeans (29%), but Europeans were 13 percentage points more likely to move for new job opportunities. In some major U.S. cities, including Los Angeles or Seattle, the cost of living can be 50% (or higher) above the U.S. average.
---
The Downside of Relocating
Moving has its advantages, but when work or job opportunities are the primary motivation, it's possible moving can also create some regrets. Being able to live closer to family (38%) or friends (34%) was the aspect of their old home respondents reported missing the most, followed by the cost of living (18%) and cultural opportunities (16%).
Not being able to live closer to family was the biggest drawback of moving in 2020 among those polled, regardless of age. Younger respondents, including Generation Z (54%) and millennials (36%) were more likely to miss their family than older respondents who'd relocated. Gen Z respondents who'd recently moved also identified safety (18%) and scenery (13%) as elements of their old homes they missed most. Older generations, including Generation X (14%) and baby boomers (11%) were more likely to report missing job opportunities from where they lived previously.
---
Embracing Change
In 2020, people are more likely to be moving out of necessity for things like job opportunities and to find a lower cost of living rather than scenery, culture, or a sense of community. And while some people have relocated shorter distances within the same state or region, many are also moving much larger distances to new states or countries.
At QS Supplies, we want every house to feel like home. For all of your bathroom furniture needs, from baths and wall-hung vanity to toilets and showers, you'll find exclusive ranges of products that go far beyond the basics. Whatever your style or preference, QS Supplies has thousands of options to meet every taste and need. Ask your technical questions, browse options, get a quote, and more online at QSSupplies.co.uk today!
---
Methodology and Limitations
We surveyed 1,002 respondents from Europe and the United States, all of who had moved within the past five years or were actively planning an upcoming move. Among our respondents, 541 were female, 460 were male, and one did not identify as male or female. Survey quotas were used to ensure a sufficient sample of respondents from each generation. 528 respondents were from Europe, and 474 respondents were from the United States.
To help guarantee accurate responses and data, all respondents were required to correctly answer an attention check question. In certain instances, survey questions and answers have been paraphrased or rephrased for clarity or brevity. These data rely on self-reporting. Potential issues with self-reported data include, but are not limited to, telescoping, selective memory, and attribution errors.
---
Fair Use Statement
Moving is no easy task, but your readers may still be thinking about doing it. Share the results of this study with them for any noncommercial use by including a link back to this page in your story so they have access to our full findings and research methods.