Burns & Scalds to Children
As any parent will tell you, the safety of children is always a priority, be it a toddler, a naughty 5 year old or a defiant adolescent. Minor accidents are an integral part of growing up and fairly common in children, despite the most earnest efforts of parents and families. Accidents are not confined to a particular area, county or space and are just as common indoors, within the cosy comforts of our homes, as they are outside. Burns and scalding accidents can range from minor to the more serious ones that may require emergency care.Through this article and as a socially responsible organization, QS supplies aims to spread awareness among parents to prevent burning and scalding accidents which are easily preventable.
Through this article and as a socially responsible organization, we aims to spread awareness among parents to prevent burning and scalding accidents. We have put together detailed statistics on Burns & Scalds for the period from Jun-16 to Sep-2017. This figure only relates to the more serious burns and scalds - it does not include the thousands seen by A&E departments. The stats show that younger children were the most prone to such accidents, which reduced as the age increased. Another interesting conclusion from the data is that kitchens, bedrooms and living rooms inside homes witnessed the most number of burn or scald episodes. This guide will enable parents to quickly take charge incase if any such episodes were to happen.
Month
Burned or Scalded
0-2 Years
2-4 Years
5-14 Years
15-19 Years
Top Hit Areas
Top Accident Areas
Jun 2016

553

201
129
130
93

Bradford

Bristol

Chelmsford

Watford

Bedroom

Living room

Kitchen

Garden

Jul 2016

613

285
144
166
18

London

Wakefield

Manchester

Bristol

Bedroom

Living room

Kitchen

Garden

Aug 2016

651

238
144
174
95

Manchester

Bristol

Newcastle upon Tyne

Wakefield

Bedroom

Living room

Kitchen

Garden

Sep 2016

471

219
134
108
10

Bristol

Birmingham

Manchester

Leeds

Bedroom

Living room

Kitchen

Garden

Oct 2016

492

228
121
127
16

Bristol

Manchester

Bradford

Swansea

Bedroom

Kitchen

Living room

Bathroom

Nov 2016

458

235
114
94
15

Bristol

Bradford

London

Manchester

Bedroom

Kitchen

Living room

Garden

Dec 2016

437

222
103
106
6

Bristol

Bradford

Leeds

Gloucester

Kitchen

Living room

Bedroom

Bathroom

Jan 2017

406

198
95
107
6

Bristol

Manchester

Birmingham

Cardiff

Kitchen

Living room

Bedroom

Bathroom

Feb 2017

456

232
105
108
11

Bristol

Manchester

Swansea

Hemel Hempstead

Kitchen

Living room

Bedroom

Bathroom

Mar 2017

464

211
136
106
11

Bristol

Manchester

Leeds

London

Kitchen

Living room

Bedroom

Bathroom

Apr 2017

409

194
102
104
9

Bristol

Manchester

Bradford

Wakefield

Kitchen

Living room

Bedroom

Bathroom

May 2017

564

275
147
127
15

Bristol

Manchester

London

Leeds

Kitchen

Living room

Bedroom

Garden

Jun 2017

604

254
147
191
12

Bristol

Manchester

Oldham

London

Kitchen

Living room

Bedroom

Garden

Jul 2017

609

236
185
169
19

Manchester

Bristol

Swansea

Leeds

Kitchen

Living room

Bedroom

Garden

Aug 2017

567

264
146
141
16

Manchester

Bristol

Brighton and Hove

Newcastle upon Tyne

Kitchen

Living room

Bedroom

Sep 2017

598

265
144
124
65

Bristol

Brighton and Hove

Manchester

London

Kitchen

Living room

Bedroom

Garden
According to the stats below
Bathroom is the Least Accident Prone Zone for Burning & Scalding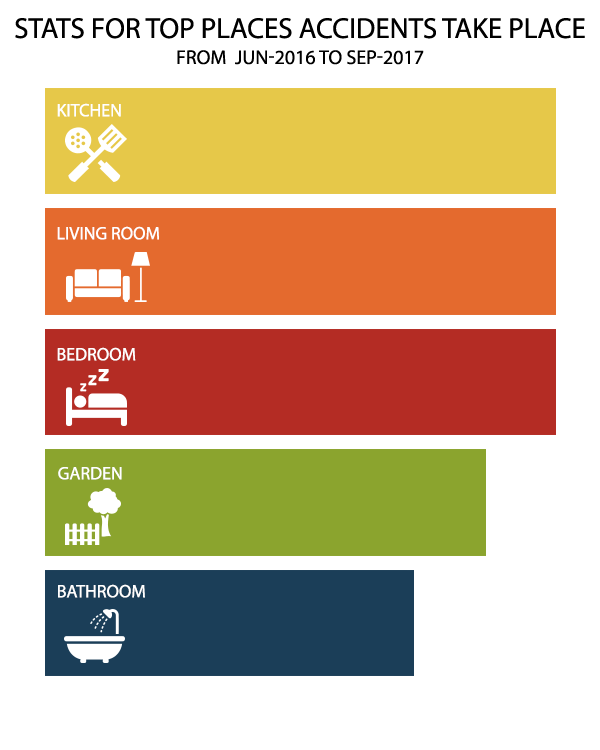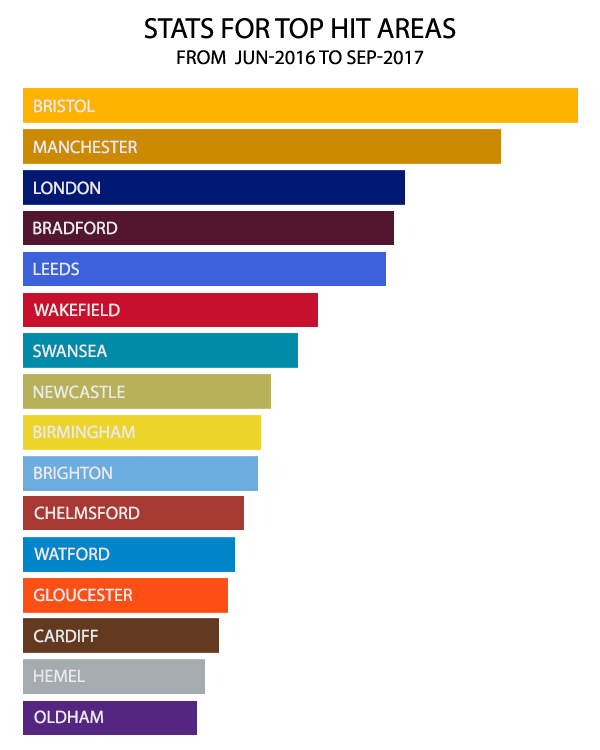 Burns & Scalds - Data from Jun-16 to Sep-17
Burns and scalds account for 6% of all peadiatric injuries. The majority of the victims are pre-school children, burns being most common between 1-2 yrs, while flame burns are common between 5-18 yrs of age.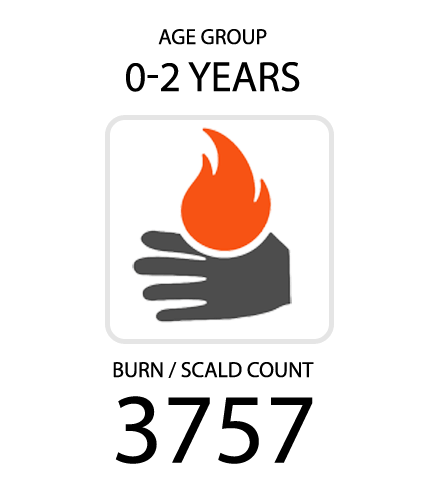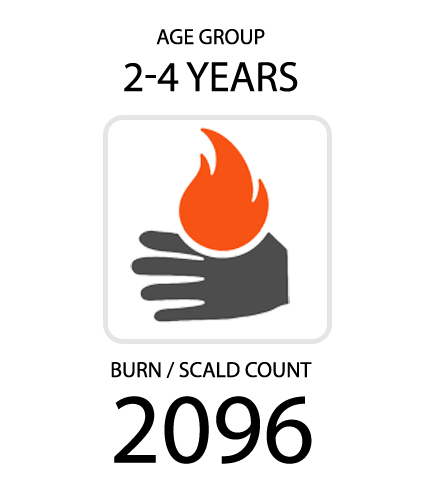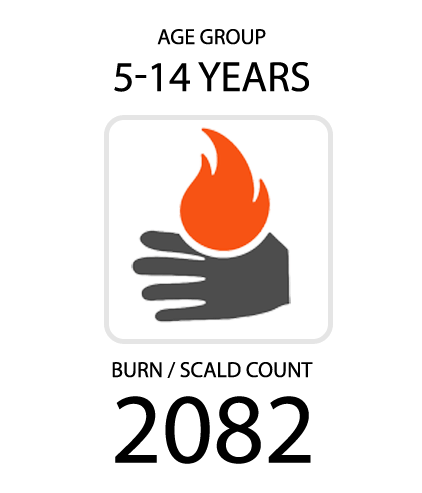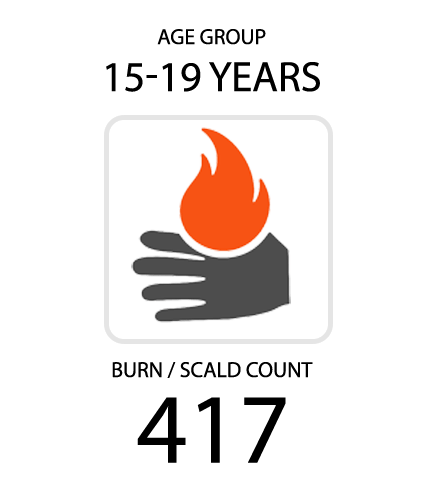 Data collected indicates that every day about 14 toddlers suffer severe burns that they need immediate specialist burns care. Children are more easily affected than adults by burning and scalding as children have nearly 3 times the BSA/BM ratio compared to adults, this greatly increases their fluid requirement. They also experience greater loss of water through evaporation or sweating as compared to adults increasing the intensity of the burns.
Children below 2 years of age have thinner layers of skin and lower insulating sub-cutaneous tissues as these are still developing. Therefore, burns that may seem superficial may actually have completely damaged the skin. The severity of a burn is proportional to the temperature and duration of contact. The top reason for scalding in children below the age are hot drinks as skin of children is more sensitive than adults. The same goes for sunburn and hot bath water which has proven fatal to a large number of infants. Another reason was the severe lack of preventive knowledge as well as post burn care within the home.
Before we move on to what exactly the statistics say, let us understand the basic prevention methods that must be followed.
Avoid holding or playing with your child or toddler while also drinking tea or coffee at the same time.
Cool any milk, food, soup or broth sufficiently well before feeding it to your child.
Children must be strictly instructed to keep out of hazardous areas alone, like the kitchen or bathroom.
Before bathing your child in hot water, check the water temperature by hand and then proceed with the bath.
Keep match boxes, candles, lighters, irons away from the reach of children.
Top Reasons for Burns or Scalds
First Aid Advice FROM THE BRITISH BURN ASSOCIATION
Remember STOP, DROP, ROLL, COOL, CALL, COVER.
Cool the burn with running cold tap water for 20 minutes and remove all clothing and jewellery (unless it is melted or firmly stuck to the wound).
Call for help: 999, 111 or local GP for advice.
Cover with cling film or a sterile, non-fluffy dressing or cloth. Make sure the patient is kept warm.
Click here for the complete British Burn Association First Aid Position Statement
You can also read more about Burn Prevention First Aid at CBTrust
Additional Advice
The first step is to immediate isolate the patient from the burn source or agent.
Switch off the electricity.
Stay calm is the first requisite to handling an emergency situation.
Examine the child for any signs of choking with fumes.
Examine the child for burn or scald injures on the body.
If the burn has caused the clothing to stick to the skin, do not attempt to remove or tear.
5195 children under 5 were so badly burnt in 2015 that they had to be admitted to a specialist burns service That's 14 toddlers every single day
Source: http://www.hotwaterburns.org/
WHAT the data tells us ?
The data collected at the CBT or Children's Burns Trust, tells us a lot and can prove to be effective in ensuring any future incidents. We now know that the top areas in the home that are most hazardous for children are the bedroom and living room whereas bathrooms are the least affected spaces. This trend is seen even in the monthly data, where, you can see that bathrooms have always been the place where the lowest burns and scald incidents occur.
Safety in the bathroom
The Bathroom industry has long recognized the serious implications of hot water and other scalding accidents. Bathrooms can generally be areas that are quite prone to accidents through scalding and burning as these are spaces where water and electricity are used together and that can be a very hazardous mix. Despite this, bathroom accidents have been reported to be quite low. Arguably the reason for the lower incident rate could be infrequent use of this particular area in the home.
But the major part of this could be the strict guidelines and standards that manufacturers have to adhere to when manufacturing bathroom appliances and other equipment. These include electrical appliances such as radiators, taps, valves and heaters, most of which include thermostatic functions and safety temperature limits which do not allow the appliance to heat up beyond certain temperatures and keep scalding accidents away. The same is true for bath showers and mixer taps. Manuals and instruction guidelines highlight the necessary precautions against safety for all products, made for use in the bathroom.
Episodes that do occur can be eliminated completely with a little caution. Plumbers and installers are the important link between manufacturers' and end users and have a social responsibility to ensure any electrical equipment installed must be done so by following the necessary instructions from the installers' manual. Besides, as per the UK safety regulations there are clearly demarked zones in any bathroom or wet room for installation of a particular device. These zones ensure that any shocks are kept to the minimum. Avoid any DIY projects and get a certified plumber to installer all your electrical equipment in the bathroom. Here are some other factors you need to keep in mind to keep your wet areas completely safe and ensure peace of mind.
If you see any sparks when using a switch or socket, you must replace it immediately.
All electrical appliances in the bathroom must be at a good distance away from shower and bathtubs.
Avoid using wet hands when using even the smallest of appliances such as a razor to prevent any shocks.
It is prudent to keep electrical appliances unplugged and dry when not in use.
Central heating is a safer choice compared to an electric heater for bathrooms.
All light fixtures within the shower must be covered and away from any water source or moisture.
Use insulation wherever necessary. When in doubt always check with a qualified electrician.
A schedule for regular maintenance and inspection of equipment as per guidelines is mandatory.
Overall Safety precautions in homes to prevent fires
Always check electrical cords for signs of damage or fraying, and quickly any damaged ones.
Avoid covering electrical cords with items such as rugs and carpets.
Never overload your circuits and also check with a licensed electrician when you need replacements or new installations.
It is prudent to install surge protectors to protect valuable electronic devices, such as computers and televisions from any spike in current.
Always monitor any cooking activity and never leave your pots or pans unattended on the stove. Same is also true for ovens, grills and microwaves.
Keep a fire extinguisher at home and get trained on its use.
Avoid smoking indoors or in bed.
When using lighted candles, keep them away from anything flammable goods. Never leave the house with the candles still burning and blow them out before sleeping.
DISCLAIMER
QS Supplies can accept no liability for the consequences arising from advice given on this page,
which is given for general guidance only to help reduce the risk of serious injury caused by burns and scalds.