How to Make the Most Out of Your Half Bath: Design Tips & More
Published on: 27/08/2020
Last Updated: 27/08/2020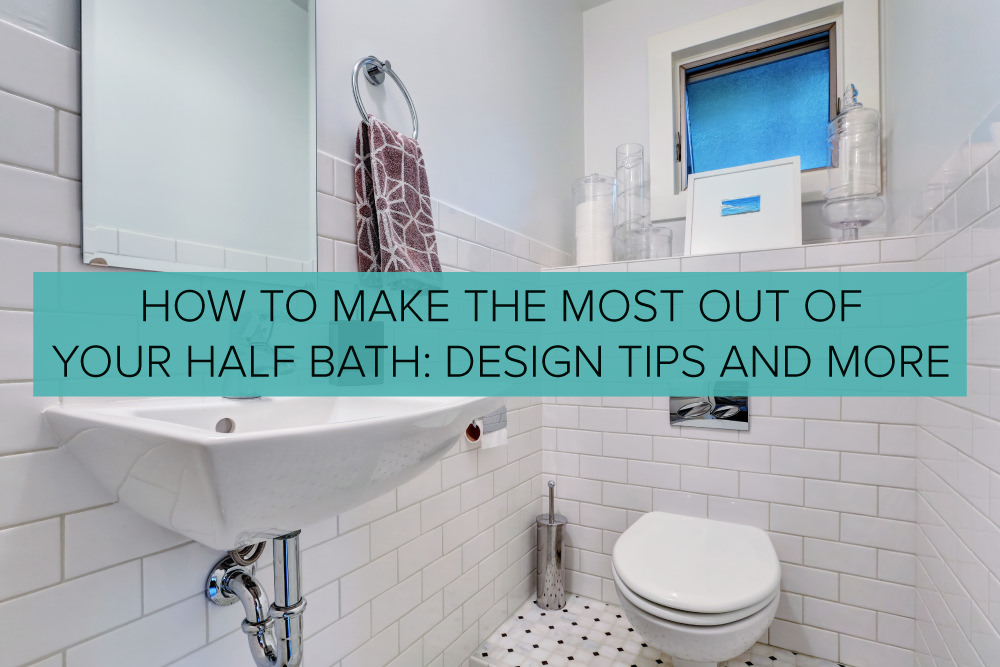 Even the smallest bathroom can make a big impression if it's well-designed. A fantastic half bath is both beautiful and functional. With a few thoughtful touches and upgrades, your renewed half bath will help guests feel more welcome and comfortable in your home. Here are a few design tips to help you make the most out of your half bath.
---
Create a Design Plan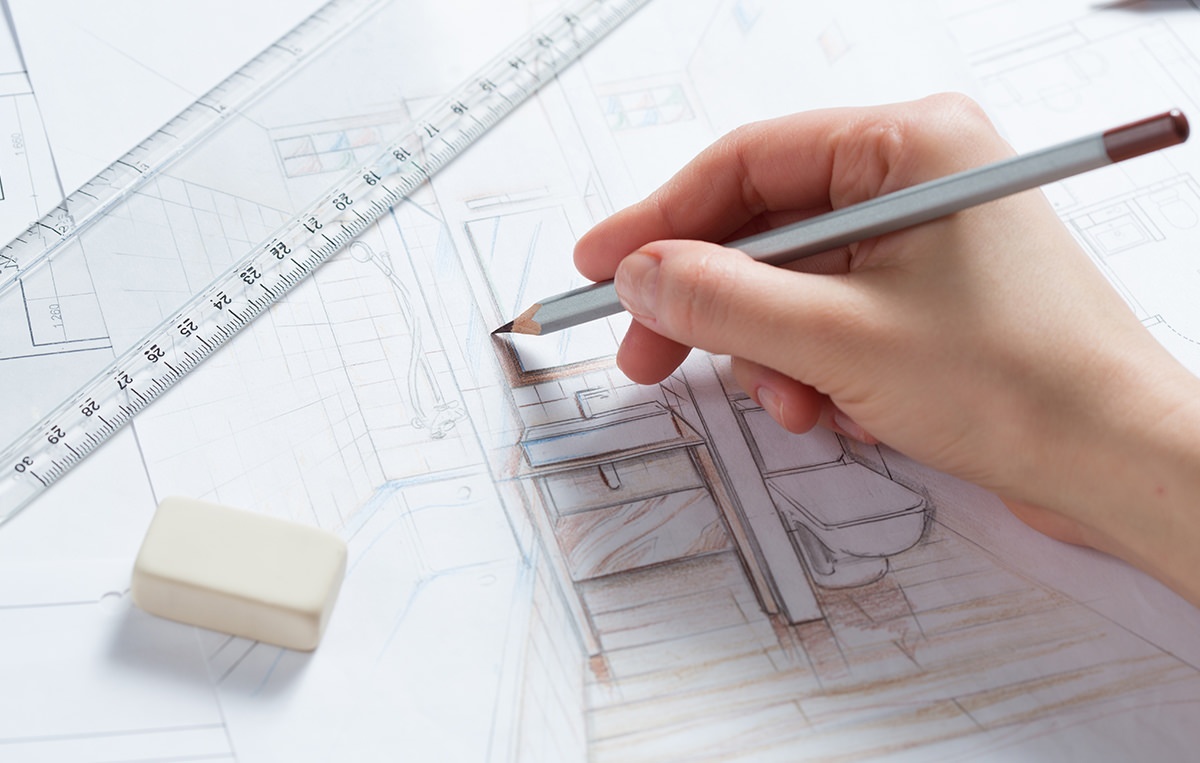 Home renovations tend to go smoother when you have a plan in place before you start. Think about how the room works now versus how you would like it to function. What needs to be added, removed, or replaced? Which colours and styles do you prefer?
It's important to decide what you can do yourself and which tasks require a professional contractor. Precisely measuring your space is vital to a design plan. These measurements are important to have on hand when choosing new fixtures, furnishings, and accessories for your room.
Design Tip: A bathroom design plan will help you achieve your goals step by step. But be sure to account for some surprises in your budget because things may not go exactly as planned.
---
Replace Old Flooring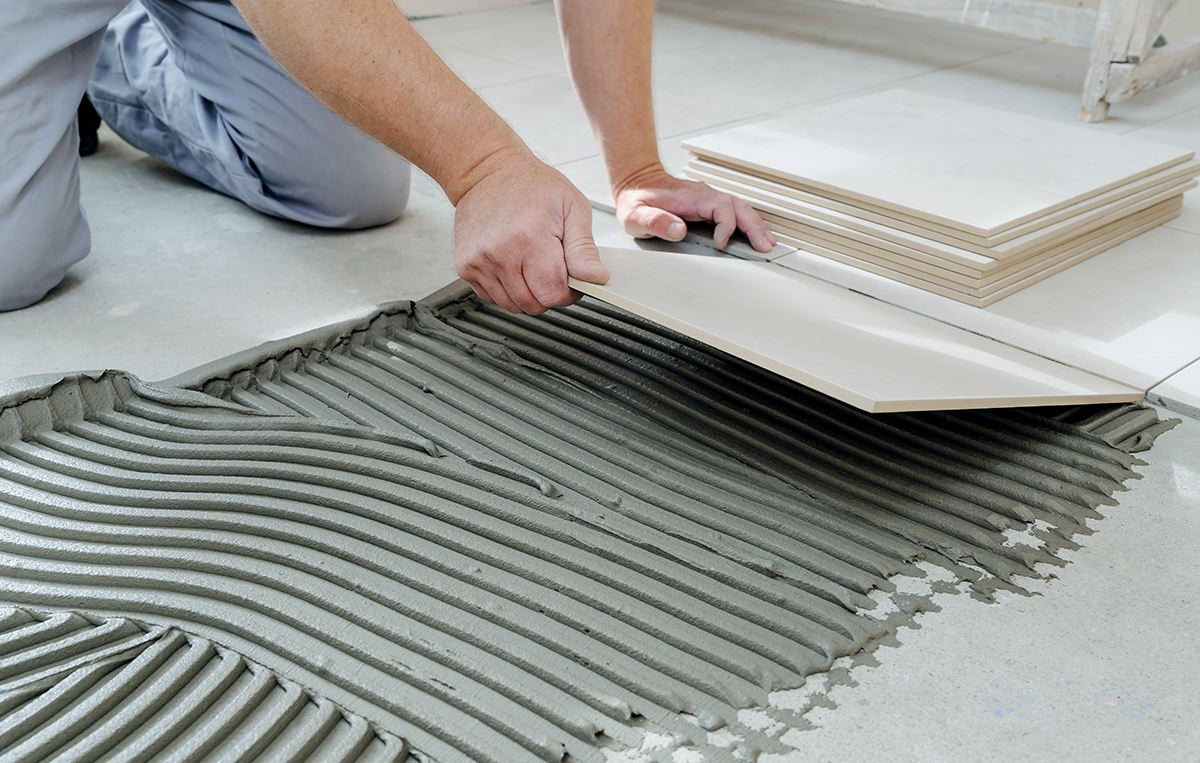 A new floor makes a big difference when upgrading your half bath. Homeowners often splurge on top-of-the-line floor materials, such as travertine or marble, because they can afford it in such a small space.
With so many bathroom flooring options on the market today, it's easier than ever to find a look you love within your budget. Popular materials include:
Vinyl
Laminate
Ceramic tile
Nature stone
Engineered wood
Real hardwood flooring and wall-to-wall carpeting aren't ideal materials because they retain too much moisture. Excess water causes damage over time and leads to further repair work.
Design Tip: Large tiles with thin grout lines make small rooms appear larger, especially when continued up the walls.
---
Choose a Basin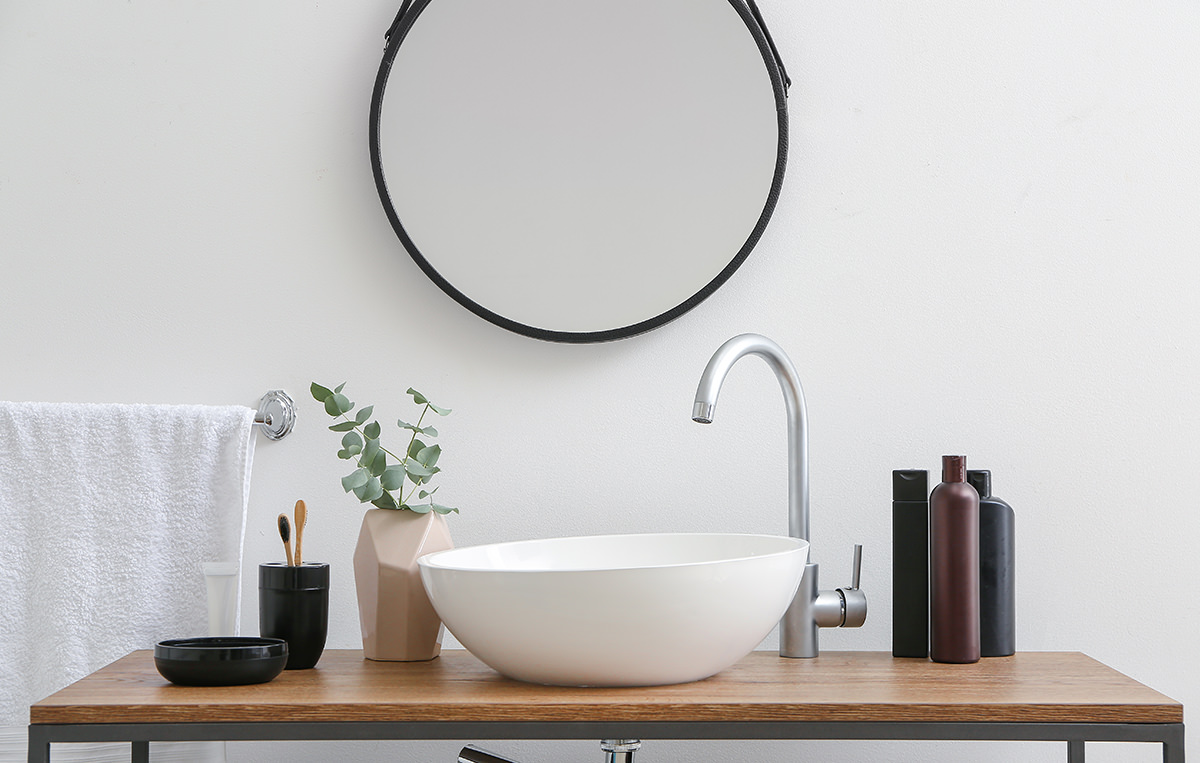 Basins come in a wide variety of styles, colours, shapes, and sizes. They can be standalone fixtures or part of a vanity cabinet or stand. Sometimes basins and vanities come as a set, but you can often mix and match separate pieces.
To choose the best option for your half bath, think about your current setup and your redesign plan. Are you looking to free up more space? Do you want to add a statement piece? Is modern, traditional, or transitional your ideal style? Keep your design plan in mind as you consider the following basin styles:
Inset: An inset basin, also known as an under-counter basin, is a classic style. It sits completely recessed in a vanity's worktop.
Countertop: Sleek countertop basins sit on top of a worktop vanity or other type of cabinet. They offer a more modern look than traditional inset basins. Their height makes them stand out and adds to the visual appeal of your room.
Semi-recessed: This type of basin is a contemporary take on an inset. It's partially recessed, so it slightly overhangs the vanity's edge. Semi-recessed basins also have a plinth near the taps which offers a convenient place for soap.
Pedestal: A pedestal basin lacks storage space but adds sophistication and floor space. It's a style that offers the perfect blend of traditional and contemporary.
Corner: These basins are amazing space savers. Corner basins make your space feel roomier than it is. They are available in wall-mount and pedestal styles.
Cloakroom: Like a corner basin, cloakroom basins are small yet completely functional. Wall-mounted styles are best if you want it to take up as little room as possible.
With stand: A basin with a metal or wooden stand is a trendy style choice. Stands come with or without open storage shelves. Some also feature a hand towel bar. Many people add decorative baskets and bins underneath this basin.
Wall-hung: A basin hung on a wall creates a very modern look and an illusion of more space. Mount these basins on a wall with or without a cabinet below.
Design Tip: A popular trend is to place a modern countertop basin onto a vintage piece of furniture like a wooden desk or an antique table. Mixing the old with the new creates an interesting focal point and a transitional style.
---
Install New Taps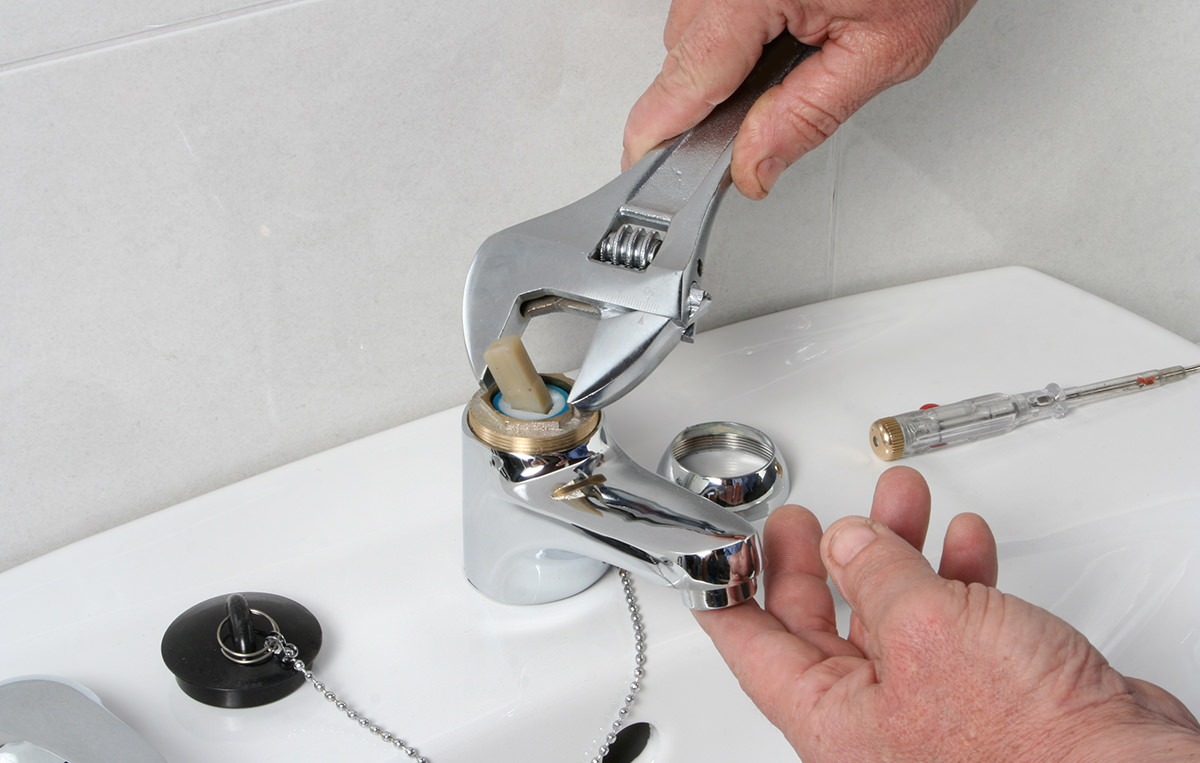 Installing new taps improves the look and function of your half bath. They can even increase bathroom cleanliness.
For example, no-touch automatic taps use state-of-the-art infrared technology to turn the water on as needed. Studies by the Nordic Water and Materials Institute show that fewer microbes are present in touchless taps than on traditional levers. This hands-free style also reduces water usage as it automatically shuts off and eliminates slow leaks.
Design Tip: Add a modern waterfall tap to treat yourself and others to a glamorous handwashing experience.
---
Try Bold Wallpaper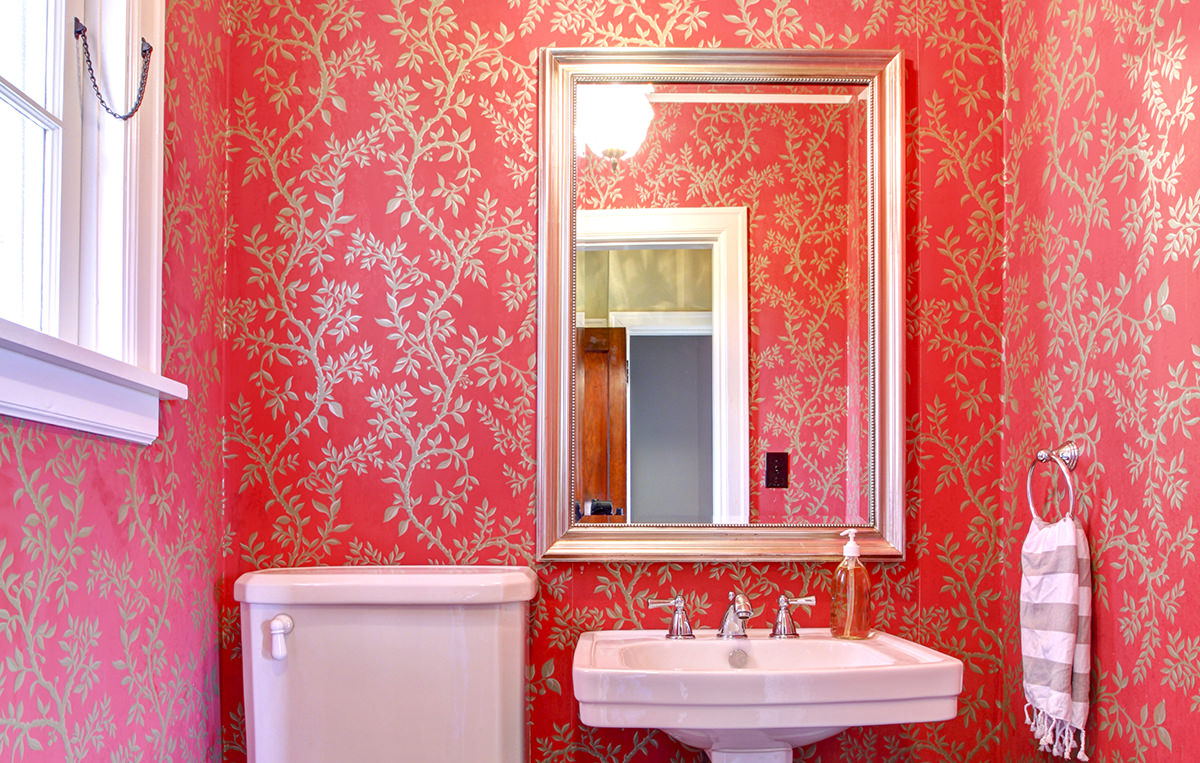 Wallpaper is a trendy addition to any half bath – the bolder, the better. If placed strategically, an eye-catching print can transform a small space without overwhelming it. Think about using wallpaper to create a focal wall behind your basin and mirror. Placing it only on the top half of your walls above white wainscoting is a stunning look too.
Look for waterproof and water-resistant wallpaper. Opt for removable styles if you aren't sure that you're going to love the pattern forever.
Design Tip: If you want a more subtle approach, then go for a neutral, textured wallpaper. It will still add interest while being more versatile.
---
Apply a Fresh Coat of Paint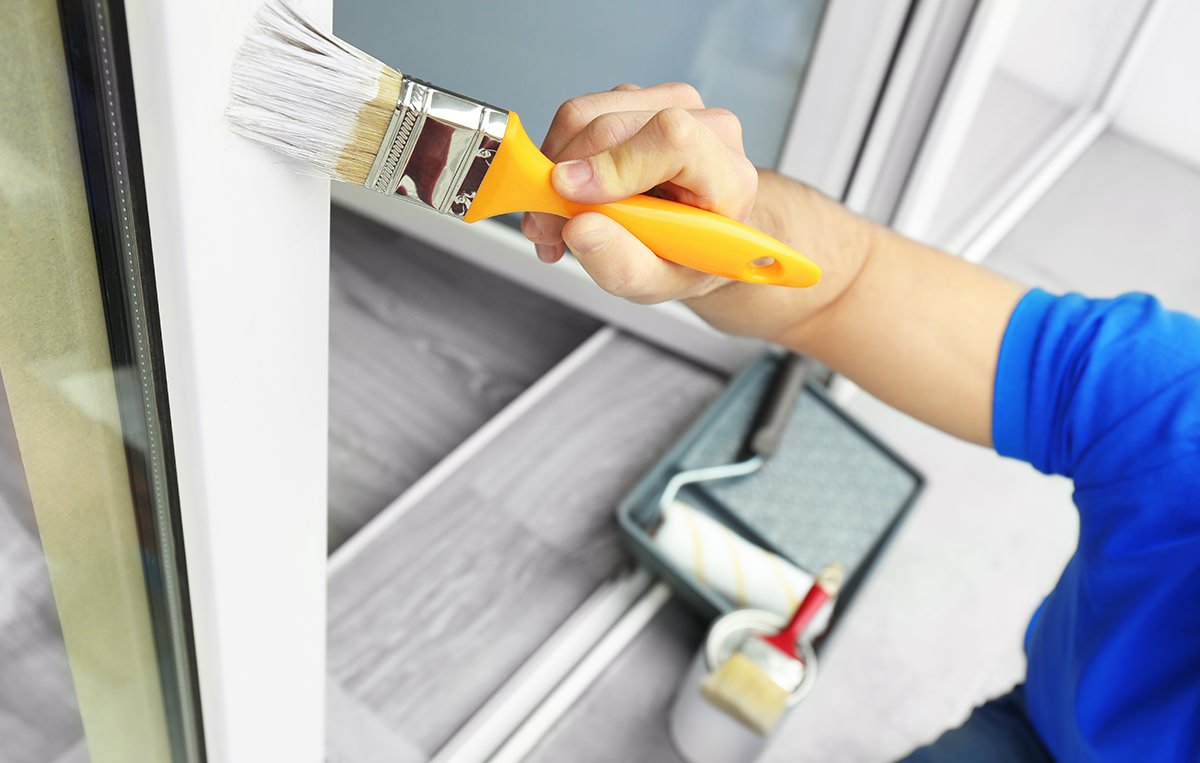 The colour of a room can affect how you feel. For example, do you want a relaxing, spa-like bath? Go for lighter earth-tone neutrals or gentle blues and greens. Like bold wallpaper, you can also get away with dark or bright paint colours in small spaces. Current top paint colour trends include:
Navy blues
Soft pinks
Bold greens
Classic neutrals
Design Tip: Having a hard time deciding on the best bathroom paint colours? Try testing multiple samples at home since colour varies under different lighting.
---
Be Creative With Storage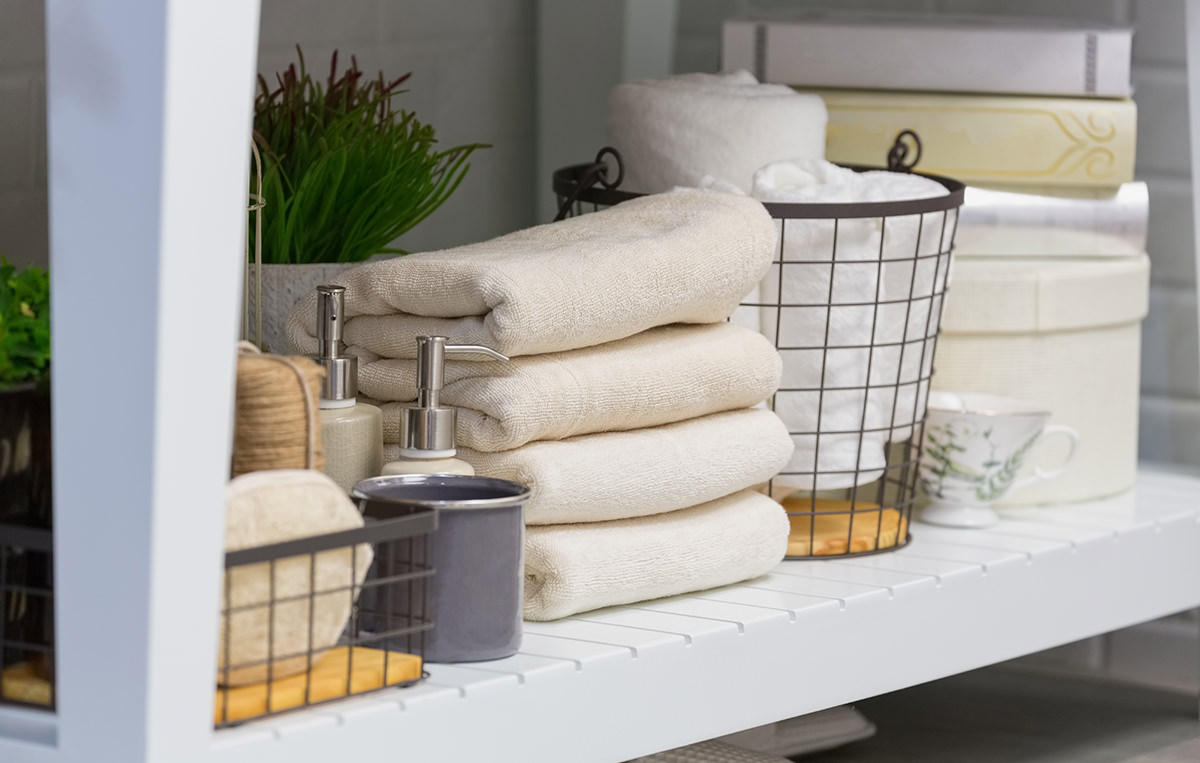 Having enough space to store necessary items is a must-have feature in a half bath. Everything you or your guest needs should be within easy reach. It's also nice to have places to add decorative and personal touches to the room.
Adding a vanity with a large cabinet is an easy solution if you have the space and like the traditional style of keeping items behind closed doors. Other options include hanging a cabinet up on the wall or installing a mirror with a recessed storage compartment behind it.
If you have ample floor space and don't mind showing off your storage, then try baskets and bins of different shapes, materials, and sizes. Shelves, hooks, racks, and towel bars are easy ways to add more places to put things too.
Design Tip: Make the most out of the space you have and mount extra storage options on the back of your bathroom door if needed.
---
Upgrade Ventilation and Lighting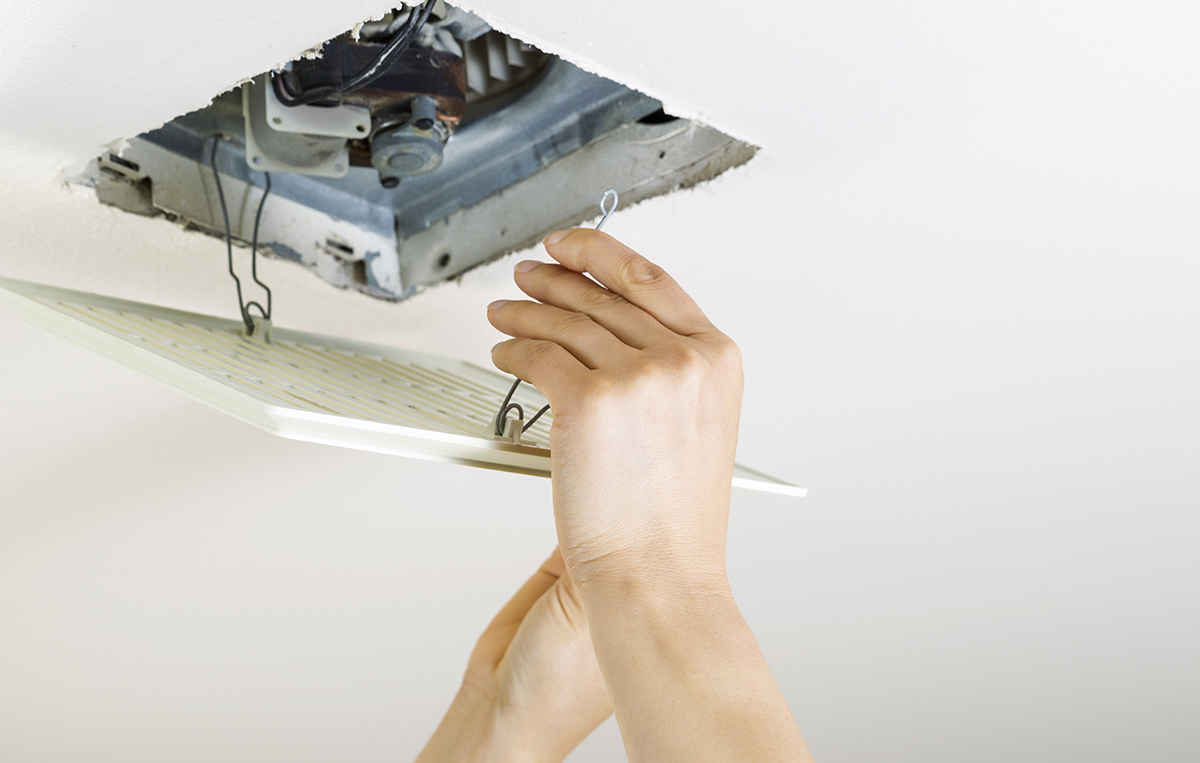 A half bath should be well-lit and have adequate ventilation. If your extractor fan isn't doing its job well anymore, then it's time for a replacement. Choose an extractor fan that fits your style, budget, and space requirements.
Sometimes a fan unit also provides overhead lighting. When combined with other light sources, it helps to create lighting layers in your room.
Lighting isn't only functional; it also helps to set the room's mood and highlights features. Task lights around the mirror are essential for better visibility but have a lot of visual appeals as well. Sconces, pendants, and bars are just a few of the many bathroom lighting style options on the market today.
Design Tip: For a big "wow" factor, try hanging a small yet stunning chandelier.
---
We're Here to Help You Make the Most of Your Half Bath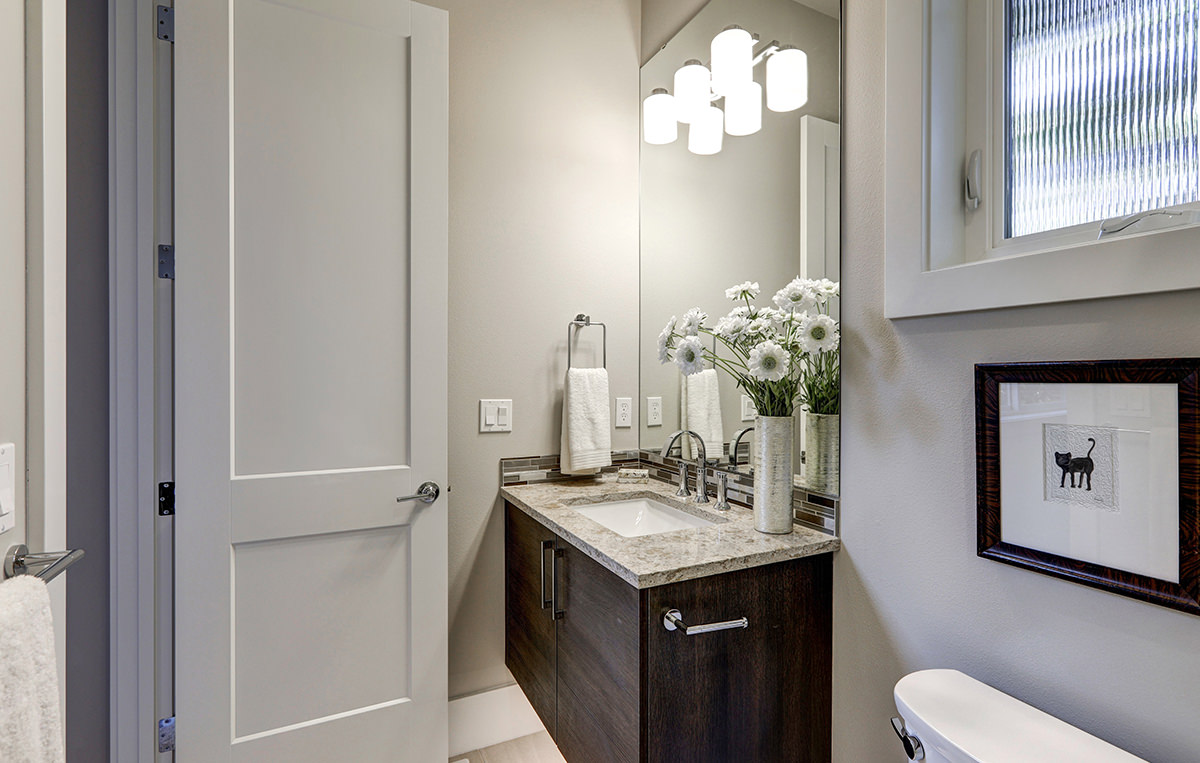 Half baths come in all shapes and sizes but have many things in common when it comes to design. It's a space that needs to look great and work well for your household and your guests. Whether your half bath needs a complete overall or a few simple updates, these tips and our quality designer bathroom products can help you create an amazing space.