Importance of Lights in Home Decor.
Lights can make all the difference to a home's interior decoration, giving it a stylish edge and inviting demeanour. We all know that lights function to brighten up a darkened room, but they can have more of an impact than we realize.

When it comes to choosing the right lights for your room you need to think about what you're going to use the room for? Will you need lights that will help you to read, or are you looking for lights that will add a bit of colour to an otherwise dull room?
Even the brightest of rooms will need some light, no matter how large the windows are and how much sun comes in. What's more is that the right kind of lighting can help to lift the spirits and give each room a comforting feel or a touch of magic. This is why it's important to choose the right type of lighting for your home.
This article explores different types of lighting that create different effects which are essential if you want your room to look good, while ensuring it's lit up well.
Incandescent Lights
This type of light adds a lovely golden coloured glow to any room. The gentle glow will add a touch of warmth even on the coldest of days. If you have been using fluorescent lights, try incandescent ones for that touch of comfort.
Uplights
If you have pieces of furniture or even plants that you want to show-off, uplights can help you do just that. Usually, featuring just one bulb, these lights can help bring out some of the features of the furniture. You might also want to think about adding strip lighting, so your stairs or shelves are lit up and look almost dramatic, but not overly so.
Downlights
Used as floodlights or spotlights, this type of light is ideal if you want to add a gentle touch of light. This type of light is common in modern kitchens as they offer a nice clean finish. These days you can even find downlights that can be placed on the bottom of kitchen units. These lights will add a touch of romance to a special meal, or simply give off a touch of light when brighter lights are not needed.
Track lighting
Thought to be one of the most versatile types of lighting, track lighting is ideal if you regularly need to change a lights' location, for example, if you want to highlight different parts of any room, every other day. As long as the lights are connected to an electricity supply, you can pretty much move them anywhere. As well as being handy to have in the home, they usually look quite pleasing too.
Dimmer switches
If you would like to create that special mood, dimmer switches will allow you to do just that. They can also help you save electricity as you won't be using as much of it if the light is on a lower setting. Dimmer switches can be used on just about any lighting and can add that touch of romance or cosy comfort, we all crave.
Table lamps
Available in many different shapes and sizes, table lamps are ideal for a wide variety of uses. If you love to read, a table lamp will light up the surrounding area and make reading so much easier. Table lamps can also light up parts of your room, so those spaces are brighter, while also helping you relax and unwind.

It's important for stairways and hallways should to be well lit, to prevent any accidents. You can still have that nice subtle look you love while ensuring your home is safe. Don't be afraid to explore the many different types of lighting that is available, so you get the look you love in every single room.
HOW TO SELECT the Right Light for Homes or Bathroom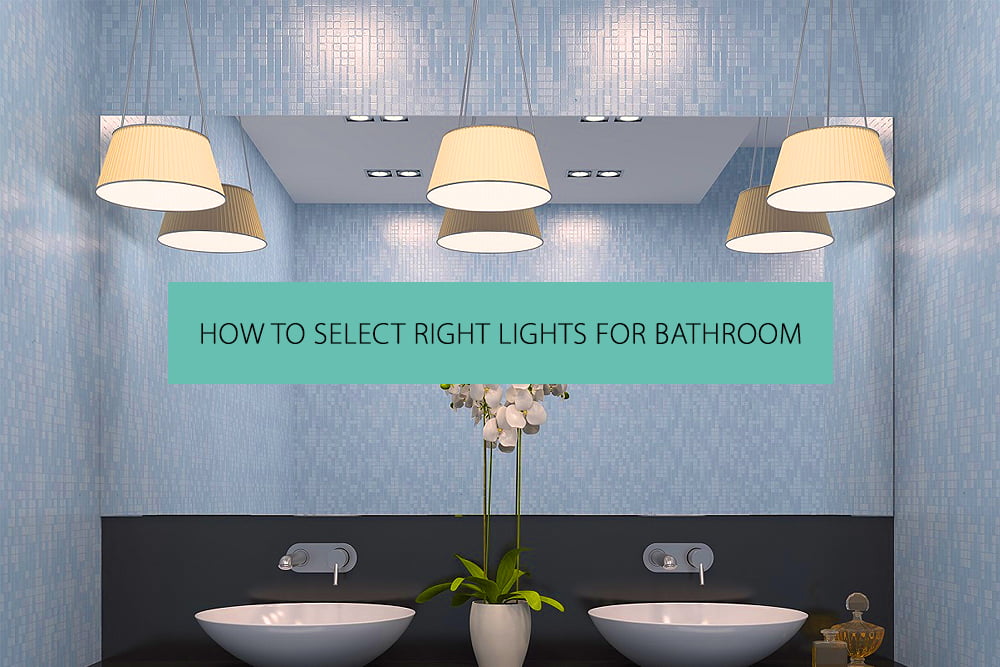 When it comes to lighting your home, you need to make sure that you get the lighting right for every room. For example, you may want a bright light in your bathroom, but it would be no good for your living room.
You also need to make sure you choose the correct lighting for the task at hand. Do you need a downlight to help you see what you're doing? Or would you prefer light from a lamp to add that touch of cosiness to your room?
Here are some tips that will help you to choose the right lighting for your home.
1. Decide what kind of lightning you need for each room.
The sooner you do, the more likely you are to have enough time to choose something perfect. What kind of mood are you looking to create? Do you want a relaxed mood or are you looking to brighten the room up? Think about these factors, and you'll be a little closer to getting the right kind of lighting.
2. Try to use multiple sources.
Rather than just using one source of light for each room, try to use multiple sources. In the kitchen, it may be ideal to add an extra bit of light where you usually do your cooking. In the bathroom, you may want to think about highlighting the sink. In your bedroom, you should consider adding lamps so you can read in bed with ease.
3. Recessed lighting
It is ideal if you need to adjust the direction of the light. This type of lighting is also perfect if you want to add a dimmer switch. Dimmer switches can make your room dimmer or brighter depending on the mood and any occasion which may call for a romantic setting. You can pretty much use dimmer switches in any room apart from the bathroom. Dimmer switches may also be ideal for anyone who is sensitive to light or simply prefers the room to be dimly lit.

4. Night light
When it comes to lighting up children's rooms, don't forget that a night light may be needed. Not only will this type of light help to settle an anxious child, but it will also help you to find your way too. You may also want to think about adding a lamp so you can change a nappy without having to switch on the brighter light. As your child gets older, you may want to think about getting a bedside lamp. This will help to encourage reading before bedtime, and with the light source closeby, it becomes easy.
5. Try to find a simple design
Your dining room and anywhere else that you're likely to have guests should be welcoming. If you want to add a chandelier or two, make sure they do not age your room. Try to find a simple design that won't overpower the room, but add a delicate touch to it.
6. Try to find a perfect sizes
Bathroom lighting will need to be bright if there's no window, but make sure it's not too bright. Try to find a light that will give off a nice glow without being too much. Iridescent lights are usually ideal for bathrooms, but you need to make sure that they are waterproof and suitable for use in a bathroom. A small light above the mirror may help to light it up nicely if you don't need the bigger light on.
Before you decide to go out and buy some new lighting, keep these tips in mind. Don't forget to measure how much room you have for your new lights as your room may be smaller than you think. If you're planning on buying lights that hang from the ceiling, it's vital you measure how large the drop should be.
Buying the right lights for every room in your home is the best way to give it that personal touch while ensuring each room is lit perfectly. At QS Supplies, we offer a wide range of Home Lights, Wall Lights and Designer Lights for your home interiors.