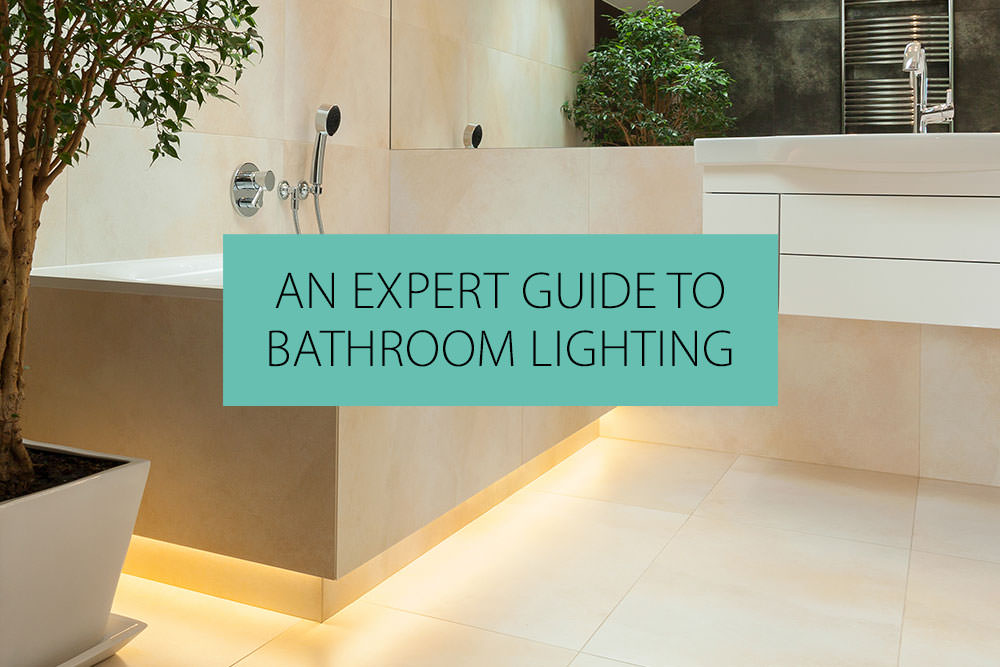 Getting the lighting right in your bathroom can have a huge impact on the overall feel of the space by setting the mood and drawing attention to the main features of the room.
In this guide, we'll cover a variety of bathroom lighting techniques, like magnifying the amount of natural light in the room with mirrors, using spotlights to create specific lighting zones and using smart home technology like LED mirrors and dimmable downlights.
We'll also explain how to plan your bathroom lighting like a pro by using bathroom lighting zones and explain where lights, sockets, heaters, towel rails, and electrical showers can be safely fitted, as well as highlighting the importance of IP ratings, a specialist code that tells you how much protection the light fitting gives you against water and dust.
---
How to plan your bathroom lighting
As with any home renovation, planning is crucial. If you can, create a floor plan of your bathroom, including the location of the bath, shower, sink, door, window and any units and the current light switches. This will help you plan where cables, sockets and fittings need to be installed by your electrician. It'll also help you see where the natural light comes from in your bathroom and how you can maximise that using mirrors and furnishings.
It is possible to bring in some professional help when planning your bathroom lighting. But whether they're involved in the planning or not, you'll need a qualified electrician to install or renovate your bathroom light fittings.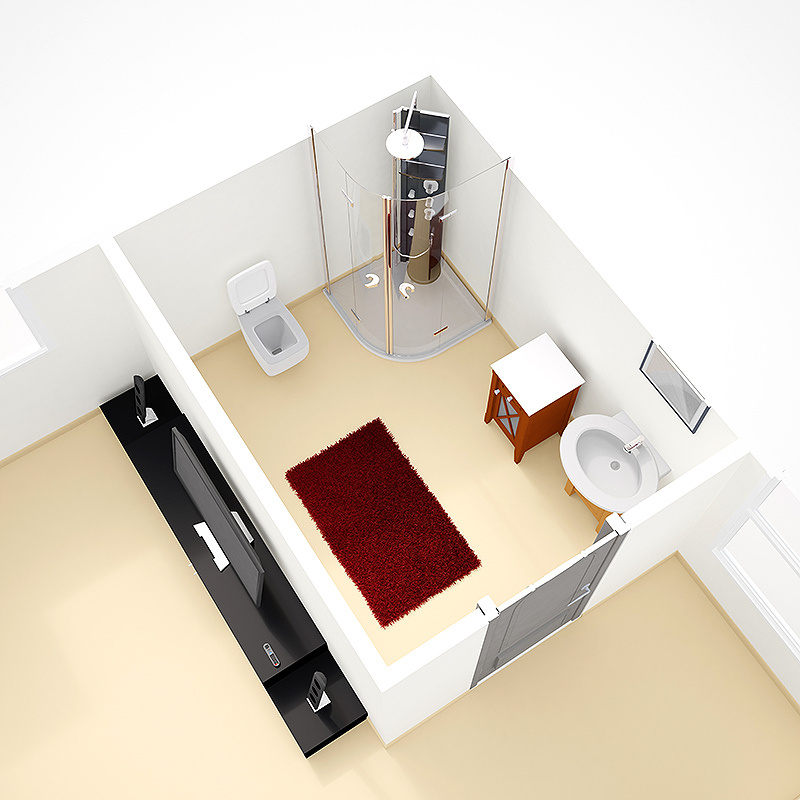 ---
The different types of lighting in bathrooms
Generally, there are four types of lighting:
Task lighting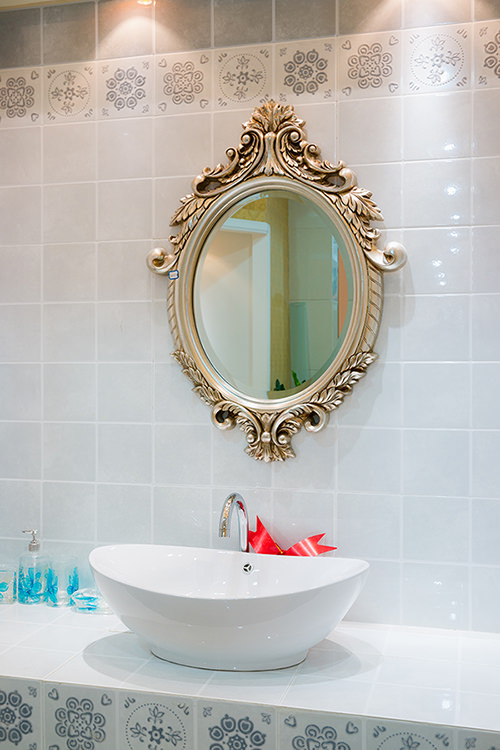 Task lighting is designed to make bathroom tasks like shaving and makeup easier. Ideally, mirrors and cabinets should be placed in an area of your bathroom which gets the most natural light. But what about bathrooms being used at night or ones which don't have any natural light sources?
Backlit mirrors and bathroom cabinets with integrated lights are a good way to shine a light on your mirror or vanity unit. A more modern, on-trend option is to use floating pendant lights that drop down from the ceiling or wall installations.
There are many other options when it comes to task lighting, including strategically-placed floor and desk lamps. Installing lights in your bathroom involves aesthetics, but the most crucial feature of task lighting is functionality: preventing eye strain and (literal and figurative) headaches.
Ambient lighting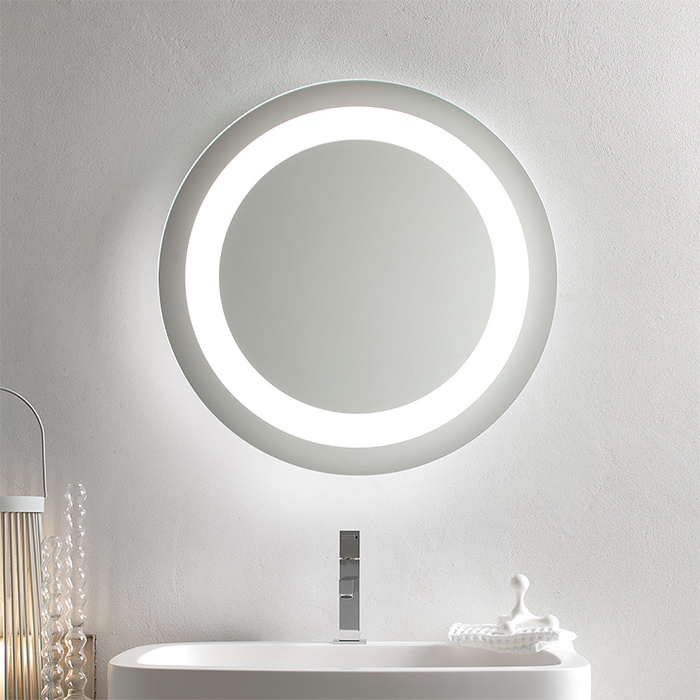 Ambient lighting helps set the mood in your bathroom, creating a relaxed and welcoming atmosphere. Using a dimmable circuit can help you adjust the brightness of your lights. Ambient lighting can include using different coloured bulbs, such as warm white or adding LED strips under units to add depth to your bathroom. Wall and mirror lights are another excellent way to create ambient lighting, using gentle, more muted styles to create washes of light.
Using accent lighting is a great way to add some interest to a minimalist bathroom. Clean lines and elegance are complemented by a highlight, whether your lighting fixture is an accent piece itself, or illuminates another piece of decor.
Accent lighting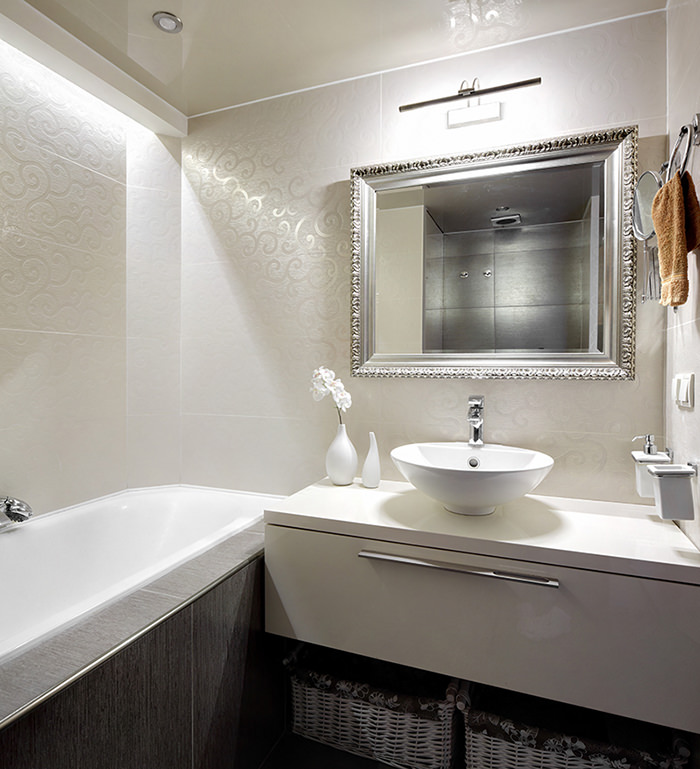 Accent lighting highlights something specific in your bathroom. It could be used next to the mirror, as a spotlight above the shower, or to illuminate your favourite decorations in your bathroom. Accent lighting can also be used around your bath via LED lights or recessed lights mounted on the wall.
Natural lighting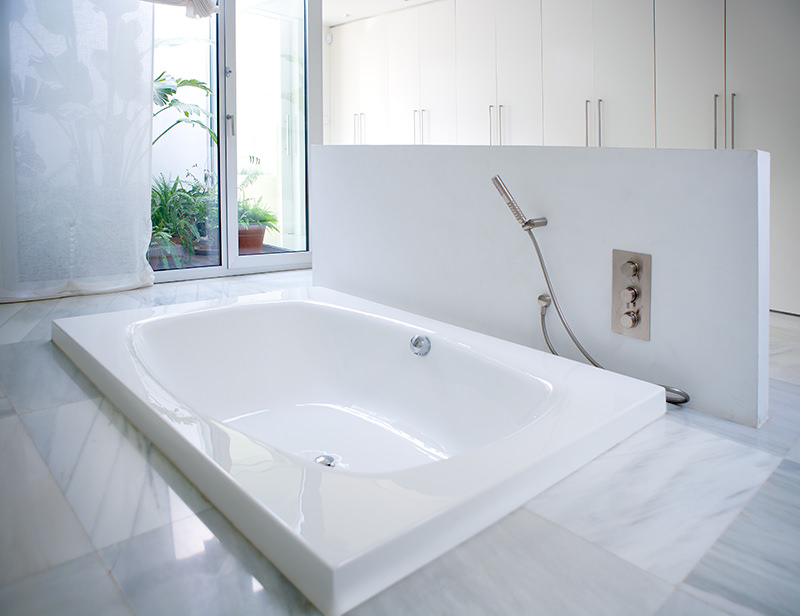 Maximising the natural light in what is commonly one of the smallest rooms in your house will create a softer, gentler feel that can be hard to recreate using light fixtures. North-facing bathrooms receive the most natural light, but installing a well-placed mirror or mirror cabinet in line with windows will reflect light around the whole room, making it appear brighter and more spacious. Another alternative is to install a skylight to bathe your bathroom in natural light.
---
Create layers of light
Bathrooms can be both functional and relaxing spaces, and one way to achieve that is by using various lighting. Traditionally, most lighting comes from ceiling lights which should provide lots of bright light to help with visibility. The best way to do this is to install spotlights which spread the light evenly around the room.
You can balance bright lights with accent lighting – for example, over the bath or in the shower – or use mirror lights to create a more textured, gentle feel also providing specific task lighting that helps with shaving or applying makeup.
Lighting can also be used to accentuate your current bathroom style. Contemporary lighting, like LED strips, will suit a modern bathroom interior, while traditional lighting styles, like exposed bulbs, will bring a more classical look and feel.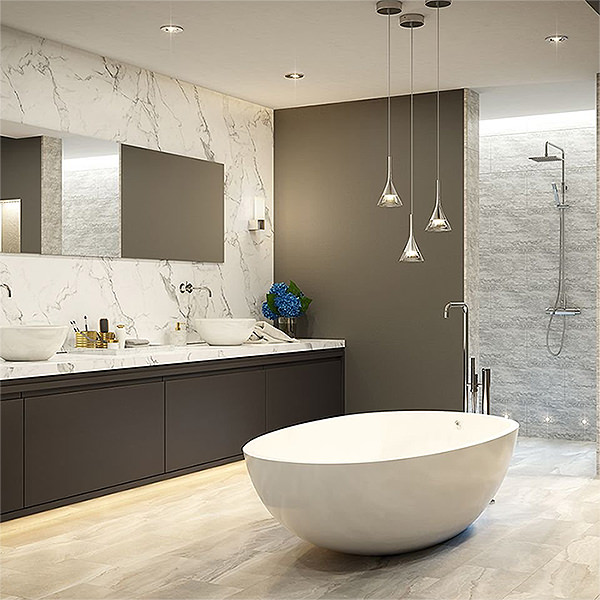 ---
Types of ceiling lights
Ceiling lights are the primary source of lighting in most bathrooms. They come in a variety of styles.
Recessed downlights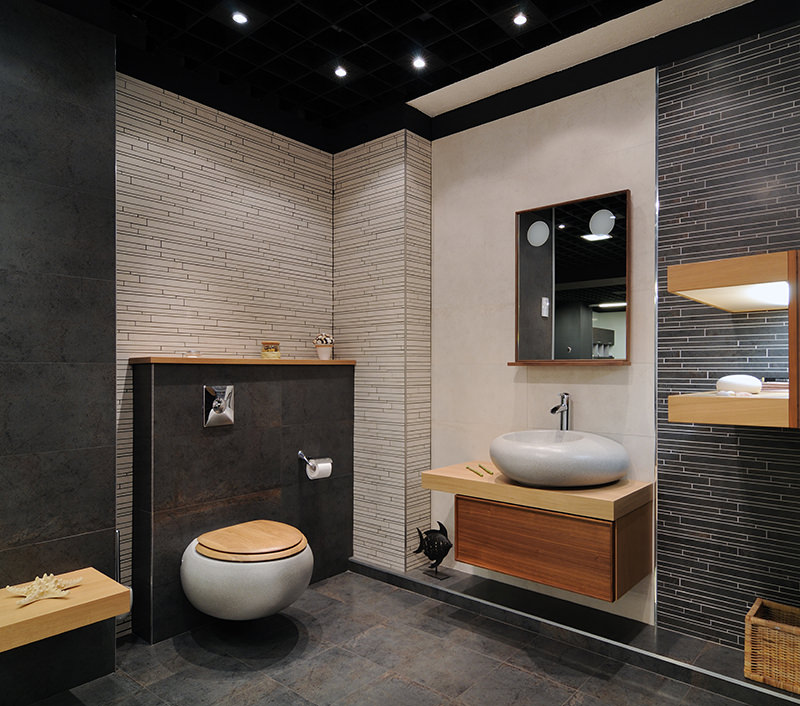 Recessed downlights are built into your ceiling and can be tilted to provide specific lighting onto furnishings like the bath, sink or shower. Avoid installing recessed lighting directly above a mirror – it'll cast a deep shadow below your eyes, nose and chin, making it tricky to shave or apply makeup.
---
Hanging lights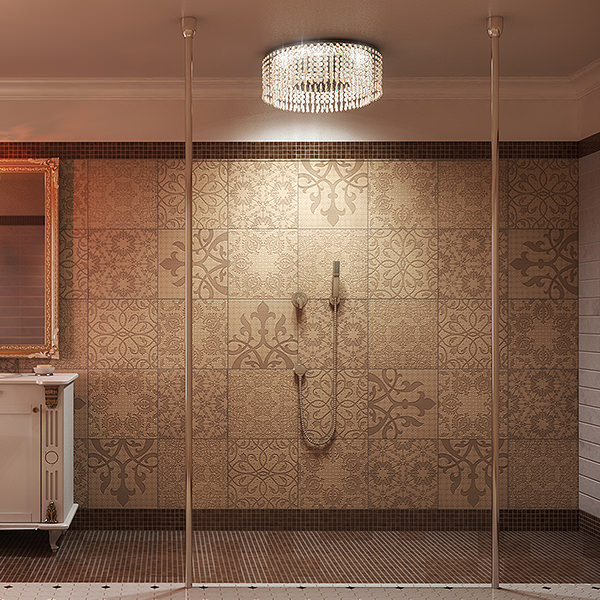 If you're going for a traditional look in your bathroom, you can hang light fittings to your ceiling in the form of bulbs with lampshades, chandeliers or decorative hanging features.
---
LED spotlights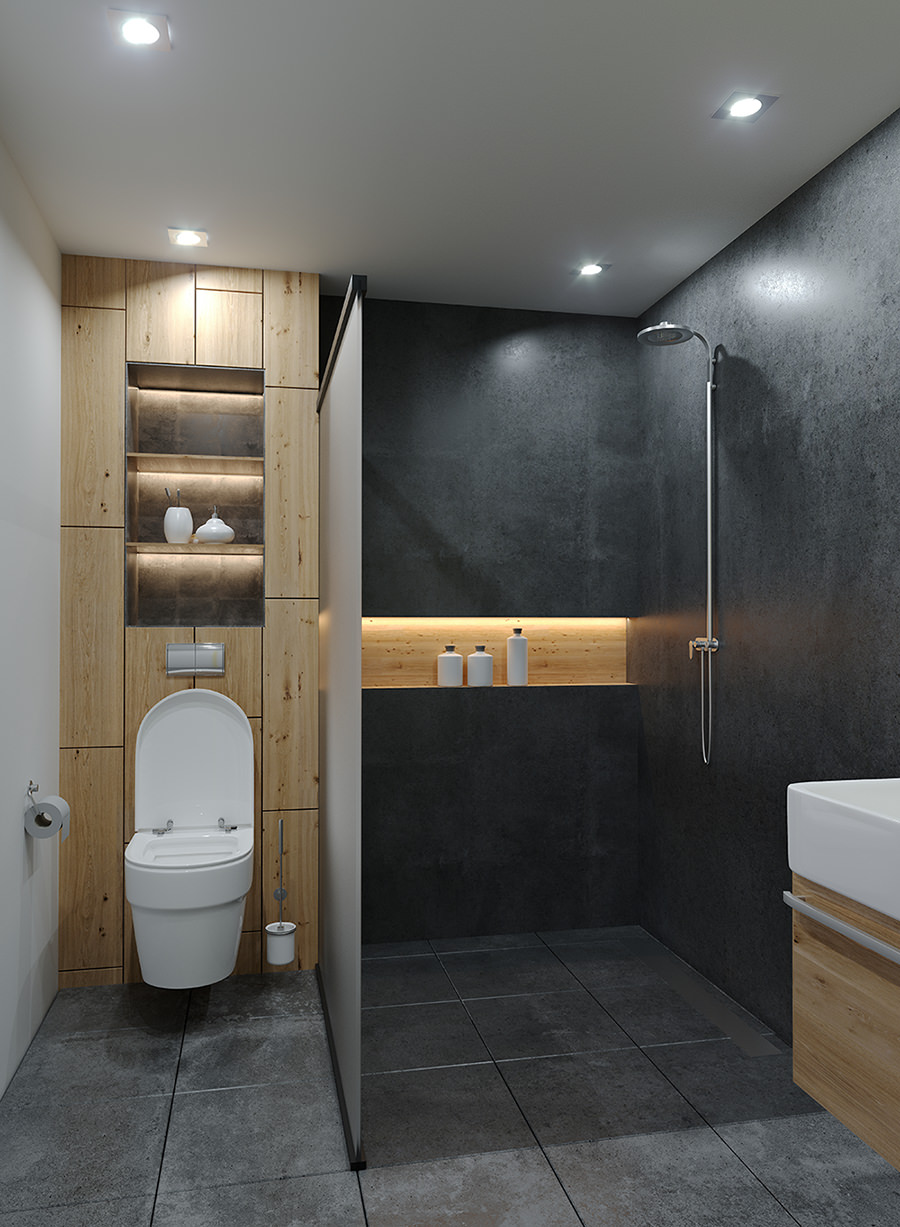 LED spotlights are an innovative, modern way to illuminate your bathroom and often come aligned in a row or grouped in a cluster with rotating heads. They give a bathroom a clean look at the LED bulbs, which provide instant bright light.
Apart from functionality, LED lights are more environmentally friendly than most other options.
---
Extractor fan lights
Another modern smart-home innovation is the combined bathroom ceiling light with an extractor fan. The fan will help keep your bathroom fresh and reduce moisture in the air, removing stale air in the process. Traditional standalone extractor fans can be bulky and sometimes spoil the clean aesthetic of a modern bathroom.
---
Bathroom lighting safety
Once you've considered what lighting style to use in your bathroom, it's time to address the safety issues.
With plenty of steam and water in your bathroom, your lights must be fitted in safe areas away from running water and moisture, and your bathroom lights comply with industry regulations. The IEE Wiring Regulations cover design, installation, testing, verification and certification.
To help ensure water and electricity are kept apart, your bathroom is divided into four zones.
Zone 0 includes the entire area inside the bath or shower.
Zone 1 covers the area above Zone 0, reaching up to 2.25m from the floor, essentially covering the area directly above the bath and shower.
Zone 2 spans the area 0.6m from the edge of the bath and shower zone up to 3m.
Zone 3 extends beyond the outer reaches of Zone 2. Portable equipment is allowed, but only as long as the cable or flex doesn't cross into Zone 2.
As you won't be installing bathroom lighting yourself, you won't need to worry about this too much, but it's always a good idea to bear it in mind when planning your bathroom lighting renovation or installation.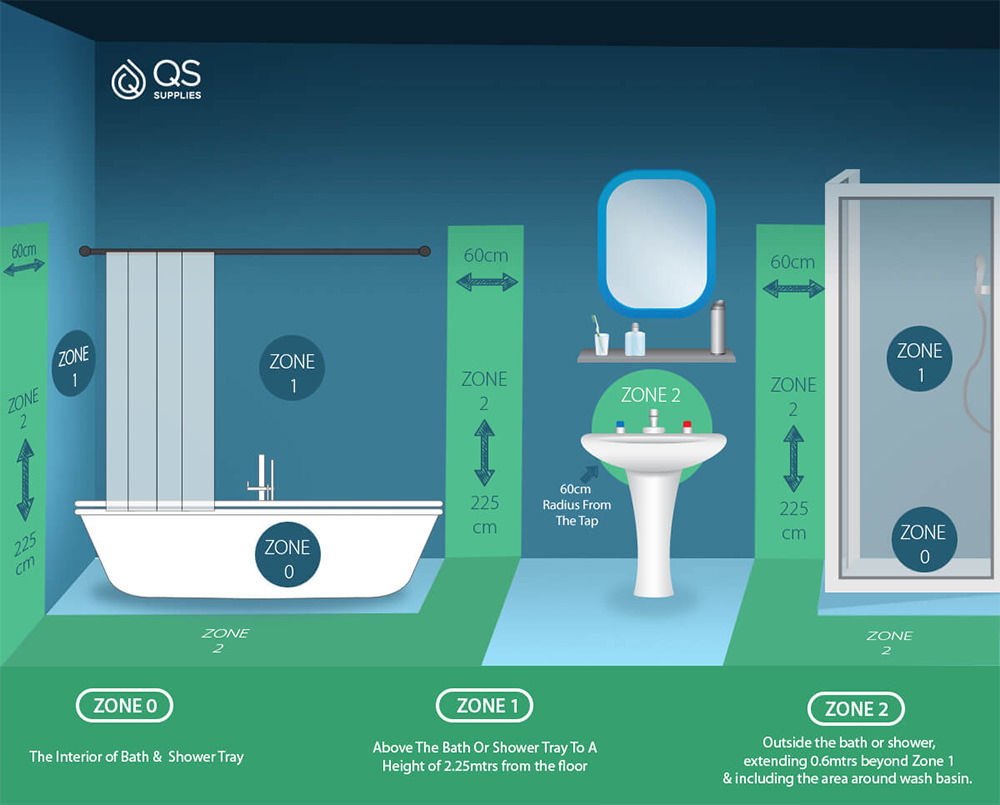 ---
Ingress Protection (IP) ratings
All electrical equipment, including lights and showers in a bathroom, should have an IP rating. An IP rating has two numbers – the first relates to the level of protection against intrusion ( i.e., from dust), and the second refers to its waterproof capability. The higher the number, the more protection it offers and only specific IP-rating lights or fittings can be used in certain bathroom zones.
If you're ordering equipment yourself, speak to your engineer to make sure all your desired products meet the correct IP rating.
One example of an elegant lighting fixture that can be used safely in a bathroom is the Sensio Bellatrix Crushed Crystal Pendant Light. The combination of chrome and a crystal layer results in an understated piece of decor that is also unique – and comes with an IP44 rating. The rating means that it is suitable for use in a bathroom.
---
Socket and light safety
Plug sockets, heaters and towel rails should be fitted at least three metres from the bath or shower: the only exception is an electrical shaver unit which that must be at a safe distance from any bath or shower splashes.
A typical light switch is potentially dangerous in a bathroom. A ceiling-mounted pull cord is the safest option for turning the lights on and off, but a light switch outside the bathroom is also a safe method.
---
Summing up
Bathrooms are traditionally the smallest rooms in your house, so getting the right light to maximise the space and even create the illusion of more space, is crucial. To do that, you need to create a lighting system that works alongside any natural light source, works for specific tasks like showering and shaving, and creates the right mood and ambience. Safety is paramount, so use a qualified electrician for all installations and pay close attention to the specific bathroom zones and the IP ratings for lights and sockets.