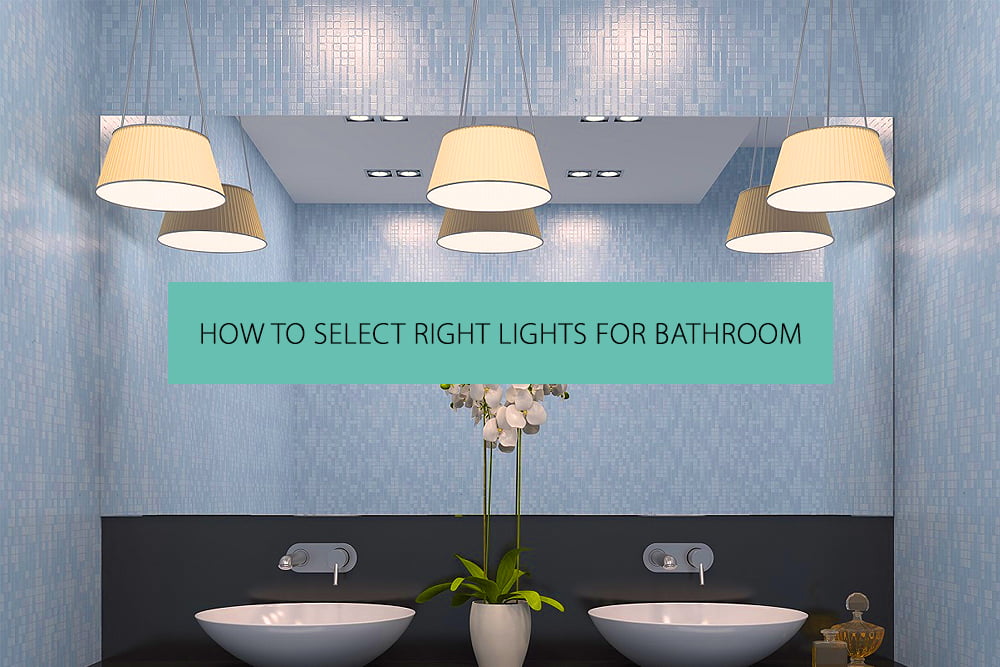 When it comes to lighting your home, you need to make sure that you get the lighting right for every room. Lights can make all the difference to a interior decor, giving it a stylish edge and inviting demeanour. We all know that lights function to brighten up a darkened room, but they can have more of an impact than we realize. Even the brightest of rooms will need some light, no matter how large the windows are and how much sun comes in. What's more is that the right kind of lighting can help to lift the spirits and give each room a comforting feel or a touch of magic. This is why it's important to choose the right type of lighting for your home.
1. Decide what kind of lightning you need for each room.
What kind of mood are you looking to create? Decide whether you want a relaxed mood or are after brightness. Think about these factors, and you'll be a little closer to getting the right kind of lighting.
2. Try to use multiple sources.
Rather than just using one source of light for each room, try to use multiple sources. In the kitchen, it may be ideal to add an extra bit of light where you usually do your cooking. In the bathroom, you may want to think about highlighting the sink. In your bedroom, you should consider adding lamps so you can read in bed with ease.
3. Night light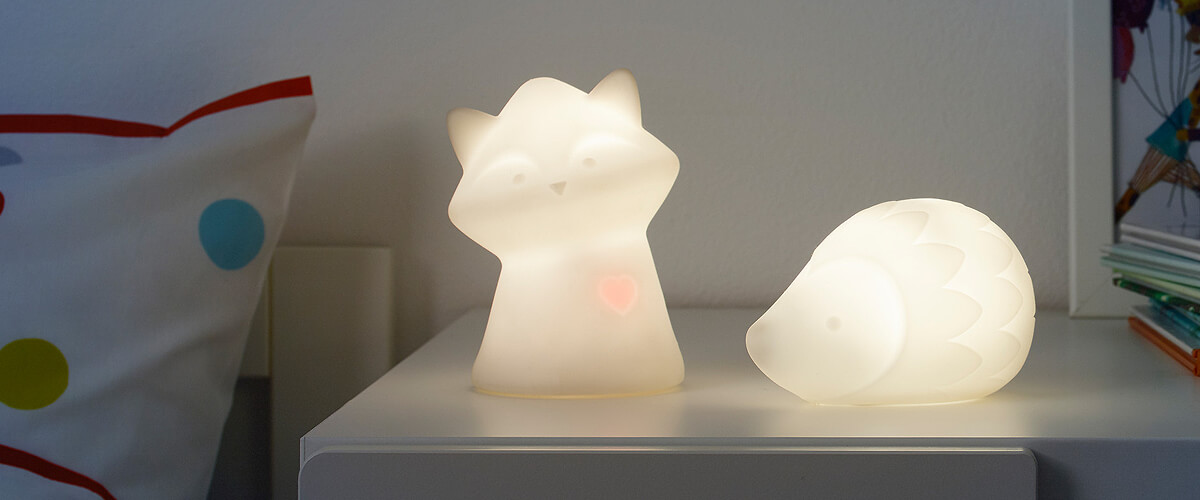 Night lights may be needed in children's rooms. Not only will this type of light help to settle an anxious child, but it will also help you to find your way too. By adding a lamp, you can change a nappy without having to switch on the brighter light. Night Lights can also be used elsewhere in the night to replace a bright light in the night and find your way at night inside the home.
4. Try to find a simple design
Your dining room and anywhere else that you're likely to have guests should be welcoming. If you want to add a chandelier or two, make sure they do not age your room. Try to find a simple design that won't overpower the room, but add a delicate touch to it.
Don't forget to measure how much room you have for your new lights. If you're planning on buying lights that hang from the ceiling, it's vital you measure how large the drop should be.
Why Lights are Important in Bathrooms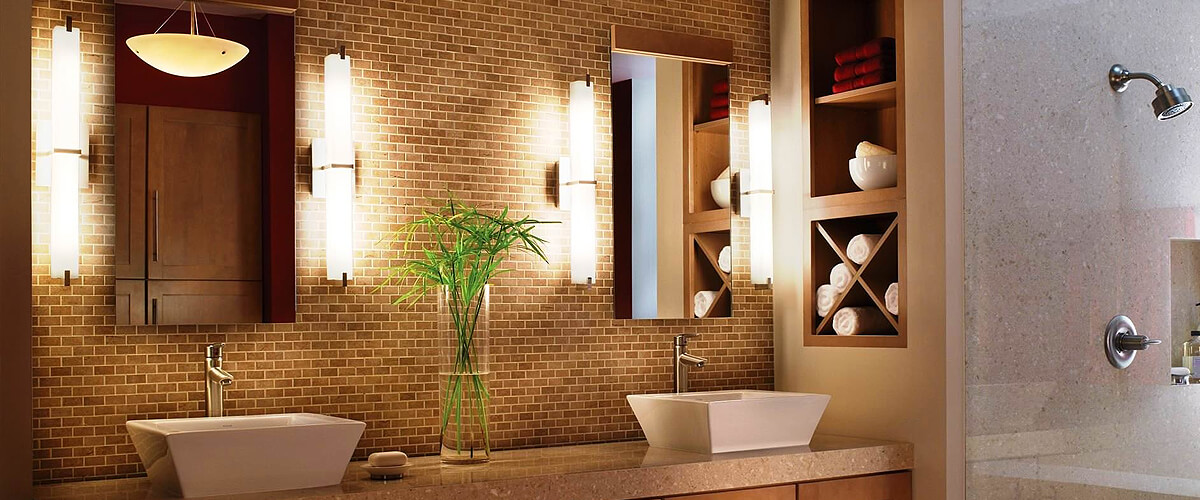 Good lights are an important part of a well-designed bathroom. Bathrooms tend to be rooms that do not receive a lot of natural light with small or no windows and thus it is important to add good lighting. In addition, lighting fixtures need to be considered when you are planning or remodelling.
The Pros of Putting Lights in the Bathroom
The advantage of putting bathroom lights in is that you can have a well-lit bathroom area. Adding the right lighting not only improves the ambience but also the brightness of the space. Also, try to avoid overhead lighting over the sink counter; instead, use a fixture right above the mirror on the wall. This will ensure that the light falling on the face is always from the front and does not cast shadows. Of course, lights for mirrors can be important, since the majority of us use a bathroom mirror for either applying cosmetics or shaving, both of which require strong lights.
Installing electric lights in your bathroom needs to be done with caution. The mixture of water and electricity is never a good one, so you might want to get a professional to install lighting fixtures. You may also need new connections installed so that you can put lights where you want them, which again can increase the price of your remodel.
Types of Bathroom Lighting
Bathroom Lights are available in a whole range of designs and varieties, which include downlights, wall lights, and shower lights. We have explained each type below:
Mirror Lights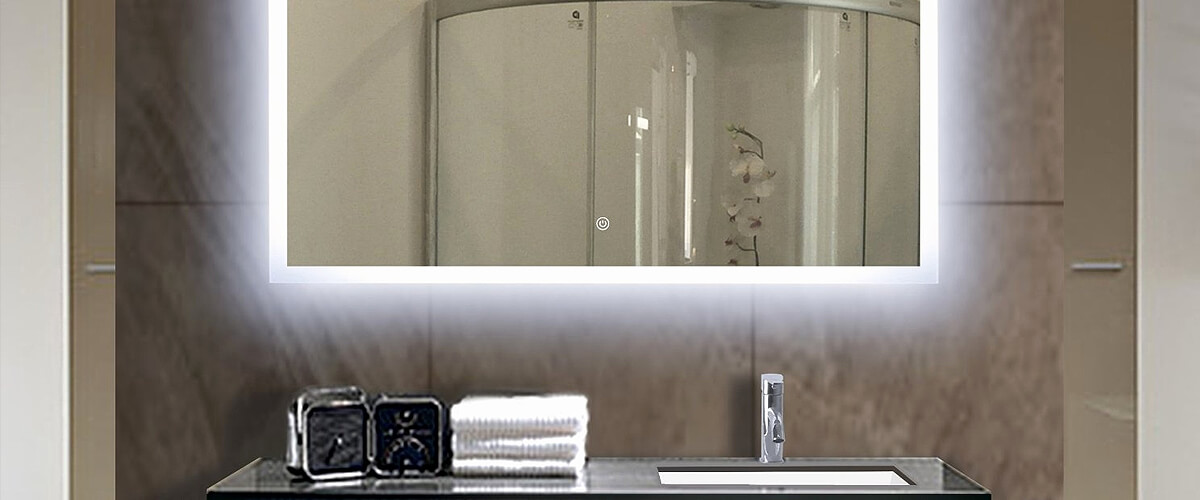 Placing the light over the mirror will further enhance the beauty, which mirrors naturally carry. You can jazz up the bathroom mirror by using the mirror lights, or you can simply choose a downlight and place it over the mirror to give a subtle impression. Ample lighting creates a nice sought-after look in the space.
Recessed Lights / Down Lights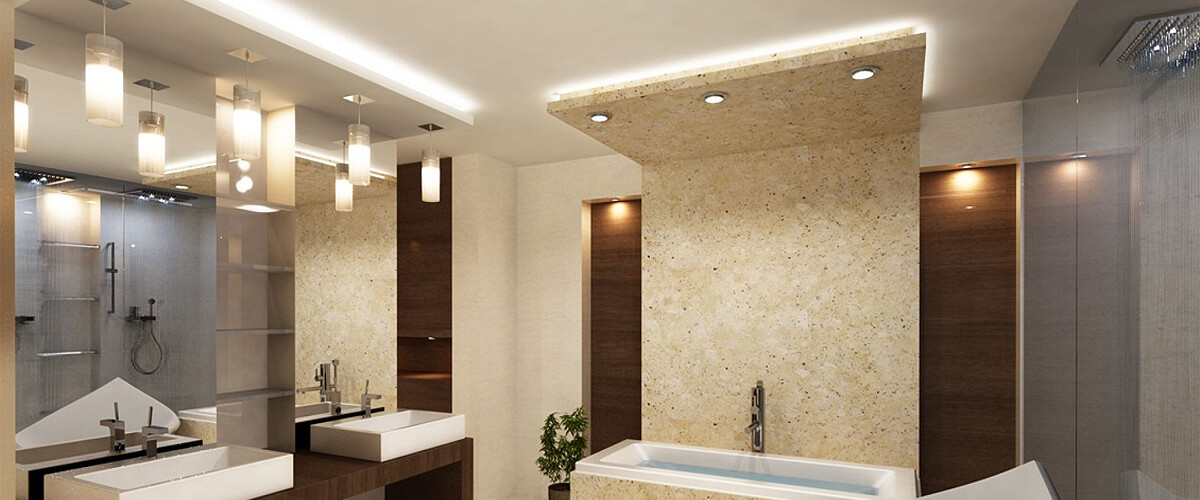 These lights come with tiny bulbs that are often embedded into the ceiling in rows. They may also be fixed on cabinet hoods in bathrooms. Typically, they are installed in such a manner that the user can dim or brighten them. You can create a luxurious spa-like atmosphere with the help of dimmer switches. These will transform your lighting fixtures that can be adjusted to fill the room with the perfect amount of light for your desired effect. It is important to be aware that recessed lighting on its own will not offer good lighting conditions - a combination of lighting is required to avoid annoying shadows and unattractive lighting results.
Wall Lights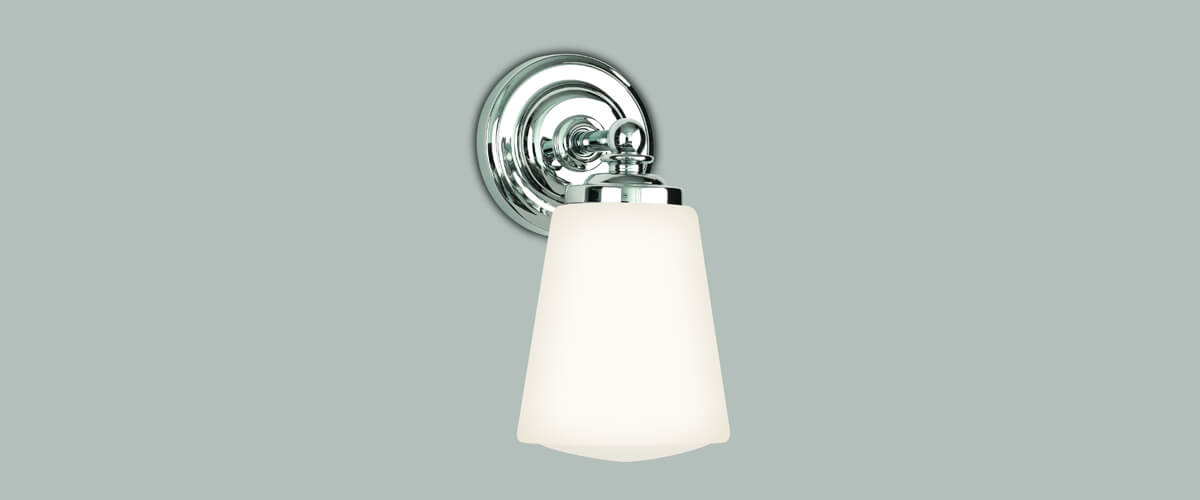 These come with metal brackets that allow for their installation on the wall. They diffuse light very well by giving it a gentle, natural feel.
Shower Lights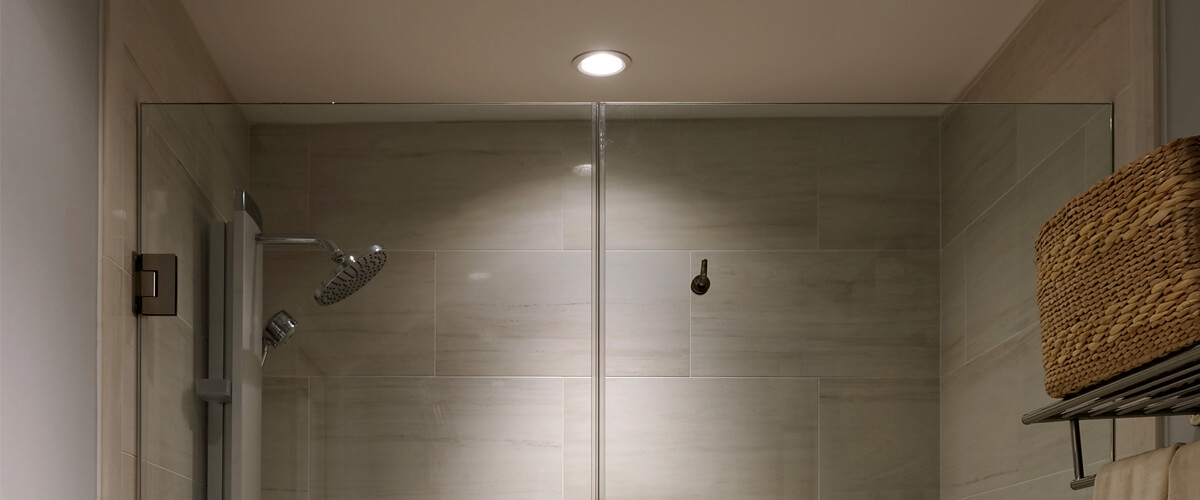 These are usually flat and round and enclosed in waterproof casings that keep the bulbs from getting into direct contact with water. Ideal for tubs, and shower areas where water is likely to be splashed around.
Under Counter Lighting.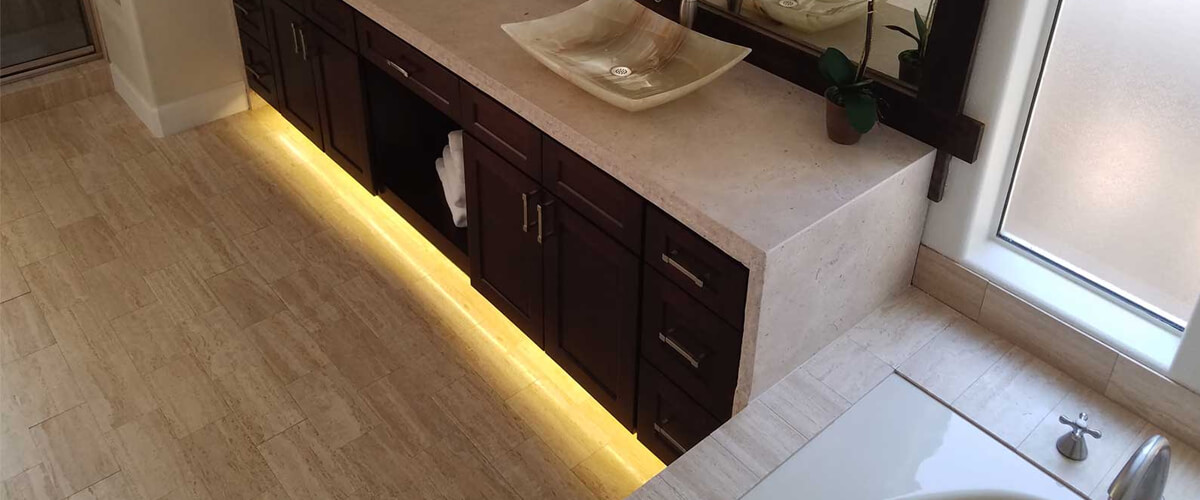 Under-counter lighting is perfect for relaxing evenings soaking in the bath. These also are key features in getting the desired ambience in a semi-dark bathroom area. However, when applying makeup or shaving, bright lighting that is focused will be best. Be sure to think about all the ways you use the room to ascertain the different types of lighting you need.
What is IP Rating?
The abbreviation 'IP' stands for 'Ingress Protection' and is an indicator of the waterproofing level of your light.
Below is an explanation of the IP ratings and their meanings;
IP20: Touch-proof
IP44: Limited water resistance
IP65: Full water resistance
IP67: Fully submersible for short amounts of time
IP68: Fully submersible for long amounts of time
What Are the Different Zones In Your Bathroom?
There are four main zones in every bathroom, labelled as 0, 1, 2 and 3. These zones represent the amount of water and steam contact that an area may have. The amount of water contact affects the IP rating that you will need for that section of the room. The IP rating has one job, and that is to keep you and your home safe.
Zone 0:Directly in the bathtub. This is where the highest level of protection is required as the most water will be present here.
Zone 1:This zone indicates a lot of potential water splashes and a heavy amount of steam. The areas included in this zone are; above the shower cubicle and above the bathtub.
Zone 2:By the time we reach zone 2, there is a lot less chance of water and steam touching the light fitments. The area included in this zone is the space surrounding the shower cubicle.
Zone 3:This zone includes everywhere else. This means that although the lights need to be sealed and touch-proof, they don't need to be totally waterproof like the ones in zone 0.
Things to Keep In Mind.
Before fixing any lighting installations, it is necessary to consider how much sunlight reaches the room. If there is a lot of natural light, the room will call for less lighting fixtures. Even so, for the space to remain just as well lit at night, some artificial lighting has to be included. Lighting in the bathroom should be fixed based on how much an area is used. For instance, the mirror and shower area should have more lighting for practical and safety purposes.
Different light combinations can be used to create the most desirable feel. Bear in mind, although not too much, the time spent in the shower every day is sufficient to warrant proper planning with regards to the type of lighting to install.
Other Types of Lights for Home Decor

When it comes to choosing the right lights for your room you need to think about what you're going to use the room for? Will you need lights that will help you to read, or are you looking for lights that will add a bit of colour to an otherwise dull room?
Incandescent Lights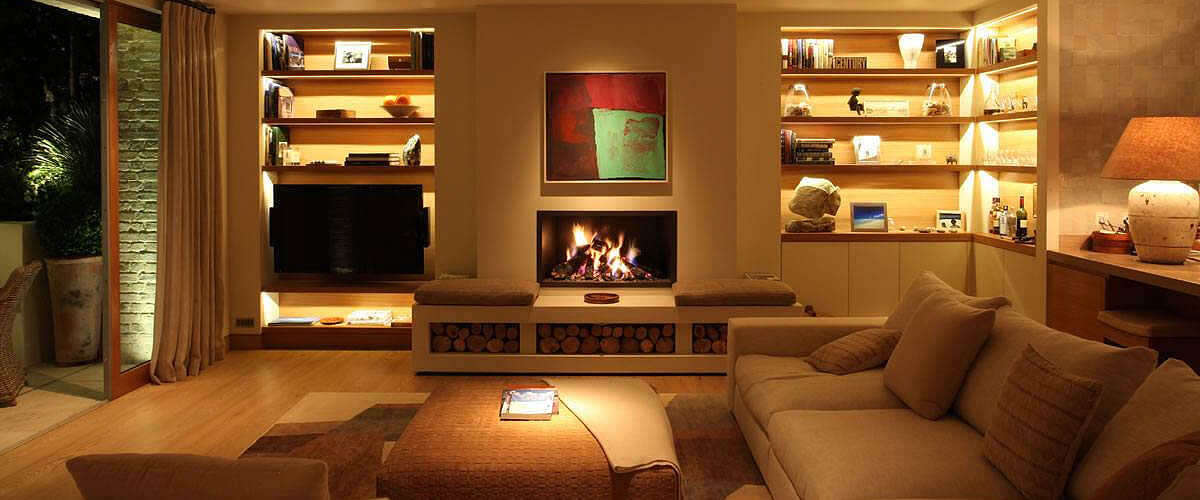 This type of light adds a lovely golden coloured glow to any room. The gentle glow will add a touch of warmth even on the coldest of days. If you have been using fluorescent lights, try incandescent ones for that touch of comfort.
Uplights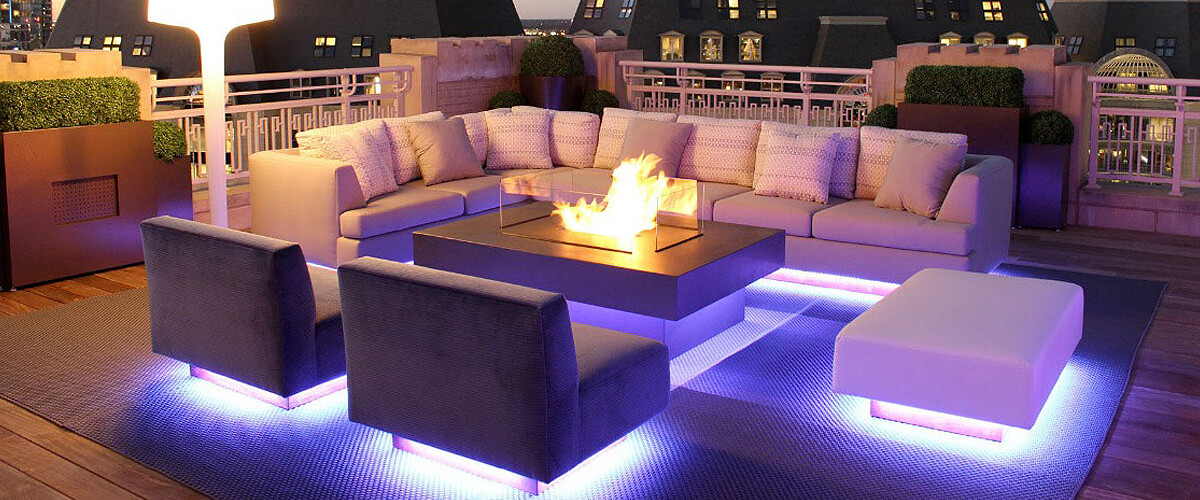 If you have pieces of furniture or even plants that you want to show-off, uplights can help you do just that. Usually, featuring just one bulb, these lights can help bring out some of the features of the furniture. You might also want to think about adding strip lighting, so your stairs or shelves are lit up and look almost dramatic, but not overly so.
Downlights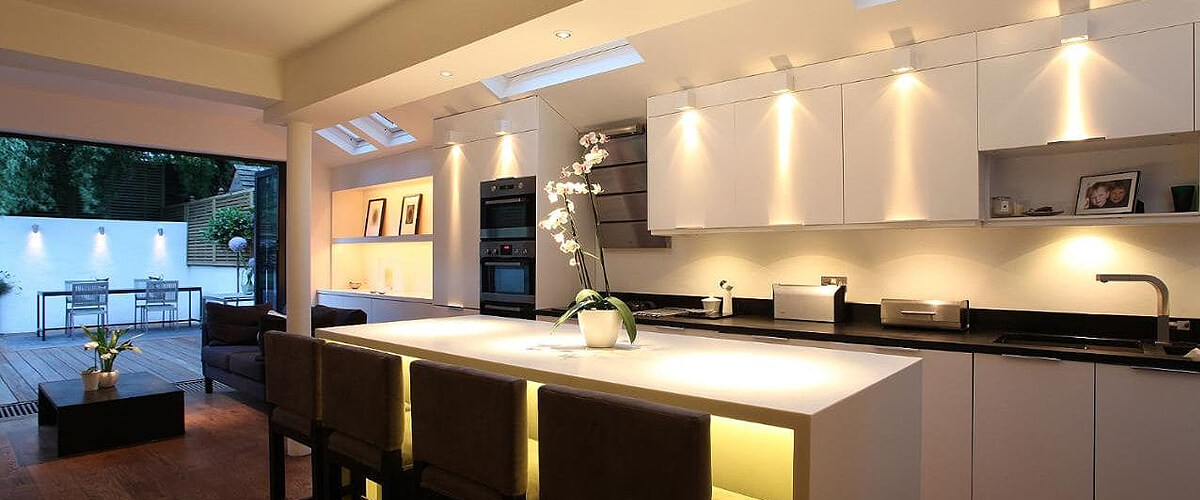 Used as floodlights or spotlights, this type of light is ideal if you want to add a gentle touch of light. This type of light is common in modern kitchens as they offer a nice clean finish. These days you can even find downlights that can be placed on the bottom of kitchen units. These lights will add a touch of romance to a special meal, or simply give off a touch of light when brighter lights are not needed.
Track lighting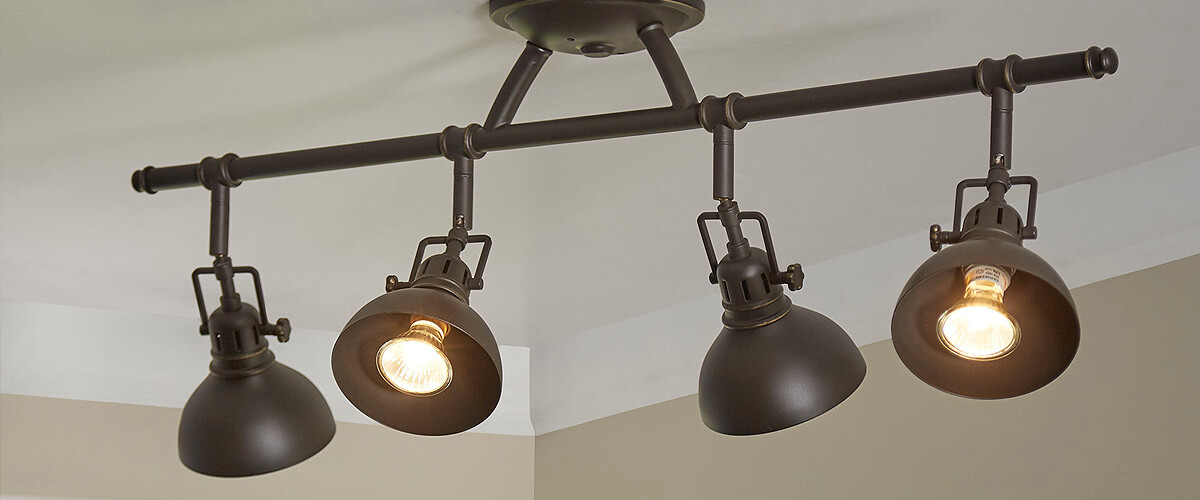 Thought to be one of the most versatile types of lighting, track lighting is ideal if you regularly need to change a lights' location, for example, if you want to highlight different parts of any room, every other day. As long as the lights are connected to an electricity supply, you can pretty much move them anywhere. As well as being handy to have in the home, they usually look quite pleasing too.
Dimmer switches
If you would like to create that special mood, dimmer switches will allow you to do just that. They can also help you save electricity as you won't be using as much of it if the light is on a lower setting. Dimmer switches can be used on just about any lighting and can add that touch of romance or cosy comfort, we all crave.
Table lamps
Available in many different shapes and sizes, table lamps are ideal for a wide variety of uses. If you love to read, a table lamp will light up the surrounding area and make reading so much easier. Table lamps can also light up parts of your room, so those spaces are brighter, while also helping you relax and unwind.

It's important for stairways and hallways should to be well lit, to prevent any accidents. You can still have that nice subtle look you love while ensuring your home is safe. Don't be afraid to explore the many different types of lighting that is available, so you get the look you love in every single room.