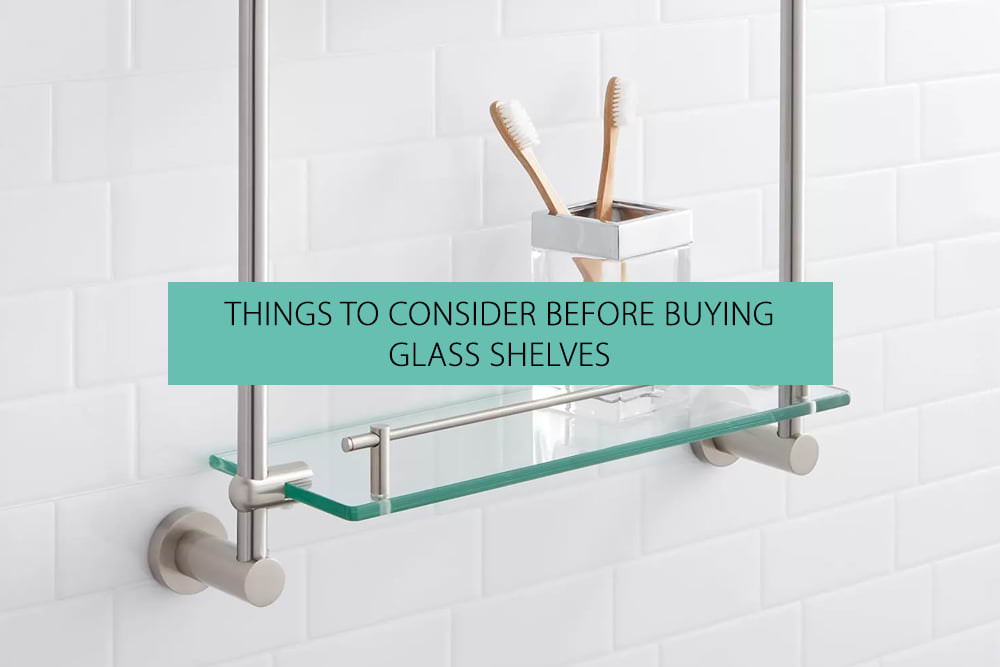 In their most simple form, bathroom shelves are platforms for organizing, storing or displaying items. Besides this, shelves with glass has a charming opulence that is simply unmatched by any other materials, and therefore, will instantly update the style quotient of any space. Whatever your reason for adopting glass shelves for your home or bathroom, here are some pointers that you should keep in mind.
Glass shelves are often a cost-effective way to put your favourite artefacts and trophies on display for everyone to admire. Although shelves come in wood, metal, and pvc, glass is the material of choice for shelves. Because of its transparency as opulence, glass enhances the look of the object on display. When selecting it is recommended to choose toughened or laminated glass for better support. Together with brackets and supports, they create functional panels to organize and hold your items.
Purpose and Location
What do shelves do inside bathroom spaces beside updating the aesthetics? A lot more! Keep in mind that bathroom glass shelves may not be the ideal material for carrying heavy weight stuff such as pots. Even the space selection for such a delicate set-up must be appropriate before making the purchase. Apart from creating the illusion of space with their smart placement, glass shelves also actually free up space on the ground in the more compact bathrooms. These are perfect for keeping clutter away and essential better placed. Glass is the material of choice in humid environments as it is resistant to condensation build-up and can be simply wiped clean.
Additionally, they are highly versatile as they match most types of interiors, whereas the same cannot be said about wood. It is also easy to fix them onto any area thanks to the wide variety of shapes and sizes you can find on the market. Not to mention that with a little creativity you can use lighting effects on your glass shelves, illuminating them either from above or below. The light will shine through the shelf creating an atmospheric glow and the items stored on it will be more visible too. Overall, you can have an impressive look in the bathroom by both in terms of practicality and aesthetics. So whether your home needs a make-over or just some extra storage space, glass shelving is the smart choice.
Safety considerations
Whenever opting for any products in glass, including shelves, always consider, its load-bearing capacity as safety can be an issue in case of accidental shattering. Homeowners with children must keep this in mind and prefer toughened safety glass and a secure placement area.
Shapes and Sizes
Glass shelves are available in many different shapes, from square and rectangular to angled and conical models with curved edges. These are custom or ready-to-install. These come in pre-cut sizes as well as can be cut-to-size. Whatever the size or shape that you are looking for, there is a model out there for you. Supporting brackets are usually available separately.
Which are the different types of bathroom glass shelves?
Floating glass:

Commonly used in making windows, mirrors and offcourse shelves, it is durable and can handle medium loads.
Laminated glass:

As the name suggests, such a glass has the uppermost protective layer of plastic and is difficult to break. It also does not shatter when broken. Because of its heavy nature, supporting brackets must also be heavyweight.
Toughened glass:

Toughened or tempered glass is much stronger than normal glass. Its biggest advantage is its safety factor. This glass has a tough composition, and it breaks up into smaller pieces that are harmless. It can easily handle heavy loads such as books.
Miller Classic Clear Glass Corner Shelf 200mm - 292320
Enjoy the luxurious presence of Clear Glass Corner Shelf from Miller Classic in the bathroom. Having a clear glass make-up, it imparts an opulence and subtle elegance to the surroundings. It tough safety glass construction means it is durable while its conical shapes make it ideal for installing in corners. Accompanying brackets are also crafted from top quality materials and come with rust-resistant chrome finish. Useful as well as easy to maintain and accommodate, it will hold your soaps and lotions with elan.
Burlington Shelf With Railing Chrome Plated - A18 CHR
Burlington has established itself as a manufacturer of high quality and chic bathroom accessories and brings you a marvellous bathroom shelf in the form of Burlington Shelf with Railing. The strong and durable creation comes in smart glass design and alluring chrome railing that to securely store bathroom essentials. Its toughened safety glass body will stand up to humid wetroom conditions, stains and scratches. Make your choice from QS Supplies; we offer the product at an unbelievable price.
Aqualux Haceka Standard Glass Shelf 500mm - 1123014
Update your bathroom decor with this highly useful accessory, Aqualux Haceka Standard Glass Shelf. Incorporated with delightful polished silver finish railing for support, the contemporary creation is equipped with safety glass body for durable performance. The misty environment won't damage it, and you can keep it clean by simply wiping off with a soft cloth. This charismatic and chic creation has been crafted to provide allure and attractiveness and store bathroom essentials.