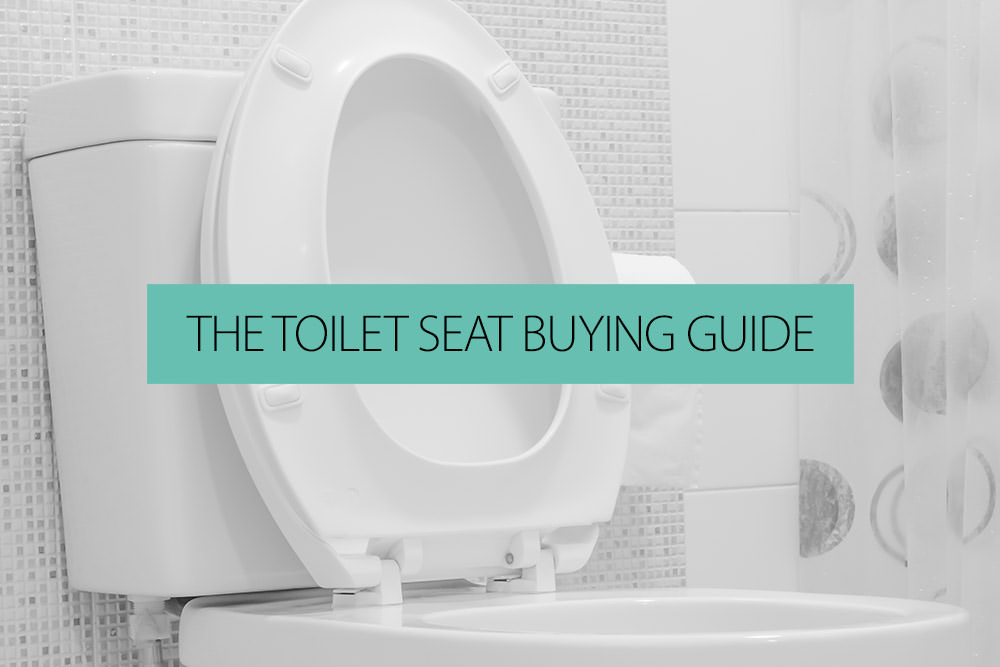 The humble toilet seat might be low down your priority list when it comes to designing and fitting your bathroom. But while many don't want to dwell on the toilet and its functions, it's the second-most used feature in the bathroom (behind the sink), and according to a recent study, we spend over 90 days in our lifetime sitting on the toilet.
From basic D-ring toilet seats to soft-close options and even heated toilet seats with in-built sprays and heaters, we've compiled a list of the best toilet seat options to make sure you're sitting comfortably. We'll also lift the lid on any toilet questions you might have, including explaining how to fit and tighten a toilet seat.
---
Toilet seat shapes
Toilet seats are typically one of two shapes – D-shaped or squared.
The D-shaped toilet seat is the most common option. With clean lines that compliment the shape of a traditional toilet, it's a style that is used in most bathrooms around the world.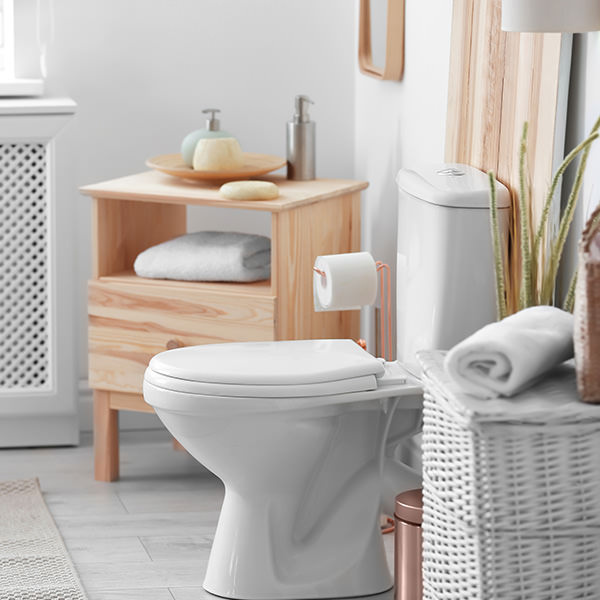 With a smart, angular look, the squared toilet is perfect for modern bathrooms. Complimenting this with some dark tiles and a matching square sink will give you the luxury hotel look in your bathroom.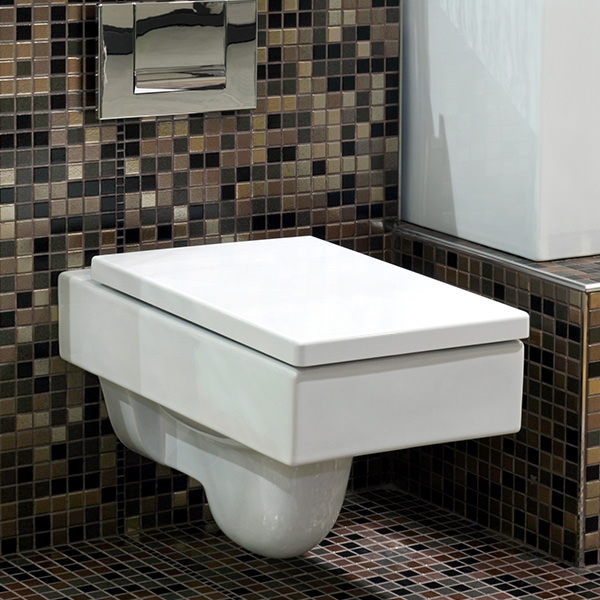 While there is a loose standard size for toilets (typically 28 to 30 inches deep, 20 inches wide and 27 to 32 inches high), exact dimensions can change, so make sure you have enough space for your chosen toilet in your bathroom. Similarly, make sure your toilet seat fits the right design, as toilet seat sizes vary between 15 and 19 inches.
---
Toilet seat styles
Once you've decided on a shape to suit your bathroom design, it's time to look at the next range of options.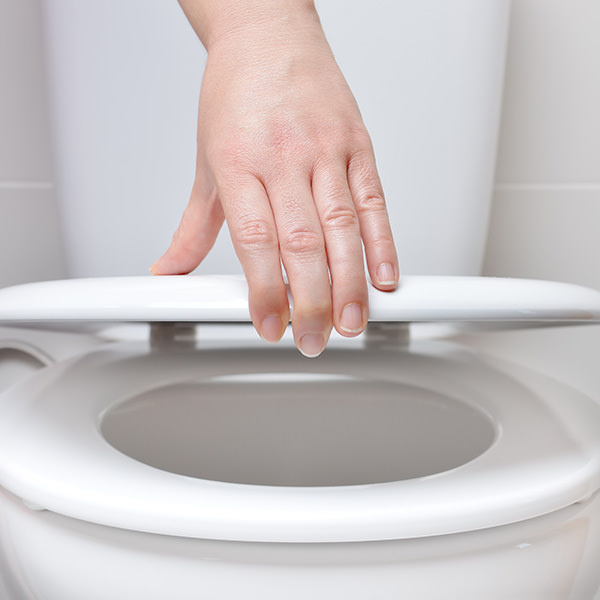 Soft-close toilet seats are an increasingly popular choice. They close slowly with the help of gravity and tensioned hinges, making them ideal for families and toilet-training. Plus, the soft-close action ensures that slamming toilet seat noises are a thing of the past.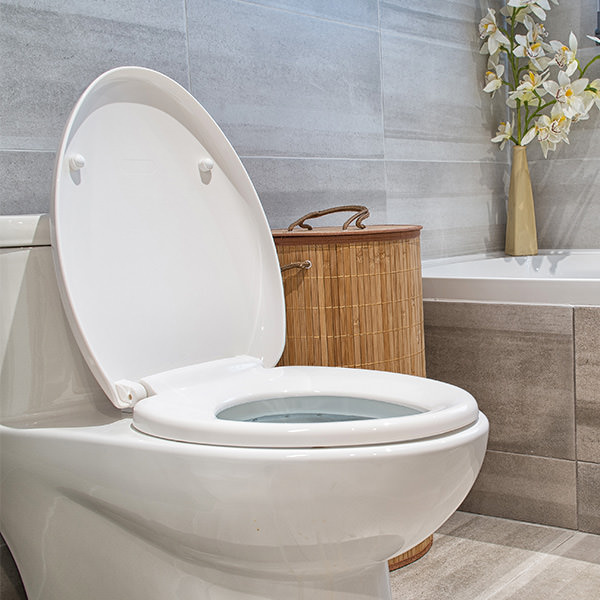 Wrap-over seats are discreet and contemporary, and as the design shields the toilet bowl, they're more sanitary. Plus, as most wrap-over seats use quick release hinges, they're easy to clean.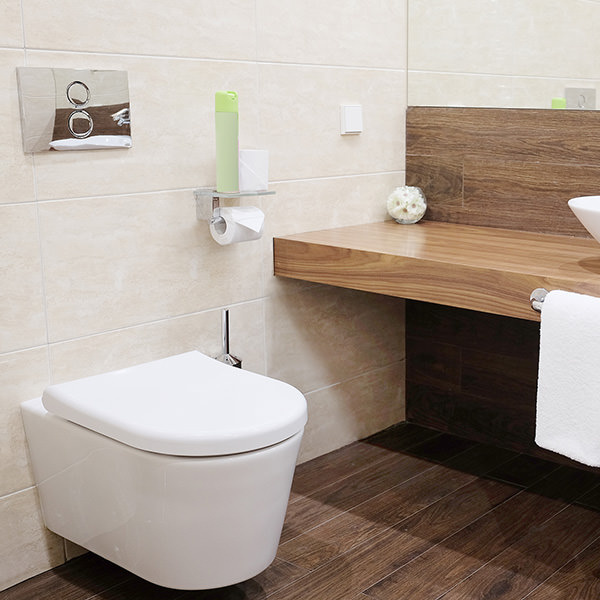 If bathroom space is a consideration, look to slim-line seats or floating toilets that reduce the depth of the toilet, creating a compact, space-saving design which is much easier to keep clean.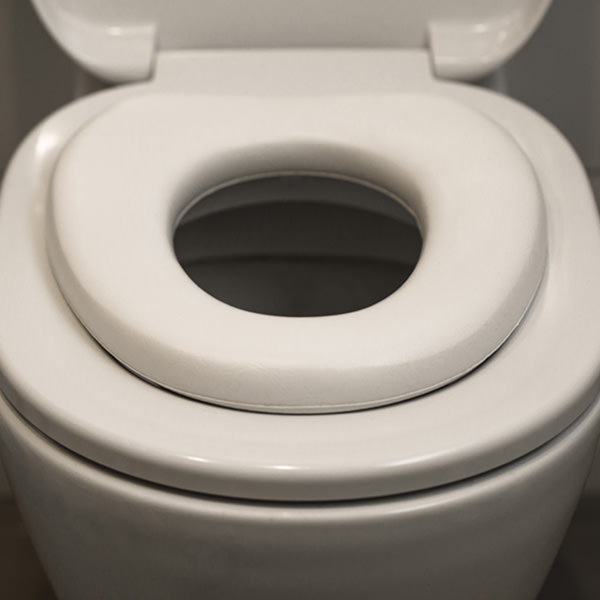 And if you're toilet-training or have small children, these soft-close family seats are the ideal solution with changeable sizing options and quick-release hinges.
---
Plastic or wood toilet seats?
One of the most common questions when buying a toilet seat is deciding between plastic and wooden toilet seats.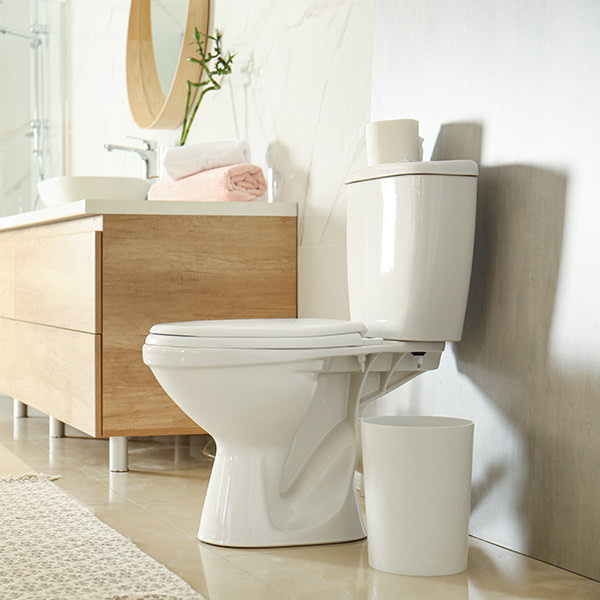 Plastic seats are more common and are generally cheaper, easier to clean and more hard-wearing. They're also a more versatile material for design, with a wide range of shapes and colour options.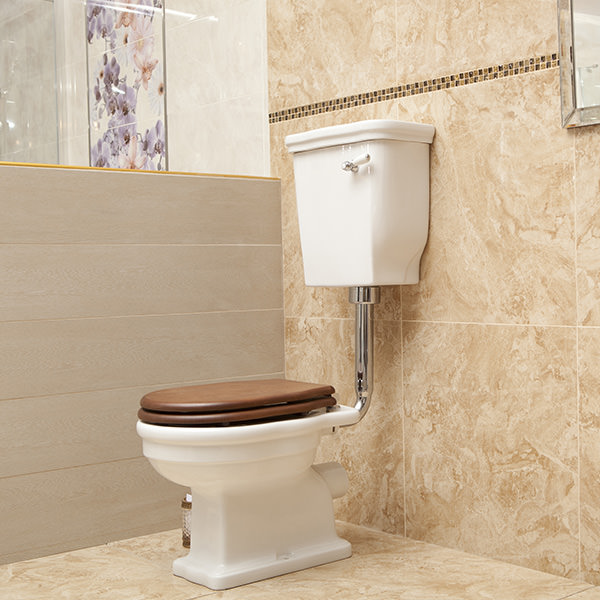 Wooden toilet seats, meanwhile, have a more traditional look and can add a luxurious edge to your bathroom. They have warmth about them which plastic seats lack, and this quality comes in handy during the winter. MDF or engineered wooden seats are offer greater water resistance than solid wood options. When it comes to durability, plastic and wood both can offer long term use depending on the quality of the construction. There is a wide range of different textures, shades and hues available, so you won't have a problem finding the right one for your bathroom.
---
Smart toilet seats
Toilet seats have come a long, long way from simply providing a cover for the toilet bowl. And as our smart bathroom feature noted, technology is increasingly helping make our bathrooms more luxurious.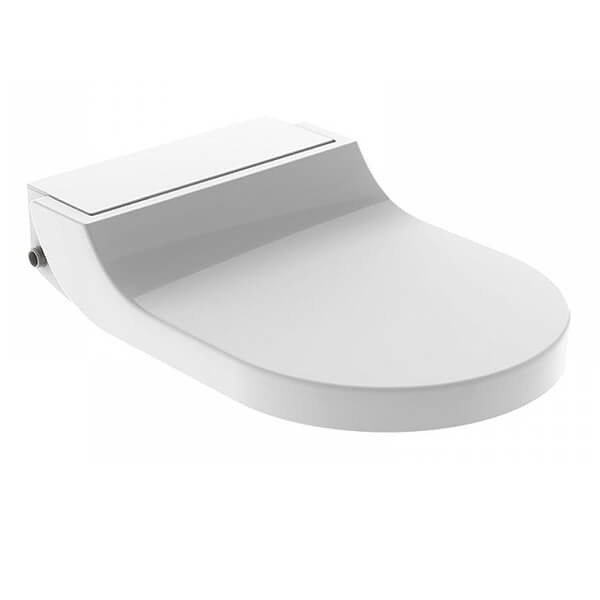 https://www.qssupplies.co.uk/bathroom-furniture-shower-taps/185986.htm
Heated toilet seats are a wintertime favourite, making January mornings a bit more bearable. Sensors will tell the seat when it needs to heat up, ensuring that it maintains a consistent temperature.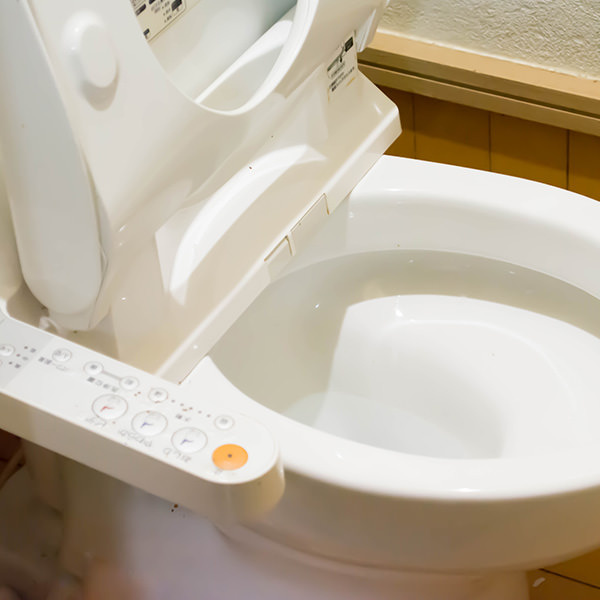 Toilet lids have evolved even further and will now wash and dry for you with an integrated bidet feature. This Geberit model even has an in-built 'ceramic, honeycomb filter' to help keep the toilet and your bathroom smelling fresh.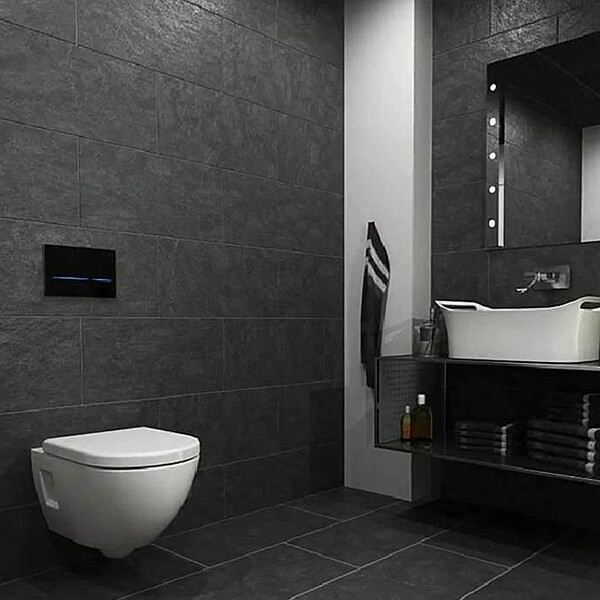 https://www.qssupplies.co.uk/bathroom-furniture-shower-taps/82736.htm
One way to make your toilet even more hygienic is to remove the hand-operated flush entirely. Wave your hand in front of the touchless flush plate, and sensors will activate the flush. The LED lights also double as a night light or to provide ambient mood lighting.
You can even add Bluetooth connectivity thanks to the infrared toilet sensors technology that provide auto-flush options and several self-cleaning modes.
---
How to fit a toilet seat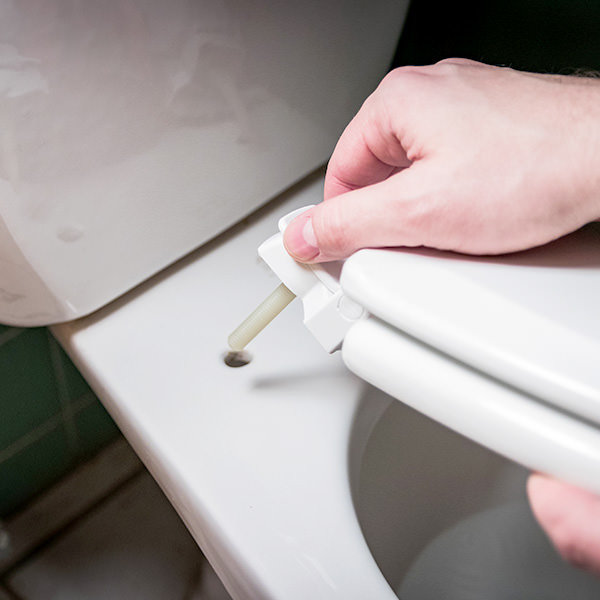 Make sure your new toilet seat fits the toilet bowl, and you have all the fittings and tools on hand.
Most toilet seat hinges use long screw fittings secured by nuts on the underside of the toilet – take out the old fittings using a screwdriver or wrench and clean the area.
Then slot the seat on top with the new screws through the corresponding holes on the toilet bowl. Thread the nuts onto the pins until tight and then tighten further with a wrench.
You can make the job even simpler by opting for a quick release toilet seat with corrosion-free hinges and a lifetime seat guarantee!
---
How to tighten a toilet seat
Most toilet seats can be tightened by making the screws and nuts on the toilet seat more secure. Turn the nuts clockwise using your fingers or pliers or a wrench if needed.
---
Summing up
The first step to buying the right toilet seat is measuring your toilet to find out what size toilet seat you need. From there, choose the shape and style that fits your bathroom design. There are plenty of options, including soft-close seats, wooden or plastic finishes and even integrated bidet seats. Shop our range of Toilet seats to discover the many styles we have available.