Modern Bathroom Ideas For Your Smart Home
Published on: 23/07/2019
Last Updated: 28/08/2019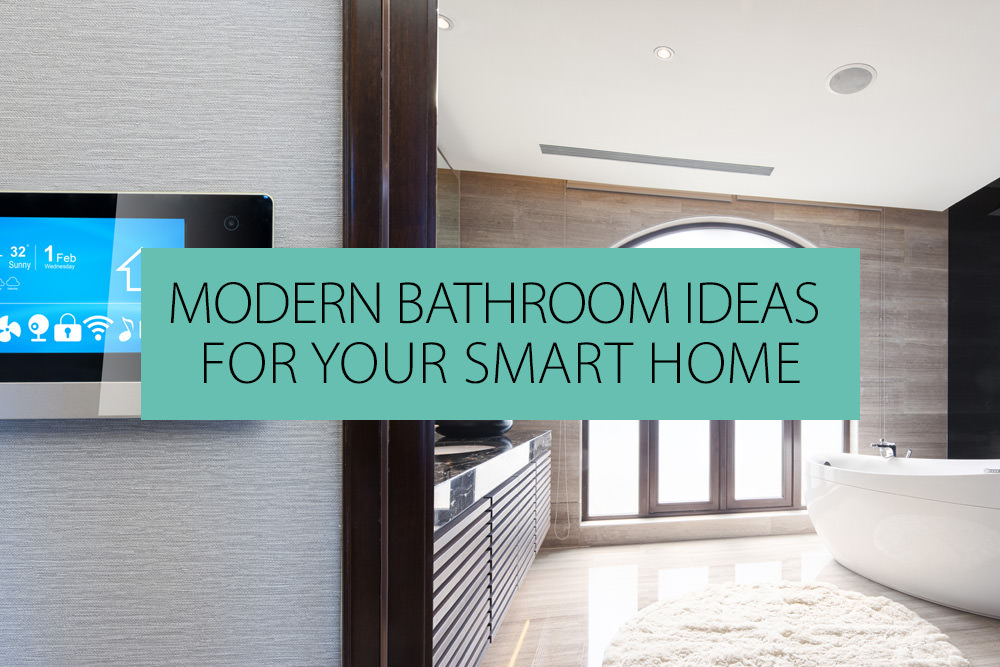 Picture the scene: you enter your bathroom in the morning to find the floor is already warm, the shower is at your ideal temperature, and your favourite wake-up song is playing.
You shout out your mid-shower revelations for Alexa to note down, step out of your shower or customised wet room and your LED mirror demister has already worked its magic and moved into touch-screen mode.
Not only that, your smart tap has slashed your water consumption and your heated toilet seat has a water and energy saving automatic flush. All this, and your bathroom looks like a futuristic 5* spa room bathed in chromotherapy light, and you're the only guest booked in today.
That dream is now a reality thanks to modern bathrooms that have fully embraced the digital age of the smart home. From Bluetooth shower heads to state-of-the-art indoor hot tubs, touch-free motion controls and voice recognition baths that will get the temperature just right (43 degrees Celcius for us, thanks), smart homes have evolved to include modern bathrooms packed full of technological advances and adaptations.
---
What is a smart home?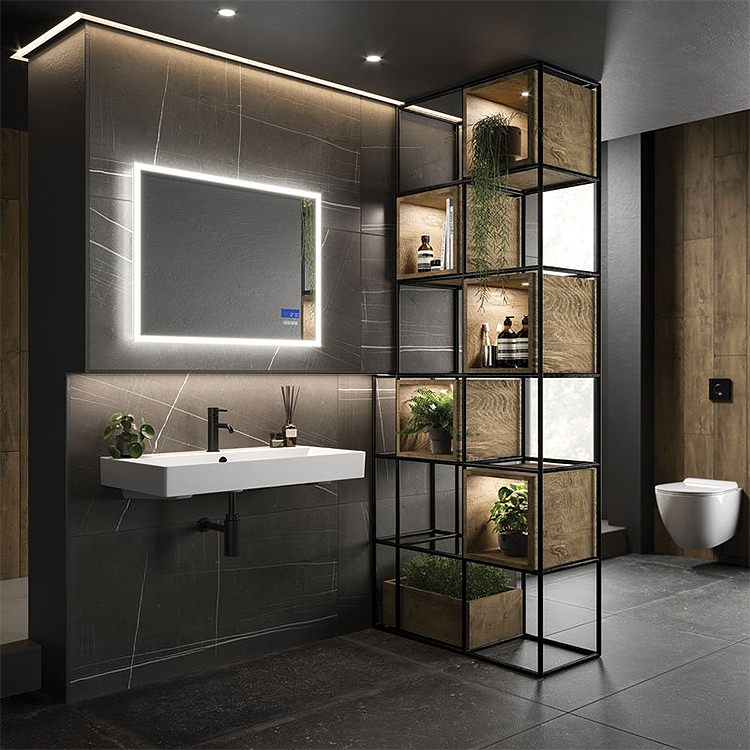 Home-owners are increasingly bringing technology into the home and their bathrooms to help automate systems and services. This means greater control, energy savings, reduced water consumption, better safety and convenience.
Smart homes are on the rise with over a quarter of the UK owning smart home devices, with the sector set to be worth £10.8bn in 2019. And that growth isn't just limited to smart meters, speakers and thermostats.
Using the latest technology, including voice commands, digital showers, waterproof speakers and TVs, smart taps, touch screen mirrors, and heated toilets, you can turn your house into a real Tomorrow's World showcase.
---
Smart Showers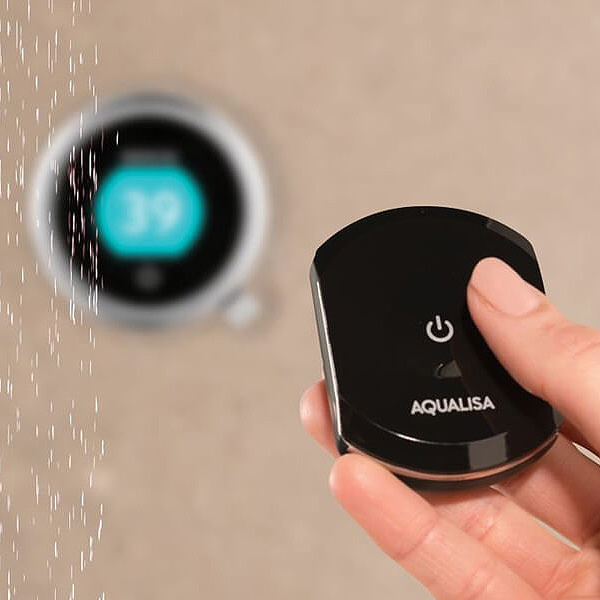 The humble shower has come a long way in the past few decades. Showers were once a weak, dribbling experience with fluctuating temperatures. Now smart showers can do everything from play music, use Chromotherapy lights to add a zen-like dimension to your bathroom and be set using a remote control to get the right pressure and temperature accurate to 0.1 of a degree using a smart shower mixer.
---
How does a smart shower work?
Smart showers work by updating your shower routine with modern technology. That can mean in-built Bluetooth smart speakers allowing you to catch up on the news or your favourite podcast or customisable programs for everyone in the household, so it's the perfect temperature and flow rate every time they take a shower.
Want a three-minute power shower followed by 30 seconds of intense cold water every morning? No problem. And if you get a remote control digital shower, you can ensure the water is at the right temperature and flow before you step in, giving you a few more precious moments in your daily routine.
There is a wide range of digital speakers available to keep you singing in the rain. Some heads come with in-shower speaker units while others have detachable Bluetooth shower heads with USB-charging and durable ABS plastic casing with easy-clean silicone nozzles.
Take the mood a notch lower with an LED shower head which uses temperature-guided colours, meaning no more cold and rude awakenings as the water heats up. Watch the colours turn from blue to purple to red before leisurely stepping in.
Any house with a boiler or immersion heater can enjoy the benefits of a digital shower.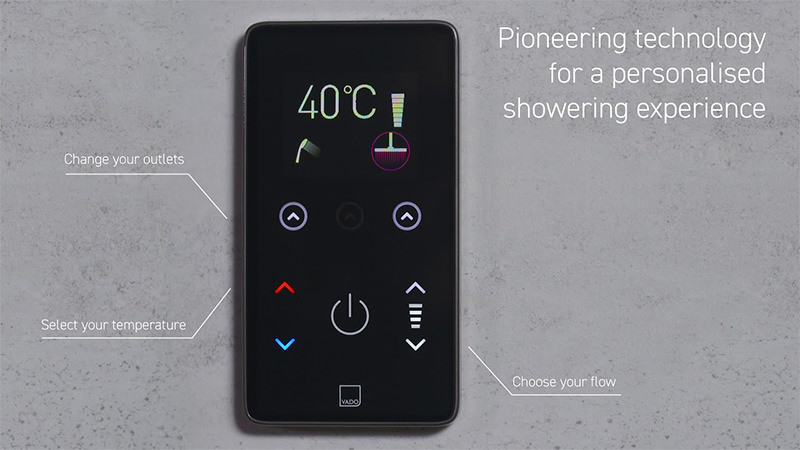 ---
Smart taps
Similar to digital showers, smart taps use online technology to give you greater customised control over lighting, heating, flow rate and water temperature. Smart taps can be used anywhere with running water, including the shower, bath or sink taps.
---
Benefits of smart taps
A smart tap can help save time. They could be crucial to making the morning school/work run on time or a luxurious time-saving benefit as you remotely draw the perfect bath after a long day, so it's ready the moment you step through the door. Listen carefully, and you can almost hear the relaxing 'aaahhh' in that sentence.
Many smart taps can be integrated with smart devices like Amazon's Alexa and Google Home, allowing you to use voice command technology to set up your perfect bathroom. And, with regular updates and long-lasting warranties on the technology, you can future-proof your bathroom without worrying about new technology leaving you behind.
---
Smart taps can help lower costs and reduce your ecological footprint
One environmental benefit to smart taps is they'll keep track of water consumption, helping save you money and reduce usage. Some smart taps come with infrared sensors, meaning less water is wasted, which can often happen when we're distracted by brushing our teeth or washing our face.
Another way to control and measure your water usage is by using a water pebble. Sitting at the base of your shower near the plughole, it will tell you how much water you're using via a series of colour-coded lights. The sequence gets shorter each time you use it, helping encourage shorter showers and save on water usage.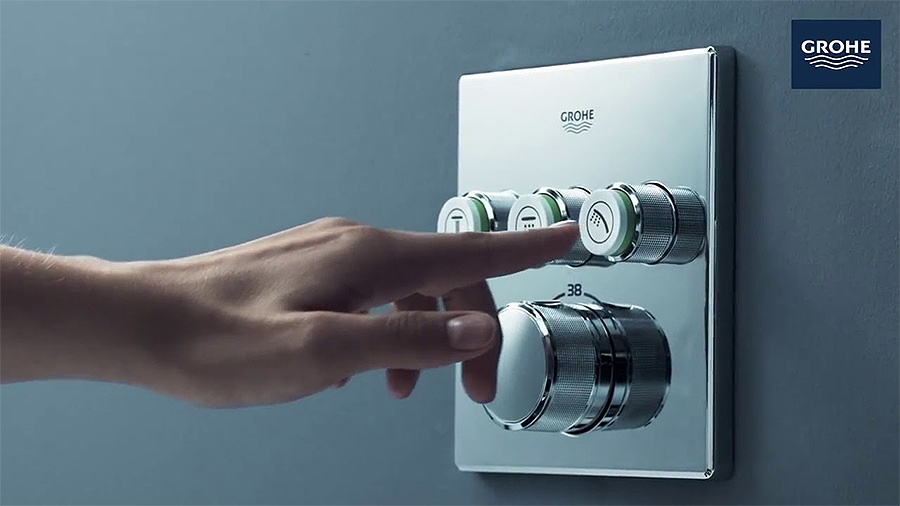 ---
Smart mirrors
If you like your bath or shower scalding hot, you'll know that often means the bathroom mirror is fogged up for minutes after. This means shaving by touch and feel the old-fashioned way or wiping the mist away, leaving a trail of droplets that will dry and mark the mirror. That's all a thing of the past thanks to smart bathroom tech, including LED mirrors with in-built demisters.
---
Benefits of smart mirrors
Other mirror-related tech innovations include motion-detector software that back-lights the mirror (which can be especially handy at night time), touch-screen technology, in-mirror speakers and far-field microphone for any voice commands, waterproof remote controls and integrated plug sockets and charging points for shavers and electric toothbrushes.
That's not the only thing a smart mirror can do. By turning your smart mirror into a second computer screen you can get today's weather while you moisturise, read the traffic updates while you shave and get up to speed with the latest news headlines while you brush your teeth. One neat way to use a smart mirror is for makeup. Find your favourite online tutorial and follow the instructions in your LED backlit mirror. Or, for the ultimate indulgence, position the screen to face the bath or shower and catch up on your favourite TV or latest films while having a soak.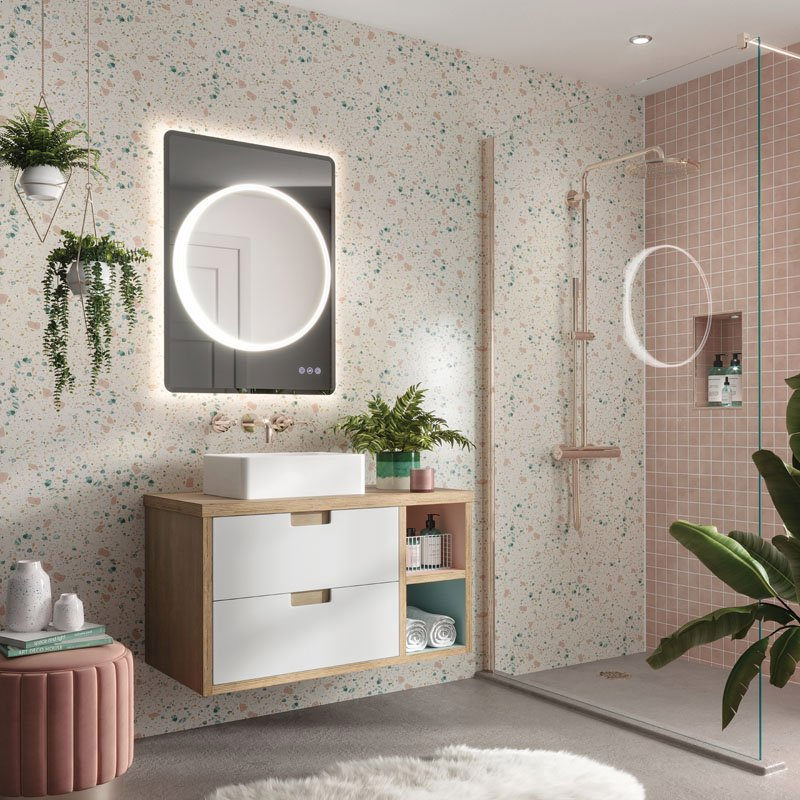 ---
Smart toilets
Possibly the final frontier as far as bathroom technology goes, smart toilets now do a lot more than just flush. From heated seats perfect for a British winter, motion-sensitive lids that will automatically open and close (helping reduce the spread of germs) and built-in speakers, toilets have almost evolved into literal thrones. Some have even gone one step further, dispensing with toilet paper together thanks to adjustable spray arms and customisable water temperature.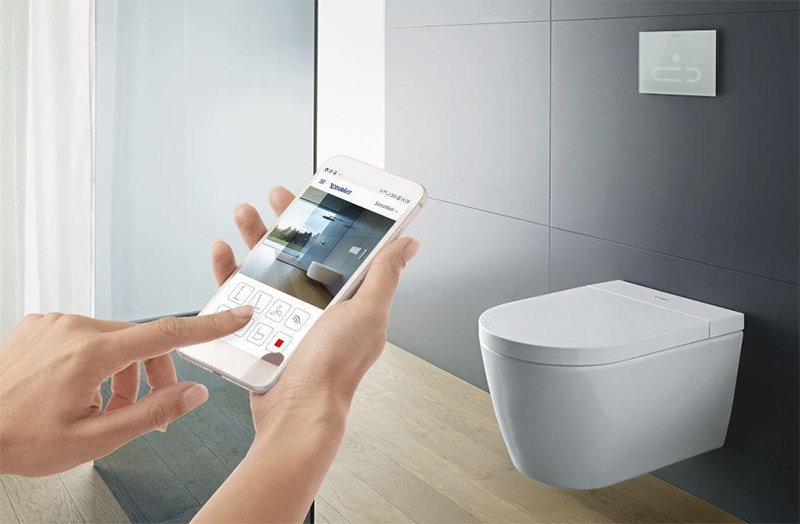 ---
Whirlpool and hot tubs
Get the full 5* spa treatment and make your bathroom sizzle and steam with a 250-litre whirlpool bath. From luxurious corner baths to large backlit five-corner suites with over 20 adjustable water and air jets bathing you in bubbles, there is a wide range of whirlpools and indoor hot tubs out there. The jets can be fully customised, including location and pressure and, when fitted with a smart tap, can provide the ultimate in smart bathroom luxury.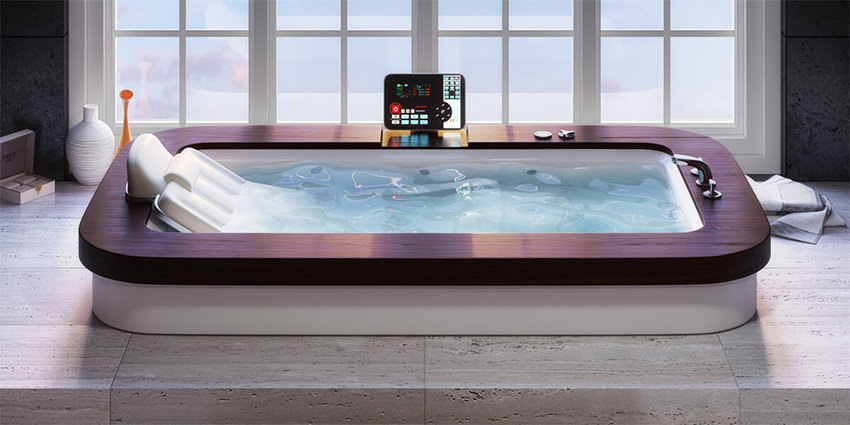 ---
Chromotherapy bathrooms
Much of the focus so far has been on traditional bathroom facilities. But bathrooms are increasingly seen as a place of tranquillity, a place for restoration, peace and calm. And one way to attain that is chromotherapy, which uses different coloured smart lights to help with emotional well-being and mindfulness. The lights don't have to be confined to traditional sources including roof fittings and lamps either. Chromotherapy lights can be fitted into your bath, whirlpool or shower unit, engaging all your senses at once, creating a warm, welcoming and zen environment.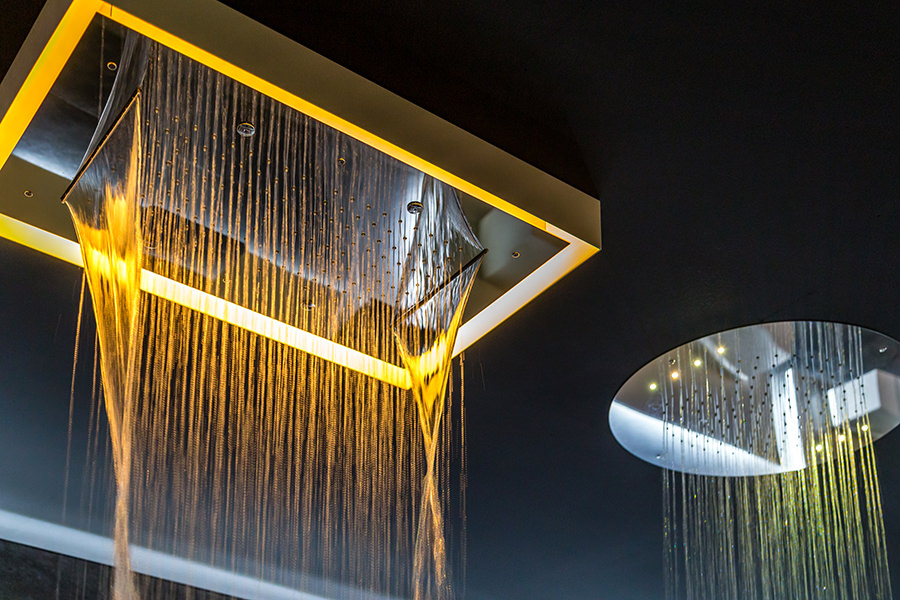 ---
Ready to upgrade to a smart bathroom?
Not only can smart bathroom innovations streamline your morning routine, but they can also help reduce energy and water consumption, saving you money over time and lowering your ecological footprint. Bathrooms are one of the rooms most often renovated, so why not future-proof yours with some of these cunning smart home innovations?