The UK and U.S. Tourist Spots With the Worst Public Toilet Access
Published on: 05/01/2023
Last Updated: 05/01/2023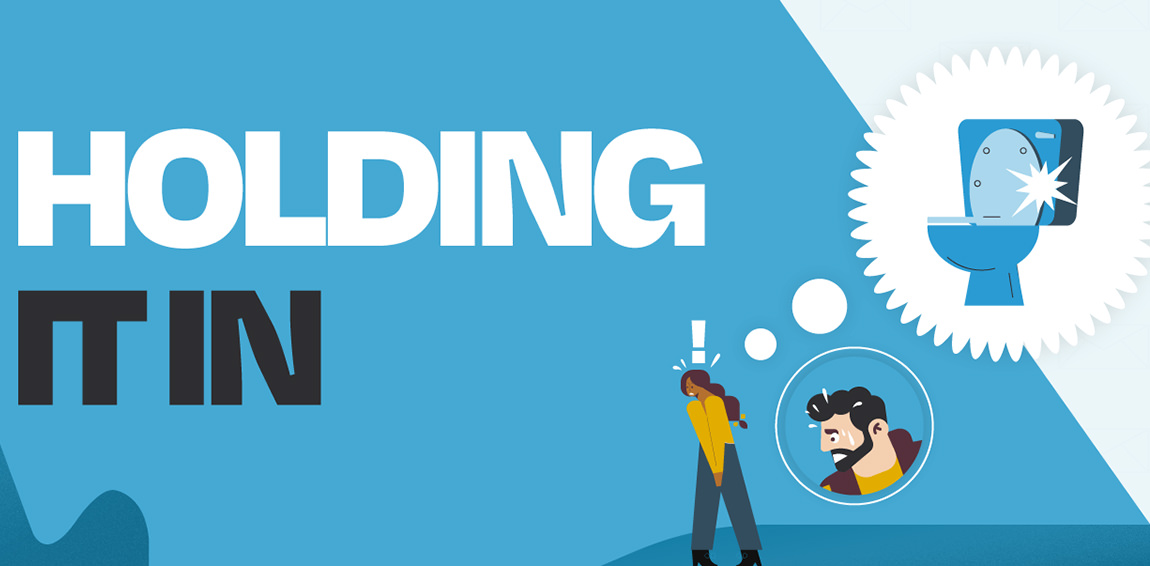 It doesn't matter how last-minute you leave your last-minute wee before a day out. You're sure to find yourself needing a bathroom break as soon as you're out of range of familiar, tried-and-tested toilets.
This anxiety is well-justified. Toilet access is not just a need and a right; it's a matter of dignity, inclusion and respect. Particularly for people with disabilities, pregnant mums, folk with gastrointestinal disorders and others who face daily access and discrimination issues. Yet, even in places where you would expect to find good facilities, tracking them down can be unnecessarily difficult and embarrassing. Thankfully, there are some good online tools to help — the Great British Public Toilet Map and our own guide to the countries and cities with the most restrooms.
But what if you're planning a trip to a tourist attraction that's likely to have less user-friendly plumbing — such as a beach, landmark or historical site? How far will you have to go when you... have to go? There may be a pay toilet nearby — but who carries the appropriate change with them these days? And when your day out leads to a remote landmark rather than an attraction with a venue, it may be difficult to find any facilities at all.
To help you choose your destination prudently — and to highlight this important but unglamorous issue — QS Supplies can now reveal the tourist spots with the greatest travel distance to the nearest loo, as well as the average number of public toilets per km2 in the world's favourite holiday cities.
---
What We Did
QS Supplies identified every significantly popular tourist attraction in the UK and U.S. and used Toilet Map and Pee Place to find each place's closest free-to-use bathroom. We measured the distance to each bathroom using Google Maps geocoding API. Finally, we used Pee Place to measure the average distance to a bathroom in 69 of the world's most popular destination cities.
---
Key Findings
The distance to a public toilet from Kilt Rock in Portree, Scotland, is 12,529 metres — the furthest distance for any UK tourist spot.
In the U.S., Cadillac Ranch in Amarillo, Texas, has the longest walk to the bathroom: 6.723 metres.
Paris has 6.72 public toilets per km2, more than any other city in our study.
Cairo is the tourist city with the most spread-out bathrooms: just 002 per km2.
The Scottish Beauty Spot Nearly Eight Miles from the Nearest Lav
Visitors may feel the landscape is taunting them when they find themselves at Scotland's Kilt Rock formation and needing a wee. The well-worn basalt columns have the appearance of a pleated kilt, and water gushes over them from Mealt Falls, a 100m waterfall over which many a Viking probably relieved themselves in the days before Portaloos. Meanwhile, today's needy adventurers are faced with a 12,529m (12.5km/7.7 mile) trek down the coast to the loo while the area's famously vocal winds whistle around them.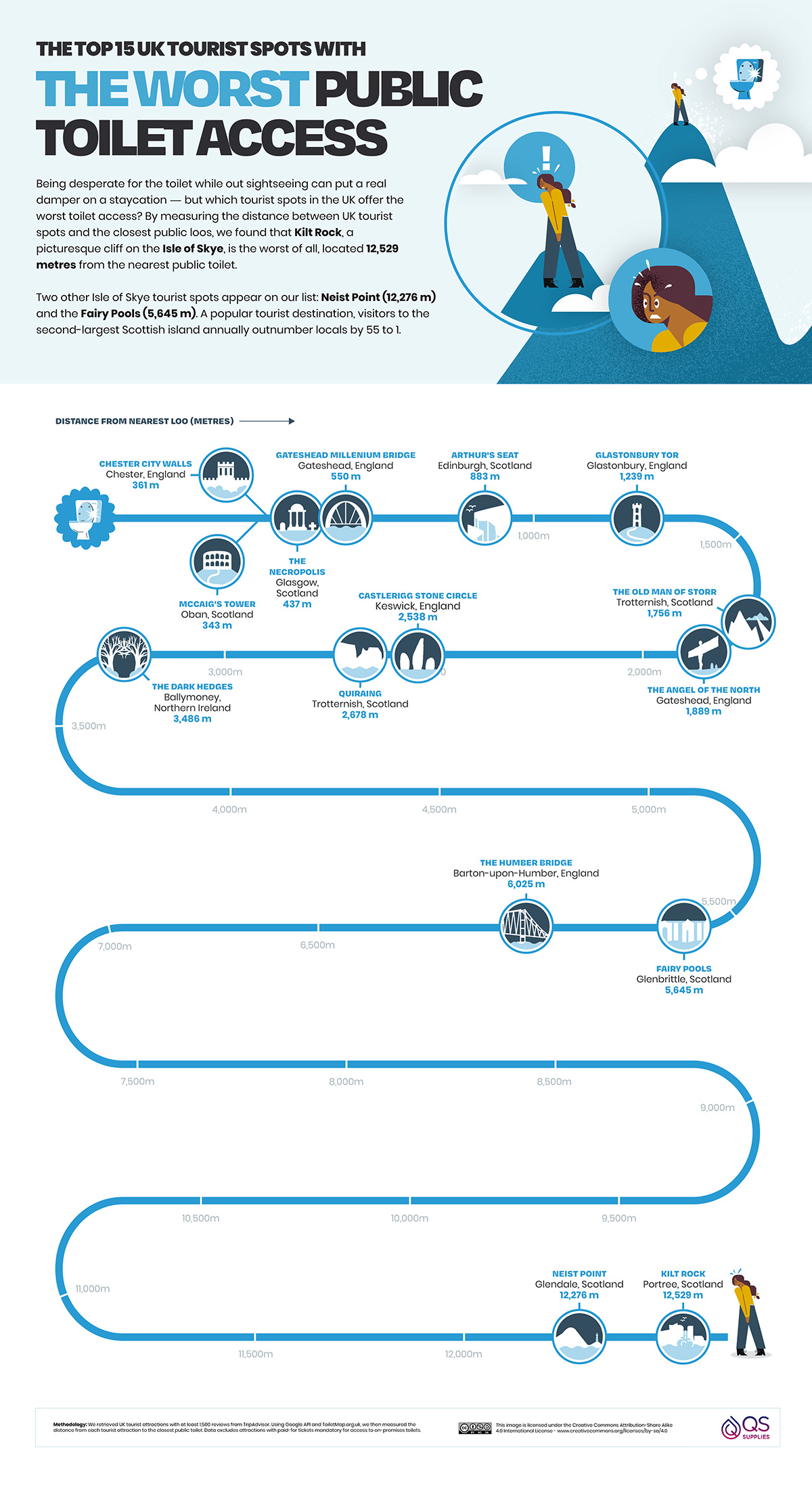 Click here to view full size
Kilt Rock is on the Isle of Skye off the northwest coast of Scotland — as is Neist Point, the second most remote UK tourist spot (in relation to toilet access). In third place is the Humber Bridge, where the journey to the loo is half as long. This Yorkshire bridge is 2,200m long itself — it was the world's longest single-span suspension bridge on completion. If you find yourself caught short while driving across it, it's best to stay in your vehicle and keep going, as there is no public toilet for 6,025m.
---
Cadillac Sculpture is a 6,723m Drive from Nearest Pee Break
The U.S. is home to 13 popular tourist spots that have a walk of at least a kilometre to the nearest public restroom. Furthest, by a teeth-clenching distance, is the walk from Amarillo's iconic Cadillac Ranch sculpture to the toilet facilities outside Don Harrington Discovery Center, some 6,723m (6.72km/4.18 miles) away. While there are 10 'public' Cadillacs at Cadillac Ranch, each of them is half-buried on its front as part of Ant Farm's 1974 installation and cannot be borrowed for toilet trips.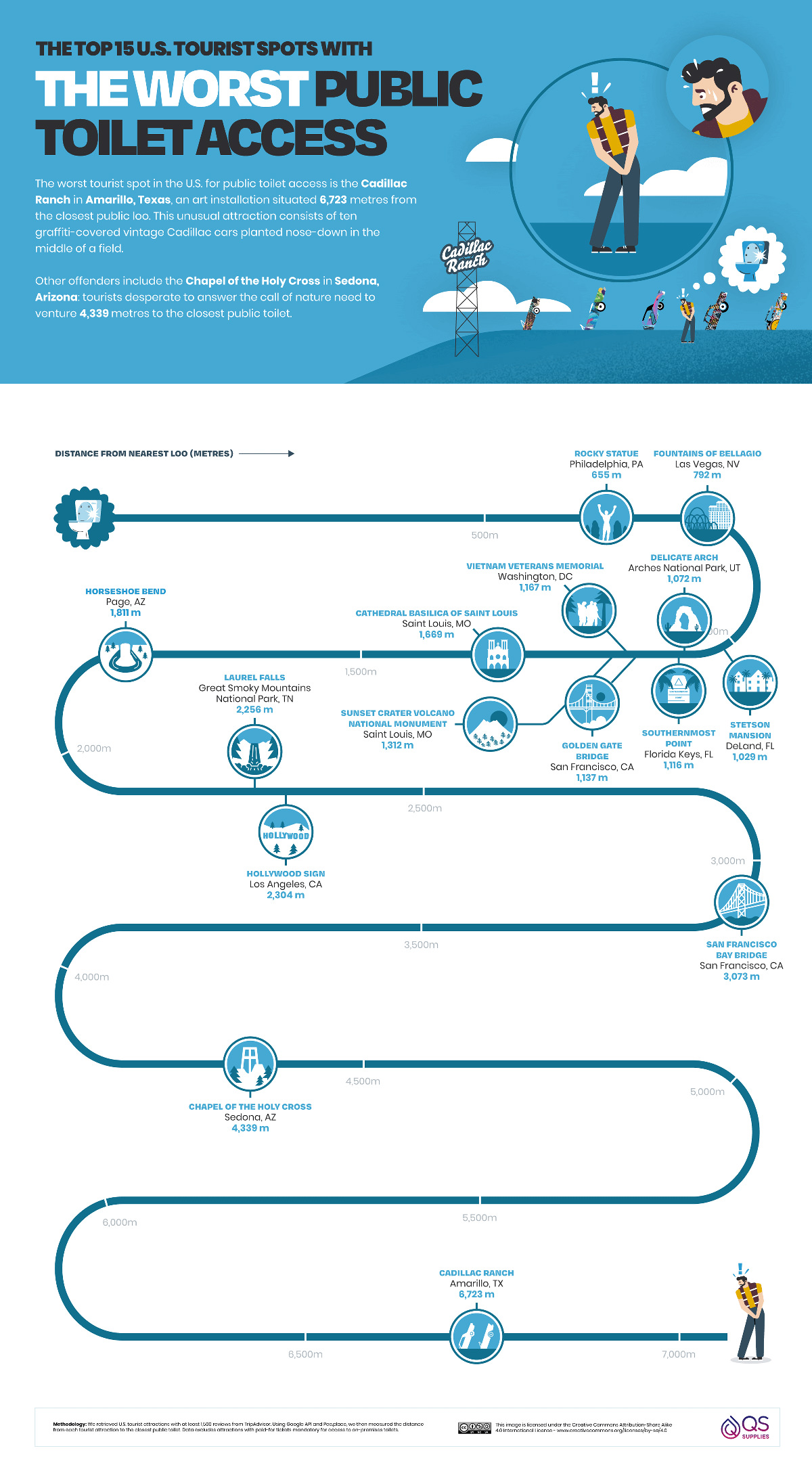 Click here to view full size
But perhaps the most entertaining route in our study is the 655m walk (or run) from the Rocky statue in Philadelphia. While it actually takes you in the opposite direction to Rocky's route in the first movie, shadow-boxing clockwise around the Museum of Art will take you over the famous steps, after which you can take a very Philly run through the gardens to the public toilet at the Lloyd Hall Recreation Center, arriving in speed, in style and just in time to heed nature's call. Knock out!
---
Paris is the World Capital of Public Toilet Access
While the tourist spots with the most distant toilet facilities tend to be more rural, some popular destination cities remain terrible for providing or publicising free-to-use bathrooms. Of the 69 cities we surveyed, 61 have less than one bathroom per square kilometre. European cities generally provide the most bathrooms, while the 11 with the fewest are all in Asia and Africa.

A very special mention goes to the French capital, Paris, which has by far the densest pattern of public toilets in our study — and nearly twice as many per km as second-placed Sydney, Australia. Paris's iconic 'sanisettes' make up more than half of the city's public toilets. Sanisettes are free to use, accessible and self-cleaning, and those that are on main roads are open 24/7. It's an excellent example for other busy cities — and a great relief for tourists and Parisian flaneurs alike.
---
In conclusion, access to public toilets and their hygiene standards at popular tourist locations remains questionable. Although we would love to have toilets with the best amenities and facilities wherever we go, unfortunately the reality is mostly otherwise. Visting outside locales, reminds us of how little control we have over public spaces. On the upside, it also teaches us to never take what we have for granted.
At QS Supplies, we believe that no one should ever have to stress over the basic hygiene needs in a public setting. So, we have everything to meet the needs of a public or a residential bathroom. Our products include bathroom mirrors, basins, basin mixer taps, bath mixer taps, shower doors, and other accessories to ensure utmost convenience. Our solutions bring a high level of comfort to your personal spaces with seamlessly integrated fittings which are a pleasure to use. For hiding away unwanted clutter, go ahead and pick one of our storage solutions such as a wall-hung vanity or a cloakroom cabinet. On occasions that you are unhappy with public toilets, build a happy one at home. Unlike public bathrooms, creating a joyful bathroom at home is entirely within our control and a pleasing reminder of the simple joys of living.
---
Methodology & Sources
We used TripAdvisor to retrieve a selection of tourist attractions for the U.S. and the UK. We retrieved tourist attractions in the following categories: Parks, Nature & Wildlife Areas, State Parks, Points of Interest & Landmarks, Beaches, Gardens, Architectural Buildings, Bodies of Water, Waterfalls, Monuments & Statues, Geologic Formations, Caverns & Caves, Religious Sites, Forests, Lighthouses, Bridges, National Parks, Mountains, Piers & Boardwalks, Canyons, Cemeteries, Churches & Cathedrals, Hot Springs & Geysers, Ancient Ruins, Dams, Mysterious Sites and Fountains.
We only selected tourist attractions with more than 1,500 reviews. We did not consider tourist attractions where a ticket purchase was mandatory for access to an on-premises bathroom. Using Google Maps geocoding API, we obtained the attractions' coordinates.
We found the closest toilet to each attraction using Toilet Map for the UK and Pee Place for the U.S. We could then rank the 15 tourist attractions in each country that are the furthest from the closest public toilet.
For our HTML table and interactive tool, we began with a seed list of global tourist cities sourced from Euromonitor's 2021 Top 100 City Destinations. For each city, we then gathered data from Pee Place about how many toilets are available in that city per km². Our analysis only considers cities where Pee Place disclosed information about toilet density. To keep a fair comparison, we also excluded cities for which the reported area on Pee Place was not consistent with a third source.
The data was collected in September 2022.