How to Select The Right Bathroom Taps
It is very difficult to visualize a bathroom or kitchen that doesn't have any taps. They are an important necessity and most commonly used element in bathrooms. Brass, material is used to manufacture taps. Brass is an alloy of copper and zinc. After manufacturing taps chrome or gold plating is applied to it through plating process By gone were the days when we used to have traditional taps, which are still the most commonly used in most of the countries. Traditional type taps are operated by turning the tap head to achieve the desired water flow.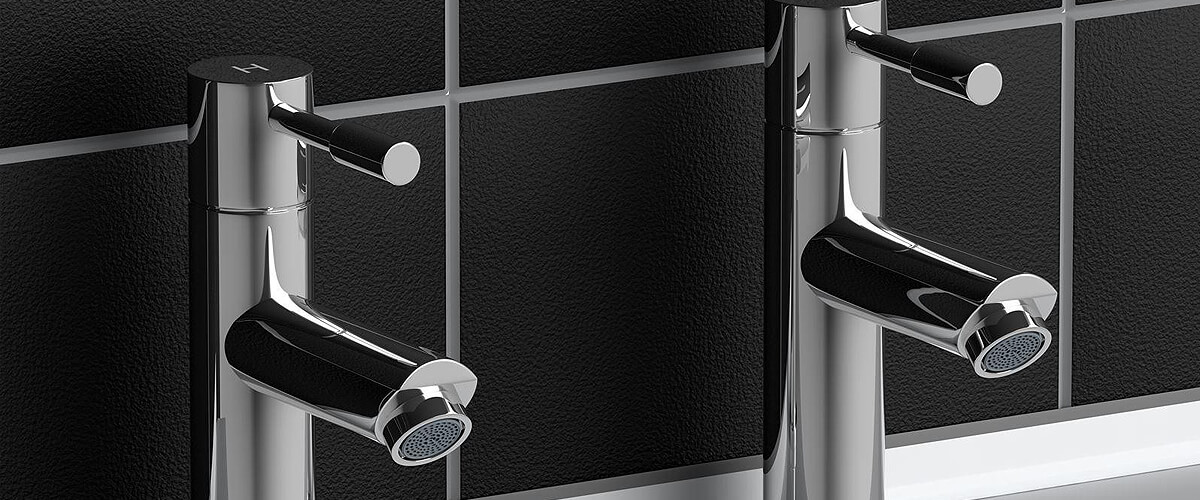 Ultimately, some form of repetitive turning was required to open and close the water flow. Tap washers were required to be changed from time to time in traditional taps, but nowadays technology has changed, and modern taps are built with ceramic discs and features latest design. In today's world, taps can be easily purchased by local merchant shop or can be purchased on-line. After you renovate your bathroom or kitchen, the most crucial part is selecting the right taps. Before you purchase the right product, you should keep in mind that you select same design or same range of brassware that matches your bathroom and kitchen. Many people don't know lots of taps technical terminology. They are also known as faucets.
Most households have wall mounted or deck mounted taps. The deck mounted versions has holes drilled into the bath or basin rims, with partially exposed pipes. This means some additional surface for cleaning, but also an easy access for repairs. If you are following the latest interior design trends and want a freestanding bath in the middle of the bathroom or in a 2-in-1 bedroom and bathroom, you'll need a stylish floor mounted taps with easily redirected plumbing. Before buying a tap, you should be sure that you are investing in the right tap as you would be living with it for a long time.
Ensure and ask from retailer about water pressure of tap before buying. Low Water Pressure taps operate between 0.2 bars to 0.5 bars, while as High Pressure taps operates between 0.5 bar and above. Usually after, the taps are manufactured all the parts are assembled, and requires pressure testing. A reputed manufacturer always performs these types of tests, while as other cheap manufacturers skip all these steps, and are just keened in supplying low price taps to consumers.
As for the type of taps, bath fillers are perfect for washrooms with water pressure problems, as they don't require high water pressure, just like the attractive waterfall models. Bath filler models typically feature two individual handles used to set an ideal water temperature, with the hot and cold water being mixed prior to leaving the tap. This type is most similar to bath mixer, which are popular due to an extended hand-hold shower head. They allow a choice between a quick shower and an indulgent classic bath. If you prefer the traditional basin and bath filling, you'll need two tap holes drilled for a pair of pillar taps with timeless charm and a statement to make. Other important factors you need to look at the time of buying is to check for quality, reliability, durability, design, performance and market leading guarantee.
Temperature controlled taps and showers are must for elderly users to prevent the risk of scalding. Many home owners in UK select ceramic discs taps as lime scale easily built up on normal taps. From a long term maintenance point of view, ceramic disc taps are much better than normal taps. Mono-bloc taps are known as mixer taps. Mixer Taps comes with one spout, and hot and cold water can be controlled by one single lever.
Finish is an important factor in making the buying decision, both in terms of purpose and overall bathroom design. Chrome is the best-selling finish, compatible with contemporary Scandinavian-style design. If your budget allows, go for the golden glow of nickle-plated taps, whilst an oil-rubbed bronze finish will work well for a rustic style bathroom. Brass and copper are another two popular choices, as well as the modern physical vapor deposition finish, which bonds to the brass, making a tap corrosion-resistant and more durable.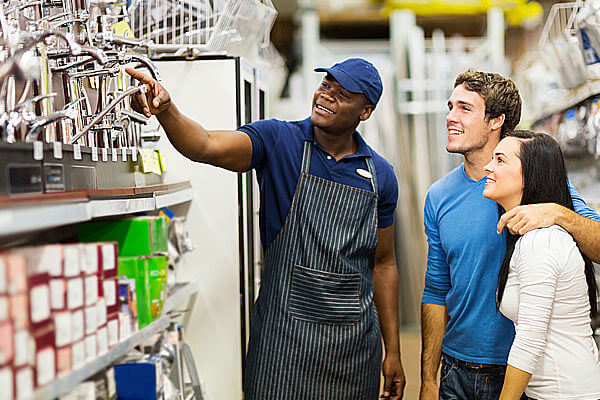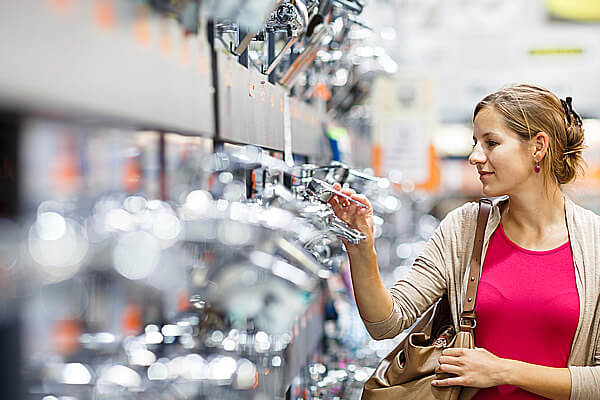 Other Things to Know
Match the tap size to the size of the basin.
Whether you opt for a high or low-rise style of taps will depend on the type of basin you have and your personal preference.
Mixer taps combine hot and cold water within the tap body and have a handle on either side to regulate water flow. However, they need a fairly high water pressure to operate well, so check your water pressure before making your purchase.
Dual flow taps also provide a single water stream, but the flow of hot and cold water stays separate within the tap body, which stops unequal pressure. These are a good alternative to mixer taps if there is an unequal pressure between your supply of hot and cold water.
Monobloc taps have a single lever to regulate the flow of water through a mixer tap. These taps are easy to control and they have a neat appearance, but they only work when the water pressure between the hot and cold supply is nearly equal.
What are Ceramic Disc Taps and Why They Are Highly Recommended?

Most households some day or other, must have faced problem of leaking taps. Apart from the sound of the dripping, the waste of water until it is fixed or replaced is frustrating. As the leaking gets worse we end up turning the levers as far as we possibly can to reduce the drip. However, as the taps have traditionally used a rubber washer which wears and cracks with use, helping to create the leak in the first place, additional turning can just damage the washer further. This is where ceramic disk can provide a more resilient alternative that can extend the life of your faucets.
In place of the traditional washer, two ceramic disks are used, one of which is fixed, the other being turned by the levers. The tap only needs a 90-degree rotation, which aligns these two discs, allowing the water to flow. When the discs are not aligned the water is stopped. This quarter turn means less friction being applied to the disks, and therefore less wear and tear.
This reduced friction and the harder nature of the ceramic, which results in less water erosion, means they will last longer than the washers. Added to this advantage is the increased convenience a quarter turn provides. It also becomes convenient at times when there is dirt on your hands that you would rather not touch anything, a quarter turn tap can be switched on with just a nudge of an elbow, or the back of the hand.
Plumbing connections for ceramic disk are no different to other taps, and with that comes all the ease of a quarter turn technology, and a more durable, longer lasting tap without those annoying leaks.
To fulfill each and every individual's function and requirement, here at QS Supplies, we have showcased an entire horde of designer bath pillar taps. These products showcased above comes in a pair and are suitable for standard, double ended, inset (under mount) corner and shower baths. They come in a range of models, from traditional crossheads to modern mixers. It is good to find out more about them before making the right purchase. They vary not only in style and design, but also in size and the purpose which they are meant for.
Modern spouts & valves are mostly made of chrome. Spouts & Valves that are made from brass is known to be the most stable and corrosion resistant, even in case of hard water. Sizes also depend upon where they will be installed. Wall-mounted faucets are different from those that would be installed onto the plinth of the tub. Another major deciding factor is the water pressure system prevalent at the home. In some households, water flows from overhead tanks separately for hot and cold water. The height of the tank determines the rate of flow of water from the outlet. In pressure combination boilers, a boiler heats the cold water instantly as it comes from the overhead tank and supplies it through the taps. In some other domestic spaces, cold water is heated in boilers or heating units with immersion rods and then supplied to the hot water tap.
How can QS Supplies help you in selecting the right one for your bathroom?
At our on-line store we stock all types of bathroom taps. Products showcased at our on-line store features excellence in design quality and finish and worth every single penny as they last long than cheap imports. Find all the finishes and models in our online shop.
10 Stylish Ideas For Taps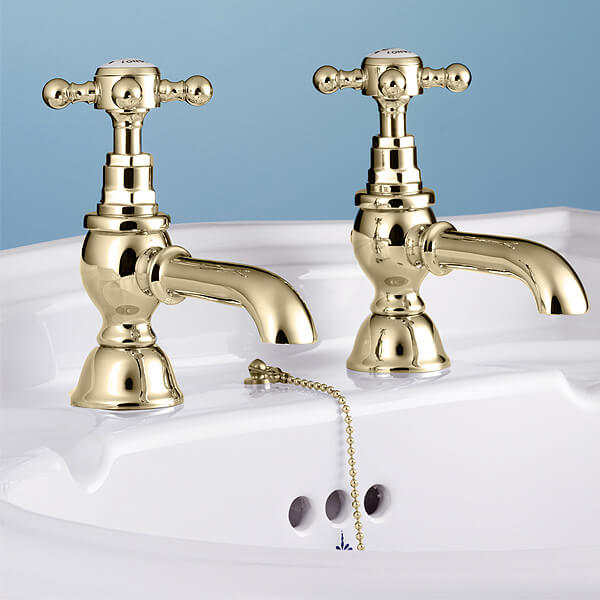 Basin Pillar Taps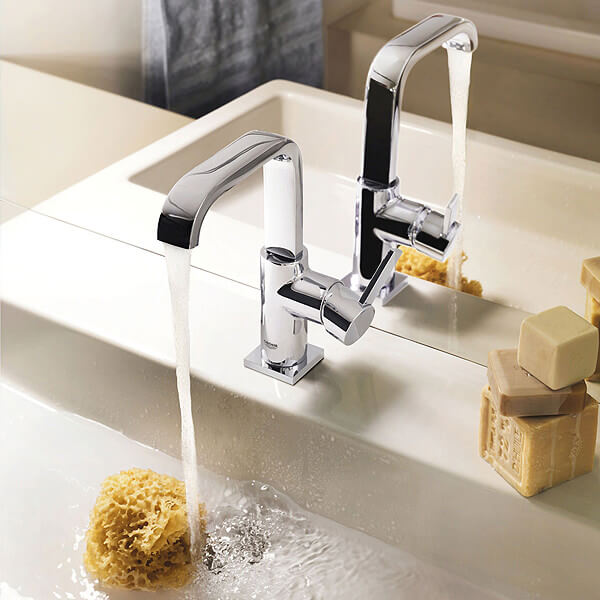 Basin Taps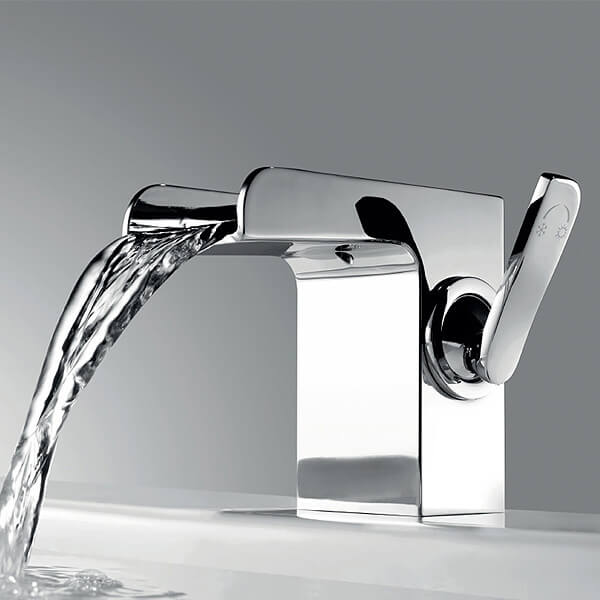 Waterfall Basin Mixer Tap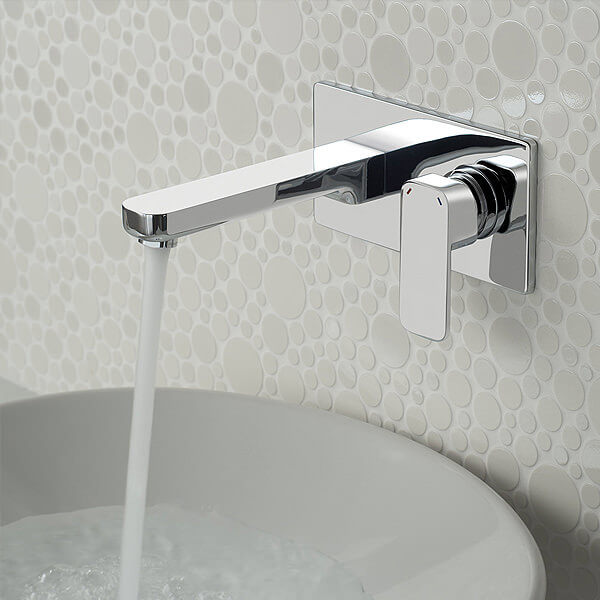 Wall Mounted 2 Hole Basin Mixer Tap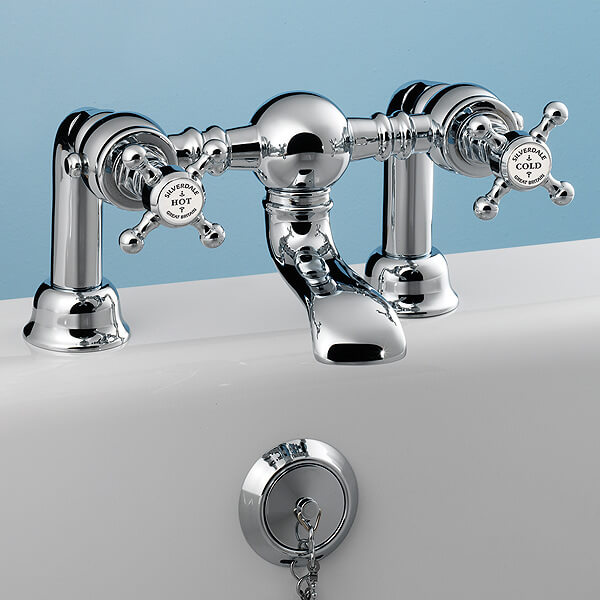 Bath Filler Bridge Tap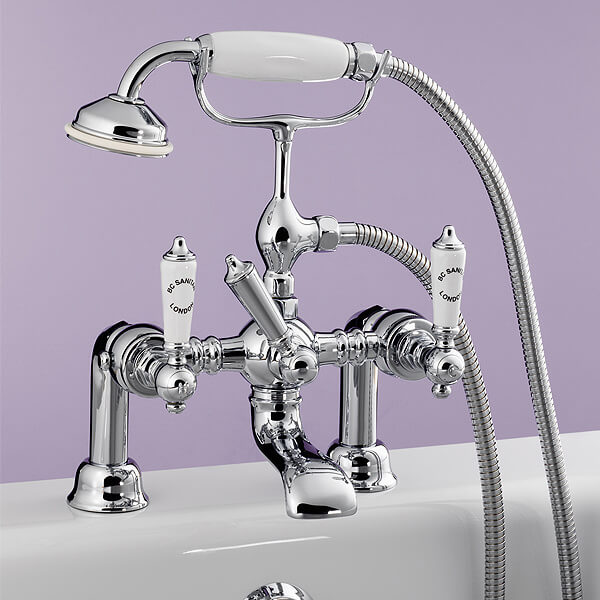 Bath Shower Mixer Bridge Tap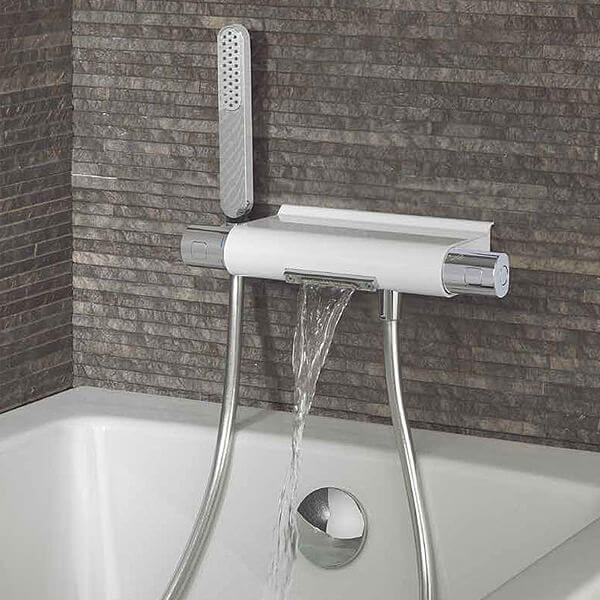 Thermostatic Bath Shower Mixer With Handset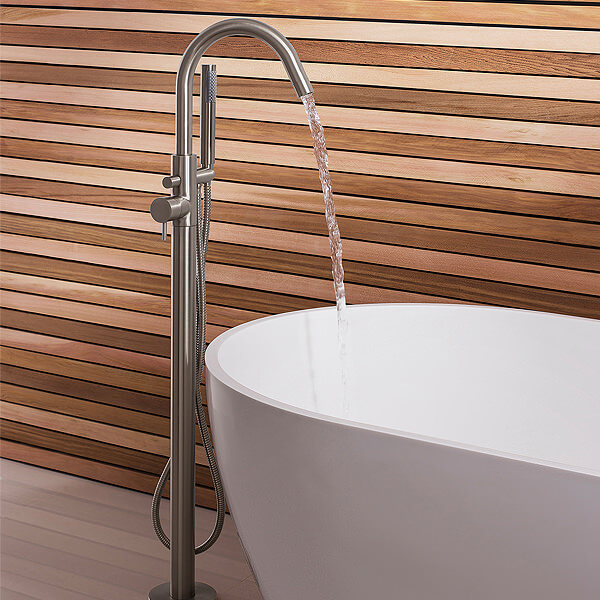 Floor Standing Bath Filler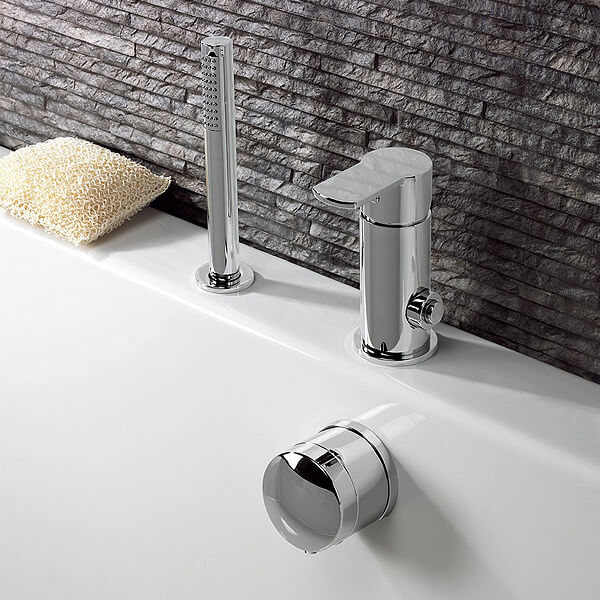 Deck Mounted Diverter Bath Filler And Handset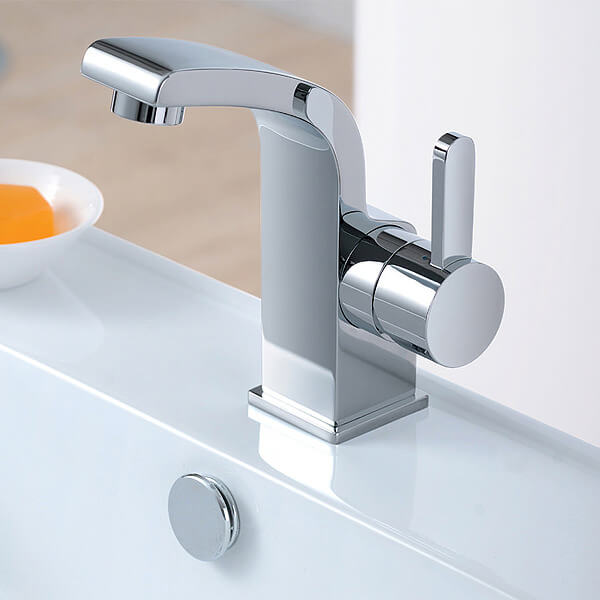 Cloakroom Basin Mixer Tap