Taps have a long history that dates back several centuries ago. Throughout the entire time period, they have undergone numerous transformations and are now available in varied settings. Their main domestic use is in kitchens and bathrooms. In commercial areas, they have been adopted to regulate other liquids (especially beer) and gas. However, your final choice of the new bathroom taps will depend on multiple factors, from style and finishing preferences to the more practical aspects, like durability and budgeting. In this guide, we will going to explain how to buy the right taps.
Taps shouldn't simply complement the style of your room, but you should make a choice considering the level of practicability as well. They are an important necessity and most commonly used element in bathrooms.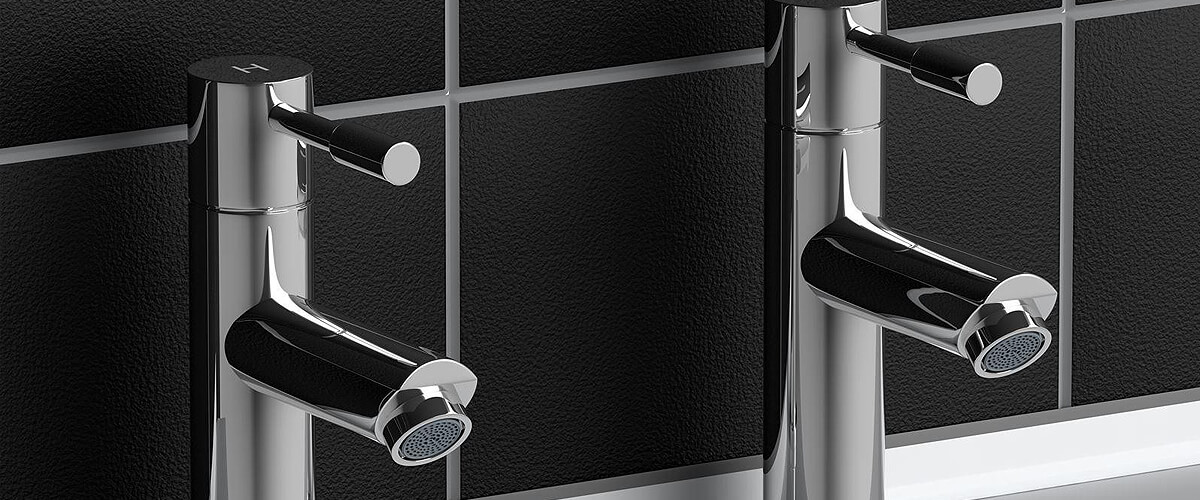 Traditional Taps
By gone were the days, when we used to have traditional taps, which are still the most commonly used in most of the countries. Traditional type taps are operated by turning the tap head to achieve the desired water flow. Ultimately, some form of repetitive turning was required to open and close the water flow. Tap washers were required to be changed from time to time in traditional taps, but nowadays technology has changed, and modern taps are built with ceramic discs and features latest design. Read more here, about Ceramic Disc.
Material.
Brass, material is used for manufacturing taps. Brass is an alloy of copper and zinc. After manufacturing taps chrome or gold plating is applied to it through plating process. Finish is an important factor in making the buying decision, both in terms of purpose and overall bathroom design. Chrome is the best-selling finish, compatible with contemporary Scandinavian-style design. If your budget allows, go for the golden glow of nickle-plated taps, whilst an oil-rubbed bronze finish will work well for a rustic style bathroom. Brass and copper are another two popular choices, as well as the modern physical vapor deposition finish, which bonds to the brass, making a tap corrosion-resistant and more durable.
Water Pressure
Before buying a tap ensure and ask from retailer about water pressure of tap before buying. Low Water Pressure taps operate between 0.2 bars to 0.5 bars, while as High Pressure taps operates between 0.5 bar and above. Usually after, the taps are manufactured all the parts are assembled, and requires pressure testing. In some households, water flows from overhead tanks separately for hot and cold water. The height of the tank determines the rate of flow of water from the outlet. In pressure combination boilers, a boiler heats the cold water instantly as it comes from the overhead tank and supplies it through the taps. In some other domestic spaces, cold water is heated in boilers or heating units with immersion rods and then supplied to the hot water tap.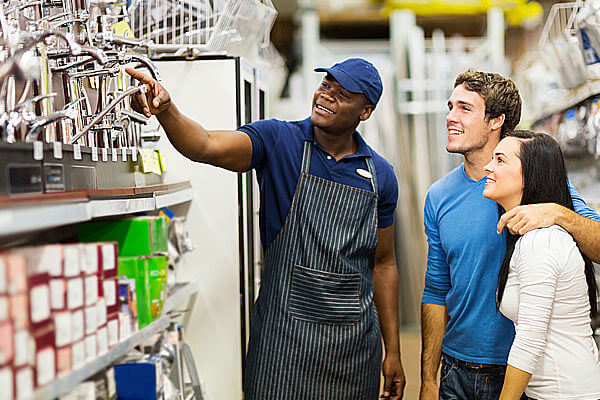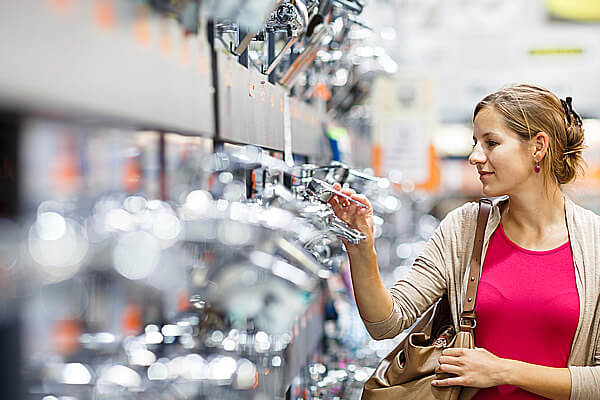 Types of Taps & Valves
Thermostatic
Temperature controlled taps and showers are must for elderly users to prevent the risk of scalding. The latest designs have enhanced features to prevent scalding, even when the pressure on the cold supply drops, as may occur when the toilet is flushed, for instance. Models that have in-built thermostats are the best, as they ensure a stable temperature of the water as it comes out of the spout. They accomplish this by compensating for temperature or pressure fluctuations in either the hot or cold supply lines. The latest high-tech models are also equipped with LED displays that let you see at a glance the exact temperature of the water as it pours from the spout. This alone can eliminate the danger of scalding, as well as the discomfort of water that is either too cold or too hot.
Monobloc Design
Taps can be either Monobloc with one hole for installation or are available as sets requiring two or three holes. Monobloc bathroom sink mixer taps have only one singular body that provides both hot and cold water through the same spout. These are quite popular as these can be installed easily on basins that come pre-drilled with a single hole. These occupy limited plinth space on the basin, thereby giving a neat, streamlined look and finish besides the convenience of water at the perfect temperature.
Wall Mounted & Deck Mounted Taps.
Deck mounted versions, are fixed via drilled holes in the edge and can be either of the monobloc variety, through a single hole. Deck mounted options are preferred when ease of installation is a key priority. For a more contemporary look, it is possible to opt for a wall mounted designs, though these are more complicated to install, due to the piping, etc. being incorporated behind the wall itself. The benefit, however, is the potential for a contemporary and highly stylish design. Many people may feel some apprehension when selecting new bathroom fixtures, as they are unsure of exactly what they should be looking for. For example, recent increases in semi-recessed, inset and a counter top basin have resulted in more people requiring guidance on their tap selection. The range of brassware in the market can seem bewildering but by combining functionality with the styling you want, you can find a selection that will accentuate your bathroom design.
Spouts
Spouts that are made from brass is known to be the most stable and corrosion resistant, even in case of hard water. Sizes also depend upon where they needs to be installed. Wall-mounted faucets are different from those that would be installed onto the plinth of the tub.
Other Things to Know
Match the tap size to the size of the basin.
Whether you opt for a high or low-rise style of taps will depend on the type of basin you have and your personal preference.
Mixer taps combine hot and cold water within the tap body and have a handle on either side to regulate water flow. However, they need a fairly high water pressure to operate well, so check your water pressure before making your purchase.
Dual flow taps also provide a single water stream, but the flow of hot and cold water stays separate within the tap body, which stops unequal pressure. These are a good alternative to mixer taps if there is an unequal pressure between your supply of hot and cold water.
Monobloc taps have a single lever to regulate the flow of water through a mixer tap. These taps are easy to control and they have a neat appearance, but they only work when the water pressure between the hot and cold supply is nearly equal.
10 Stylish Ideas For Taps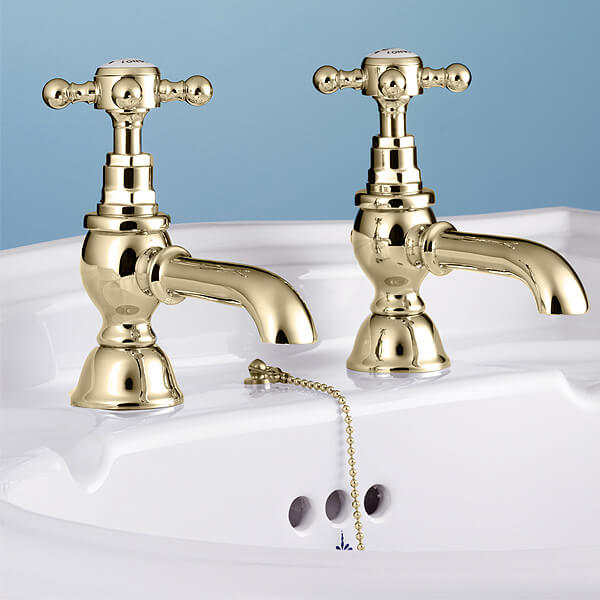 Basin Pillar Taps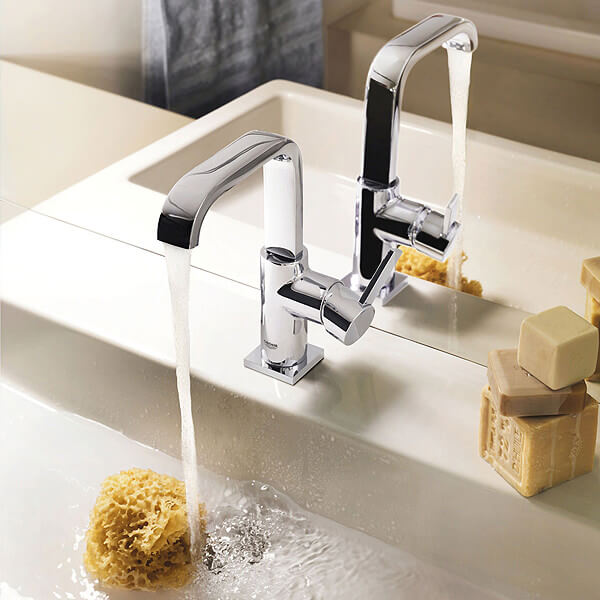 Basin Taps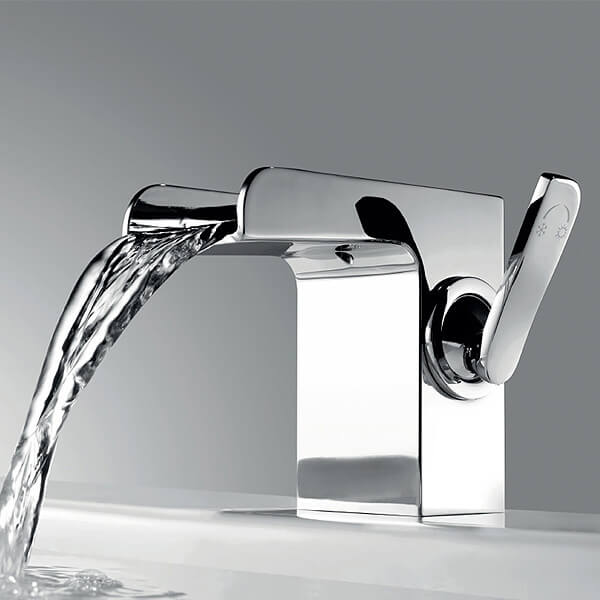 Waterfall Basin Mixer Tap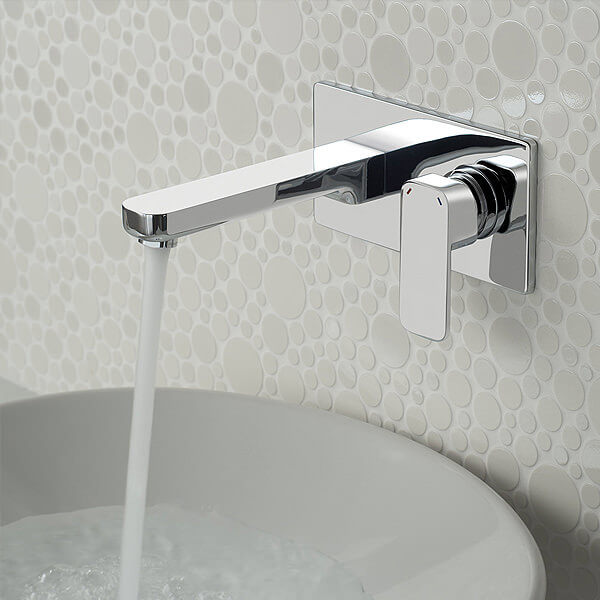 Wall Mounted 2 Hole Basin Mixer Tap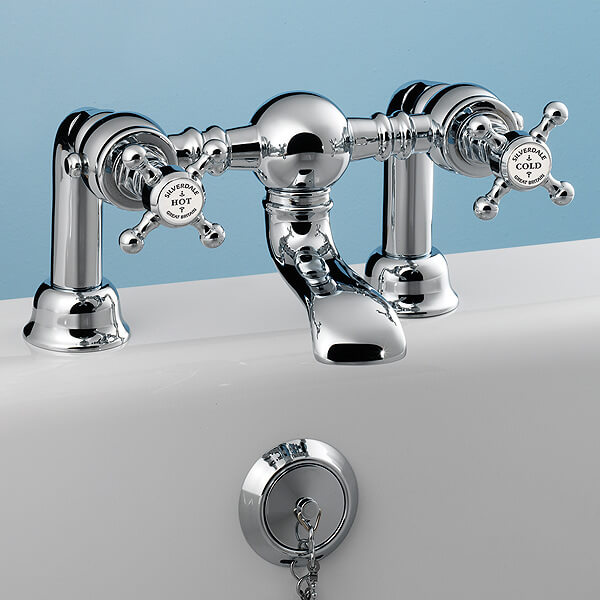 Bath Filler Bridge Tap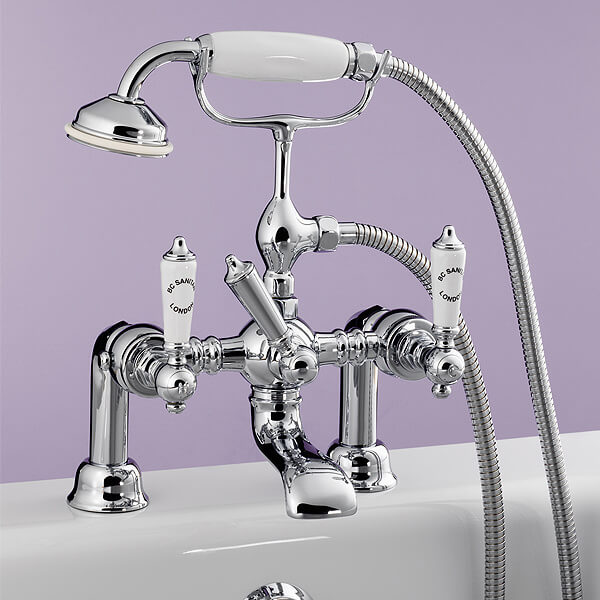 Bath Shower Mixer Bridge Tap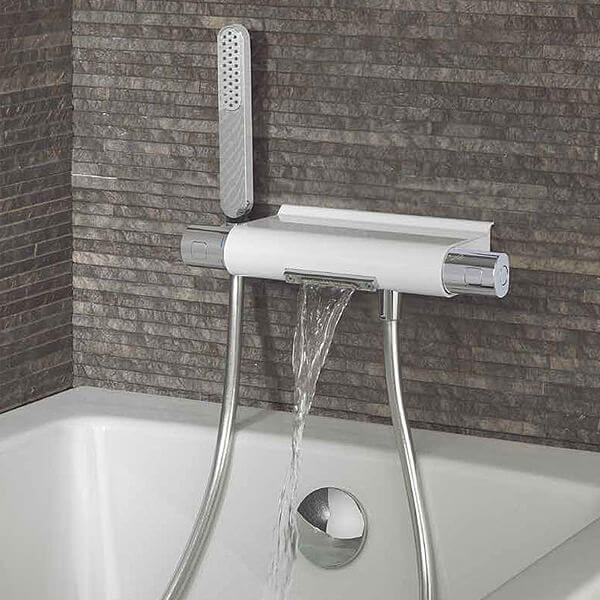 Thermostatic Bath Shower Mixer With Handset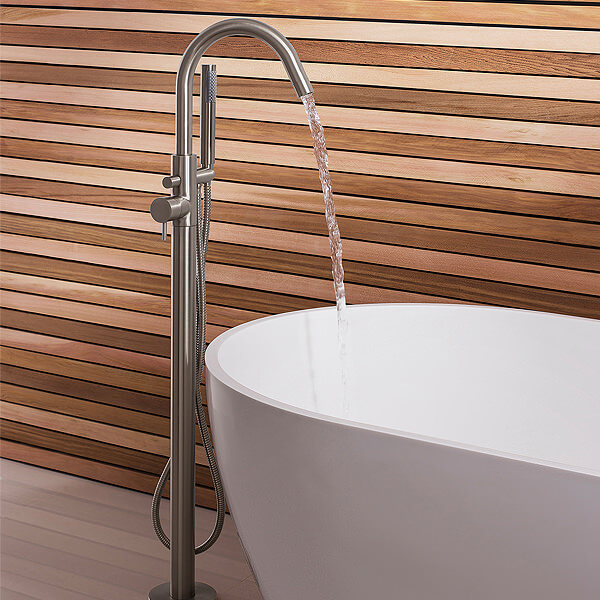 Floor Standing Bath Filler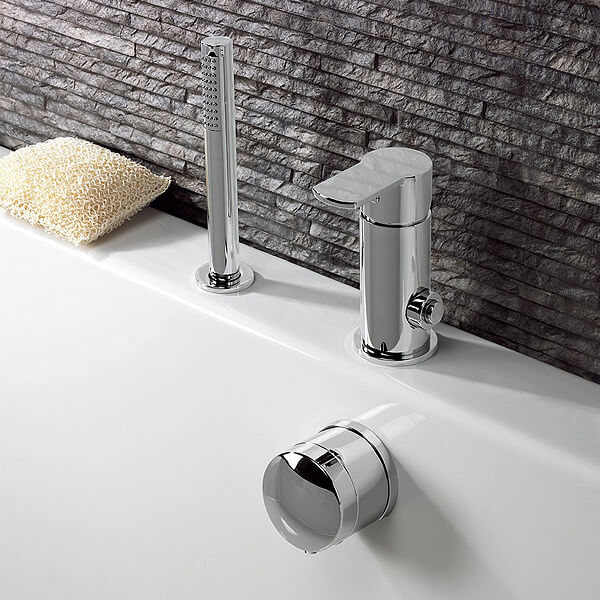 Deck Mounted Diverter Bath Filler And Handset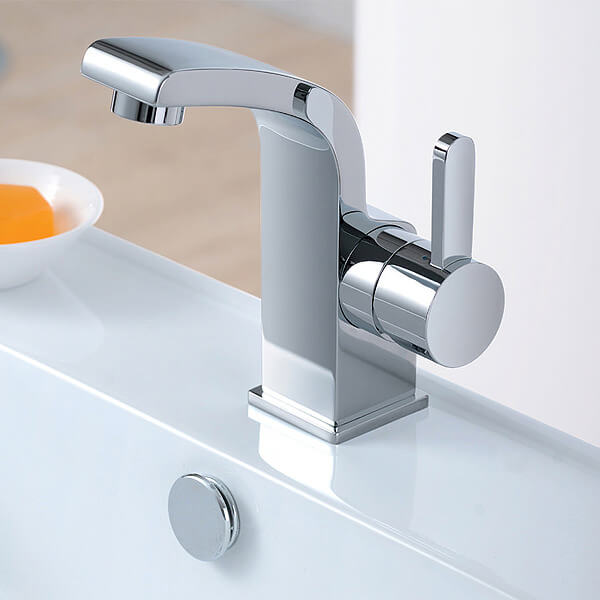 Cloakroom Basin Mixer Tap