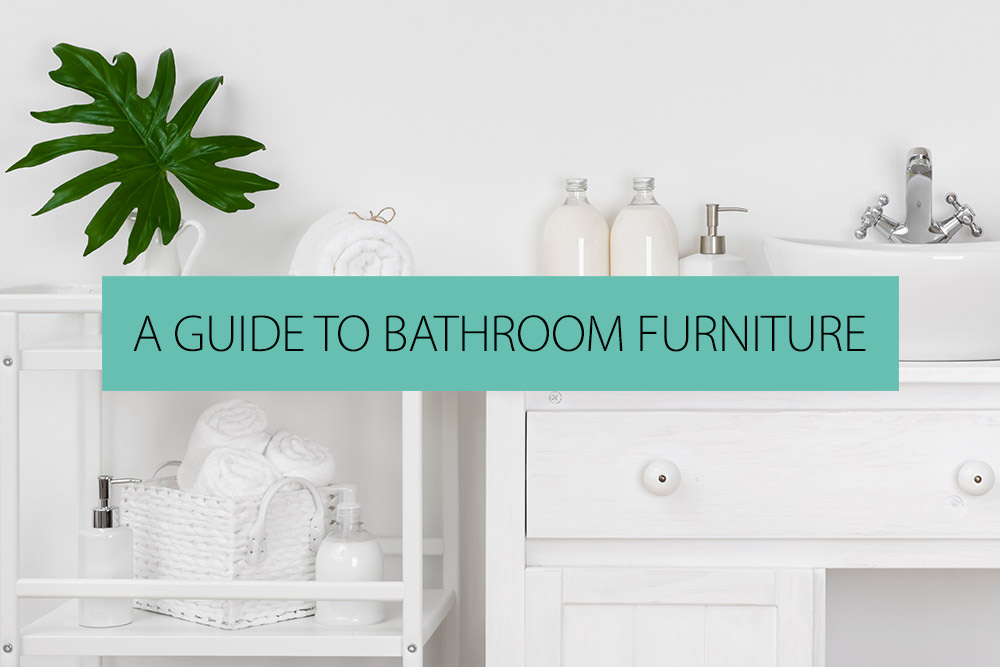 Getting the right furniture in any room is essential, even more so in your bathroom. You need to find the right balance between style, storage capacity, cost and fitting the furniture into the size, shape and design of your bathroom. Your bathroom furniture also has to be long-lasting and hard-wearing to protect it from any splashes and dampness.
And it's a challenge we'll take you through in our bathroom furniture feature. From wall-mounted bathroom cabinets to fitted furniture, mirrored cabinet units and contemporary bathroom design options, we'll guide you through a wide range of bathroom furniture options.
---
Questions To Ask
Before you begin, do some planning and ask yourself some questions.
What shape and size is your space, and how much room can your bathroom furniture take up?
What do you need storage for?
How much do you want to display, and how much do you want to hide away in storage?
How will the furniture fit into your current style? Does it need to match the same design, material and finish as your existing furniture?
What budget do you have for your furniture?
How will the bathroom be used in the future? Will more people or children need to use the bathroom in five years?
That might sound like a lot of questions to ask, but we're here with plenty of help and answers to help find the right bathroom furniture solution.
---
Find The Right Shape And Size Of Furniture To Fit Your Bathroom
As your bathroom is often one of the smallest rooms in your house, planning is crucial. Plot out your bathroom and take measurements to ensure your furniture will fit. An eye-catching Jack and Jill unit or a towering double-width bathroom cabinet will look beautiful, but won't be much good if you can't close the bathroom door.
There's no need to worry if you have a small or oddly shaped bathroom. As we'll discover throughout the feature, there are plenty of space-saving designs, including cloakroom vanity units, wall-hung vanity units and shelving solutions.
---
Bathroom Vanities
Bathroom Vanity Units are cabinets that sit around the base of your sink. They're one of the most common types of bathroom furniture and make great use of that awkward space below your sink that can otherwise be wasted.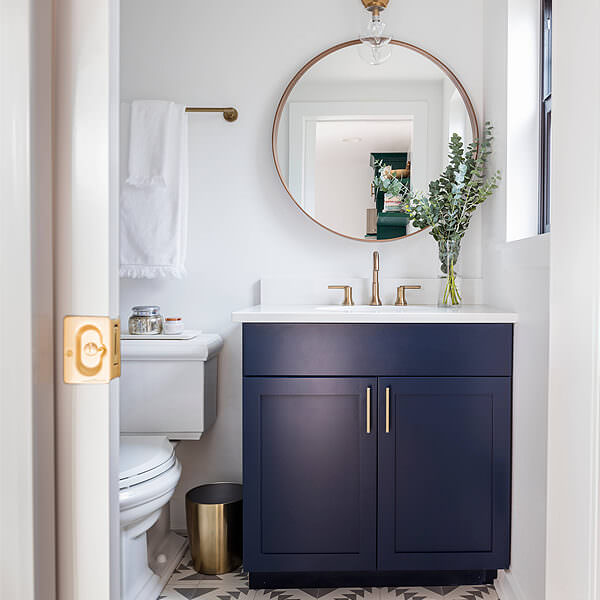 Bathroom vanities are versatile and provide plenty of storage, making them the perfect place to store bathroom essentials, cleaning products, towels, toilet rolls and supplies. They come in a wide range of sizes, from compact under-sink units to large combination vanities that combine the sink and the toilet. You could even strip it right back to the basics with this minimalist but highly functional design.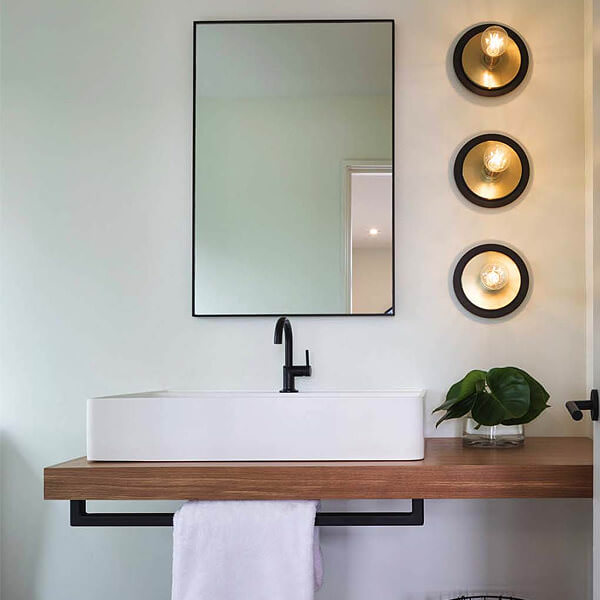 They can also come as slimline vanity units, perfect for smaller bathrooms, while corner vanity units could be the ideal solution for an awkwardly shaped floor plan. And if it's a busy bathroom shared by the family, you could always try a double vanity unit with Jack and Jill basins – the perfect solution to busy morning and bedtime bathroom routines. Check out our Jack and Jill bathroom feature for more information.
Bathroom vanities can also be styled as a focal point in the space. A minimalist interior paired with a bright, colourful vanity creates a fantastic visual contrast without adding clutter. Current bathroom trends include warmer colours – natural wood tones, for example – and simplicity.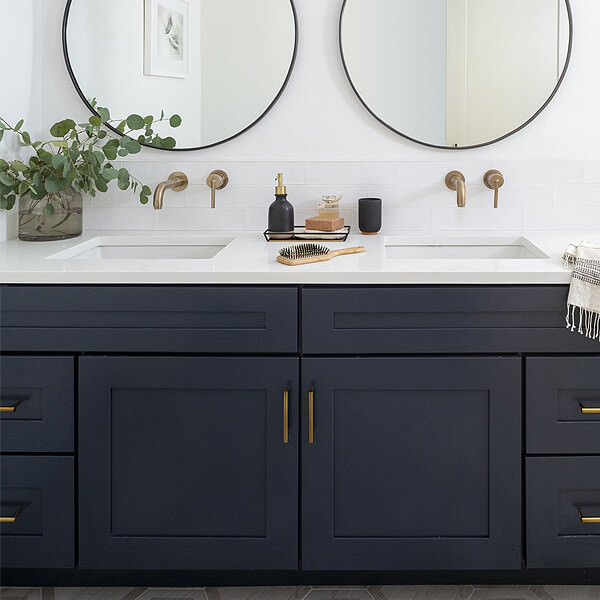 As well as coming in a wide range of styles, finishes and materials, vanities often have various storage options, including open-plan shelves, drawers, pull-out baskets and even fitted plugs and hair dryer holders!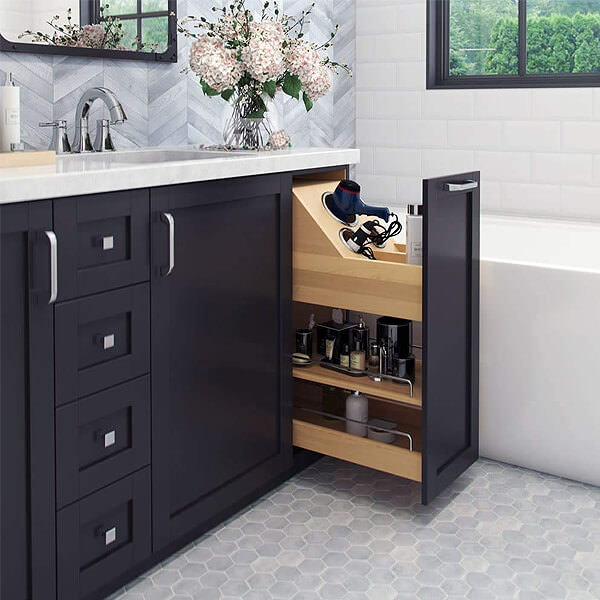 ---
Storage Cabinets
Big, tall, wide, long, deep and shallow – bathroom cabinets come in all shapes and sizes. Your storage cabinet should be practical and answer all your storage needs. But with a range of finishes, designs and materials, your storage cabinet can also be a design feature in your bathroom.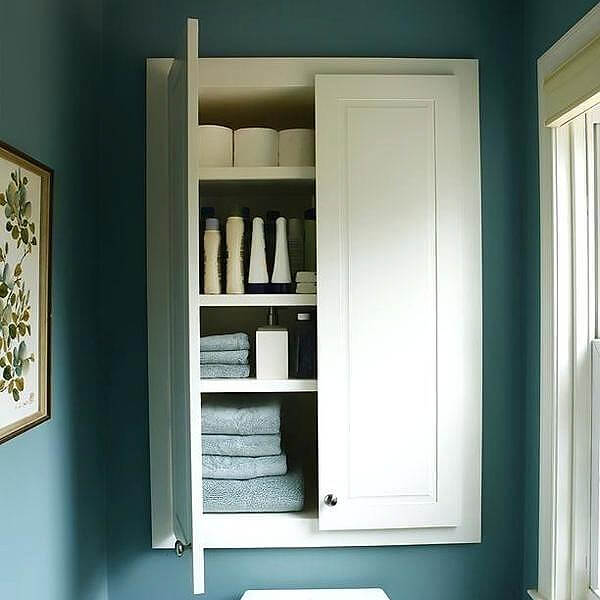 This simple but highly effective wall-mounted unit makes the best use of the available space above the toilet. As well as plenty of storage space, the clean white lines dovetail nicely with the window details and the duck egg blue walls.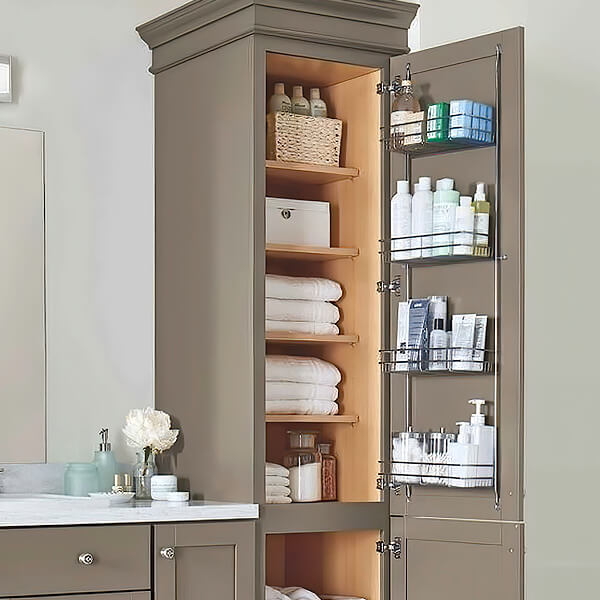 Alternatively, make the most of your vertical space with this tall, thin cabinet. The wooden interior neatly balances the warm brown colour and has plenty of functionality thanks to the pull-out drawer, shelves and the creative back-of-the-door storage unit.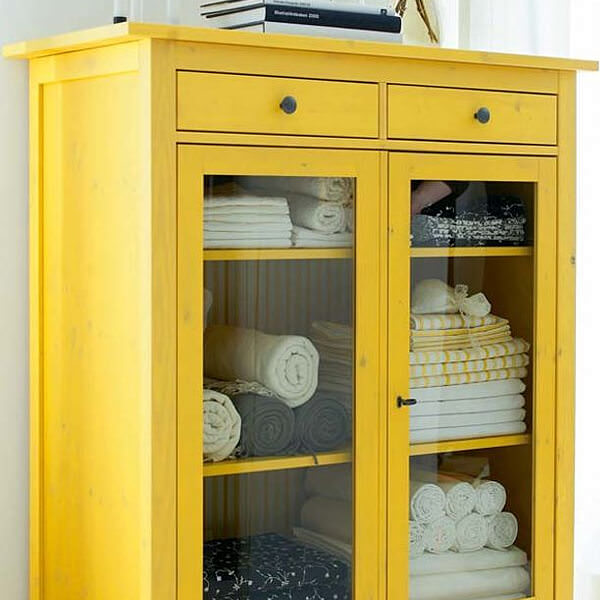 Or go one step further and make your storage unit a centrepiece. Match the colour with other details in the room, and use a glass-fronted unit to show off your towel collection and quickly let you know when it needs restocking.
---
Bathroom Bench Ideas
Benches with built-in storage are a great way to combine functionality and style, proving that storage solutions in the bathroom aren't just limited to cabinets and vanities.
A bathroom bench is a perfect place to sit and dry off – or grab a few minutes of calm amongst the morning routine. And it's a great storage solution. Go for a covered or upholstered bench for that luxurious finish and to hide away bathroom cleaning products or towels, or opt for a two-level lattice finish for a simple but stylish bench. Another option is a single storage seat, ideal for those with limited mobility.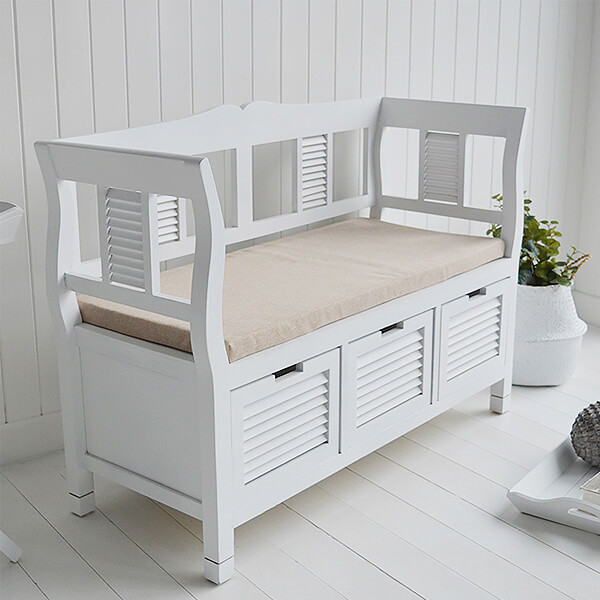 ---
Back-To-Wall Toilet Units
Just as vanity units make clever use of the wasted space below sinks, back-to-wall toilet units make the most of the area around your toilet. The intelligent design hides your toilet cistern inside the furniture, providing extra storage space and creating a sleek, minimalist design.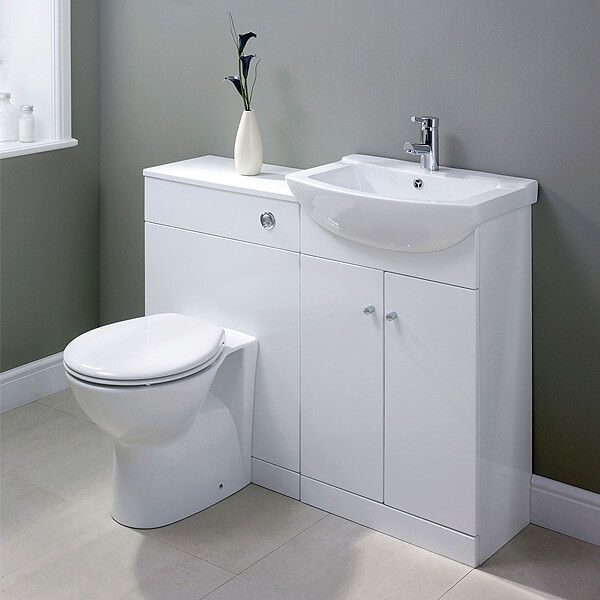 ---
Bathroom Shelves
Simple, effective and versatile, shelves are an ideal furniture addition to your bathroom. With a wide range of finishes, styles, materials and colours to choose from, the options are almost endless.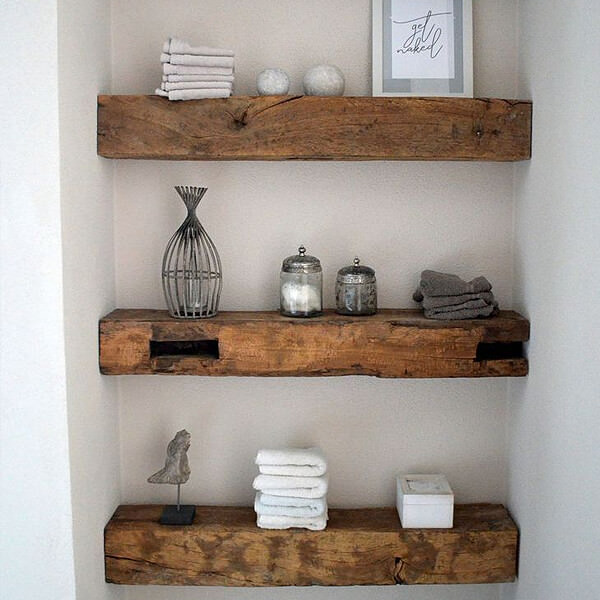 You could choose open shelves mounted to your wall or a bathroom storage unit featuring a mix of shelves, drawers and cupboard space.
Many people, however, are going for the neater appearance of closed storage shelves. A shelving unit with plain yet stylish doors doesn't disrupt the calm ambience.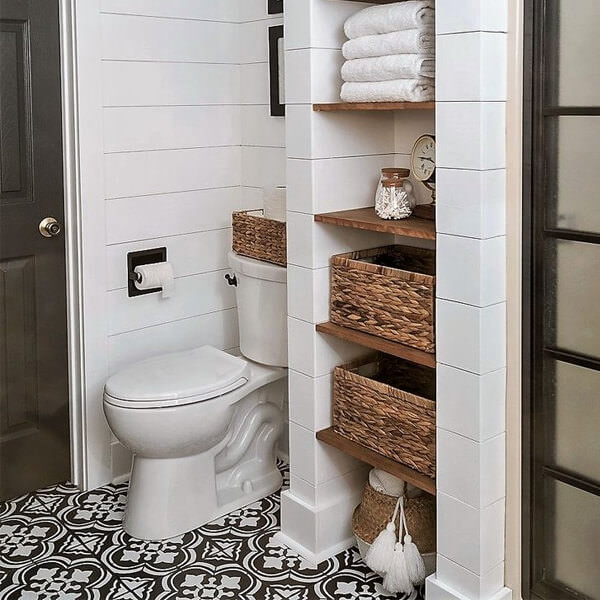 ---
Towel Rail
Another furniture option is the towel rail. While some might want to keep their towels hidden in storage, a towel rail has several advantages. Go for a heated one for that luxurious feel when you step out of the bath or shower, while it will also help dry the towels out for the next person. Plus, your towel rail – or even the colour of your towel – can be an extension of your bathroom's style and colour scheme.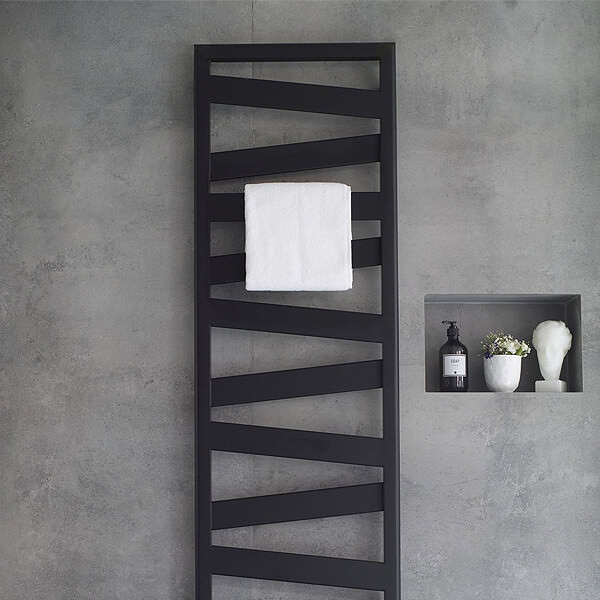 Heated towel rails are inherently stylish, with a wide range of finishes and designs.
There are curved towel rails, straight towel rails, a range of designer towel rails and rails that blur the line between vintage, cast iron radiators and towel rails.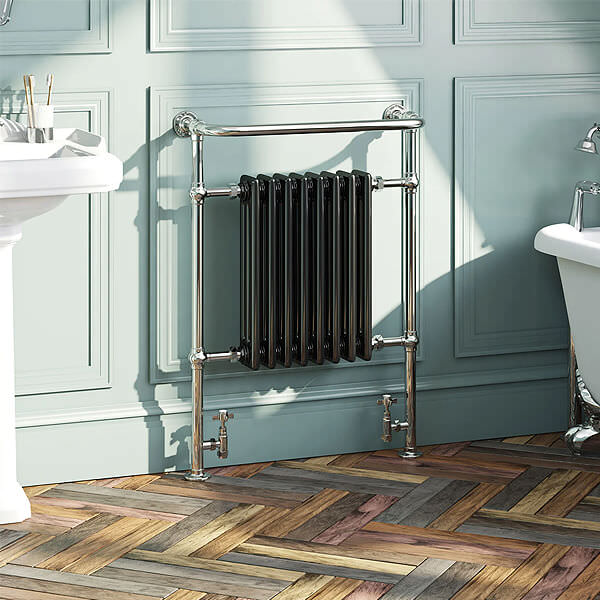 Towel rails will also help keep the bathroom dry and warm, making it more comfortable to use (an essential in our book on a cold January morning) and also help prevent dampness, which can cause expensive long-term issues. Try to make sure you opt for the most energy-efficient fixture – being environmentally conscious is definitely in fashion.
---
Current trends
Apart from the popularity of warm tones, other top trends include incorporating nature in bathroom design. Whether you have an indoor plant or nature-themed accent wall, going green is in fashion.
---
Conclusion
Planning is the key to finding the right bathroom furniture. With bathroom space usually at a premium, your furniture needs to marry form and function. But as we've shown, there are plenty of options for furniture, ranging from bathroom cabinets to stylish towel rails and clever space-saving vanity units to cunning shelving solutions.