Pink Bathroom Remodelling Ideas
Published on: 10/01/2018
Last Updated: 28/08/2019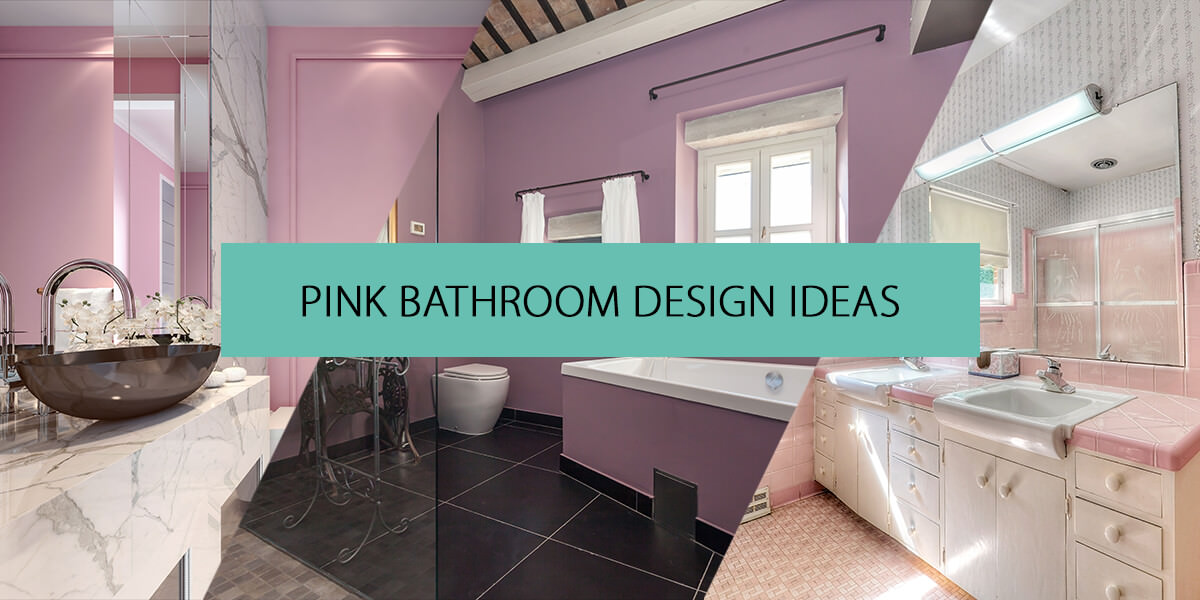 The colours known to us are almost always nature-inspired, its palette being immensely vast and varied. Some natural colours may be difficult to replicate but inspire our lives tremendously. All colours affect our physical and emotional health and so also Pink. It is known to calm aggressive moods and deter violence and puts us in touch with our inner child, pure and naive. If you are looking to Renovate your bathroom with Blue Shade, have a look at Blue Bathroom Design Ideas.You can also check our White, Green and Grey Bathroom Ideas.
Pink is a basically a toned-down red and gets its name from a flower with the same name. We usually associate this hue with charm, sensitivity, femininity, baby girls and romance. Bubblegum, candy floss and marsh mellows are popular in this hue. It defines innocence as well as love.
American homes in the 1940s or '50s, used pink in the bathrooms, going all out with this shade on walls, floors, tubs and WC's. In recent times, the vintage-inspired Pink seems to be rapidly gaining popularity everywhere. Most homeowners buying vintage properties or recreating the period look are choosing to keep the existing Pink. And we at QS Supplies do endorse its vibrancy and cheerfulness.
Here, we have put together an interesting mix of bathroom spaces that showcase an inspiring and stunning use of the colour, whether Tumblr Pink, Blush, Dusty Rose, Salmon Pink or Fuschia. We hope these Bathroom Design Ideas will put you on the road to realizing your dream of a Pink bathroom.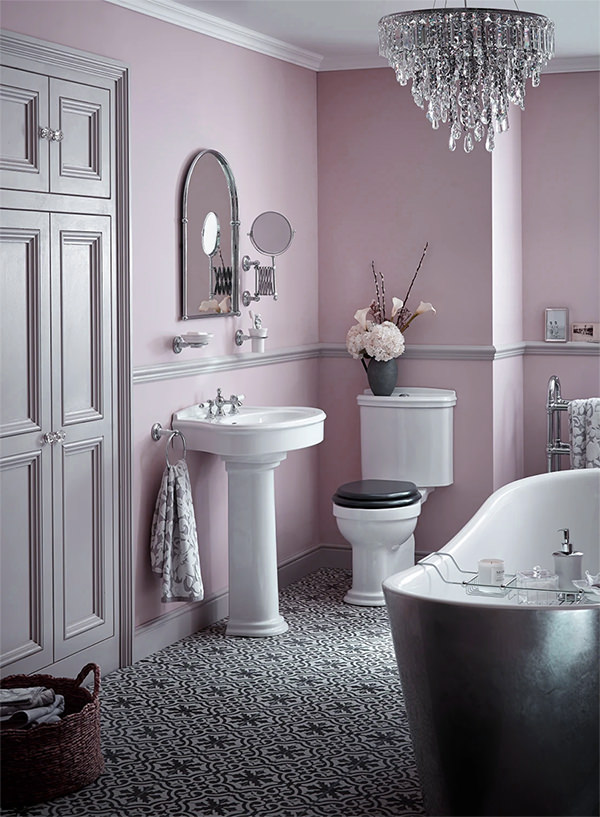 This bathroom showcases an unearthly, old-world charm with the use of different shades of pale pink. Everything is pink, yet the colour does not overpower and blends with the other neutrals such as the pedestal basin. The metallic finished tub, wall features and subdued lighting create drama and a cozy ambience.
---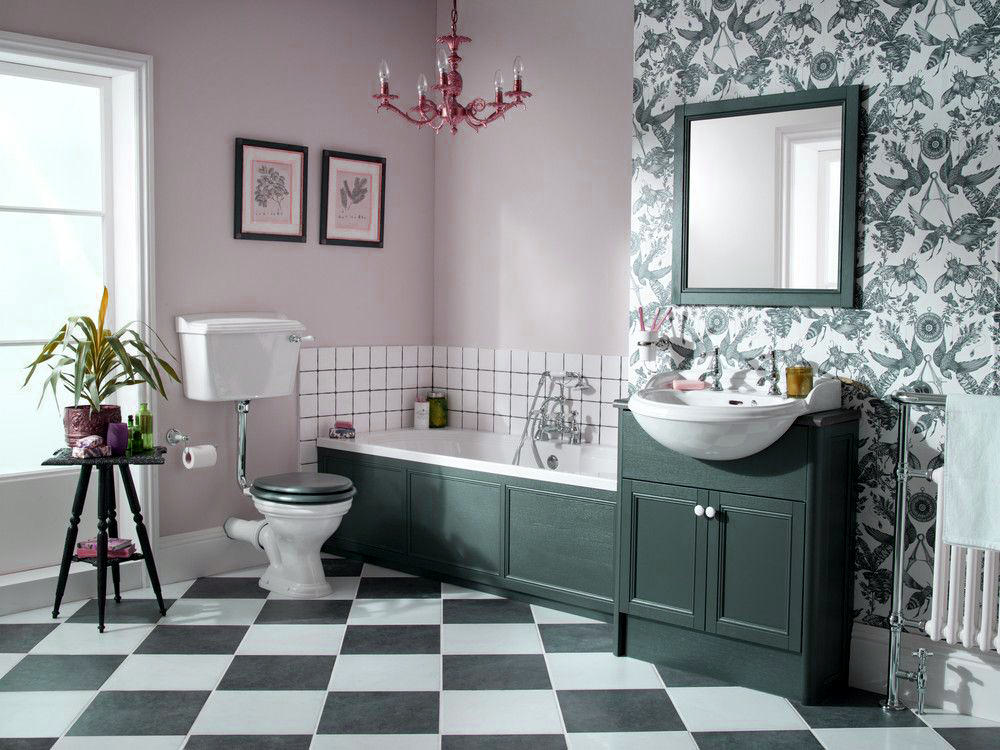 This space is both gorgeous and airy and presents a pretty picture. A generous use of pale pink gives this space a neutral, subtle flavour that is simply unmatched. Pink with the very traditional basin vanity and panelled tub are very classic in outlook. The printed wallpaper on one wall and the bold chequered flooring offer long lasting drama.
---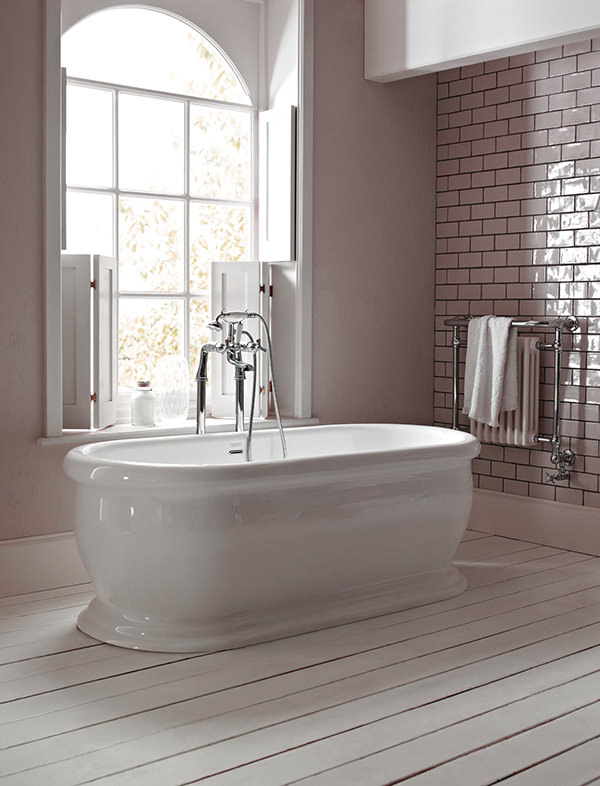 Another bathroom that is wonderfully airy, thanks to the use of natural light and statement freestanding bathtub. The mix of pale pink smooth and tiled wall and the vintage brassware give the entire bathroom a dramatic and vintage look.
---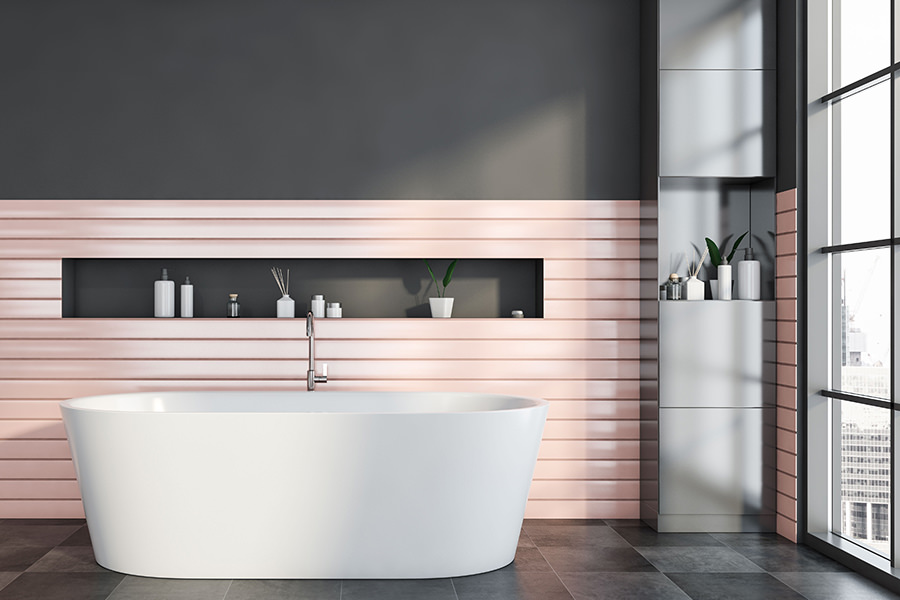 The pink straight tiles on the bathroom walls are modern and seem to bring the grey wall to life. Fluid lines of the white bathtub offer a lovely contrasting effect. Geometric tiles on the floor complete the picture.
---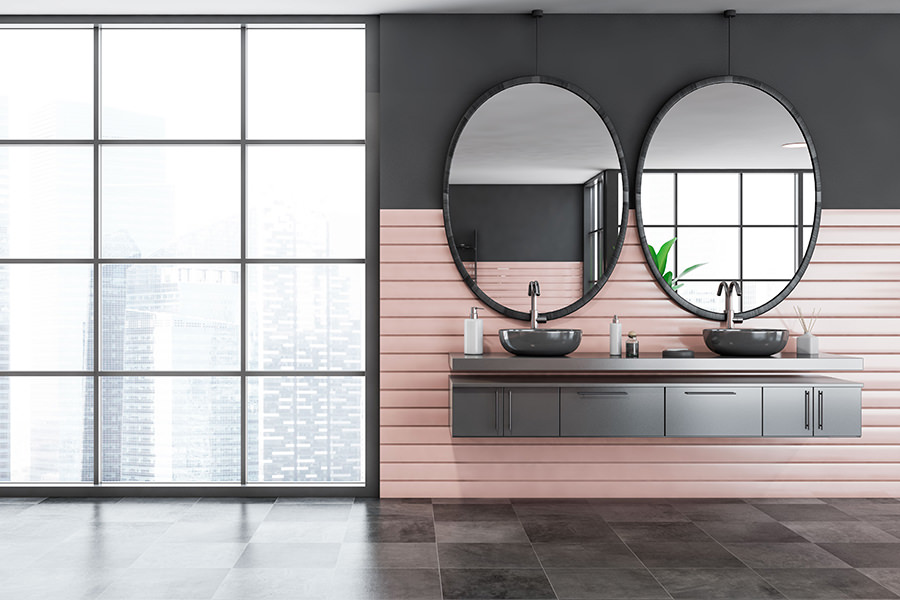 We love the combination of grey and pink on the bathroom wall that gives a unique look and feel of movement. The huge oval mirrors add opulence and bring a sharp contradiction to the rigid pink tiles. Square window frames and floor tiles provide the desired finishing touch.
---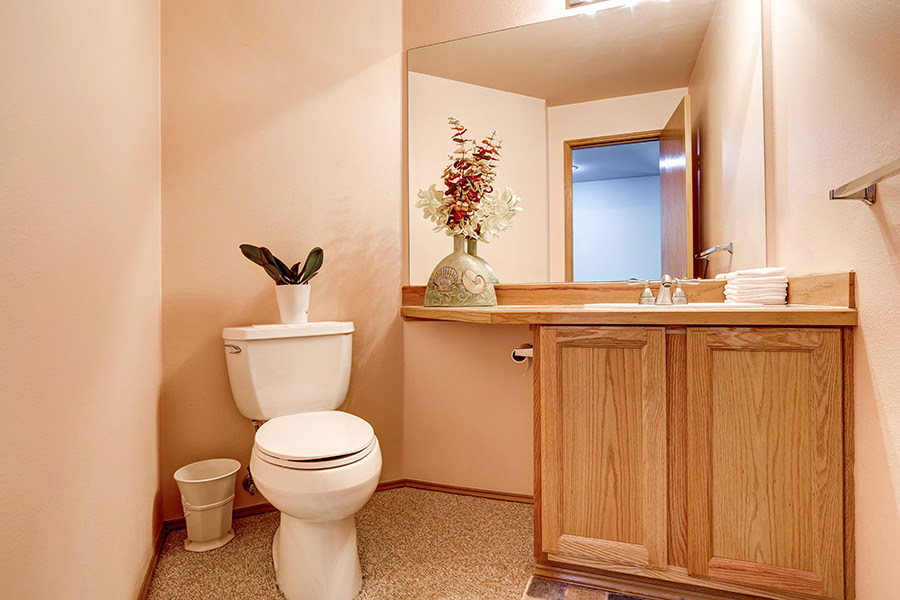 Minimalistic and classic, this space is witness to the cheerfulness that the pink hue can create. Use of wood on the vanity and countertop basin add an organic touch although pink is synonymous with the vintage look. Pure white WC completes the ensemble.
---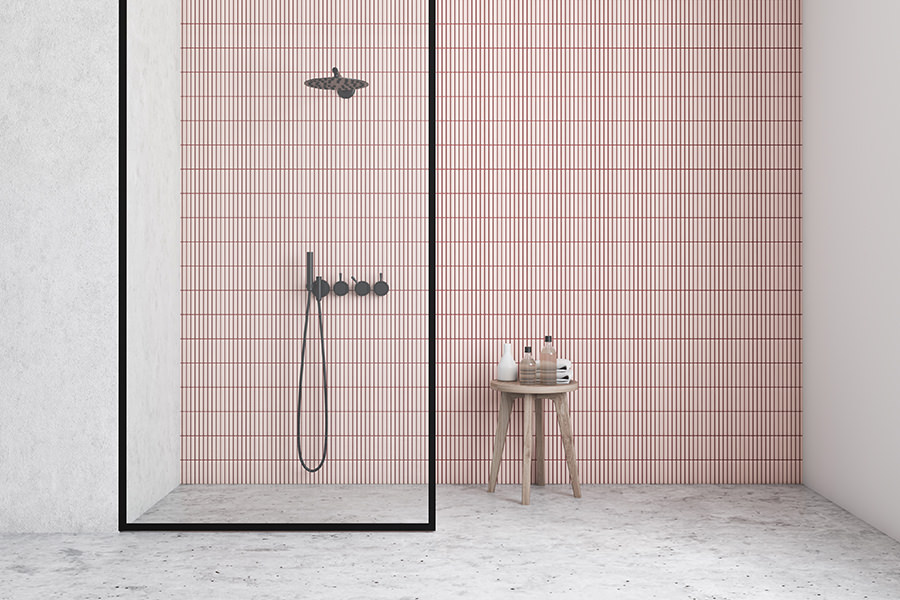 Going completely pink all at once is not something we usually recommend. This showering area showcases how that can be done with smart use of textured tiles. The plain floor and bright lighting creates a space that is bold and beautiful.
---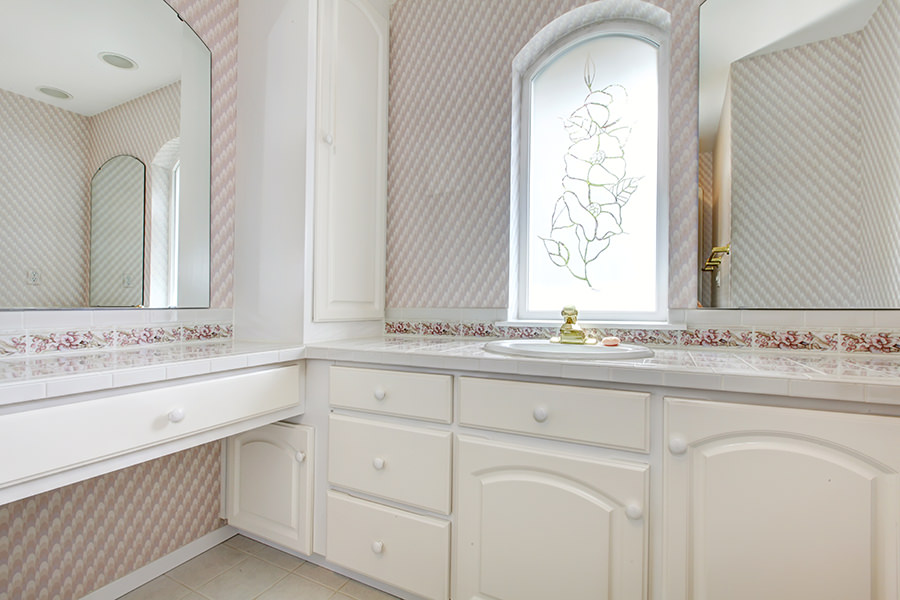 This bathroom space creates a charming "peaches and cream" effect. Loved by men and women alike, this bathroom sees the use of pink textured tiles on the wall with the embroidered finish. Matched ably with neutral white ceramic ware and vanity unit, this is the stuff of dreams!
---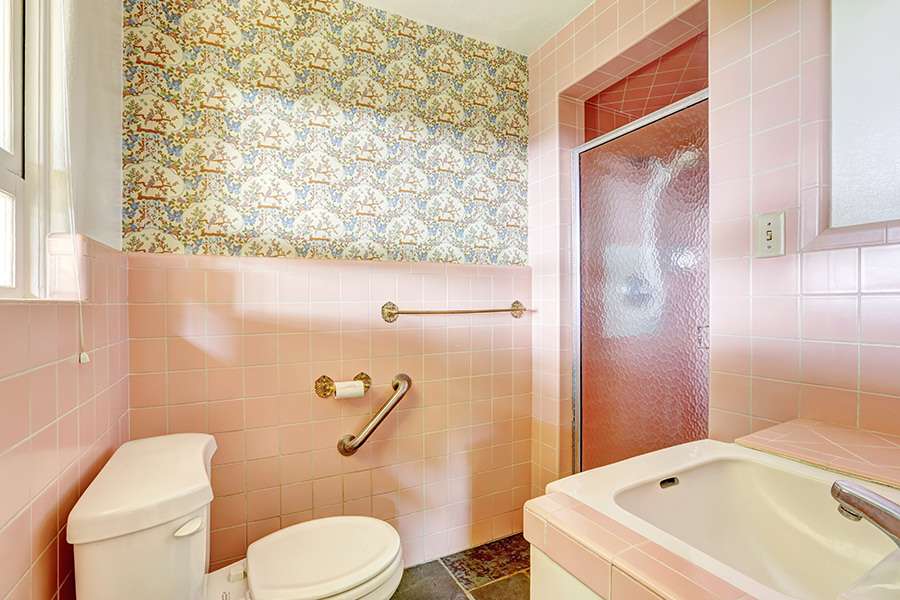 This bathroom is one happy space indeed! The candy floss pink has been generously used on the wall and the bathtub tiles for a seamless presentation. The monotony of pink tiles is broken by the multicoloured floral tiles on a part of the wall. Spectacular and special!
---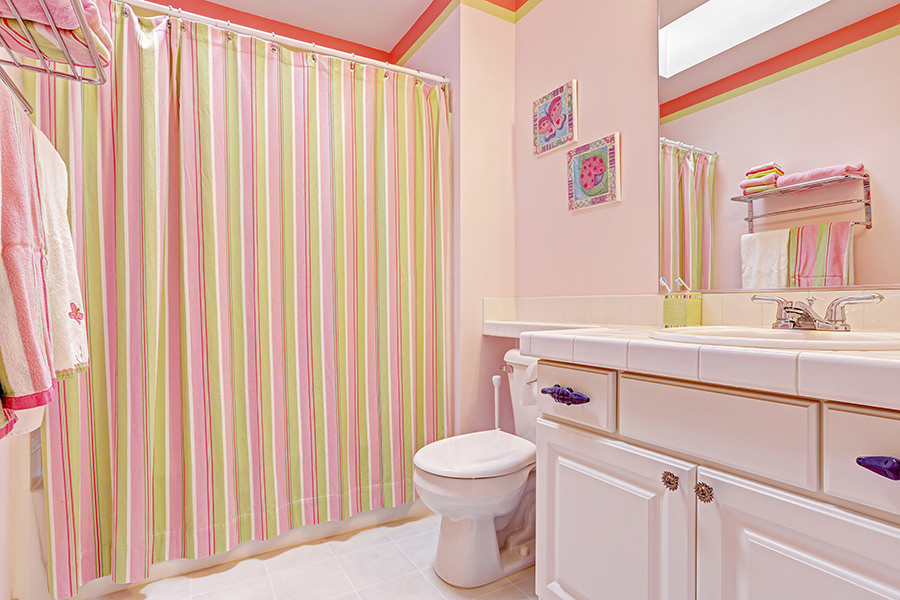 This bathroom interior displays the fabulous use of tones of dark and light pink. Soft and fluffy pink is the theme with pink curtains, towels and pictures that are made for pampered living. The entire family, especially children are sure to fall in love with this pink splendour.
---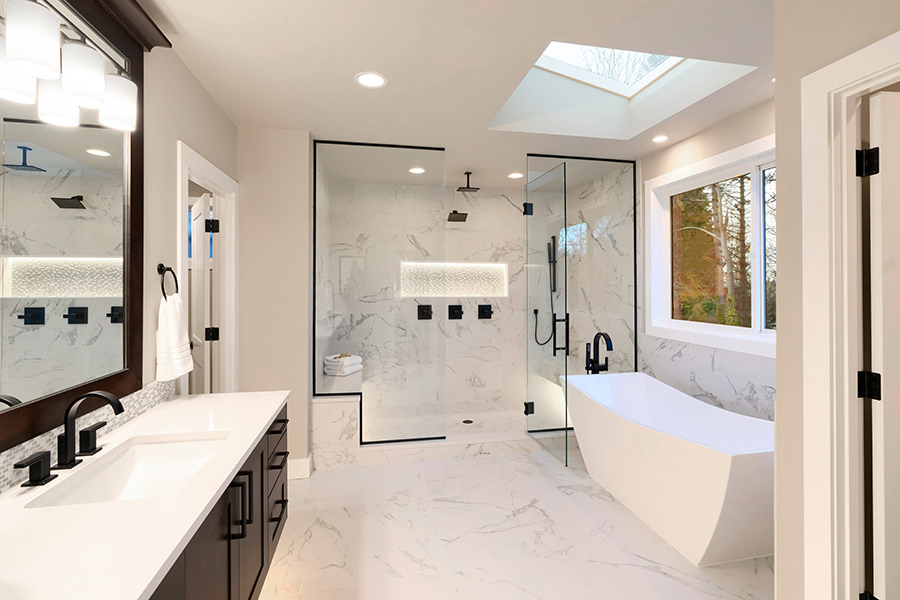 This is a gorgeous contemporary bathroom in pale pink with specs of bold black thrown in. The central inset basin with vanity, modern light fixtures and edgy tub create a contemporary look. Lights and mirrors enhance the feel, juxtaposed to perfection.
---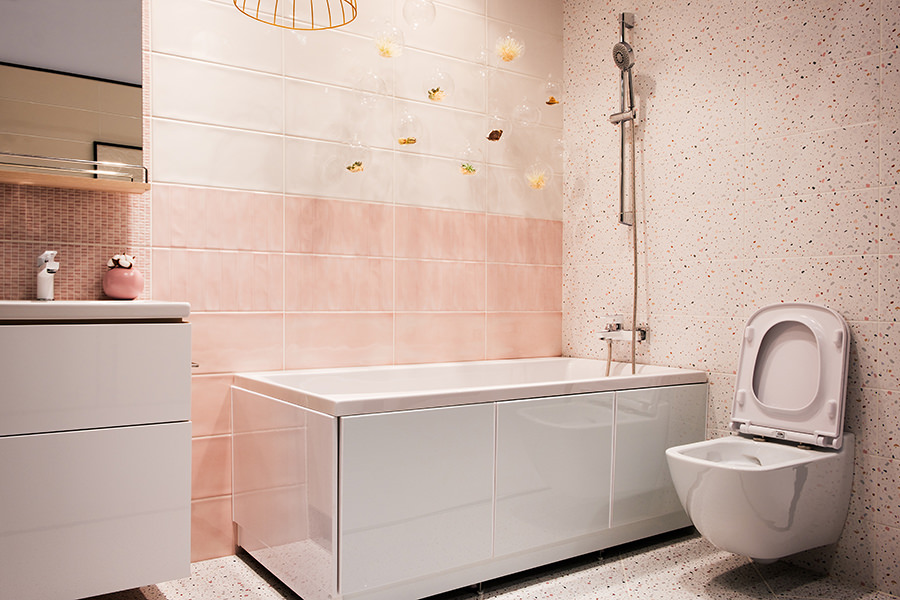 The bathroom displays different shades and textures of pink. The pink hue with excellent results, dark pink on the lower wall tiles bring attention to the huge white tub. The arrangement of elements is easy on the eye, this bathroom sure gets our vote of confidence.
---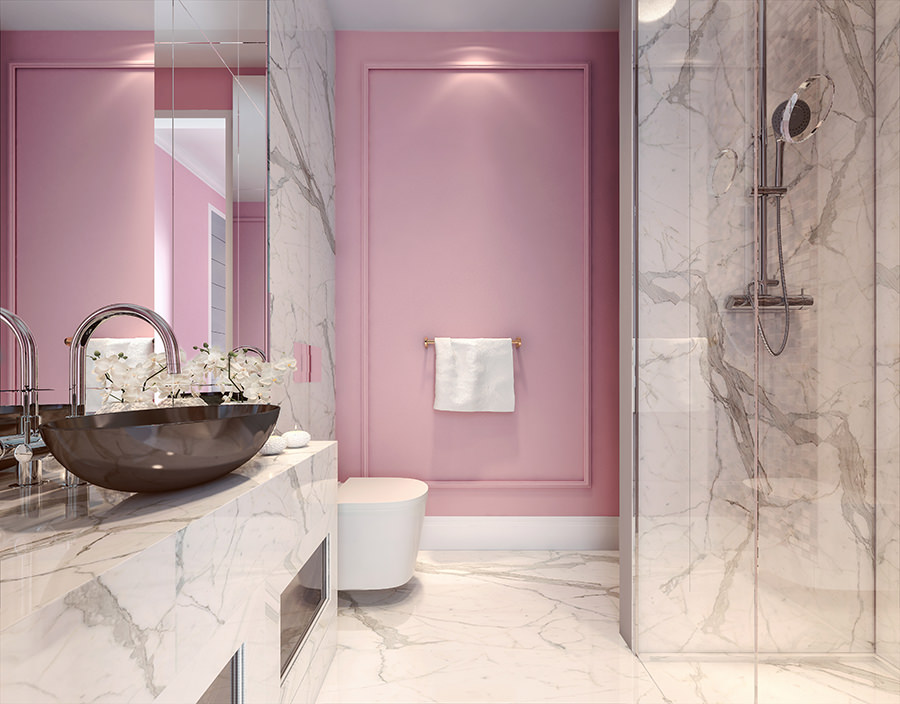 You can be more generous with the use of bold pink when you use it with neutral tones like white. The bold countertop basin lights and textured marble walls in white present a pretty picture. The almost violet pink door is a great accomplice to the brightly lit space.
---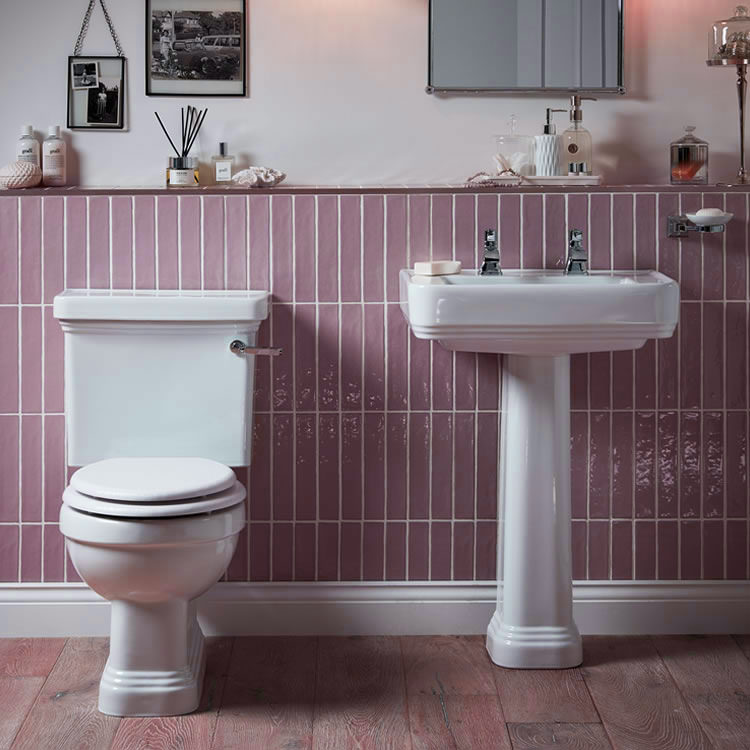 The busy tiled wall is lively and eccentric, highlighting the sanitary ware in white. The space has an unearthly, old-world charm with vintage and subdued lighting creating drama and a cozy ambience.
---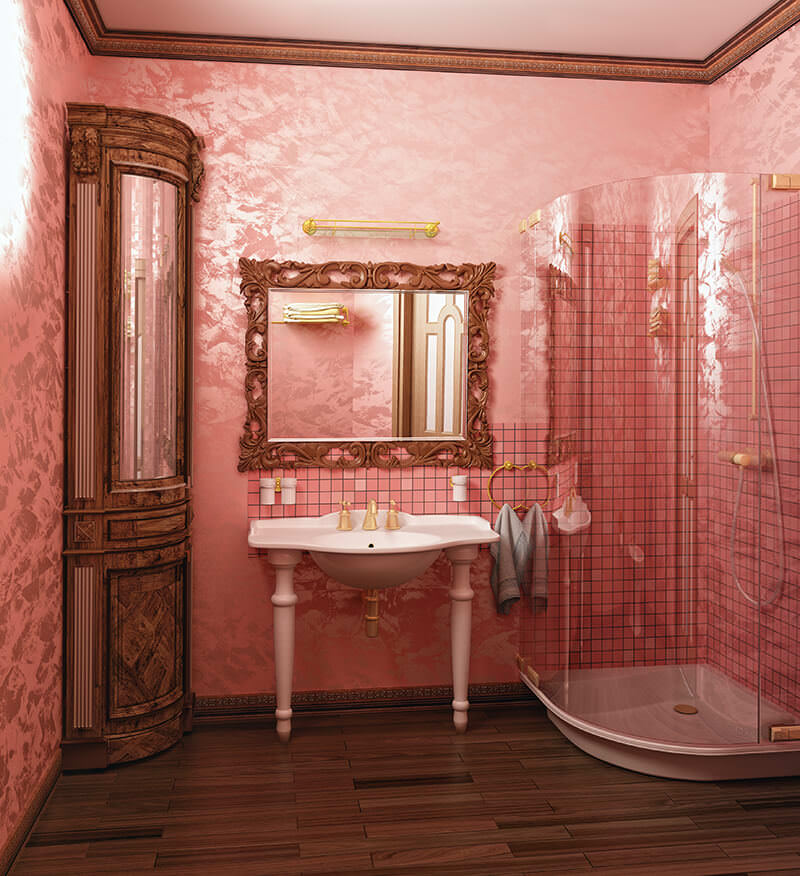 This bathroom interior showcases the brilliant use of warm tones of pink. The busy wallpaper is lively, bold and eclectic, highlighting the mirror frame and light pink console basin. Vintage in approach, it is well complemented by vintage brassware and rugged wooden elements.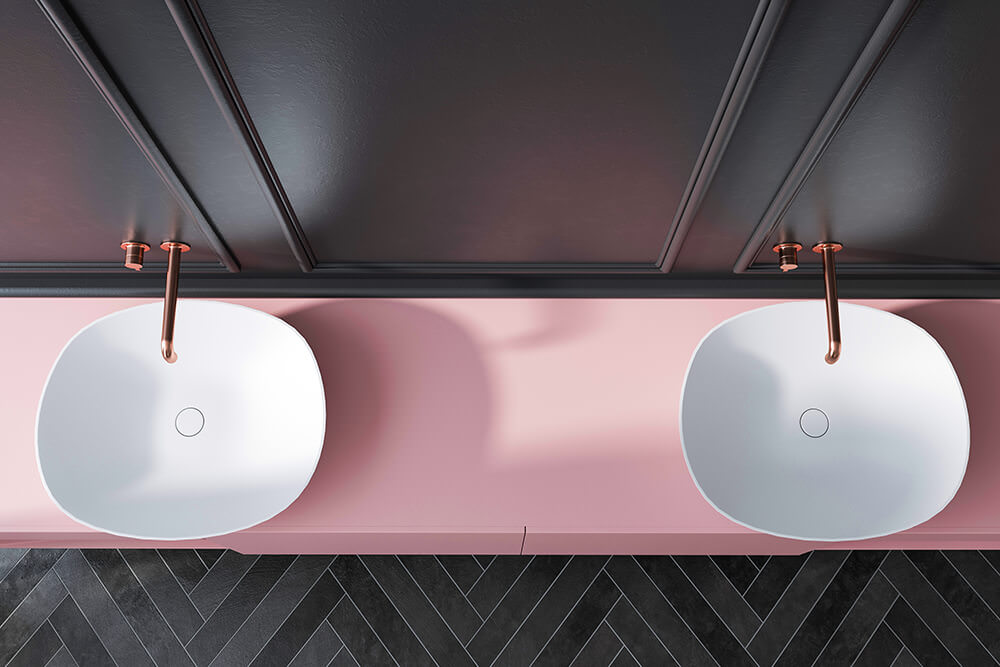 This is a neat and eye-catching space. The straight lines and pink countertop with black on the backdrop make for a distinctive looking space. Cheerful and cozy, this space is just what the lady of the house would love to have!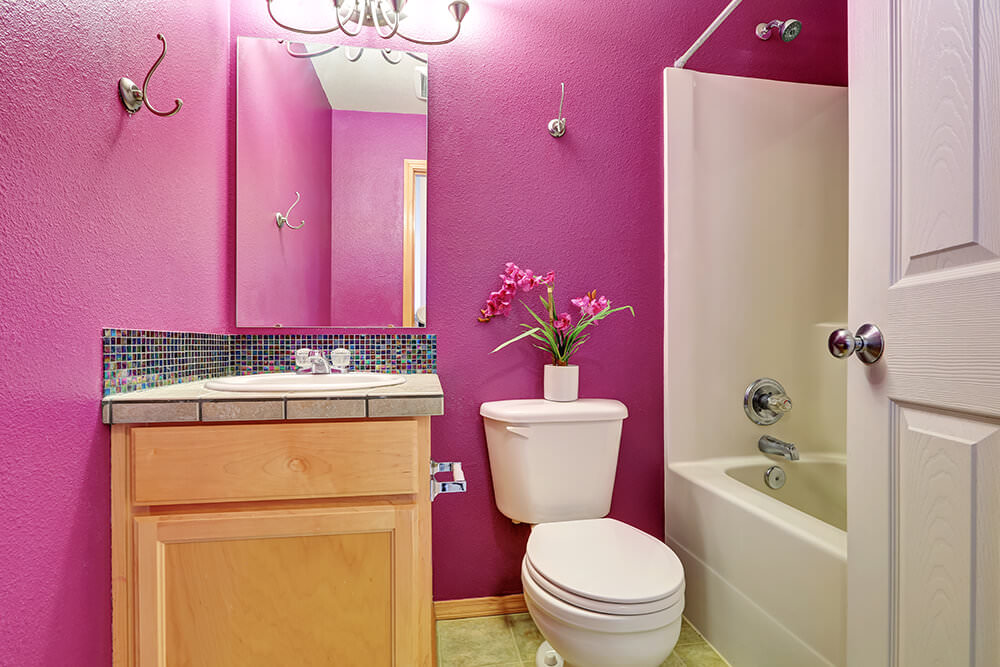 The classic look of this space takes you back in time when pink on the walls was the norm. Interestingly, the shade has been used in a glossy, dark tone on the wall against a pure white vintage tub. Simple and exotic vanity and basin create a fabulous focal point.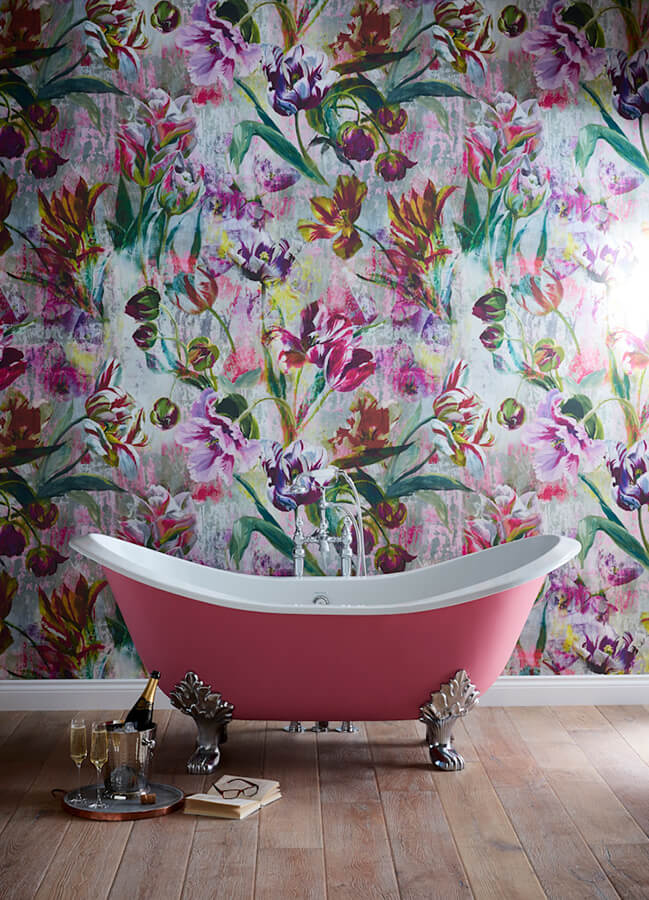 When you want flowers on your wall, get them in Pink. This pink and white wallpaper has a busy look with floral design presenting an eye-catching feature. The classic look of this space takes you back in time used with a pure white vintage tub.