50 Shades Of Grey Bathroom Ideas
Published on: 03/07/2019
Last Updated: 27/08/2019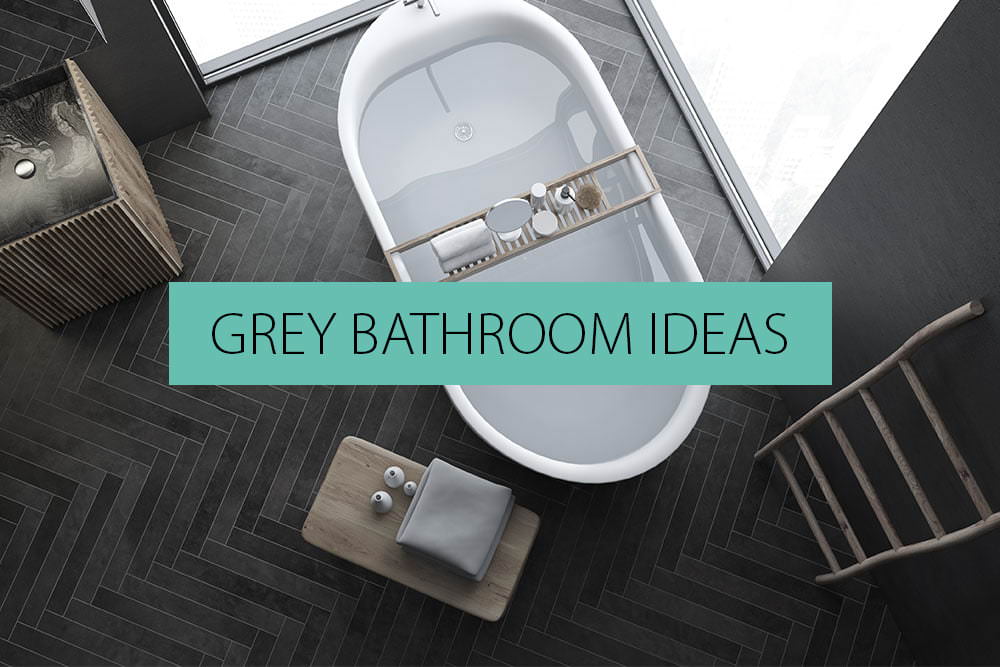 Forget what the world-famous trilogy of saucy novels has to say, there are actually 256 shades of grey, each of which can be used to transform your dull bathroom. Grey bathrooms are currently on trend and it's easy to understand why. Small bathrooms, big wet rooms, loft conversions and downstairs washrooms can all enjoy a contemporary makeover with choice use of grey.
It can be as easy as giving your walls a lick of grey bathroom paint, or contrasting white fittings with matte grey bathroom tiles. But, for the many dos of grey bathroom design, there are also some don'ts that you definitely want to avoid. So learn which colours work with grey bathrooms, steer clear of clashing patterns, and take inspiration from these 50 grey bathroom ideas.
---
Great greys and killer colour combos
---
1. Hello yellow
A little yellow can go a long way to stop your grey bathroom from looking washed out. Play it safe with a pastel yellow, especially for a small bathroom to make it look larger.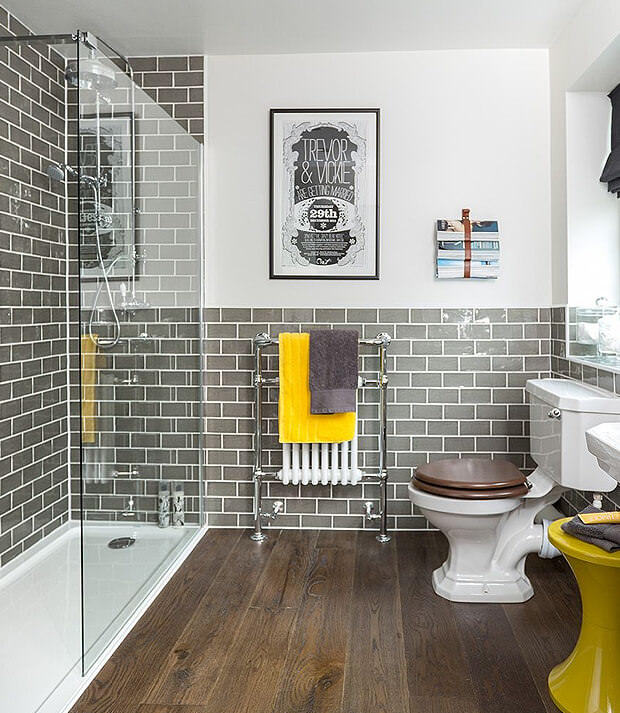 https://www.pinterest.co.uk/pin/573364596292530210/
---
2. Greens are great
Grey bathrooms work beautifully with a little green. Score major style points by combining your trendy grey bathroom with green terrazzo tiles to add texture.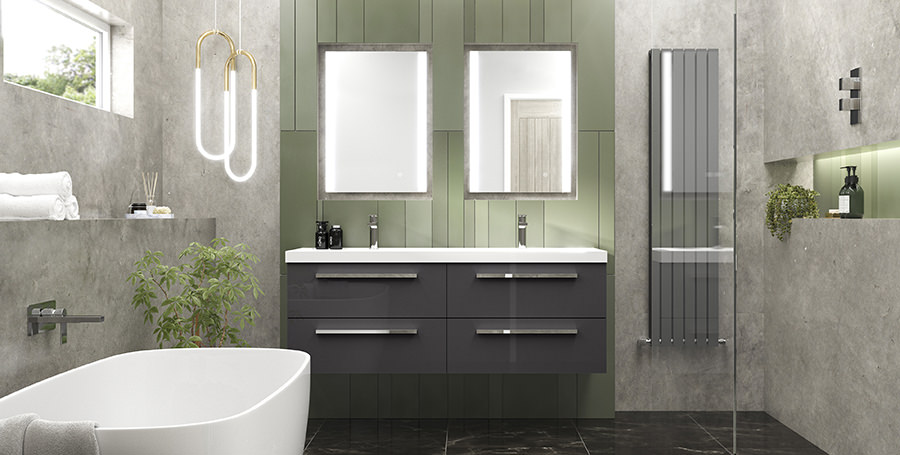 ---
3. Red or dead
Bring too much red into your grey bathroom and you can very easily cross the fine line from looking modern and stylish to dark and unwelcoming. Use white to add light.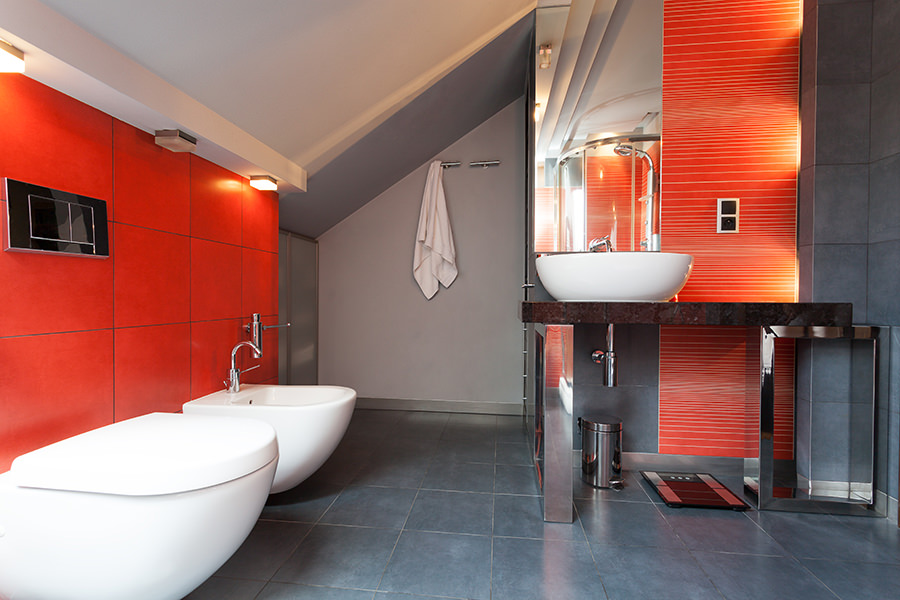 ---
4. Brilliant blues
Nearly every hue of blue will help to add life, colour and contemporary style to your grey bathroom. Try a deep blue with dark greys and brushed gold for serious sophistication.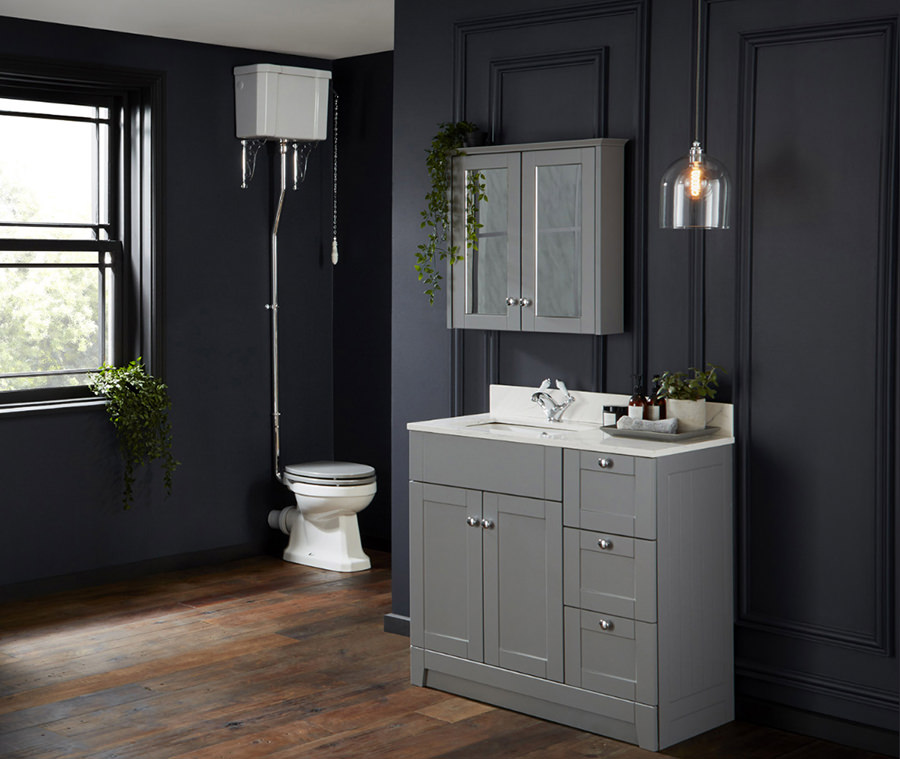 ---
5. Pretty in pink
Pink is one of the more difficult colours to incorporate into your grey bathroom. Barbie pink practically never looks good, but careful use of pastel can be perfect.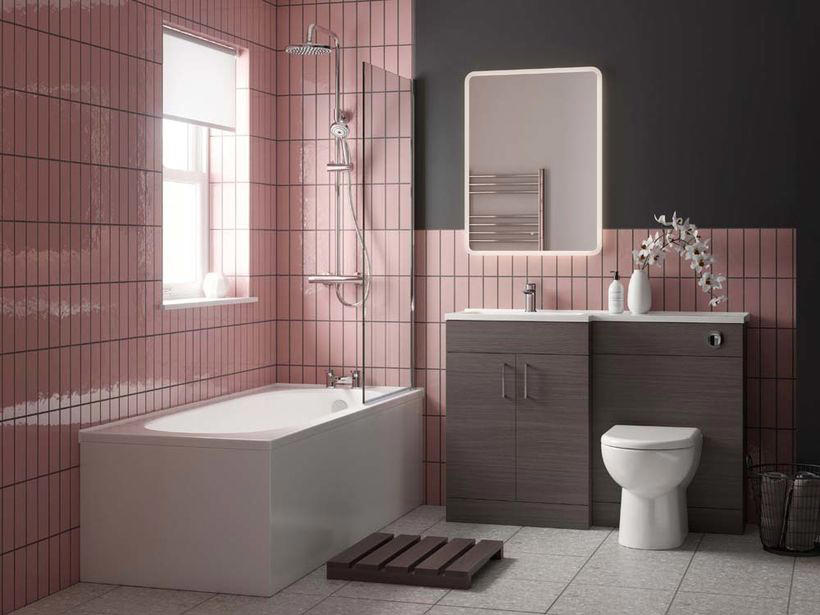 ---
6. Give greige a go
If you're after a minimalist bathroom but you think it might feel too cold, greige is a gorgeous compromise. Beige undertones will inject extra warmth into a grey bathroom to stylish effect.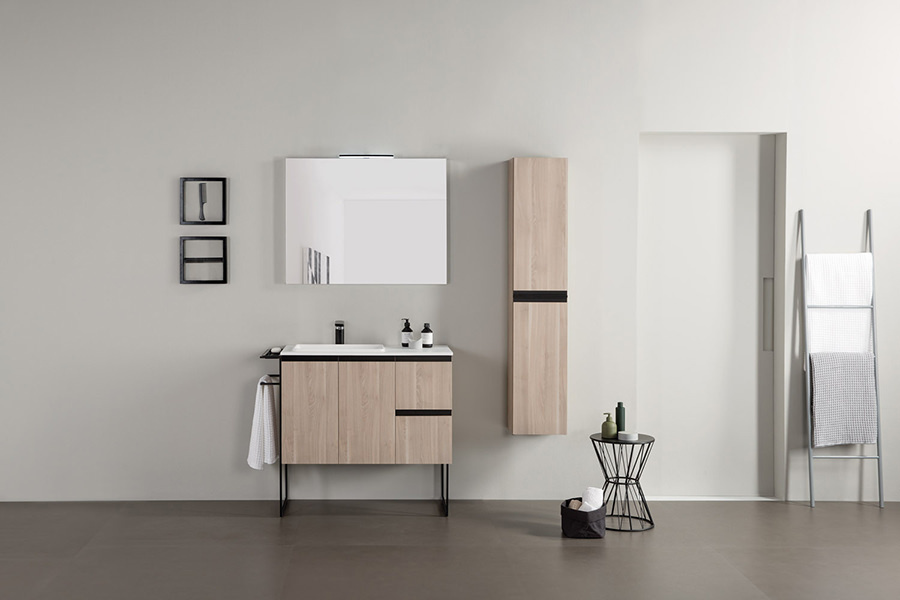 ---
7. Add some fresh orange
Soft use of orange can be a seriously stylish colour combo for a grey bathroom and also helps to compliment copper bathroom fittings. Just don't go too far; it can look like a bad Tango advert.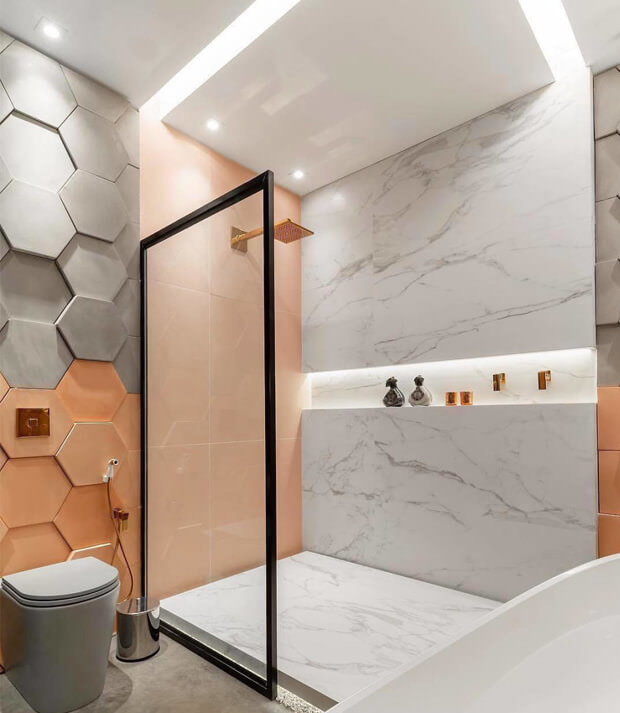 https://www.pinterest.co.uk/pin/526921225149749037/
---
8. Marvellous monotone
Where colour can bring life into a grey bathroom, monotone can bring style and sophistication. Balance dark tones with clean whites and soften the contrast with mid-greys in between.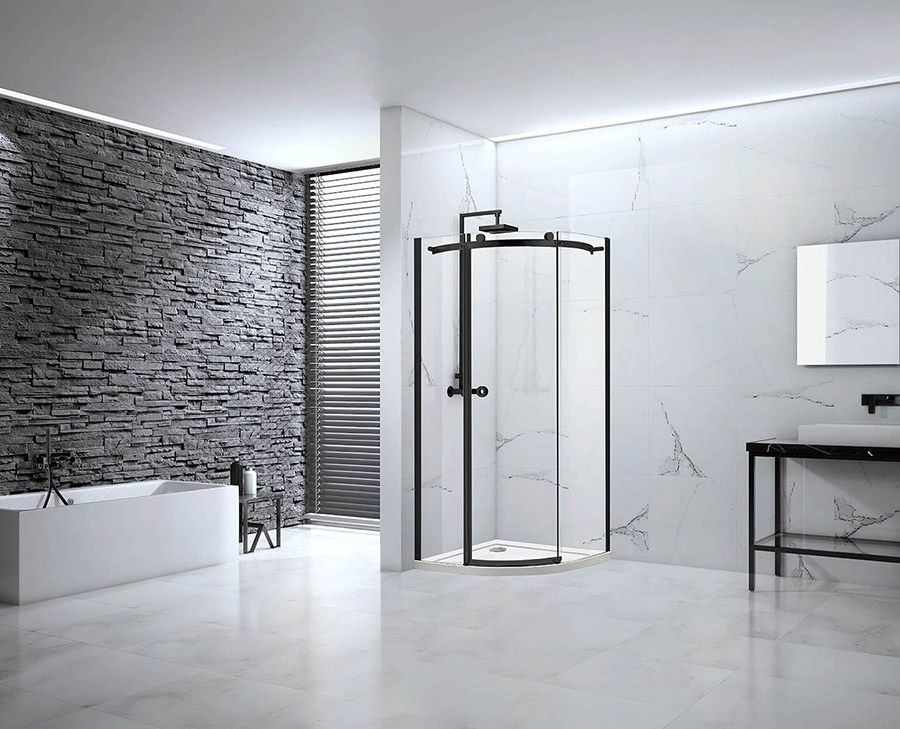 ---
9. Highlight with accessories
One great thing about grey bathrooms is that you can use accessories to inject colours. When you fancy a change, simply change the colour of your towels, instead of more permanent changes like retiling.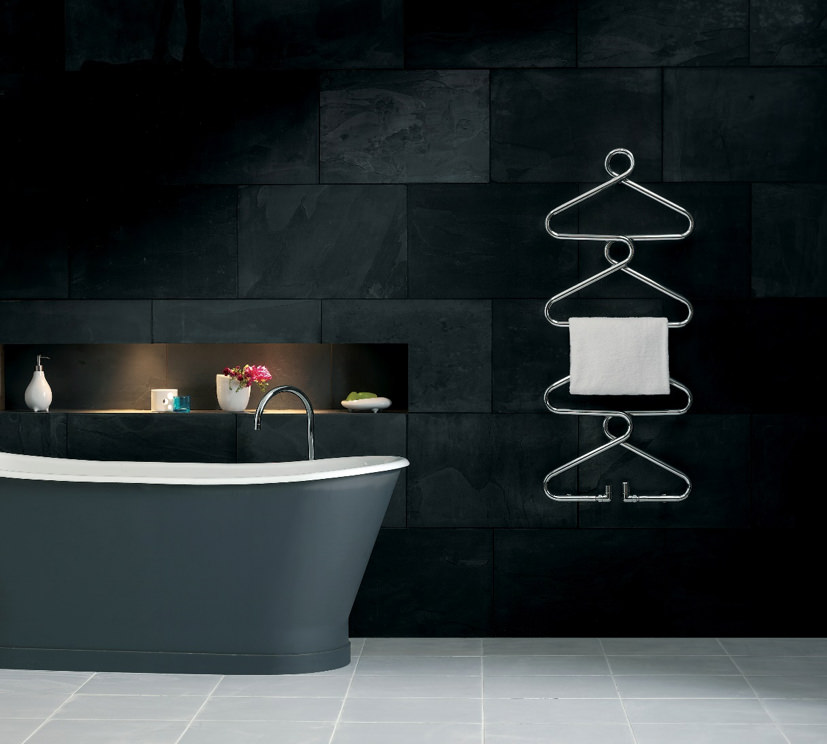 ---
10. Clash colours wisely
Some say you should avoid clashing colours as much as possible. However, the grey tones of your bathroom can help to soften the contrast of opposing colours to seriously stylish effect.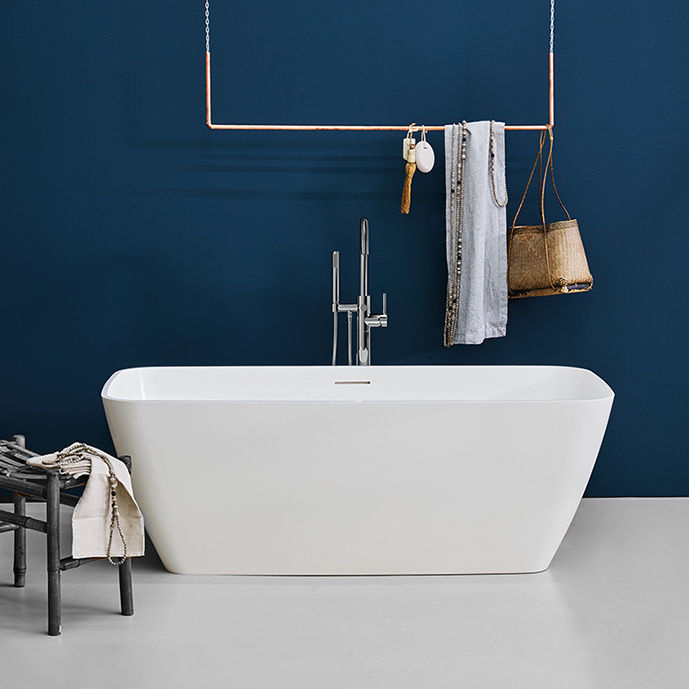 ---
Choose shades for the space you have
---
11. Patterns for small spaces
You can make a small space appear larger if you choose your grey bathroom tiles wisely. Keep your tones light and opt for geometric shapes or diagonal lines on the walls.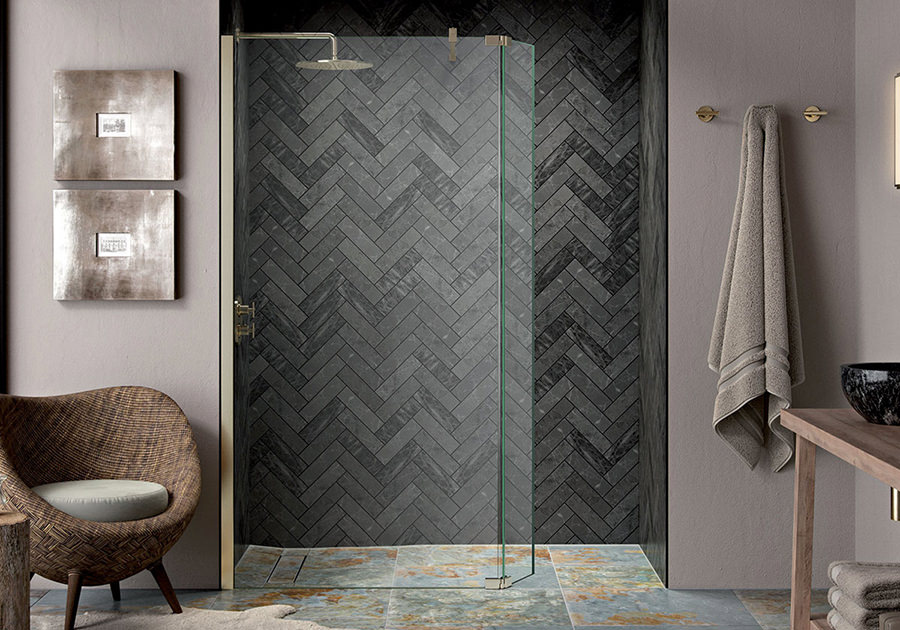 ---
12. Narrow bathrooms need light tones
A stylish way to make a narrow bathroom feel bigger is to contrast dark walls with very light flooring. It'll make the floor space seem bigger and give your bathroom a stylish aesthetic.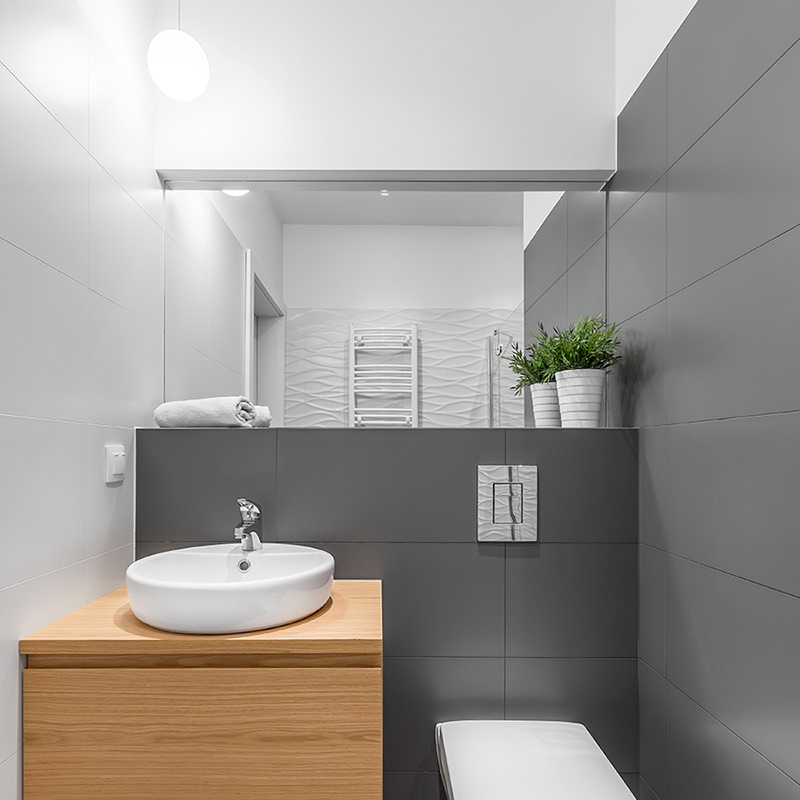 ---
13. Be bold with big bathrooms
Dark greys can dominate a room. They can make small spaces feel claustrophobic. But, big master bathrooms allow you to break the rules. Come over to the dark side and highlight the dark grey with LEDs or silver.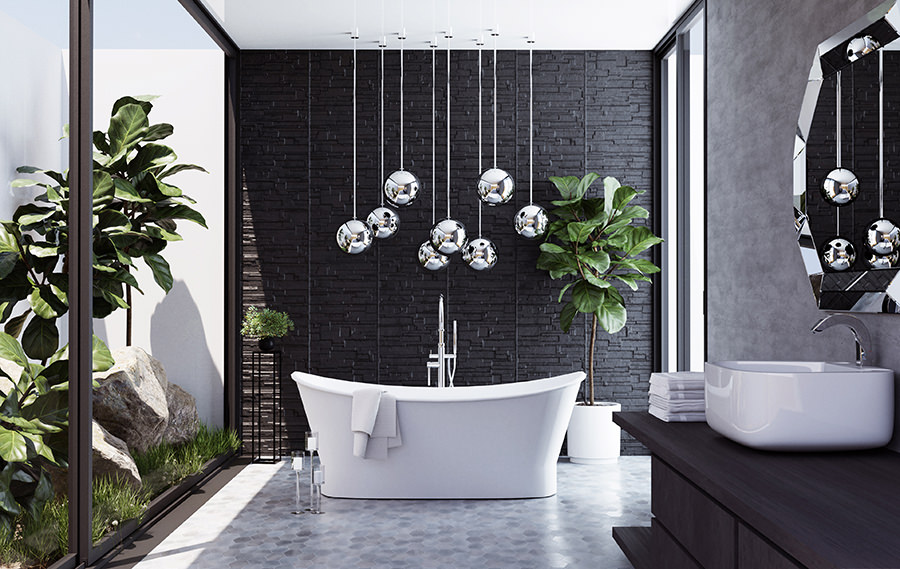 ---
14. Loft conversions add character
Grey boxes are boring. That's why we add character with fittings, furniture and accessories. But a loft conversion's sloping roof adds character on its own.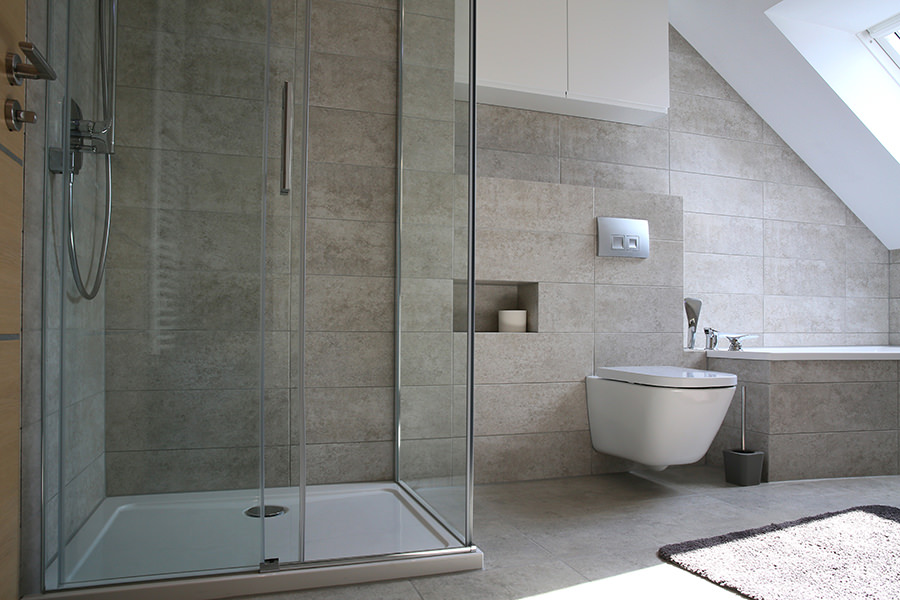 ---
15. Lighten up a bit
If your bathroom has a shortage of natural light, grey tones can be brightened with lighting, mirrors and accessories.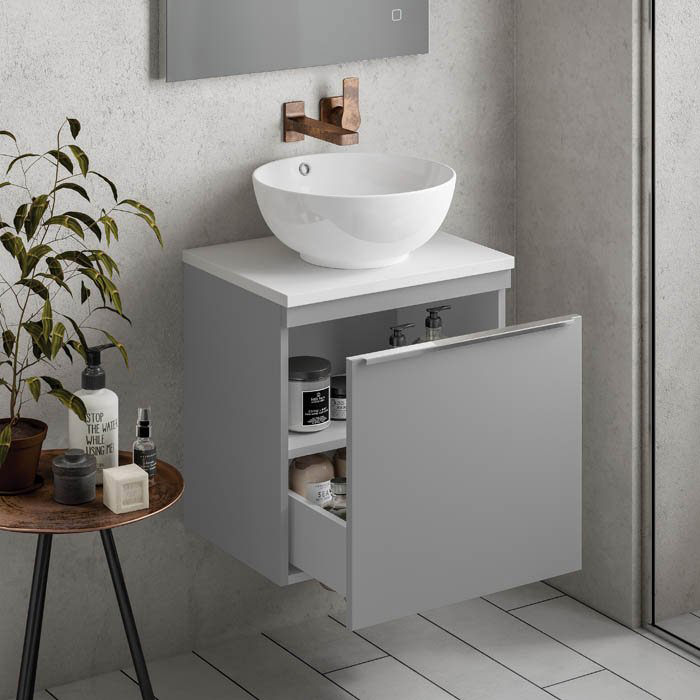 ---
Dos and don'ts when deciding on tiling
---
16. Great grey wet rooms
Grey bathroom tiles are such a timeless classic that you can lay them from floor to ceiling. Wet rooms look great in all grey whether you stay the same or contrast with different size or pattern.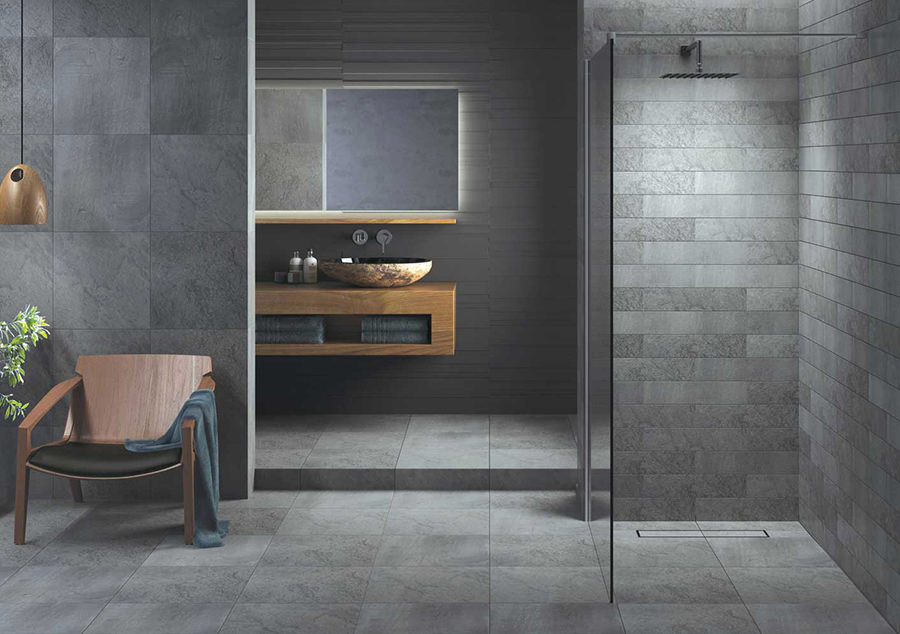 ---
17. Stone tiles are stunning
You can add beautiful textures to your grey bathroom by using sedimented stone tiles on the floors and walls. The unique natural lines add a bit of luxe, especially with larger floor tiles.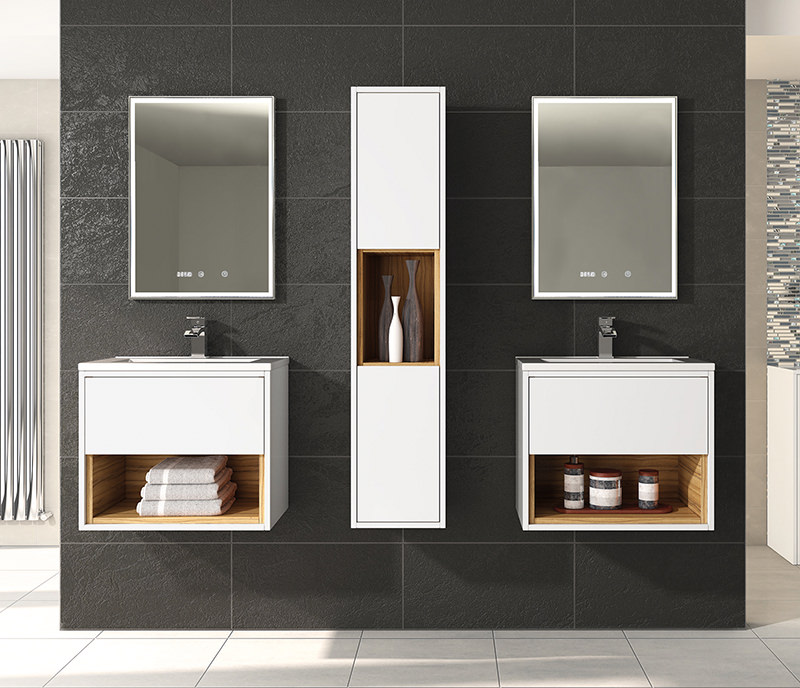 ---
18. Metro tiles are trending
Metro tiles, the ones that look like they've been stolen from the London Underground, are very popular at the moment, probably because they offer a great, modern look at an affordable price. Get some white metro wall tiles along with grey decor and you'll have the coolest bathroom in town.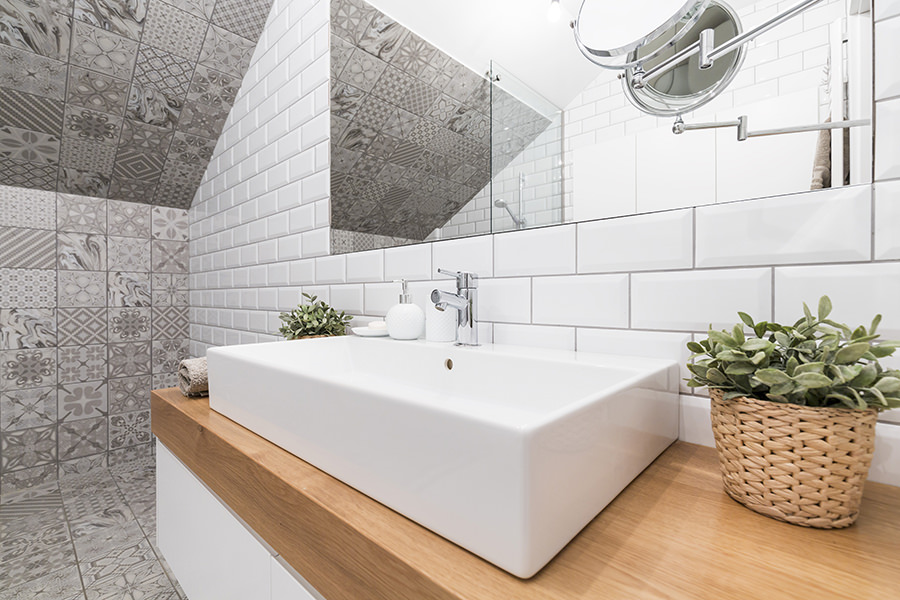 ---
19. The Grey-t Gatsby
Unleash your inner Gatsby and style out your grey bathroom with art deco tiling to transform it into the most sophisticated room in your home. A little gold detail never hurt anyone, either.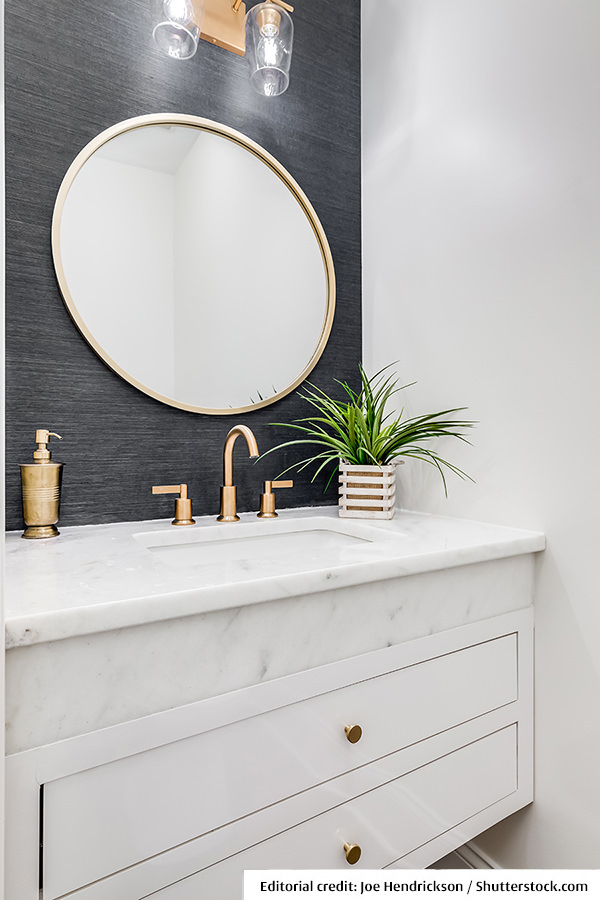 ---
20. Pick your patterns
One of the biggest don'ts when designing a bathroom is clashing patterns. Play it safe with a single style of pattern and contrast it against plain for an effortlessly stylish grey bathroom.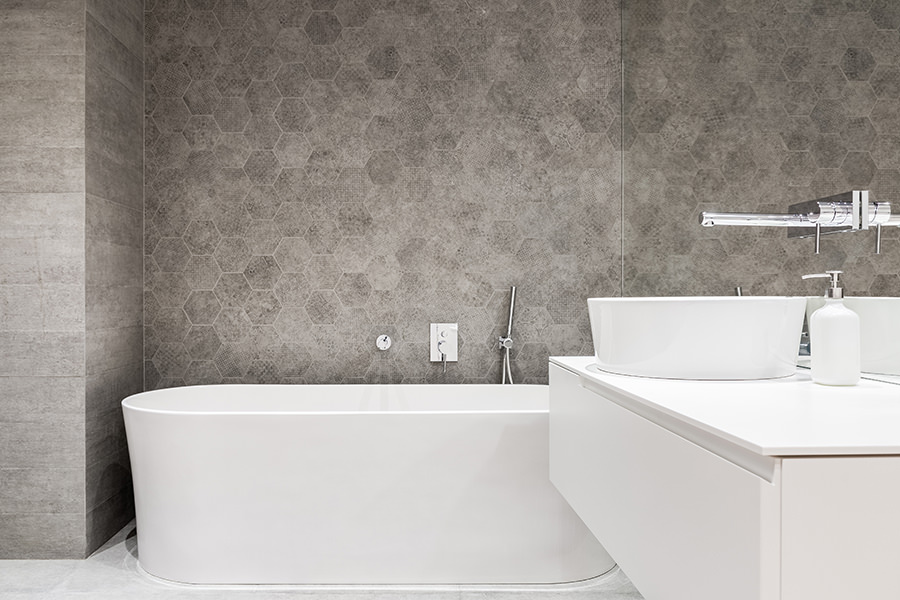 ---
21. Add colour with highlight tiles
A bold way to bring some energy into your grey bathroom is to mix some rogue coloured tiles in with the greys. They draw your attention and can be complemented with coloured accessories.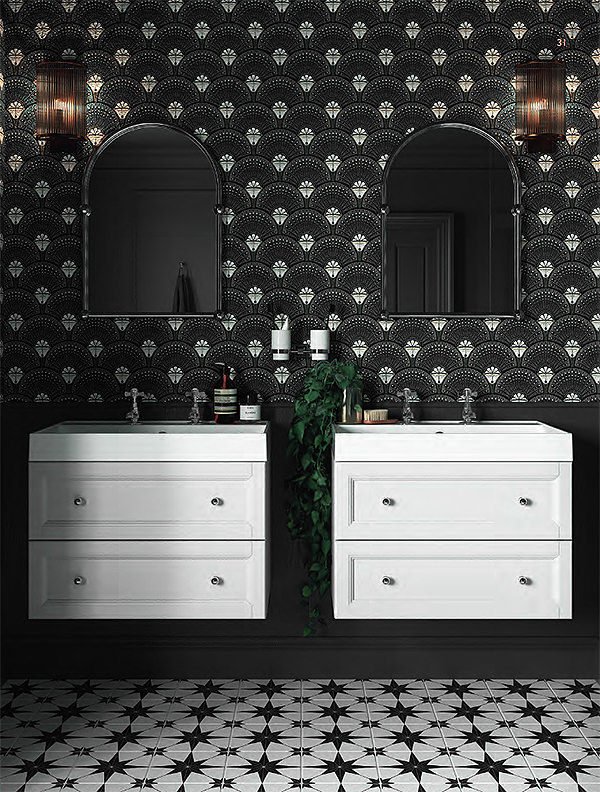 ---
22. Make use of marble
Marble tiles scream sophistication. If you're after grey bathroom ideas that'll take it to the next level, get some marble tiles and make your friends and family jealous.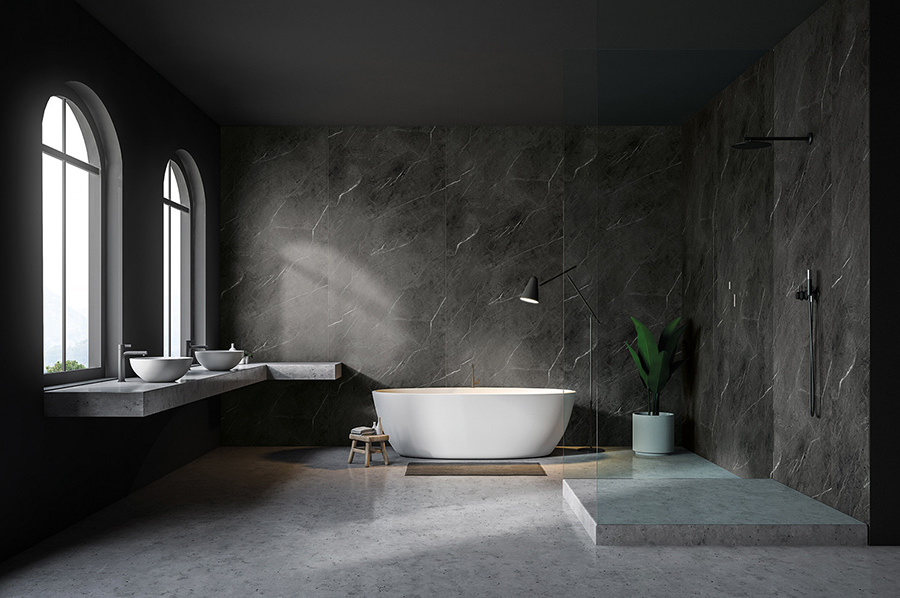 ---
23. Get your grouting right
The most beautiful grey bathroom tiles on the planet can be ruined by bad grouting. It's easy: Grey grouting stops white tiles from looking sterile. Light grouting adds contrast to dark tiles.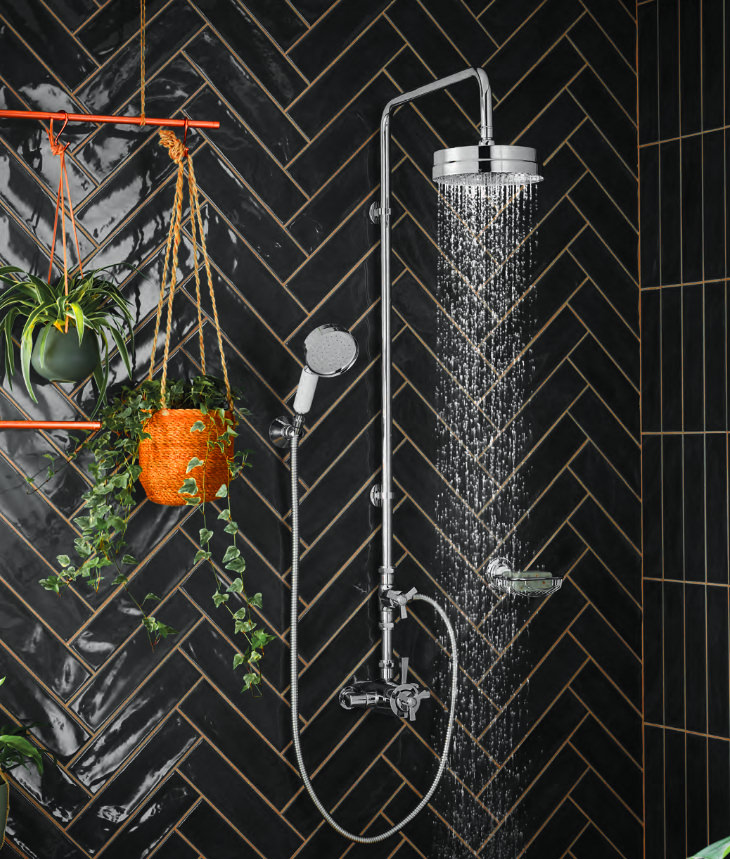 ---
Get extra with stylish use of texture
---
24. Natural wood is warmer
Achieve that Scandi aesthetic with soft greys and natural wood. The wood grain adds texture, contrasting nicely with plain tiles and clean mirrors for an easy, dreamy bathroom design.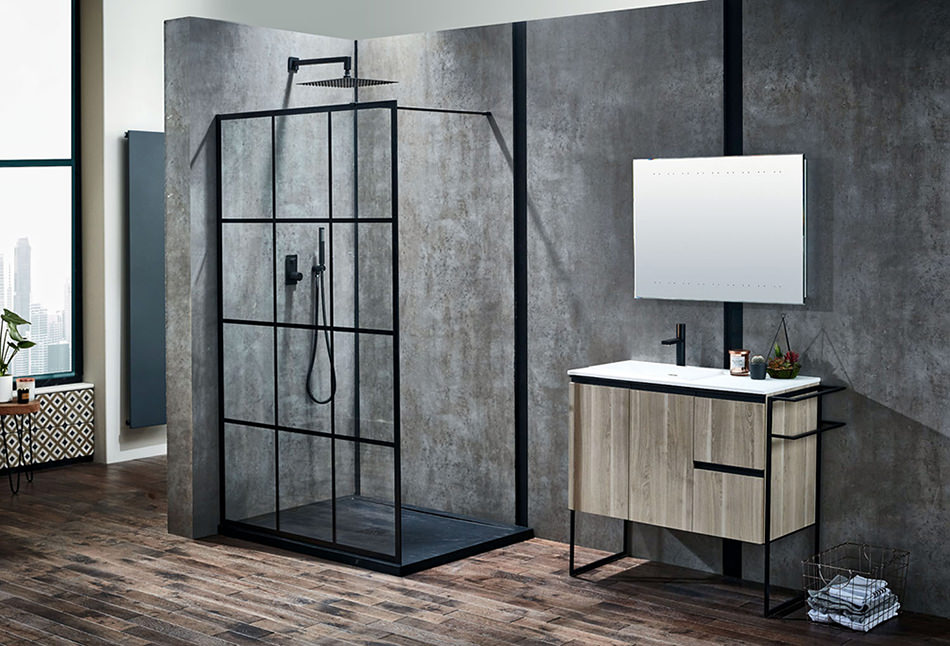 ---
25. Swap tiles for tadelakt
Tadelakt is a naturally waterproof plaster from Morocco that's been used for centuries to seal reservoirs and build palaces. It looks incredible, adds texture, and is perfect for wet rooms.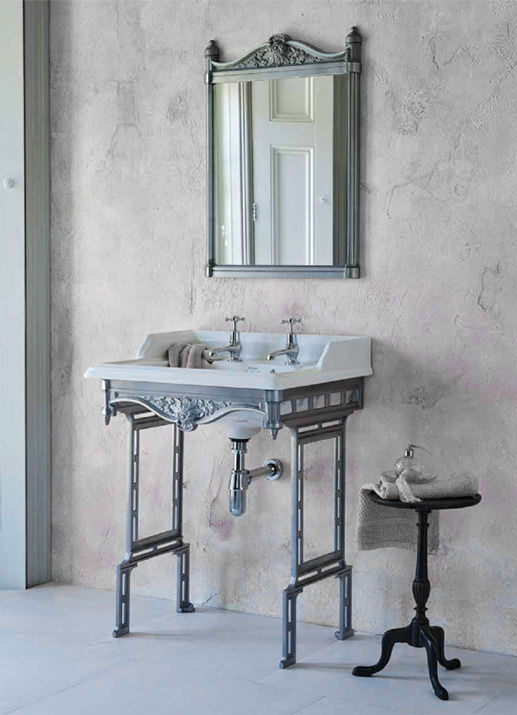 ---
26. Glass goes with grey
Look for modern bathroom design ideas and you'll see that grey and glass work perfectly together. Go for a floor-to-ceiling glass screen, it'll look great and helps to reflect light throughout the room.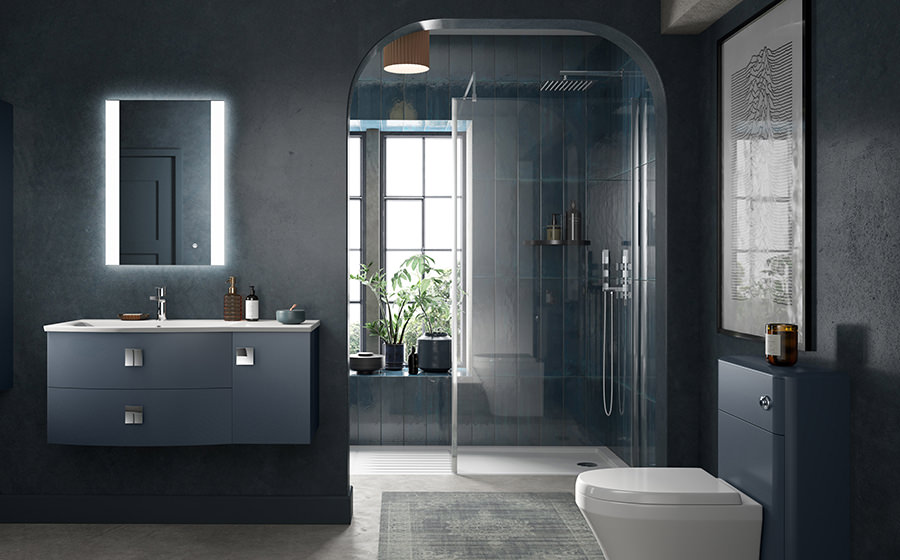 ---
27. Wallpaper and murals
There's a whole world of wallpapers out there for you to bring into your bathroom. Plain, patterned, faux-plaster – the choice is yours. Try grey half-wall panelling and patterned paper.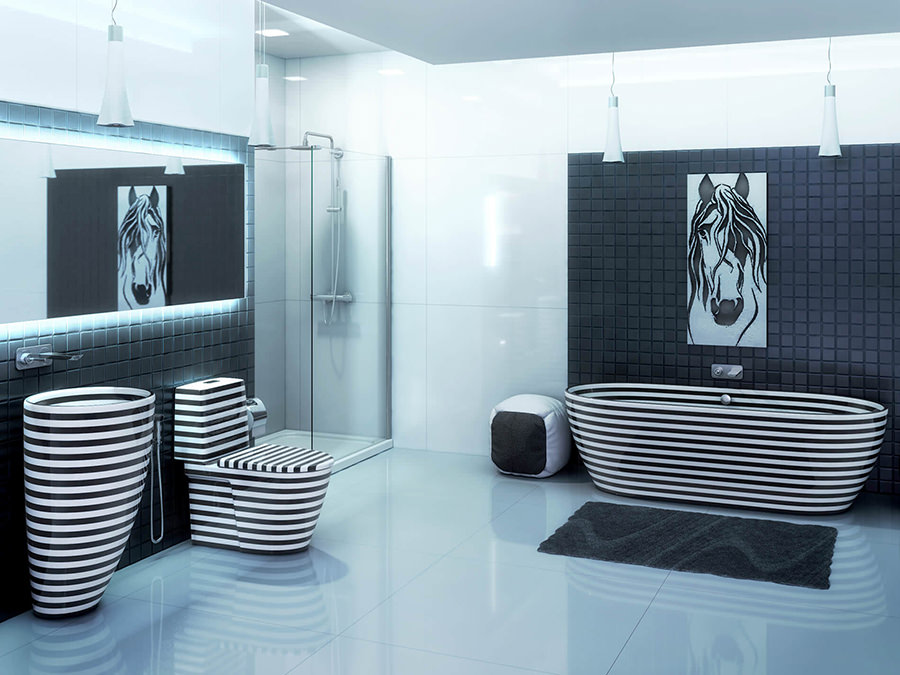 ---
28. The concrete curveball
It's industrial, it's textured, and it's making its way into peoples' homes; concrete can add some serious character to a grey bathroom. Use it for floors, walls, bathtubs, sinks – it's up to you.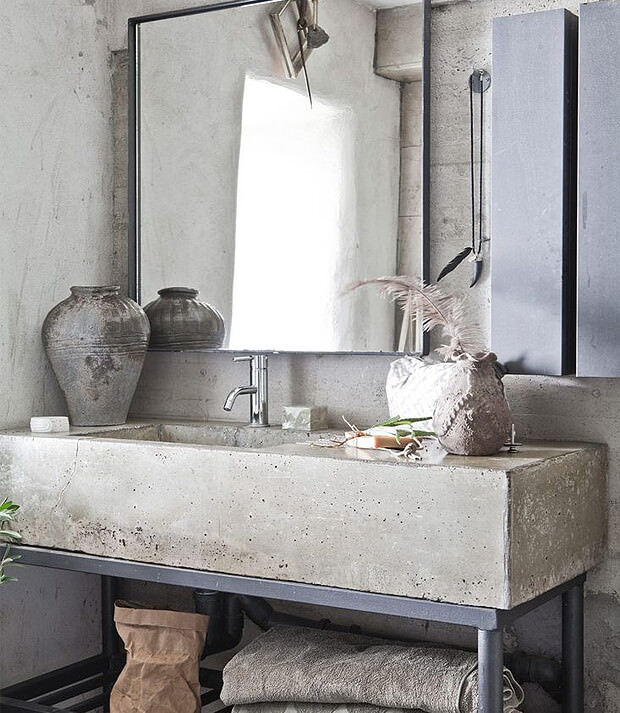 https://www.pinterest.co.uk/pin/530580399848165691/
---
29. Play around with paint
Play it safe with a single shade of grey bathroom paint. Go tonal with your half-wall panels for an easy contrast with patterned or coloured wallpaper. Or be bold and paint a bathroom mural.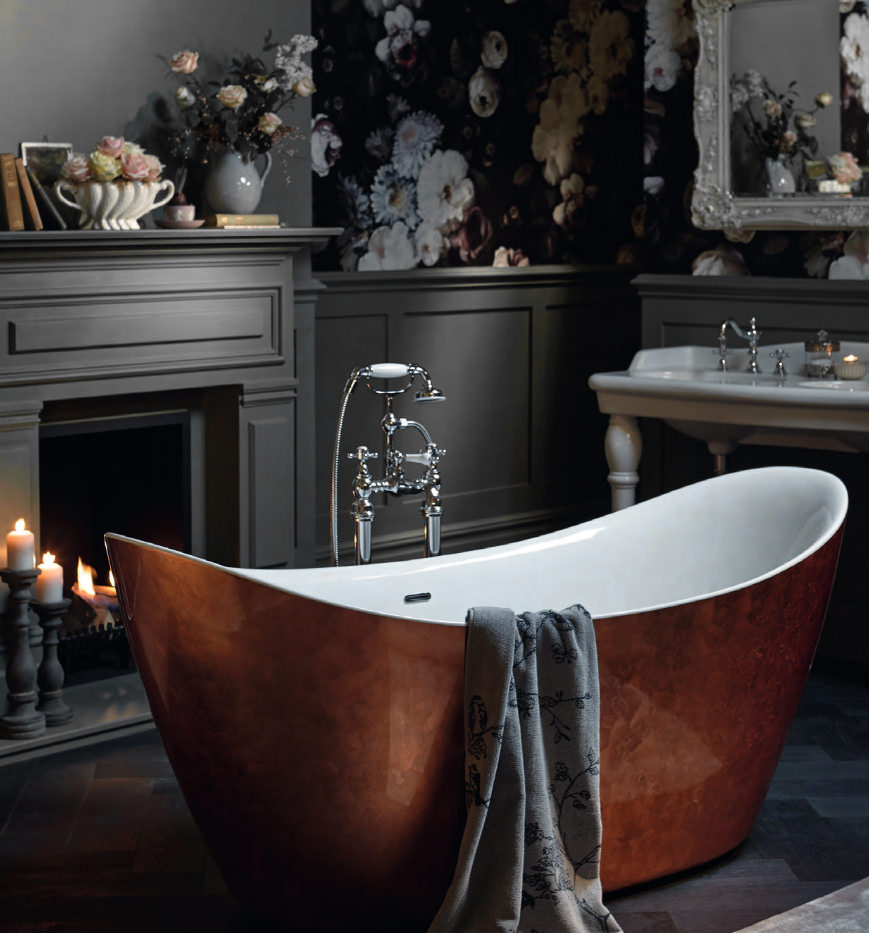 ---
30.Luxurious leather
Look for ways to incorporate leather into your bathroom to add a bit of machismo to your morning ablutions. It could be simple accessories, a vanity unit or even a leather-lined bath.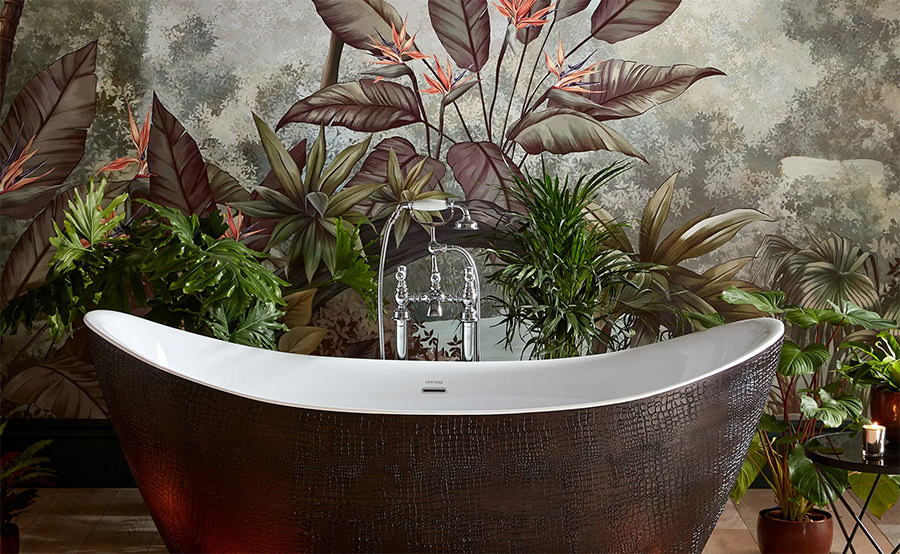 ---
31. Matte's never flat
Grey works wonderfully with matte textures. Whether you're going all tonal or adding touches of pastel colours, as long as the lighting's good matte is a marvellous choice.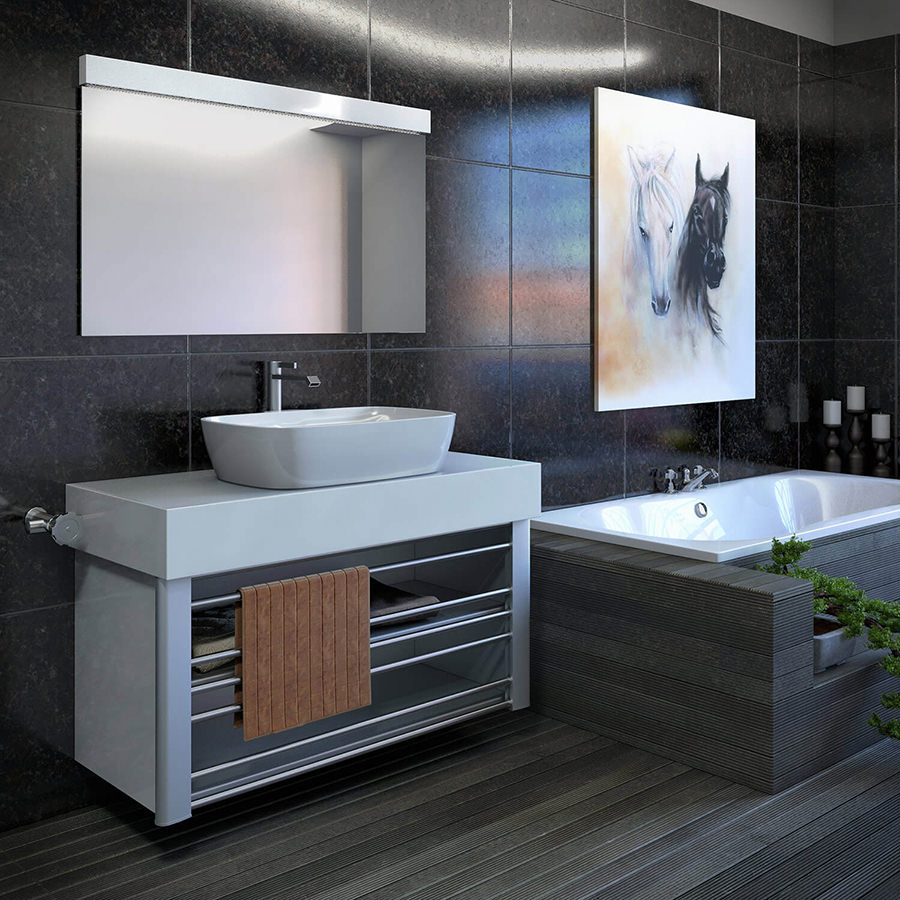 ---
32. Make use of metal
Exposed piping, freestanding baths and old-fashioned showers are all excellent ways to add character to a grey bathroom. Just stick to one metal; don't mix and match.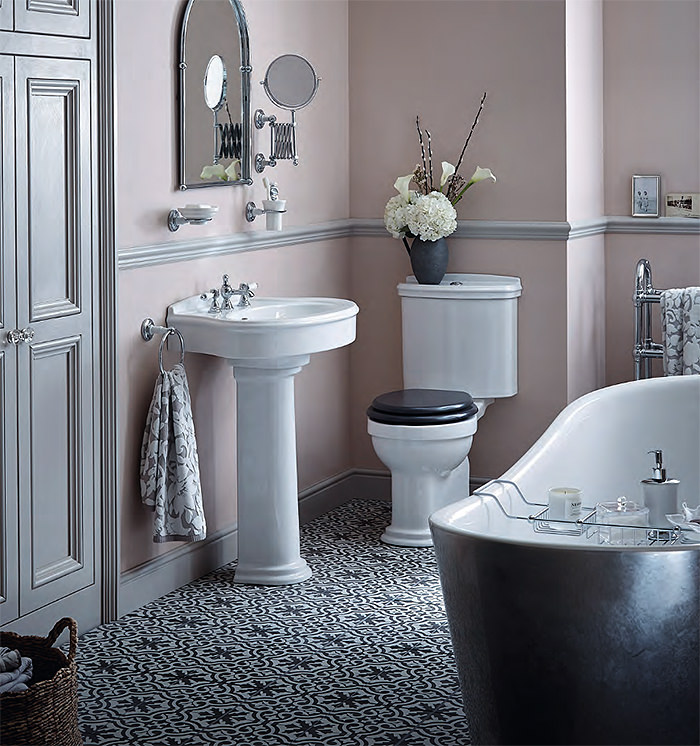 ---
Fittings, furniture and final touches
---
33. Towel rails and radiators
You can use towel rails and radiators to provide either contrast or relief to your bathroom. If you think it's too grey, add a white radiator and incorporate pastel coloured towels.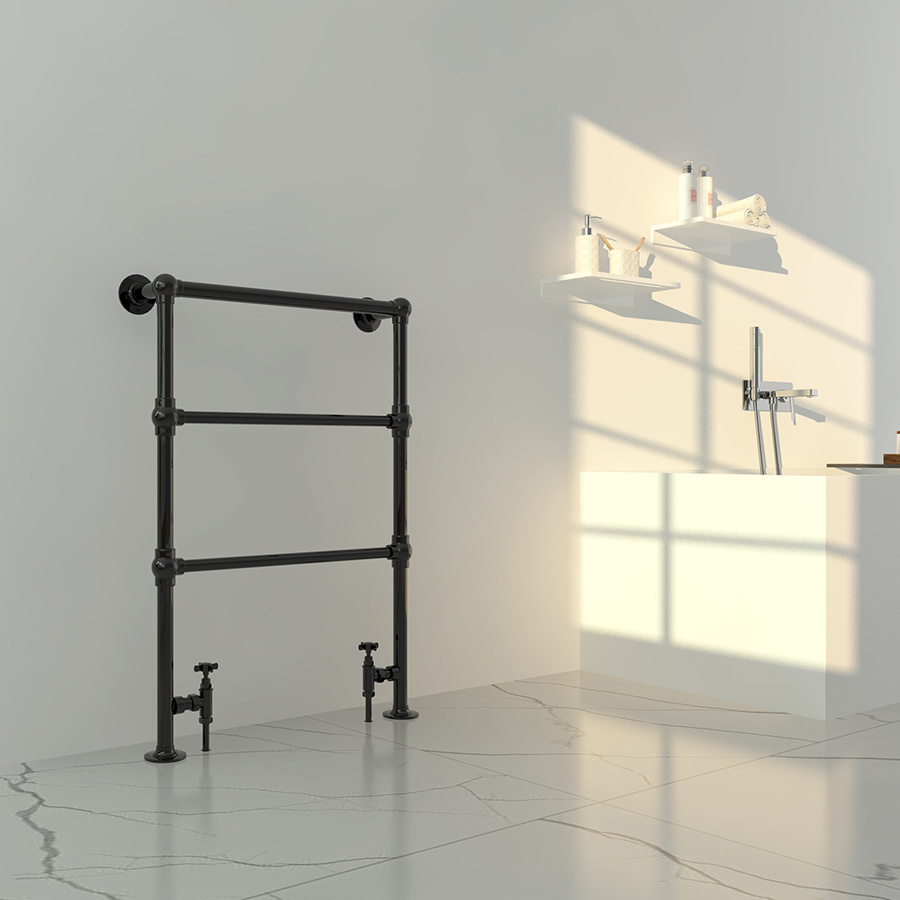 ---
34. Paint your bathtub
Concrete bathtubs are seriously boutique, but they cost an arm and a leg. You can blend your bathtub in with the rest of your grey bathroom by simply giving its body a lick of paint.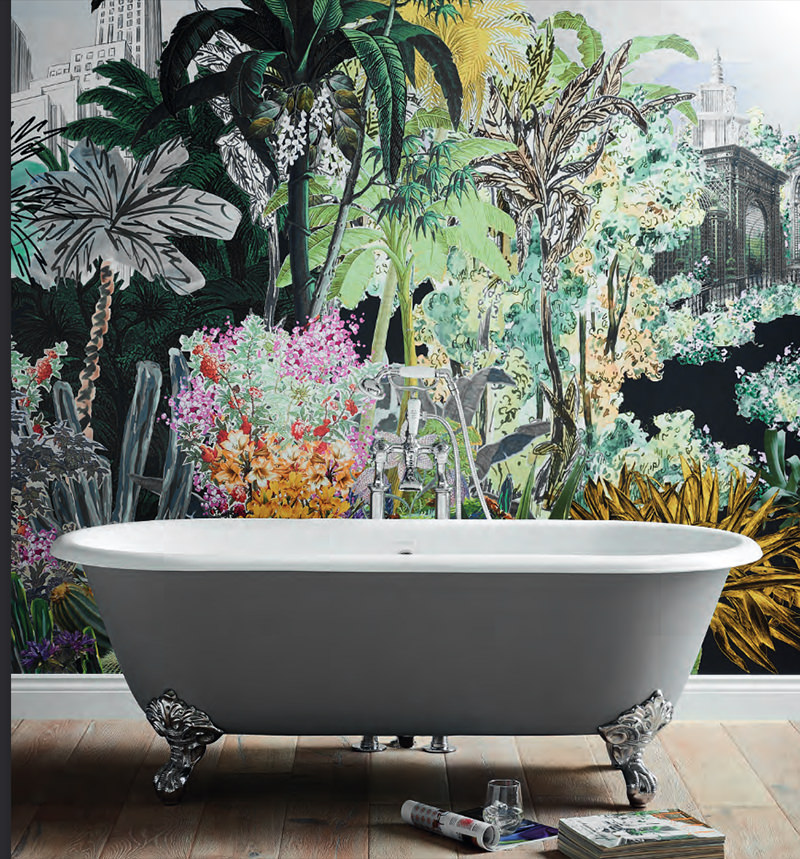 ---
35. Add colour with art
With the right piece of art, you can bring enormous character and colour into a monochrome bathroom. A safe choice is to pick something with a single stand-out colour.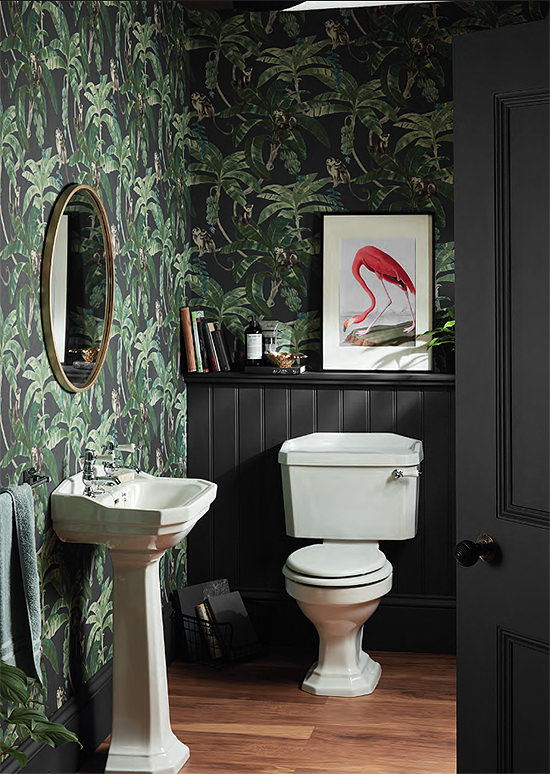 ---
36. Lighten up with pendants
Lighting is very important for grey bathrooms, especially ones that utilise dark tones. A stylish pendant light can be a beautiful design piece and a practical addition to lighten the room.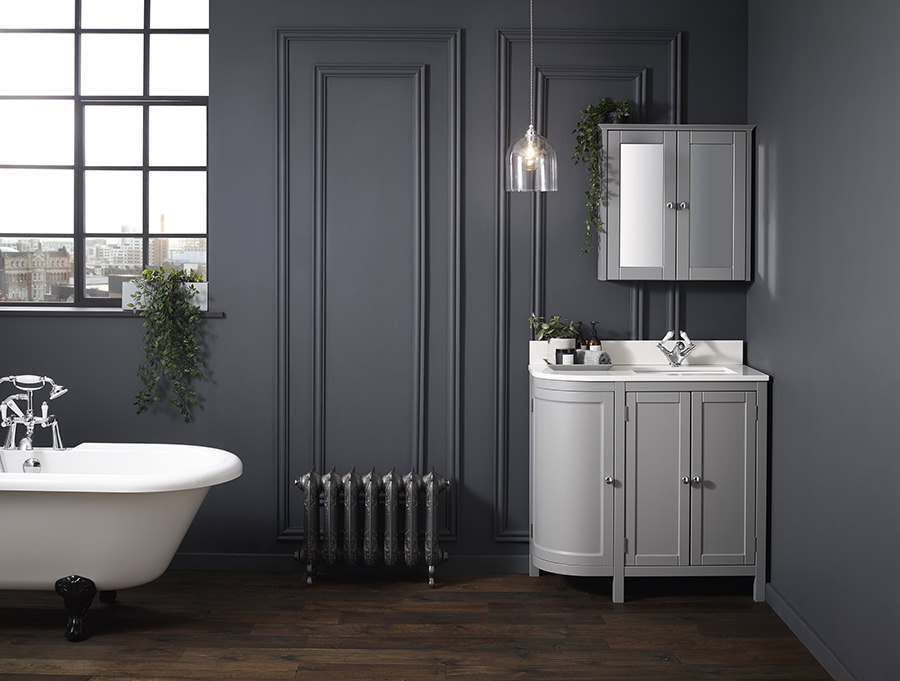 ---
37. Rugs bring rooms together
Anyone who has seen the Big Lebowski will know that a rug can really bring a room together. They can be a stylish addition to a grey bathroom, adding colour if needed, and warmth as well.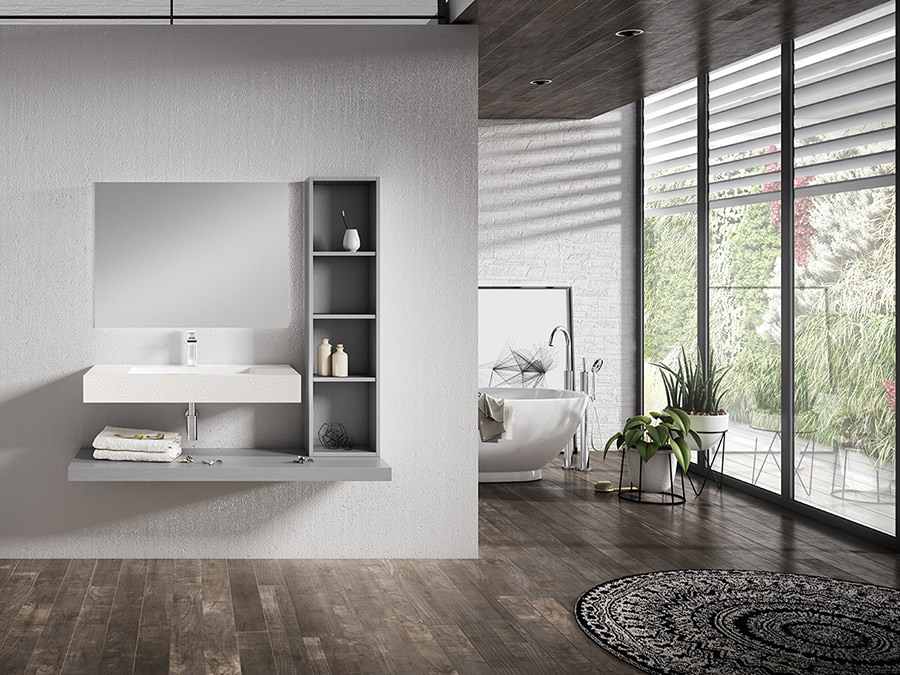 ---
38. Plants are perfect accessories
The verdant green foliage of plants provides perfect contrast with a grey bathroom. Flick through the pages of a design magazine and you'll see plants everywhere. Plus, they love the humidity.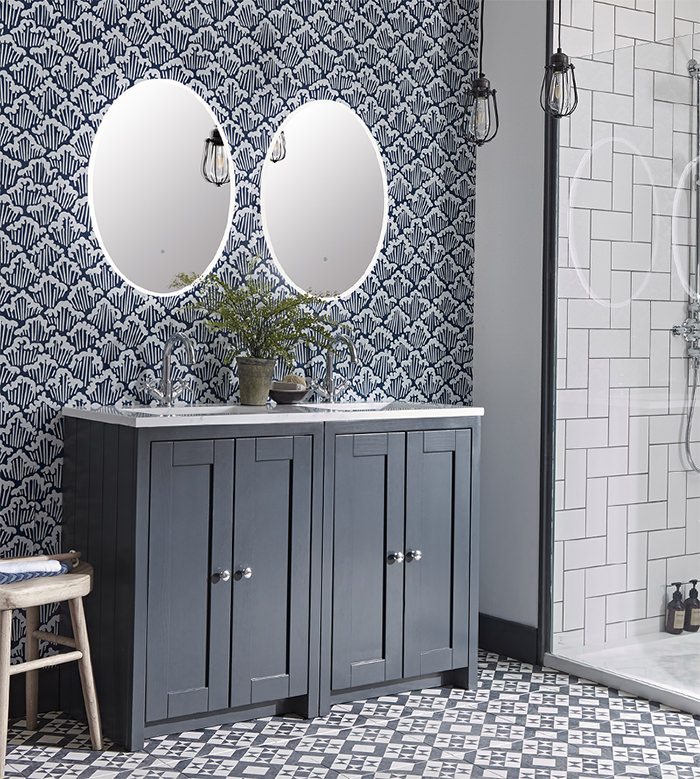 ---
39. Mirrors make bathrooms bigger
Large mirrors make all rooms bigger, so they're perfect for small bathrooms. Plus, if you have your heart set on a dark grey bathroom they can help to stop it from looking gloomy.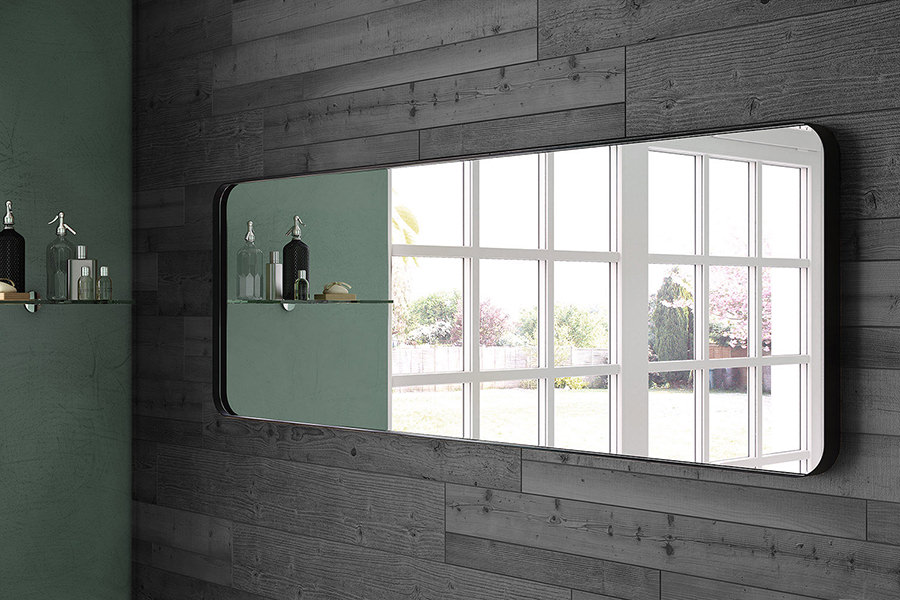 ---
40. Go old-school
Old-fashioned fittings like metal showers, freestanding bathtubs, exposed piping and pendant light bulbs can add heaps of colour and character to a grey bathroom.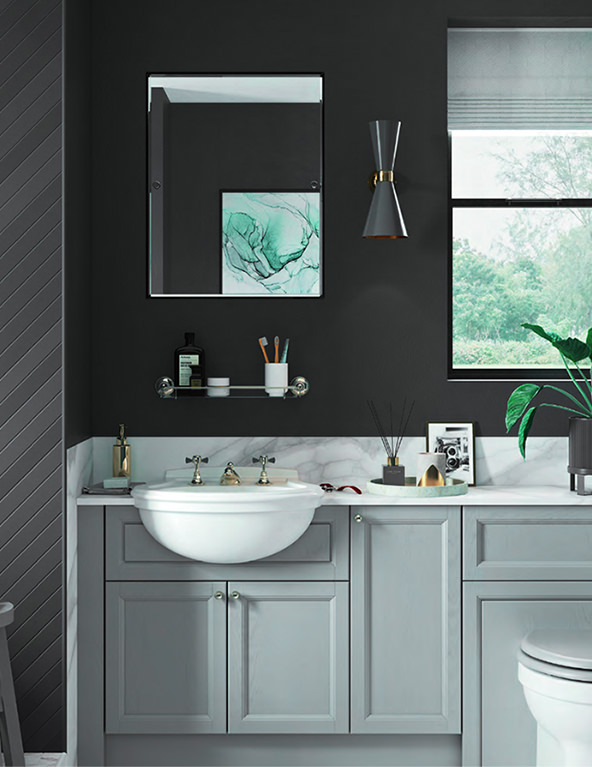 ---
41. Follow France's lead
Grey bathrooms have a habit of being minimalist and modern, but they don't have to be. Incorporate French Provincial furniture and give your washroom a classical aesthetic.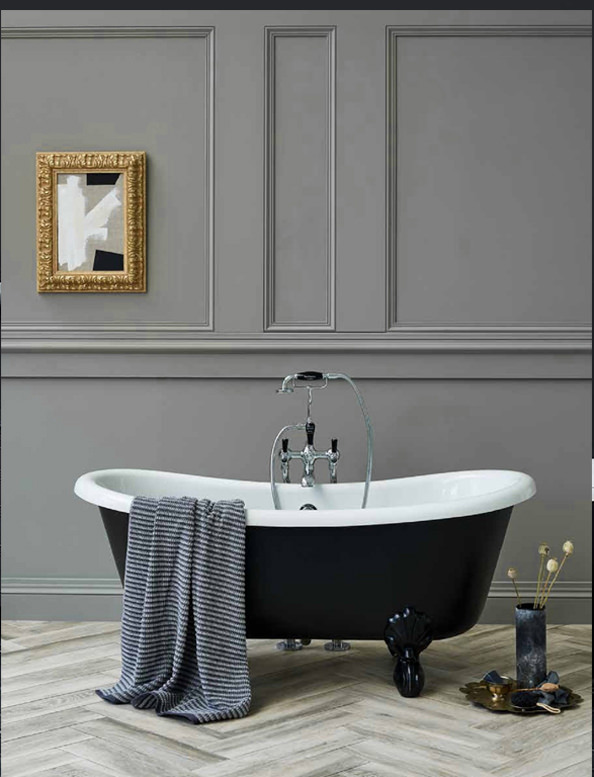 ---
The devil's in the design details
---
42. Modernise with LED lights
A danger of going grey is it can make your bathroom feel dark. However, that's not a problem if you use LEDs to backlight eclipse mirrors or to illuminate floors and shelves for a modern look.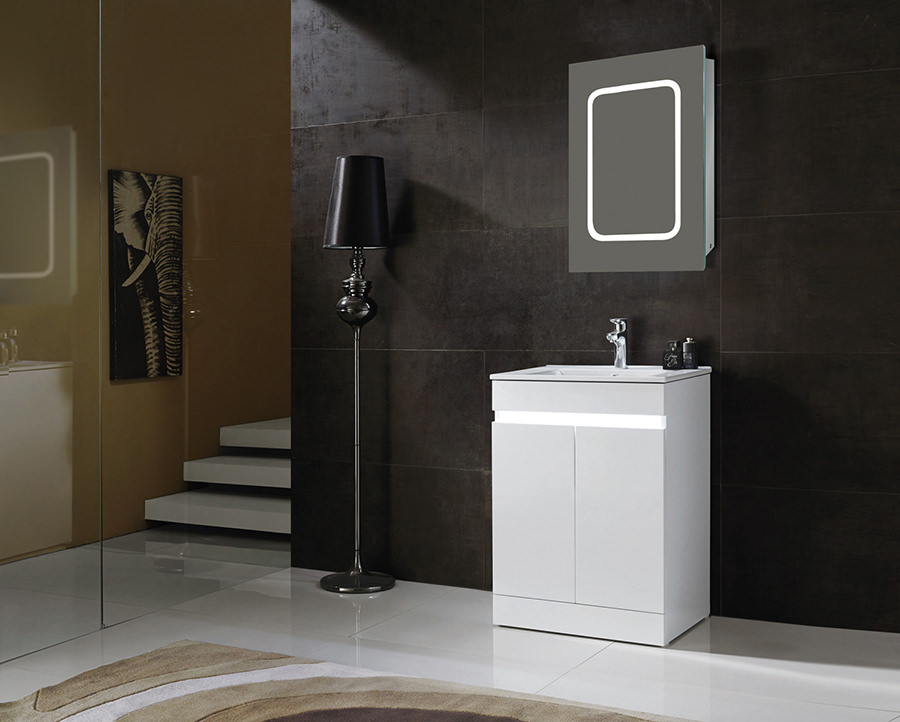 ---
43. Soften corners for contrast
If you're going for a minimal look – one of the most popular styles of grey bathroom – maximise the aesthetic and create contrast by rounding off the corners of fittings or accessories.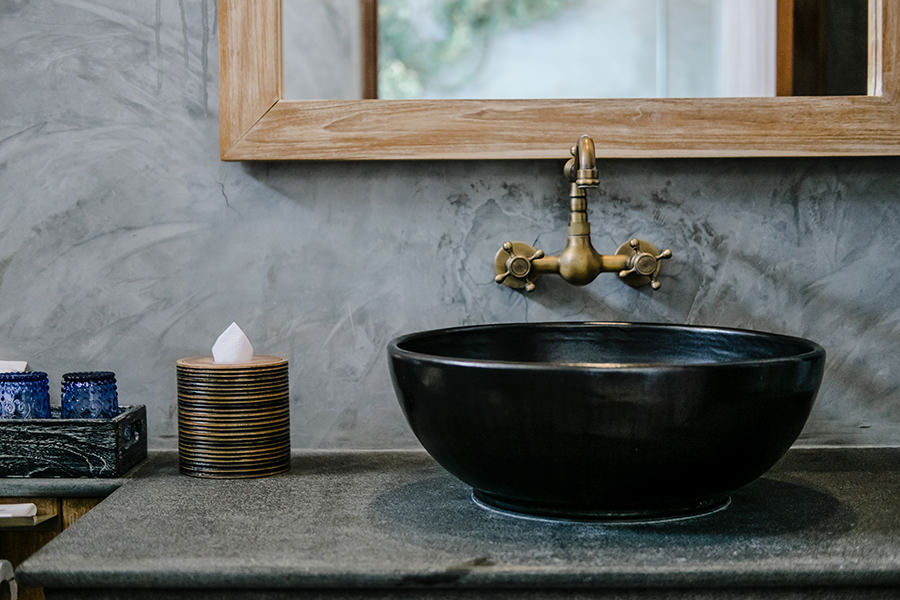 ---
44. Lightbox showers look lit
Nobody wants a dark shower. Use LEDs and a lighter tone of grey for your shower area to create showstopping contrast and make it a lightbox centrepiece of your grey bathroom.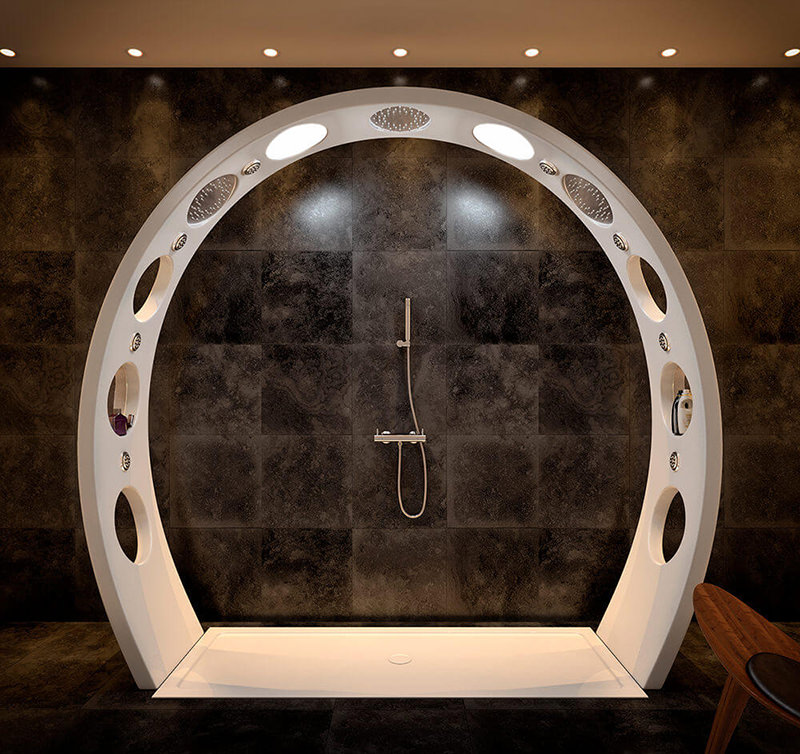 ---
45. Add grandeur with gold
Grey and gold is a timeless classic colour combo and such an easy way to make your bathroom look sophisticated. Go for matching gold taps, mirrors and shower fixtures for grandeur.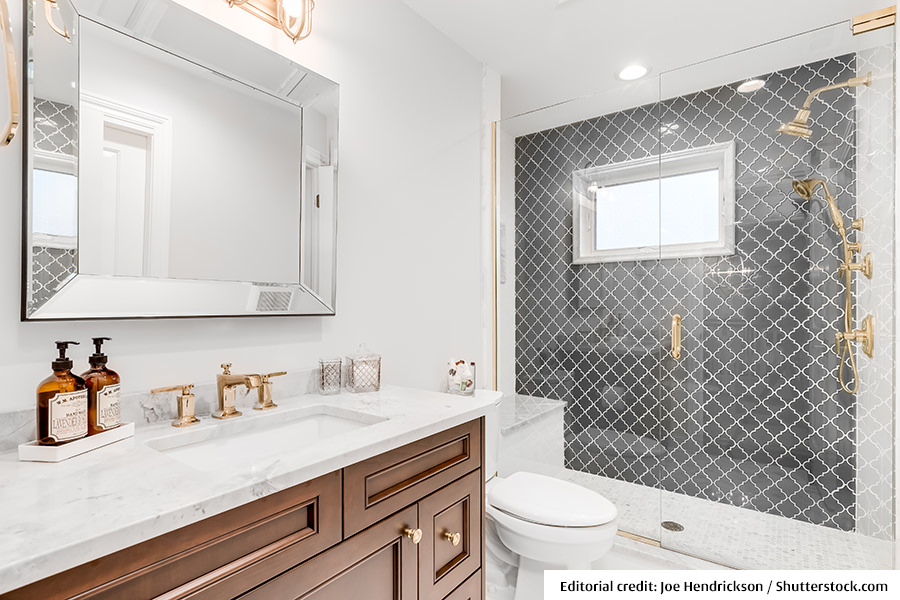 ---
46. Get arty with ombre
Ombre is a fancy French word that describes when you blend colours or fade from light to dark. Ombre is an excellent way to make a small bathroom look bigger and a lot more arty. Go brave with ombre walls or try it out with smaller furnishings and accessories like towels and shower curtains.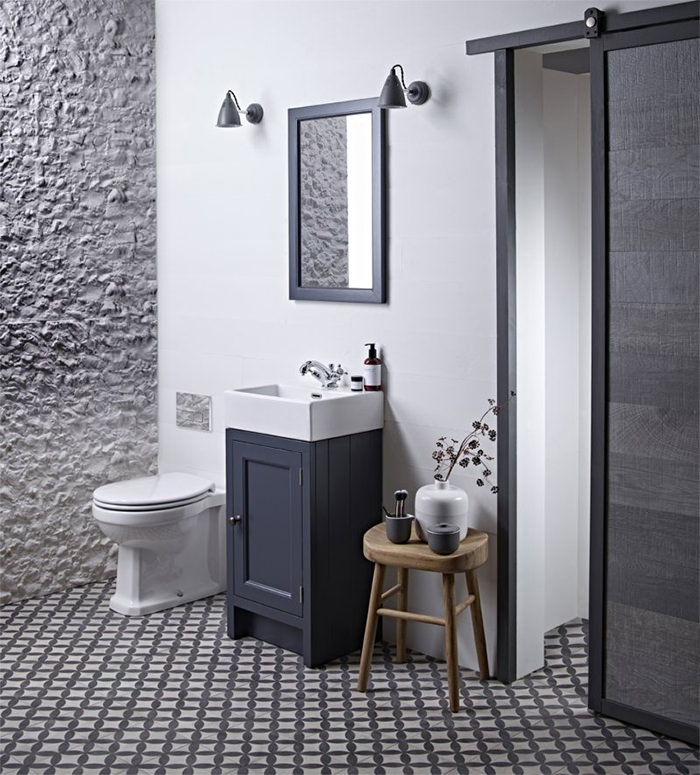 ---
47. Know your bulbs
Light bulb temperature can completely transform a bathroom. Swap your bright white LEDs with warm tungsten bulbs to go from surgical to welcoming in a second.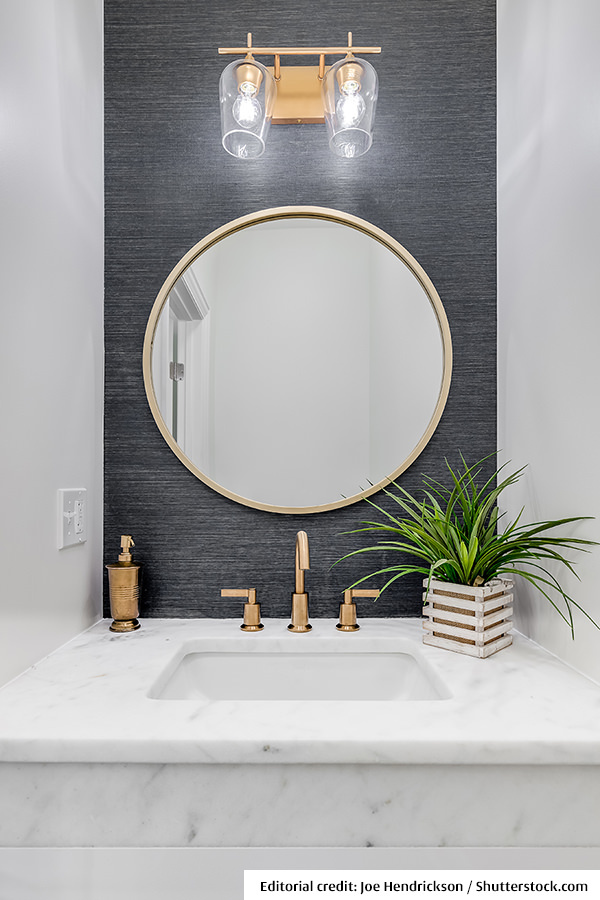 ---
48. Hide your bottles in storage units
If you're going for the iconic minimalist grey bathroom look, don't ruin it with a rainbow of shower gels and shampoo bottles. Hide them in storage cabinets and keep the aesthetic clean.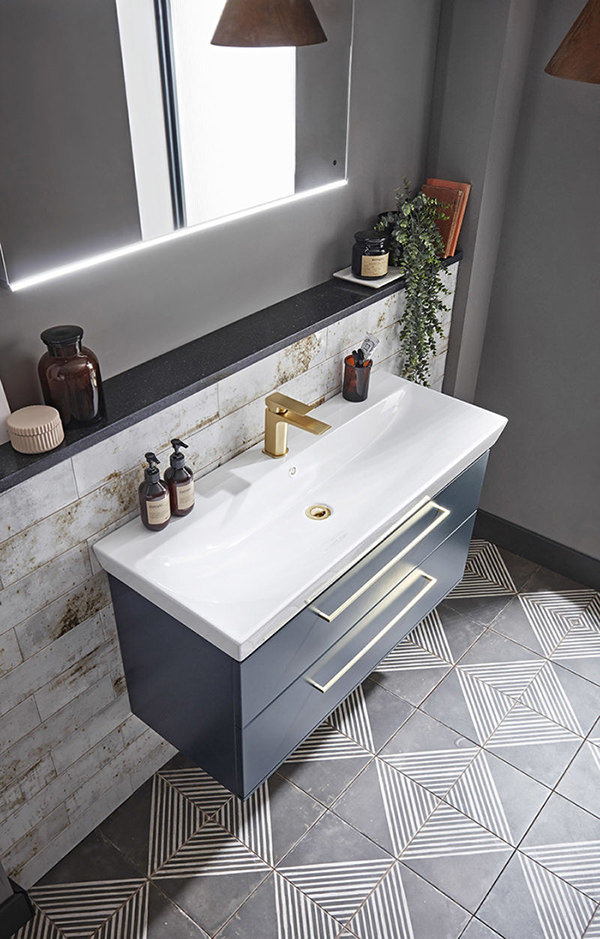 ---
49. Accessories add patterns
In the same way you can bring colour into your grey bathroom with accessories, you can also add depth with patterned lamp shades, shower curtains, towels, rugs, vases and plant pots.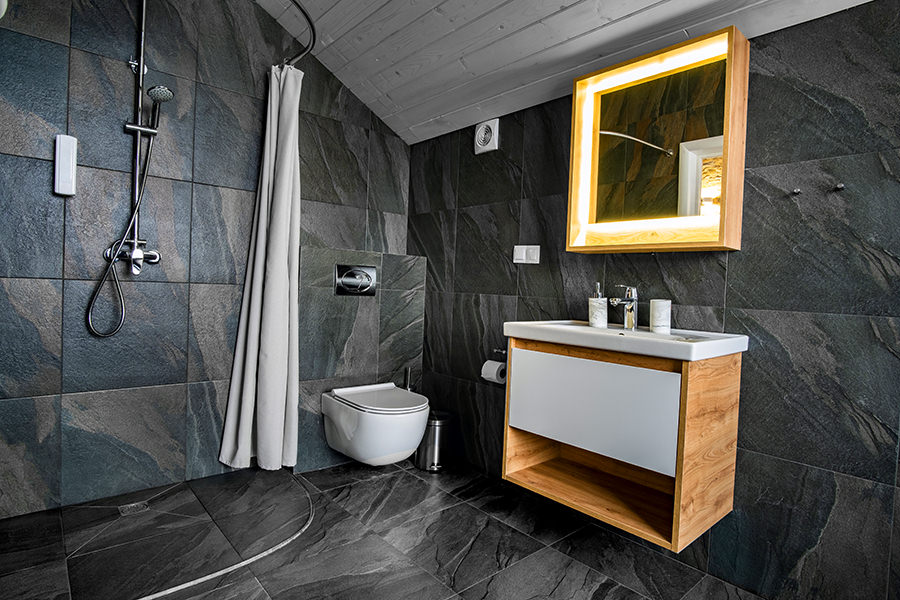 ---
50. Focus on fittings
You can't polish a bathroom with bad fittings. Focus on finding what's best for your space e.g. floating grey bathroom cabinets or a vintage freestanding bath, then add design touches to compliment them.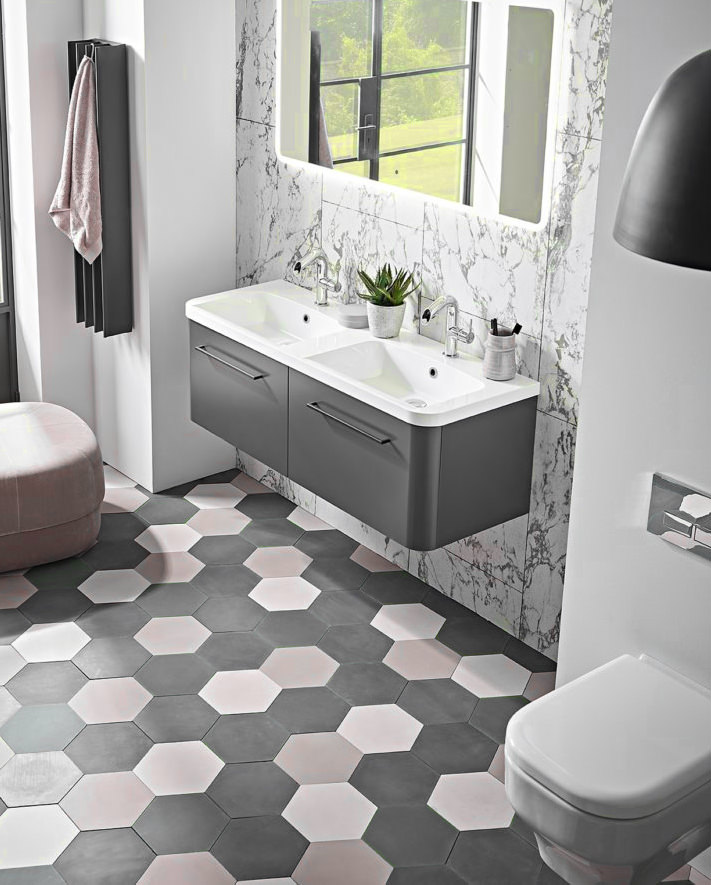 ---
Summing up
Grey bathrooms are flexible. Choose your shades wisely and grey will compliment every size and shape of bathroom space. There are easy ways to go grey, like giving the walls a lick of grey bathroom paint, and more extensive options such as stripping everything out and making a tadelakt wet room. The trick is to pick a theme and stick to it, whether that's for a modern bathroom, a minimal aesthetic, or the classic French provincial look.
By and large, grey bathrooms only go wrong when elements clash. So pick your tiles, fittings and furniture to compliment each other. Work with the space you have. Use complementary colours as you see fit. If you want to create contrast, use strong colours and patterns sparingly. Finding the perfect fittings is the most important thing. Then you can add some finishing touches and finally revel in the beauty of your new grey bathroom.