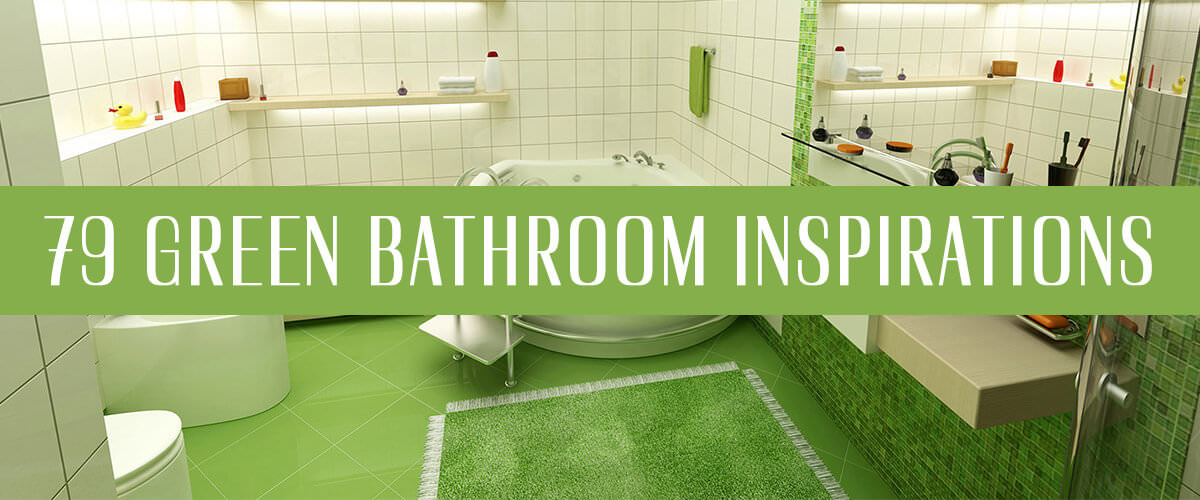 In December last year, Pantone Color Institute declared Greenery as "Color of the Year" 2017. Greenery is a zesty yellow-green shade that is symbolic of nature in all its glory. Fresh, real, alive and lush! Colour manufacturers and designers make inspired choices from nature's palette and the popular sentiment of the masses. When we crave unity with nature but can't get to the forest, then do the next best thing; bring the forest home.
An online Survey conducted by QS Supplies with 100 Interior Designers across the globe revealed that "green" is indeed the most popular hue this season. Although there were some Interior designers expressing solidarity with Pantone's Greenery, many prefer working with Pantone's Kale, a slightly darker, foliage-based green or Bistro green a richer green. Designer Nisrine El Lababidi's preference was Pantone Willow Bough which is a toned down, sophisticated version of Greenery and is simply perfect for interiors and matte finished walls. It is trans-seasonal and easily complements most other colours to create a wonderful effect.
These colours are all set to influence trends in interior decor and fashion, although country and climate will always remain key considerations to the role these shades play in our living spaces. Let's take a look at how this fresh hue can we used inside bathrooms, cloakrooms, and ensuites. If you are looking to Renovate your bathroom with Blue Shade, have a look at Blue Bathroom Design Ideas.You can also check our White, Pink Bathroom Ideas and Grey Bathroom Ideas.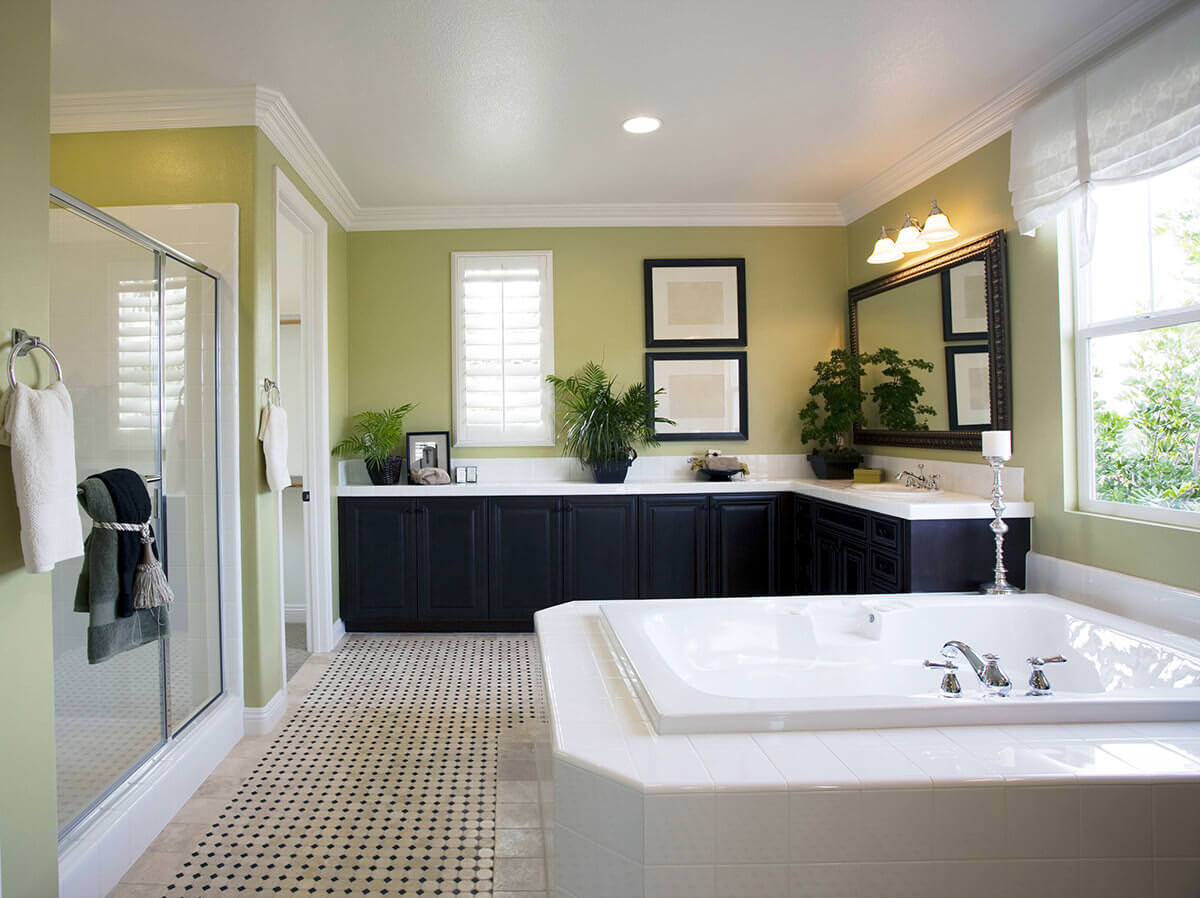 Source: http://www.loversiq.com/o/218881161/bathroom-design/218881/
Going completely green all at once is not something we recommend as it will most likely take away from the effect you wish to achieve, even if you prefer to go all-out bold. Instead, consider a statement wall in green combined with neutrals such as white and beige.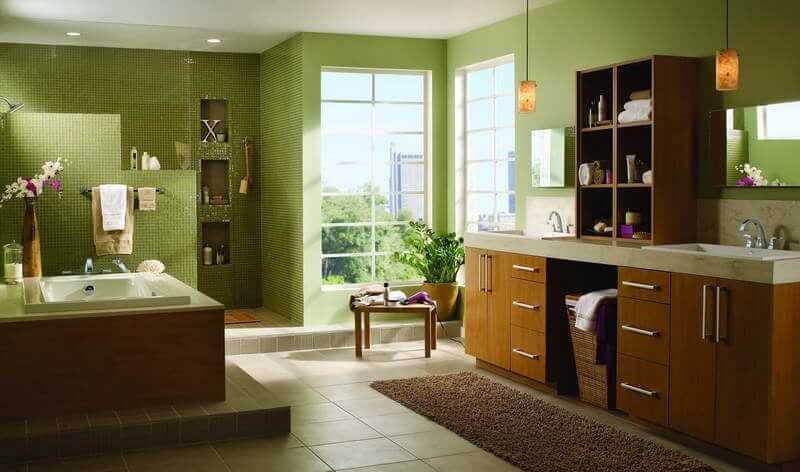 Source: http://lanewstalk.com/the-elegant-delta-faucets-bathroom/delta-faucets-bathroom-with-green-walls/
Adding a few indoor potted plants such as mosses and ferns bring out the essence of this neutral hue. A deeper green can look stylish in a very spacious and airy bathroom with plenty of natural light filtering in.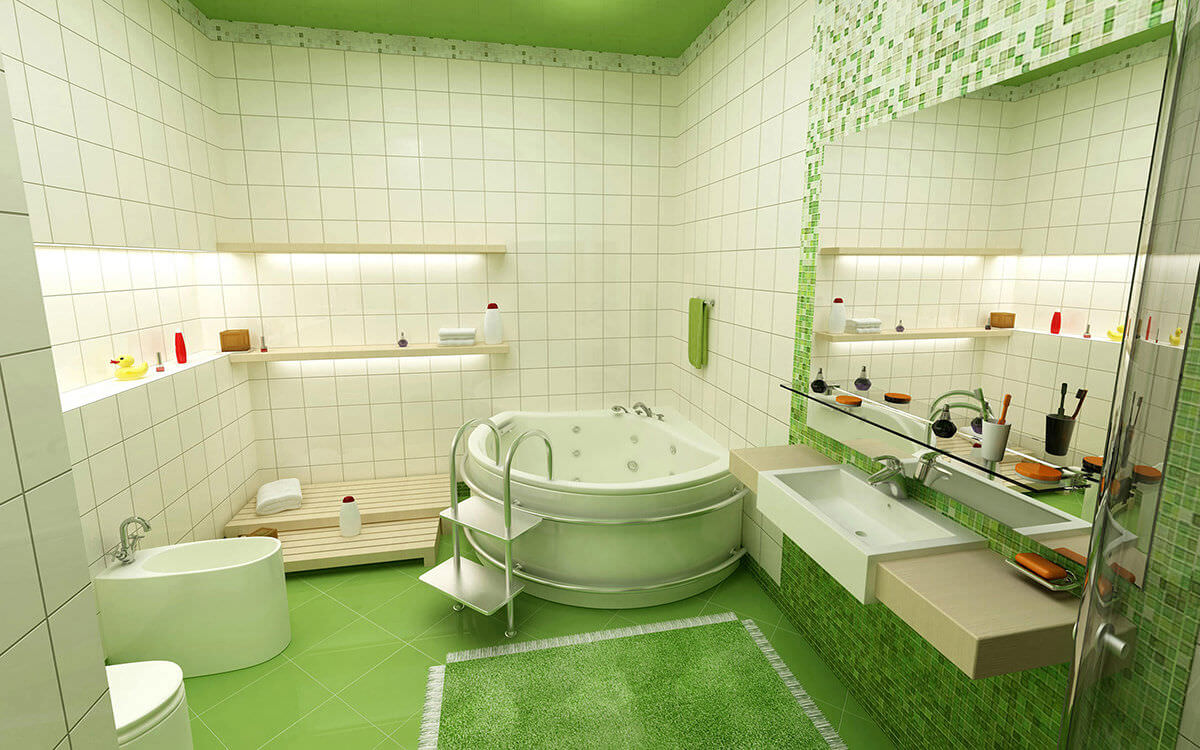 Source: http://ibuwe.com/gorgeous-interior-design-ideas-bathroom
Have you seen something that is so visually distinct than this bathroom? Here the green hue has been strategically used on the floor, tiles, and roof, blending in beautifully with off-white.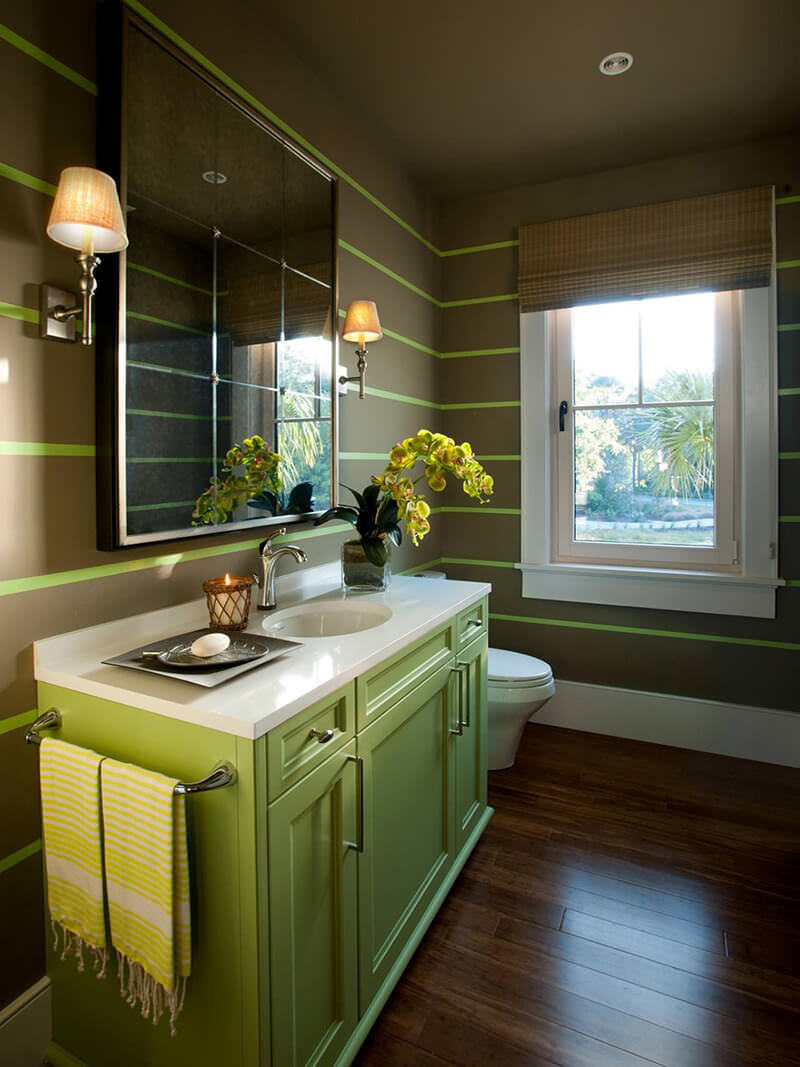 Source: http://photos.hgtv.com/photo/bathroom-with-green-vanity-and-striped-walls
Modern, majestic and stunning is what describes this space which sees an ingenious use of the colour green. Stripes of green paint against a warm brown wall and the green polish on the furniture create a brilliant feel!!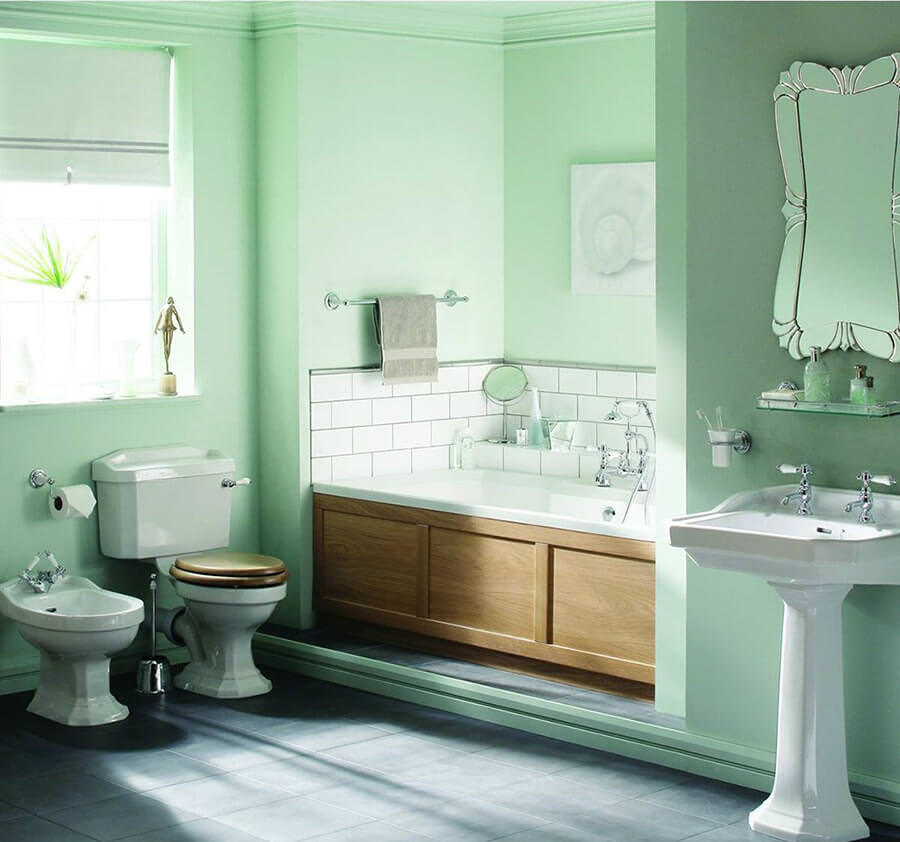 Source: http://www.decorlock.pics/bathroom-art-deco-bathrooms-design-heritage-bathrooms-granle.html
You can be more generous with the use of a paler green that reminds you of the colour of the ocean. Breaking up the monotony of the shade are small white tiles and a corner white tub. Inspired by nature, such as sea green will give your space a great organic vibe.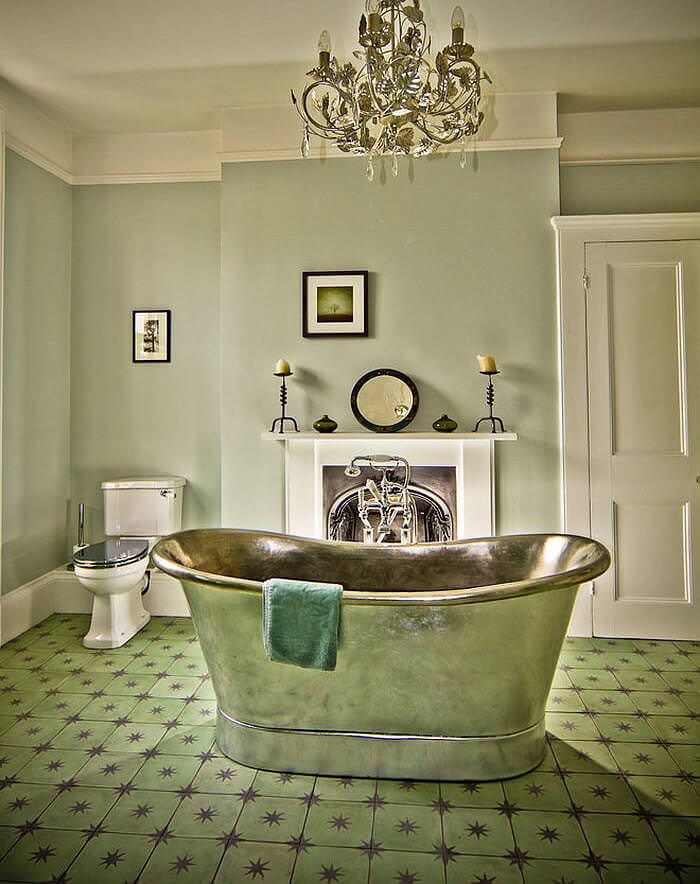 Source: http://www.amenagementdesign.com/
Check out the classic, traditional look of this space. Interestingly, the shade has been used in different tones on the wall, floor, and tub. A paler shade adorns the walls so that the eyes are drawn towards the interesting artwork on display. Metallic green takes centre stage in the freestanding tub combined with copper tones to create an absolutely fabulous focal point.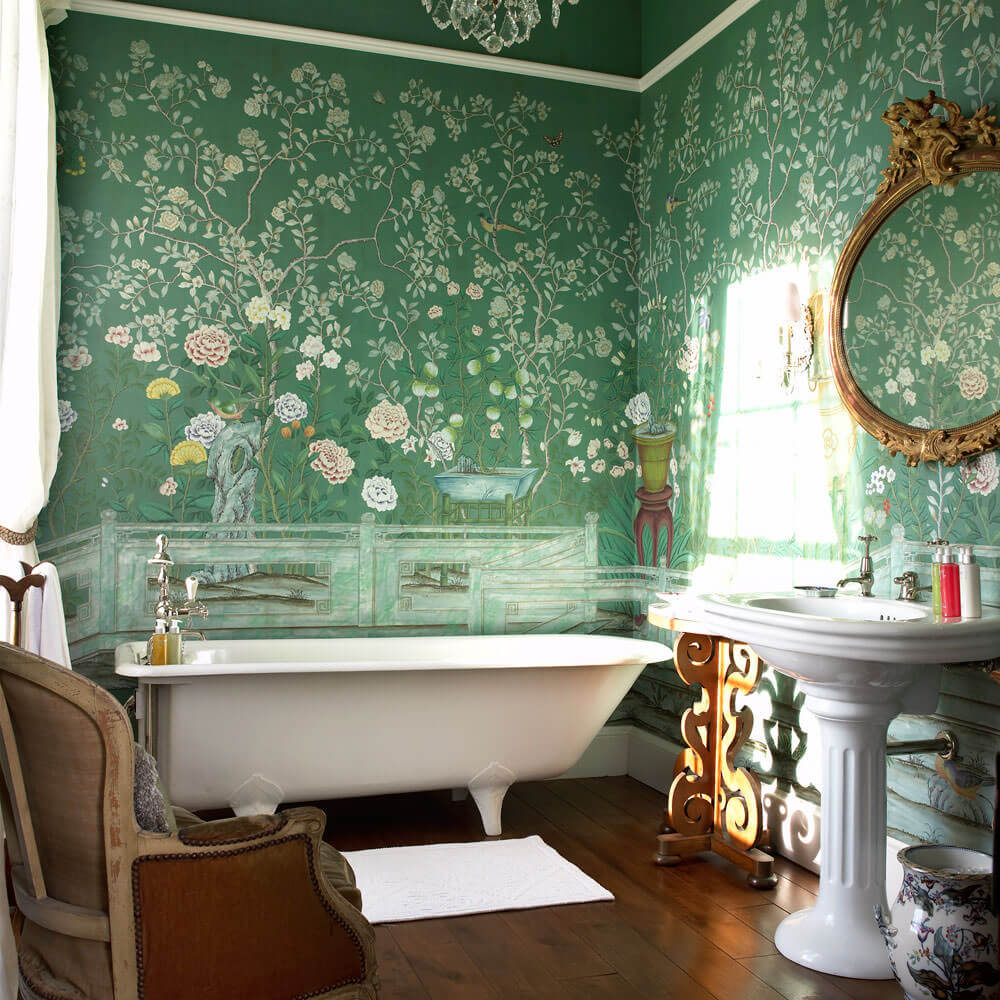 Source: http://www.designmanifest.com/
If you are a fan of floral motifs then, take a look at this bathroom wall that sees the brilliant use of wallpaper. It is easier on your pocket as well as cheaper to replace. Solid colour on the roof and a statement mirror, complete the ensemble.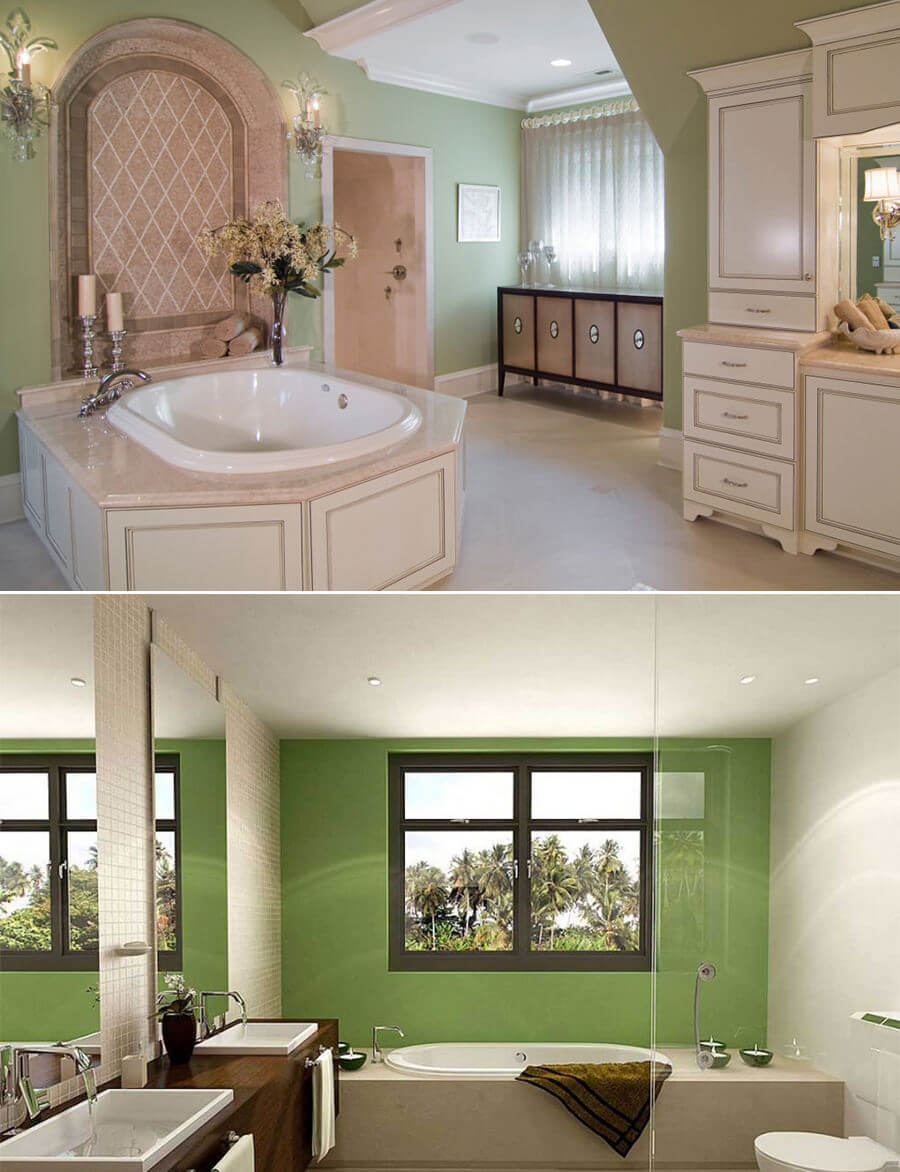 Source: http://www.zanita.info/3-paint-color-ideas-master-bathroom.html/darker-shade-of-green-master-bathroom-paint-color-ideas
When you wish to create a spacious look, it is desirable to use light green tones and make a generous use of light—both artificial and natural. Pale green in this space on the walls works well with other neutrals like beige and cream.
This is a neat looking yet exotic bathroom; the Bolder green is cleverly used against a recessed wall. The smart use of mirrors is a nice way to create space and light.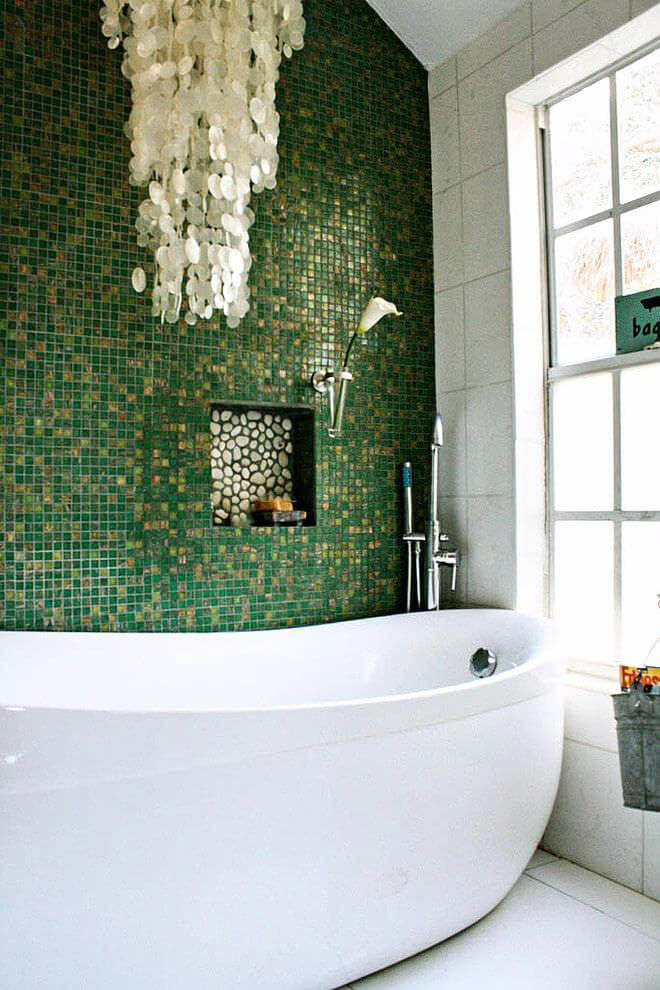 Source: http://fashionable.com.pl/2013/03/07/szmaragdowe-wnetrza/
With Green going big this year, people are becoming more daring when using darker, richer tones for decoration. This tiled bathroom wall gives out a warmth and richness without being too overpowering.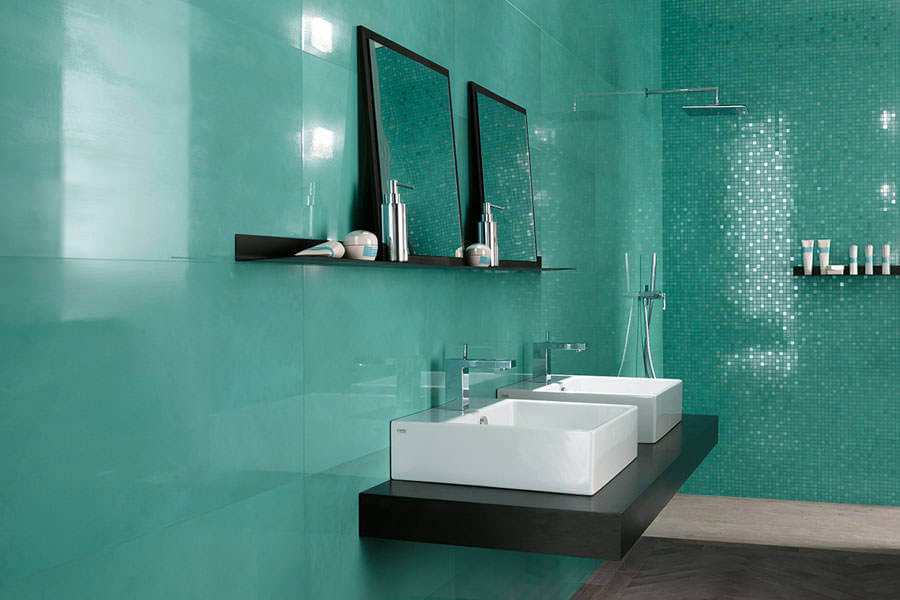 Source: https://www.keraservis.cz/inspirace
When you are looking to decorate using tiles, choose tiles in your favorite green and decorate with a mix of plain and carved tiles for a lovely effect. Tiles are also just right for hot and humid bathroom spaces.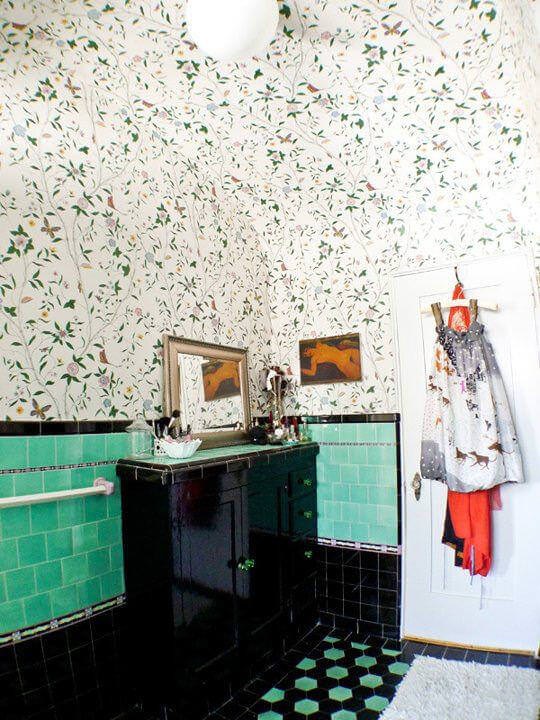 Source: http://www.apartmenttherapy.com/5-bathrooms-with-gorgeous-green-details-197731
This room presents an adventure in shades of green. Don't be afraid to experiment mixing with wall paper, floor tiling, neutrals and bolds all at once. Resembles a work of art indeed!!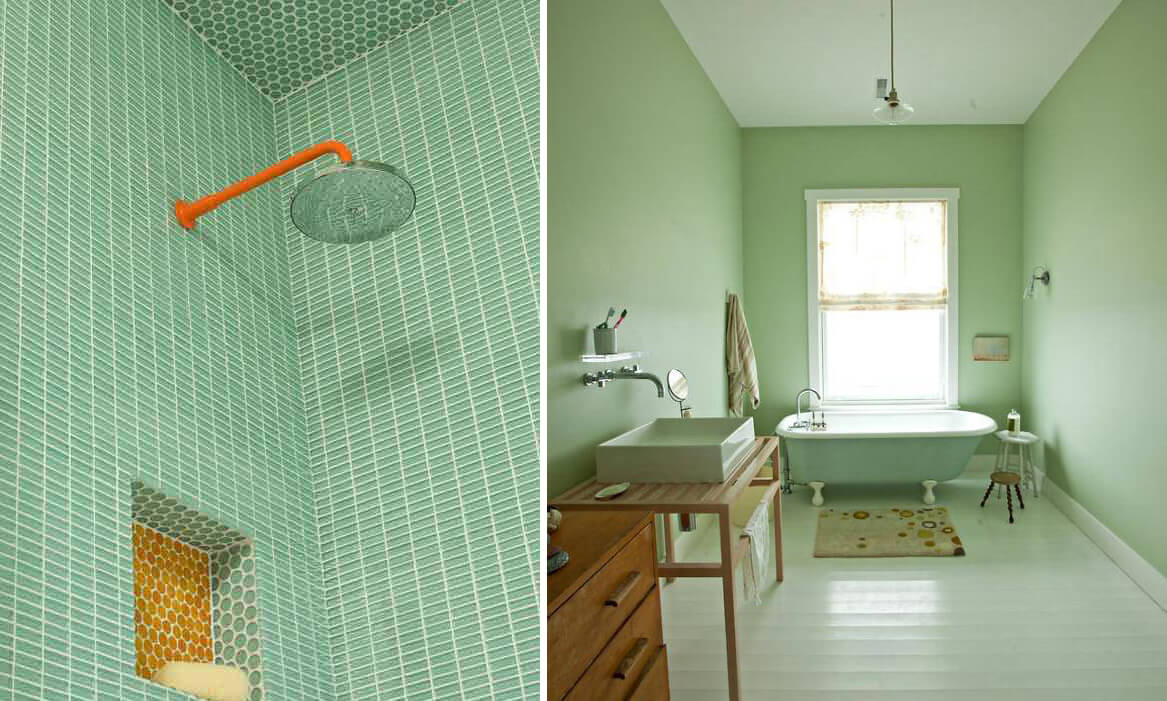 Source: http://www.apartmenttherapy.com/look-green-glass-tiles-and-ora-63230
Source: http://www.apartmenttherapy.com/paint-color-portfolio-mint-green-bathrooms-194818
When using on tiles, choose smaller, paler tiles. We simply love this wonderful combination of geometric and circular patterns. Or else you can choose to have a bright, airy and minimalist space for peaceful, calming and cheerful experience.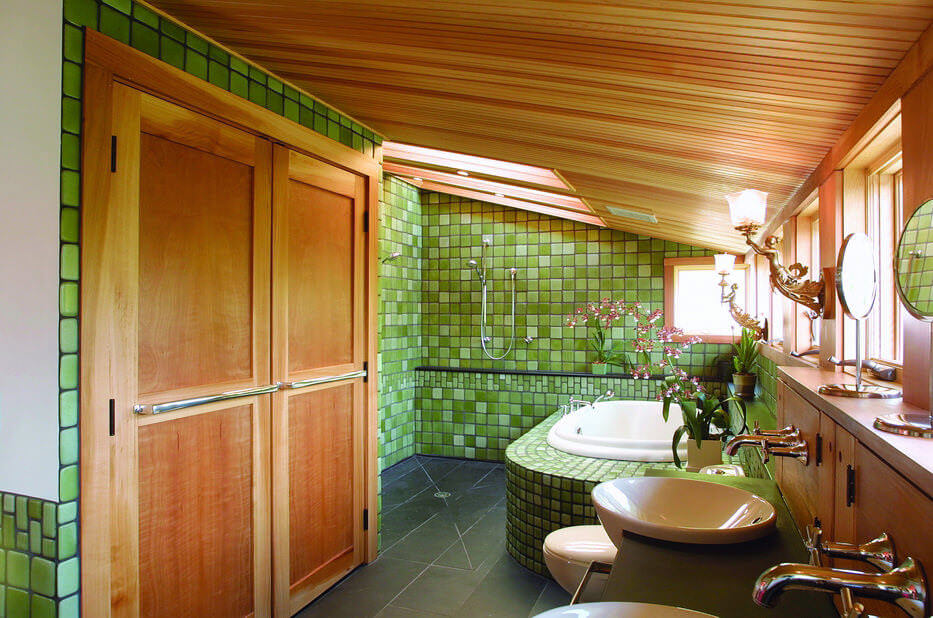 Source: http://www.greenbuildingadvisor.com/homes/convert-attic-luxury-bath
This space creates a warm, spa-like feel with the warm wood contrasting nicely with the cooling wall tiles in green. The different shades of green on the tiling are a nice departure from the usually neutral tones of white and cream.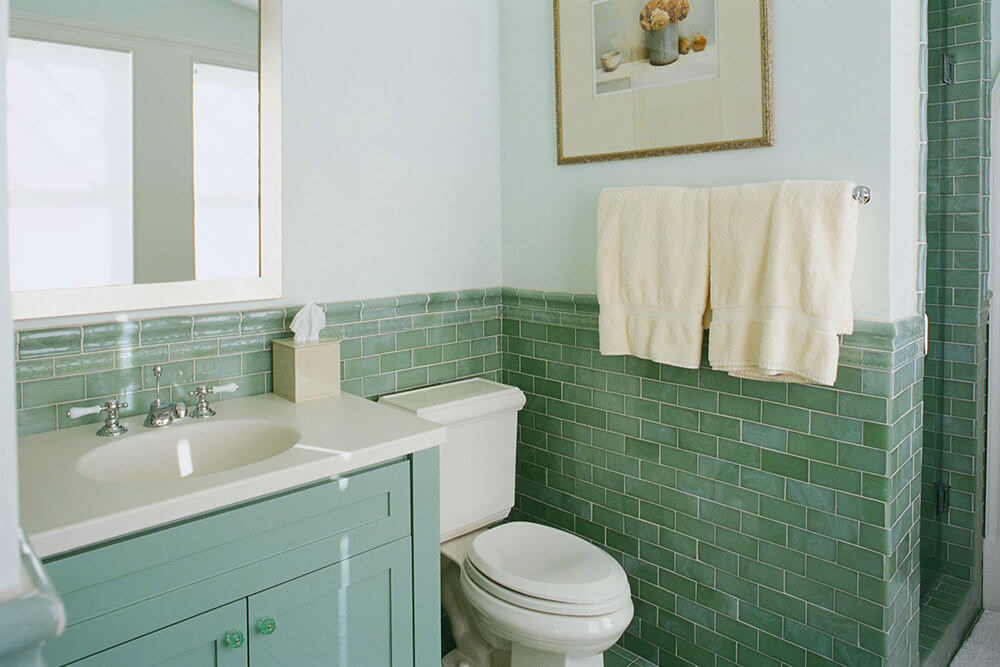 Source: http://www.diabelcissokho.com/green-bathroom-ideas/seafoam-green-bathroom/
When your space is not large you need not despair; paler shades of green create the desired effect when paired with other pale shades to make it look spacious and charming.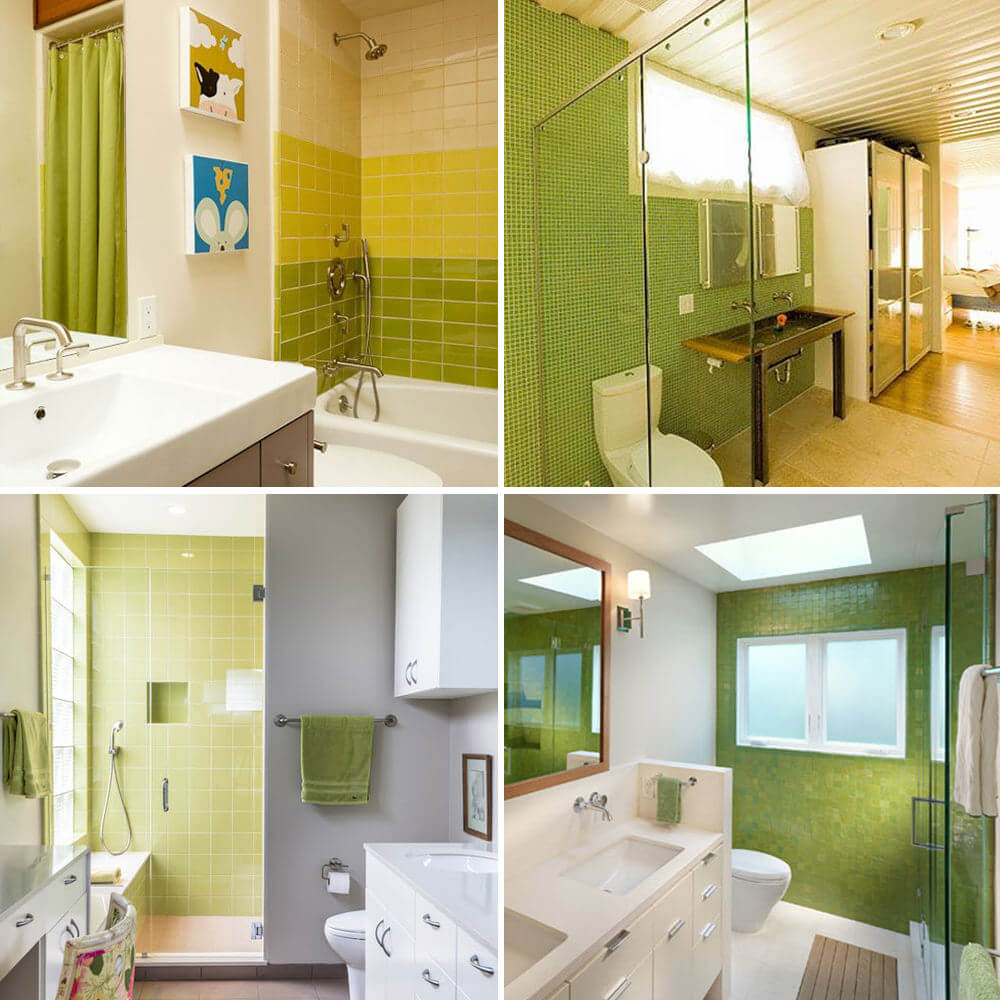 Source: http://www.tileideaz.com/lime-green-bathroom-tiles.html
Green, as we know, is refreshing, alive and healing. Its no surprise that it has been used in so many innovative ways here and with bright and light together. Children surely would love to make a splash in one such area.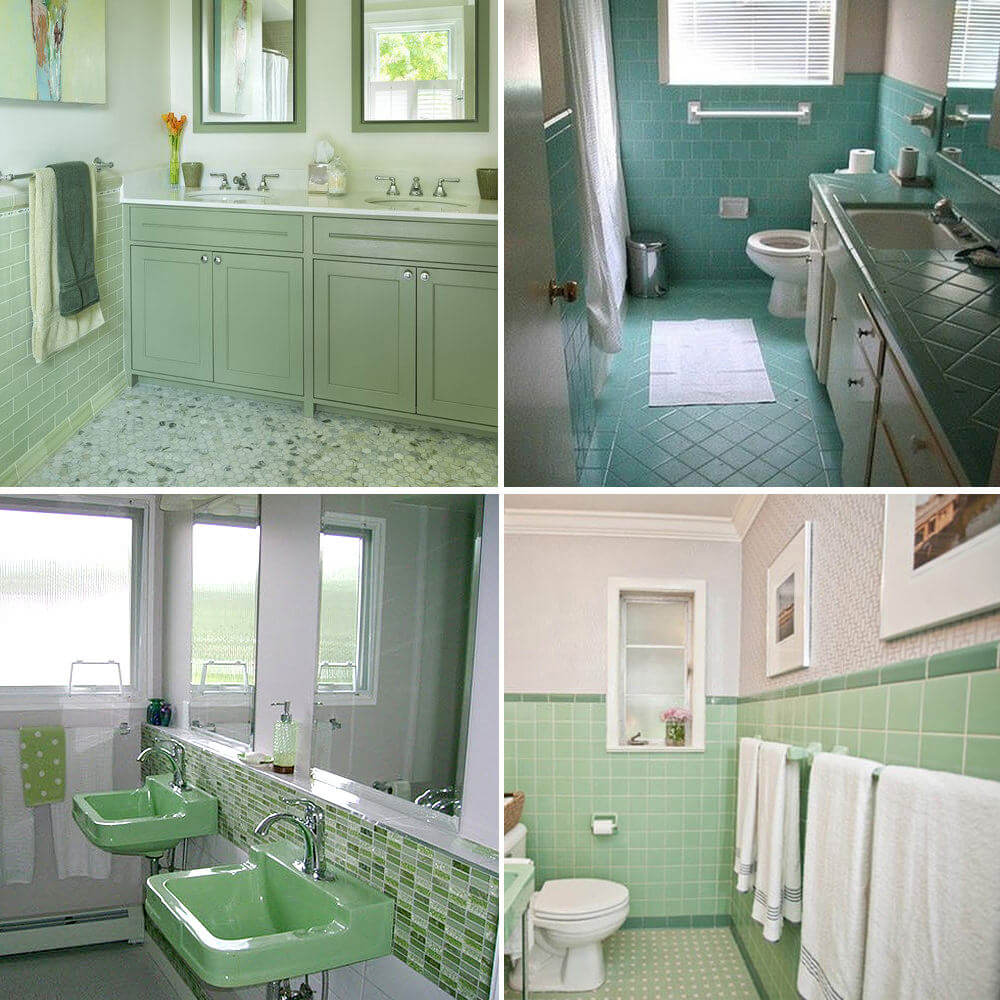 Source: http://www.tileideaz.com/1950s-green-bathroom-tile.html
These spaces show you the contrasting vibes that different tones of green can create. The soft green spaces are serene and calm, while the brighter green is fiery and vibrant, sure to give you a wake-up call. A dollop of cream, a splash of white and you are ready. Of course, if you prefer to display artwork and accessories, take a cue from these bathrooms and stick to lighter hues as they are less busy and distracting.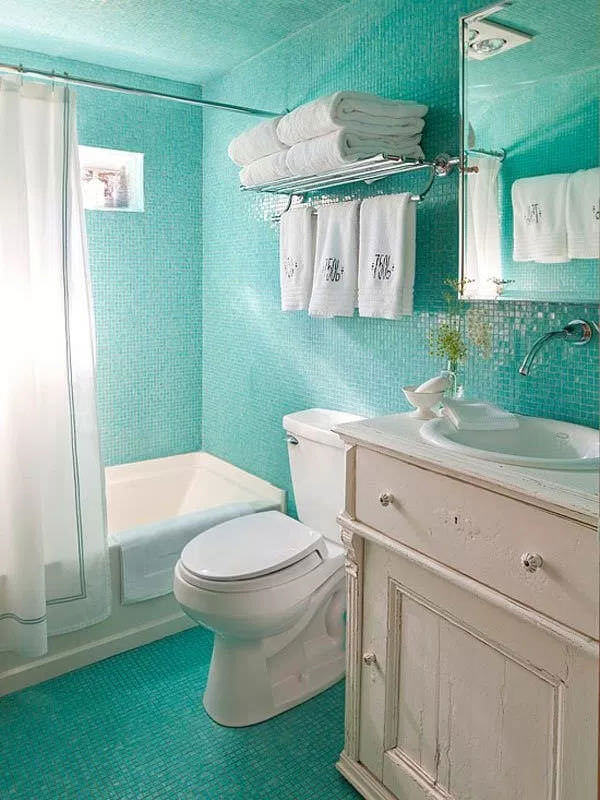 Source: http://forcreativejuice.com/awesome-bathroom-design-ideas/
The continuous use of Green tiles on the walls and floor create a wow look without diminishing the sense of space that you have available. Leaving the rest of the elements predominantly white works well.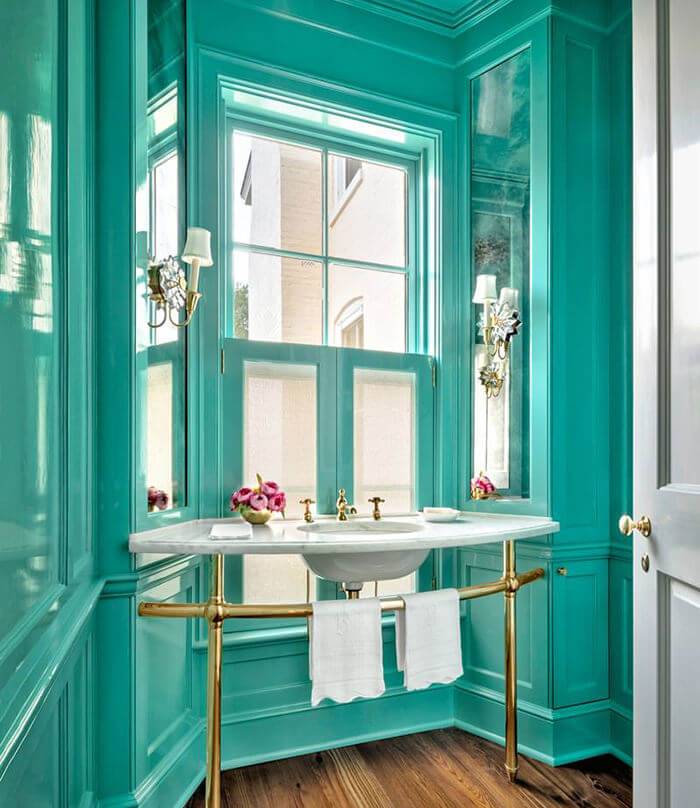 Source: http://www.architecturaldigest.com/gallery/joel-barkley-todd-klein-louisville-kentucky-house#11
This space sees the generous use of sea green combined with stylish French windows that bring in neutral sunlight for a fabulous effect. A gorgeous white washstand is just the right pick for this area.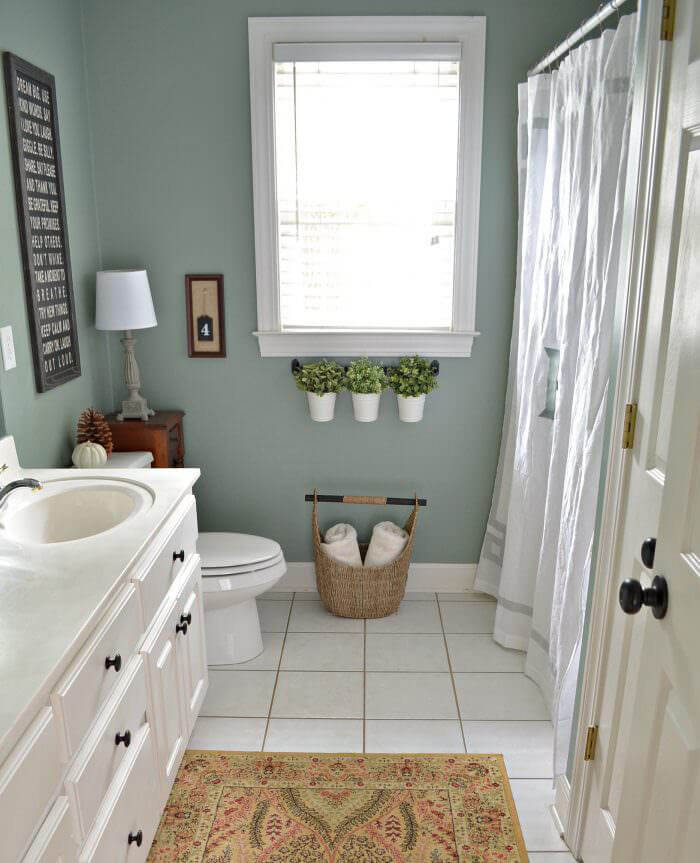 Source: http://athomewiththebarkers.com/holiday-ready-room-refresh/
Again, this bathroom shows you how two neutrals can create a simple, chic and fabulous bathroom space.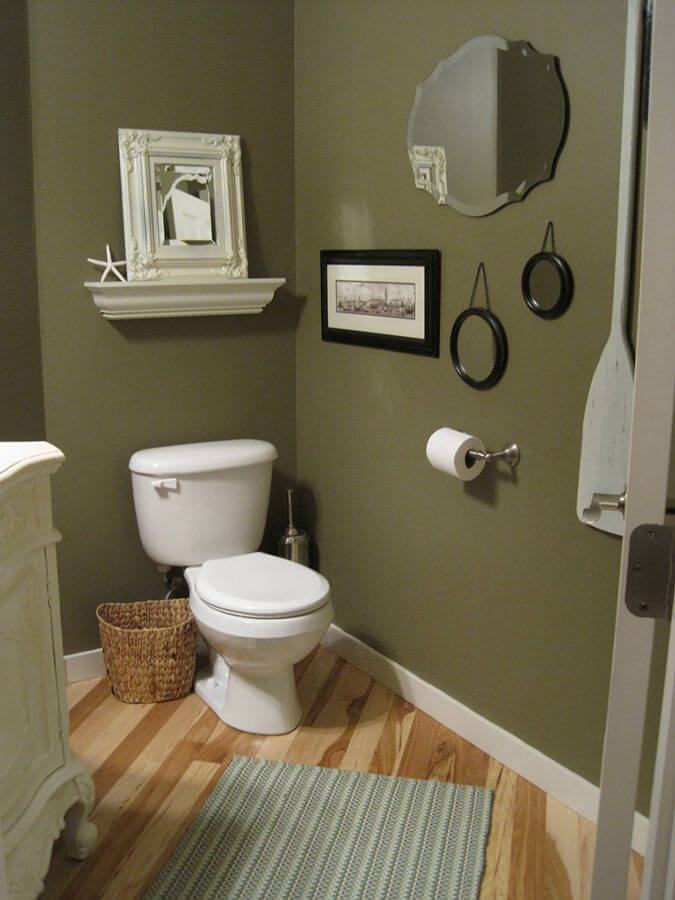 Source: http://theinspiredroom.net/2010/06/09/powder-room-the-almost-afters/
This bathroom interior displays the fabulous use of warmer tones of green. The tone highlights pictures, frames, and other elements, making them the centre of attention. You can always repaint later if you stop loving the color.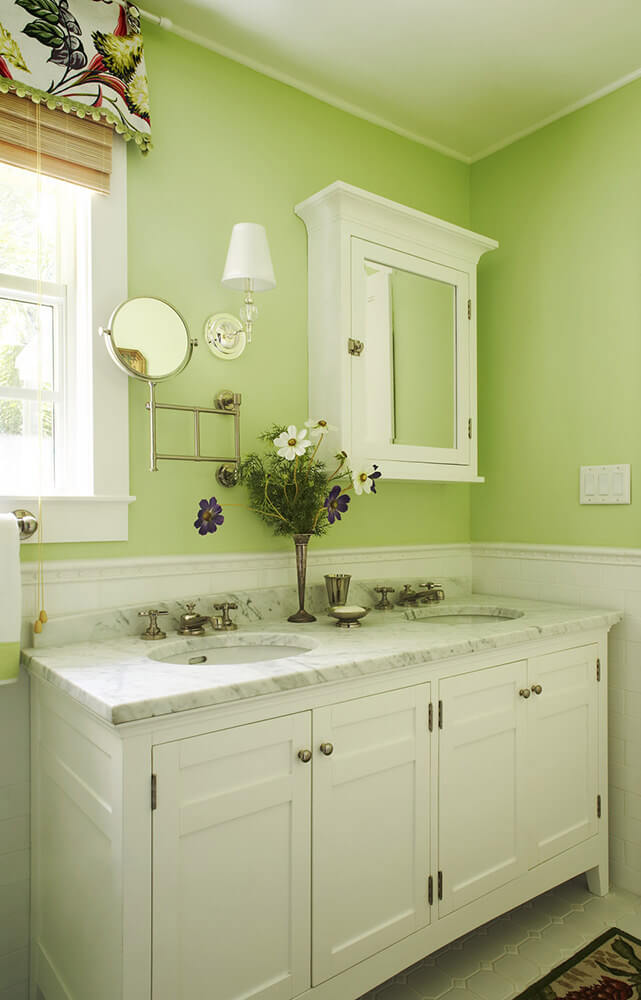 Source: http://betsyspeert.blogspot.in/
You can almost smell the limes—this gorgeous, summery lime green wall will certainly refresh your mood and bring a spring in your step.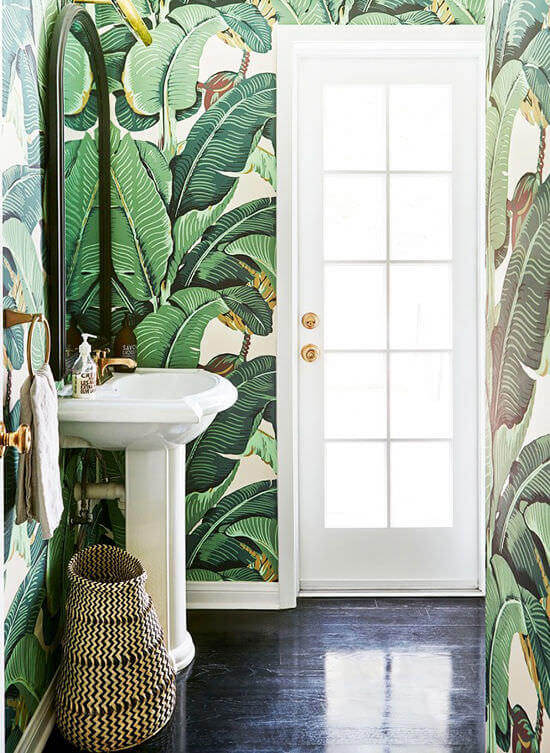 Source: http://www.diys.com/decorate-with-botanical-prints/
This space showcases a brilliant use of African leaf motifs on the wallpaper and a quaint traditional wicker basket. These prints bring to life this sterile and modern bathroom space with their rich tones of brown and green.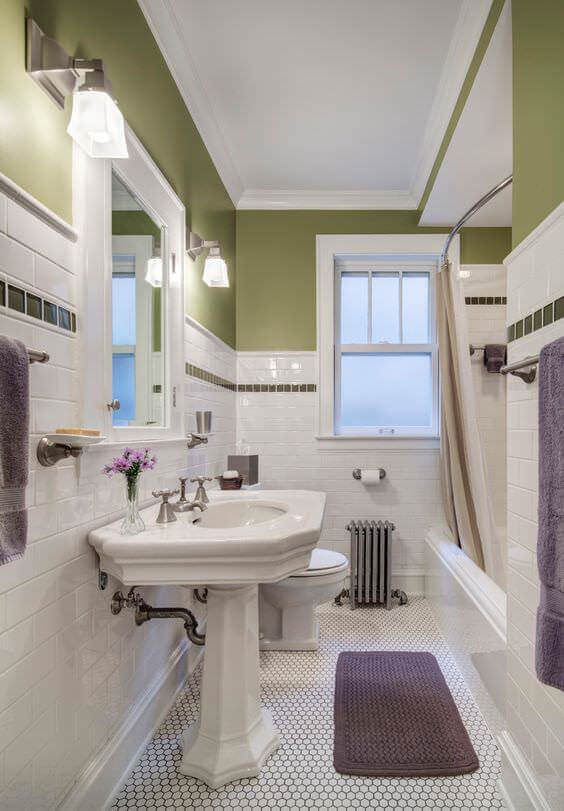 Source: http://liskaarchitects.com/selectedwork/bungalow-renovation-1/
A splash of Olive Green hue enhances and draws the eyes to the pure white of the bathroom elements. Simple yet charming!!!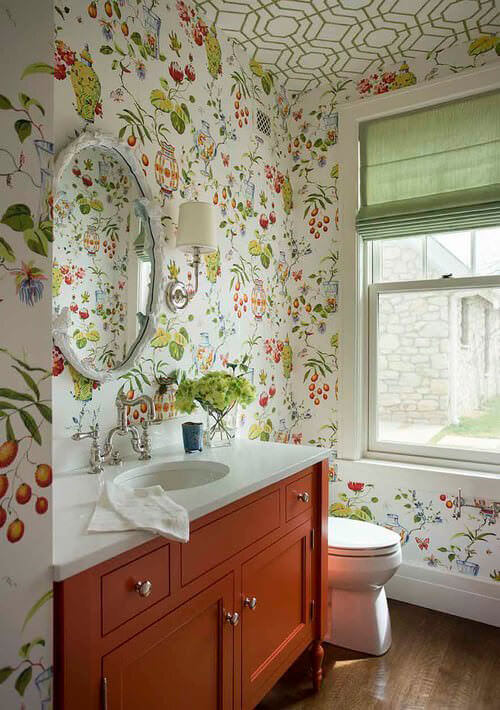 Source: http://georgianadesign.tumblr.com/
When choosing wallpapers for your bathroom, it is advised to ensure that it is humidity free and there are no leakages. This bathroom is a delightful mix of wallpaper, with splashes of green, both on the walls and the roof. A green window blind completes the look.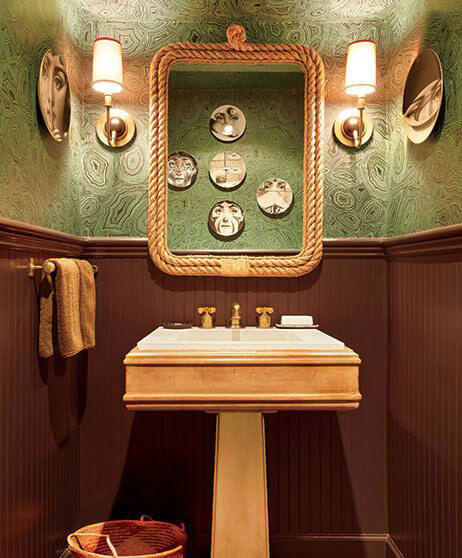 Source: http://www.architecturaldigest.com/gallery/powder-room-inspiration-slideshow?crlt.pid=camp.rKAsQ7cjIMN3#18
This space is tiny yet majestic at the same time. Abstract printed wallpaper, mirrors, and light with Victorian craft have been used to create a dramatic look.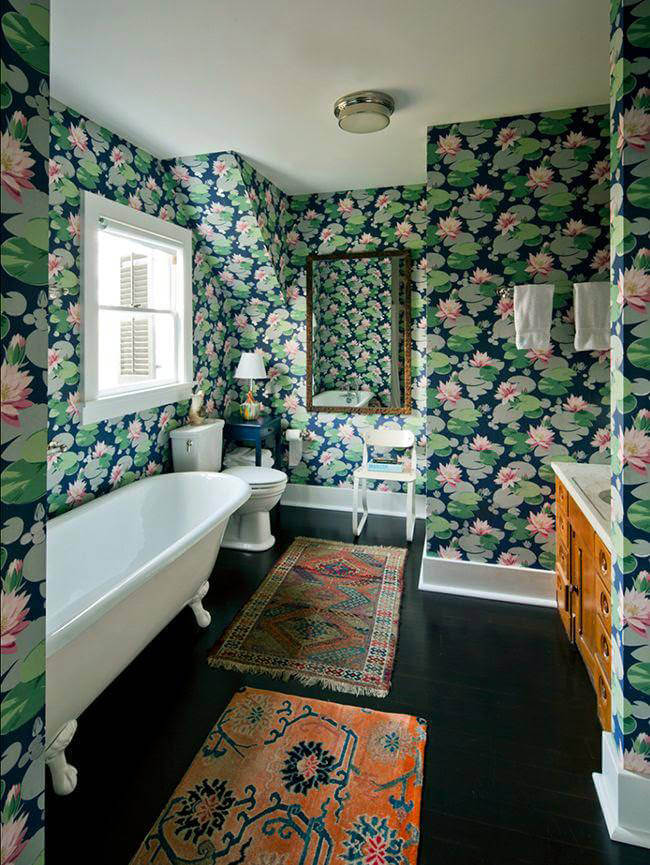 Source: http://maisonboheme.blogspot.in/2014/08/patterns-and-prints-in-bathroom.html
I have lilies on my wall!! Watery blue-greens sharing the stage with lively pink floral design are a perfect play with White. The filtering light adds drama!!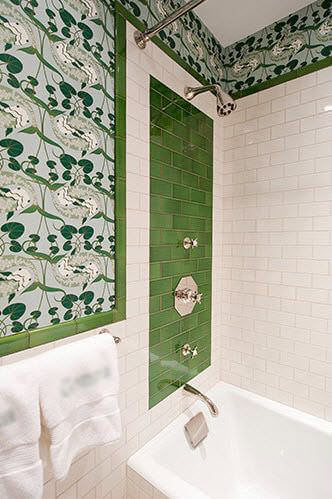 Source: http://www.apartmenttherapy.com/graphic-wallpaper-in-the-bathr-147342
The bathroom showcases a fitting way to use darker shades of green in a minimalistic setting.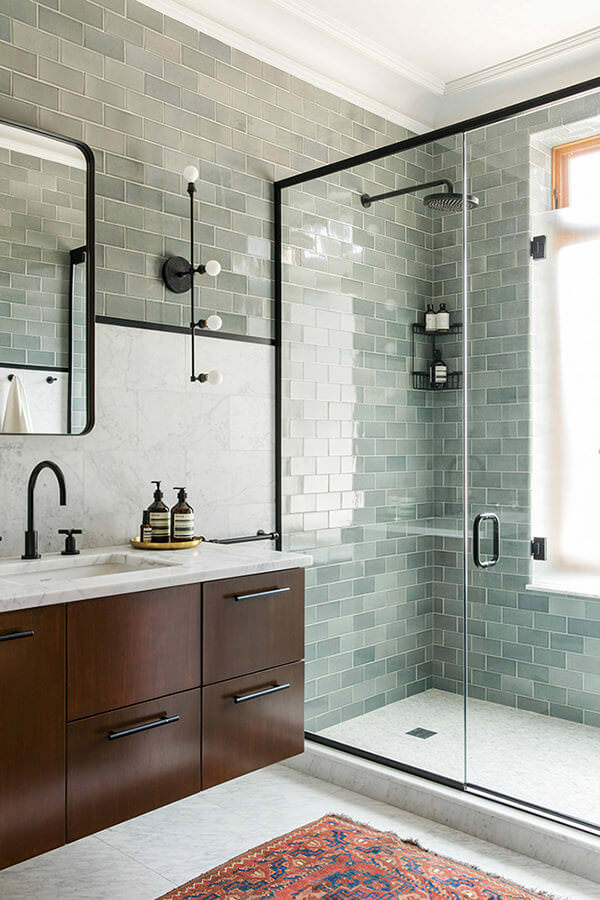 Source: http://elizabethroberts.com/
A smart use of green that is almost grey works well on the tiled wall to create a stylish effect. Using this dull almost neutral green for the back wall, shifts focus to the brown vanity of the wash station.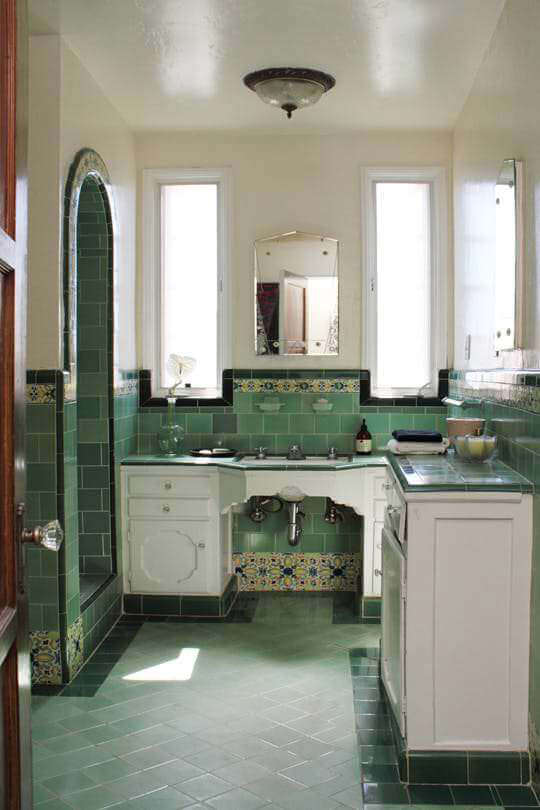 Source: http://www.apartmenttherapy.com/dantes-charming-spanish-flatho-143763#gallery/26410/22
We love the use of green in the kitchen too because it is a very relaxing color — the green used here connects you to nature and brings about a calming feel.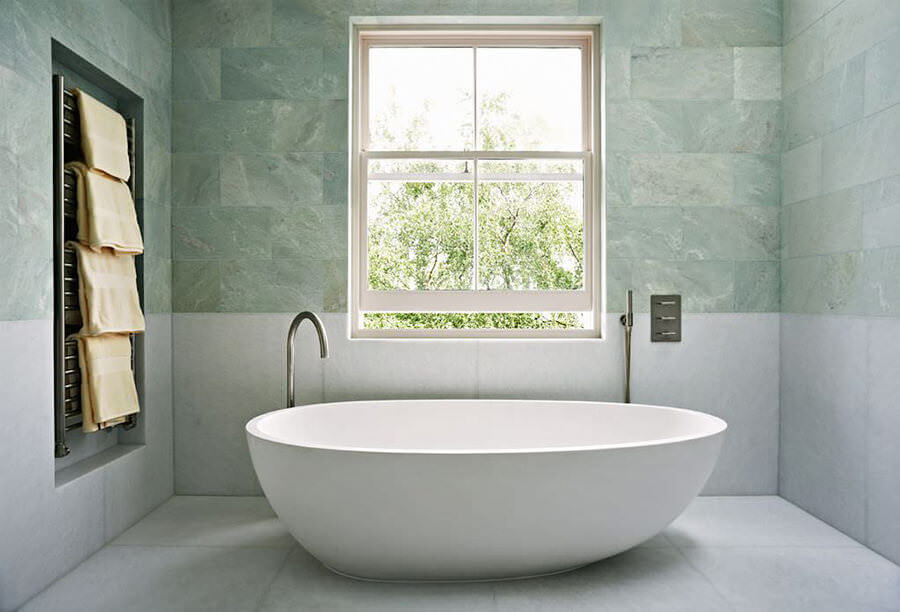 Source: http://www.waldoworks.com/residential-arundel-gardens.php
A cool and soothing set-up with a very pale green on the walls is just what you need for a relaxing morning soak.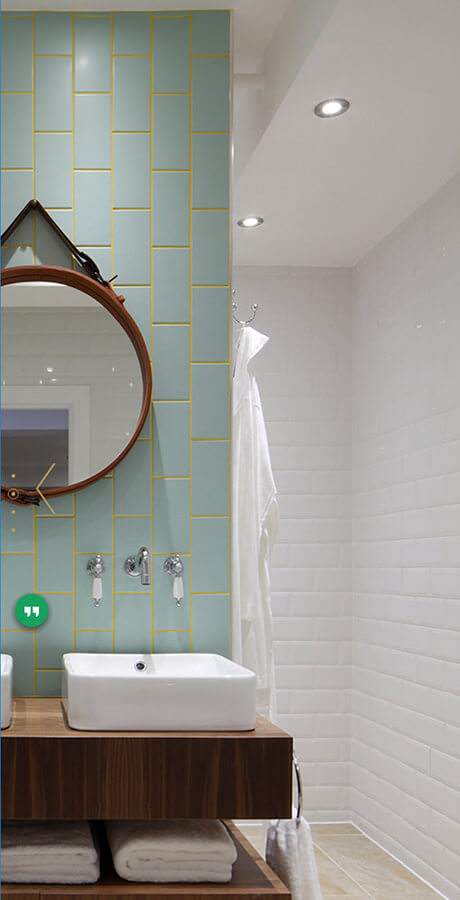 Source: http://www.oliverburns.com/case-study/loft-apartment/
Yet again the stylish statement wall in a blue-green hue breaks the monotony of the sterile white space.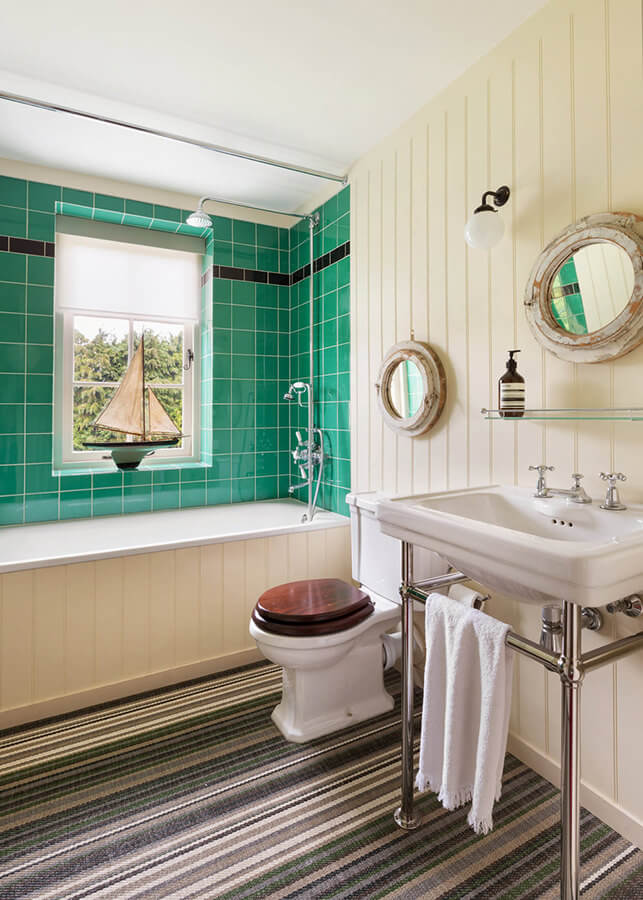 Source: http://www.charlottecrosland.com/project-country-house-bucks/
This emerald green tiled wall is cleverly recessed, which allows the lighter neutral fixtures to be tucked up and out of sight. The mirrors are ingeniously used to spread more light in the space which also has enough natural light.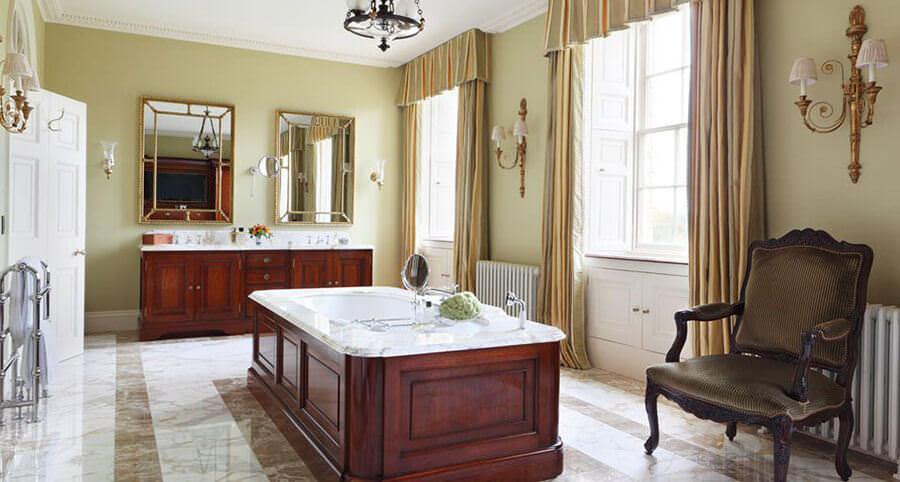 Source: http://www.markgillette.com/portfolio-detailed.php?id=74
The interplay of sunlight, artificial lighting, and classic drapes give this room an airy, majestic look. The pale green colour on the walls and rustic wooden tub take you back in time.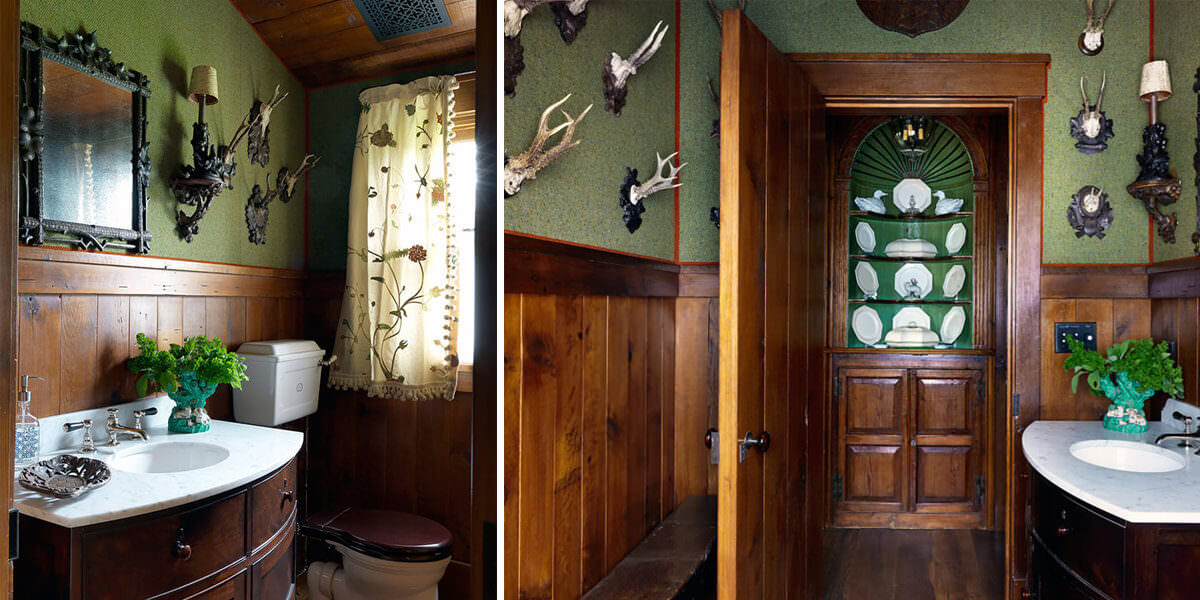 Source: http://www.sibylcolefax.com/interiors/bathrooms/
Painting just part of the wall in green is a brilliant way to bring color into this vintage bathroom. The dramatic hue is an excellent choice with the innovative use of wood in this rugged looking space.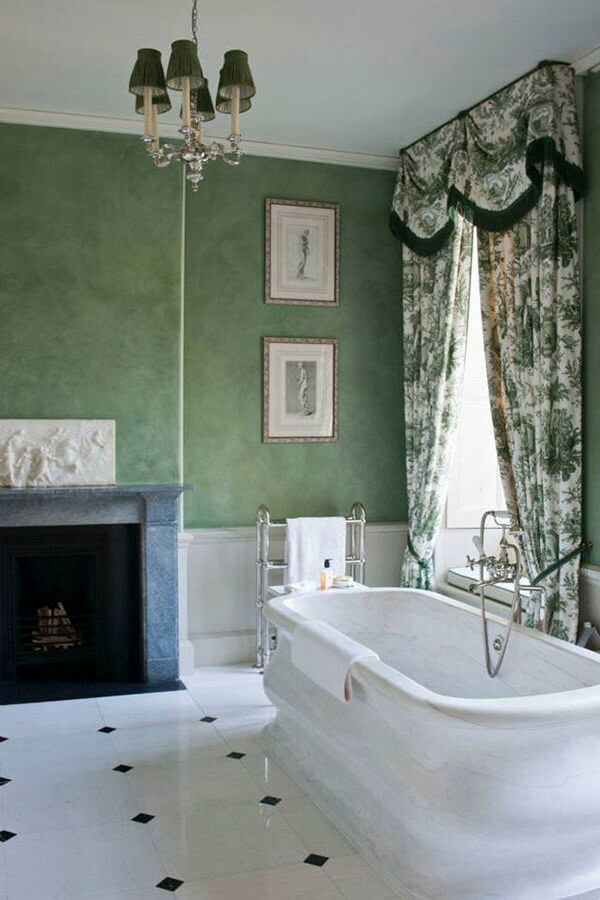 Source: http://www.spencerchurchilldesigns.com/
This space exhibits a beautiful bathroom palette: green mixed with white and a nice use of art on the mantle and the walls. It's a fresh space, with a timeless appeal that feels equally modern.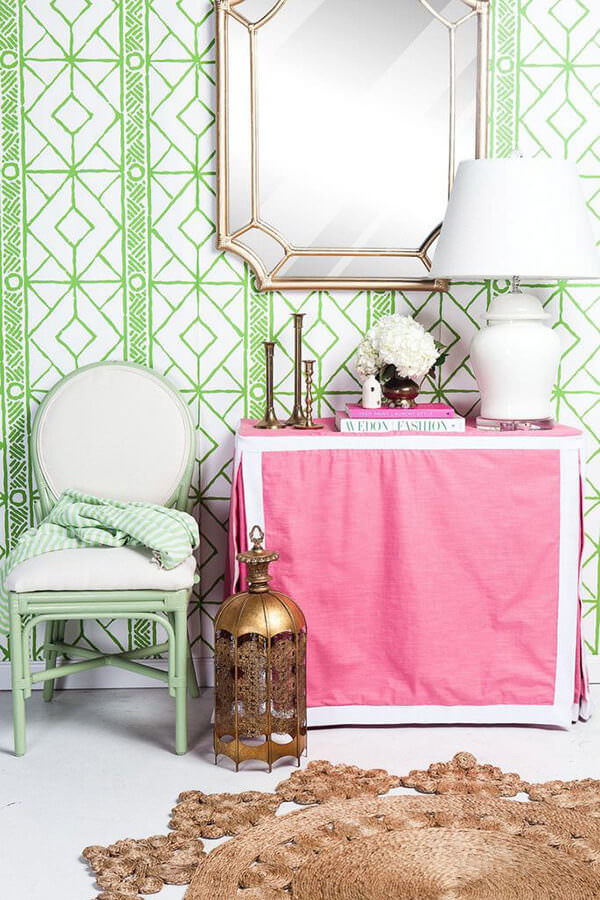 Source: http://betterdecoratingbible.com/2014/09/19/this-shop-is-interior-designs-hidden-gem-great-deals-on-glamorous-trendy-furniture/
This may be a very clean-looking space, but it is equally eye catching. The geometrics in green on the wall contrast nicely with the cool white floor. The rest of the elements also carve out a distinctive look in this room. Soft pink, green wall tile works well with both materials and is a nice departure from ubiquitous white subway tile.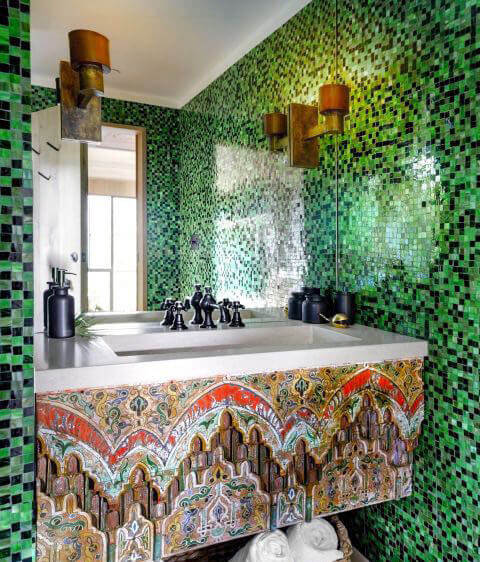 Source: http://simplylovedesign.blogspot.in/2015/07/an-ode-to-powder-room.html
I love this bright green and black tiled wall. It's the perfect choice for this wash station with Middle Eastern motifs—giving this space a traditional, Arabic look. The choice of going bold on the wall is a smart move!!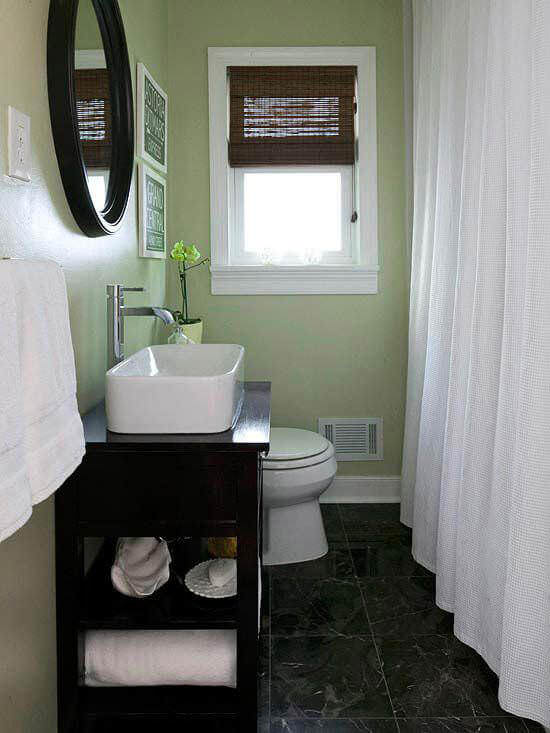 Source: http://ukassoc.com/bathrooms-on-a-budget-ideas/amazing-bathrooms-on-a-budget-ideas-for-house-design-ideas-with-bathrooms-on-a-budget-ideas/
The black floor highlights the pale green hue on the wall making what could be a cold space a lot more happy as well as classy. Use of dark wooden storage space and framed mirror add the right elements for a classic finish.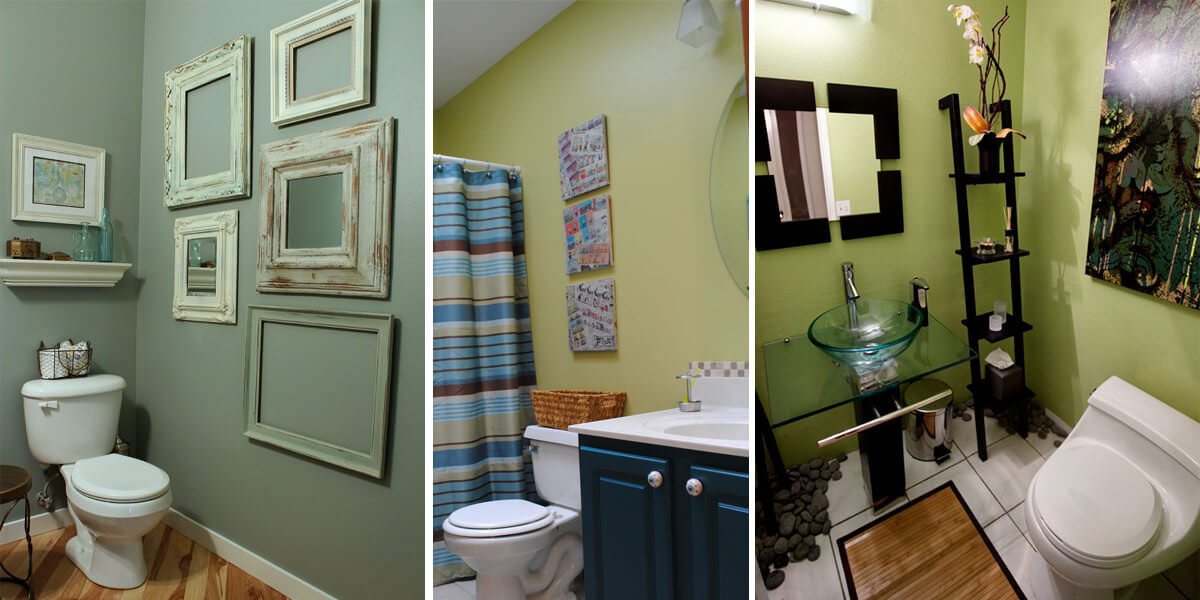 Source: http://www.vssagi.com/ideas-to-update-your-bathroom-on-a-budget/
The bathrooms here cleverly showcase how to use green to dress up your walls. Whether pale or zesty, each hue can be fabulously stylized with frames, artwork, and paintings.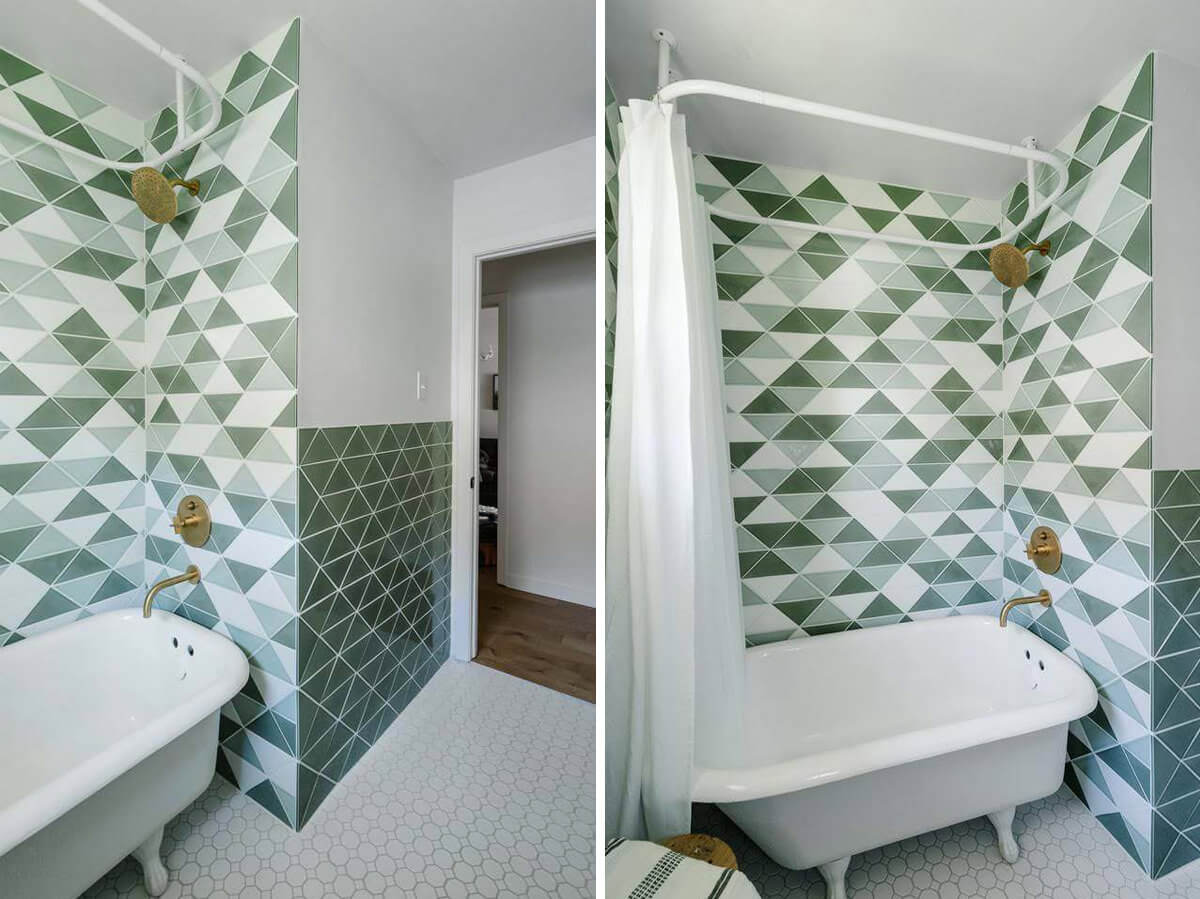 Source: http://www.apartmenttherapy.com/before-after-graphic-green-tile-totally-transforms-a-dated-bath-231653
With such a bold print, I think it was smart to go with light green on the tiles for the walls. Modern, minimalistic, charming and perfect for a smaller space.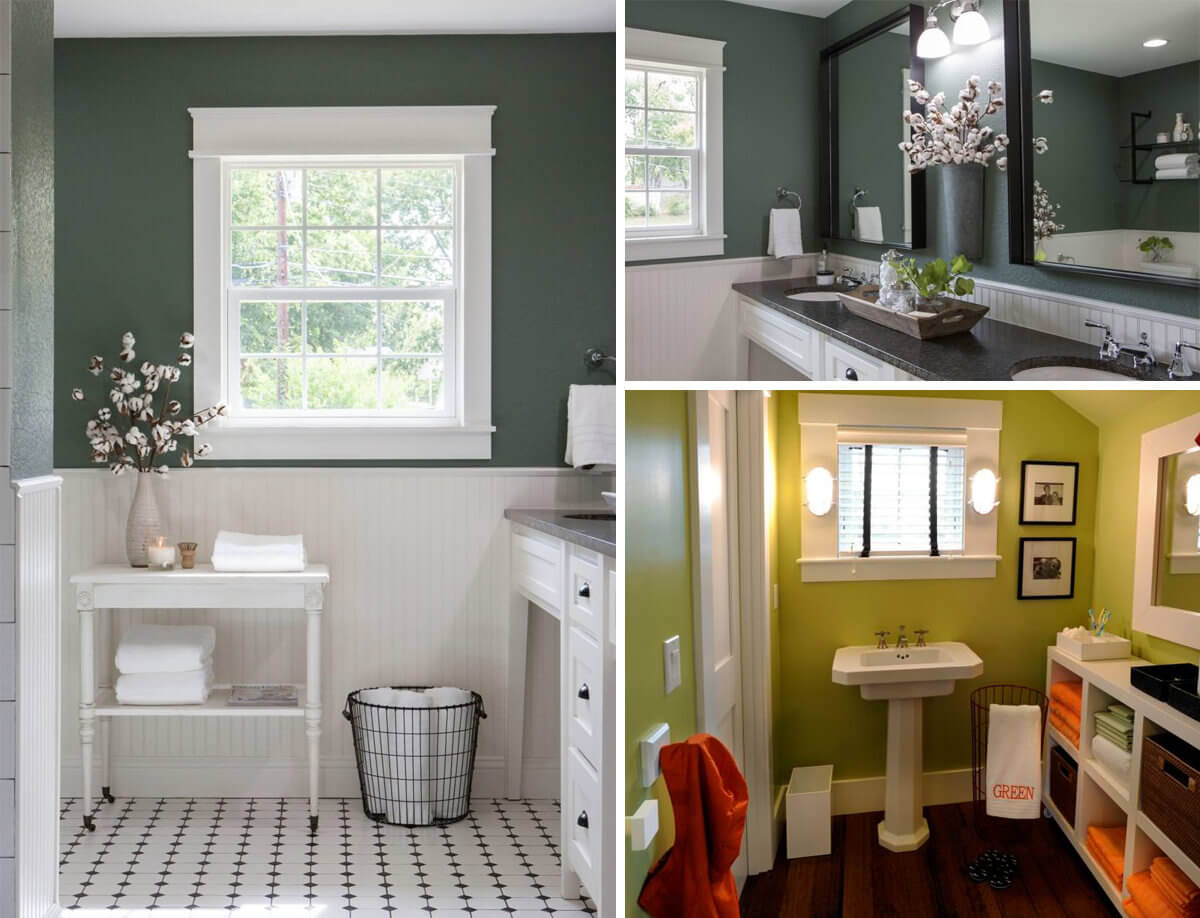 Source: http://photos.hgtv.com/rooms/viewer/bathroom/green
If you are fortunate to have an airy, well-lit bathroom, then you can easily pick a darker shade like olive or bottle green while if you don't have that luxury then simply brighten the area with stylish artificial light fixtures and a brighter hue of green.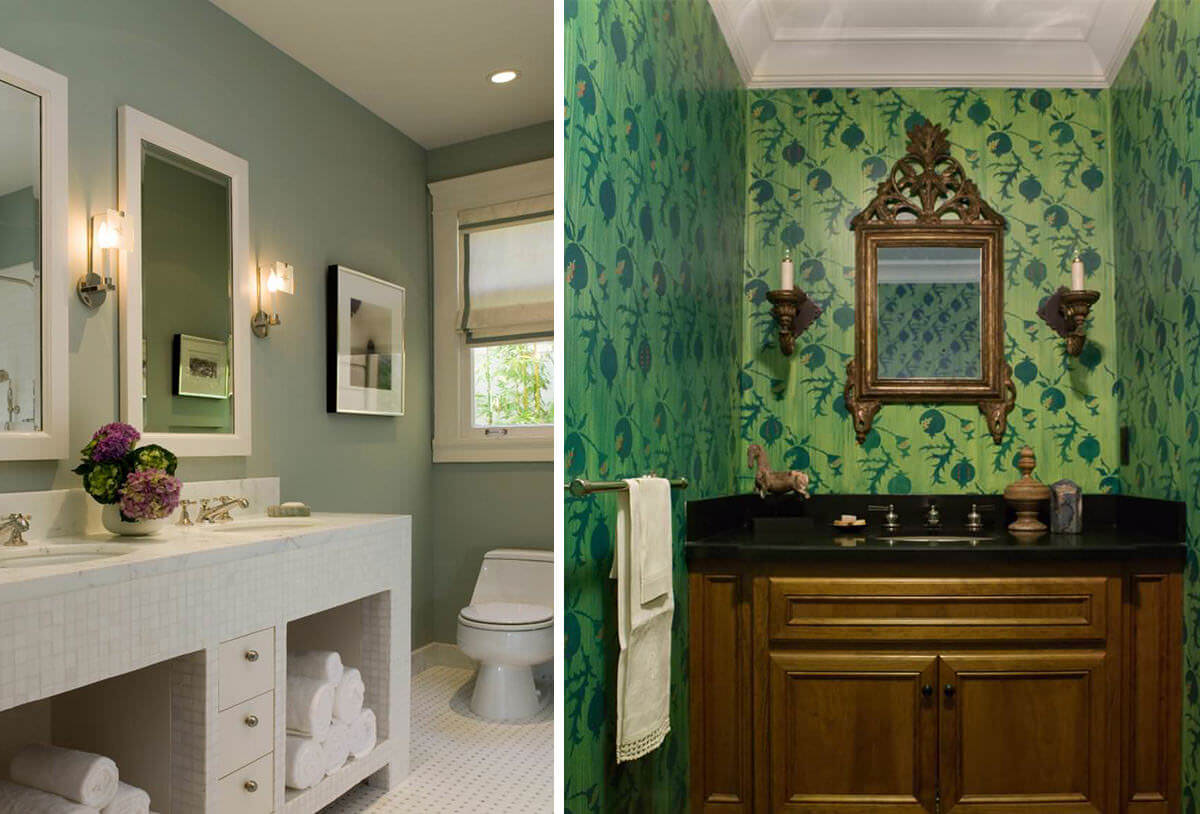 Source: http://people.hgtv.com/professionals/coddington-design/photos/
Take a look at the two bathrooms, one sees the use of pale green, the other a brighter one. The paler shade helps you attain a modern, airy and light feel while the rich tone of green brings a warm, comforting, mellow feel.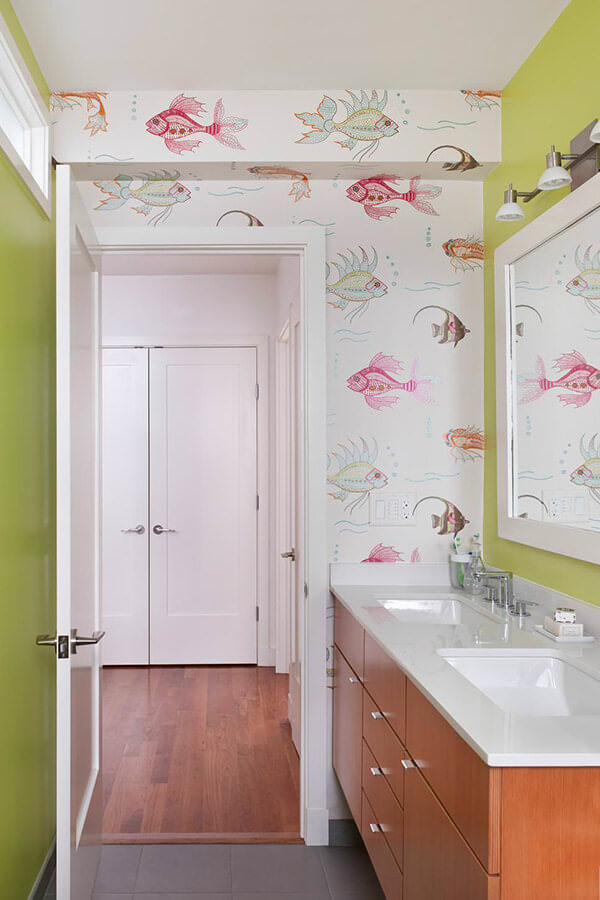 Source: http://people.hgtv.com/professionals/emily-pinney/photos/p/1
If you have a tile budget, pick out a tile in your favorite prints like the fishy ones seen in this bathroom hue and clad the entire wall. It's the perfect wall covering for a wet environment, especially for children. The green paint on the opposite walls adds to the cheerful effect.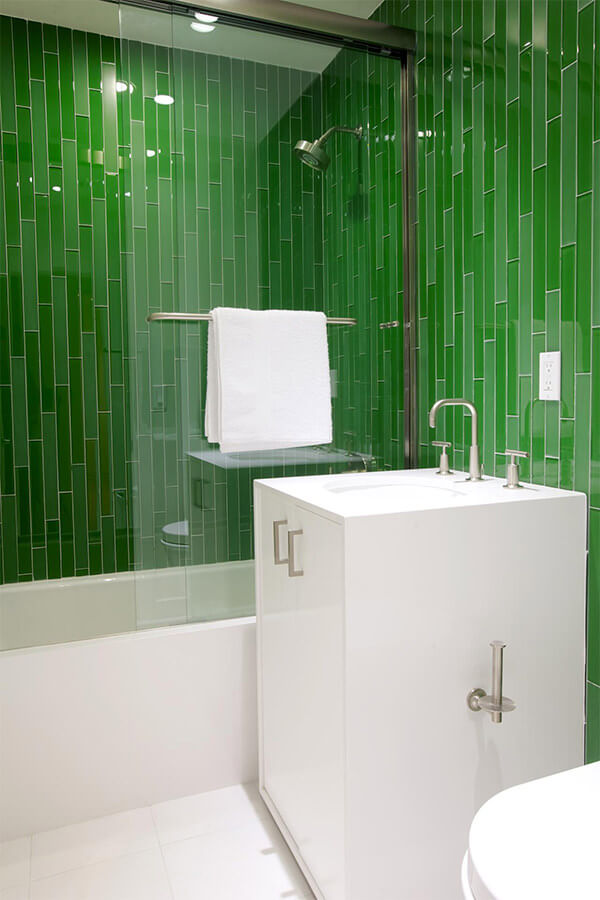 Source: http://people.hgtv.com/professionals/dunn-architecture-studio/photos/p/1
The forest green square tiles remind you of the Amazon in your bathroom. The mirrors and sink offer just the perfect contrast in pure white. Just what modern spaces wishing for a splash of green need.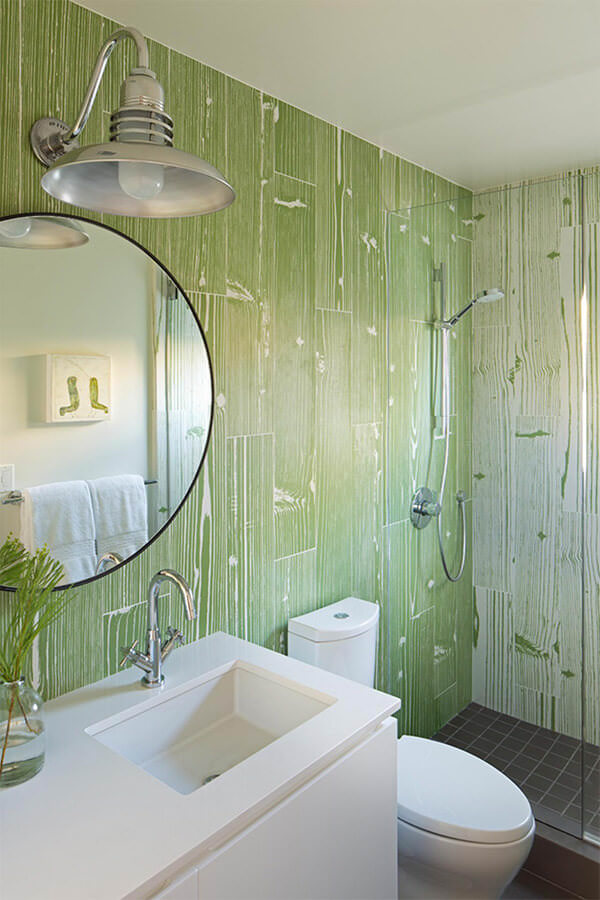 Source: http://people.hgtv.com/professionals/dawson-design-group--inc--/photos/p/2
If you want your bathroom color scheme to be more energetic than calming, consider a bathroom space like this one. White and green are complementary and invigorating. The square white sink and white toilet add a bit of calm.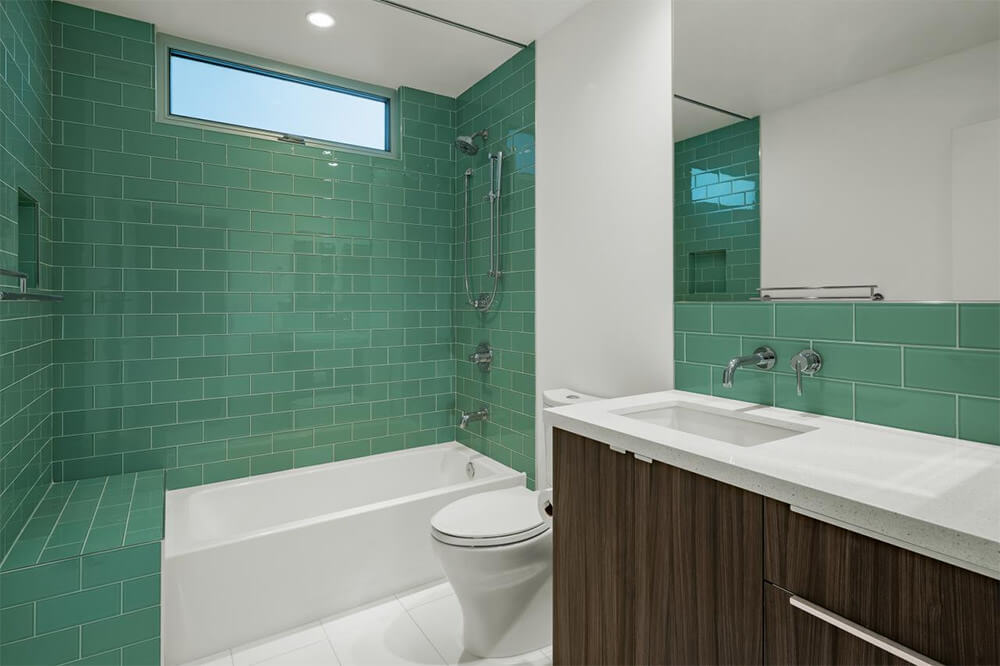 Source: http://people.hgtv.com/professionals/the-ranch-mine/photos/p/2
The bathroom sees a nice play of the colours white and green tiles. I love the mood created by the use of this shade of green as it intensely cooling and relaxing while the space is very simple yet interesting.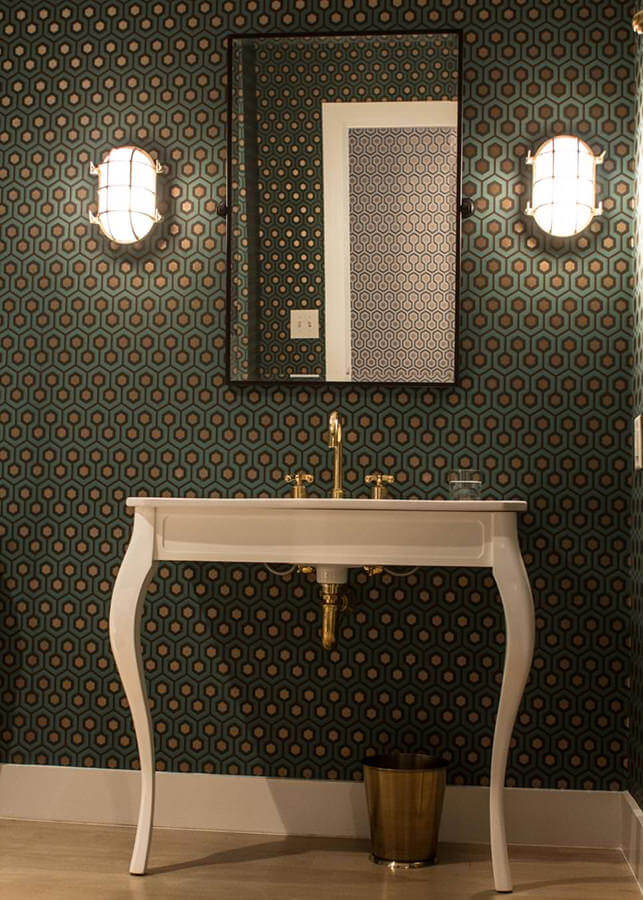 Source: http://people.hgtv.com/professionals/studio-modish/photos
The busy wallpaper is perfectly complemented with the stark cream console and opulent mirror. Lights aid in creating a warm, traditional look, just right for a Victorian home.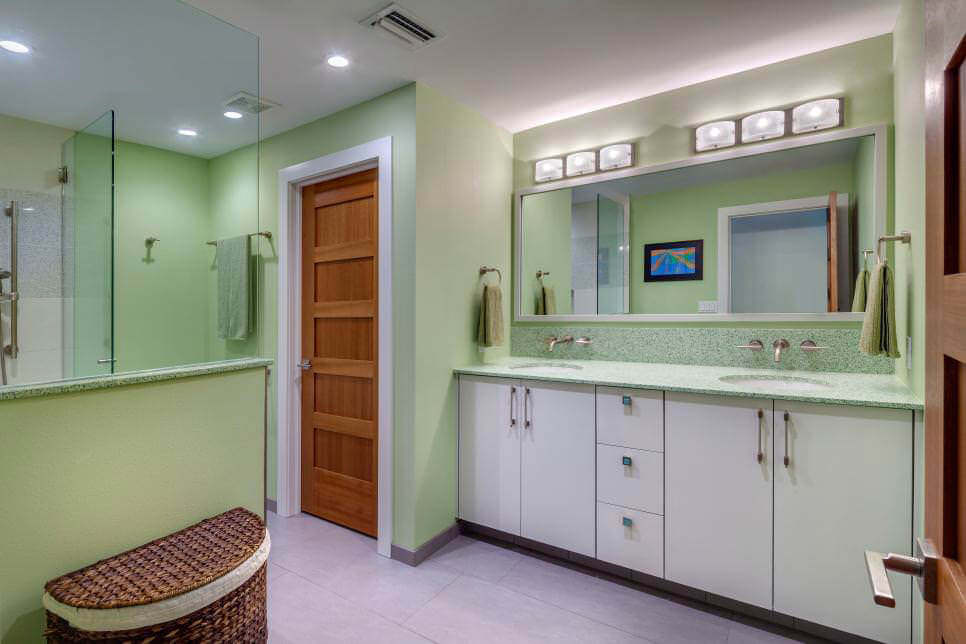 Source: http://people.hgtv.com/professionals/the-schimberg-group/photos
Another gorgeous bathroom in pale green with lots of white thrown in. The wooden door and wicker basket add a bit of warmth to this type of color scheme. Matching linen are incredibly fun elements.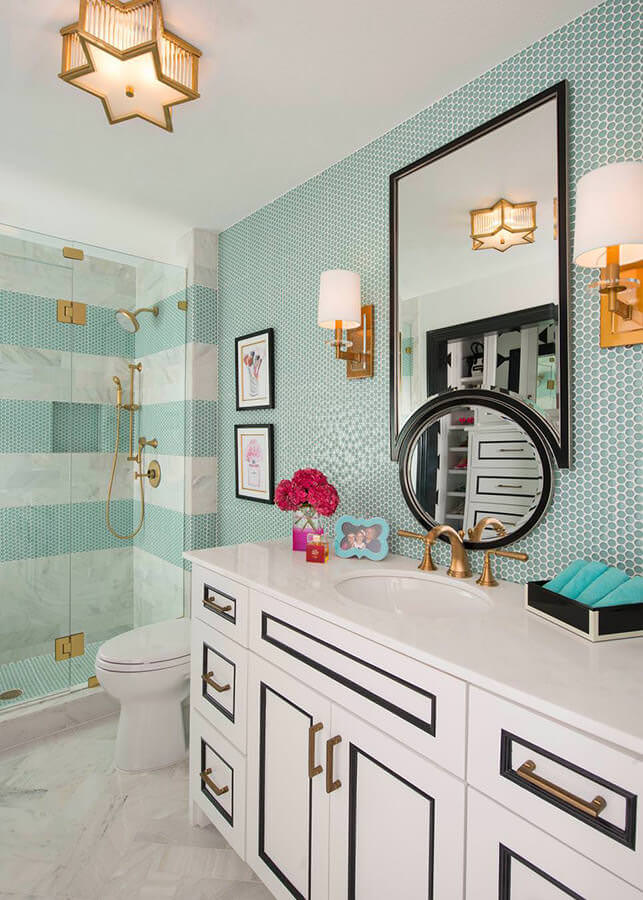 Source: http://people.hgtv.com/professionals/ibb-design/photos
The patterned wall in blue-green is simply the best choice for a bright, spacious and well-lit family bathroom. Gold brassware and statement star shaped ceiling lamp add much-needed warmth and attractiveness to the ambiance. The opulent mirror forms the perfect foreground, charming indeed!!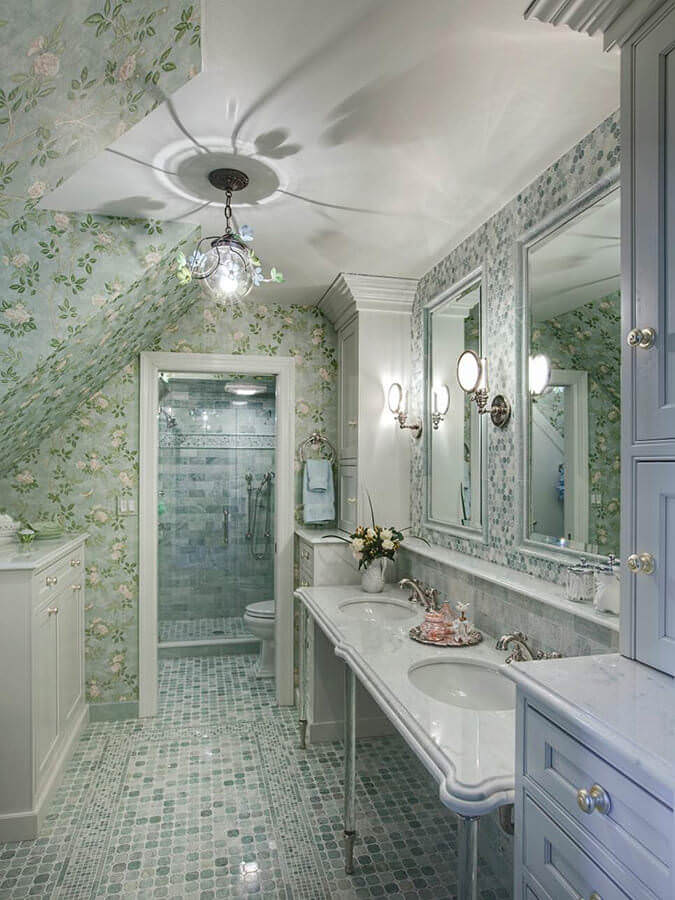 Source: http://people.hgtv.com/professionals/drury-design/photos/p/3
Taste royalty inside these delicate floral themed interiors. Those who can afford exclusive luxury, this space serene and calming space is for them. Use of marble and high quality design give it a classic and charming look.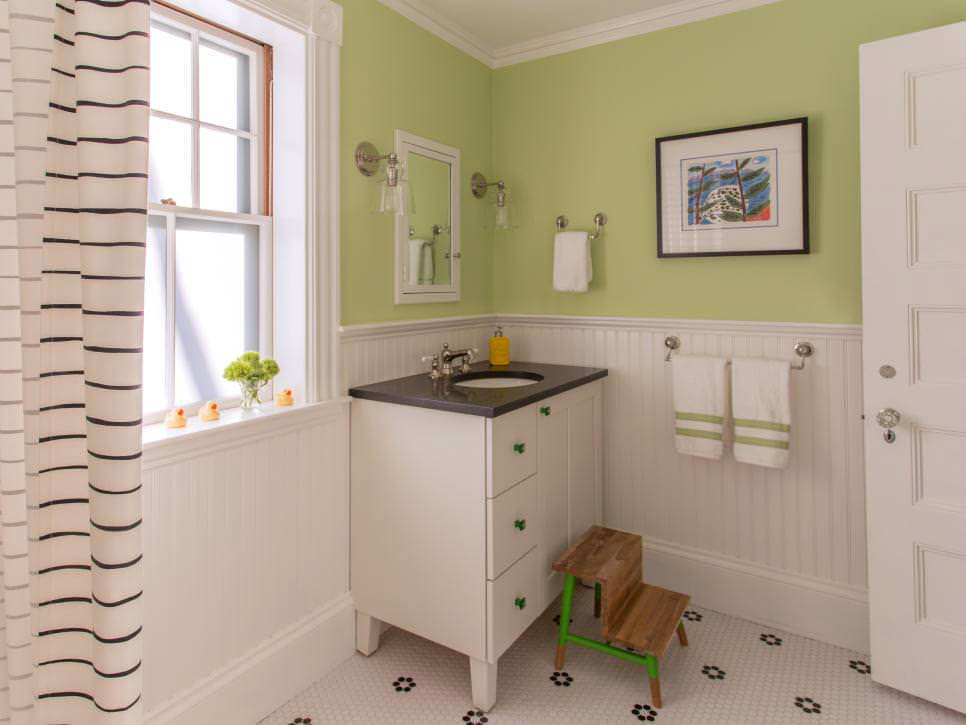 Source: http://people.hgtv.com/professionals/amanda-reid/photos
Kids would simply love this tiny space!! Lime green wall is fun and electric. Full of fun and exciting elements like the sink, wooden steps and drapes give this bathroom a life of their own.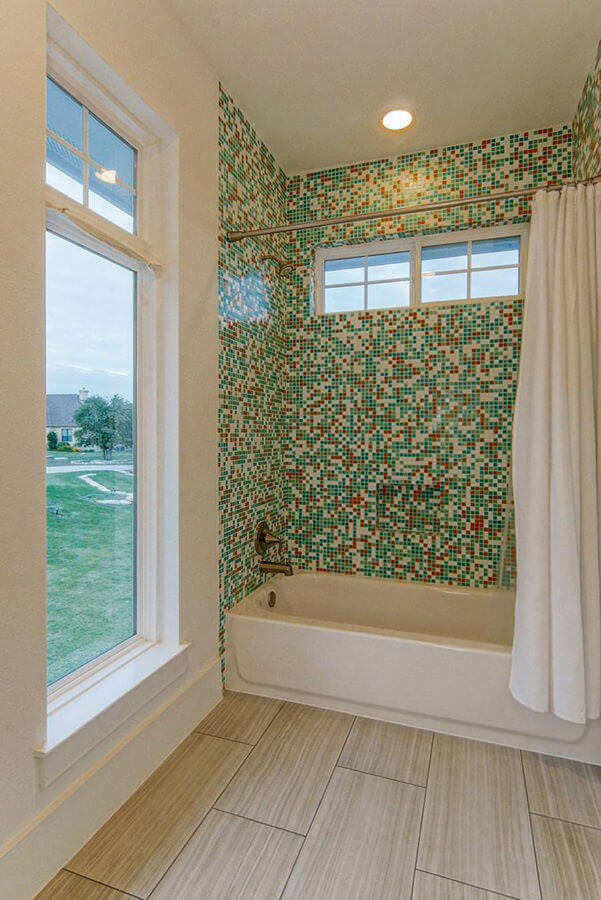 Source: http://people.hgtv.com/professionals/barron-custom-design/photos/p/5
If you want to bring in darker green tiles, make sure your bathroom has a good amount of natural light or use just a splash of the colour, interspersed with lighter neutrals. I like that this fetching wall tile installed above the low set tub.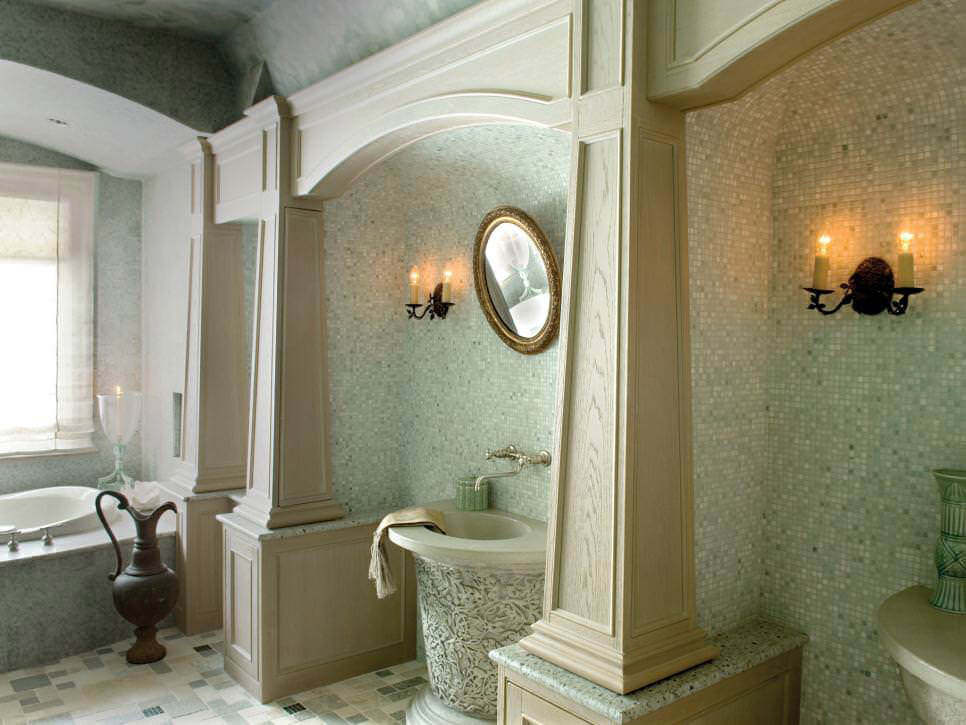 Source: http://people.hgtv.com/professionals/barry-dixon/photos/p/6
This beautiful bathroom uses the pale green in a superb way for a charming, period look. Use of traditional elements like the stone sink, classic framed mirror and pillars add magnificence. It's a fresh space, but it also has a timeless quality that you would love to explore.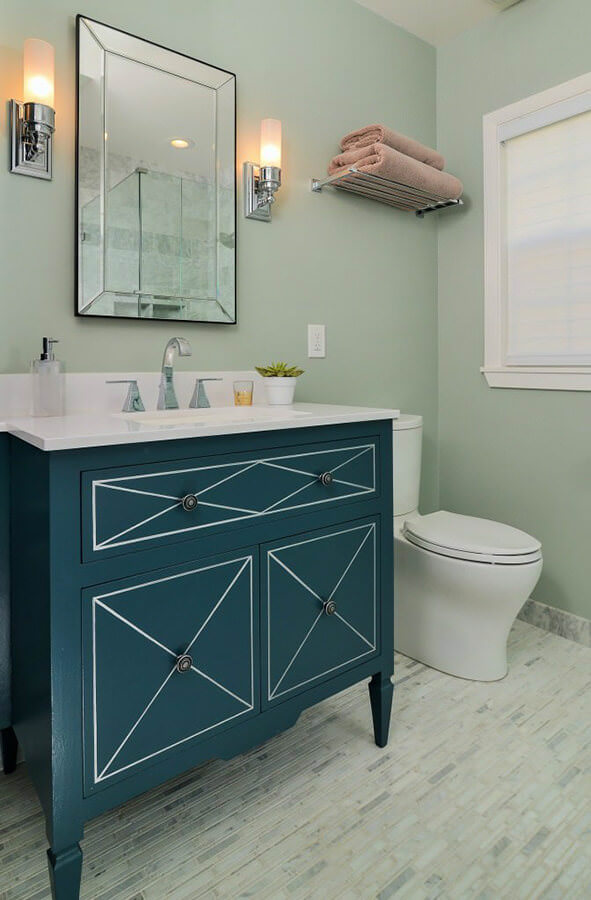 Source: http://kerriekelly.com/project/marvelous-in-marble/
This bathroom shows you an innovative manner to employ colour and geometric prints. Almost faded green on the wall ensures the bright vanity is the focal point. Lights add freshness and drama. The mirror makes a great feature in this fantastic modern bathroom by giving it a sense of spaciousness.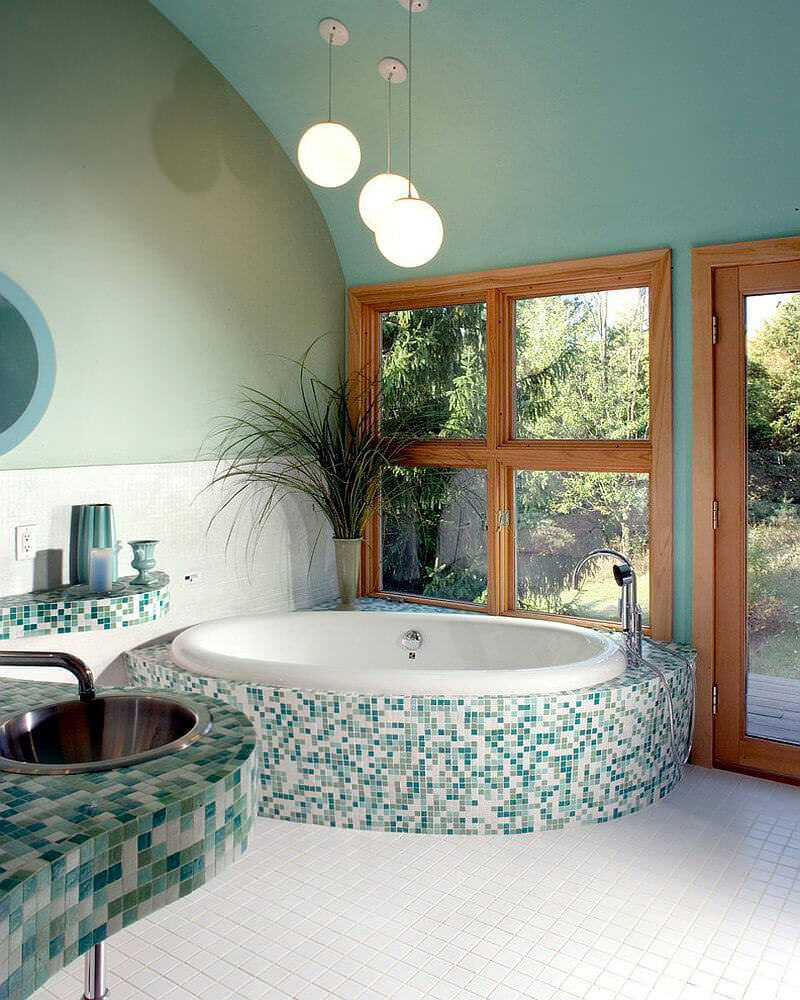 Source: http://www.decoist.com/2015-01-07/green-bathroom-ideas/bluish-green-gives-a-serene-vibe-to-the-spa-styled-master-bath/
Foliage inside and out!! What else do you need for a fabulous outcome? Here the green color palette sees a diversified use right from pale green, blue-green to the more exuberant tones of green at the sink. Neutral white on the floor and tub balances the colour scheme.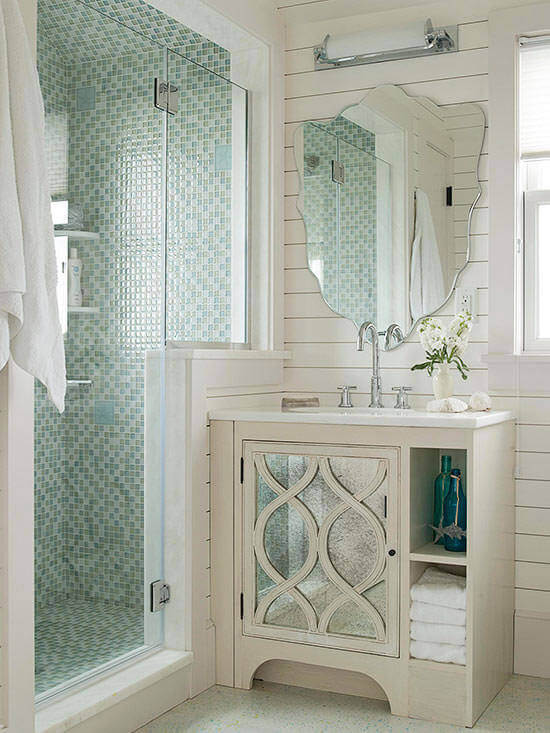 Source: http://www.bhg.com/bathroom/shower-bath/walk-in-showers-for-small-bathrooms/
We love the brightness of this tiny space and the stylish use of fluid and straight design. For example, the light green creates brightness, showing you that mixing 2 neutrals isn't such a bad idea. The fluidity of pattern on the vanity and the mirror is intensely charming.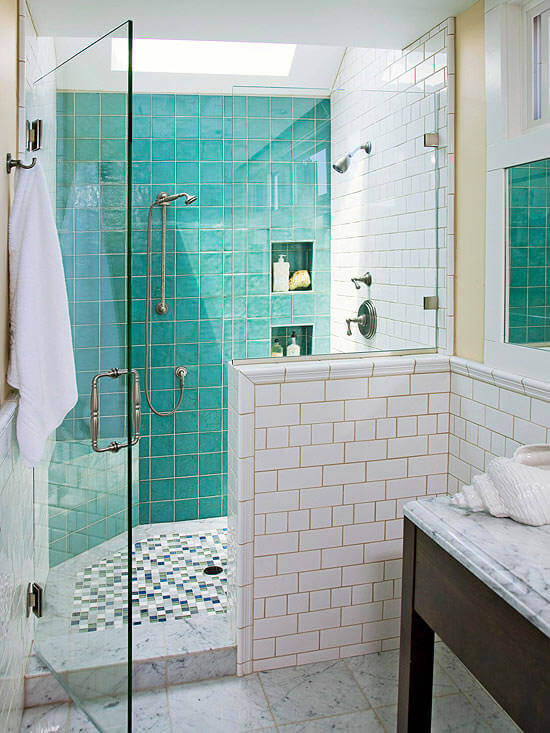 Source: http://www.bhg.com/home-improvement/tile/projects-inspiration/bathroom-tile-designs/
Another bathroom that has you dreaming of the deep blue sea and pristine white sand. It's a fresh space, that totally brings in the outside to the inside. A conch and marble workstation complete the picture perfect setting.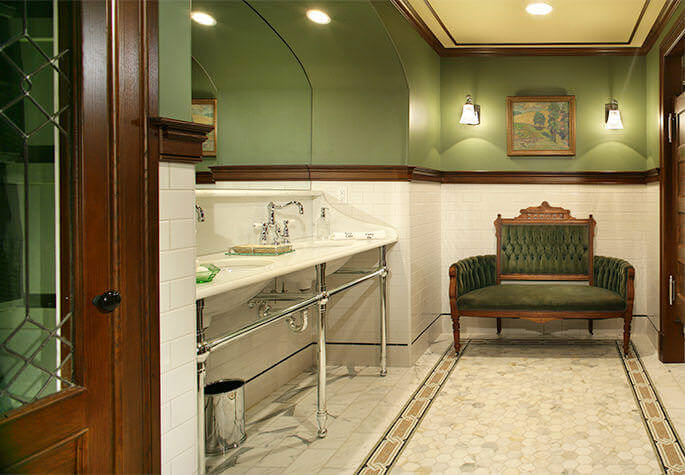 Source: http://www.cmahnken.com/portfolio/revive
I have yet to see a better use of olive green. The colour is used as a complementary background instead of overpowering the space. This space makes a brilliant use of arches and subdued lighting to create a cozy ambience. The olive chair makes an impression!