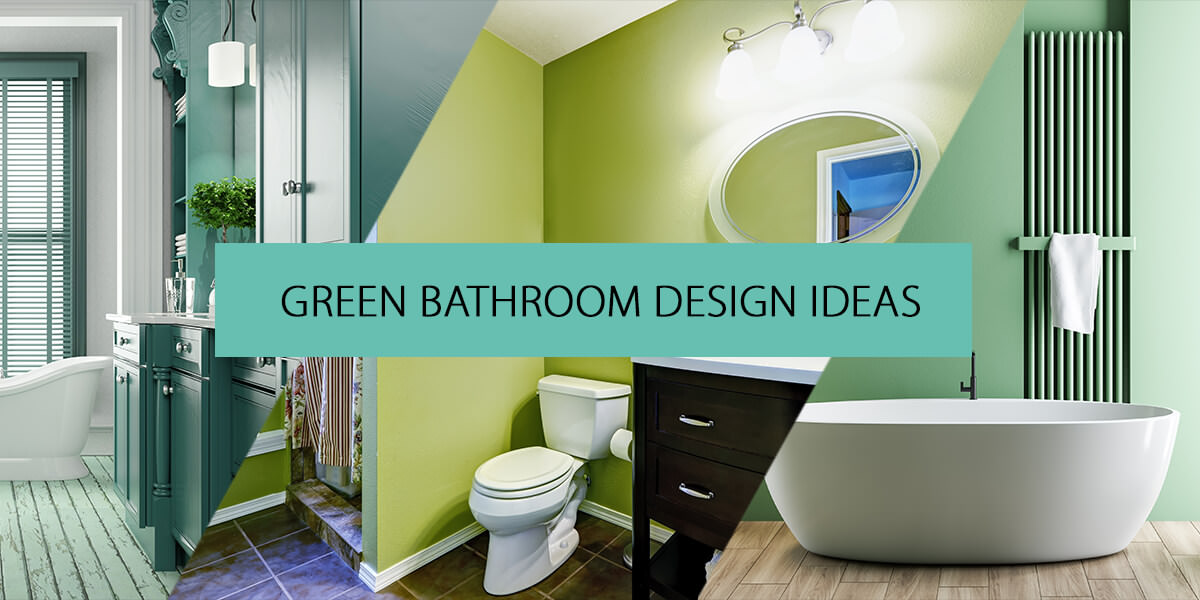 In December last year, Pantone Color Institute declared Greenery as "Color of the Year" 2017. Greenery is a zesty yellow-green shade that is symbolic of nature in all its glory. Fresh, real, alive and lush! Colour manufacturers and designers make inspired choices from nature's palette and the popular sentiment of the masses. When we crave unity with nature but can't get to the forest, then do the next best thing; bring the forest home.
An online Survey conducted by QS Supplies with 100 Interior Designers across the globe revealed that "green" is indeed the most popular hue this season. Although there were some Interior designers expressing solidarity with Pantone's Greenery, many prefer working with Pantone's Kale, a slightly darker, foliage-based green or Bistro green a richer green. Designer Nisrine El Lababidi's preference was Pantone Willow Bough which is a toned down, sophisticated version of Greenery and is simply perfect for interiors and matte finished walls. It is trans-seasonal and easily complements most other colours to create a wonderful effect.
These colours are all set to influence trends in interior decor and fashion, although country and climate will always remain key considerations to the role these shades play in our living spaces. Let's take a look at how this fresh hue can we used inside bathrooms, cloakrooms, and ensuites. If you are looking to Renovate your bathroom with Blue Shade, have a look at Blue Bathroom Design Ideas.You can also check our White, Pink Bathroom Ideas and Grey Bathroom Ideas.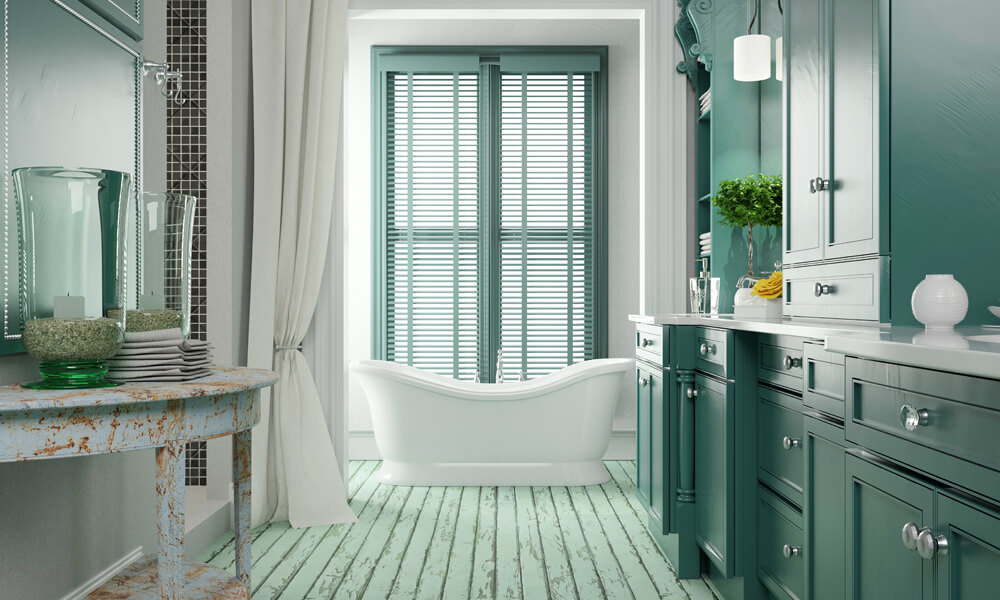 Going completely green all at once is not something we recommend as it will most likely take away from the effect you wish to achieve. This space showcases an eclectic mix of white and sea green and bold textures. The white freestanding tub at the centre and striped floor makes a statement.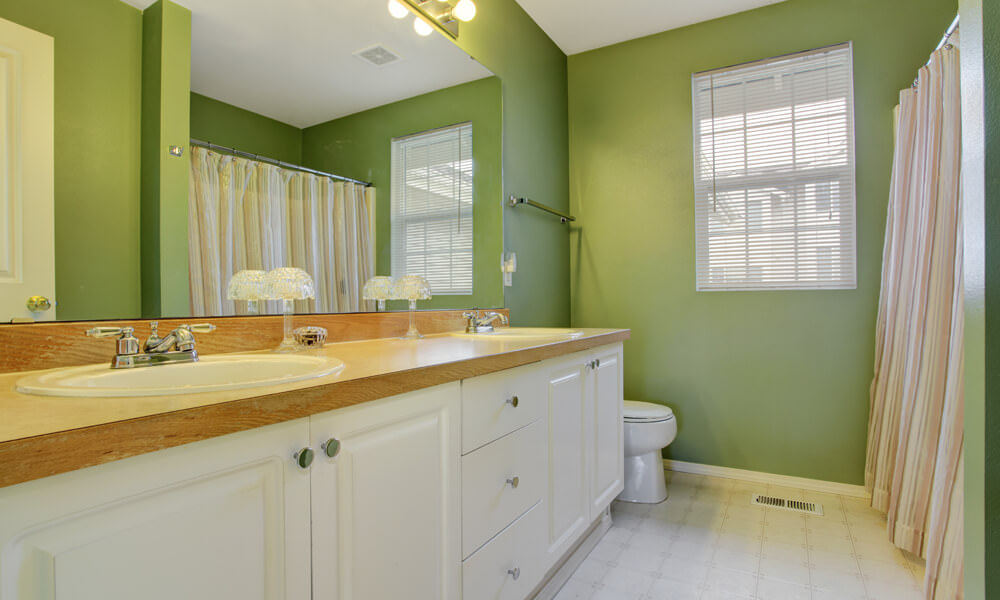 Adding a set of curtains creates a sharp contrast and brings out the essence of the neutral Green hue. An olive green wall gives this bathroom a spacious and airy quality with plenty of natural light filtering in through the window. Beige and white wash area becomes the focal point thanks to the pale olive backdrop.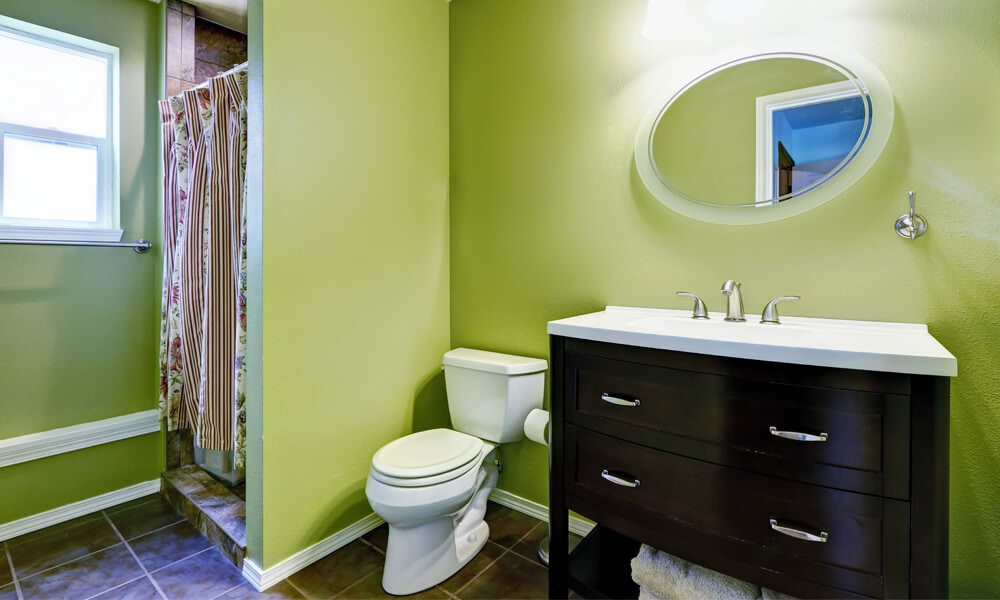 Have you seen something that is so visually distinct than this bathroom? Here the green hue has been strategically used on the wall, to highlight the splendor of the wooden vanity. The mirror adds brilliance and light.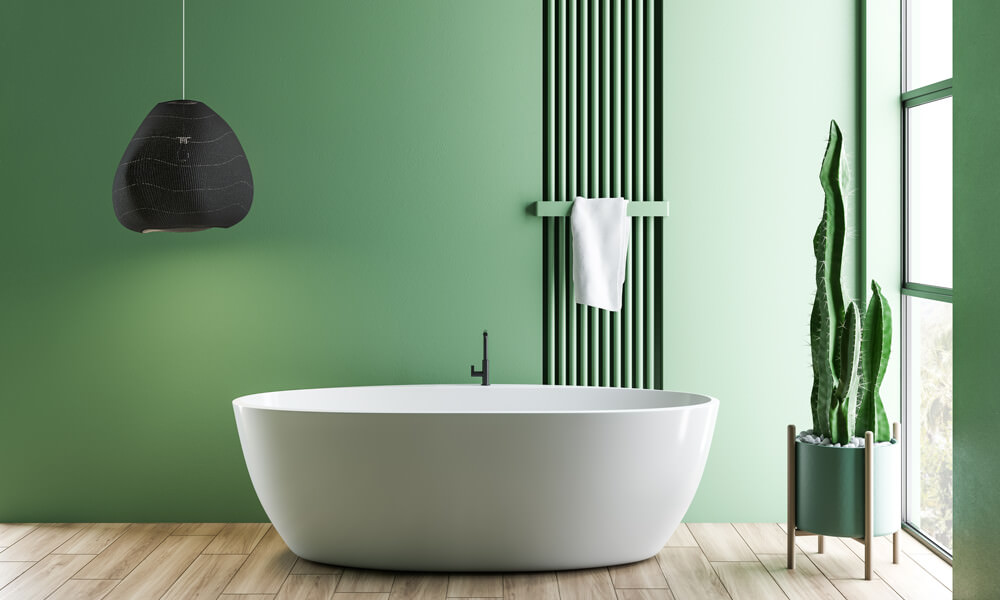 Modern, majestic and stunning is what describes this space which sees an ingenious use of the colour green. Exotic ochre shade of green paint on the wall against a pristine freestanding tub with live plant and textured towel rail create a picture perfect setting!!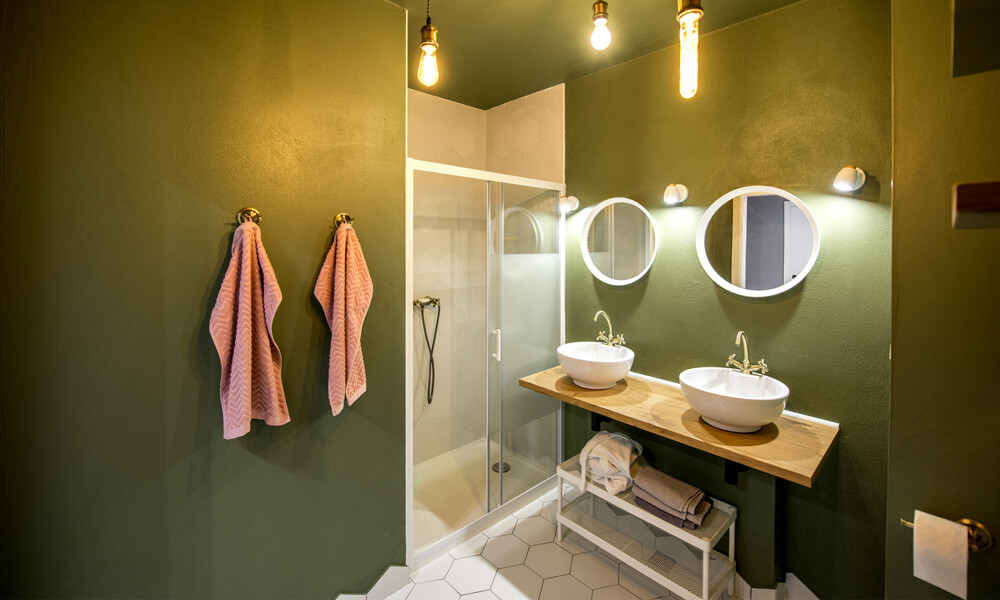 You can be more generous with the use of a darker green that instantly warms up this space and gives you a cozy interior. Breaking up the monotony of the shade is the generous use of white, from the mirrors to the hexagonal floor tiles and a corner enclosure. Electric lighting sets the tone for a space with a great organic vibe.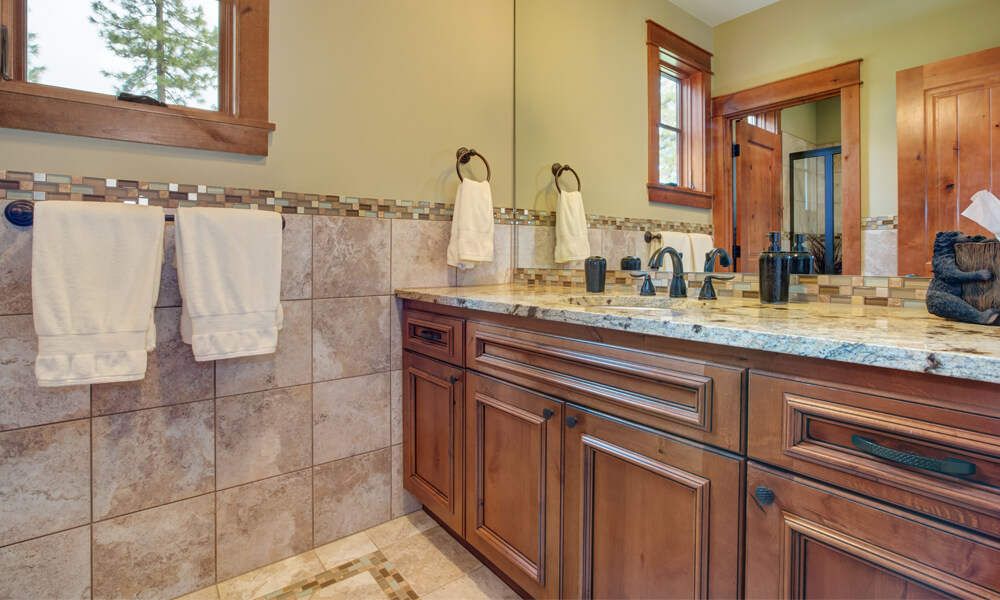 Check out the classic, traditional look of this space. Interestingly, the shade has been used on the wall together with textured tiles that give the space a dramatic feel. This space benefits from an excessive use of wood and brown hues making an interesting display. Wooden frames and central washbasin with ornate brassware create an absolutely fabulous bathroom.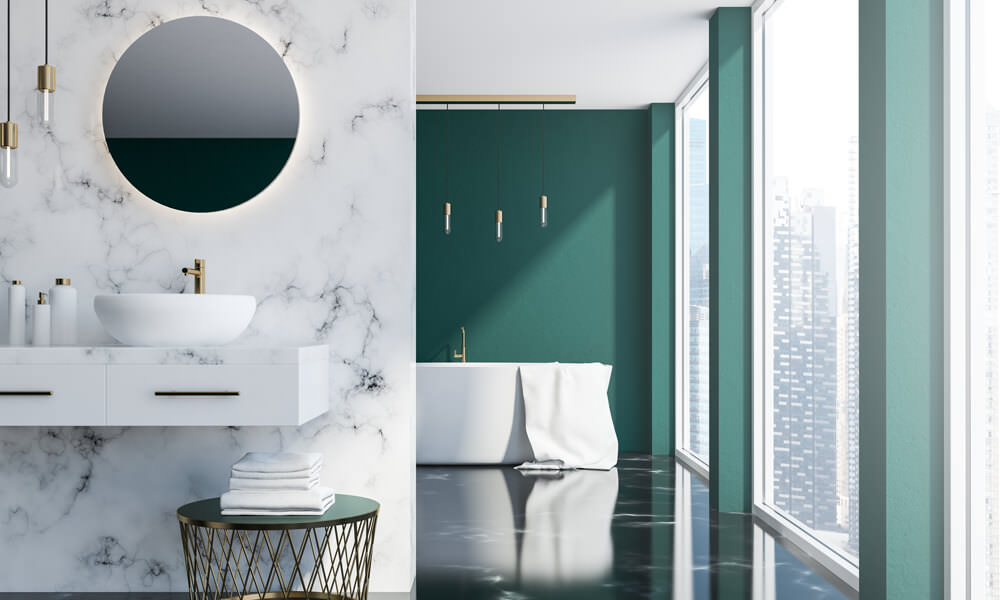 If you are a fan of minimalistic and brightly lit spaces then take a look at this bathroom that sees the brilliant use of sea green on one statement wall. Solid marble countertop with basin in neutral white colour brings the background wall into sharp focus while the huge french windows allow natural sunlight.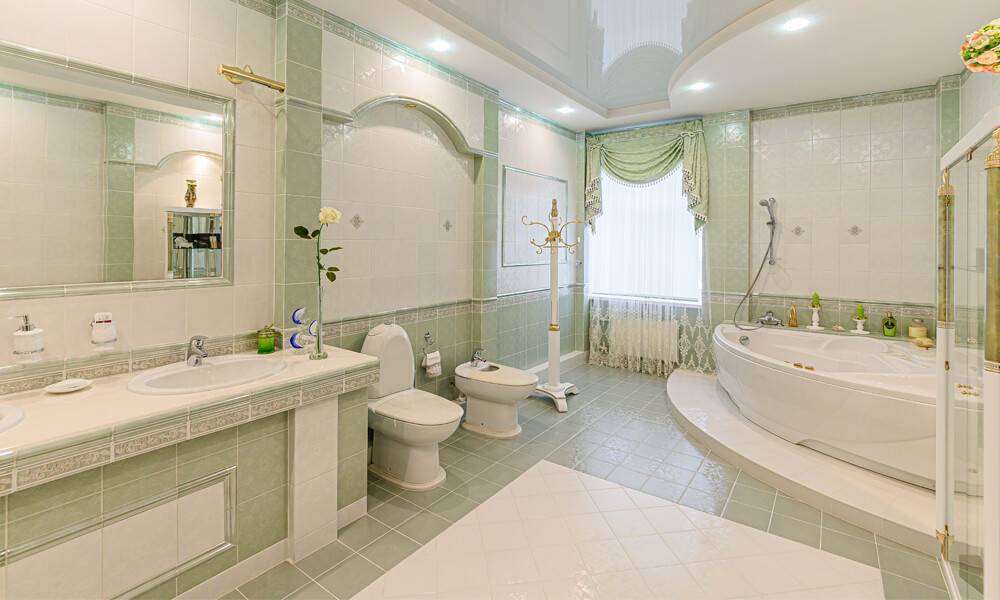 Editorial credit: blaskor / Shutterstock.com
When you wish to create a spacious and magnificent look, it is desirable to use light green tones and make a generous use of light—both artificial and natural. Pale green in this space works well with other neutrals like beige and cream, aided by the strategic use of light. This is a neat looking yet exotic bathroom; the green is cleverly used with white in this Victorian setting.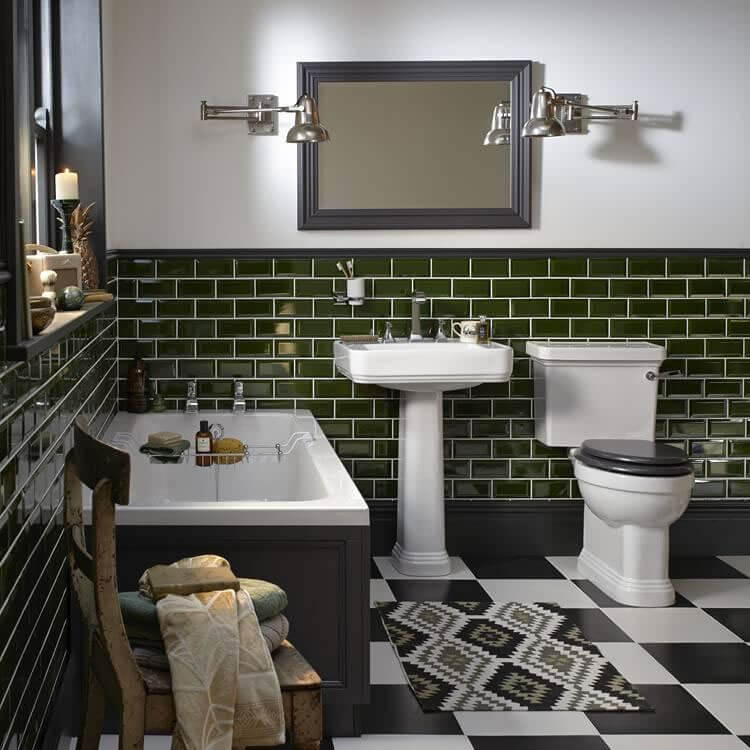 With Green going big this year, people are becoming more daring when using darker, richer tones for decoration. This tiled bathroom wall in a glossy green tone gives out a warmth and richness without being too overpowering. The neutral white of the tub, wc and basin makes an attractive contrast, while the statement mirror and lights give it a traditional vibe.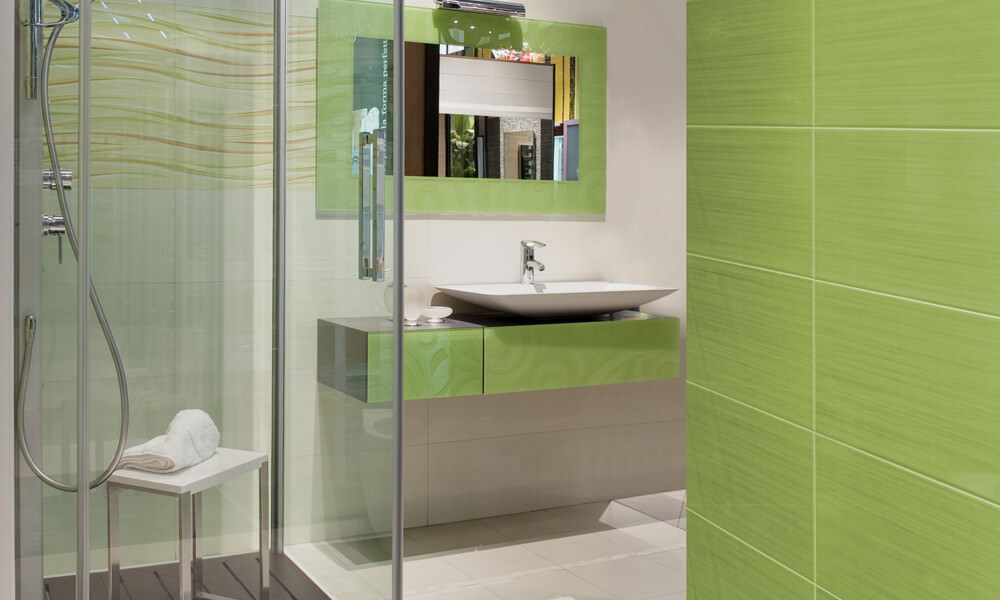 When you are looking to decorate using tiles, choose tiles in your favorite green and decorate by using it strategically on the walls, console and around the mirror for a lovely effect. Textured tile and smooth white are a happy mix in this space. Tiles are also just right for hot and humid bathroom spaces.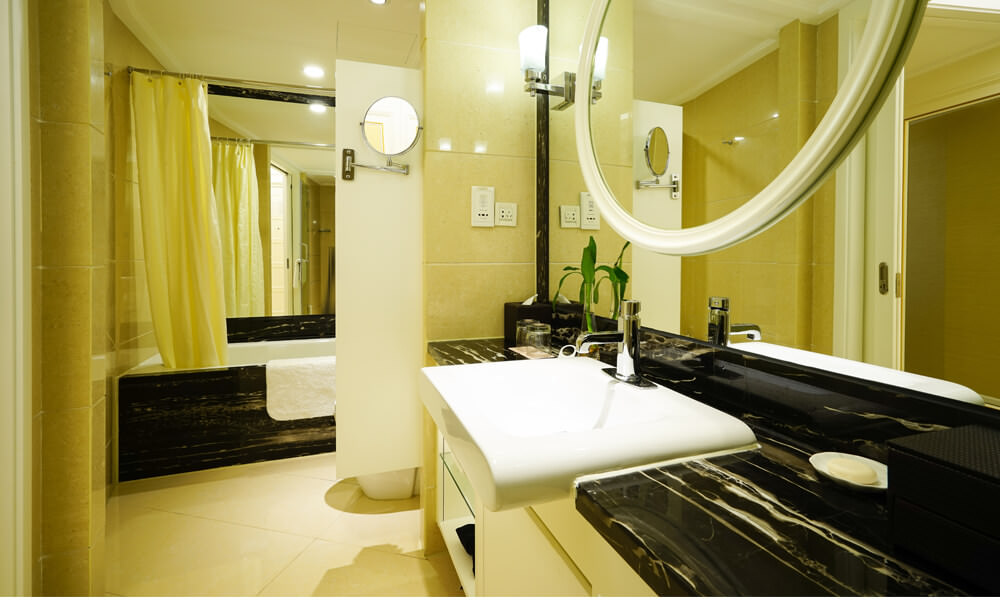 This room presents an adventure in pale green and bold black. Don't be afraid to experiment mixing with curtains, textures, floor tiling, neutrals and bolds all at once. Fluid, flowy and bright, this bathroom resembles a work of art indeed!!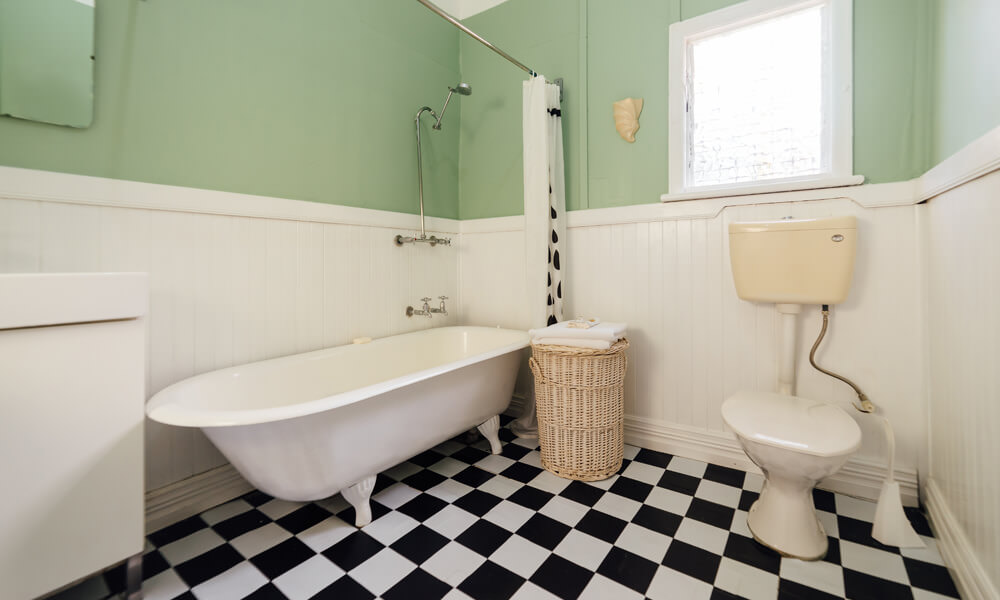 Editorial credit: jamesteohart / Shutterstock.com
We simply love this wonderful combination of geometric black and white tiles on the floor. Pale green and white walls blend in nicely with the bold tiles. Simple bathroom fixtures in white placed upon this floor will allow one to have a bright, airy and minimalist space for peaceful, calming and cheerful experience.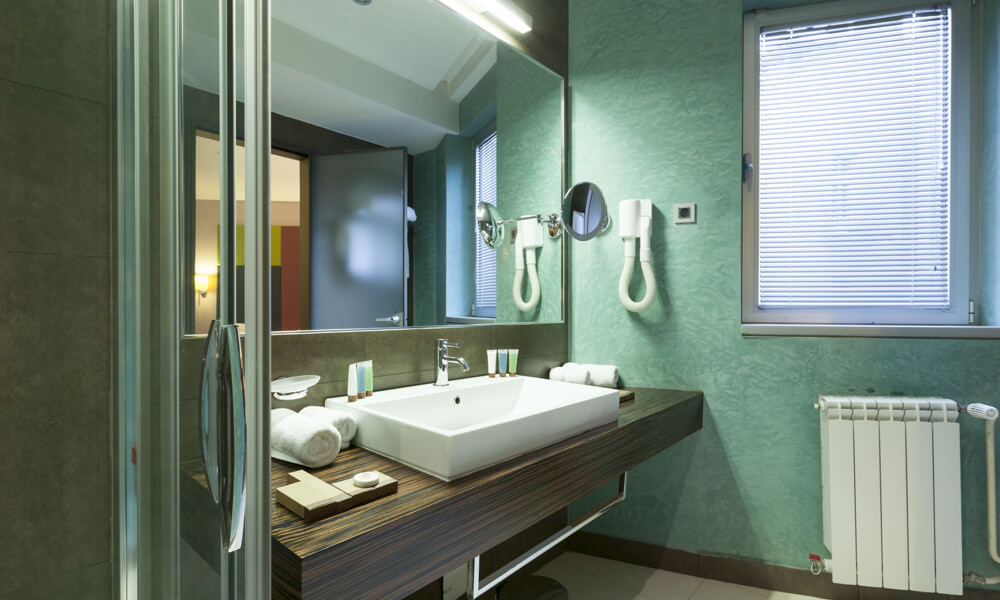 This space creates a warm, spa-like feel with the warm wood contrasting nicely with the cooling green on the wall. The ingenious use of white fixtures and blinds, glass and lighting gives this contemporary setting an attractive and relaxed ambience.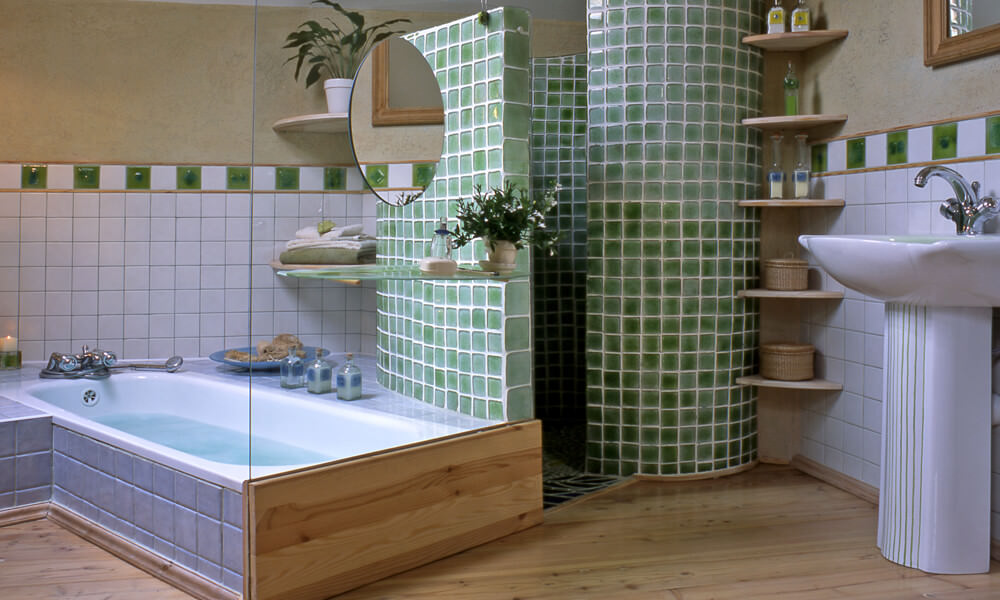 Large spaces give you the freedom to play with different elements and colours. The vibe in this bathroom is clearly bold, thanks to the generous use of green and white tiles. The use of square tiles on the wall of the enclosure serves as the perfect background for the huge white tub. Green works well with exotic wicker baskets as well as wooden floor for that rustic look we all love.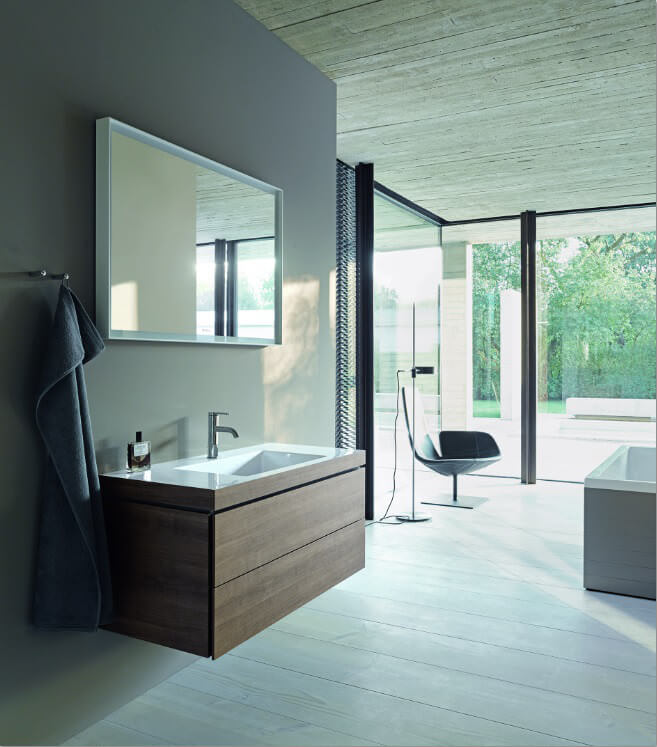 Green, as we know, is refreshing, alive and healing. Its no surprise that it has been used in so many innovative ways here and with a generous peak into the outdoors through the huge glass panels. The ceiling, walls and floor benefit from the coolness of green while rectangular fixtures give this space a modern, minimalistic vibe.