12 Wet Room Ideas To Transform Your Bathroom
Published on: 17/06/2019
Last Updated: 27/08/2019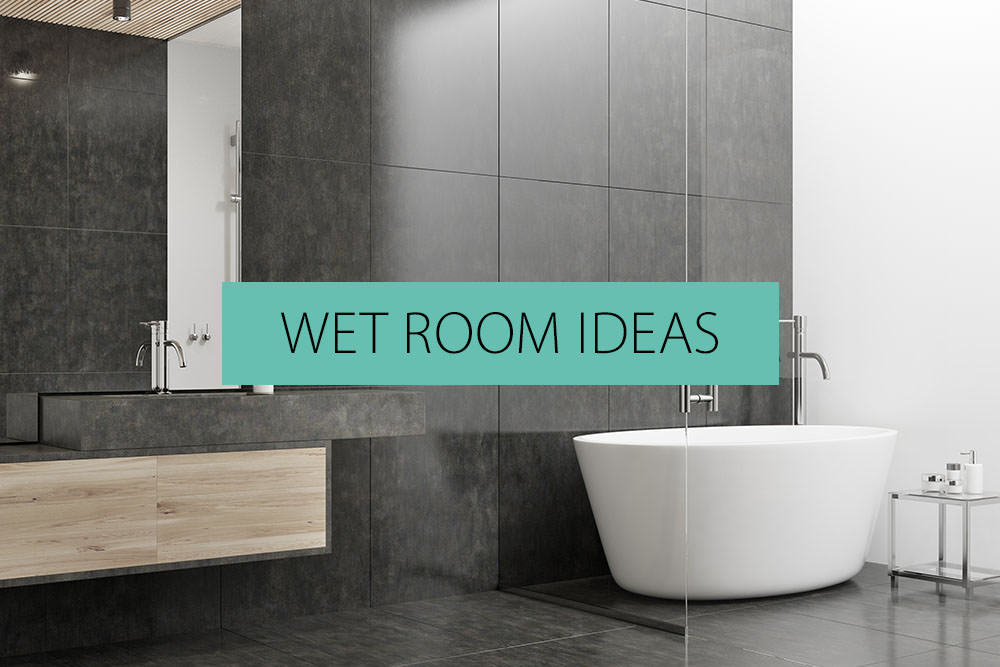 A wet room is a sure-fire way to add a bit of "wow" factor to your home. It can completely transform a tired bathroom into your favourite room in the house. A small wet room can look stylish and make efficient use of little space. Big wet rooms have free reign to be modern and bold. Best of all, any size wet room can increase the value of your property, so splash out!
If you're wondering what a wet room is, it's like an open-plan shower room with waterproof walls and floors. Beyond that, the traditional bathroom rule book goes out of the window. So, let your inner interior-designer run riot with these 12 design ideas.
---
1. Flooring comes first
The flooring is the defining factor of your wet room, so take the time picking the perfect style and materials for you. Natural stone tiles are a popular choice and tend to offer better grip under-foot when wet.
Another on-trend bathroom design choice is to use wooden decking over your 'tanked', or waterproof, sub-floor. The natural wood adds texture and classic Scandi-style. Plus, it'll be warmer for your feet during the colder months, especially compared to tiles.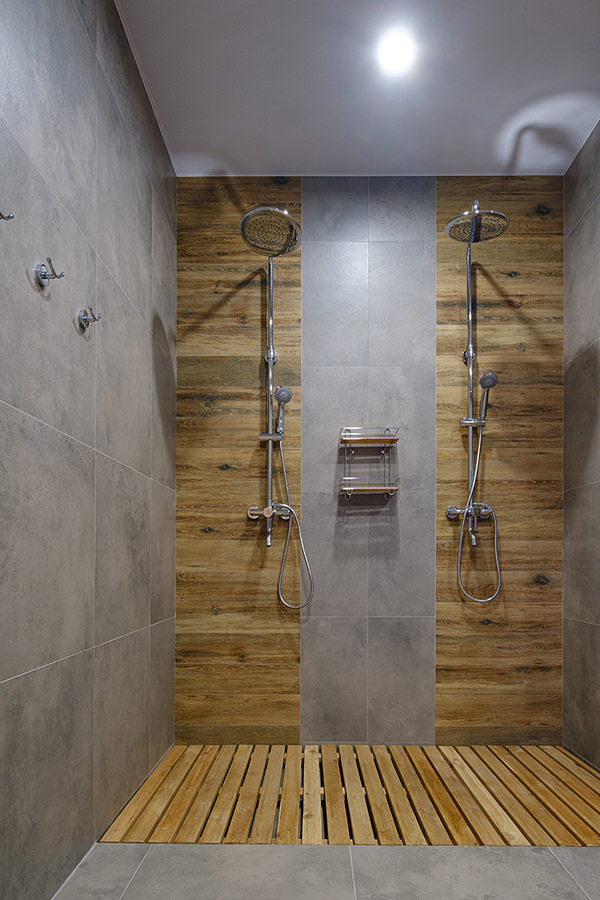 ---
2. Different tiles for different styles
One way or another, you're going to have at least a smattering of tiles on your wet room walls, floors, or fittings. Picking the colour, shape, size and style of tiles brings with it a whole world of options.
Grey bathrooms are the trending choice right now. Try pairing different shades of grey to generate contrast and achieve a contemporary look. If you have a small wet room, patterned tiles, light tones and diagonal lines can make it look bigger. You could give your wet room a European theme with azulejo tiles from Lisbon, or style it out with some art deco patterns.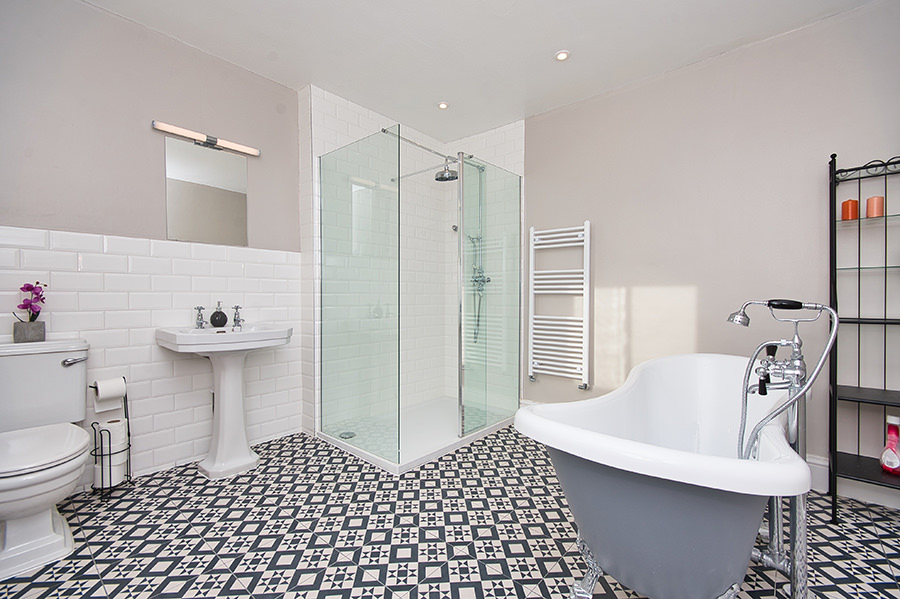 ---
3. Create contrast with a shower tray
If the idea of soaking floors and soggy socks puts you off transforming your bathroom into a wet room, a shower tray will neatly contain and drain your shower water. It's primarily a practical choice, but pick the right shower tray and it can complement the rest of your wet room nicely.
You can design your wet room so that the shower tray blends in with the rest of the flooring. Alternatively, create contrast by offsetting white tiles or wooden decking with a granite or slate shower tray. Natural stone provides a better grip than ceramic and adds some pleasing contrast to the overall look and feel of the space.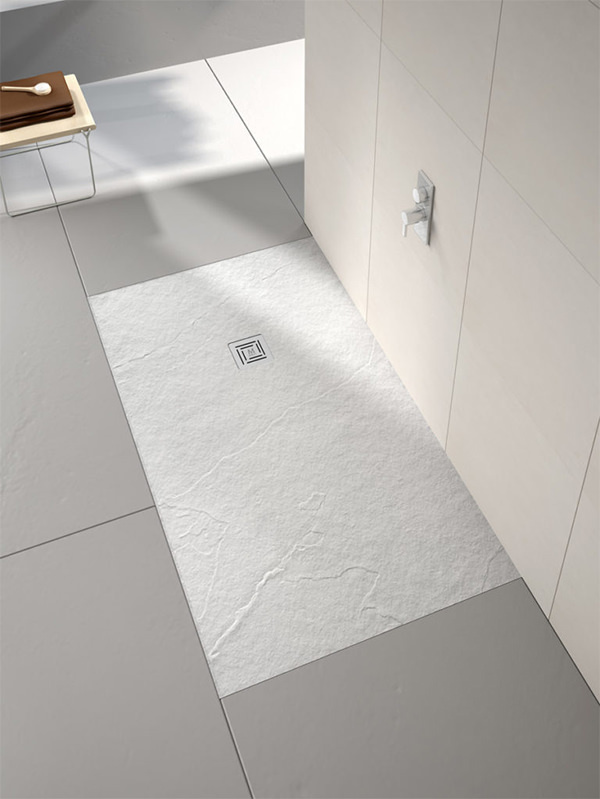 ---
4. Add texture with tadelakt
You can achieve a textured yet minimalist look by using tadelakt instead of tiling. Tadelakt is a natural waterproof plaster widely used in Moroccan architecture for everything from sinks to ceilings. It was historically used to seal reservoirs to retain drinking water and has even been used to build palaces. So, it's probably good enough for your wet room.
The beauty of tadelakt, other than the fact it looks beautiful, is that the plaster-like paste can be gently curved to seamlessly connect the different elements of your wet room before it's finally treated to be waterproof. Imagine connecting your walls, shelves and sink surfaces with this stone-like plaster: it's a minimalist's dream.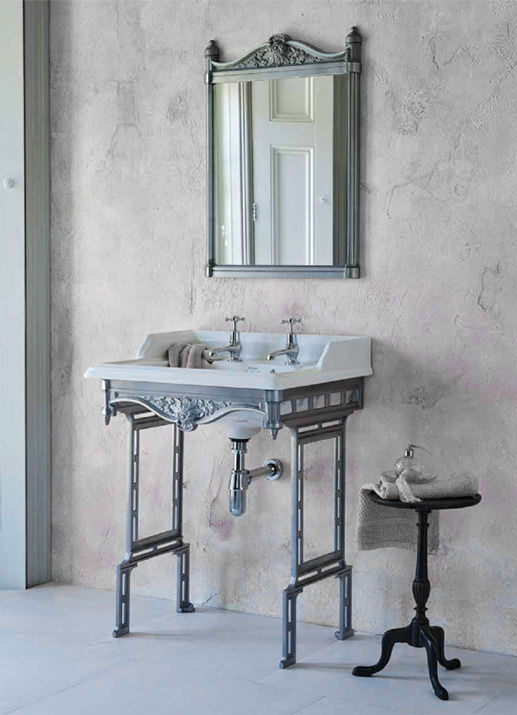 ---
5. Keep it clean with a shower screen
A shower screen can be both a stylish and useful addition to your wet room. It can cleanly break up the room and help to prevent things like towels and toilet-roll from getting splashed from the shower.
A single sheet of glass will reflect light, helping small wet rooms feel larger. Plus, they're easy to clean. In a larger space, a glass screen can be a dramatic centrepiece for your wet room, especially when accentuated with a contrasting support or frame.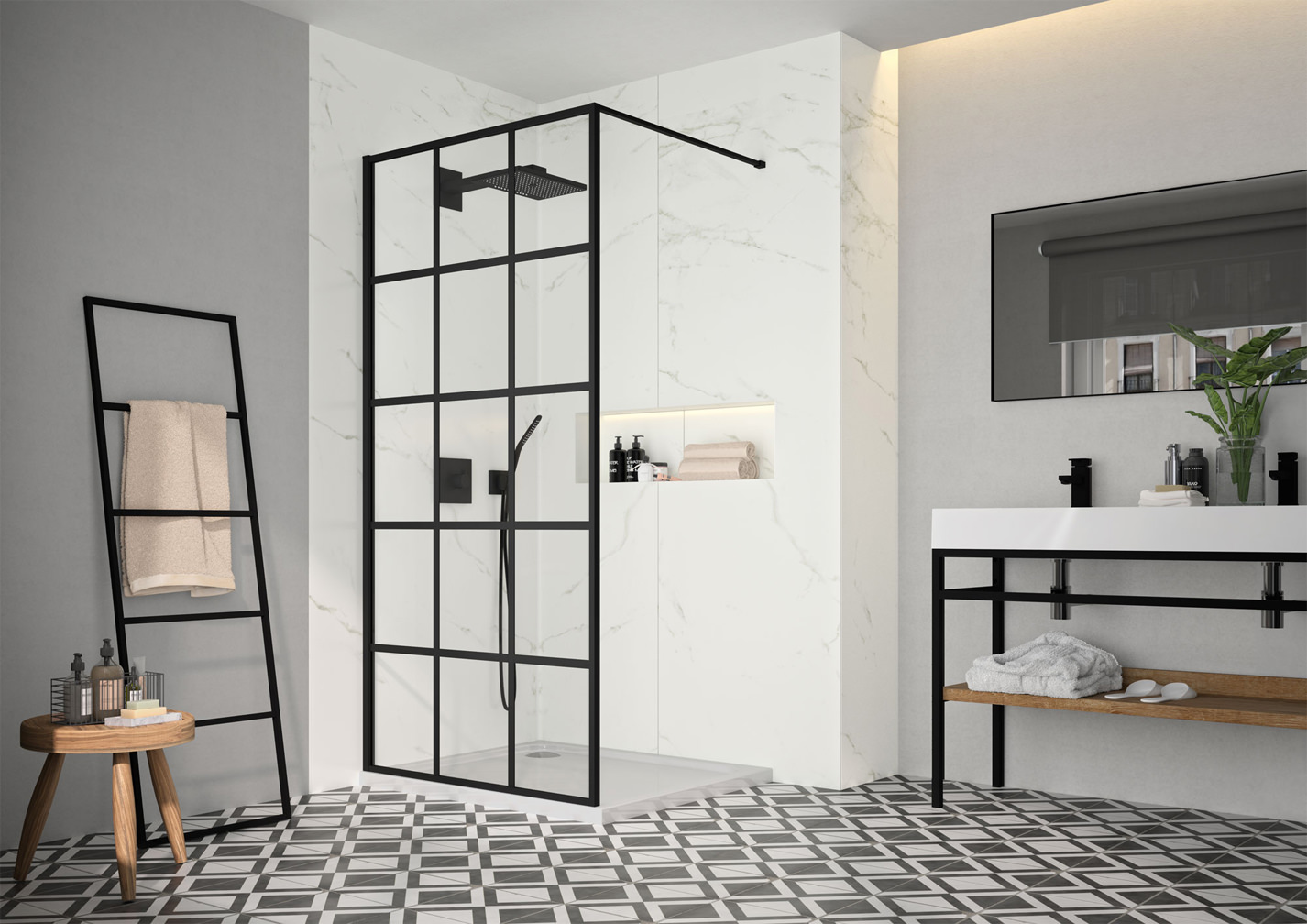 ---
6. Shower heads turn heads
Choosing the right shower head could have you scratching your head for days. It's one of the most important elements; it's what makes a wet room wet after all. But, do you want a traditional shower head, or do you want to treat yourself to a high-quality rainfall shower? Do you want a centrepiece or would you prefer to hide your shower head in the ceiling?
The most important thing is to match your shower head with your fittings. For example, you can add character to a neutral-coloured wet room by opting for an old-fashioned, oversized copper shower head, paired with matching taps and exposed piping. Alternatively, make smart use of a small wet room's space by hiding an LED rainfall shower head in the ceiling.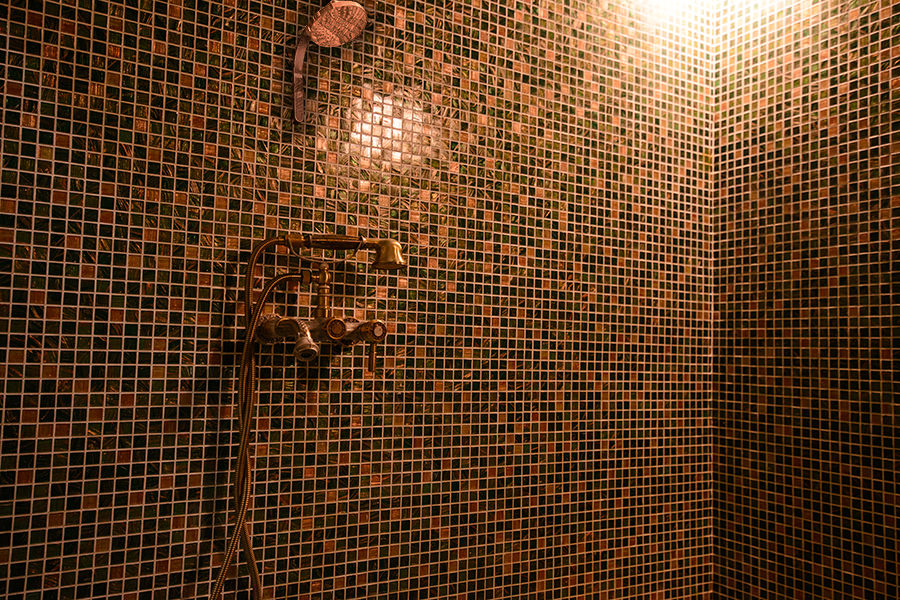 ---
7. The magic of floating fixtures
When it comes to wet room fixtures including sinks, toilets, cabinets and towel rails, you don't want water getting where it shouldn't and potentially causing damage. For example, water pooling around the base of your toilet could be unhygienic, or cabinet legs could discolour over time if they keep getting damp.
One clever trick is to opt for floating fixtures secured to – or incorporated into – your wet room walls. This way they stay out of contact with any water on your floor. It's more hygienic, makes cleaning a lot easier, and can make a small wet room appear larger.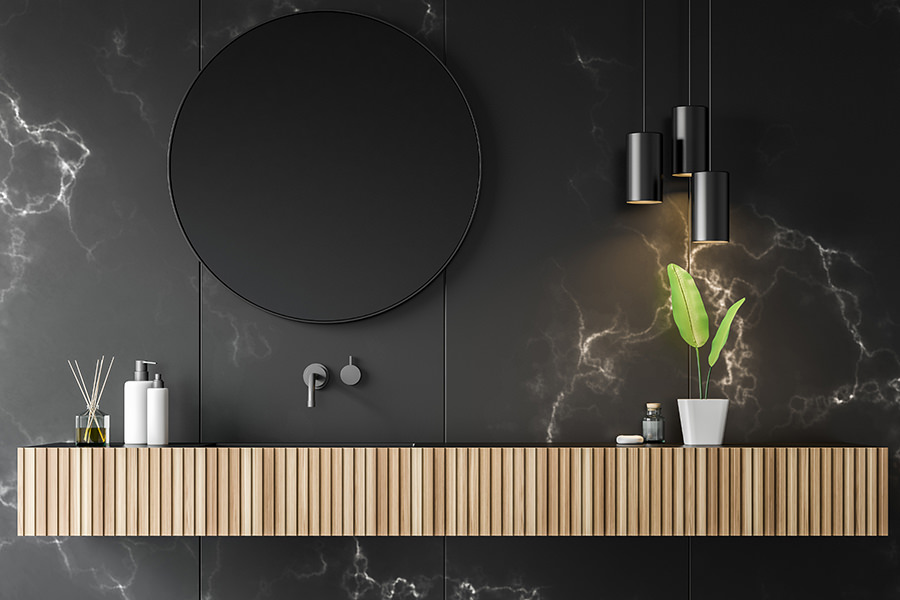 ---
8. Build around your bath
People don't tend to think about baths when designing their wet room. But if you have space, a stylish freestanding bath can be a luxurious addition. Plus, if you only have one bathroom, adding a bath will help to increase your property's value as buyers will want at least one bath when looking for a home.
A carved stone bathtub can be a serious character piece to build your entire wet room around. Likewise, you could match a stylish metal bath with the rest of your room's fixtures. If you don't mind splashing some cash, there are also some spectacular floating bath designs around for a modern aesthetic that also helps to keep your floor clear.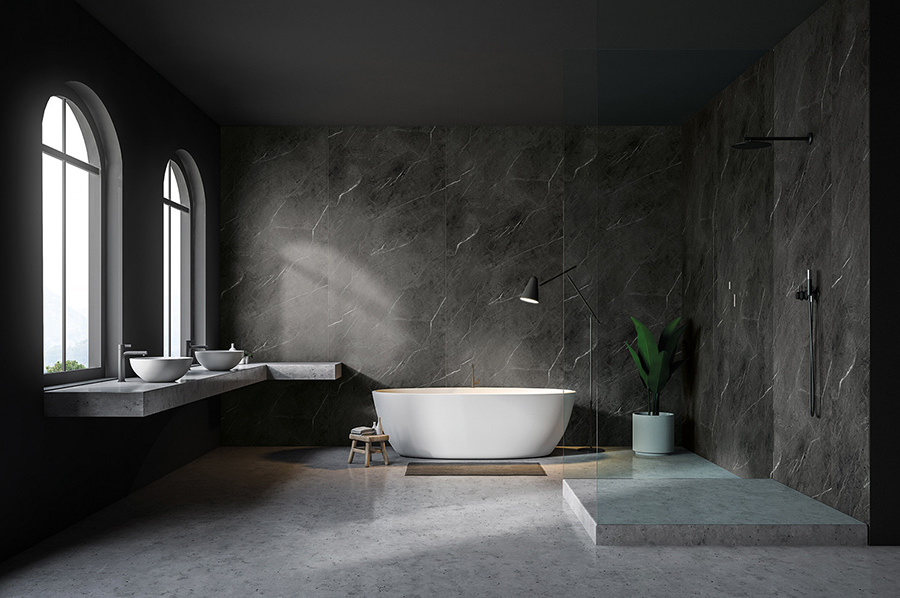 ---
9. Hot topic: underfloor heating
Underfloor heating has many benefits:
It's more efficient
Evenly heats entire rooms
Saves on space
Makes your home easier to clean.
The major downside is the cost of installation. However, when making a wet room in your home, you'll probably need to strip out your flooring, so you can tackle both jobs at once by installing underfloor heating before 'tanking', or waterproofing, your wet room. Then you don't need to worry about walking on cold tiles in the morning. Plus, it'll help your wet room floor dry faster.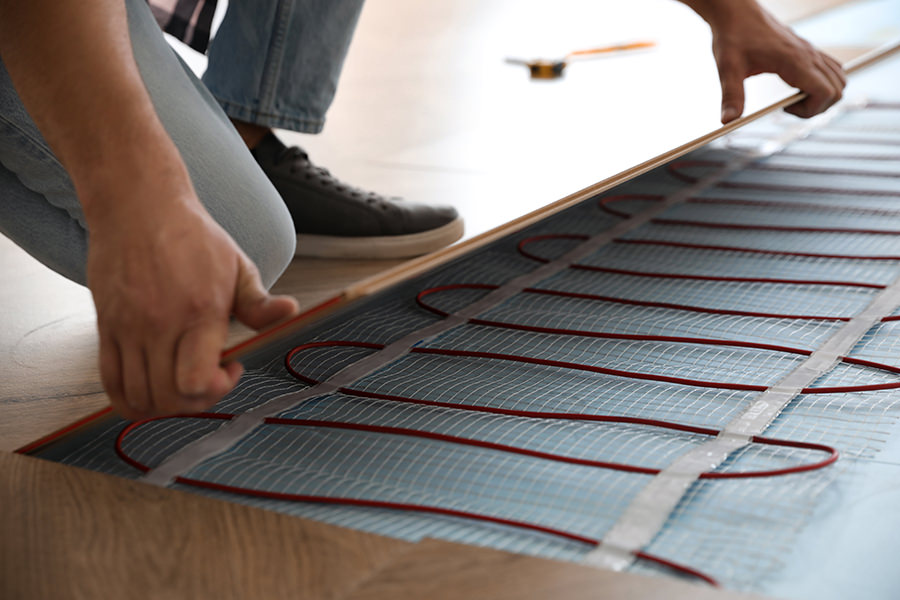 ---
10. Perfect wet room plants
Place some choice plants in the humid environment of your wet room and they will absolutely love it. They'll help to absorb moisture from the air, which means less condensation after you have a shower, and you don't need to worry too much about watering them as they're sucking it out of the steamy air.
Some decorative greenery can transform a surgical-looking room of tiles into a welcoming and stylish wet room. Even if it only has small windows or none at all, some plants can survive off fluorescent bulbs alone. Hardy ZZ plants, also known as eternity plants, are a good choice, as are spider plants, mother-in-law's tongue and ferns. Even orchids – the precious snowflakes of the plant world – can thrive in a humid and well-lit wet room.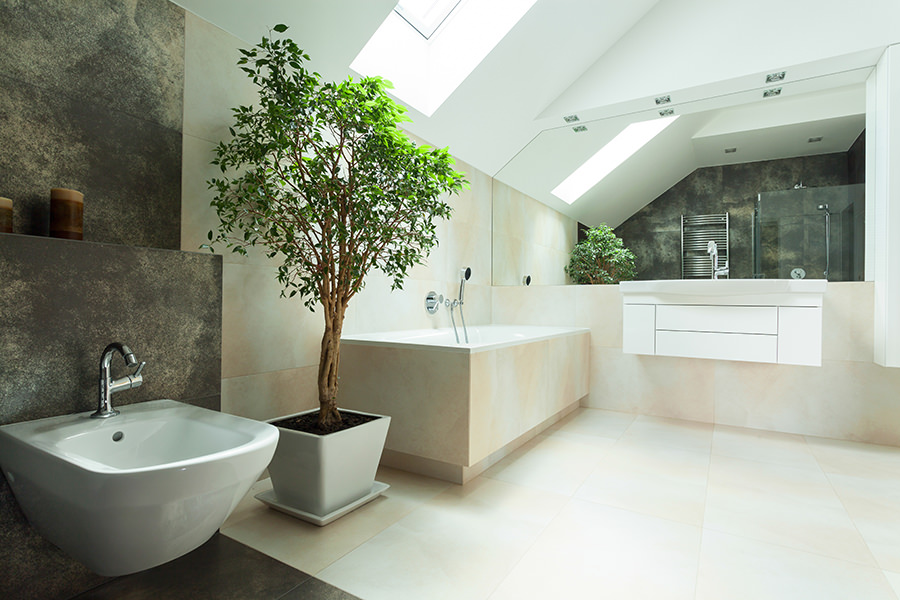 ---
11. Wet rooms are more accessible
As well as being a stylish addition to a home, wet rooms can also be useful for the elderly or people with mobility issues, as it's basically a giant walk-in shower. The addition of a seat or bench in your wet-room shower area can be a practical choice to help people bathe with the peace of mind that they won't fall and hurt themselves.
A wet room bench can also be a stylish design choice as it can double up as a place to store toiletries or a water-loving plant. You could opt to blend your seating into the rest of your wet room's tiling or tadelakt. Alternatively, add contrast and create a spa-aesthetic with wood.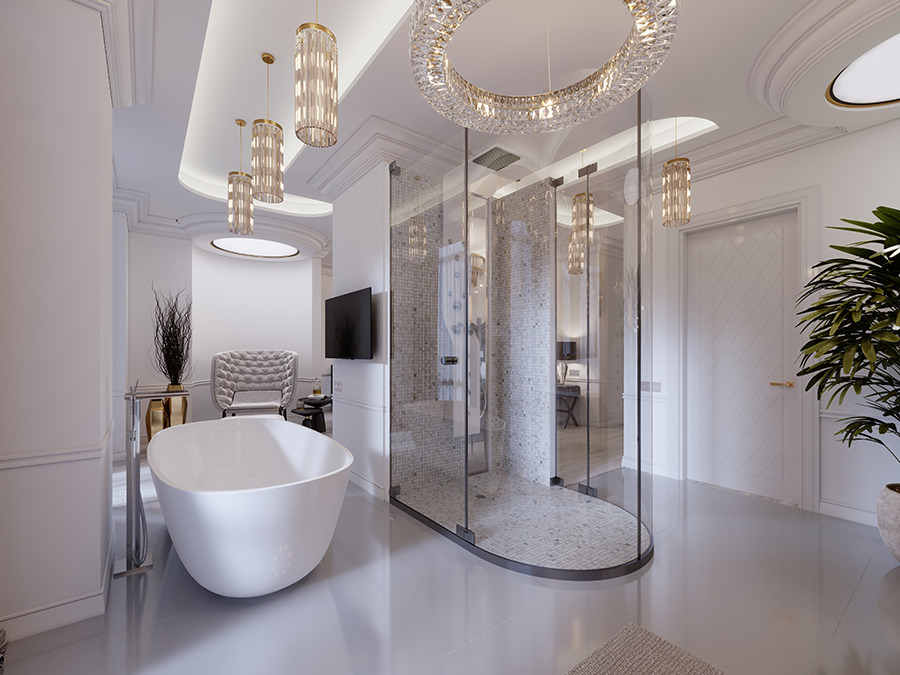 ---
12. Treat your pooch to a dog shower
If you own a particularly excitable dog, you'll know that bath time can get a bit messy. Especially on those winter days when they decide to dive into the muddiest puddle on the planet. However, it's not a problem when your whole bathroom is waterproof. You can even choose to treat your pooch by installing a dog bath or dog shower in your wet room. It could be as simple as adding a second waist-high hand-held shower head, or a shower screen to allocate a dedicated area for pet bathing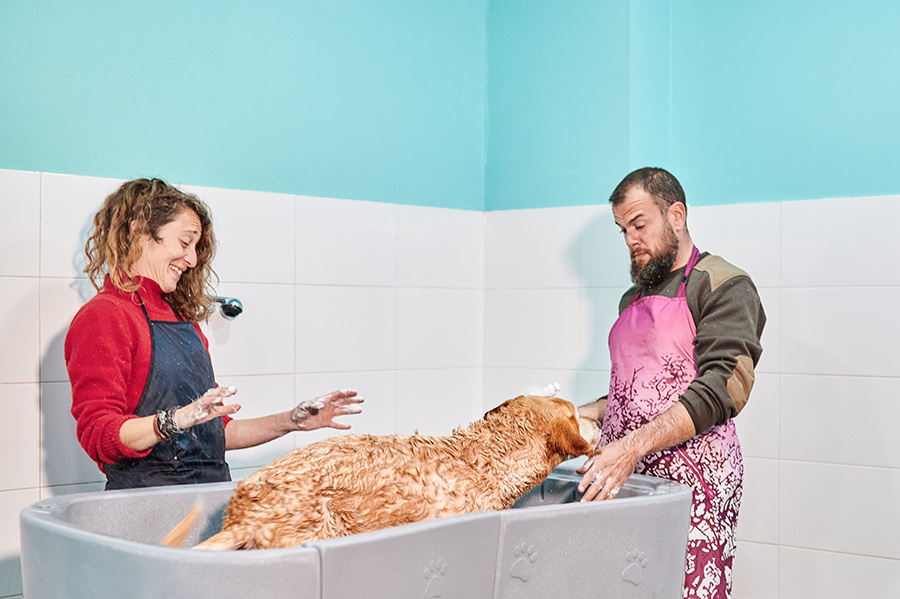 ---
Summing up
From flooring to ceiling-shower-heads, and everything in between, there's a lot to factor into designing a wet room. It may be easy to find a shower head or sink taps that you love, but the real trick is to design your wet room so that every element works in harmony.
For example, vintage Moroccan tiles wouldn't work with a modern LED rainfall shower. On the other hand, you don't want to go too matchy-matchy. Kitting out your wet room in all white runs the risk of looking sterile instead of stylish. Similarly, too much gold can take your wet room from 'The Ritz' to ridiculous.
Try to keep things simple, use only a limited palette of colours or tones, and add character through fittings, furniture or plants. If you have a small wet room, incorporate floating fixtures and diagonal lines to make it feel bigger. If you have a large wet room, you can be bold with a centrepiece, but it doesn't mean you need to go overboard.