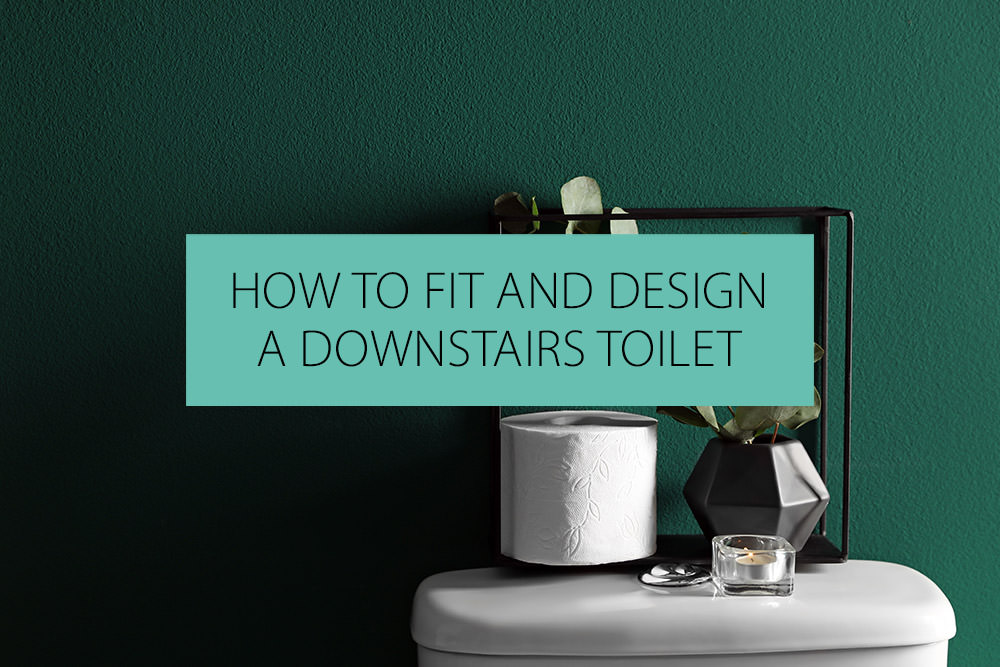 If your home doesn't have a downstairs toilet, the addition of a water closet, sometimes referred to as a cloakroom suite, can be a great way to increase the value of your property while also making life easier when you're downstairs or in the garden and nature calls.
People shy away from adding a downstairs toilet to their home, as they think it's a job fraught with red tape, expensive materials and high labour costs. The truth is: You can install a ground-floor loo in a few days and for as little as £2,000.
Costs depend on the size of the space you're working with, as well as the fixtures you want to fit, but fundamentally, you only need four elements: a toilet, washbasin, light source and ventilation. After that, it's just a case of making sure you follow building regulations and decorating your downstairs toilet to suit your home.
---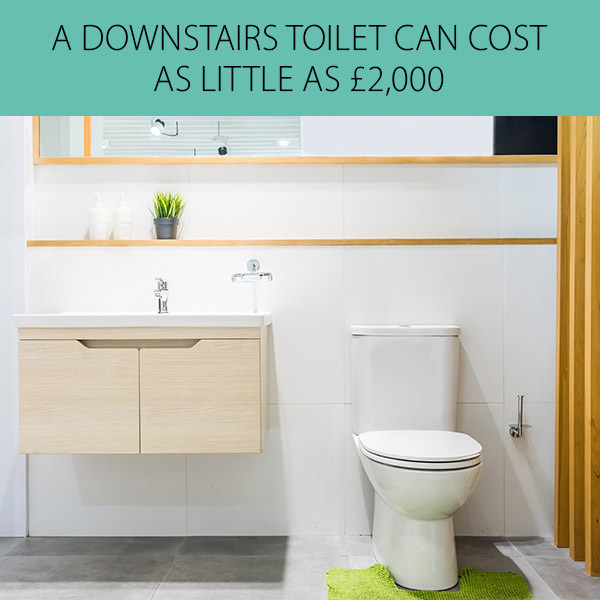 Read up on building regulations before you begin
Ignoring building regulations will lose you money. On average, a downstairs bathroom adds around 5% to a property's value. However, if you don't follow building regulations and can't provide a completion certificate, you'll find it extremely difficult to sell your home, let alone increase its value.
You can steer clear of planning permission. By and large, you only need to seek planning permission if you live in a listed building, a conservation area or are adding an extension to your home for a downstairs bathroom. If you're building within the property's original four walls, building regulations should be relatively easy to adhere to.
Rules and regulations change all the time. Just because you've seen a friend or relative make changes to their home doesn't necessarily mean you can. Contact your local council or a private building control body (BCB) to check on the relevant rules. It's better to be safe than sorry and avoid redoing illegal building work.
---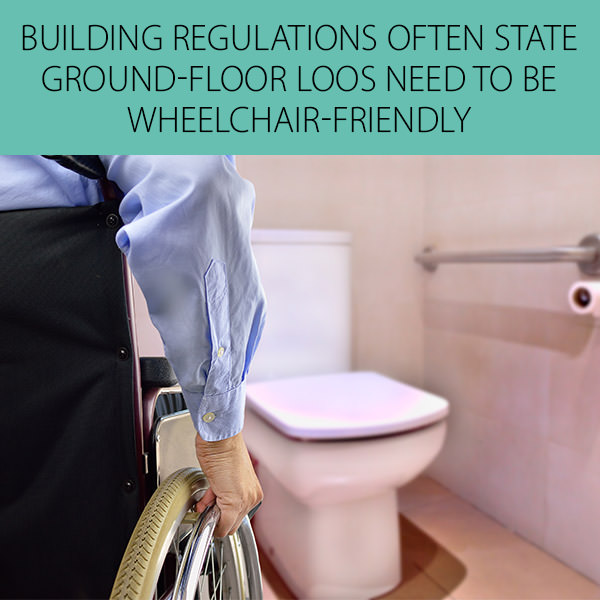 Make your downstairs toilet wheelchair-friendly. The most common building regulation that comes into play when fitting a water closet is to ensure the door frame is wide enough for a wheelchair and that there's enough floor space to manoeuvre one while inside. The minimum floor space for such bathrooms is 30 inches by 48 inches that can provide a turning radius of 60-inches to safely navigate a wheelchair inside the bathroom.
Protect your home with proper drainage and ventilation. The other two key building regulations you need to consider are whether your drains need upgrading to handle the increased flow and if your water closet will be properly ventilated. Often, it means having either a window or extractor fan, but occasionally, you'll need both.
---
Fitting a downstairs bathroom from start to finish
Work out where to fit your downstairs bathroom. First thing's first: You want to decide where your downstairs toilet is going. It used to be a case of requiring two doors between a toilet and a kitchen, but it's been relaxed to just one, which gives you greater freedom.
You can hide a water closet in the space under the stairs. It's a good thing Uncle Vernon and Aunt Petunia didn't know about the value they could've added to their Privet Drive home with a downstairs toilet. Harry Potter would've been out on the streets.
Half brick a French door at the back of your home. Fit a window for ventilation in the remaining top half and build a stud wall around the space for a simple downstairs toilet. Position it carefully, and you can add a connection to an existing soil pipe, instead of replacing it.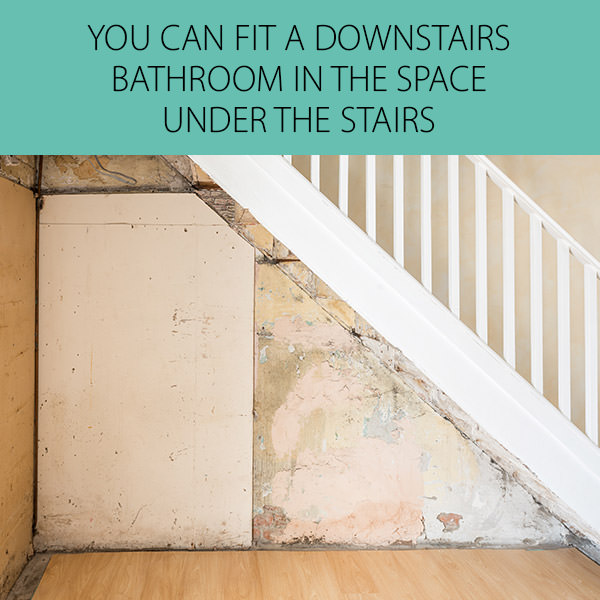 Add a downstairs toilet as part of an extension. If you're already plotting an extension to your home, include plans for a downstairs toilet and tick off two jobs at once. New buildings and extensions are cost-effective and less-disruptive opportunities to install underfloor heating.
Tick off the four fundamental fittings. Once you've decided where you're going to put your downstairs toilet, you need to plot where you're going to place your fittings. Fundamentally, for a water closet, you need a plumber to fit a toilet and sink and an electrician to install some lighting and an extractor fan if you don't have an external window or want to improve your downstairs bathroom's ventilation.
Decide how to heat your downstairs bathroom. Often, a small space such as a downstairs toilet won't require heating. If you think yours might get a bit chilly and you want to install a radiator, check with a plumber to see if your existing boiler can handle the demand.
---
On-trend design ideas for decorating a downstairs toilet
Lighting is key when it comes to small spaces. A poorly lit water closet will look gloomy and unwelcoming. Utilise natural light as a priority and install supplementary light fittings overhead to illuminate the sink. If you have high ceilings, pendant bulbs are a modern, stylish choice.
Clever use of mirrors can make a room look bigger. Reflective surfaces, especially mirrors, can create the illusion that a downstairs bathroom is larger. Place one above the sink. Don't go overboard; you don't want your water closet looking like a haunted house's hall of mirrors.
Choose your tiles and wallpapers wisely. Diagonal line patterns, light colour tones and half wallpapering above tongue-and-groove wood panels are all different design tips you can utilise to make your small bathroom feel bigger.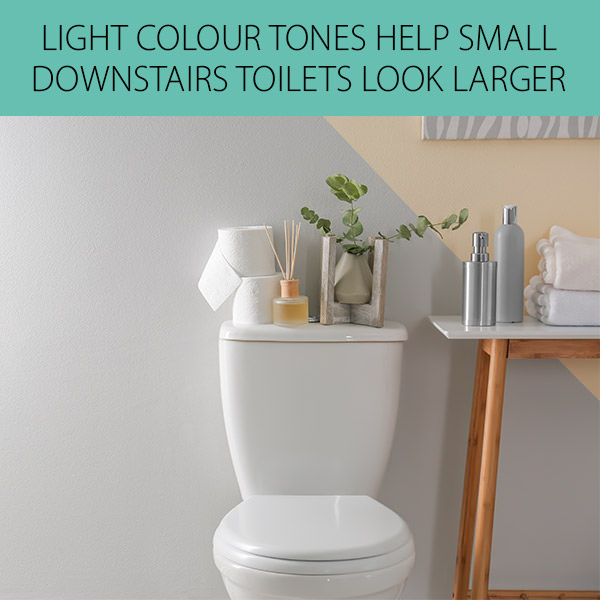 Save space with 2-in-1 bathroom fittings. If your downstairs toilet is seriously lacking in space, or you want to opt for a minimalist style, there are 2-in-1 water closet units available, which have built-in basins above the cistern.
Hide clutter with smart storage options. As a rule of thumb, to stop your downstairs loo from looking cluttered, you should keep the floor plan as open as possible. Top tips include putting storage above the door, installing a mirror cabinet, opting for a short projection vanity unit and fitting towel hooks on the wall.
---
Summing up
Fitting a downstairs bathroom in your home isn't as difficult as you might think. In just a week or two, you can transform a small space, such as a closet under the stairs, into a practical water closet. In the process, it could increase your property's value by around 5%.
The cost of fitting a water closet changes from job to job. However, if you trust your own DIY skills, you can do much of it by yourself. You will need a plumber to install a downstairs toilet and wash basin, as well as an electrician to install lighting and – if your downstairs bathroom needs one – an extractor fan.
Before you hunt down your toolbox, be sure to check building regulations with your local council. A quick phone call can help you avoid the agony of having to restart your new downstairs toilet.