Space Saving Small Bathroom Ideas
Published on: 25/06/2019
Last Updated: 27/08/2019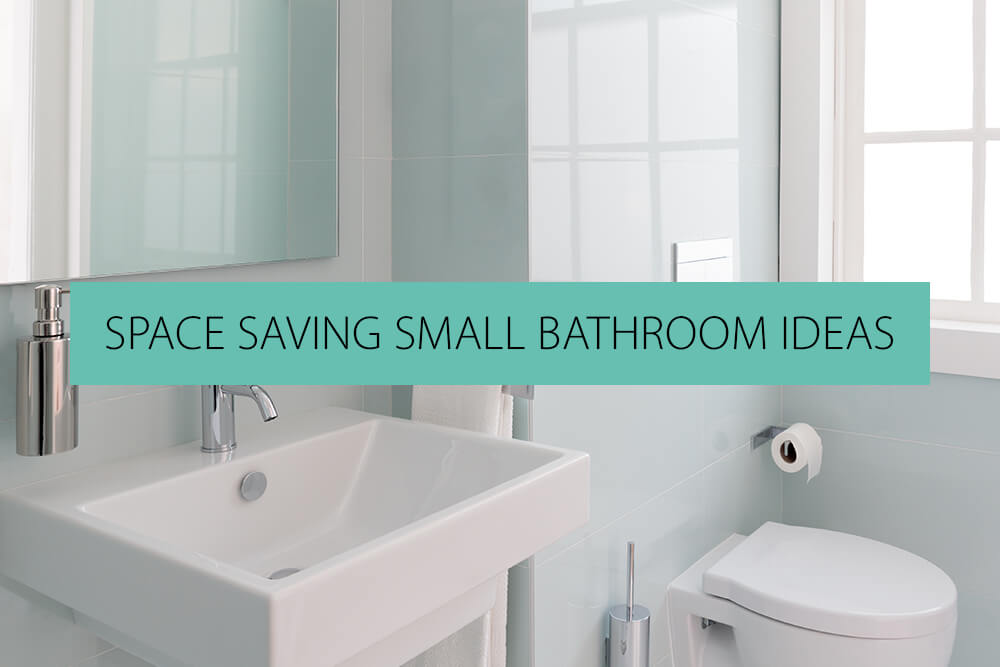 Bigger isn't always better when it comes to bathrooms. Just because bathrooms are often the smallest rooms in people's homes doesn't mean they need to be confined to small ideas. There are so many elements to play with when decorating a bathroom – sinks, storage, showers, vanity units, and, of course, the bath – you can get creative to maximise space and make your small bathroom your own.
Less square footage means you can splash out on fancy ceramic tiles or opt for a wet room without breaking the bank. Small bathrooms also make life easier in terms of heating and lighting. Plus, they force you to focus on how to make efficient use of a smaller space and punish you for clutter.
Style out a small bathroom and it'll have all the fittings you need while also looking clean and surprisingly spacious. Get it wrong and it can look like a janitor's closet. When you know the dos and don'ts, it's easy to decorate a small bathroom. Start with lighting, then design your walls and floors, before adding the best baths, sinks, and furniture for your space.
---
Lighting makes small bathrooms feel larger
Everyone knows the benefits of good lighting. Everything from selfies to workspaces, and especially bathrooms, can live and die by their lighting. Naturally, natural light is best. So place your mirrors and glass shower screens so they reflect as much natural light around the room as possible. Small bathrooms aren't always blessed with big windows, though. Some ensuite bathrooms, shower rooms and wash closets don't have any windows whatsoever.
Before you knock holes in the walls, you don't need windows to achieve good lighting in a small bathroom. The right light fixtures can help you get around any lack of natural light. LED Lighting can illuminate hard-to-light and unconventional areas, such as between shelves and flooring for a modern bathroom aesthetic. Hanging pendant lights are popular, too. They add character and are perfect for high ceilings as they lower light sources closer to you.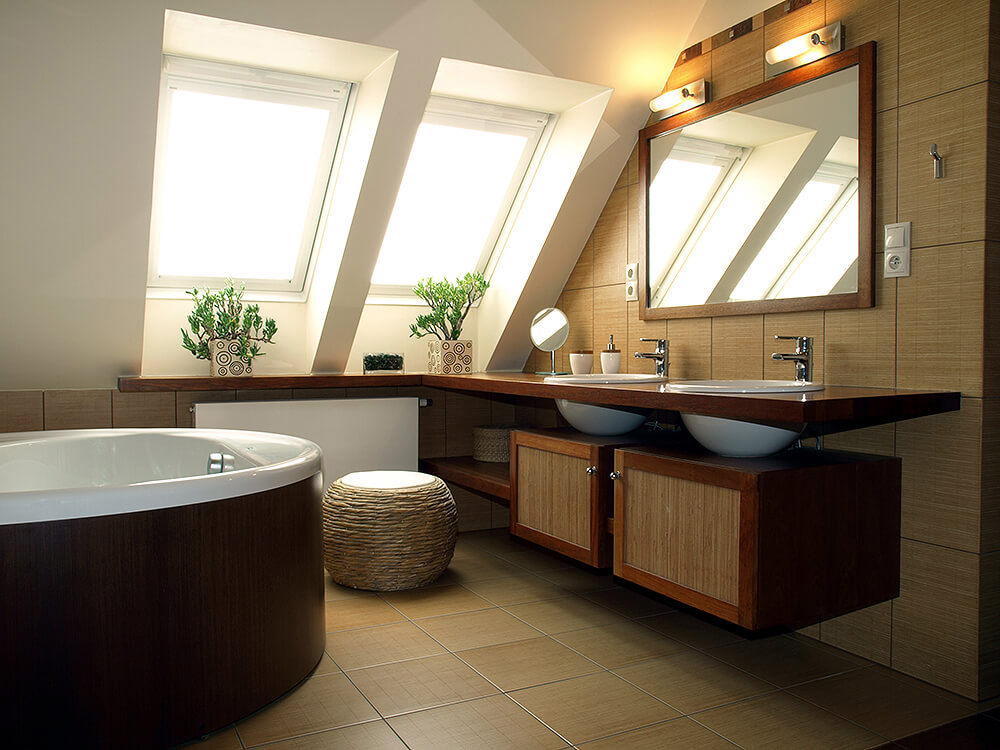 ---
Work wonders with walls and flooring
How you decorate your small bathroom's walls and floors makes all the difference. If you're looking to make the room look larger then lighter tones are always better than dark. Your choice of patterns can create the illusion of a larger space. Textures such as engineered wood flooring can be a game-changing floor option too, especially when contrasted with a natural stone shower tray or plain porcelain tiles.
---
Pick your patterns
Small patterns are a no go for small bathrooms. Complex patterns can be a calamity too. They can look busy and claustrophobic. When it comes to picking wallpaper prints and patterned tiles, the bigger the better. You can be as bold as you like, but remember that bathrooms are about balance. So pair big patterns with simple fittings, such as all white.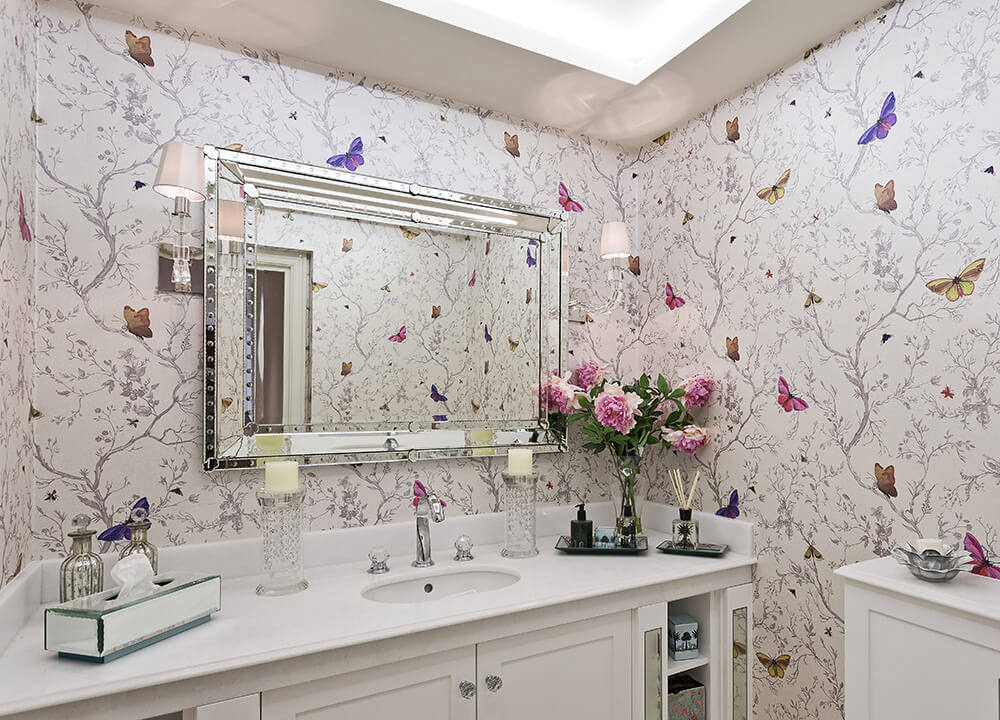 ---
Go diagonal
Diagonal lines can do wonders to make a small bathroom look bigger. We especially like the on-trend use of diagonal metro tiles at the moment. They draw your eyes upwards to make ceilings seem higher and bisect walls so they look wider. But, there are don'ts to diagonals. Don't go too narrow, and don't clash colours or with patterned floor tiles.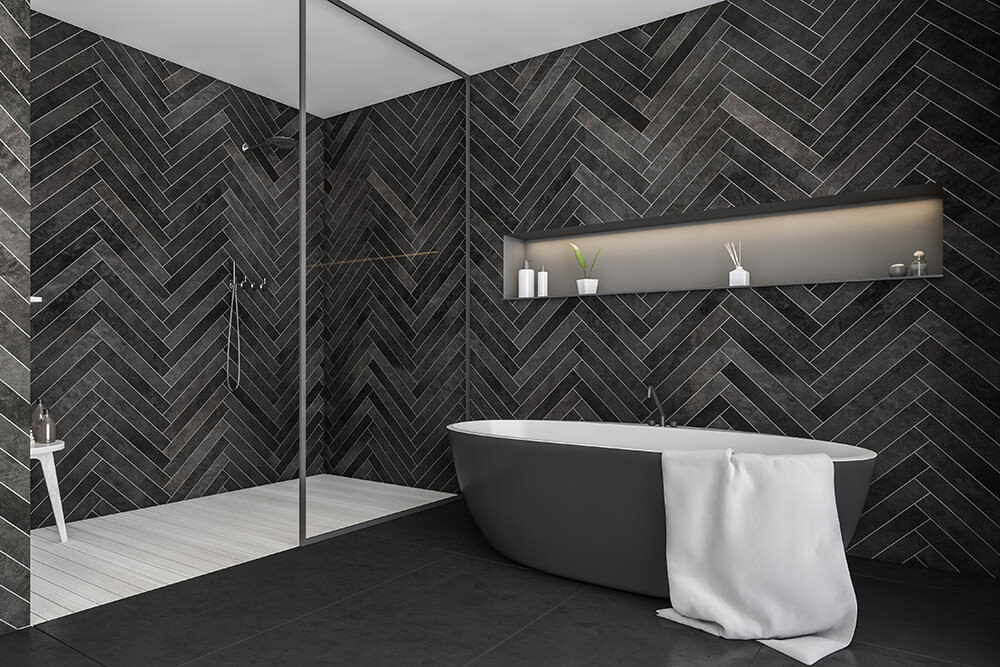 ---
All-in-one
There's certainly a case for keeping it simple when decorating a small bathroom. Tonal colours are timeless, especially grey bathrooms, and a simple light colour scheme can be an easy way to make your space appear bigger. A word to the wise, if you go all white there's a risk it can look a bit sparse. But plants, baskets and real wood accessories can help bring it to life. Metal fittings such as a copper shower head can add character too.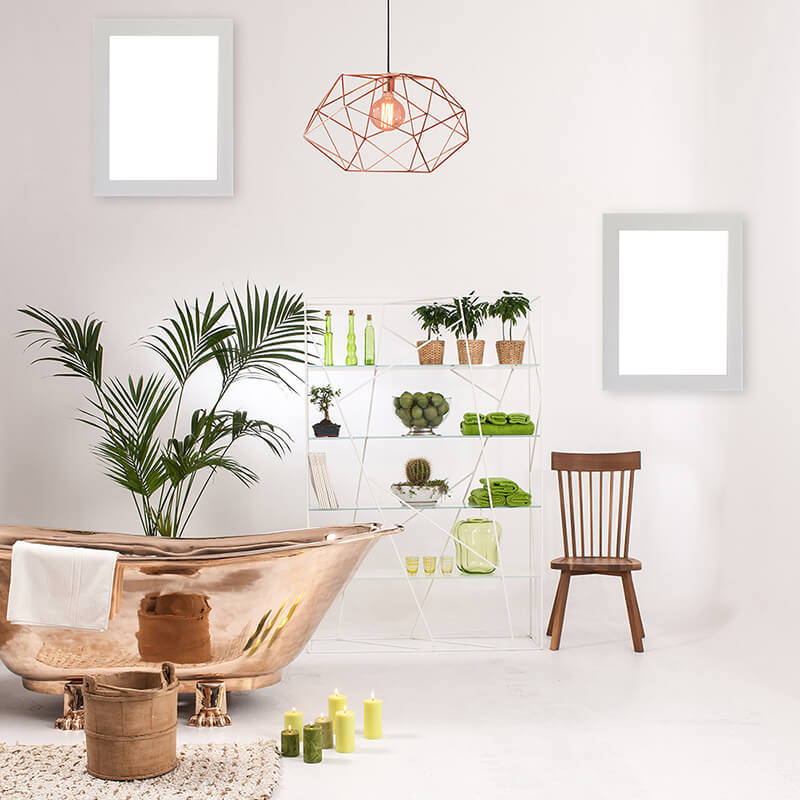 ---
Half-and-half
Split your walls with some tongue-and-groove panelling and achieve a classic style for your small bathroom. Your choice of paint or wallpaper above your panels can help to make either space appear bigger. We love pairing patterned wallpaper above soft tonal wall panels. It adds character, balance and the illusion of space.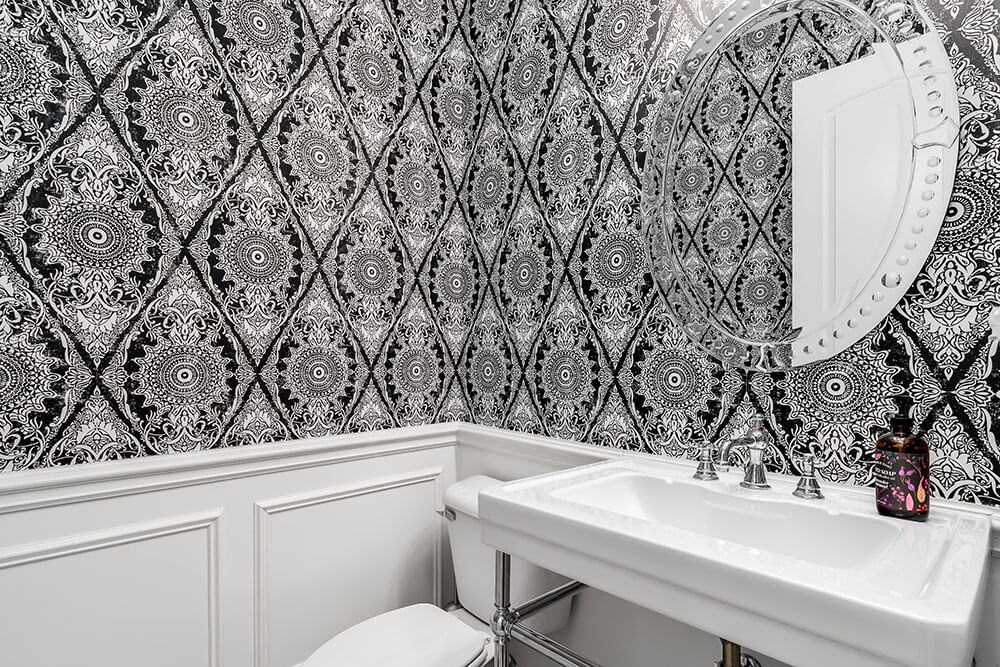 ---
Baths come in all shapes and sizes
Baths can be a bit of a luxury these days. Sometimes it's difficult finding time in the day to fit one in. Sometimes it's difficult finding the space in your home for a bath, let alone a shower bath. Bear in mind that homebuyers look for at least one bathtub when househunting. But, if you're decorating a second bathroom or an ensuite maybe you can do away with a bath entirely and opt for a shower room to save space instead.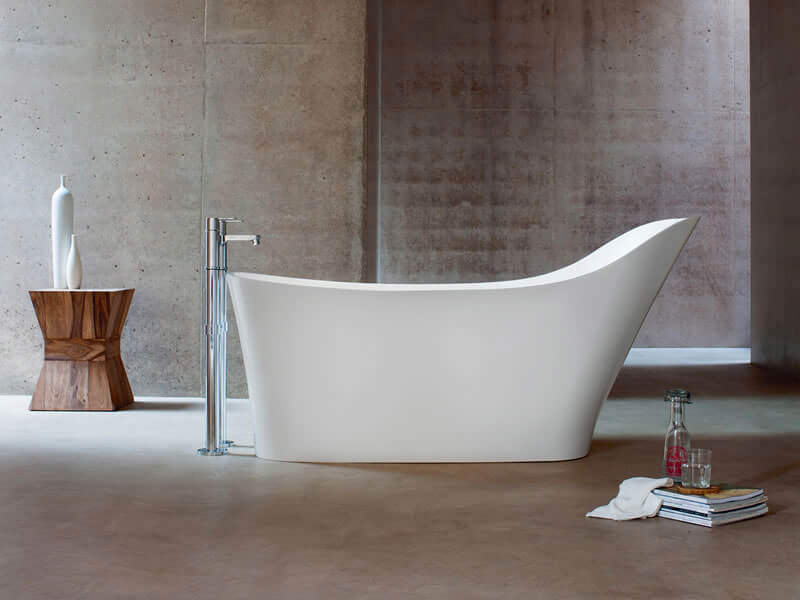 ---
A smaller sized slipper bath is perfect for small bathrooms. One end is raised higher for leaning against and they are shorter in length, making them ideal for fitting into a smaller floor plan. Another discrete option is a sunken bath that's built into your floorboards. It requires a bit more work than a freestanding bath, but it can make the room airier, and save a lot of space for the rest of your furniture and fittings. Or, you can opt for an alcove tub which is good for small spaces.
---
Save space with your choice of sinks
Big sinks can dominate a small bathroom. Discrete basins will tend to work best. But, there are several styles of basins for you to choose from depending on the overall theme of your small bathroom. Floating sinks work well with minimal or modern designs, corner sinks and cloakroom basins can be great for tiny spaces, and a sink vanity unit combo offers the practicality of extra storage space.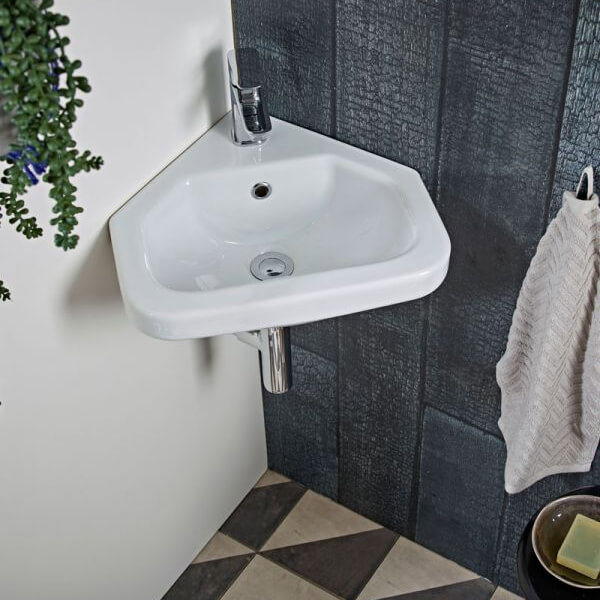 Trough sinks are on trend as a space-saving alternative to separate his and hers sinks. Instead, two taps run into the same trough. Trough sinks tend to sit shallower to the wall and require less plumbing than double vanity sinks, making them great when bathroom space is sparse. They can also double up as an easy to clean countertop, providing storage space for toiletries. Opt for a natural stone trough for a stylish look and pair it with wood effect accessories for warmth.
---
Make the most of annoying angles
Sloping roofs and tight corners can get in the way when designing your dream small bathroom. But, they crop up more often than not as bathrooms are frequently designated to the most architecturally awkward parts of a home. If you have a wash closet under the stairs or a loft-conversion bathroom, then you need to know how to make the most of your small bathroom's angles.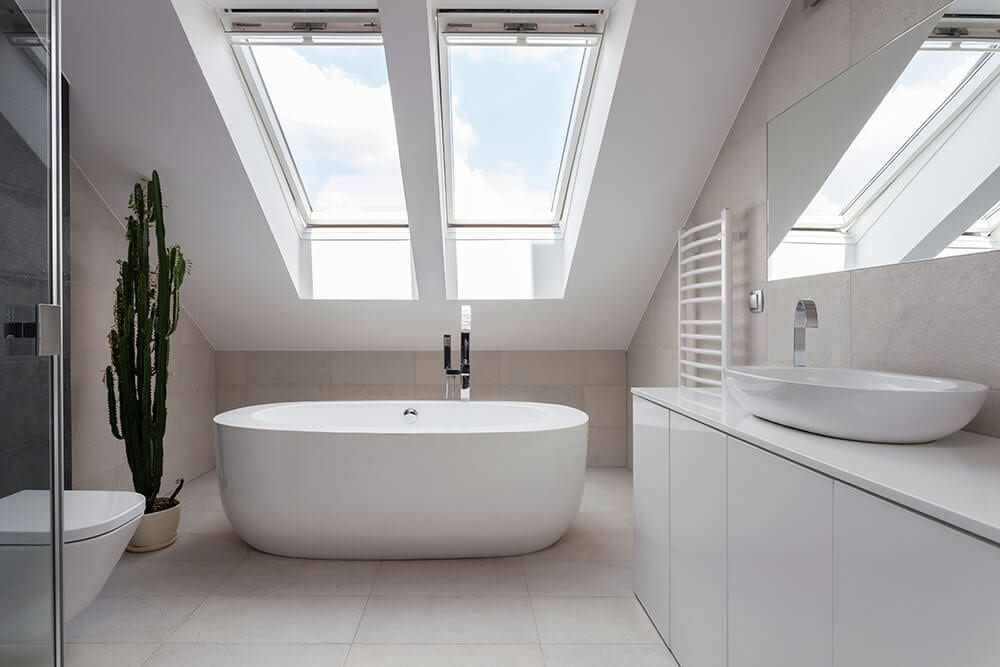 ---
Designing your small bathroom layout around these annoying angles isn't as arduous as you may think. Corner sink basins and toilets can save you a lot of space. You could sneak a slipper bath beneath a sloped roof. Install underfloor heating and you don't need to worry about radiators. Opt for a shower area instead of a bath. Or waterproof the whole thing and you've got yourself a wet room.
---
Finding furniture for small bathrooms
Your choice of fittings and bathroom furniture can completely transform the look and feel of a small bathroom. The trick is to avoid bulky items but to give yourself as much storage as possible. It sounds like a catch-22, but it's easy when you know what to look for.
---
Magic mirrors
Everyone knows mirrors help small spaces appear larger. Sleek mirror cabinets can also help you hide storage space. Place it so it reflects as much natural light as possible.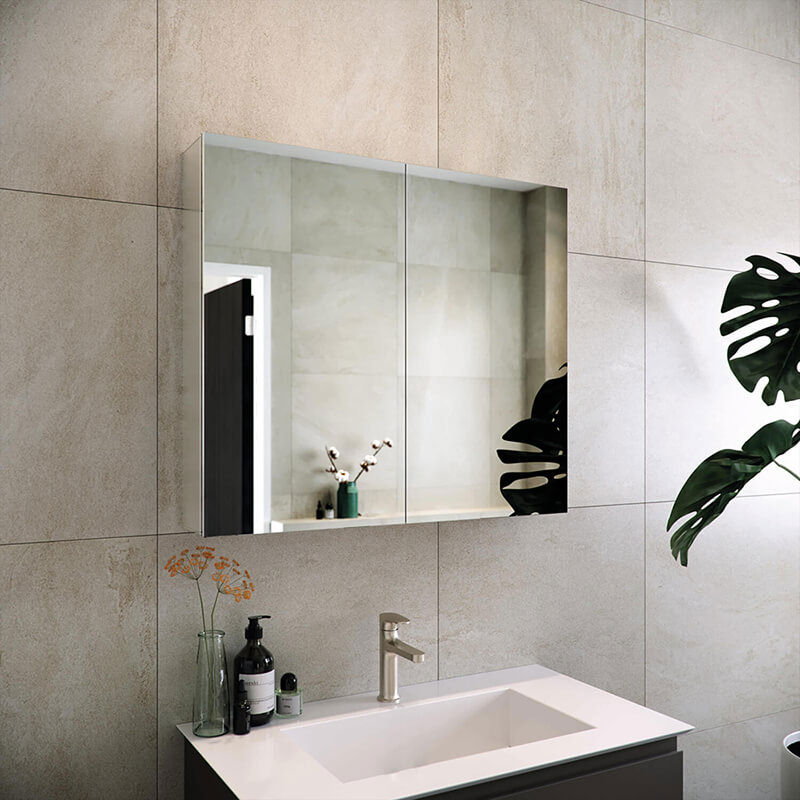 ---
Tower power
You want your storage to take up as little floor space as possible. So use skyscrapers as inspiration and hunt down taller tower units. Vertical lines also make rooms look larger.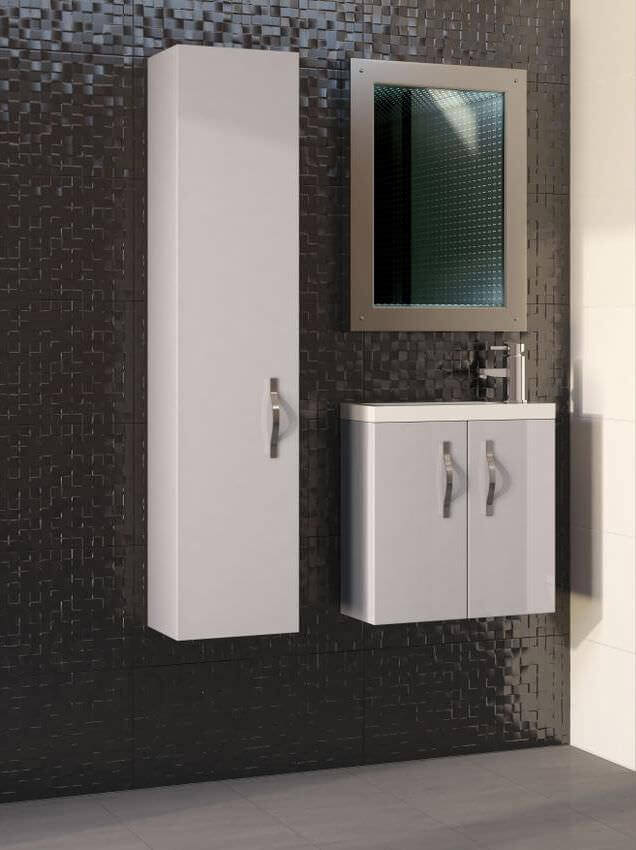 ---
Recess time
Shelving is an excellent way to add storage while keeping your floorplan free for fittings and furniture. Better still, add recessed shelving for a modern and stylish storage option.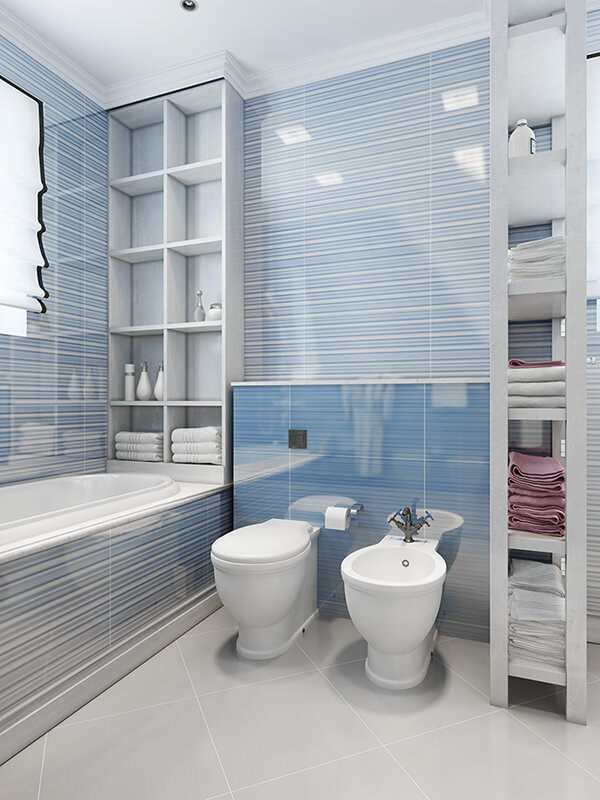 ---
Sliding doors
Traditional bathroom doors open inwards but they waste a lot of space as you can't put anything in their path. Break the mould and add a pocket door which is generally used in small bathrooms. These slide into the wall, letting you use the wall itself.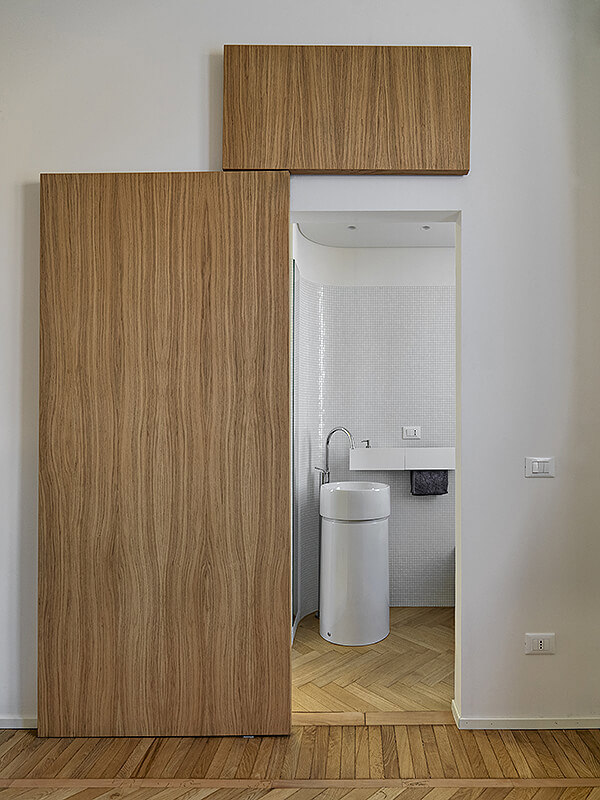 ---
Summing up
Small bathrooms have a bad reputation for being a nightmare to redecorate. But what they lack in space you can make up for with character. Plus a smaller floorplan means you can completely transform a small bathroom into the most stylish room in your home without it costing you an arm and a leg.
Simply make sure your lighting is right, choose your tiles or wallpaper carefully, and try to save as much space as possible with your fixtures and fittings and you'll be on to a winner. The easiest choice is to stick to white or light tones to make the room look as large as possible. But we prefer it when people go for a bold yet balanced look with their small bathrooms.