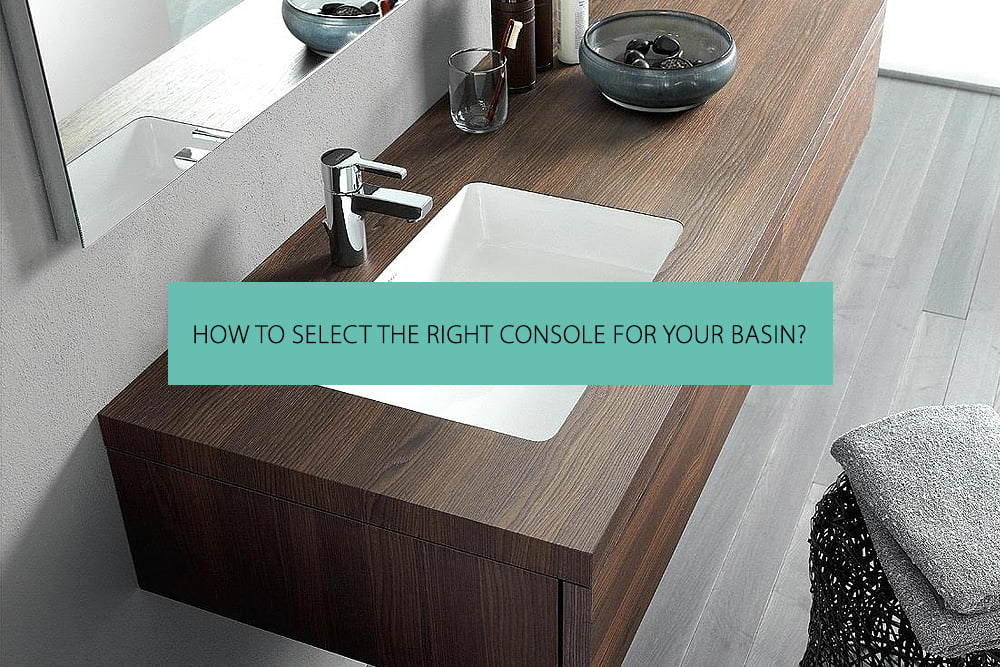 A bathroom console can be a practical and stylish addition to your bathroom. These smart pieces of bathroom furniture are close cousins to the vanity and serve much the same purpose. Your console may be the stark modern home to a beautiful vessel sink, or it may be a substantial addition to the storage capacity of your bathroom. They may be attached directly to the wall or stand freely on legs or a base. Picking the right one isn't difficult if you know what you're looking for, but with so many options on the market, it's easy to feel a little overwhelmed. Here are some questions you can ask yourself to narrow down your choices.
How much space do I have?
Many bathroom consoles, particularly the wall-hung type, are great space saving options, but exactly how compact do you need your console to be?
If you're outfitting a very small bathroom or cloakroom, a petite wall hung console like this white matte console top from Duravit is ideal. It has a tiny footprint and looks clean and simple, blending beautifully with a modern interior design where an uncluttered look is everything. Space under the sink adds an open feeling to the room, making everything seem bigger and airier.
How much storage do I need?
While many bathroom consoles are designed to be minimalist, it is possible to track down models which add a lot of storage options.
The smart-looking shelf from Duravit is a handy spot to stash towels or other bathroom supplies so that they're right at hand whenever you need one.
Three slim drawers fitted beneath this clean white console from Duravit give you space to stash away all those creams, potions, razors, hairpins, makeup, gadgets and other bathroom clutter. The joy of a clear countertop, a neat bathroom, and having everything you need at your fingertips is a good reason to think about opportunities to work storage into your bathroom
How many people use the bathroom?
Consoles come in so many sizes that you can pick one to accommodate your family and household.
This beautiful polished wood console from Duravit comes in many widths, even longer than 2000mm. It has room to spare for two sinks, to allow side-by-side toothbrushing, shaving, or makeup application with no elbows jostling for position!
What other fixtures will I need?
When you're shopping for bathroom furniture like a console, don't forget that you'll usually have to purchase your sink, vessel, or basin separately. Fixtures such as supports, taps and more are often sold separately as well. It's something to keep in mind as you make up your bathroom budget.
Whichever console you choose, it's likely to be a main focal point in your bathroom, and one of the first things you see every morning. Above all, you should be guided by your tastes and desires. Your dream bathroom will be a reflection of your personal style, and bring you and your family joy, comfort and convenience every day.
View our Complete Range of Basin Consoles
Worktops are also an alternate
A worktop can be made to compliment and contrast the design of your sink and fittings in order to add to the look of the bathroom. Black worktops contrast well with white fittings, for example, and bowl shaped sinks work well in the centre of a square work surface. An interesting design idea which is becoming more and more prominent is that of integrating sinks into the worktop surface itself (making it a recessed installation). This continuous surface is much easier to keep clean, since any splashes or spills are able to run directly into the sink once again, and there are no tight corners or inaccessible pockets at the interface between the sink and worktop which would otherwise trap dirt. Check out range of worktops here.
While worktops must ideally remain uncluttered if guests are to be impressed with your spotless bathroom; they are an important part of the functionality of the room. An important point to keep in mind when choosing a right one is the material of which it is composed. Wooden may look well, but they are notoriously difficult to keep clean. Even varnished wood can become worn over time, allowing liquid to seep in between cracks, holes, or dents in the varnish, thereby encouraging permanent staining of the wood underneath. For this reason, more and more people are opting for granite or marble work surfaces. Although these materials may be slightly more expensive than their wooden counterparts, you will reap the rewards in terms of a reduced cleaning effort, enhanced durability, and fewer worktop replacements in the long term. Some even choose to use glass as a surface due to the modern and cutting edge look of this material; however glass is notoriously difficult to keep looking clean, and can look out of place in some bathrooms. Worktops can also be installed with metal consoles.