How to Make the Most of Odd-Shaped Bathrooms
Published on: 12/08/2020
Last Updated: 12/08/2020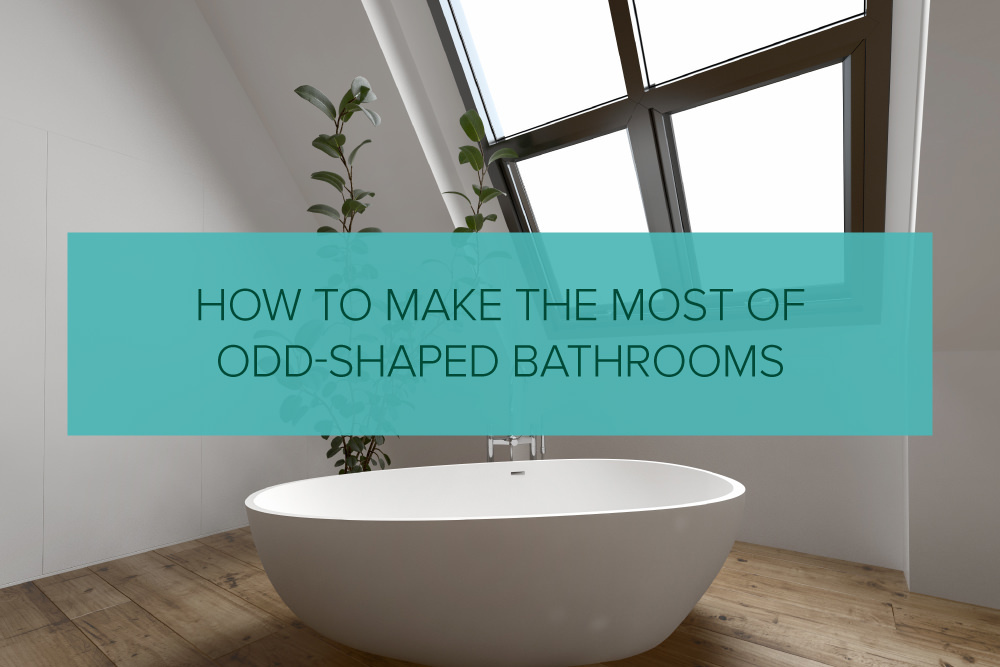 Not every bathroom is created equally. Whether it's curved walls, limited space, or uniquely shaped ceilings, odd-shaped bathrooms can seem impossible to furnish and decorate properly.
While trying to make the most of the quirky room, a stream of questions may flood your mind: Where will the bath or shower go? What can l do with a sloping roof? Do l have enough room for a toilet and basin? What about storage space?
The good news is, you don't need to knock down walls or do any major renovations to create a bathroom that is functional and stylish. Yes, it can be intimidating with certain design limitations, be it a sloping roof, an angled wall, or alcove. But an odd-shaped bathroom shouldn't be viewed as an obstacle; instead, think of it as a quirk to embrace. View this oddity as an avenue to practice your creativity, and you will be surprised at how far you can take it.
With a little bit of imagination, you can produce a masterpiece that wows your visitors, or even better, increases the value of your property. To start, let's take a look at some of the challenges that accompany unusual bathroom layouts.
---
#1 Angled Walls and Sloping Ceilings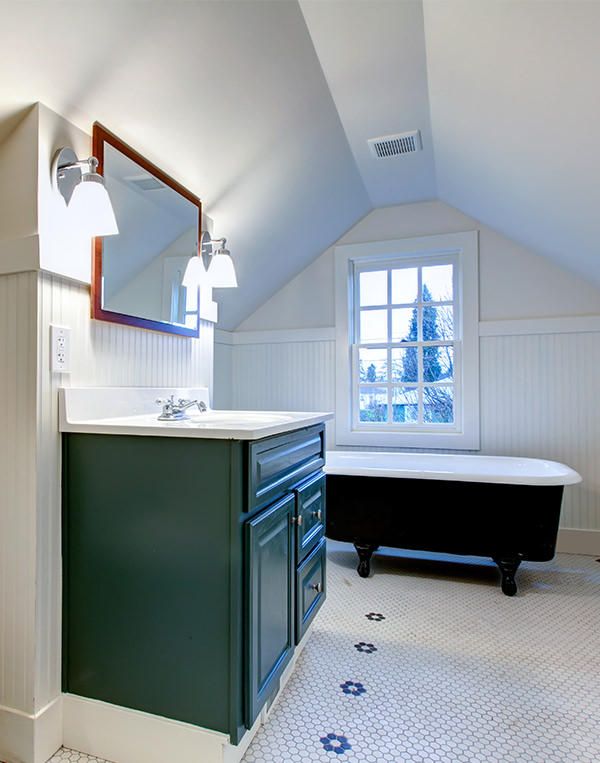 Sometimes, loft conversions or vaulted ceilings result in angled walls and sloping ceilings. These are some of the most intimidating challenges when it comes to designing spaces, and they get even more complicated if the space is limited.
---
#2 Alcoves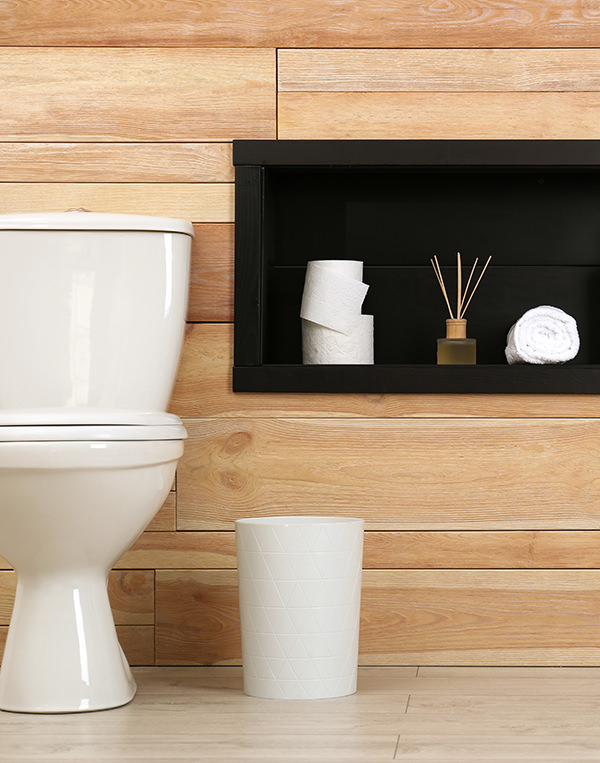 An alcove or a recess is a space in a room that is enclosed by walls on three sides. Usually, it sits further back than the rest of the wall. While they may seem odd at first, alcoves can prove to be a great asset to any bathroom – for storage or decoration.
---
#3 Cylinder and Boiler Cupboards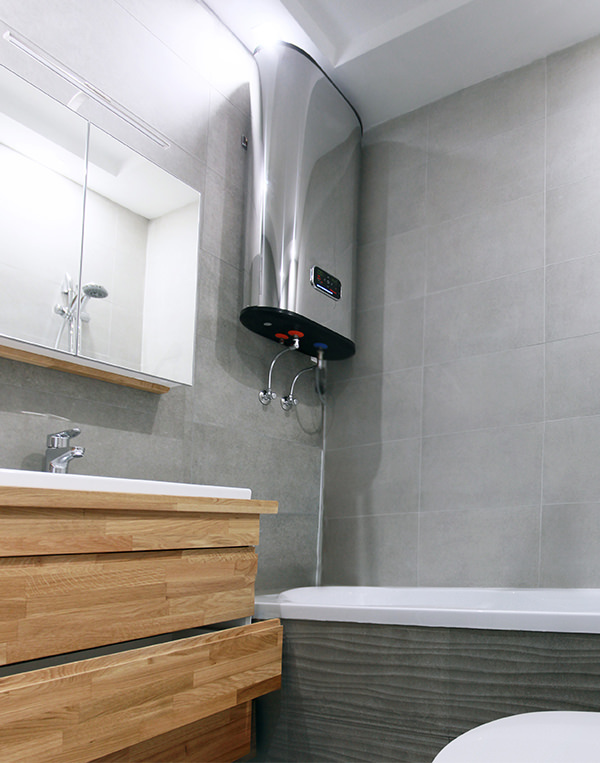 Whenever cylinder and boiler cupboards are housed in the bathroom, they create corners and consume valuable space. However, no matter how much of an eyesore they are, you don't have to get rid of them or relocate them, since the cost of this type of renovation can hurt your wallet. So, how do you get around the above challenges?
---
How to Make an Odd-shaped Bathroom Feel Just Right
Looking at an odd-shaped bathroom, the above faults may jump out and make it seem impossible to work with creatively. But with a different perspective, your odd-shaped bathroom is pretty easy to turn into a unique, impressive space. Let's dive into some of the ways you can make the most of your seemingly unusual bathroom.
---
#1 Toilets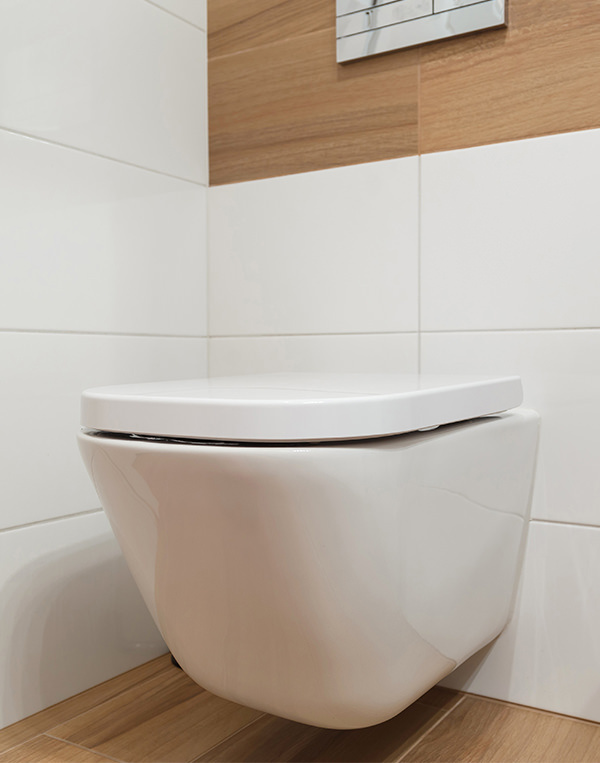 An odd-shaped bathroom could mean a limited area to work with. As a result, you need to get creative to eliminate that cramped feeling that accompanies small spaces.
Toilets have come a long way in recent decades, with a wide range of design options, styles, and sizes to choose from. One of the most compact designs is the wall-hung option. This simple contemporary design means that the bulky cistern is concealed inside the wall, freeing up valuable space in your bathroom and creating a classy minimalist vibe.
You can also install a corner toilet to save a similar amount of space.
---
#2. Storage Solutions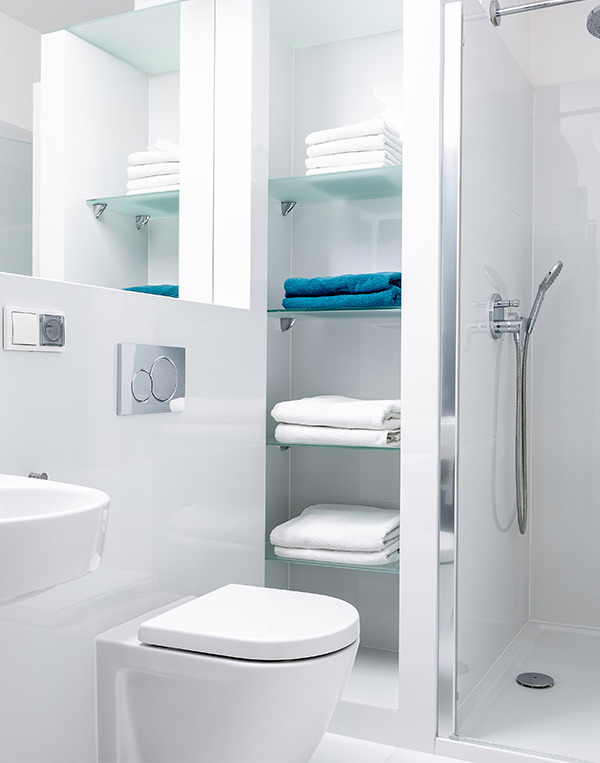 What would a bathroom be without toiletries? From soap to shampoo, and cleaning products, you'll need storage solutions if you want to keep them nice and organized.
To conserve valuable floor space, you can mount some of your storage on the wall in the form of cabinets or open shelves. These can be installed above the toilet, as there is usually ample space in this area. Alternatively, you can visit a storage speciality shop and get an over-the-toilet storage unit.
If you're handy, you can also build in some extra storage space, such as medicine cabinets behind your mirrors.
---
#3. Basins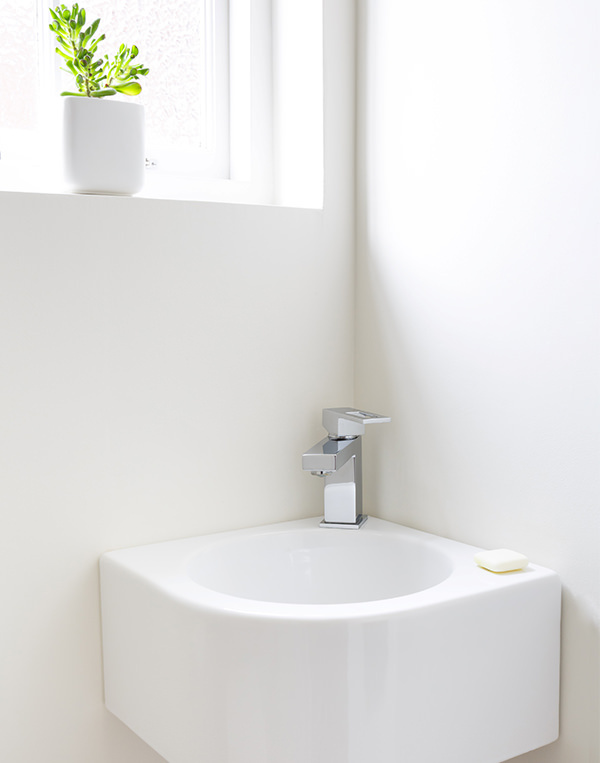 Where two walls meet, you can install a corner basin because it saves space. Don't feel limited when it comes to design, though – you can add a bit of charm by using a corner sink with a pedestal.
Similarly, there are wall-mounted sinks that can incorporate a wall-mounted faucet. The washing bowl and plumbing pipes are attached to the wall, freeing up space underneath. This basin layout offers flexibility since you can install it at whichever height suits you best.
Finally, there is the toilet-lid sink. This is a sink that also serves as the lid of your toilet and involves a hands-free faucet that redirects water from the toilet's supply line. After you wash your hands, the water drains down into the cistern to be used for flushing. This arrangement has the two-pronged advantage of saving space and being environmentally friendly.
---
#4. Baths and Showers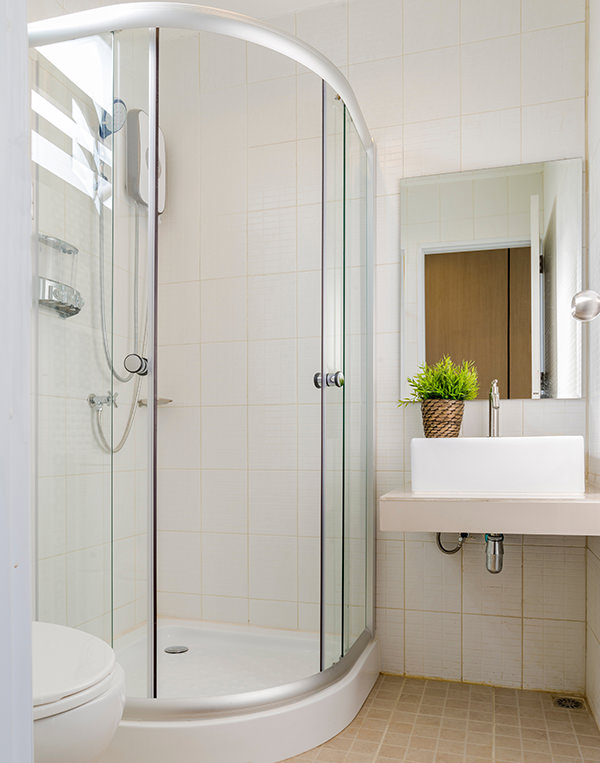 To make the most of an odd-shaped bathroom with limited space, you can opt for a corner-shaped bath or an average-sized tub.
What if the bath doesn't fit? Well, you may decide to get rid of it completely or use a shower bath that comes in different shapes. For instance, if you have an L-shaped bathroom, you can go for an L-shaped shower bath. If you choose a shower enclosure, go for frame-less and clear glass since it makes the room feel larger compared to frosted or etched finishes.
---
#5. Tiles and Flooring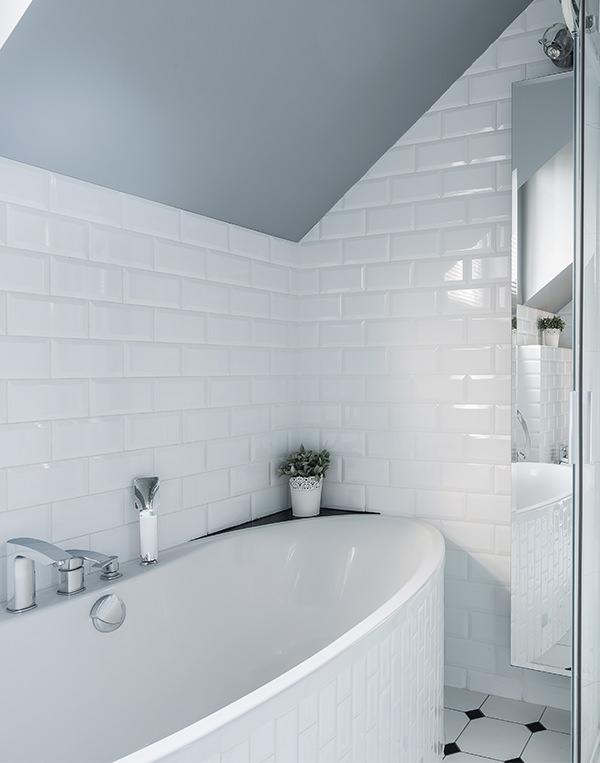 To create a spa-like atmosphere, you can use the same wall and floor tiling for the whole bathroom. Alternatively, you can lay tiles in a checkerboard, since this pattern has a tendency to "stretch out" small spaces. If you want to add drama to your odd-shaped bathroom, it's easy to create an accent wall or a tile wainscot.
---
#6. Lighting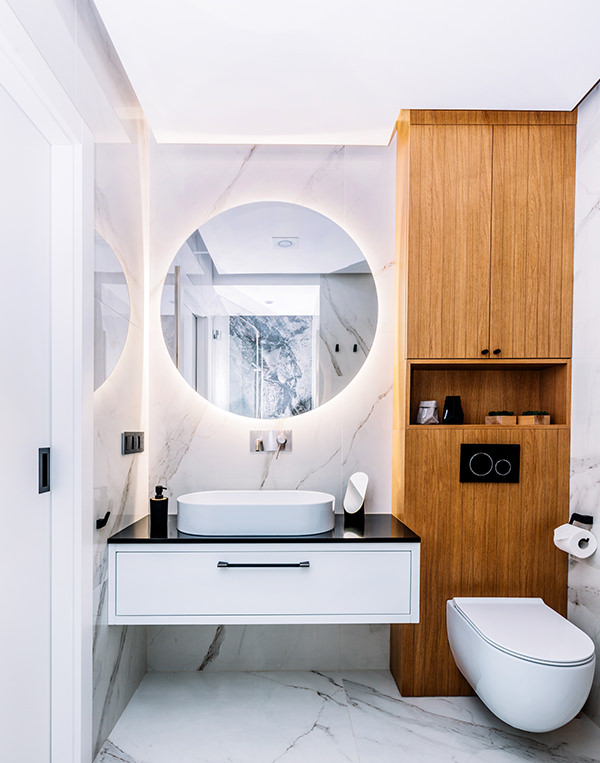 Bright spaces are inviting, and proper lighting is needed for all types of grooming. Sometimes, an odd-shaped bathroom may not have any windows, which can make it feel cramped.
When it's not possible to add windows, you can use bright lights and reflective surfaces to help create the illusion of a large space. If possible, you can add a skylight or enlarge an existing window to make the bathroom look bigger, while adding a touch of luxury.
In addition, you can include recessed ceiling lights or even install motion-activated lighting. LED strips can also do the trick, with the potential to create mood lighting. You should also make sure to include task lighting, such as bulbs around the bathroom mirror for shaving and putting on makeup.
---
#7. Mirrors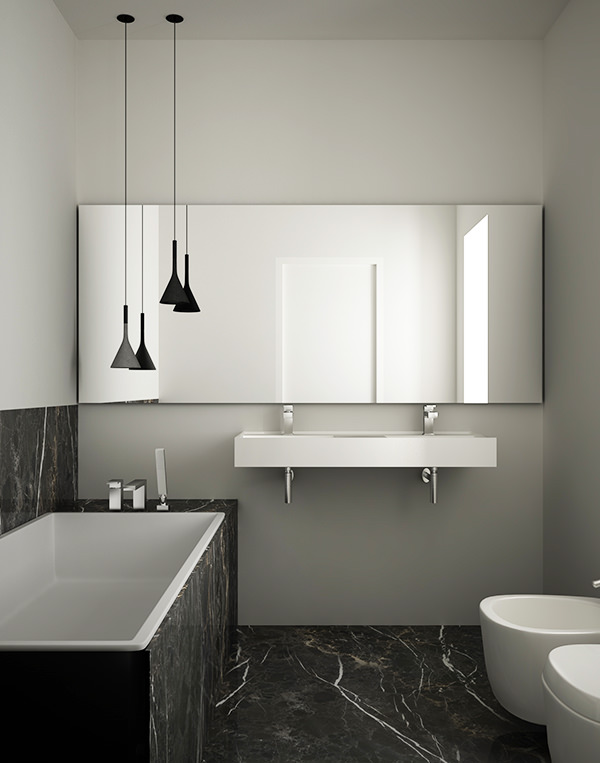 Mirrors come in many shapes and sizes and help create the illusion of more space in an odd-shaped bathroom. They can be strategically placed to reflect the best parts of your bathroom, or even better, to reflect natural light. You can choose to install a single large mirror for a sleek look that ensures minimal visual clutter or adds elegance.
---
#8. Doors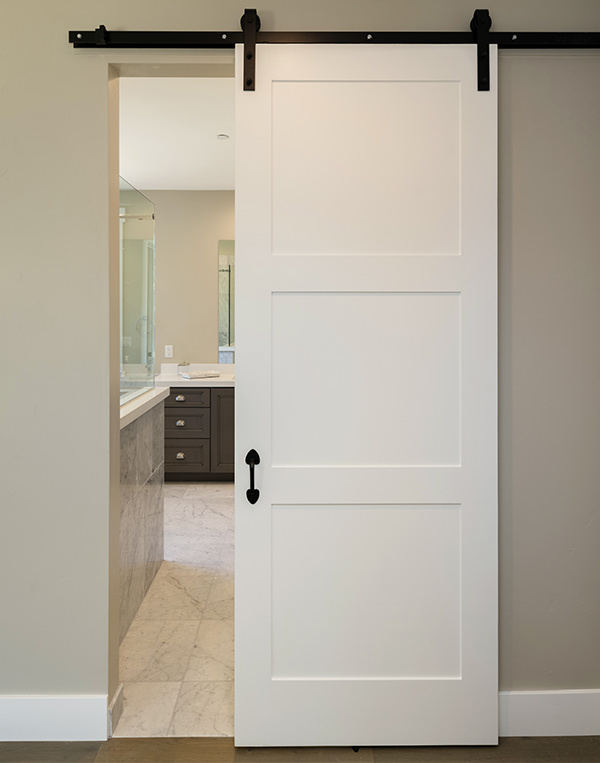 When a door swings inward, it consumes usable space in an odd-shaped bathroom. You can work around this by installing a pocket door that slides on a track inside a wall, helping you save valuable space.
---
The Bottom Line on How to Make the Most of Odd-shaped Bathrooms
You can breathe new life into your odd-shaped bathroom with a few design tricks. It all starts with making peace with the limitations you currently have. Then, with a little bit of ingenuity and planning, you can transform your odd-shaped bathroom into a marvellous space that brings the "wow factor" into your home.
If you're ready to make the most of your space, QS Supplies has all of the fixtures you need. From tubs, basins, and showers to vanities, mirrors, and towel heaters, browse over 30,000 designer products to put a unique touch on a quirky space – all at a cost that won't break the bank.