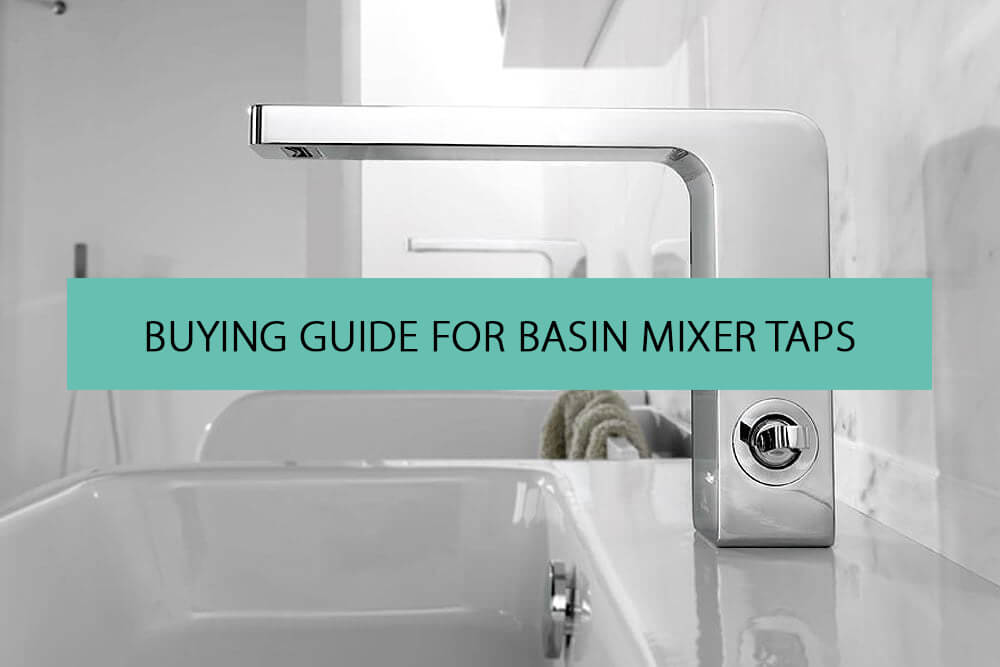 Basin Mixer Taps are an important functional aspect of any bathroom and offer an opportunity to accentuate the style of the space. Whether upgrading to a completely new bathroom space or replacing old features, it is important to think about all the options open to you when making your selection.
A basin mixer tap draws both hot and cold water and mixes the two flows before they emerge from the spout. The construction offers greater ease and accuracy when trying to get the temperature right, an important feature that can prevent uncomfortable temperatures or scalding. The same technology is also used in bath shower mixers, where it is possible to switch the flow from the spout to an incorporated shower hose with the move of a lever.
Basin mixers are ideal for any washroom space, given the ease of temperature balancing it adds to the basin filling process. There is an element of safety to consider, avoiding any scalding mishaps, particularly for those with young children, making thermostatic mixers a more obvious choice. Many of these are available in the monobloc style; these are essentially single units with the levers attached to the waterspout. This design is suitable for basins where only a single hole is available for deck mounting the tap.
What to Consider?
The most important aspect for any the tap that you select has to be efficient functionality. Over time, a sticky or poor-mixing block can impede enjoyment of the bathroom space and lead to higher maintenance costs. Ideally, it is recommended you try out the tap in a showroom, to get an idea of how it feels and performs. You can also rely on brands such as Grohe, Crosswater, Hudson Reed and Bristan for a quality tap. You can also read product reviews before buying so that you do not end up buying a cheap quality product.
If you are upgrading your taps alone, it is important to make sure your tap matches the styling of your basin. If possible, try to select one from the same manufacturer. Another consideration is to match the style of the brassware with the overall theme of the room; a modern bathroom requires a sleek, contemporary design while older styles require a classical design.
What are Waterfall Taps Basin Mixer?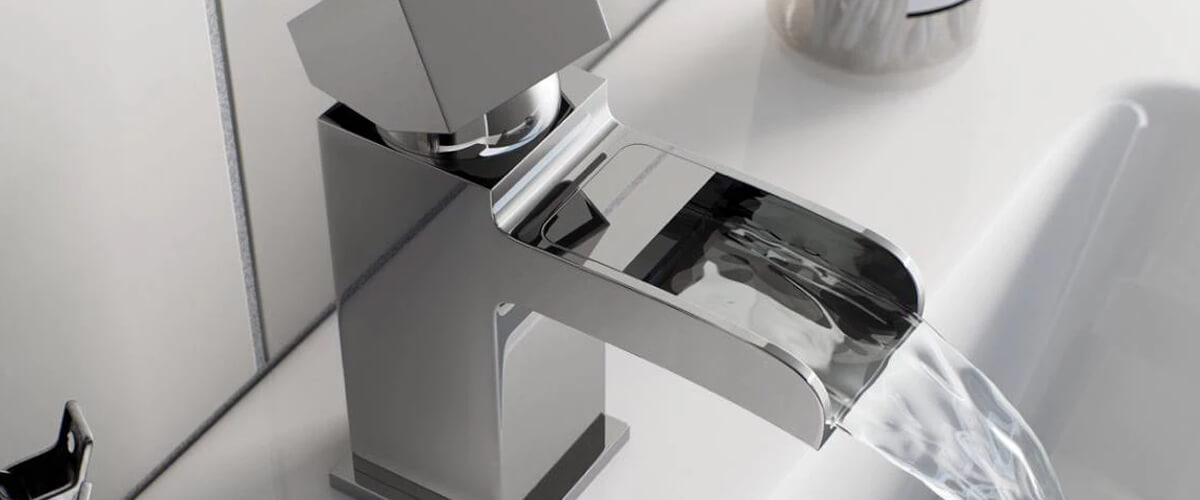 The spout has a special, flat open design through which water cascades out. The flow of water mimics that of a waterfall, and therefore, suitably called waterfall tap. These beauties come in varying widths and sizes, and can be floor mounted, deck mounted, or wall mounted as the design demands.
If you have a luxurious, contemporary bathroom decor then, Waterfall taps provide an ideal fit. On certain occasions, these taps may be used in a traditional set up as well. One look at this stunner at the deck will garner compliments from guests and family alike. Meticulous attention has been given to the construction and functionality of these taps, which have, chrome plated profiles for an awesome finish and look. Designed for a high contrast effect with Basins or Wall tiles, the taps can be standard or mixer taps.
Waterfall taps have fast garnered popularity with homeowners, interior designers and builders. Every brand now offers this type in their tap collections. When you are looking to upgrade your brassware, do consider this option, they look especially stunning when paired with glass bowls.
Our Top Picks
Bristan brings you this waterfall spout with a stunning chrome finish. This inspiration piece is all about excellence and efficiency coupled with the right aesthetics. Perfectly complementing a contemporary basin, this Hampton mixer tap's highlight is its waterfall spout that gives a cascading flow of water for a sense of luxury. Manufactured from brass, it will provide the perfect finishing touch in any modern bathroom decor.
Desgigner's Dream

This cascading wonder from Vado is a smashing hit in the Basin Mixer Tap category. Brought to you in its Synergie series, it boasts an exquisite format that is a designer's dream. The gushing water adds to its impressive personality while chrome finish impresses further. Wall mounted in all its glory, this waterfall tap from Vado is a must-have.
Zen Inspired

The zen-inspired and relaxed approach of the waterfall tap from Abode brings an instant appeal. This brassware will proudly adorn the basin area offering glorious style and utility. Wonderful alternative to expensive premium taps, it takes the functional and aesthetic factor up by many notches. Savour the feel of water gushing through like a waterfall right inside your bathroom and reap the benefits.
The Hands-Free Taps
The hands-free or Sensor/Automatic tap offers several advantages over fixtures that require physical contact. Since dirty hands never actually touch the fixture, there is less chance of leaving a mess. Children, in particular, are fascinated with the "magic" operation, which could inspire them to adopt better habits of personal hygiene.
This fixture is ideal for commercial use, particularly in food service facilities or other environments where proper sanitation discipline is essential. After all, what good is washing one's hands if once you are finished, turning the water off requires that you touch the same handle that you – and everyone before you – contaminated when you turned it on?
Physically touching the handle on a fixture not only adds to the effort required for proper cleaning, but it can also contribute to a messy environment. This may require additional effort on the part of custodial employees, which can quickly add enough to your janitorial expenses to offset the additional cost of the fixture. Also, that additional cost continues to accumulate indefinitely, as opposed to the one-time modest premium on the cost of the fixture itself.
If you are concerned about maintaining a modern design theme throughout your home or business, few elements are capable of expressing that theme as effectively as these well-designed, state-of-the-art fixtures. You will find our range of sensor taps, in styles offering everything from clean, minimalist lines to the latest in industry-tech, to be unsurpassed in the marketplace.