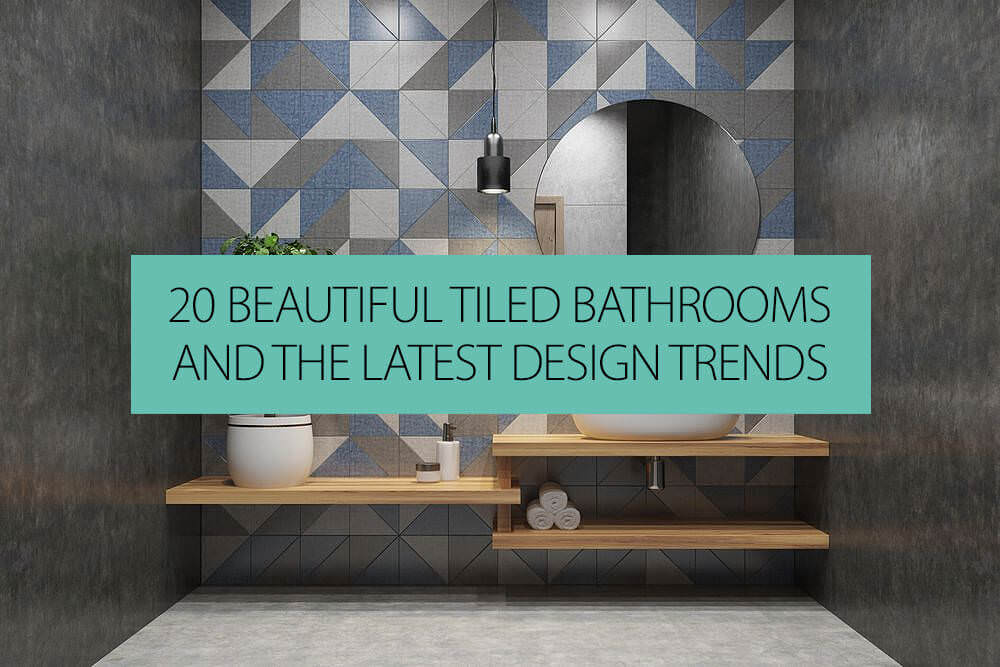 Tiling is one of the biggest style choices you have to make in any bathroom. Get it right, and every morning you'll be greeted by a beautifully tiled bathroom that compliments the furnishings within it. Get it wrong, and it can look sterile and boring. Thankfully, tiling your bathroom and making it look good is actually very easy when you know what colours and styles work together. To help you out, we've listed our top 20 interior design tips and trends to make your tiled bathroom stand out.
---
1. Fully Tiled Bathrooms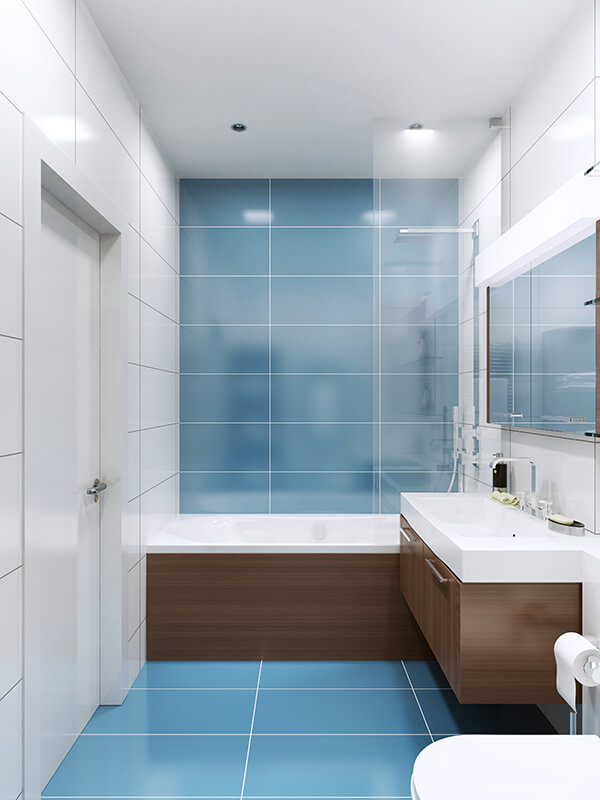 Tiling from floor to ceiling can be tough. If you opt to use one style of tile, then you run the risk of your bathroom looking plain or boring. You will need to add character with your fittings: Chrome is classic, gold is bold. We think fully tiled bathrooms or wet rooms look best when you contrast the walls and floors.
---
2. Half-Tiled Bathroom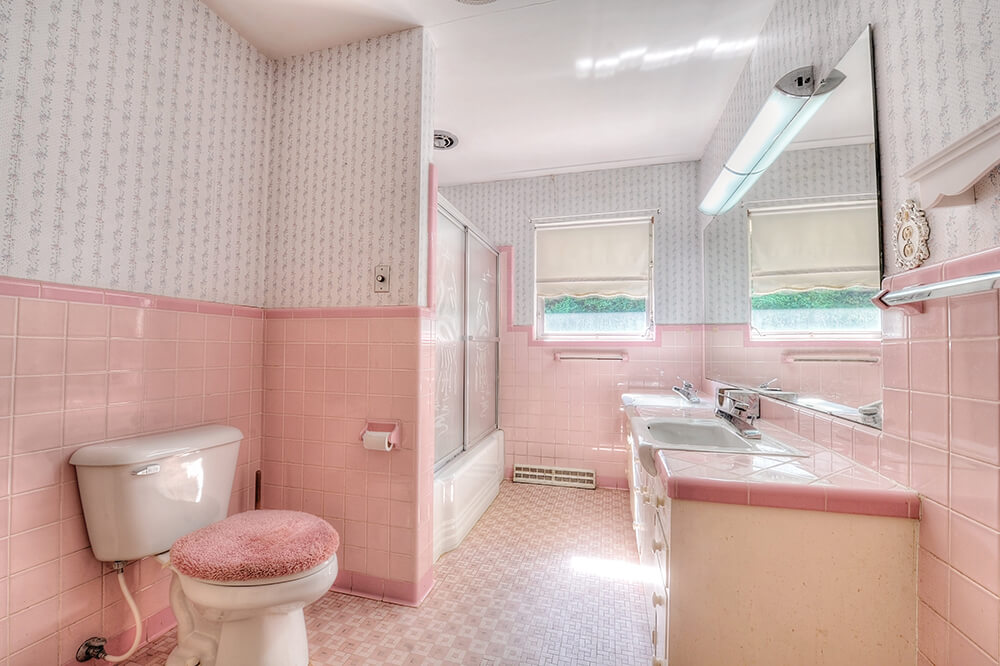 A half-tiled bathroom is a hot option. Going half-and-half with your bathroom walls is popular with traditional English bathrooms. Tile the bottom half and paint above for an easy look. Alternatively, we love bold-print wallpapers paired with plain tiles for a look that's both confident and clean.
---
3. Masterpiece With Big Tiles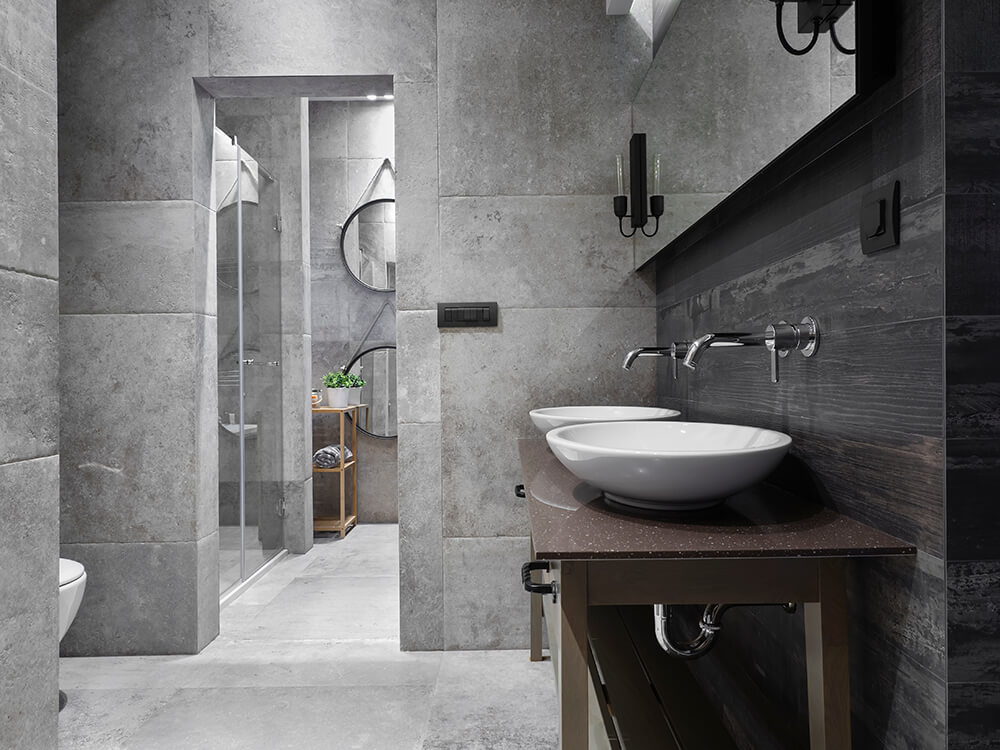 Make a minimalist masterpiece with big tiles. People are put off by the individual cost of large tiles. If you do the math, small tiles can be more costly in large spaces(delete this line). Big tiles thrive in roomy bathrooms. Opt for large, soft grey, natural stone tiles, and they'll reward you with a magazine-worthy minimal bathroom.
---
4. Small Tiles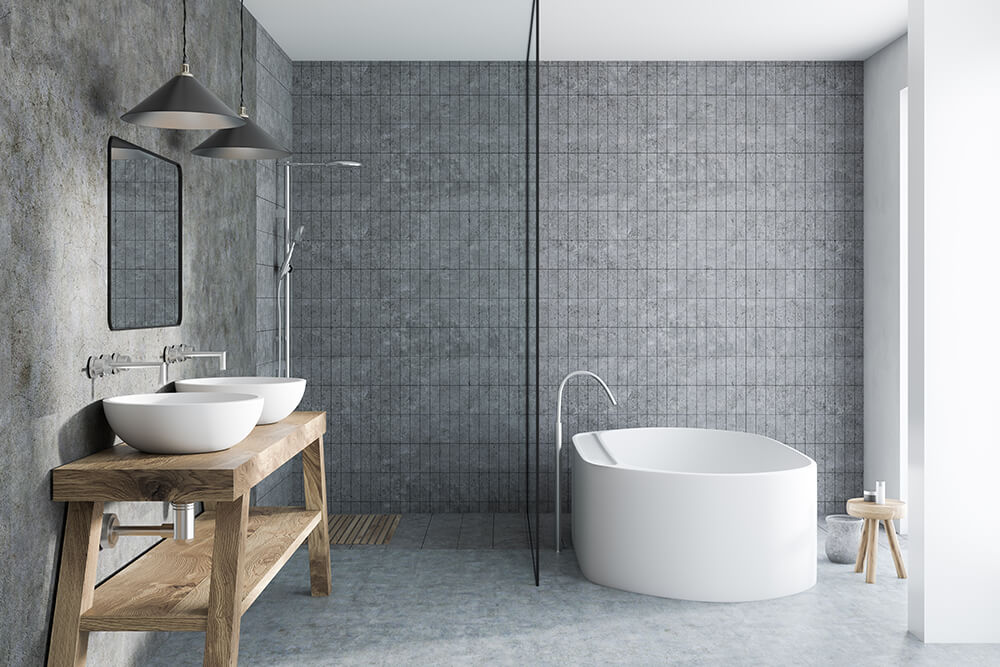 Small tiles allow you to get creative with curves. If you're blessed with a voluptuous bathroom with curves in all the right places, you can accentuate them with small wall tiles. For example, if you have a curved shower area, highlight it with stunning, small plain tiles and contrast the surrounding walls.
---
5. Reclaimed Antique Tiles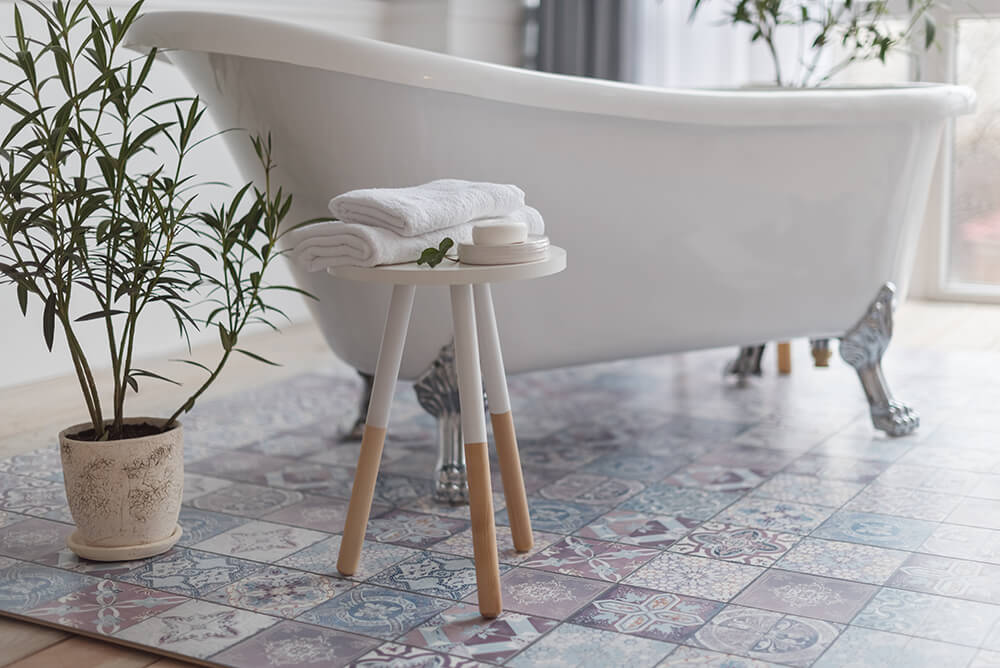 Reclaimed tiles are as stylish as it gets. They're often more expensive, but reclaimed antique tiles can be bought from all around the world to give your bathroom a true one-of-a-kind look and feel. Before you buy a lot of reclaimed tiles, make sure there are enough to tile your bathroom; you can't make more.
---
6. Marble Bathrooms Tiles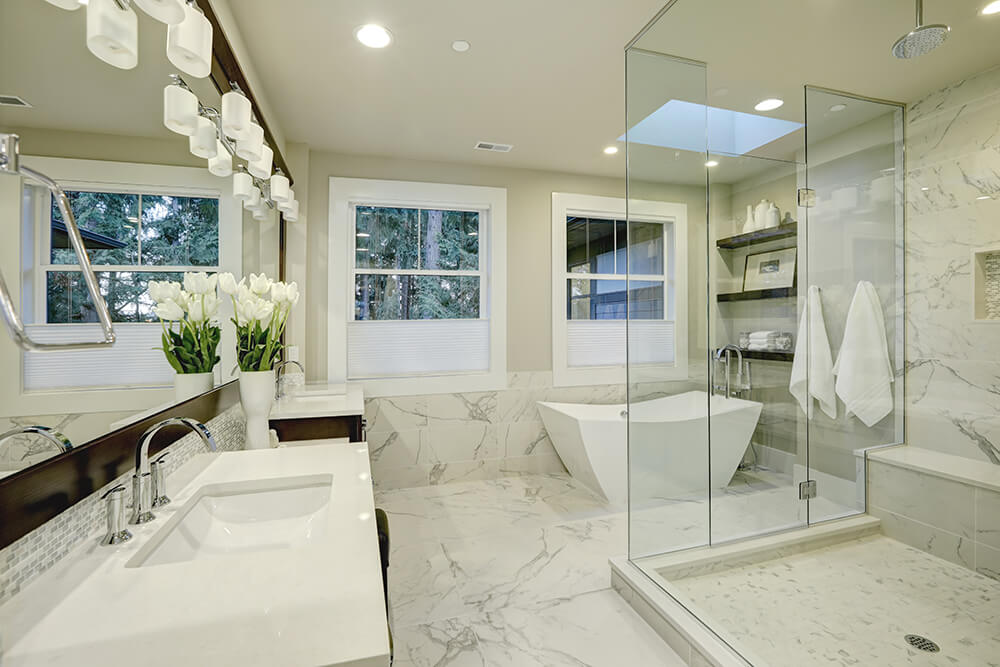 Marble bathrooms are back, and they're here to stay. The beautiful, unique veins that run through marble tiles will always be synonymous with the sort of grand Italianate style that can elevate any bathroom's elegance. For a contemporary look, pair light marble tiles with deep blue walls.
---
7. Art Deco Tiles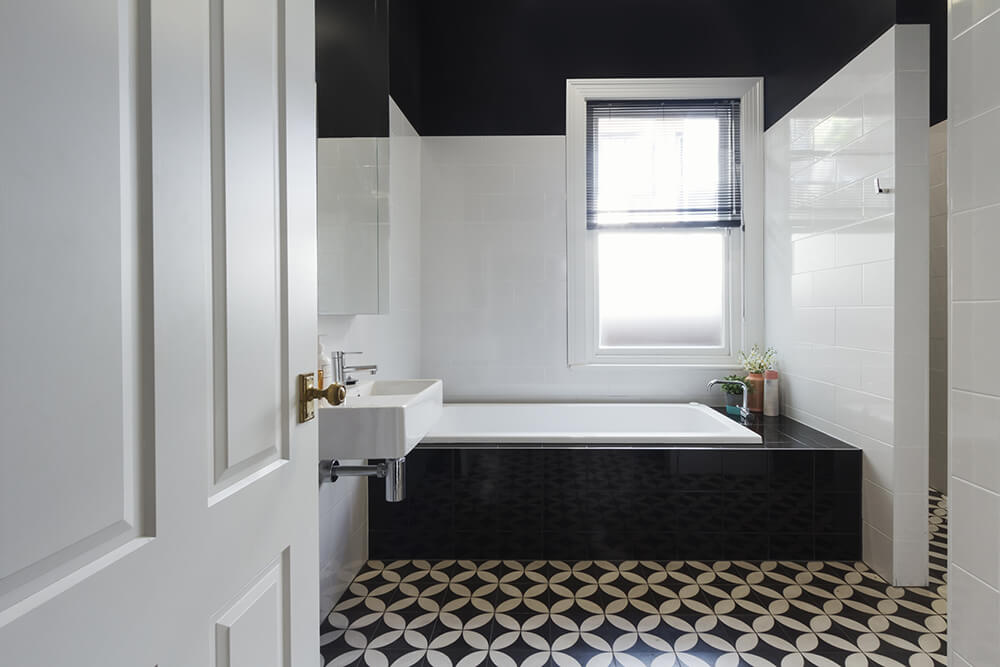 Make a statement in your bathroom with art deco tiles. Every time you go to the toilet, you could take a trip to the 1920s thanks to your art deco tiles' sharp lines, fabulous symmetry and Great Gatsby vibes. Style it with decadent bathroom fittings, like an ornate mirror and freestanding bath.
---
8. Patterned Tiles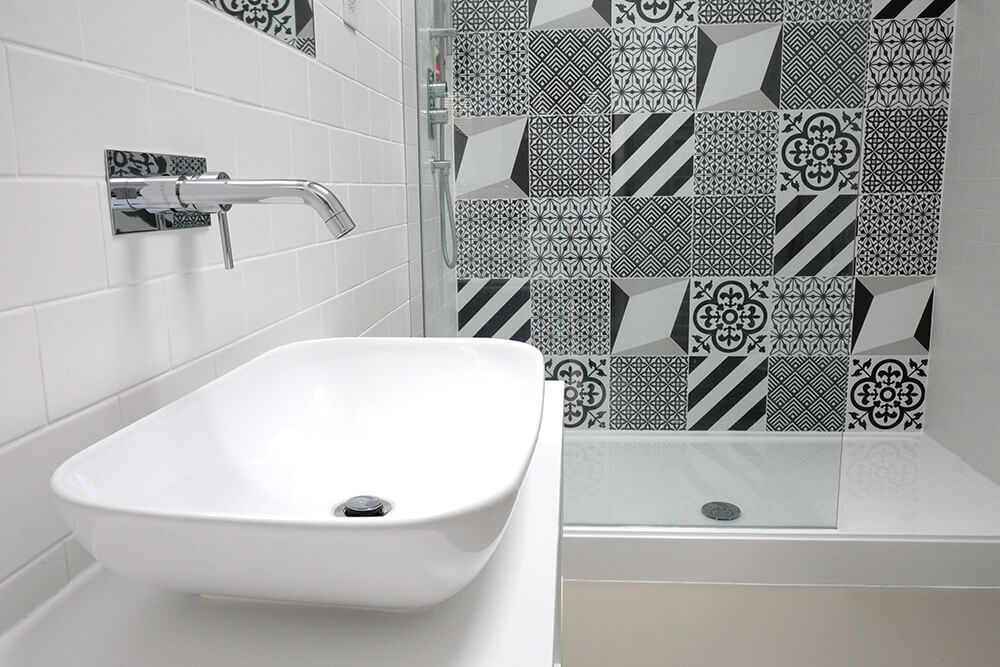 Pick your favourite pattern and plaster them on your walls. Whether it's paisley, tribal or Chinese patterns, there are lots of patterned tiling styles that can help you make your bathroom your own. If you do opt for a bold pattern, balance it out with clean walls on either side.
---
9. Colored Plain Tiles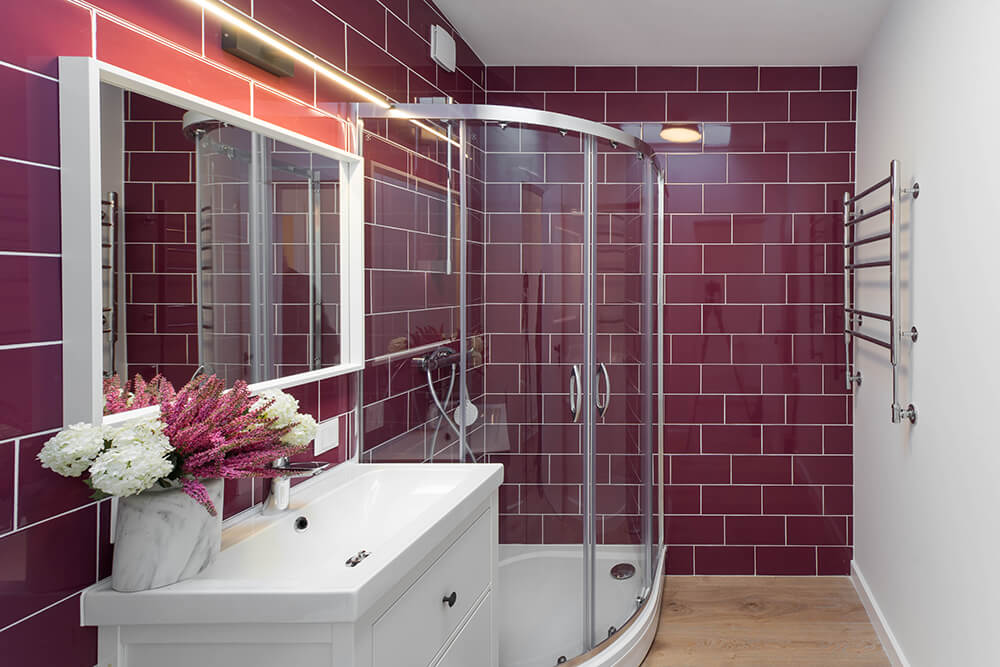 Pair plain tiles with the right accessories for a clean, contemporary look. The danger with plain tiles is that they can look a bit boring. Go for different sizes or colours to differentiate your floor and walls. You could also mix it up with patterned accessories, such as bath towels or mats.
---
10. Matte Tiles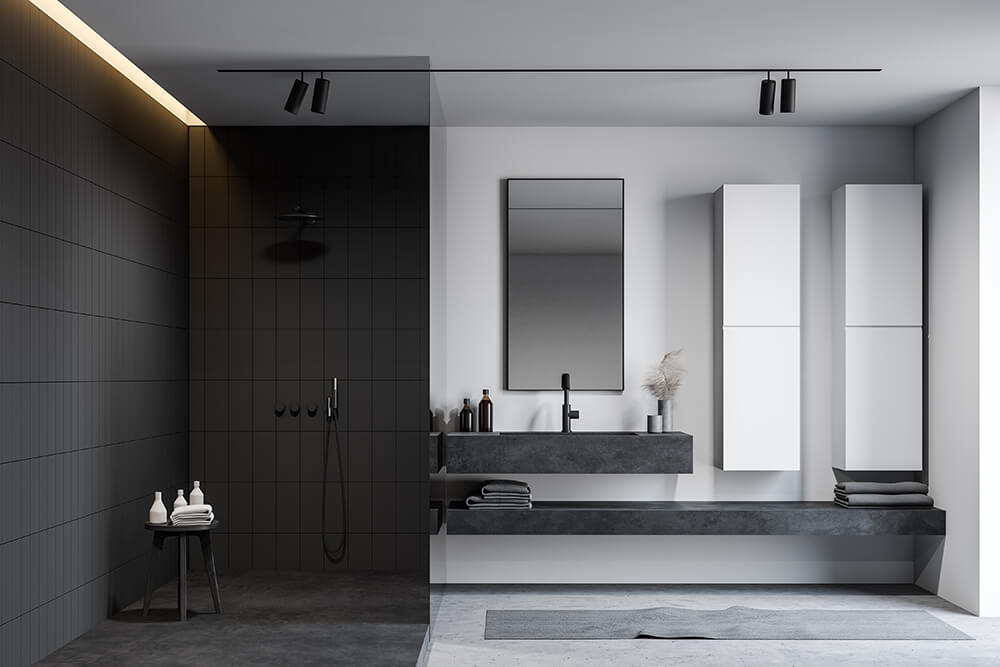 Matte tiles can be a marvellous choice in minimalist homes. Large bathrooms can look incredible if you're willing to be bold with all-black matte tiles. It'll look dark, but get the lighting right, and you won't find a more dramatic bathroom design choice.
---
11. Glossy Tiles
Glossy tiles look magical with lots of natural light. The way sunlight can reflect off the surface of gleaming, glossy tiles can look incredible. It's a sure-fire trick to make a small bathroom appear larger. Most people go glossy with wall tiles, but they can look sublime on the floor.
---
12. Diagonal Pattern Tiles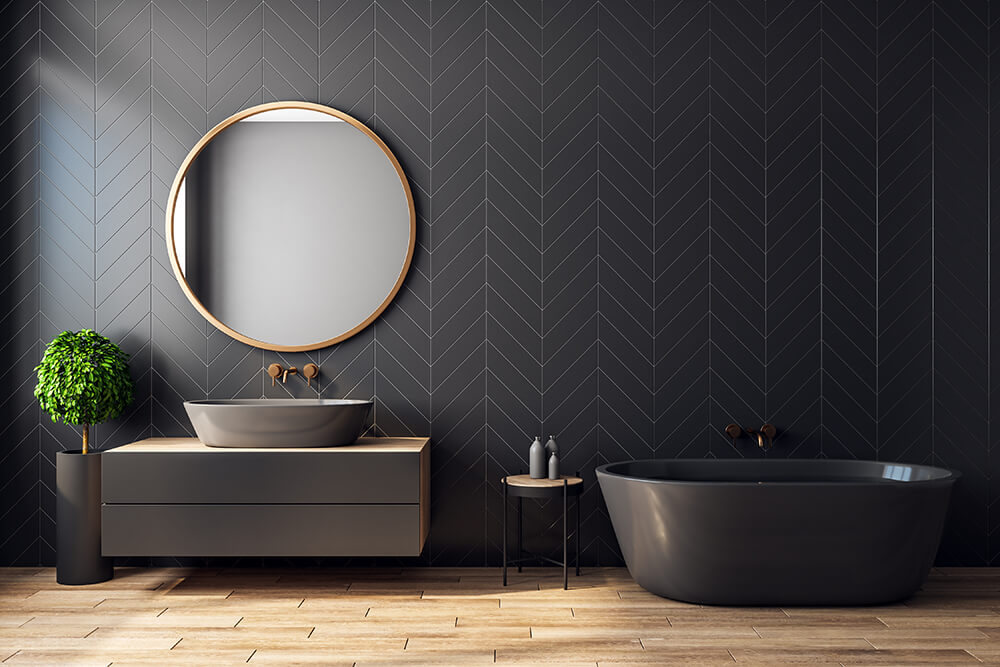 Diagonal patterns are proven to make small spaces look larger. There are different ways to go diagonal. Play it safe with a single colour. Be alternative with alternating tones. Wow visitors with wide stripes. Just avoid going too narrow, as you'll find it can look like an optical illusion.
---
13. Geometric Tiles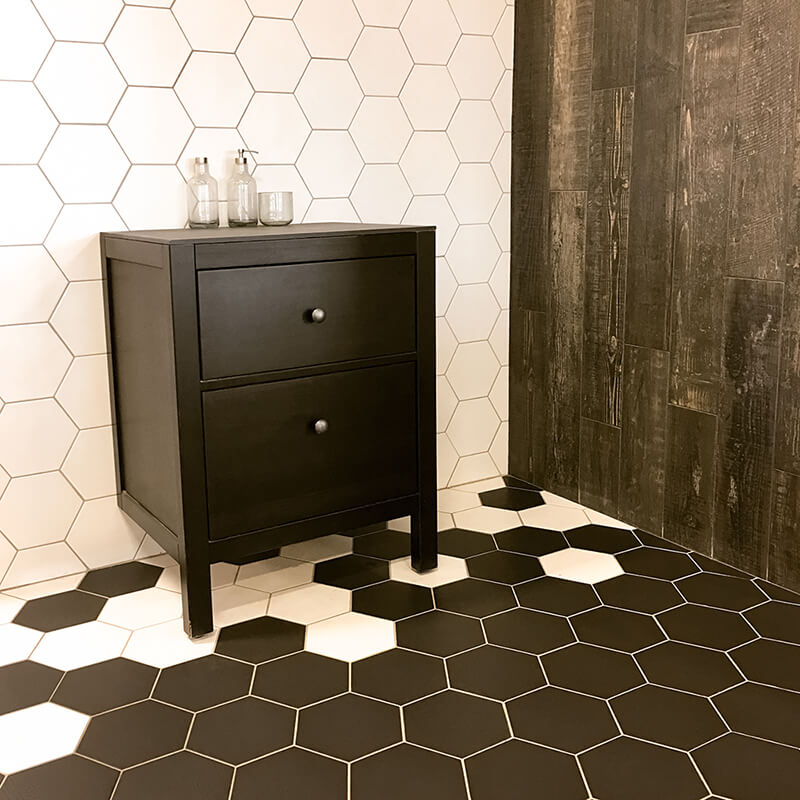 Geometric tiles are on-trend for modern bathrooms. They work well on floors and walls. We've seen some sublime bathroom designs that opt for honeycomb tiles on both and utilise different colours to differentiate the shower area. They're creative, cool and can help a bathroom stand out.
---
14. Subway Tiles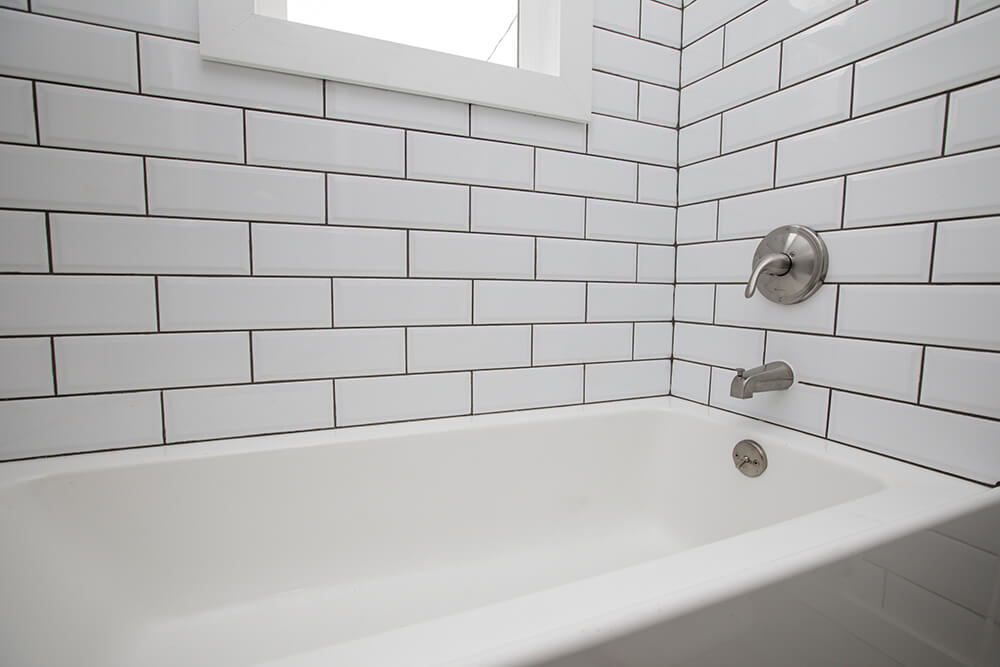 Subway tiles, also known as metro tiles, are a popular choice right now. They get their name from the fact that they look like the rectangular tiles of a subway station. Most people lay them horizontally, but you can make your bathroom look taller with vertical orientation or larger by going diagonal.
---
15. Mosaic Tiles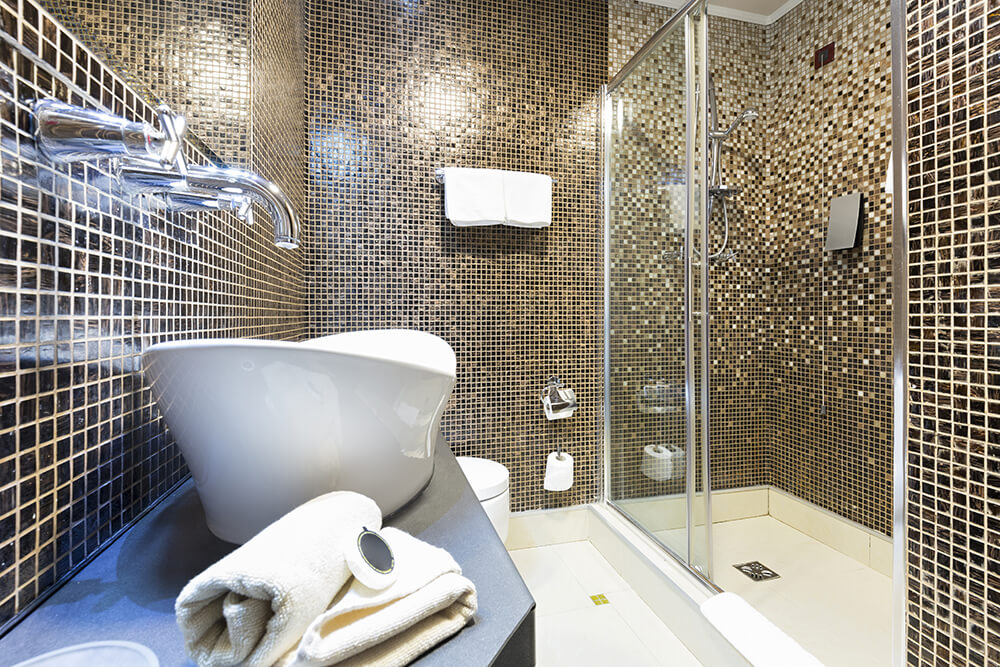 Achieve a stunning Mediterranean look with mosaic tiles. Mini mosaic tiles appear to have gone off the interior design radar. However, they can be a beautiful choice for a feature wall or when tiling a shower area. Look for rich blue, glossy mosaic tiles that'll reflect light and look beautiful.
---
16. Large Slate Tiles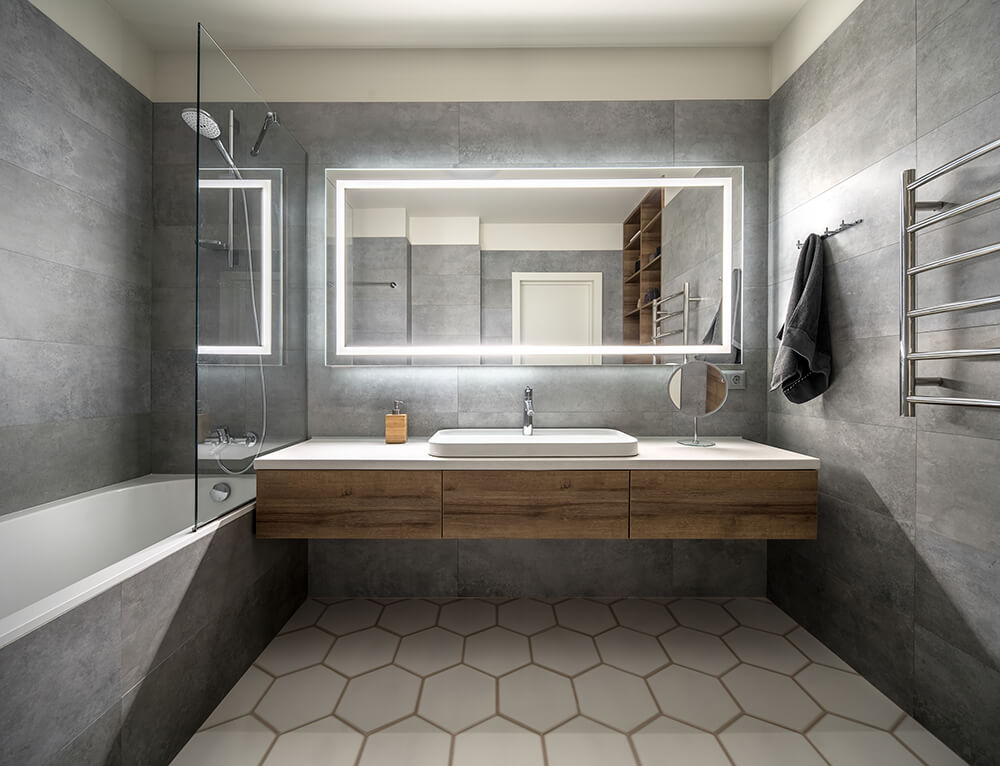 Go for a grey bathroom to give your space a timeless aesthetic. A lot of homeowners are switching to grey bathrooms because they look fantastic, and they'll never, ever go out of fashion. That's the beauty of going tonal. Two of our top tips are large slate tiles or matte grey metros.
---
17. Match Tiles With Bathroom Fittings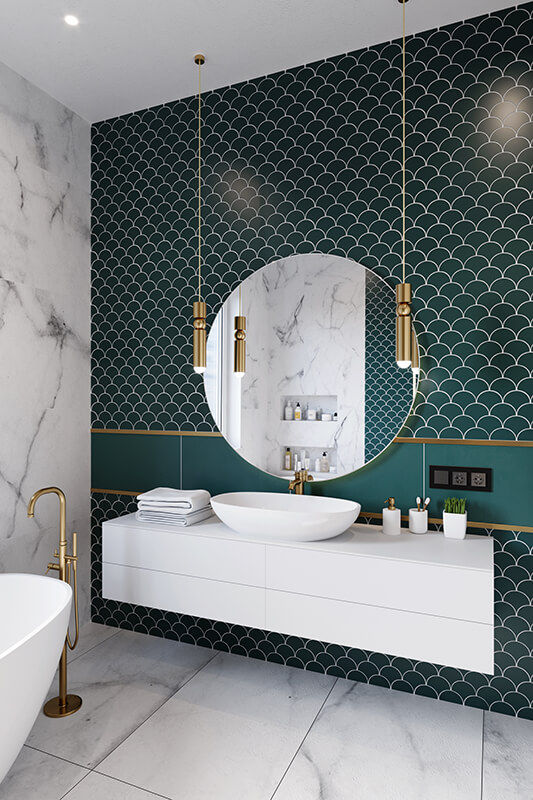 Pick out the perfect tiles to make your gold fittings pop! In a world obsessed with chrome, we love it when people go with gold fittings. Pair them with the right tiles. White and gold are elegant; black and gold are decadent; pink and gold are lush, but – best of all – we love pairing gold with deep greens and blues.
---
18. Pastel Terrazzo Tiles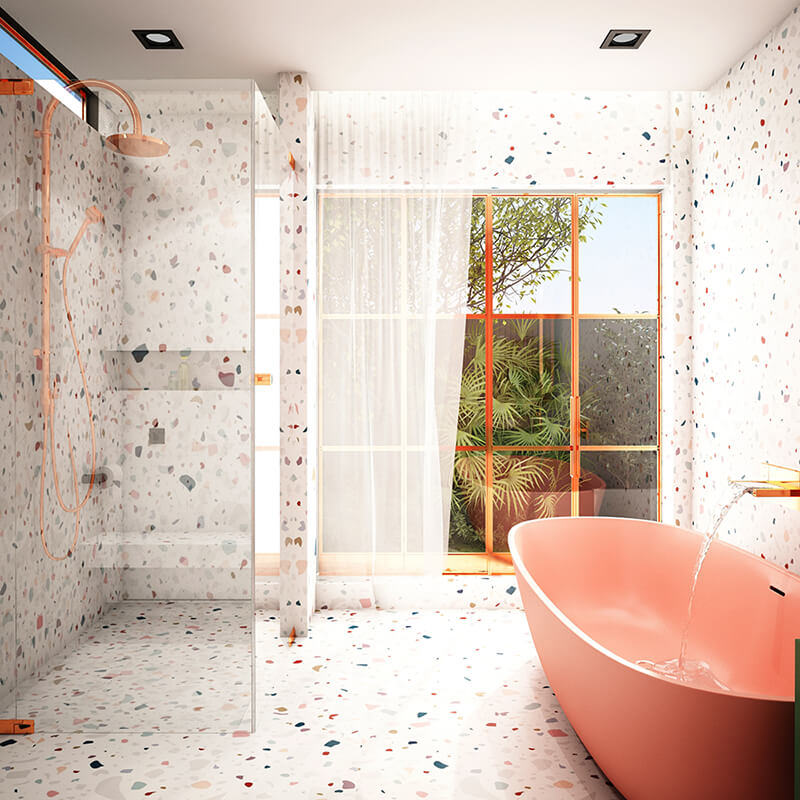 Pastel terrazzo tiles are absolutely gorgeous. Real terrazzo tiles contain chips of marble, glass, granite or other materials to give it a distinctive mottled look that can glitter in the sunlight, which works to sublime effect with pastel tones in rooms with hard surfaces, like a bathroom.
---
19. Colour Accents And Feature Tiles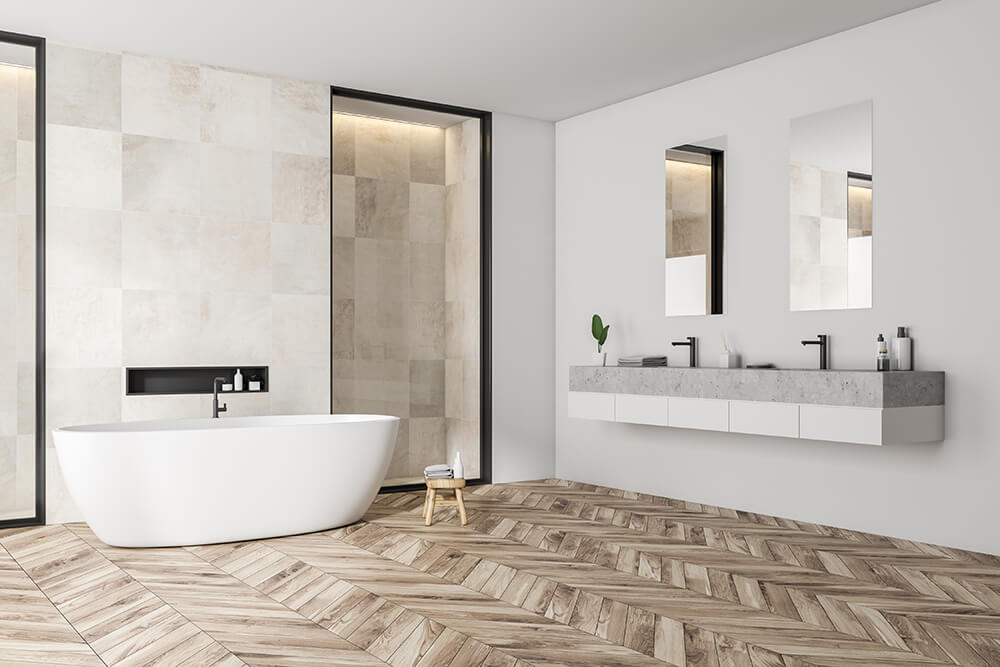 Catch the eye with colour accents and feature tiles. All it takes to transform a clean, all-white bathroom into one of the most stylish rooms in your home is the choice addition of some coloured accent tiles. They're best with diagonal tiles. Add coloured accessories to compliment them as well.
---
20. Split Shift Tiles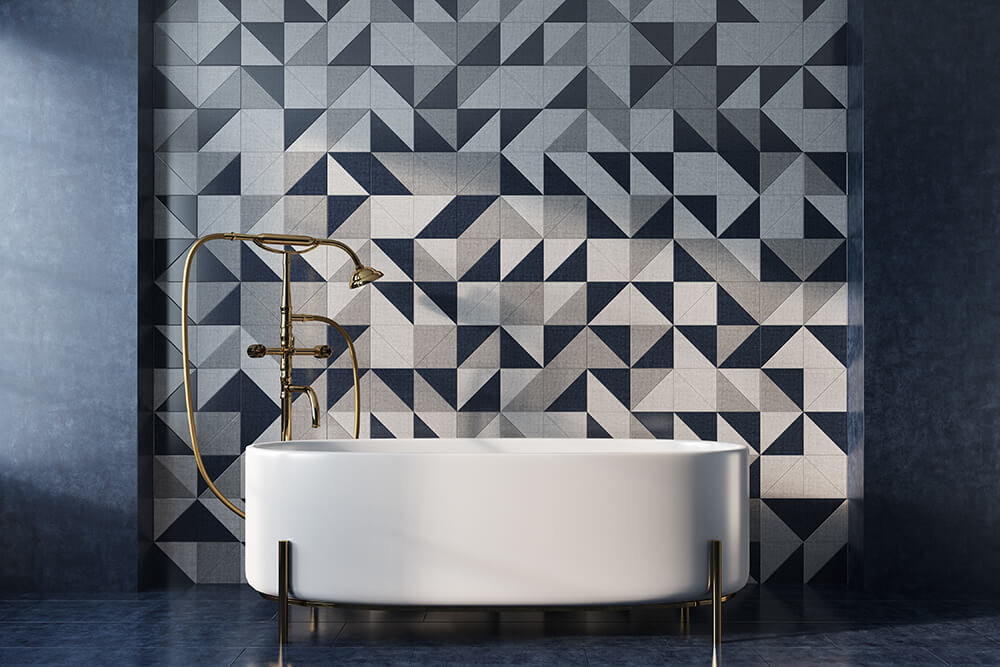 Saving the best until last: split shift tiles. If you're unfamiliar with split shift tiles, they are individual asymmetrical geometric tiles that you can lay and rotate to create funky patterns on your walls. They can look incredibly stylish and often utilise bold colour combinations.