Buying Guide on Bathroom Furniture
Are you planning to have the perfect wooden furniture that is versatile, attractive elegant and so on? Yes, we understand; the list of preferences is endless, but nowhere to find. That's because most of us hardly know what exactly suits our bathroom and where to find them. Whether it's a luxury bathroom you're aiming to create or you simply want to open up the space in your bathroom, the furniture you choose will have a major impact on the overall look and feel of the room.

Choosing bathroom furniture can seem overwhelming at first but with this simple guide you will be able to select the right bathroom furniture for your home and achieve the style you desire. Bathrooms that are used by several members of the one household can become a place of frustration if there is insufficient storage space for each individual's personal care items. So if your bathroom is one that is shared it's imperative that the furniture you choose offers plenty of segmented storage space. For example, vanity units designed with a bank of drawers on each end offer ample storage space, as do tall cabinets and mirror cabinets
Let's identify the homeowners' priorities first!
Primarily, furniture is supposed to be versatile. It has to look elegant, stylish, and has to suit your bathroom setting; it is monumental in concealing things, which otherwise, may be messy lying around in the bathroom; so, it has to play a crucial role in hiding the objects stored in them, and further, prevent the bathroom from appearing as an unsightly space. Furthermore, it is highly vital serving as a storage space utility.
Just imagine! An element that is expected to serve as a multipurpose utility has to be versatile, and befitting the aesthetics.
First and foremost! Simply bear this in mind that there is an enormous assortment of fitted bathroom furniture combination available that may suit your bathroom, and it ranges from Traditional to Contemporary and ultra modern styles. There are more variations such as floor standing or wall mounted combinations.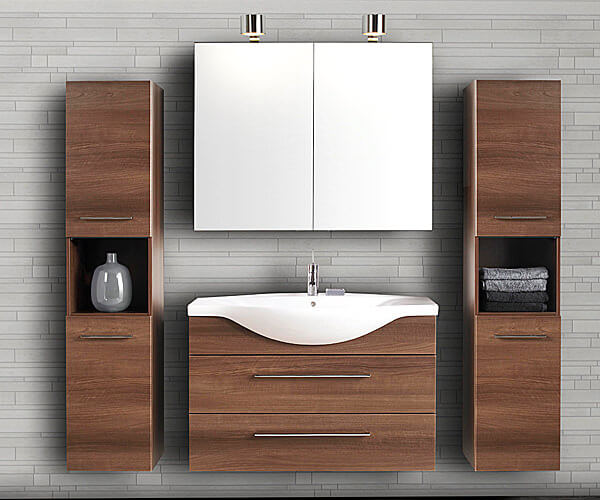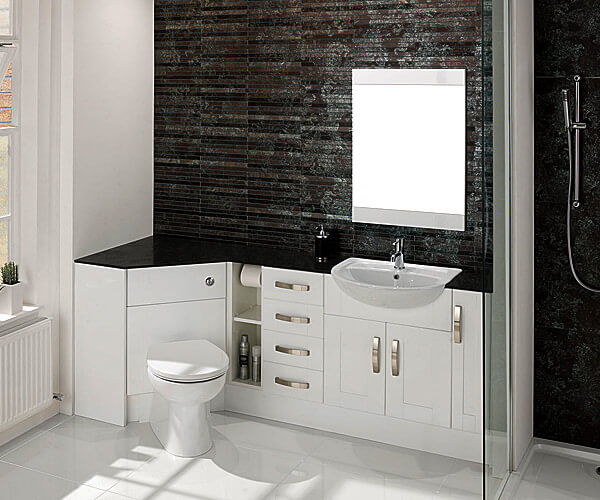 Also, with more intricate detailing like plain high gloss styles to elaborate decorative ranges. In addition to all that, there are further identified permutations and combinations like individual pieces – WC units, vanity units & basin and WC combination units, also available to meet preferences and suit choices and tastes. In furtherance to the range, there are tall & standard cabinets, drawer units, corner cupboards, linen and a lot more.
How important is the storage factor?
Let's realise the importance of the storage factor of the furniture! The common feature of all furniture is to serve as storage utility.
Drawer units, tall units, corner units, storage and wall mounted units offer commodious space, enabling the user to hide and conceal various products and objects like toilet rolls, towels, hygiene & beauty products, medicines, soaps, tooth brushes and various other things. The amount of things that needs to be stored and the amount of storage space required will eventually determine the size of furniture unit you would need for your bathroom.

For instance, a drawer can accommodate various smaller items, and give access to them rather easily. In comparison to it, a cupboard can be spacious enough for bigger and much larger items; whereas a linen unit can be a perfect option for storing your laundry items, and they can be ideal in hiding them or keeping them out of sight. Not limiting to that, a vanity unit fitted with a basin tap can also serve as a brilliant option, with the space below the basin. Remember the most important factor in choosing a vanity unit; it's usually based on the type of material and design you prefer. You must know what's your preference; is it granite, laminate work surface, marble, MDF or wood? Equally important is the type of basin & tap you may prefer; is it counter basin, under counter basin or an inset basin. Interestingly, every design has a different sync with the vanity below it. Is your preference a wall mounted, basin mounted or a work surface mounted tap; apparently, this choice will determine the type of vanity you may want to buy.
Also, the type of WC unit you may choose is extremely crucial. The unit is immensely efficient and workable in hiding the cistern and the pipework with its concealing facade. So, if this is your preference, then a back-to-wall or wall hung WC unit is the quintessential one to meet your choice. The wall hung unit is mounted on a metal frame that takes the whole weight with utmost strength, whereas the back-to wall stands on the floor, and fixed underneath.

If you want to play conservative due to a smaller size bathroom, then you have an option for that too. In order to reduce the gap between your toilet and your basin, you can opt for WC and basin combination which is immensely apt to manage in small size bathrooms. It's a perfect unit of a WC and a basin in one piece that dispels your worries and concerns of fitting a unit in a small bathroom. You are left with a colossal advantage of using the space between the WC and the basin. They are usually less than a metre in size, and the depth is something left to you to choose. It is advisable to choose a round bowl with a modern toilet, this, in return, will save you depth to some extent.
As a matter of fact, intelligently placed and fitted bathroom furniture is always a brilliant choice, for they let you save usable space, allowing you with more space for mobility, increasing the movement space in the bathroom; it makes the space even more pleasant, without reducing floor space.
Now, last but not the least, focus on the materials that you'd prefer, out of which your bathroom furniture will be made. Is it going to be Veneer, MDF or laminate, or sufficiently coated or protected natural wood? You can just surpass and move up to choosing a high-end solid wood that is trendy and most preferred. Even a superior quality MDF can be a splendid option to give contemporary look and longevity to the wood.
Fascinating colours and tones can play an important role in giving a dramatic look and theme to suit your bathroom setting. Contrasting colour and shade always illuminate your bathroom with more radiance. The modalities vary depending on the type of material you may choose to complement all of those.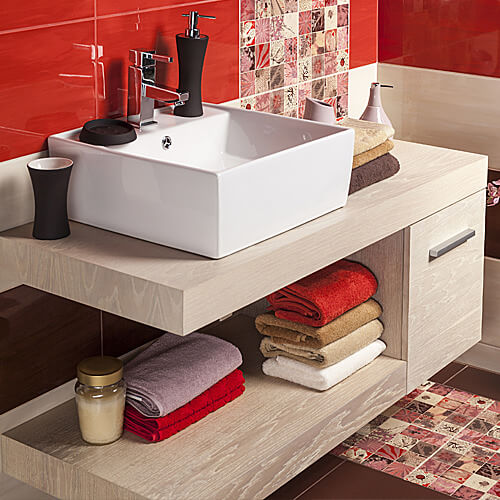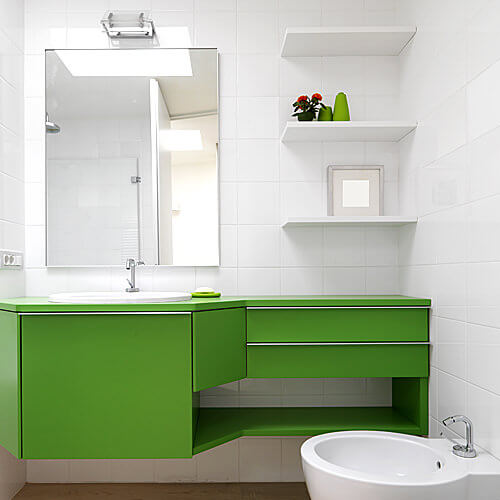 The most important thing here is to extend the life of your furniture after installation, and that is the core objective; so, choosing the right material is amply crucial. Veneer or MDF may require coating; also, marble may look tough and needs to be maintained to keep it safe from staining, as it has a porous surface. Granite is the toughest of all and is too hard to take scratches. They may require frequent stone sealant, like say - every 2 years.
Finally, you must consider your budget when choosing your bathroom furniture. To stretch your pounds further take the time to search online and offline to locate the best deals. Remember to also compare the quality of the products not just price, and always ask about guarantees and delivery fees. Once your new bathroom furniture is installed all that will be left to do is sit back and relax in your new in-home retreat. Enjoy!
Most people spend from £2000-£6500 on a new bathroom, and it's important to have realistic expectations as to what to achieve on your available budget. At the lower end of this scale, a smaller bathroom can be re-fitted to a reasonable standard, though some sacrifices may be required to stay within budget. At the higher end, even large bathrooms can be fitted to a high standard. It is worth, therefore, setting aside a slightly larger budget to ensure that you are able to fit a truly spectacular bathroom that will last you a lifetime; the more of an investment you make today, the longer your bathroom will serve you, and the less money you will need to put in later to keep your fittings and furnishing in working order. Investing in some items of bathroom furniture is often the best way to sort unsightly clutter into distinct compartments, not only improving the look of your bathroom, but giving you back the ease and comfort of quickly and efficient finding items once again.
10 Stylish Ideas For Bathroom Furniture