What Are the Best Bathroom Flooring Options?
Published on: 13/09/2021
Last Updated: 13/09/2021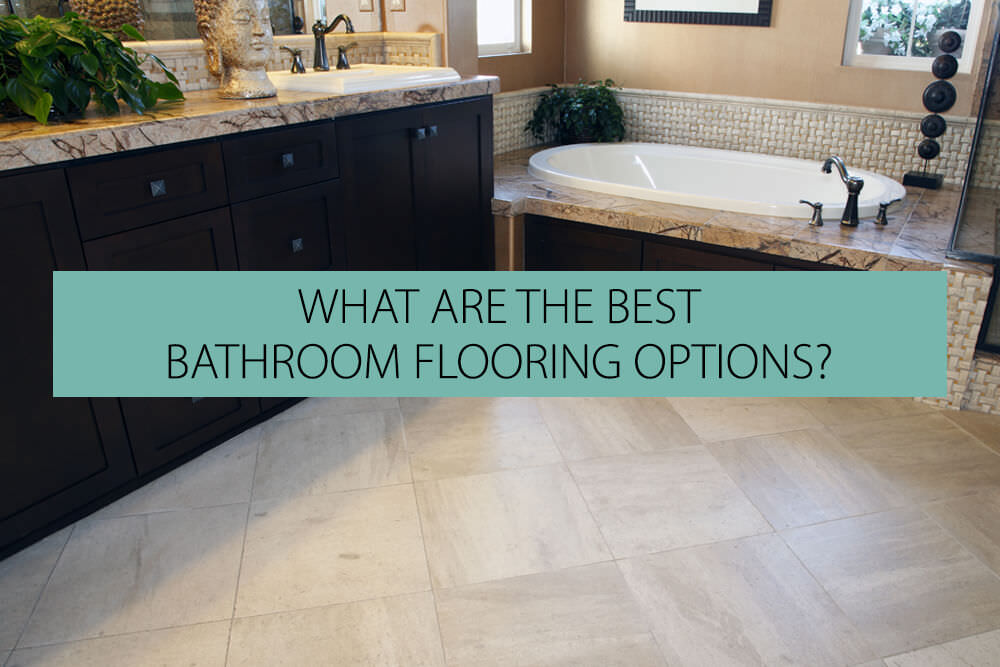 When selecting bathroom flooring, most people look for a durable non-slip material that's easy to clean and attractive. Your bathroom is one of your home's most important rooms, so it makes sense to choose with care.
Bathrooms have some very specific considerations in terms of finishes, and this is nowhere more true than in the flooring. And when you're thinking about this aspect, water has to be taken into account. Water in all its forms wreaks havoc on homes in general, but particularly in our bathrooms. It's the flooring that ends up feeling the worst effects of steam, splashes, and spills.
Whether it's from drips, leaks, overspray, spillage, or messy kids, water will end up everywhere. We're talking walls, the floor, and even the ceiling! But there's a lot you can do to minimise the damage it does to your floors.
Choosing the right flooring for your bathroom doesn't have to be a headache. With this guide you can make an informed decision and still create the stylish room you envisioned - without the slippery floor.
---
Waterproof Flooring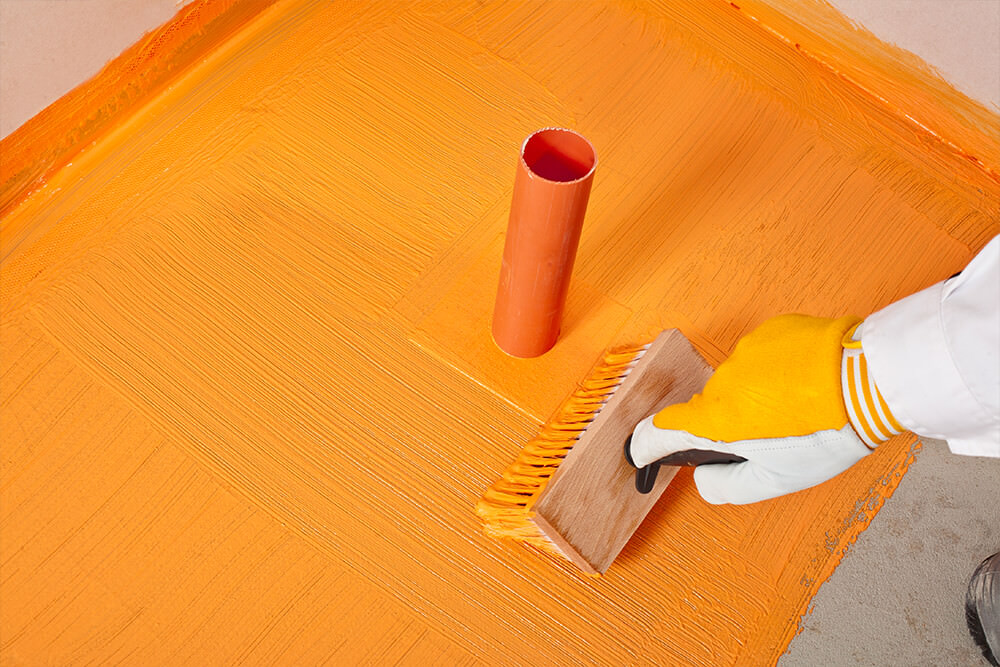 The biggest difference between bathroom flooring and that in other rooms of the house is that it needs to be waterproof. So, the most important factor to keep in mind when you're choosing flooring is this one.
You will have water splashing from the basin. You may have to battle an overflowing toilet at some point. And if you have a shower enclosure in this room, you'll see every surface misted at least once a day, usually more.
A wet room is one thing, a wet bathroom another, but you need special flooring for both. As much as designing a beautiful space is important, making it waterproof is no less so.
Waterproof bathroom flooring simply does not allow any fluid to pass through it. This means you won't have an issue with moisture penetrating the surface of your floor and damaging the material or affecting the subflooring underneath. Plus, the materials used to construct waterproof floors also do much to prevent mould and mildew building up. Both of these are big issues when it comes to moisture permeation.
Remember this when you start choosing materials for your new bathroom floor. Water-resistant matter does nothing to combat humidity and moisture. And once these get damaged, they can't be repaired. A total replacement is your only option.
---
Wood Flooring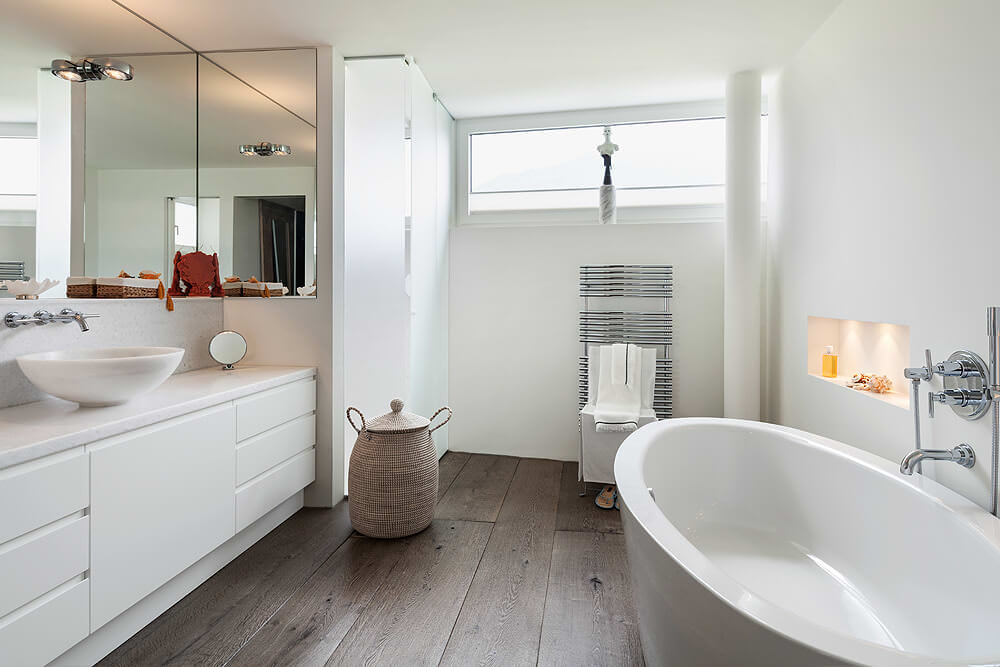 Wood and water are not a typically good combination, but engineered wood has a plywood base. This means it can hold up well against moisture. If you're dead set on a wooden bathroom floor, the engineered variation is your best bet.
Engineered wood looks real because its top layer is a hardwood veneer. For many people, the cost of this option is a drawback as is the fact that it is also prone to damage. You can only sand it down so many times before the veneer layer gets penetrated. But if you truly want it, it's still a good option as long as you're careful about it.
Solid hardwood never works in the bathroom, however. It is very sensitive to moisture, and you will eventually be faced with rot, even if you've given it a protective topcoat. Hardwood floors are wonderful for many other areas of the house. Their look is timeless, they're very durable, and they offer many years of gorgeous flooring if they're almost anywhere else. Just keep them out of your bathroom!
Another reason not to put them in the bathroom is that they require perfect installation to ensure they are totally impenetrable by moisture. Otherwise, water will find a way in, and you'll have to deal with rot. They will also need to be resealed more frequently in the bathroom than if they are anywhere else. Polyurethane-type coatings are the only real option to protect hardwood floors from water damage.
---
Non-Slip Flooring For Bathrooms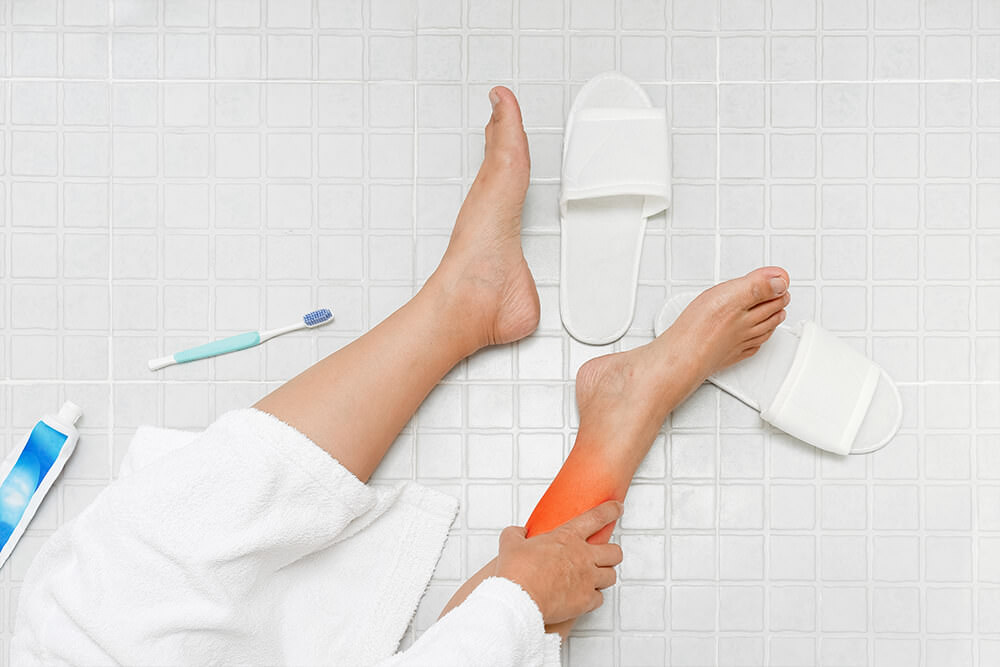 Safety is always important when you're thinking about bathroom flooring because it's a realm ruled by moisture and water. Statistics reveal how startlingly often falls in this part of the home end in serious injury and even death. Luckily, it's not hard to incorporate non-slip materials without compromising your ideas on design and style.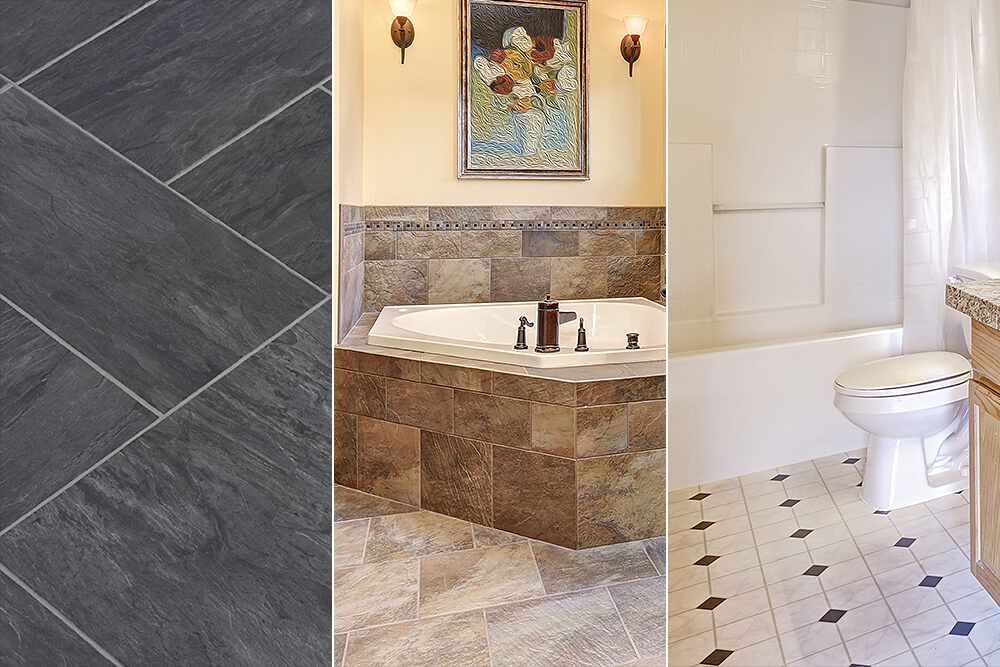 The top choice for non-slip flooring in the bathroom is vinyl. It's affordable, practical, and available in a wide array of different styles. It's also able to withstand both moisture and heavy traffic easily.
Natural stone is not just safe and slip-resistant, it's also in a class of its own. Manufacturer's give the stones rougher, more uneven textures in part to mitigate the likelihood of slipping. Sandblasted, textured stone is usually your best choice when it comes to non-slip surfaces.
And although you may not often see bamboo or cork flooring in bathrooms, they're actually a good option in certain settings. People choose these two materials because they reduce noise primarily, but also because they're so easy to style.
Linoleum flooring is created by combining natural products like cork, jute, or limestone and linseed oil. You will be able to find anti-slip sheets or resin solutions that temper this material's slippery surface and it's also a great waterproof idea.
---
Carpeting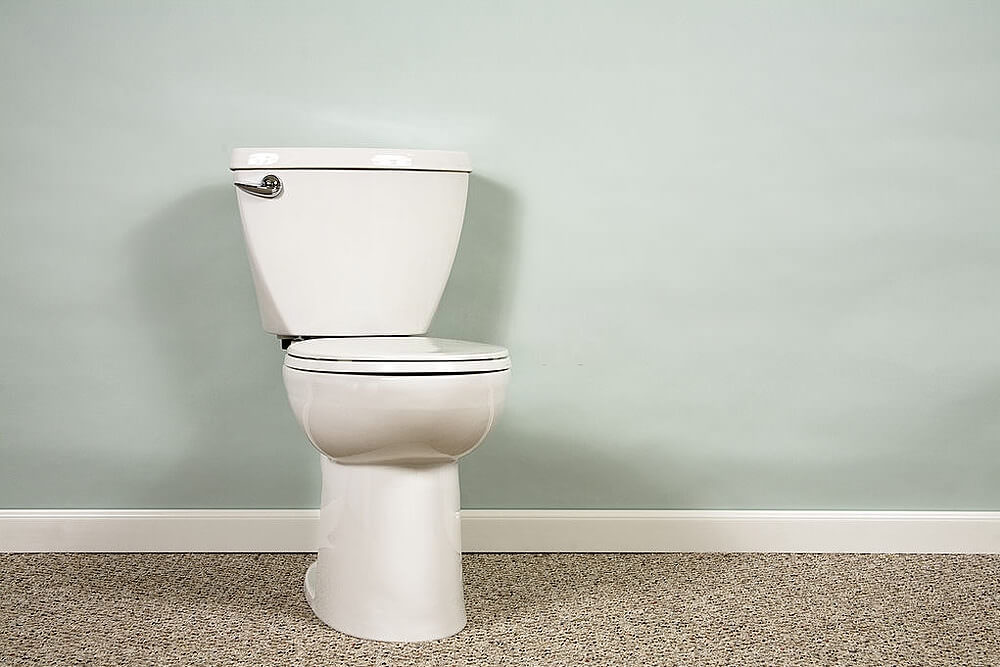 Your friends are calling you insane. Your family says you will live to rue the day you decided on this design option. But the heart wants what the heart wants and if yours wants carpeting then so be it!
It's your bathroom, after all. But if you are going to break every rule in the Book of Home Design then you better know what you're doing.
Moisture is your biggest obstacle in a carpeted bathroom. Choosing a material that is less absorbent and dries very quickly is vital. Look out for synthetic carpeting materials like olefin and nylon which will also work against mildew and be resistant to stains.
Your carpet's pile, or thickness, is another important factor to consider when carpeting your bathroom. The lower the pile, the more quickly your carpet will dry from any spills. But pay attention to the shape of the pile as well.
Loop pile carpets work better in bathrooms than their cut or plush counterparts do. They can take a beating but retain their shape so they will look fresh and new for much longer.
Pay careful attention to the carpet adhesive you are using. They were not all created equal. If you are using one designed for indoor areas only you may find your bathroom carpet starting to pull up after a while. Unless you've opted for a self-adhesive carpet, make sure you get glue that's been developed with water resistance in mind.
---
Natural Stone Tile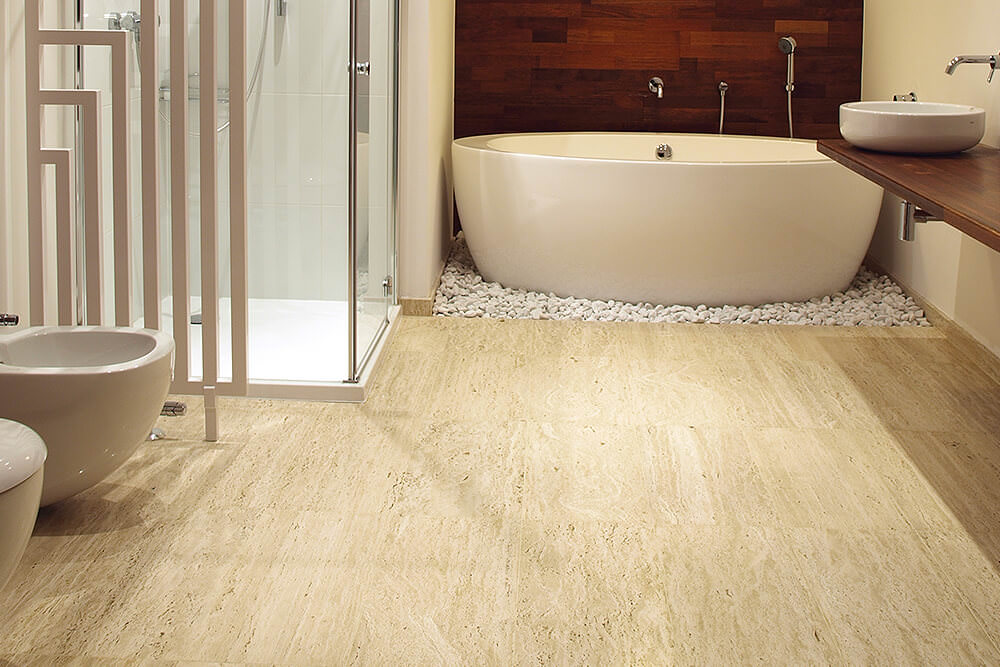 There is a huge amount of choice available when you are looking at natural stone tile options for your bathroom floor. There are many different texture variations too, and they are all very durable.
While they do require more maintenance than ceramic or porcelain does, there's not much that can beat their luxurious, high-end looks. While you will have to clean them and seal them regularly, it's not so tough doing this kind of maintenance on beautiful granite, limestone, marble, and travertine surfaces.
As pricey as natural stone tiles can be, they are incredibly durable. Whether you have chosen etched tiles, sandblasted ones, or tumbled stoneware, they will look great for a really long time.
While natural stone tiles can be more expensive than other bathroom flooring options, if you care for them correctly, they could last as long as 100 years. Because they stand up so well to the moist, humid, watery conditions all bathrooms are prone to, they're an excellent long-term investment for your home.
The fact that you can also use natural stone tiles on your bathroom countertops and walls makes them even more viable as a flooring option. And modern sealants massively reduce the material's susceptibility to staining and water damage.
---
Bathroom Vinyl Flooring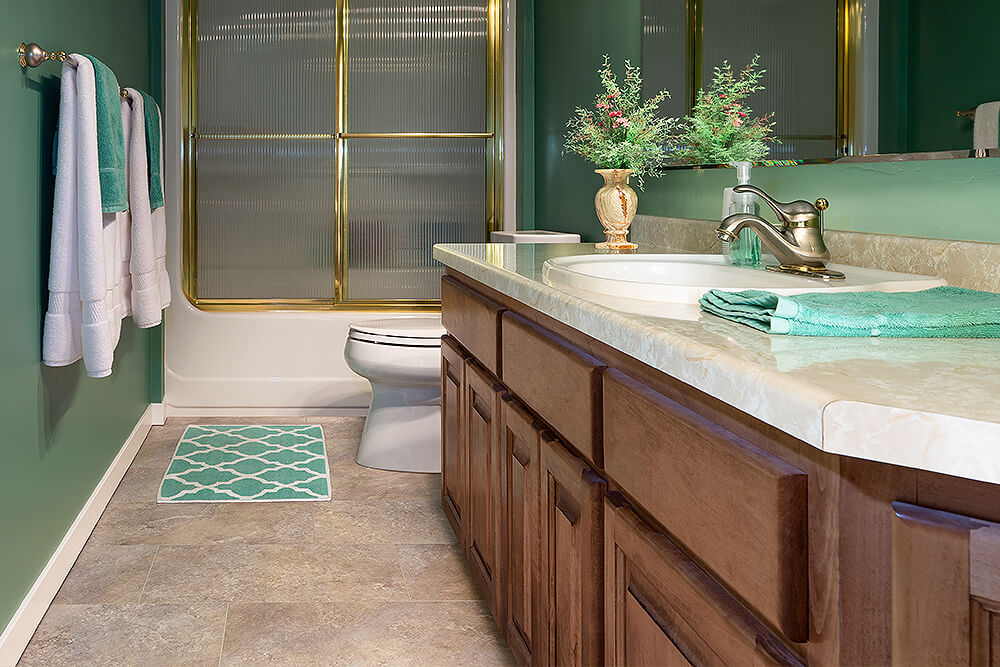 Vinyl has seen a real surge in popularity in the last ten years or so when it comes to bathroom flooring. This is because it is easy to install, very reasonably priced, and highly water-resistant. It comes in planks, sheets, and tiles, with tiles being the top pick for bathroom flooring because installation is almost seamless. This adds to the waterproof factor.
There are two types of vinyl, stone plastic composite and wood plastic composite. Both have a waterproof core, but WPC is favoured because it's more flexible, more resilient, and thicker.
As durably as vinyl is, it can develop bumps, curls, and gaps over time and it's tough to repair if it gets pierced by something sharp. But this is less of an issue than you may think, because this material is so well-priced.
Many people confuse laminate with vinyl, but laminate has a wood-chip base that sees it becoming a less-than-ideal material for bathroom floors. If this wood comes into contact with water, it will absorb it. Then the laminate will bubble up and the floor will end up needing replacement.
---
Ceramic Tile Flooring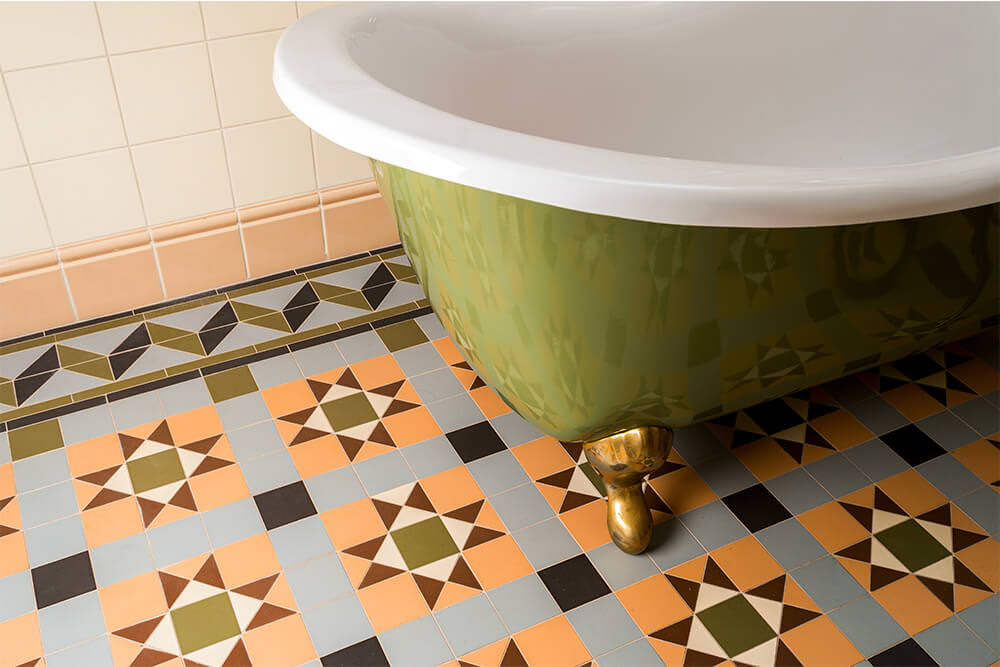 There's good reason for the popularity of ceramic bathroom flooring choices. It's a waterproof material that remains relatively inexpensive. But it also mimics the look of more costly materials like stone and natural wood. You will also be spoiled for choice in terms of styles for ceramic bathroom flooring. You will be able to choose from tiles in a dizzying array of different colours, shapes, sizes, and textures.
This means creating your dream bathroom floor design is much easier.
Unlike other types of tiles and different flooring, ceramic tiles are extremely durable and not likely to crack as a result of heavy use. If you go the professional installation route and properly maintain the tiles, you could see them lasting as long as 20 years. And replacing just one tile is simple, should you have to do so at any point.
Ceramic tile flooring requires very little maintenance. These types of tiles are easy to clean. You can just mop up spills and wipe dirt or other stains away in no time. Bathrooms are prone to mess in the same way kitchens are, partly because they're so frequently used, so cleaning is always an important consideration.
---
Vinyl vs Ceramic Flooring
Vinyl tiles are made up of essentially the same material as sheet vinyl flooring. It's a manufactured, thin product created from PVC plastic with a backing layer of felt or fibreglass. It's then covered with a layer of printed design and a clear wear layer. To create tiles for flooring, the vinyl is cut into squares ranging from 9" to 18" across. And then you get composite tiles which include small amounts of ground stone dust. This gives them a more realistic look to their plastic-only counterparts.
Luxury vinyl is also an option, a much thicker form that joins together with click-lock edging instead of needing to be applied with an adhesive. These vinyl tiles are slightly more expensive than standard ones.
Ceramic tiles, on the other hand, are made by mixing natural clays from the earth with other materials. This composite is then covered with a surface glaze and gets fired in special ovens so that they harden. Porcelain is a type of ceramic tile but is made from a specific finer clay and is fired at higher temperatures. This makes it more durable and harder.
Ceramic tiles are often a better choice to vinyl ones because you can use them on a range of surfaces. Put them on the floor, cover your countertop with them, use them on your walls, or renovate your shower using them. Vinyl is limited to being used only on the floor.
But vinyl tiles are much cheaper than their ceramic counterparts and installing them is incredibly easy. So, at the end of the day, it comes down to what you personally want your bathroom to look like. And how much work and money you're willing to put in.
Now that you know a bit more about your bathroom flooring options, hopefully the renovation process will be easier. The results are sure to be worth it.