Luxury Bathroom Ideas to Create a Home Spa Experience
Published on: 04/03/2020
Last Updated: 04/03/2020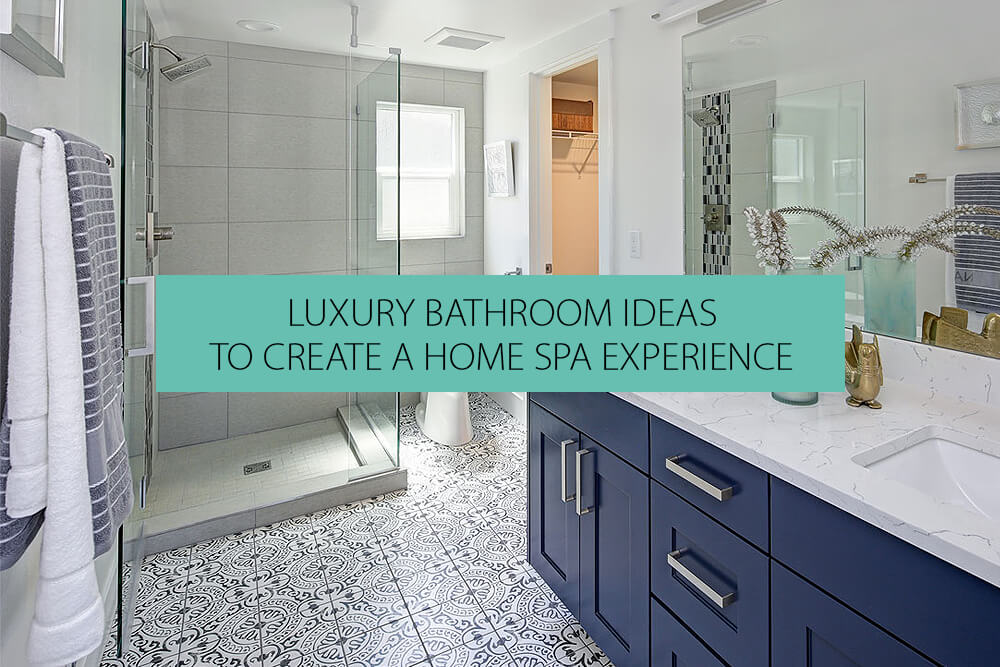 There are few better ways to relax and unwind than with a good spa, sauna or steam session. But why not go one better by bringing the luxury spa experience into your home with our QS Supplies guide? From whirlpool baths and steam cabins to luxurious bathroom units and atmospheric lighting, we'll guide you through a wide range of luxury bathroom ideas and options that will help turn your bathroom into a relaxing home sauna and spa.
---
Steam cabins
Any good spa experience should start with a good sweating session to clear out the pores and get your skin tingling. Previously, you could only get a sauna or steam room treatment at a spa, but thanks to some innovative manufacturers, you can now relax in sweaty style at home.
There is a wide range of steam and sauna cabins to choose from with a wide range of styles, finishes and price points. Your home sauna and steam room don't have to take over your entire bathroom, either. There is a wide range of self-contained futuristic pods equipped with remote controls that are not much bigger than your normal shower cubicle.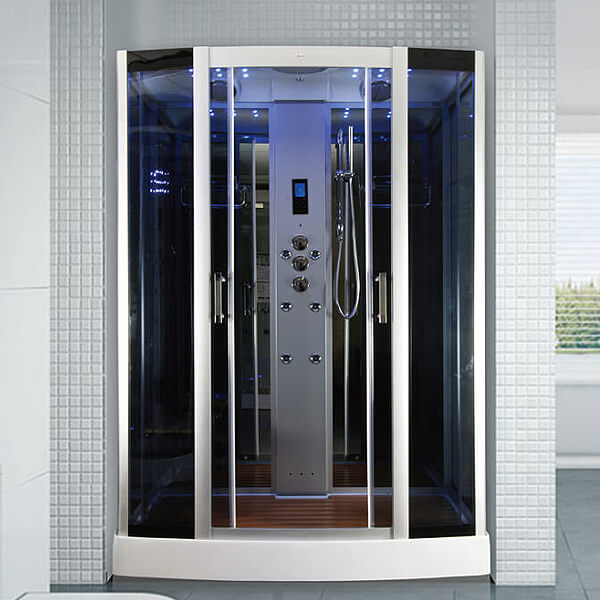 https://www.qssupplies.co.uk/bathroom-furniture-shower-taps/205365.htm
And, of course, there is a wide range of traditional sauna rooms with heated ceramic stones, wooden seats and stylish glass fronts for those who want to go with the classic look and style.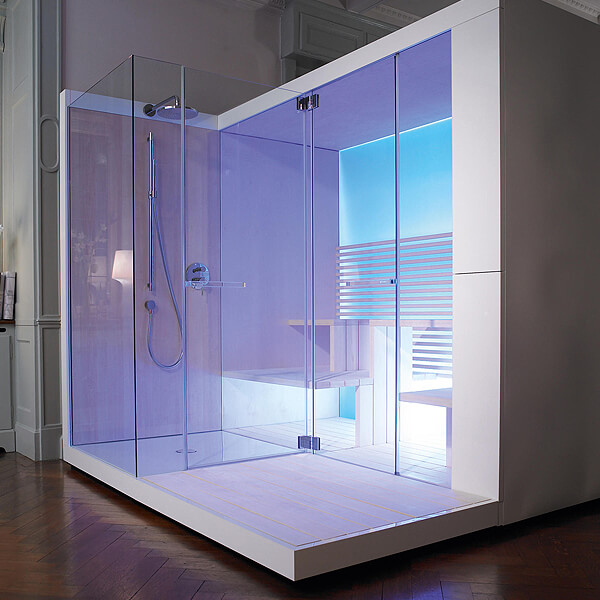 Plus, as most come equipped with a built-in shower, you can get steamy and clean in the same session without dripping on the bathroom floor as you scuttle across.
---
Spa bathtubs
Another addition to your home spa experience is via a luxurious bathtub. There are dozens of different baths that will instantly add a touch of spa class to your bathroom, none more so than a Whirlpool bath.
With deep, gently curved walls, a range of interior jets (from six right up to 24) for hydrotherapy and soothing underwater LED lights, they're the ultimate relaxation tool. And there is a range of sizes, styles and price points too, meaning you're one step closer to your luxury spa experience at home.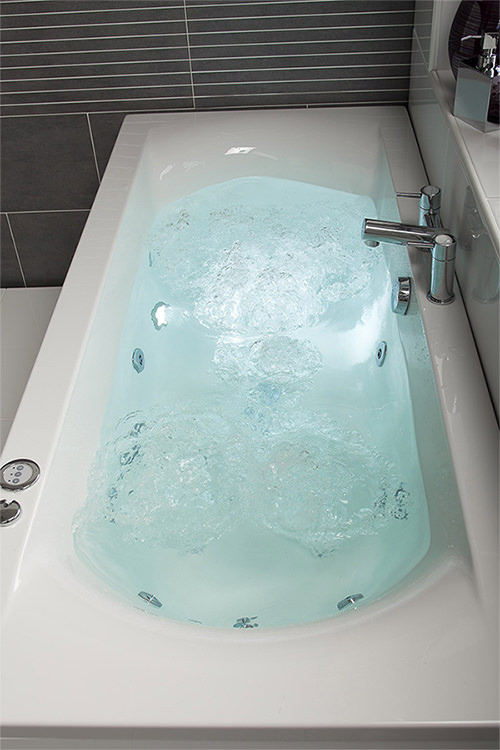 Alternatively, keep your bath routine simple with the understated elegance of a roll top bath. With deep, plunging sides and a dramatic free-standing design, they look and feel like a true spa experience. And most can be given a custom paint finish to fit into your existing bathroom style.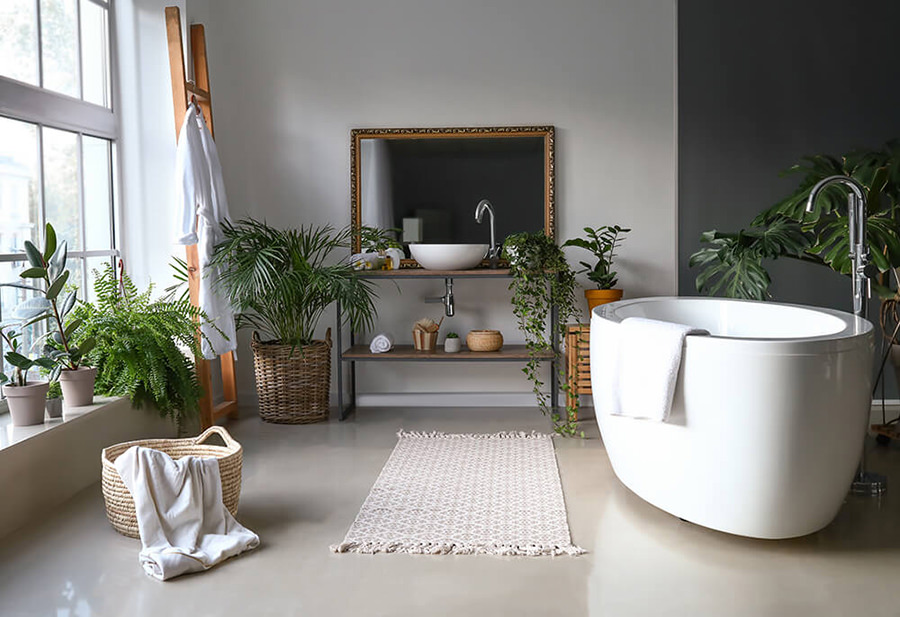 ---
Luxury showers
While steam and sauna sessions and hydro-therapy baths might be the ultimate spa indulgence for some, there are simpler – but just as relaxing – pleasures to be had. Showers have evolved to be much more than just falling water, and one of the easiest ways to upgrade your shower into a spa experience is with a rainfall showerhead.
The powerful, all-encompassing stream literally makes you feel like you're in a tropical rainstorm, giving you an all-body shower you'll love. And thanks to the wide head, you'll get a massage-like thud of water onto your shoulders and neck.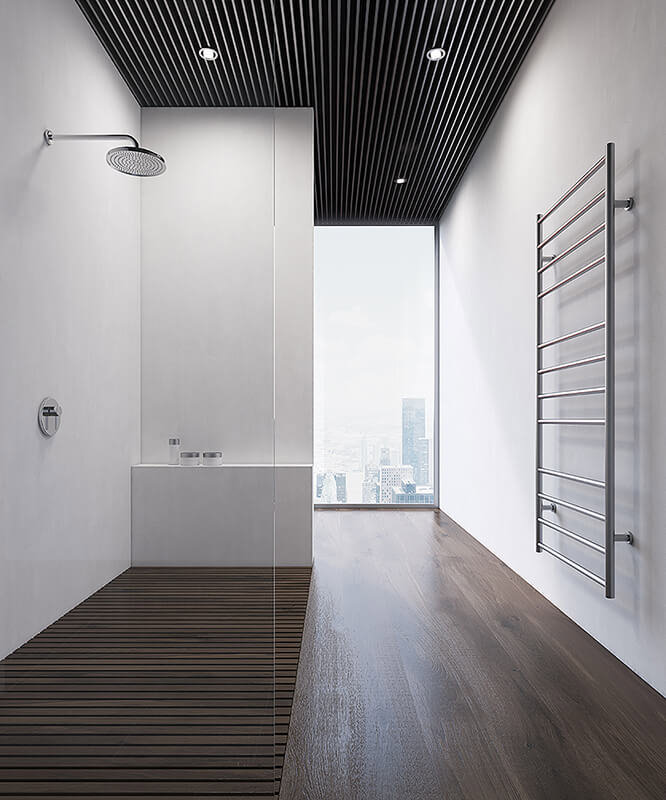 ---
Wet room
For a truly luxurious bathroom that makes you feel like you've stepped into the pages of a glossy magazine, look no further than a super-stylish wet room. The open-plan shower is simple but effective, with a streamlined look. It's also a clever space-saving device, and with toughened glass, it is a good fit for families and older adults. For more information, check out our in-depth wetroom feature.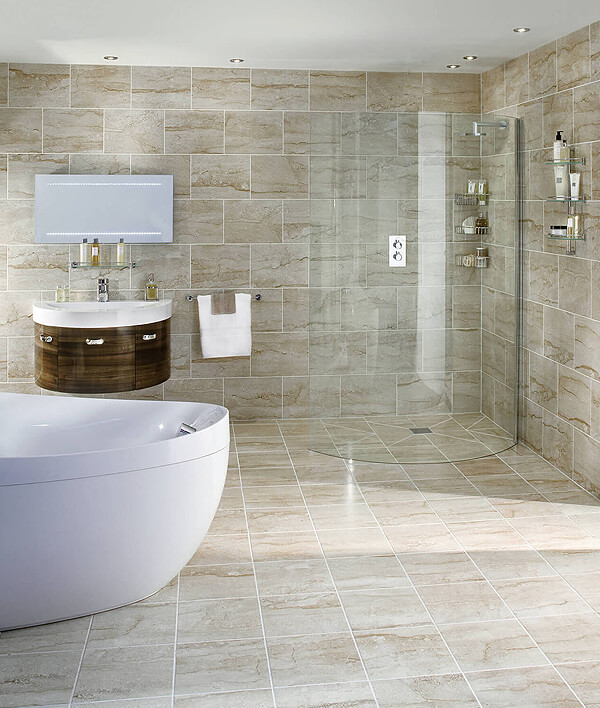 https://www.qssupplies.co.uk/bathroom-furniture-shower-taps/238010.htm
---
Mood lighting
Rainforest showers, Whirlpool baths and steam rooms might be relatively expensive ways to get your spa experience at home, but there are cheaper and easier ways to achieve that five-star feeling too. One of the best ways to create a relaxing and inviting atmosphere is with lighting, which can be as simple as well-placed candles and clever bathroom lighting. Spotlights and angled LED lights can help shine a light on dark corners, while a dimmer switch will help set a more relaxing mood. And don't forget the humble scented candle. With the fragrance gently wafting over your bathroom and the slowly flickering lights, you'll quickly forget you're not at an expensive five-star spa but actually taking a bit of personal time at home!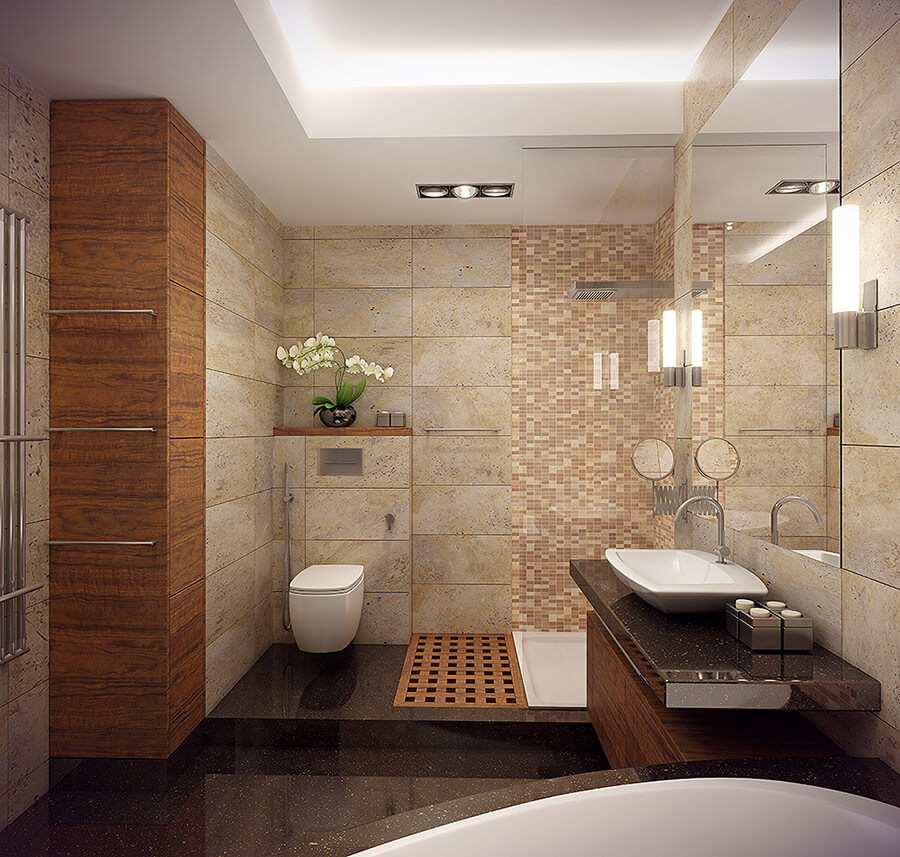 ---
Double up
An at-home spa day can often be made better by sharing the experience with someone else. And one of the best ways to do that is with the relative luxury of a double basin. It might seem like a simple touch, but with extra storage and a double-width mirror, it's a genuine upgrade that means you can both get to the sink at the same time.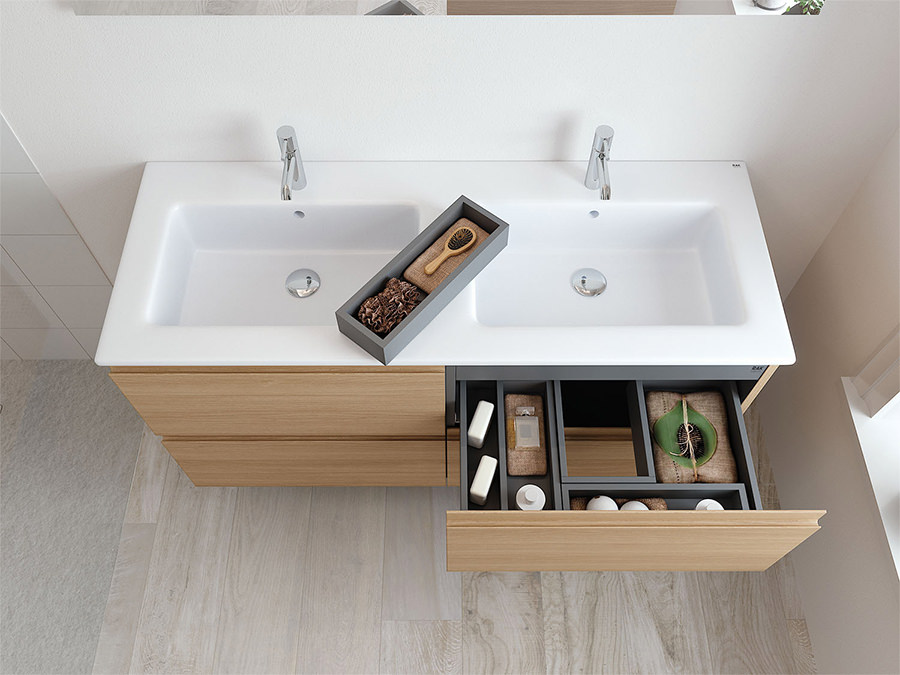 ---
Go green
Plants are a wonderful way to bring calm energy to your bathroom and give you that home spa feel. From a carefully curated row of cacti on the windowsill to sprawling climbers that leaf their way around your bathroom, they're a guaranteed way to instill calm in your bathroom and make you feel like you're on a spa break. For more information and suggestions on which plants work best in a bathroom environment, head to our bathroom plant feature.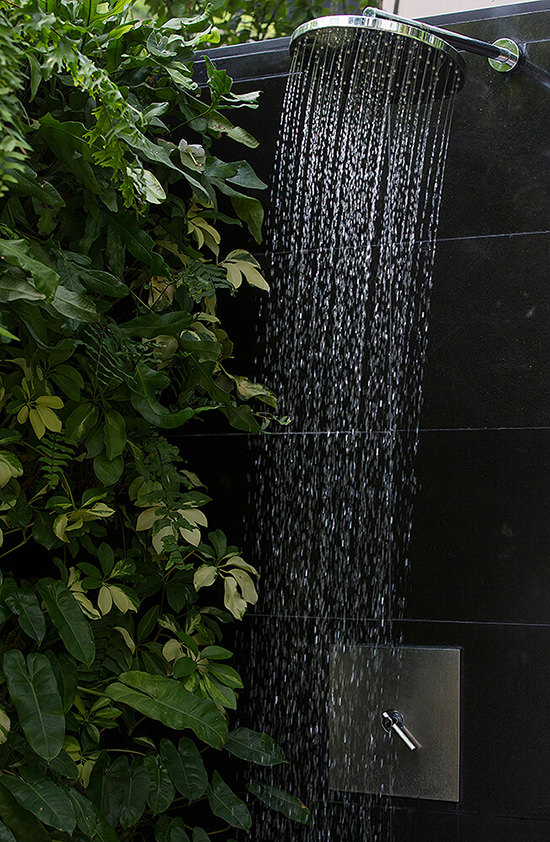 ---
Neutral colours
One of the easiest ways to create the right relaxing atmosphere is with colour. With just a few simple changes, you can instantly create a warm and inviting space. Gentle pastels and neutral tones are perfect mood-setting colours, while you can also create energy in your bathroom suite by going with a bold blue theme. Adding metallic colour touches can also give your bathroom a more elegant and sophisticated look and feel, as you can see below.
---
Accessorise, accessorise, accessorise
There are plenty of big changes you can make to give your bathroom a refined spa-like feel, but there are a lot of simpler ways you can achieve the feeling, too. And cleverly using accessories to add style and colour to your bathroom is a great way to create a relaxing environment. The updates can be as small as adding new towels to match your current colour scheme, adding in a stylish designer towel rail or picking up a stylish bathroom cabinet so you can create a more streamlined and minimalist bathroom free from clutter.
---
Summing up
As we've shown you, cutting costs and having a home spa and sauna day doesn't mean you have to cut down on the quality. There are a lot of ways to achieve your home spa experience, including big updates and upgrades ranging from a steam cabin, Whirlpool bath or rainforest shower to simple splashes of colour, clever accessories and cool lighting. You don't have to spend a fortune for a spa break; simply open the door to your bathroom and get your own spa day at home.