How To Make Your Bathroom More Accessible
Published on: 03/07/2019
Last Updated: 27/08/2019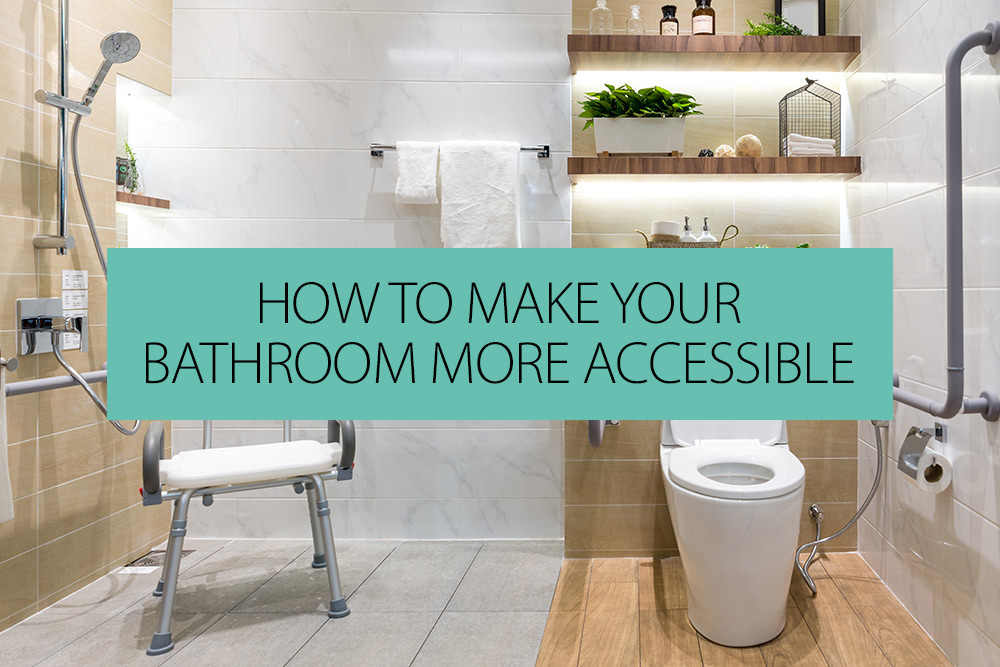 How you adapt your bathroom to make it more accessible depends on your needs or the needs of the person you care for. Small changes to a typical bathroom such as the addition of grab rails or a raised disabled toilet seat can make a world of difference in offering greater ease of use without costing a fortune. Others will find that a walk-in bath or a wet room helps a disabled or elderly user feel safer and more independent in their bathroom.
After all, nearly half of people over the age of 55 say they, or an elderly relative, have injured themselves at home, and 1 in 10 have stopped washing daily because they're scared of falling. Sometimes even small changes can help to remove the fear factor of going to the bathroom or using a shower room.
---
Cheap and easy to fit grab rails for accessible bathrooms
The addition of grab rails near bathroom fittings can be one of the most effective and affordable ways to make your bathroom easier to move around. A grab rail, also known as a grab bar, is a safety rail that's often screwed into a wall or the floor, which can hold the weight of someone to help them manoeuvre around the home with confidence.
Grab rails are ideally placed next to a bath to help you get in and out of the tub, adjacent to toilets to help lower and raise yourself from the seat, and in showers to give you something secure to hold onto while you wash. You can buy a textured or ribbed grab rail to give you greater grip, especially in areas that are likely to get wet such as a shower.
While most grab rails you see are metal or white in colour, there's no reason why you can't have them in bold, attractive colour and a range of finishes to add a touch of colour to your disabled bathroom. We've even seen wooden rails which look great and have a reinforced metal core that makes them as strong as they are stylish.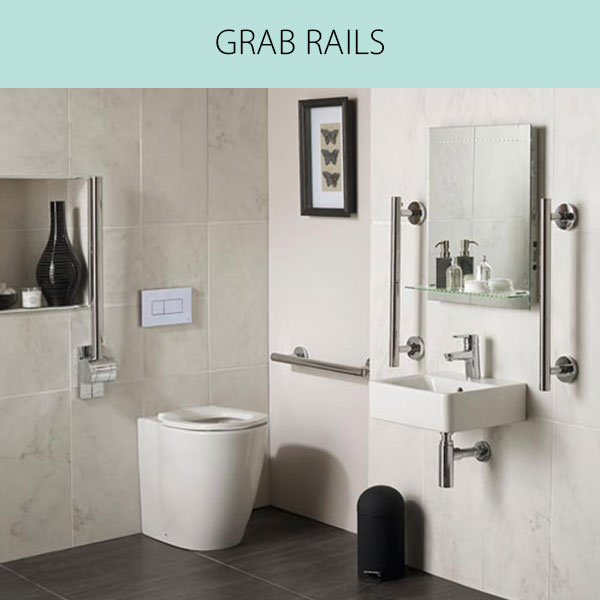 ---
Types for toilets for disabled
On average, people go to the toilet around six or seven times a day. It's a natural aspect of life, which can be a problem for people with mobility issues. While fitting grab rails next to a toilet is one way you can make it easier to get up and down from the toilet seat, there are other disabled toilet options that can help make answering nature's call less of a nuisance.
Toilets for the disabled have seats which are raised higher from the bowl, so you don't need to sit so far down. It's a cost-effective alternative to the permanent choice of fitting a raised height toilet. The benefits of such toilets aren't all about sitting down, though. Twisting and turning to wipe when using the toilet can also cause considerable strain on your back. If you're prone to back pain or have restricted mobility, bidet toilet seats use a gentle jet of warm water to save you having to wipe. They're reasonably priced and can be easily installed as they are powered by the same water supply as the toilet.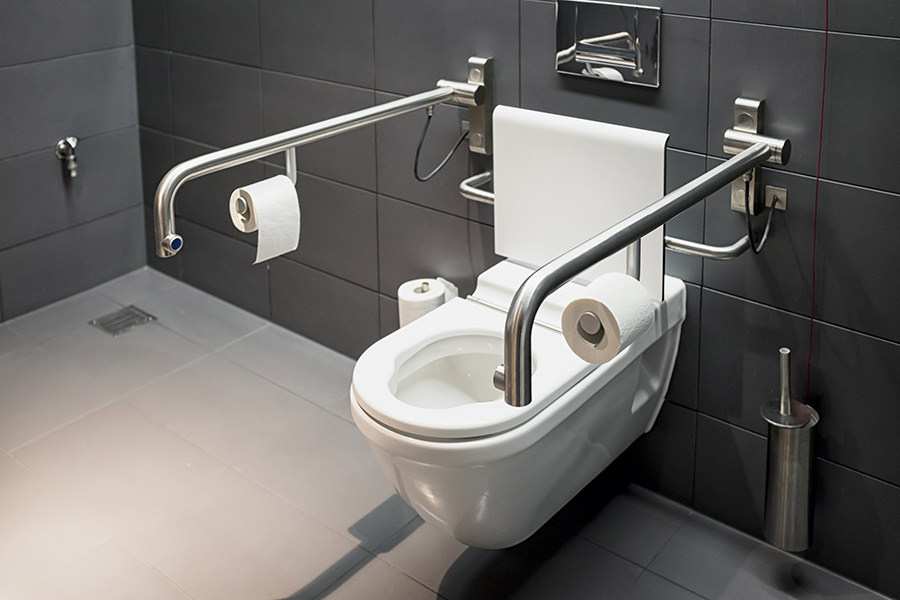 ---
Pros and cons of walk-in baths
Traditional baths aren't always suitable for disabled users. It can be difficult to step over the sides when climbing in and out of the tub, even with support rails installed nearby. The slippery porcelain surface of a bathtub can also be hazardous when wet, especially for someone less confident in their mobility. Rubber mats are a bargain accessory that can really help to give your bathtub greater grip underfoot when getting in and out.
If a mat isn't enough, there are types of bathtub designed specifically for disabled users to make the bathroom more accessible. Walk-in baths are among the most popular. They have a watertight door built into the tub which offers easy access and saves you having to step over the side. Plus, they often have seats so you can sit at a comfortable height while you wash. They're far more convenient but come with a couple of cons.
You can't open the door of a walk-in bath while it contains water. It means you can only fill the bath when you're inside and will need to wait until it's fully drained before you can get out.
Walk-in baths are an expensive option both in terms of the cost of installation and use; as you don't need to step over the sides, walk-in baths are often deeper which can have a knock-on effect on your water bill.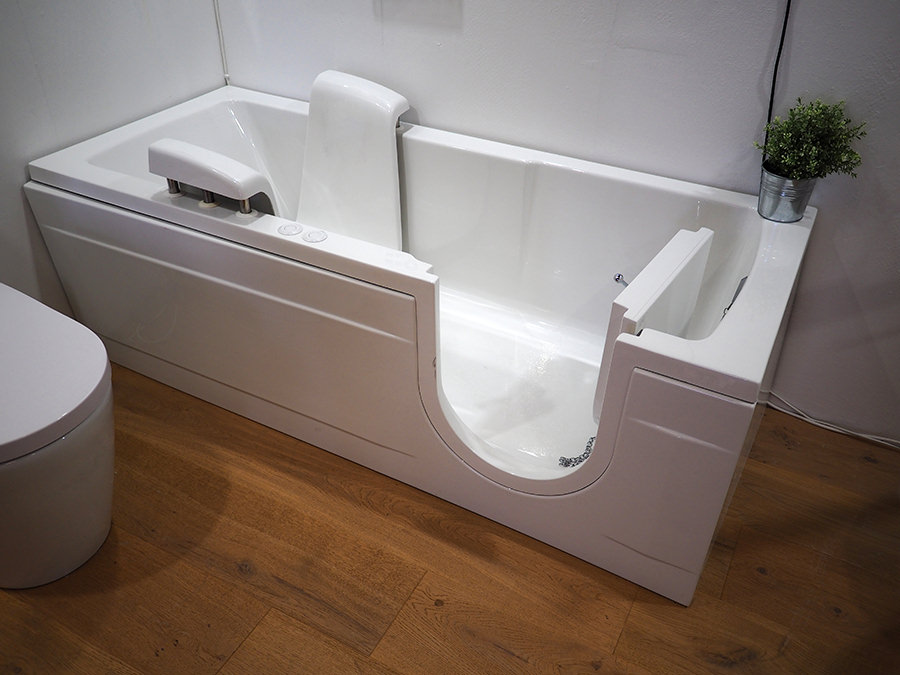 ---
Walk-in showers and wet rooms
It's not unusual to do away with a bath entirely if you're looking to make your bathroom more accessible. Installing a walk-in shower enclosure can be a lot less expensive than a walk-in bath, and they also take up less room, which is perfect if you have a small bathroom. Plus, showers are much easier to get in and out of compared to a bath.
As shower rooms tend to be wet, humid places, slipping hazards can be a concern. Vinyl tiles and natural stone offer more grip than regular porcelain tiles and are ideal for accessibility. Place them around the shower and fit non-slip rubber mats on your level access shower tray to reduce the risk of slipping in and around your walk-in shower. Alternatively, you can transform your bathroom into a wet room. They're not just for looks; wet rooms can also be very practical. As the walls and floors are waterproof, you can do away with obstacles like shower screens, making wet rooms an ideal choice for wheelchair users.
Shower mixers are often overlooked when creating an accessible bathroom. You know the feeling when someone in the house decides to flush the toilet and your shower's temperature skyrockets? Most users can step to the side and wait until the water temperature returns to normal. But this might not be an option for some disabled users. When adapting your bathroom, it's important to think about what kind of shower mixer you need. For example, thermostatic or pressure balancing valves constantly regulate your shower's water temperature and safeguard against getting scalded.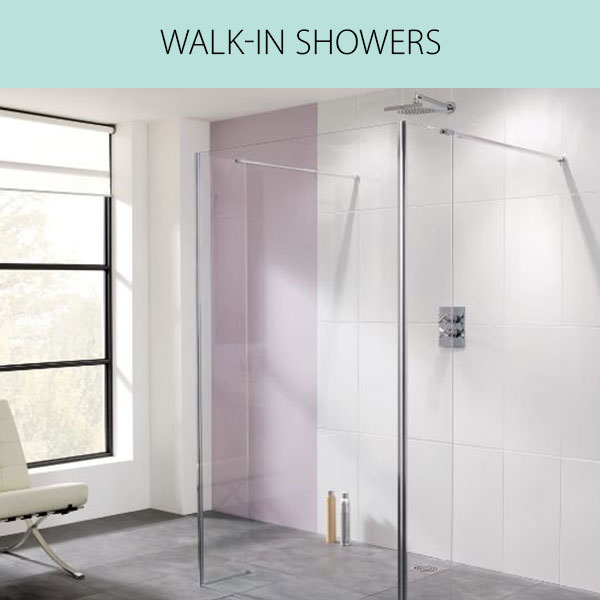 https://www.qssupplies.co.uk/bathroom-furniture-shower-taps/166965.htm
---
Avoid backache with raised sinks
You might be of the opinion that "a sink is a sink", but there are different types of sink that can help make life easier. In the same way that you can get a taller toilet or a disabled toilet seat to avoid back pain, taller basins can help you avoid discomfort when bending over to brush your teeth or wash your face. If you share a bathroom, you can also get adjustable sinks and raise or lower them to suit you. You could also consider a curved sink if you use a wheelchair as it'll allow you to remain seated whilst using the sink.
These are great ways to help prevent injuring yourself in the bathroom. But if you do have a fall or an accident, it's important to make sure you can easily contact someone if you need assistance. A disabled toilet alarm is an easy-to-reach pull-cord alarm which will immediately contact the emergency services if you have a fall or injure yourself in your bathroom or home. They can be fitted to any room in any home and offer the peace of mind that help is only an arm's reach away if you need it.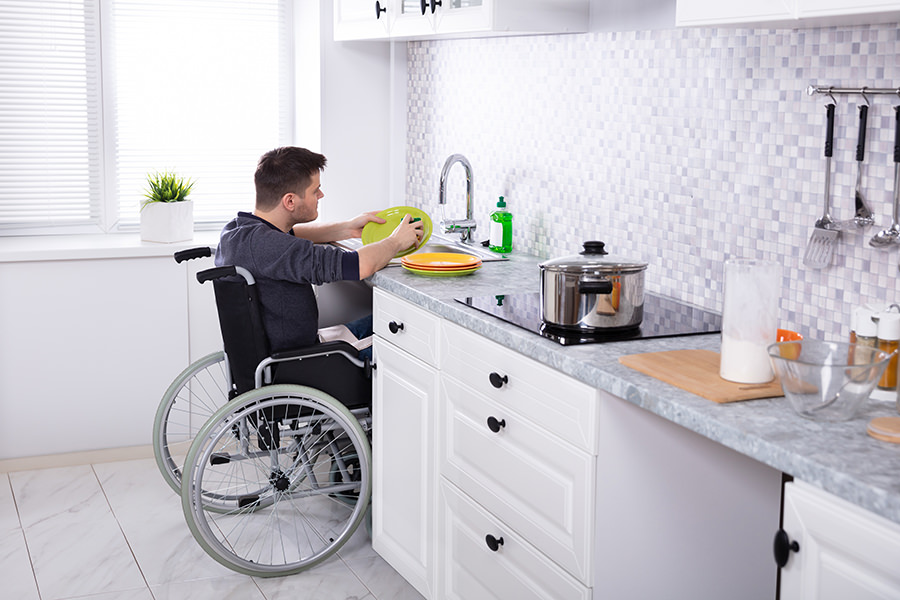 ---
Design your bathroom around your needs
There's no one-size-fits-all approach to making your bathroom more accessible. If you're looking for affordable ways to make you, or someone you live with, feel more confident and independent in your home, then the addition of grab rails and slip-proof mats might be all you need to make your bathroom easier to use. On the other hand, if you use a wheelchair or you're less mobile then the cost of a walk-in bath or converting your bathroom into a wet room could be worthwhile, especially when you consider how much it could improve everyday life.
Remember that an accessible bathroom doesn't need to be plain and boring. All the tips and tricks of interior design still apply to disabled bathrooms. Floating bathroom fixtures such as toilets, sinks and cabinets are a perfect example. They're modern and stylish, and you can set them at your preferred height to avoid straining your back when brushing your teeth or going to the toilet. When done well, an accessible bathroom will strike a perfect balance between form and function.