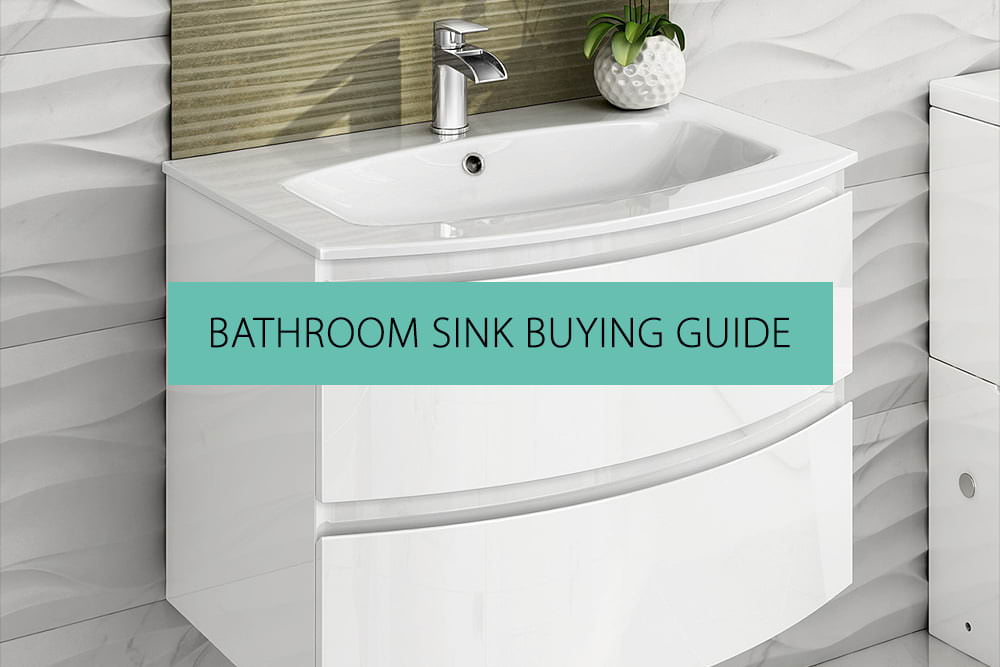 Choosing a new wash basin can be a deceptively arduous task, given that there is now a multitude of styles to pick from. When making your decision, you should look at the current design of your bathroom to pick something that will complement the style. A washbasin can either be made into a feature and be the centrepiece of your bathroom design, or it can be unassuming, allowing space for other elements to govern the style of your space.
When choosing your perfect bathroom sink, it is, therefore, best to first consider the general design of your bathroom and whether the style is traditional, ultra-modern or transitional. Pedestal and countertop washbasins usually offer more of an old style, while wall-hung is usually more contemporary in design. It is important to think about the use of space as well, as this can affect the size of the basin available. Making these decisions before you buy will help you navigate through the plethora of options that are available and narrow it down to something best suited to your style.
For example, a small en-suite, which is undergoing a redesign to fit in a larger shower enclosure, can commonly benefit from the installing of a corner basin, which makes access easier, despite the sometimes-reduced space.
---
Know the Materials Before you Buy:
Ceramic, porcelain and marble are some of the most popular materials, and each with unique benefits. Ceramic is a durable material that will stand the test of time. It is produced from moulded clay fired in a kiln and is great for a simple, clean bathroom style or a traditional Victorian look. Ceramic is easy to care for, can be cleaned easily, and will not stain. Dust and other particles can settle easily on ceramic sinks but can easily be wiped with a wet cloth.
Porcelain is also made from ceramic within a kiln, but it comes in two types - fine fireclay, fired at a low temperature, and Vitreous China, fired at a very high temperature. Of the two, fine fireclay is a more porous material, so the final basin product needs to be glazed to stop it from absorbing too much water. Porcelain can offer the best value for money as a material, although higher-end versions are also available.
Marble sinks might be considered a luxury option and are more expensive than ceramic or porcelain. They are usually made from a combination of marble fragments and resin and form a strong, non-porous material, giving a multi-layered and natural look. Marble gives an extremely decadent style to any bathroom, offering more of a spa feel, or it can suit minimalist or contemporary bathroom designs. Due to the robust nature of this material, it is not susceptible to scratches and is easy to clean.
---
Know the Types of Basins Available:
Cloakroom Wash Basins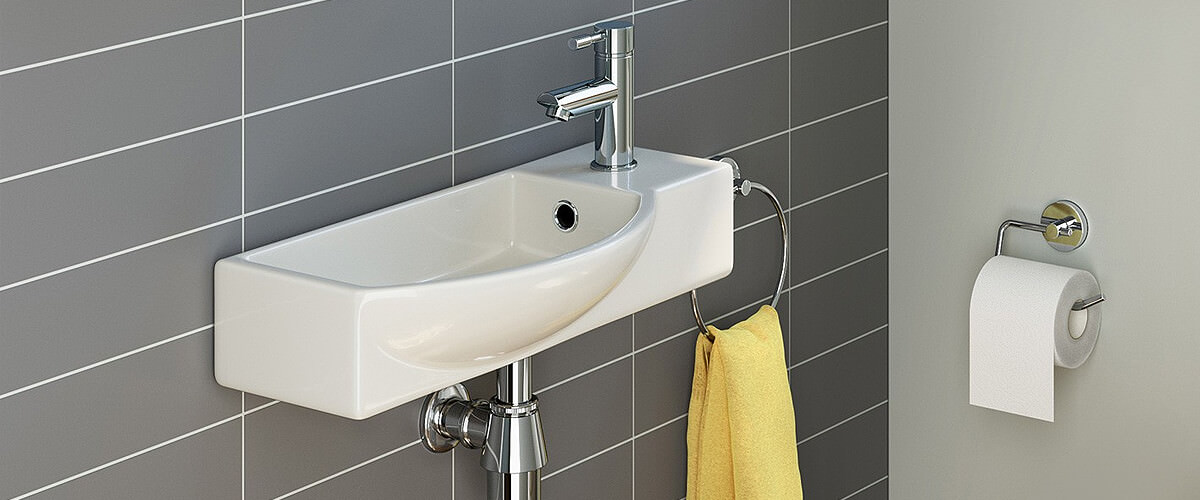 Counters and cabinets are an extra expense, they occupy more space than a simple basin, and space is often a critical consideration in the design of bathrooms. Fortunately, cloakroom basins are available in shapes and sizes to suit a variety of spatial constraints and are suitable for compact bathrooms. From corner units to narrow widths, there are many specialised options available. Check our range of Cloakroom Basins.
Countertop Basins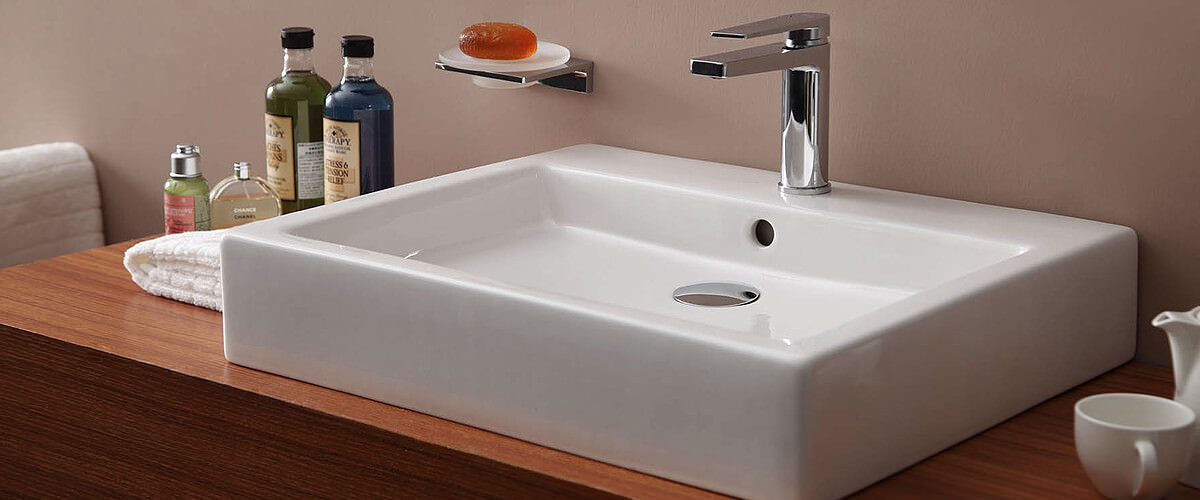 Countertop basin units are a great option if you have a little more space and are looking for something that has both style and storage capacity. Countertop sinks can come in traditional or contemporary styles. The storage unit or cabinet on which they sit offers the perfect cover for piping work, and they usually have a monobloc tap. Having a cabinet under the sink can work well as a convenient storage space for towels and toiletries and keep the rest of your bathroom clutter-free. Countertop also looks very attractive, although it may not be best for children who can find it hard to reach the taps.
In this case, you could opt for a set-in (inset) bowl buried within the counter surface. Countertops will seamlessly blend with a wooden or natural-themed bathroom or look great in a variety of modern settings, from a downstairs toilet to a modern family bathroom.
Vessel Basin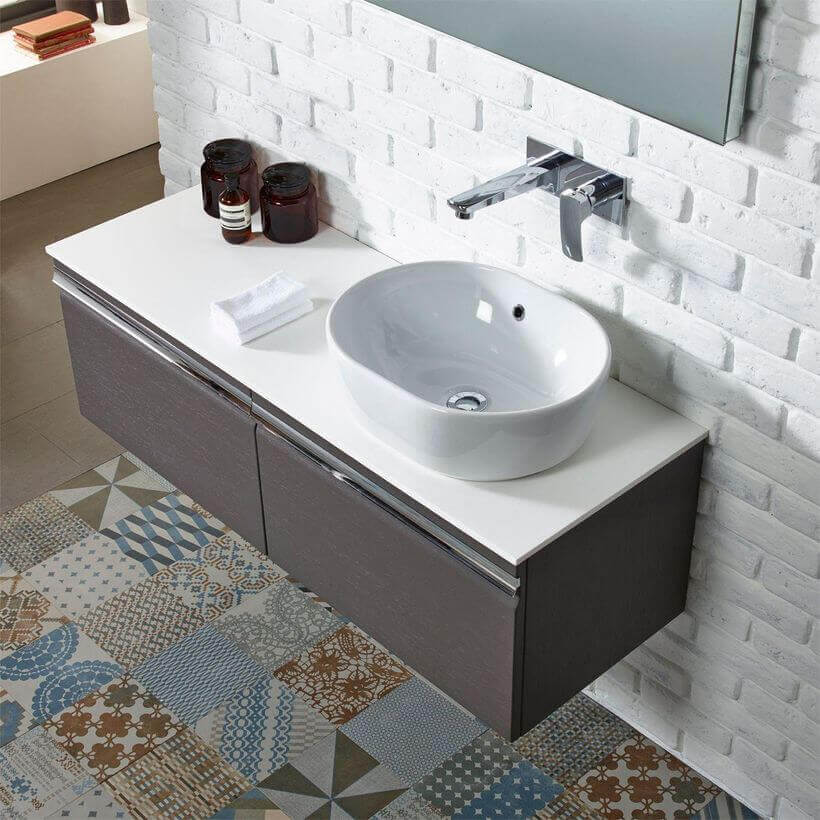 Vessel basins are designed to rise above the countertop, console, or cabinet that it is mounted on. This can create a more dramatic or old-fashioned visual aesthetic and appeal. Often found in more cosmopolitan, contemporary homes, this basin comes in a range of glass, metal, ceramic, and sometimes even petrified wood.
Vessel basins are, however, generally just a visual style and add no particular functional benefit.
Basins with Stand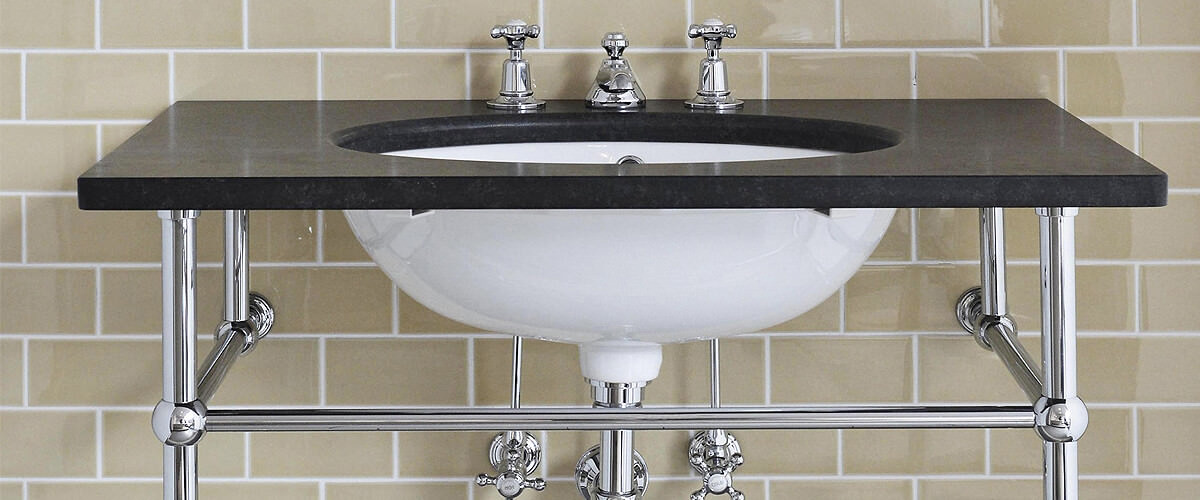 Washbasins with a stand offer an updated version of the classic style bathroom and are still popular for many reasons. They generally provide good value for money, are easy to install and are reliable. Although they can be viewed as the 'basic' option, a huge range of choices and styles can still be applied to their design. The basin section itself can be round, rectangular, or even frilled, while the stand is usually made of chrome or wood, making it easy to clean and maintain. Tap attachments can further enhance the look, and pedestal sinks look great if you are going for that old English classic style with separate hot and cold taps.
The stand gives a practical function to the space beneath the sink while maintaining a clean, minimalist style. If you like the idea of a washbasin cupboard but do not want to add bulk to your bathroom, the stand basin can be the solution. The stand often comes with a number of features that add functionality, such as a glass shelf for storing towels and other items, a rail to hang a hand towel from and even side hooks that serve multiple purposes.
Inset Basins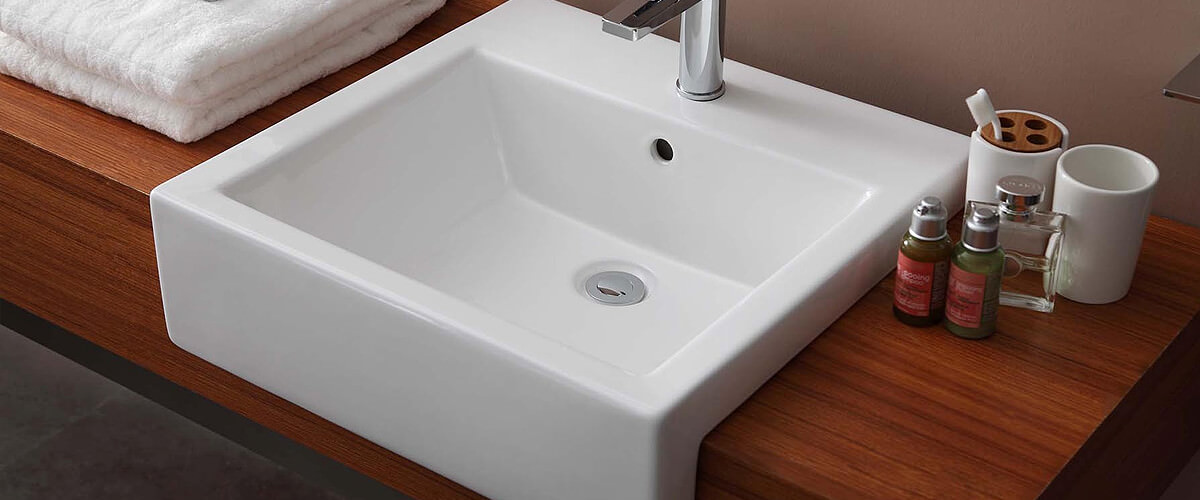 These amazing basins are beautiful blends of impressive design and functionality. Available in a shiny finish, these masterpieces make a splashy addition to your bathroom. Apart from the attachment style, it is also necessary to consider the overall shape and design of the unit you choose. A sharp angular edge looks modern and can sit well with other sharp lines in the room, such as the shower unit or a rectangular bath.
However, if other features in the room have rounded corners, a sink with curved lines for both the basin and base might be best. Suppose you like to keep your bathroom fairly simple with pale colours on the walls and other features. In that case, it may not work to incorporate a dark and heavy-looking marble sink unless you are planning on redecorating or updating other features that can balance it out. Check our range of Inset Basins.
Double Basins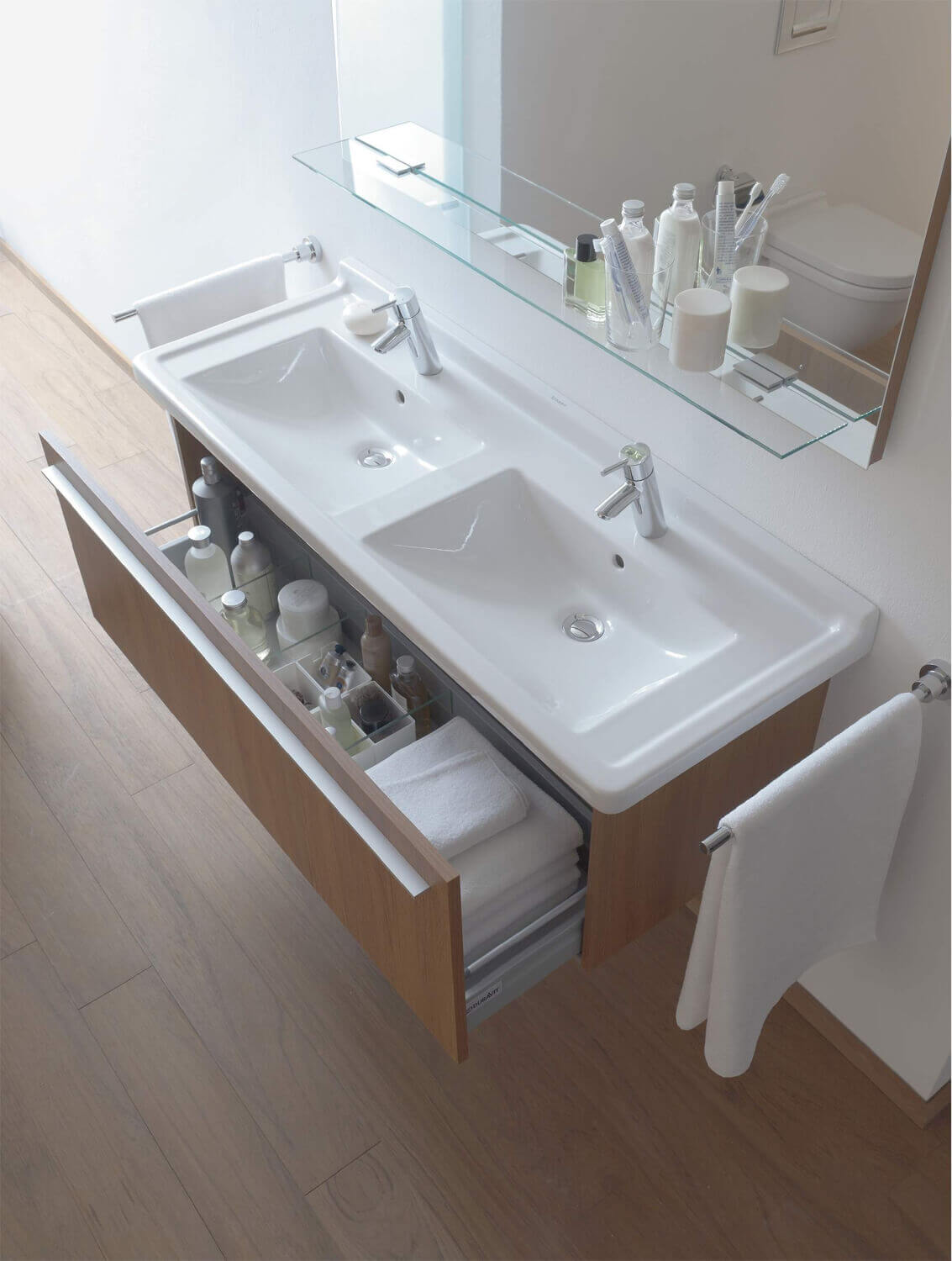 Some couples like to have what is commonly known as "Jack and Jill basins", a twin set of basins that each person can use simultaneously at leisure. This is more costly and requires more space, though, for some, it can be a valuable aid in keeping their relationship free of pesky little annoyances.
Corner Basins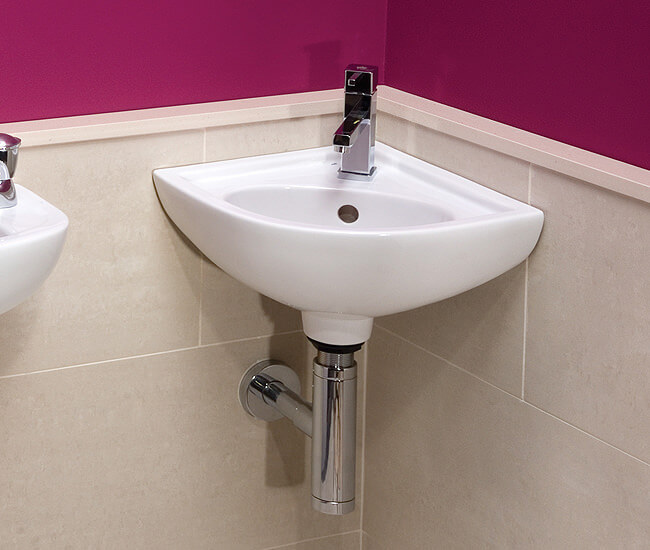 Corner basins are a brilliant way to optimise space in a bathroom. They are designed to mount neatly in the corner and are generally large enough to fulfil all the basic needs. Some also come mounted on a convenient little cabinet to provide extra bathroom storage.
Glass Variants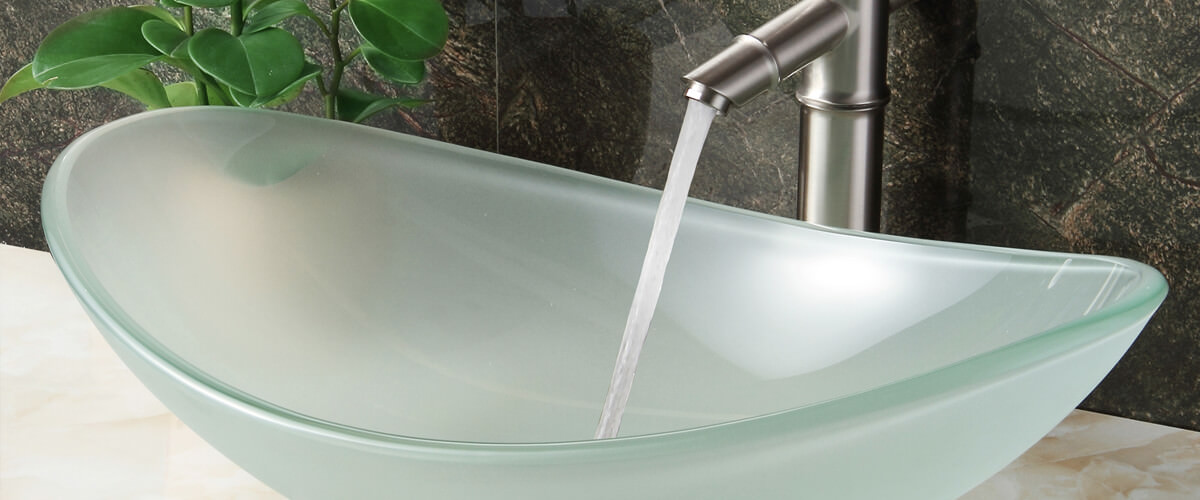 The glass basin boasts one of the most stunning contemporary looks available. There are two main types to be enjoyed. The first resembles a normal sink, while other models are comprised of a large glass "bowl" accompanied by a separate tap. Nearly any colour imaginable can be chosen, and manufacturers offer interesting options such as mottled glass. For those looking to punctuate their room with a bespoke style, such wash basins are excellent to employ.
---
Why Select Wall Hung Basins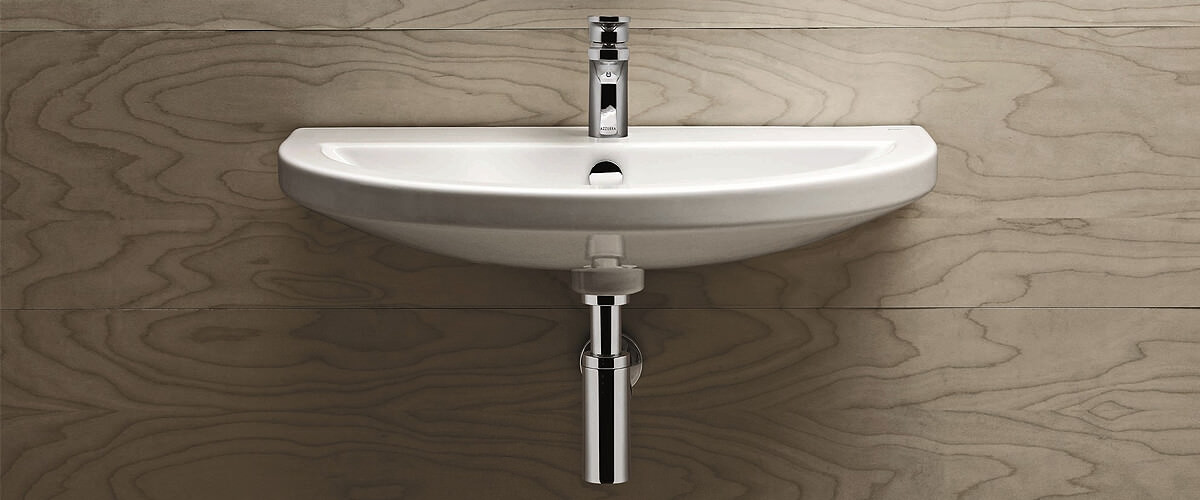 Wall mounted wash basins usually offer very contemporary designs and save a great amount of space in the bathroom. They can either come with a semi-pedestal or a bottle trap underneath. These sinks are available in various sizes, and the smaller ones are appropriate for use in small toilets.
Many larger wall-hung units now come in an attractive angular trough style. If you have a large space, it can feel very luxurious to have so much sink space. As space is freed up under a wall-mounted basin, it is also possible to fit a towel bar underneath. This is very convenient for hanging towels and can also hide the piping out of view. Minimalist designs are ever popular, and by adding a little dazzle of accessories, you can turn up your bathroom into an exquisite place.
---
Accessories You Need to Consider
Many basins will come with complementary accessories; if they don't, then these are worth considering. Taps, wastes, basin support and bottle traps can all change the overall style of your sink.
---
Expense
The amount you spend can vary considerably, depending on the style you are going for, your space availability and the materials you choose. It can make sense to invest in a good quality basin that will not chip, scratch or stain over time and, therefore, cost more money in the long run. Basic basins can be bought for under £100 if the expense is your primary concern, but generally, sound quality will cost around £150-£200. High-end products come with an average price range of £150-£300, with top-of-the-range models costing up to £500.
---
Conclusion
Size and shape are not the only issues to consider in choosing a washbasin style; simple white porcelain designs are only the beginning. Today, it is possible to find units that fit into a limited space and complement the visual design, too. For a look that's chic and unique, choose a bowl-style basin crafted from an unusual material. For a minimalist modern look, try a washbasin in black or white with simple geometry and strong lines. Combine a stylish basin with the right taps, and the look will be complete.