How To Save Space And Add Style To Your En Suite Bathroom
Published on: 28/08/2019
Last Updated: 28/08/2019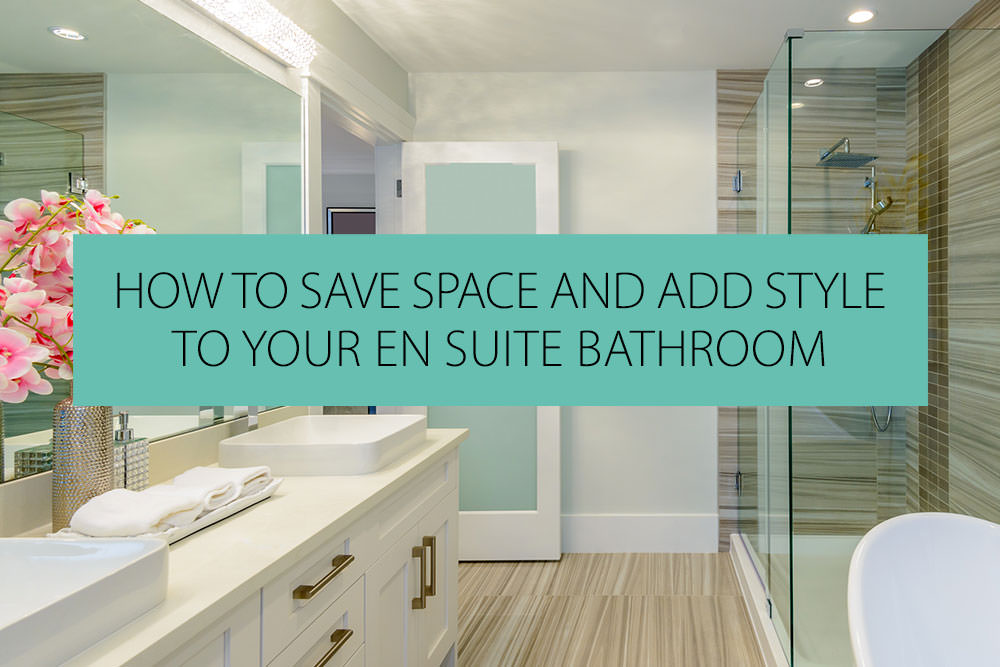 En suite bathrooms have a habit of being the smallest room in people's homes. While they may be lacking in square footage, there are endless ways you can design your en suite bathroom to make the most of its small space.
Redecorating an en suite bathroom can be seen as a challenge. That's not a bad thing! Small rooms force you to be creative and to make practical use of the space you have. Pick your bathroom furniture to fit your floor plan and play with design ideas to make it feel bigger.
---
Design ideas for your en suite bathroom
---
Choose your patterns wisely
Geometric shapes and diagonal lines are both tried and tested patterns to help make a small room feel larger. Try diagonal metro wall tiles for an on-trend style. A couple of tips, however: Don't clash with floor tiles and avoid dark and busy wallpapers that will feel claustrophobic.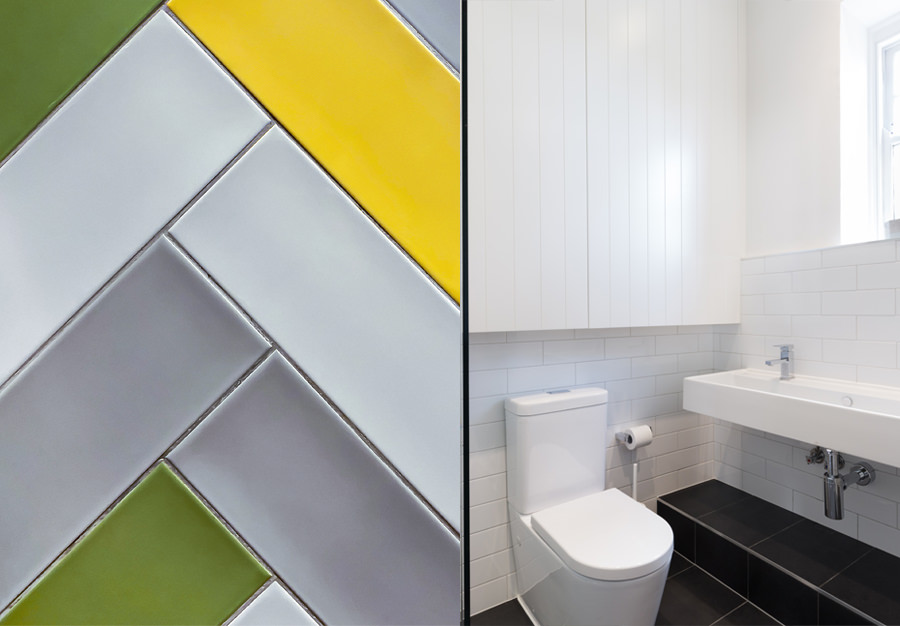 ---
Get creative with colour
The real beauty of an en suite is that guests rarely get a glimpse of these behind-the-scenes rooms; if you want to splash on some colour, why not? Pastels are a popular choice and can help make your en suite bathroom look bigger.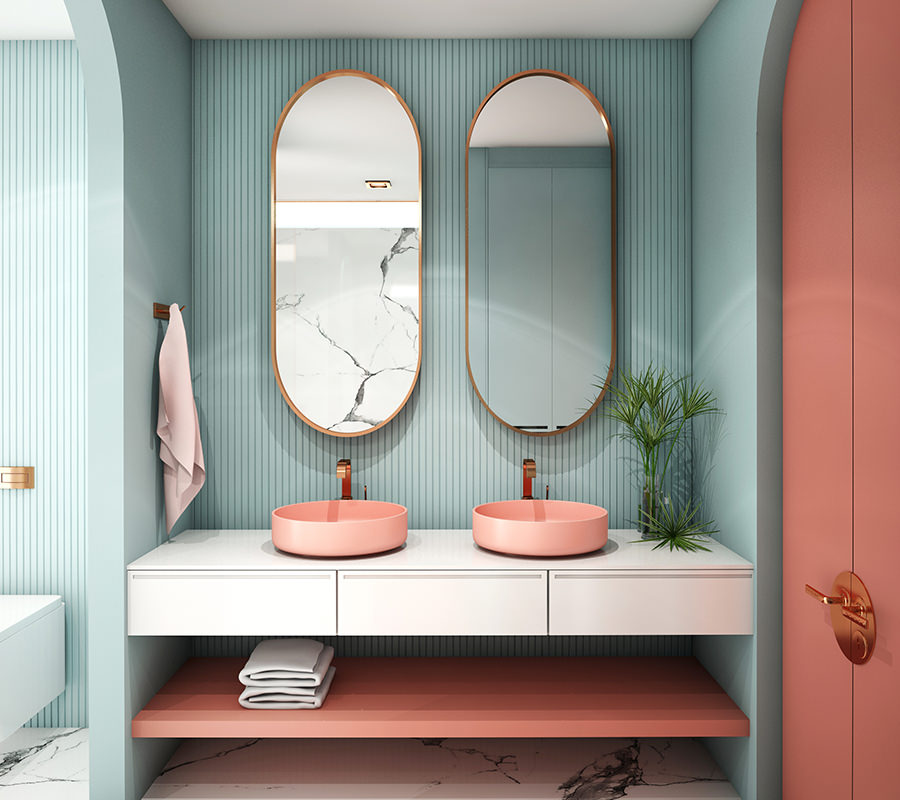 ---
Play it safe with light tones
Alternatively, opt for a timeless tonal bathroom. Grey bathrooms are one of the most popular design trends of the year. In truth, they'll never go out of fashion. If you're thinking of going all white, incorporate a bit of natural wood to add warmth.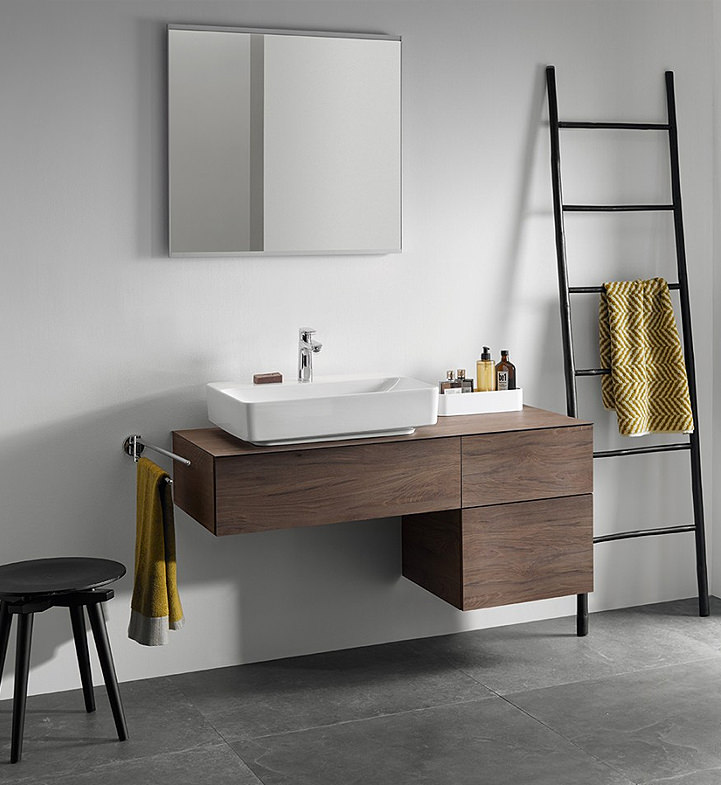 ---
Add life with house plants
We've always wondered why more people don't use plants to decorate bathrooms. Not all plants need natural light. They add natural colour and character, and they help to absorb moisture from the air, which can be especially useful if your bathroom doesn't have an external window.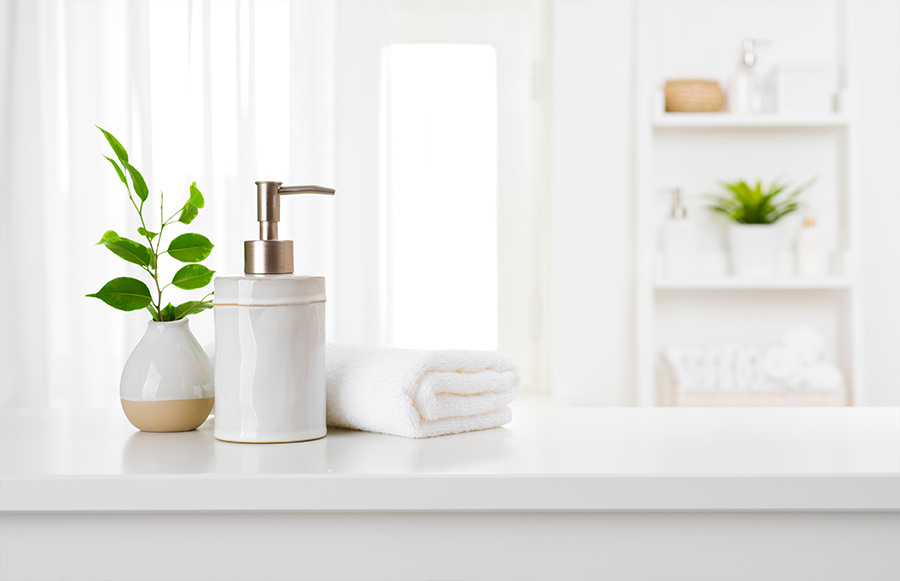 ---
Blend with your bedroom
It's easy to get tunnel vision and design your en suite bathroom without thinking about how it works with your bedroom. You have two options: Either blend your en suite and bedroom with similar styling or go big on contrast for a modern and bold look. Just don't decorate in isolation.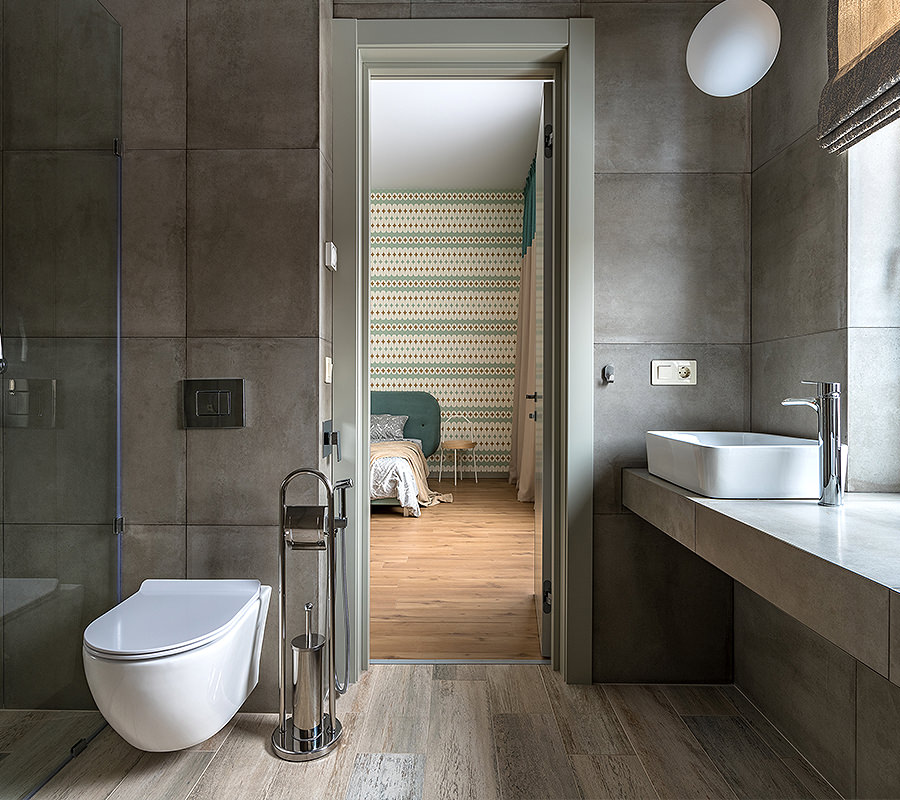 ---
Pipes can add character
Instead of hiding your en suite bathroom's pipes, you can save space and add character to the room by keeping them exposed and out in the open. This works best with copper or gold pipes paired with a complementary showerhead, taps and towel rails.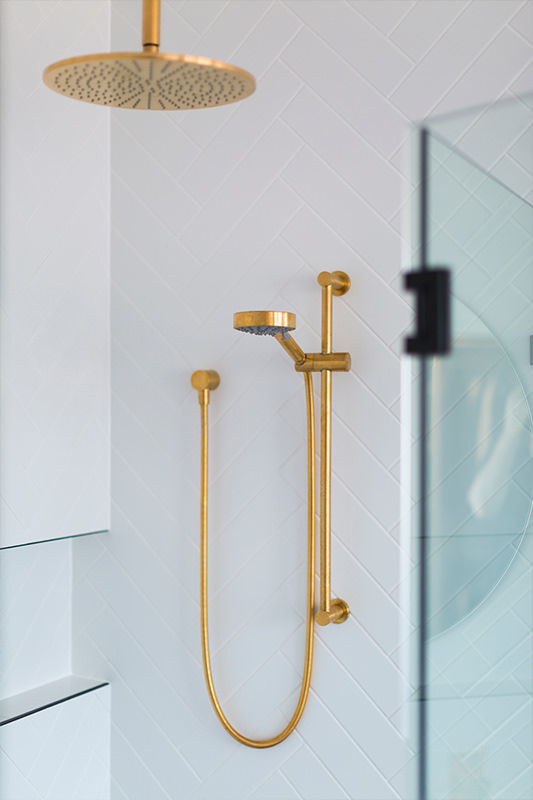 ---
Making the most of small bathroom spaces
---
Free up your en suite's floor plan
A general rule of thumb when decorating a small en suite bathroom is to keep the floor plan as clear as possible. Forget massive baths, chunky vanity units and monstrous cheese plants. Opt for simple, sleek options and strip your en suite back to the bare essentials.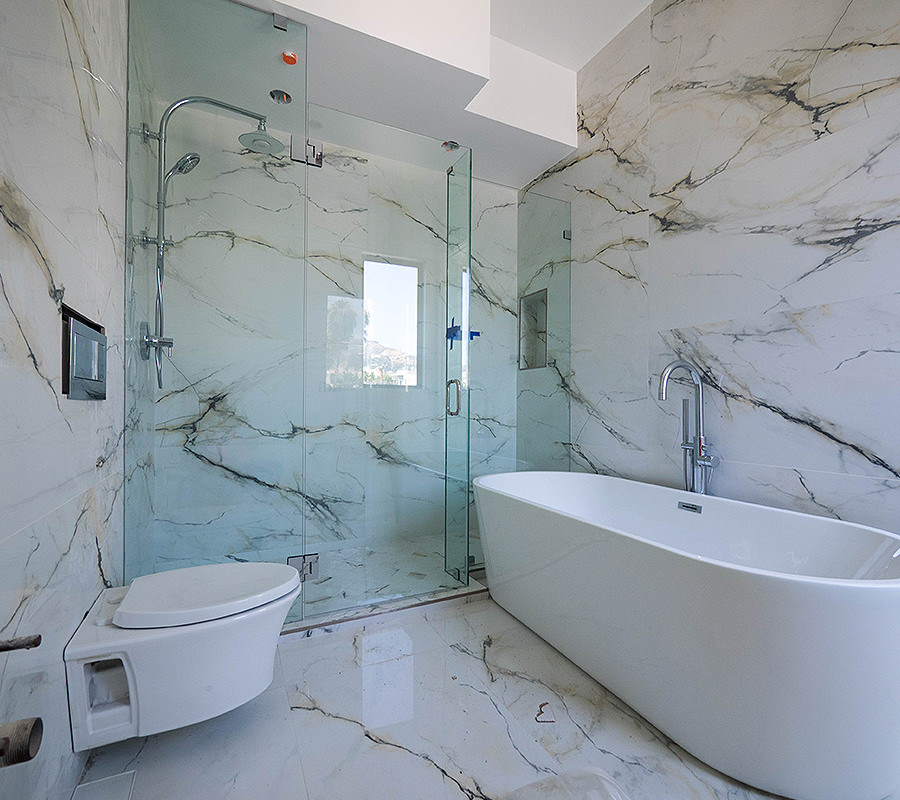 ---
Take advantage of tight spaces
People tend to try and fit en suite bathrooms into the architecturally awkward areas of a home, which forces creativity. Nestle your bath beneath a sloped ceiling, fit a sink in a tight corner and use mirrors to reflect your en suite's unique character.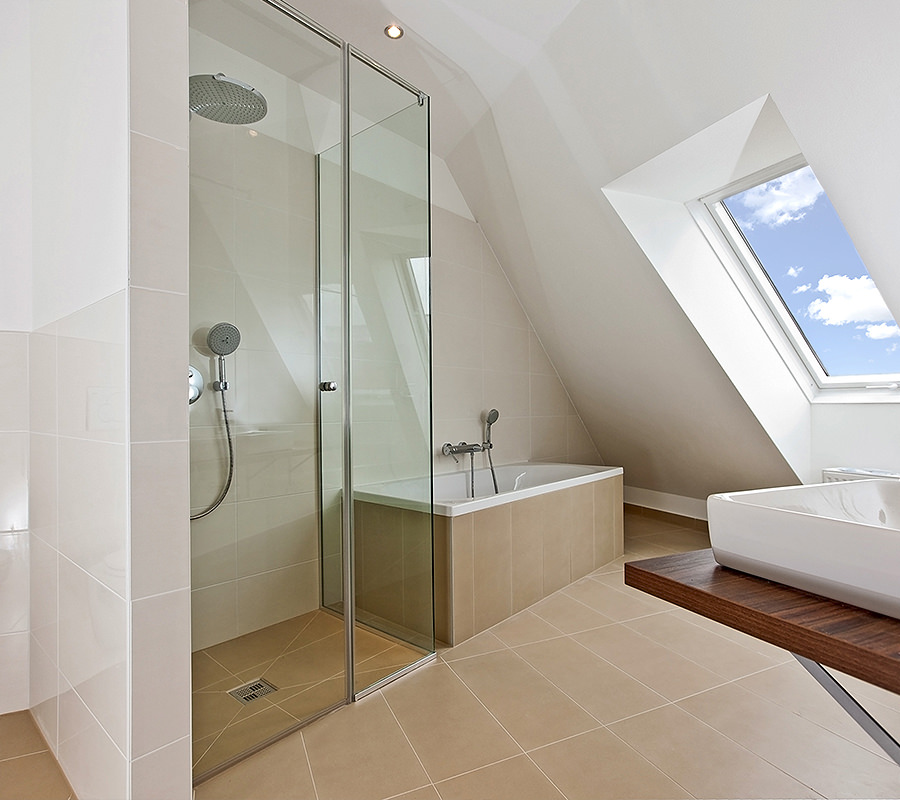 ---
Save space with 2-in-1 furniture
When floor space is in high demand, shop around for 2-in-1 furniture like a mirrored cabinet. Combo sink, toilet, and vanity units are also great for saving space in a cramped en suite.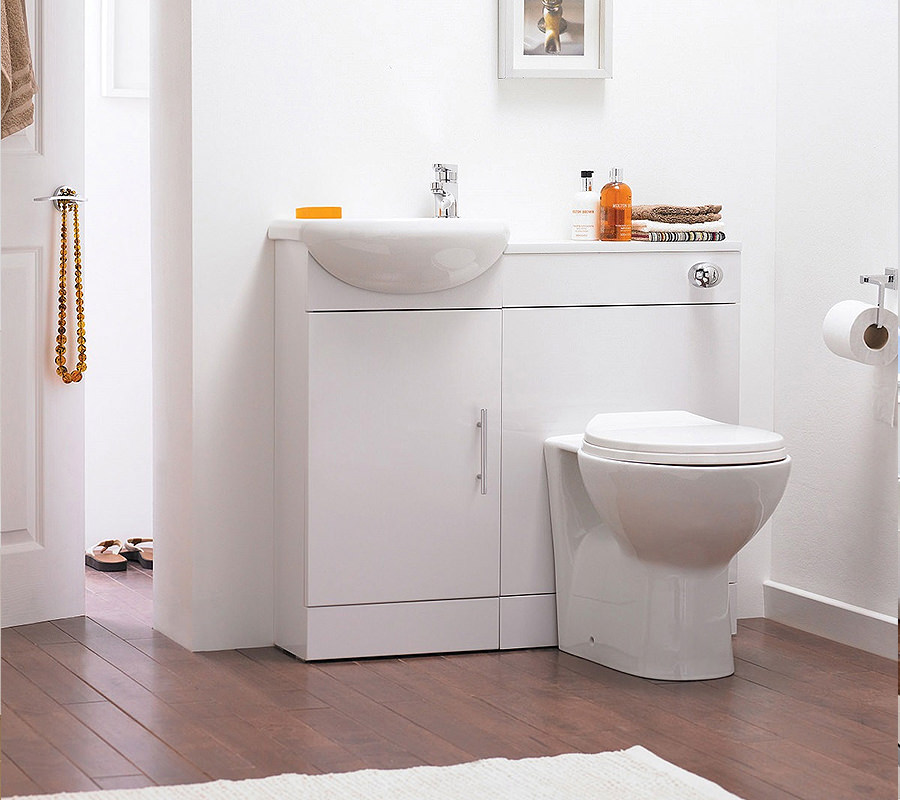 ---
How to handle high bathroom ceilings
High ceilings can make a narrow en suite bathroom feel tight and claustrophobic. On top of that, it makes lighting even more of a challenge. Opt for a lowered or suspended ceiling and you'll bring ceiling lights closer to your en suite furniture and make your space feel less cavernous.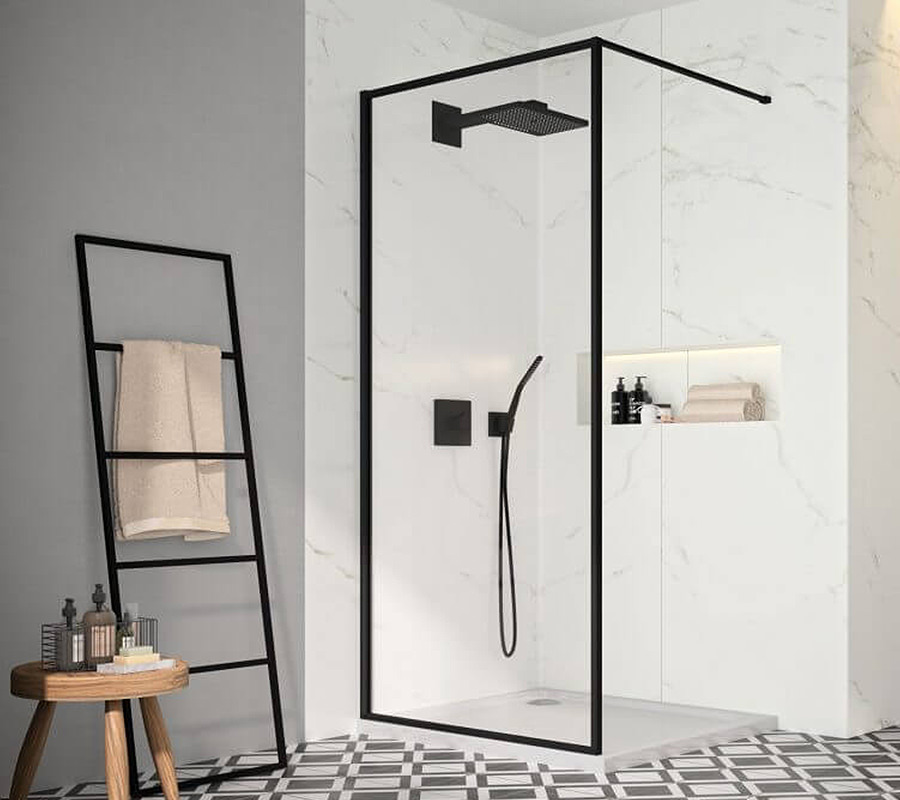 ---
Don't forget an en suite extractor fan
It's easy to get caught up in the excitement of choosing new tiles and plotting the floor plan of your redecorated en suite bathroom only to forget fundamentals, like an extractor fan. It's especially important (and mandatory per building regulations) if your en suite doesn't have external windows for ventilation.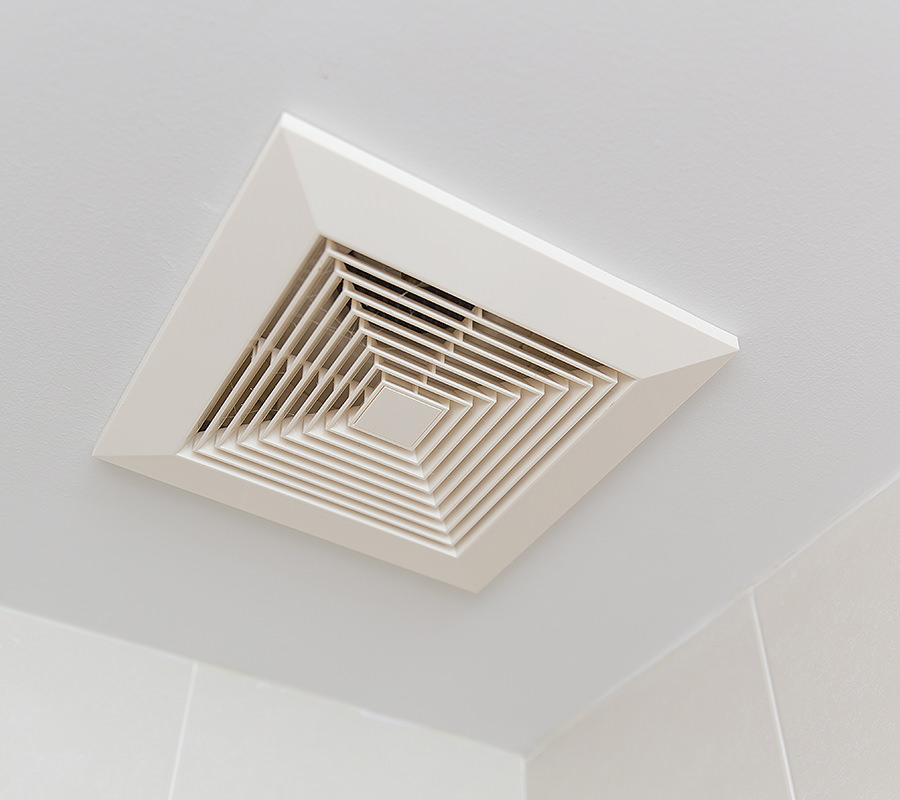 ---
To bathe or not to bathe in your en suite
---
Homes only need one bath
When reselling your home, buyers may be put off a property if it doesn't have a bathtub. As long as your main bathroom has a tub, there's no reason why you can't save space by opting for an en suite without one.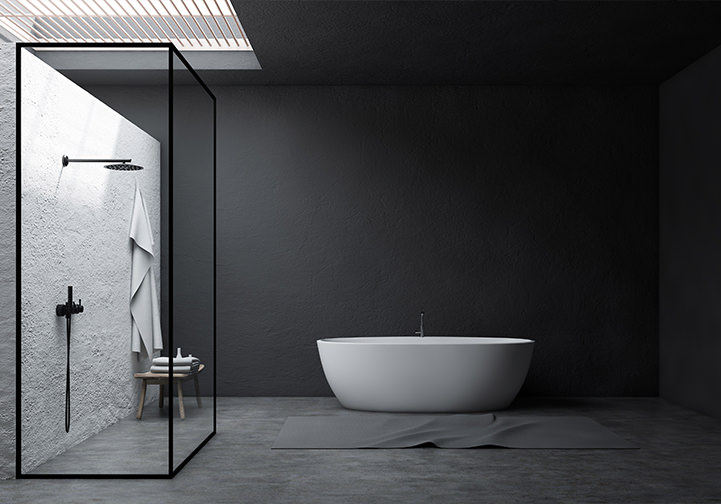 Save on space with a slipper bath
If you do want to include a tub, there are different styles that take up less space than a more traditional model. Slipper baths are deeper than regular baths and allow you to indulge in deep soaks if you don't have space for an alcove or a bigger tub.You can't lie all the way down; instead, one side is shaped for you to lean on.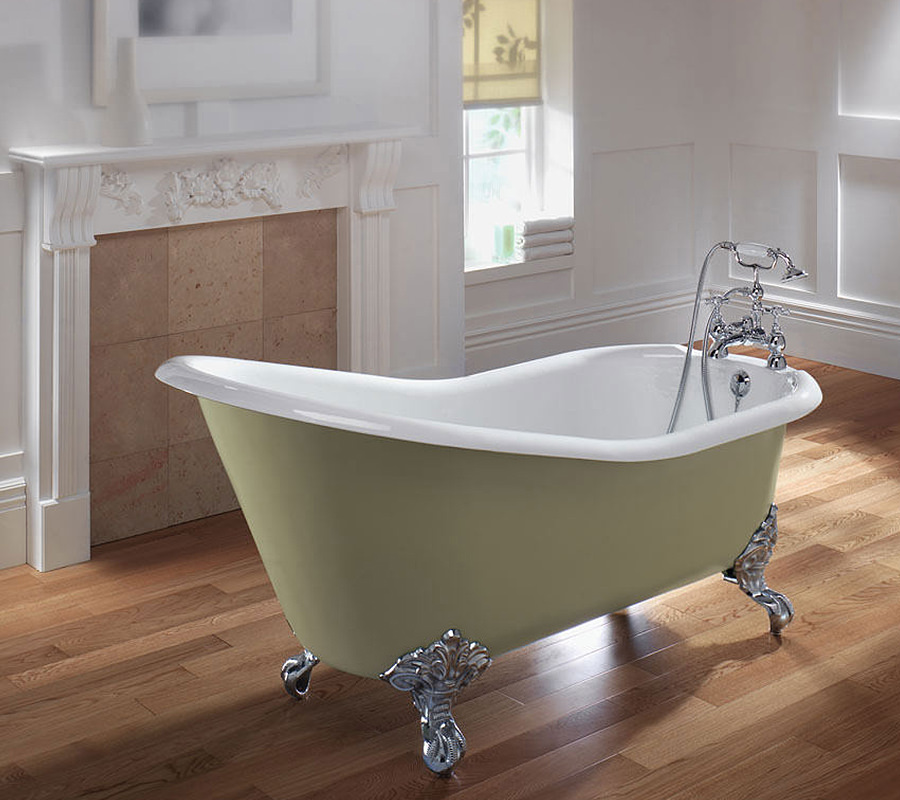 ---
Shower power and wonderful wet rooms
---
Sleek and stylish shower screens
Modern shower screens can consist of a single sheet of glass. They're perfect if you want to protect your en suite bathroom from splash-back while also saving on space and giving your en suite a cleaner, more modern look.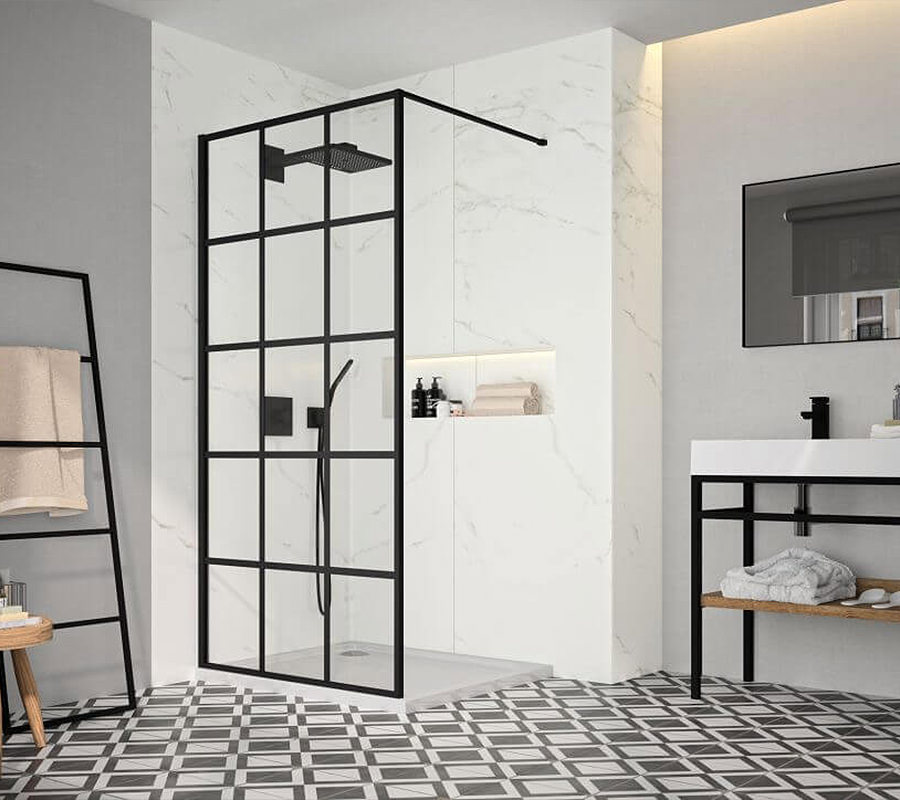 ---
Small footprint shower trays
A shower is only as small as its shower tray. There are some tiny options that are perfect for little en suites. Alternatively, fit a low profile shower tray flush with the floor for a modern and stylish aesthetic and blur the lines between where your shower area begins and ends.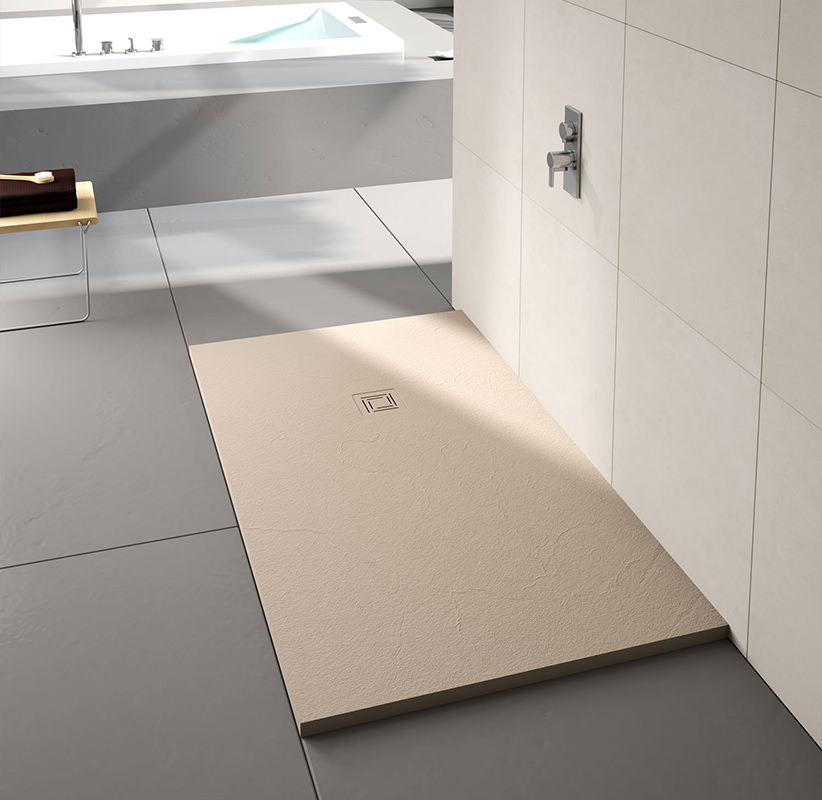 ---
Fitted showers for a narrow en suite
If your home has a particularly narrow en suite, fill its full width with a shower enclosure to make the best use of your space. You can also create a lightbox effect with choice placement of en suite lighting.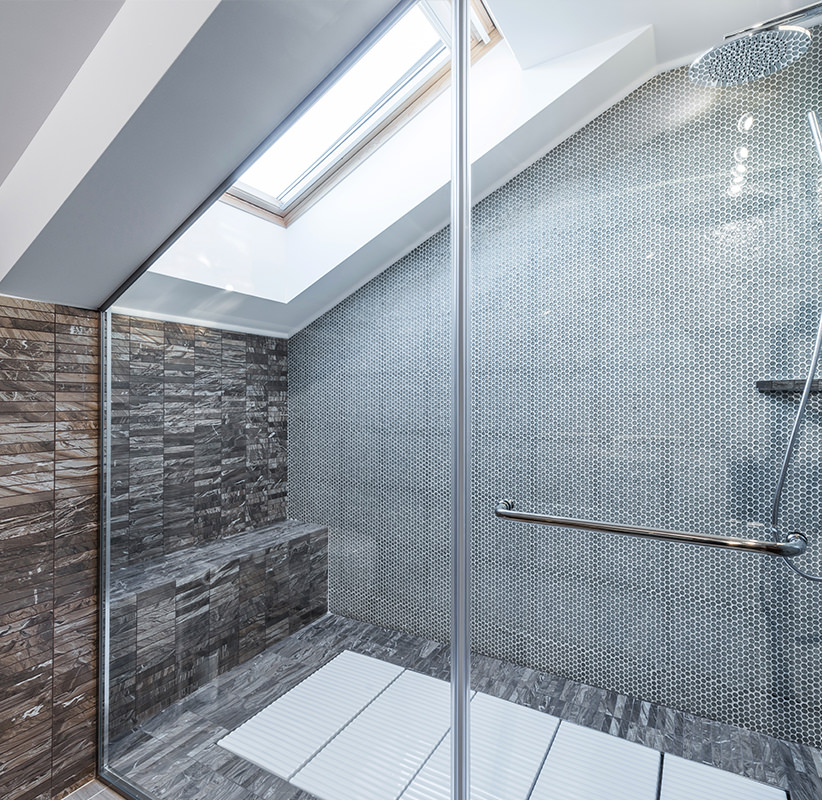 ---
What about a wet room?
Wet rooms are all the rage when it comes to en suite bathrooms, and it's easy to see why. They're simple and stylish. They can add value to your home. Plus, you can do away with extras (like shower screens) when everything is waterproof.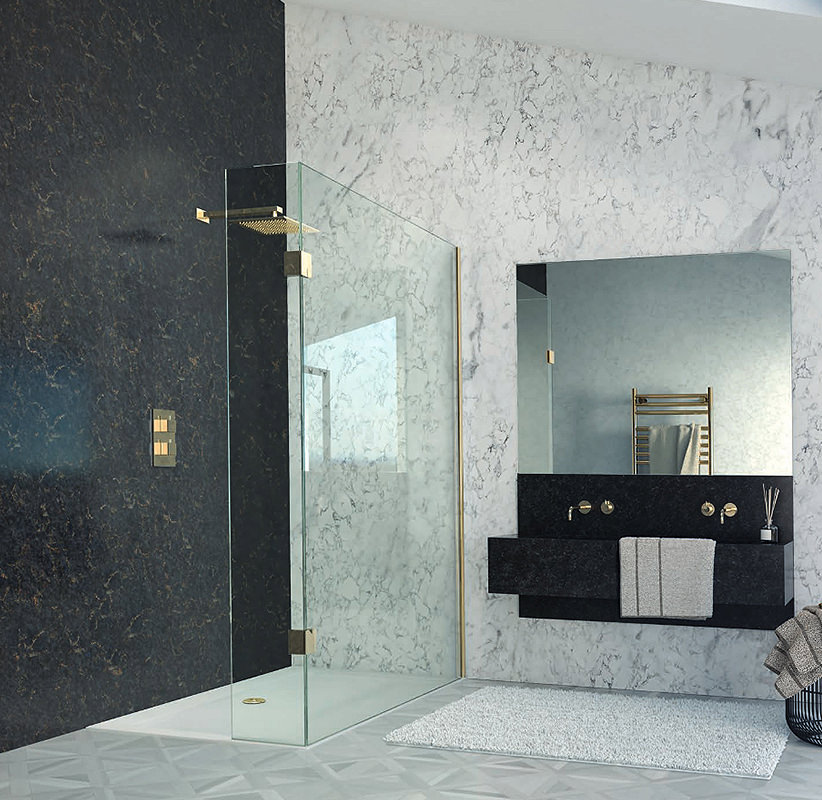 ---
The best basins and small en suite sinks
---
Try a tiny cloakroom basin
Cloakroom basins are the smallest sinks around and are made exclusively for washing your hands. So, if your en suite can only fit the bare necessities of a sink and toilet, they're as good as it gets when it comes to saving space.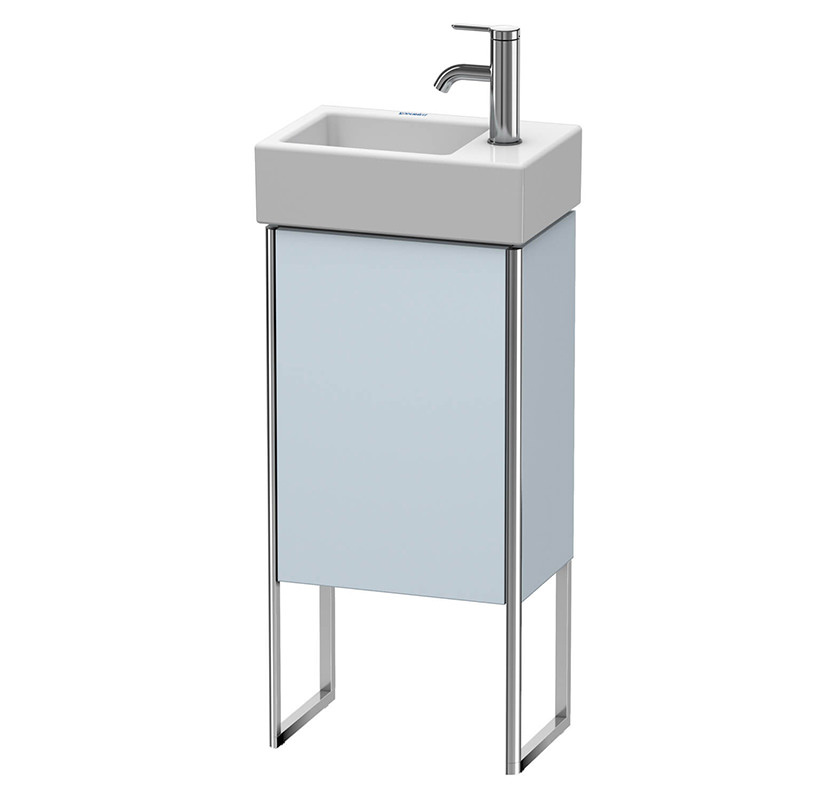 ---
Trough sinks for two to share
If you share your en suite bathroom and are struggling to find room for a "his and hers" double basin vanity unit, opt for a trough sink with two taps for a stylish, space-saving alternative.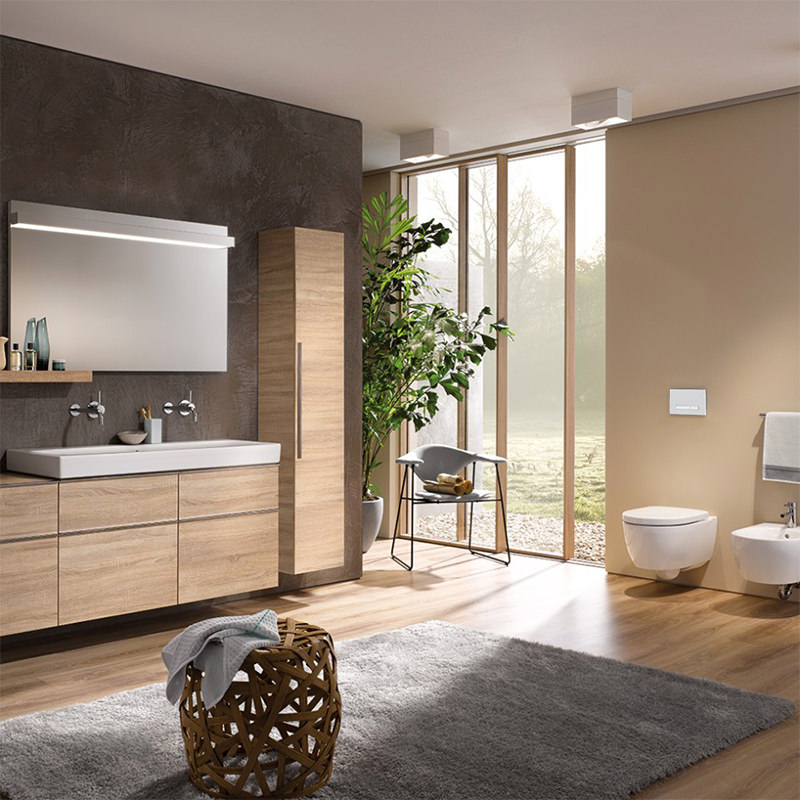 ---
A game of en suite thrones and toilets
---
Picking the perfect en suite toilet
Short-projection toilets are always a top choice for an en suite bathroom simply because they don't protrude as far from the wall.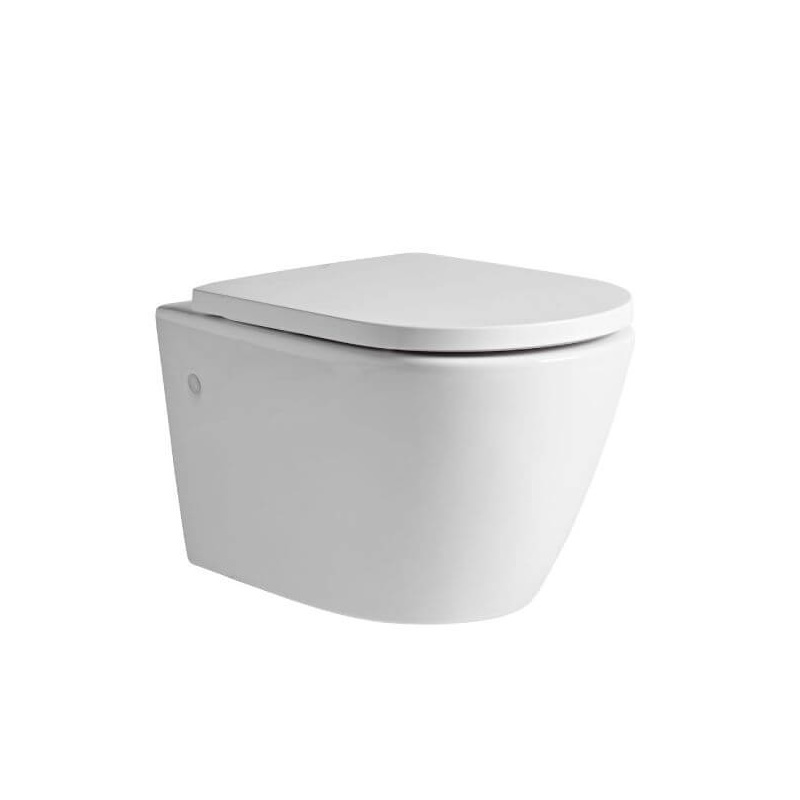 ---
Floating toilets for the neat and tidy
You can save even more space by hiding your cistern in your en suite's wall and opting for a wall-mounted toilet. Floating, wall-hung fixtures always help declutter a bathroom and they're easier to clean.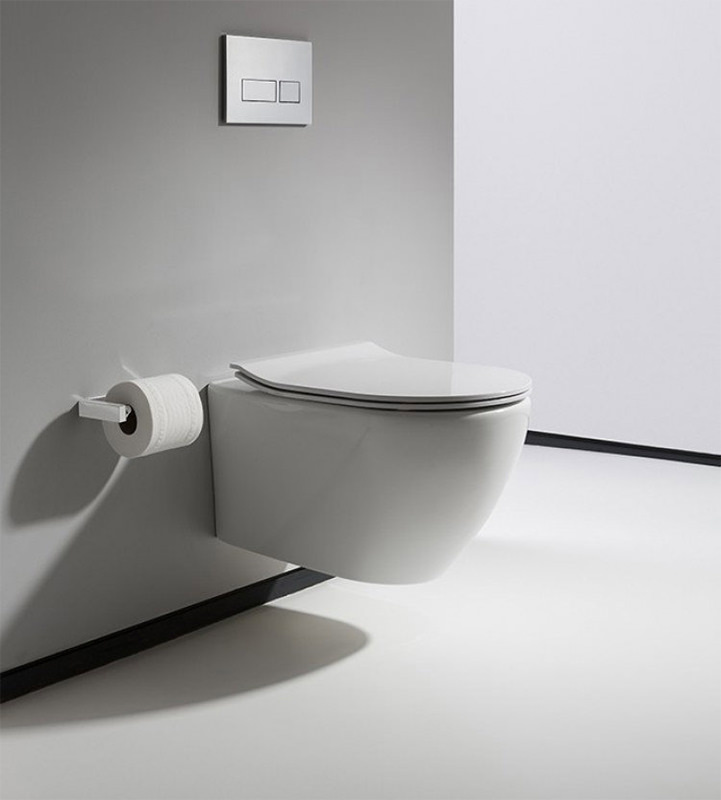 ---
Underfloor heating is so hot right now
---
Save space and money with underfloor heating
People "um" and "ah" over underfloor heating, but in small spaces – such as an en suite bathroom – it can be cheap to install, save money on your energy bills, and free up the real estate you would ordinarily need for radiators.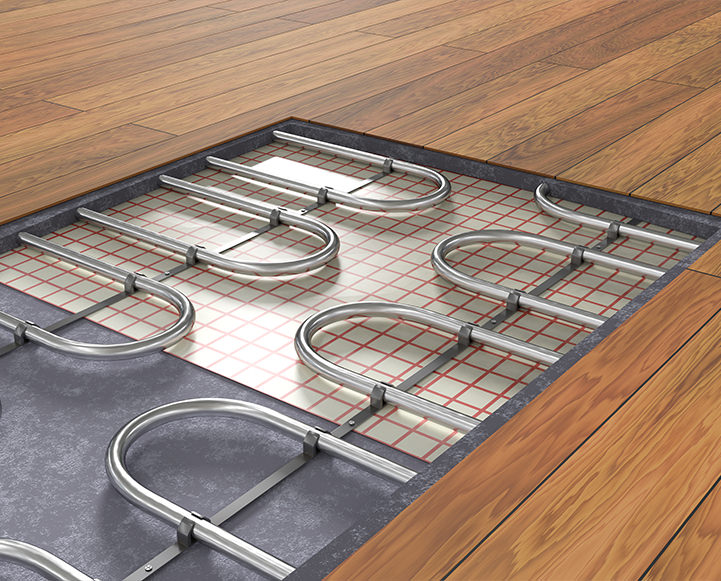 ---
The benefits of tall and slim towel rails
Vertical radiators and narrow, heated towel rails are the way to go if you don't want to install underfloor heating. They take up less space than traditional towel rails and radiators and come in a range of styles to suit your en suite.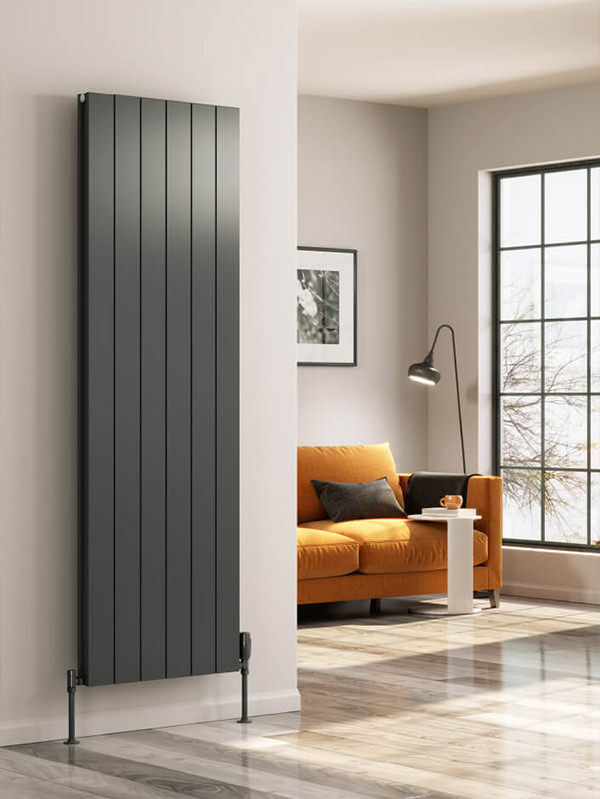 ---
Lighting makes or breaks en suite bathrooms
---
Make the most of natural light
If your en suite bathroom has an external window, make the most of the natural light. It provides the best representation of colours and will make small spaces feel more welcoming. So keep your windows unobstructed and place mirrors to reflect light around the room.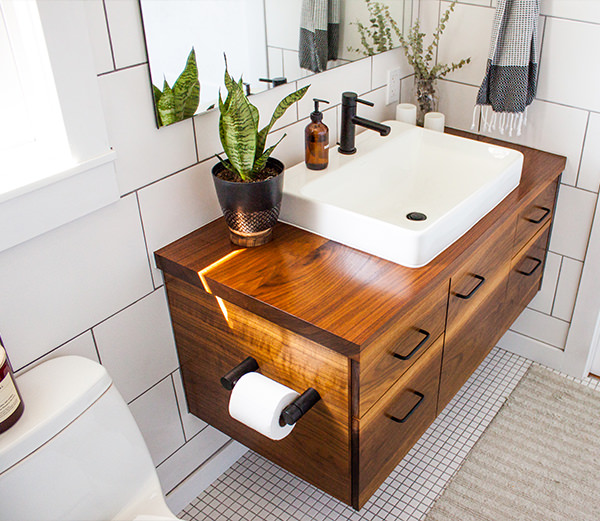 ---
LED lights for modern en suite bathrooms
We love the current trend of placing LED lights in creative places, such as between bathroom shelves, around shower trays, behind mirrors, and in flooring. They make lighting an en suite easy, while also looking modern and stylish.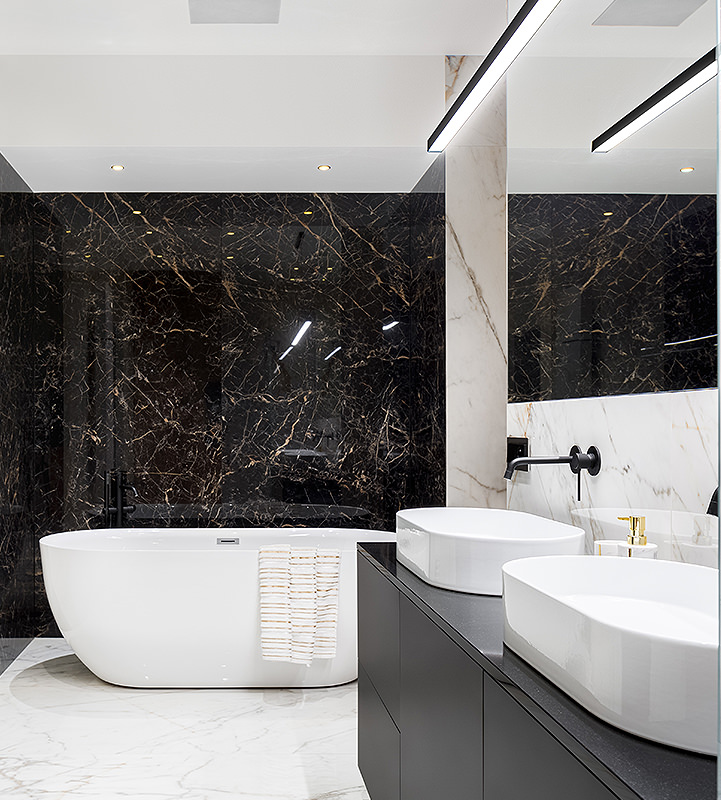 ---
Get mirrors, mirrors on your walls
---
Mirrors make rooms look bigger
Everyone knows mirrors can help make rooms look bigger, and we're not talking about a tiny shaving mirror. In small spaces, the bigger the mirror, the better.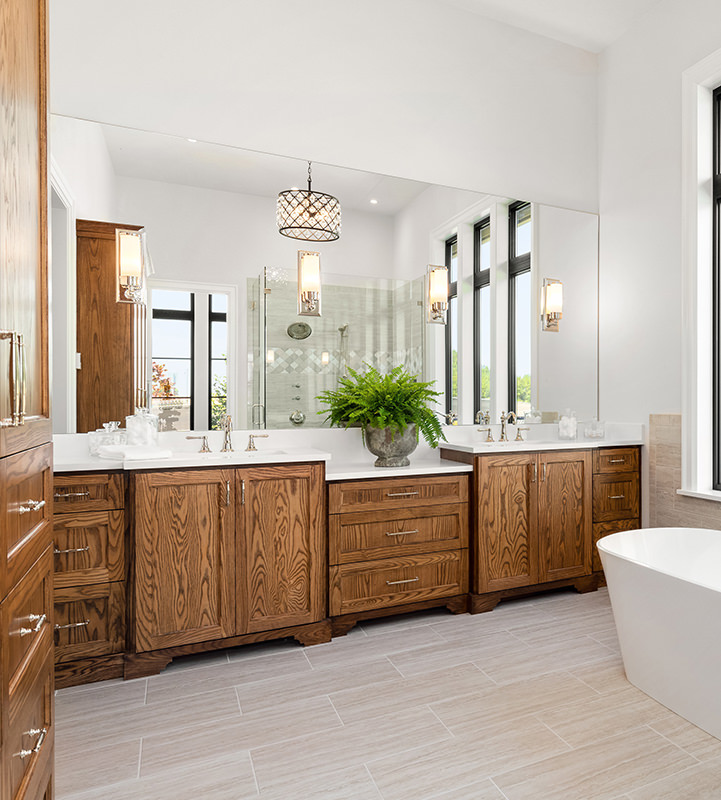 ---
Hide toiletries in mirror cabinets
Multi-coloured toiletry bottles scattered across your en suite is a sure-fire way to ruin a room's aesthetic. Mirror cabinets offer the best of both worlds by hiding your toiletries and making your en suite feel larger.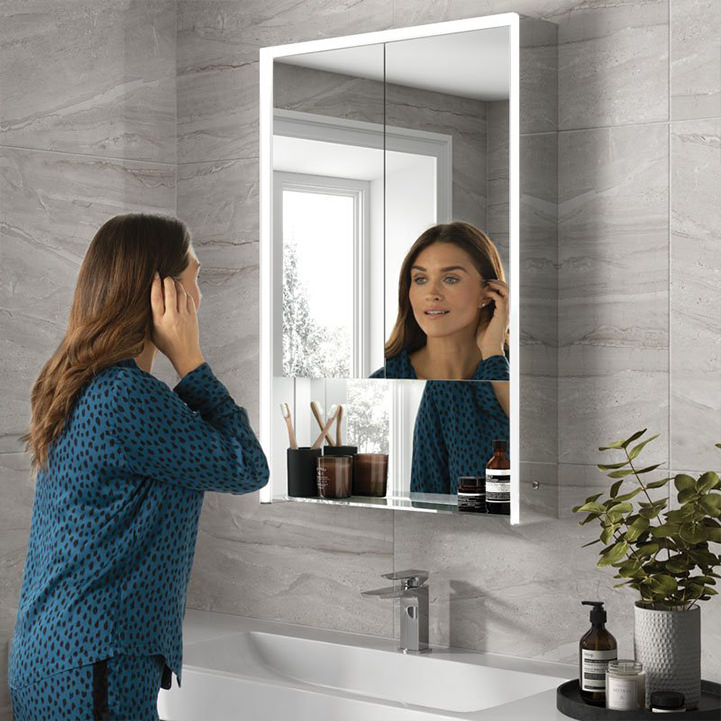 ---
Hide clutter high and low with clever storage
---
Declutter whenever you decorate
Redecorating is a good opportunity to declutter. Unleash your inner Marie Kondo, go through your bathroom accessories and toiletries, and get rid of whatever you don't need. You may find you don't need as much storage space as you think.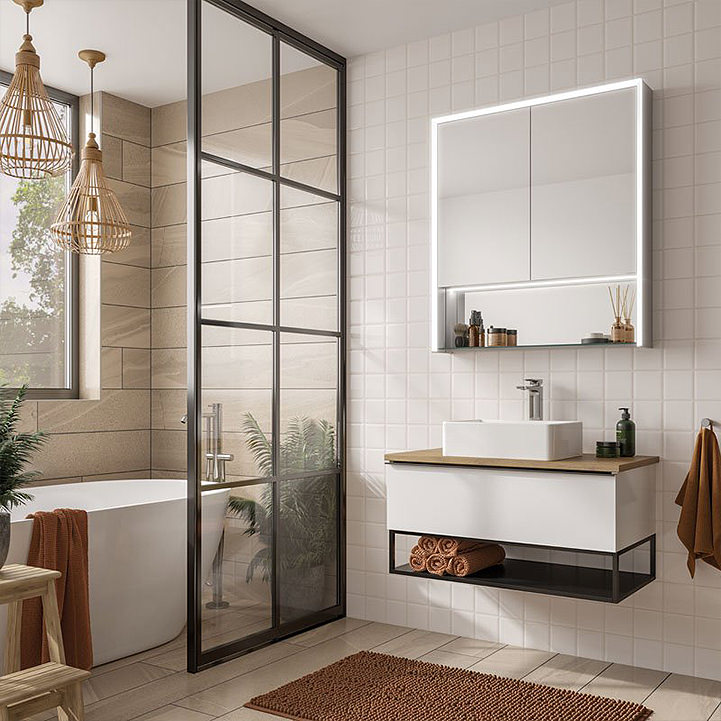 ---
Add style points with recessed shelves
Bathroom furniture that protrudes away from your en suite's walls will make it feel busy and cramped. In the same way, installing recessed shelves to incorporate storage that goes into your walls will make your en suite look and feel roomier.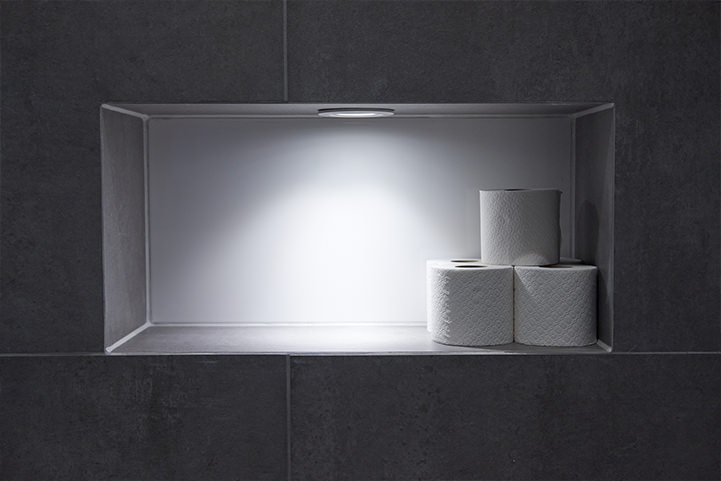 ---
Tower storage is a top-tier choice
Single shelves may look clean and elegant, but if you have a lot of stuff in your bathroom then they're probably not going to cut the mustard. A floor-to-ceiling storage unit is incredibly practical, looks great, and doesn't need to take up a lot of space.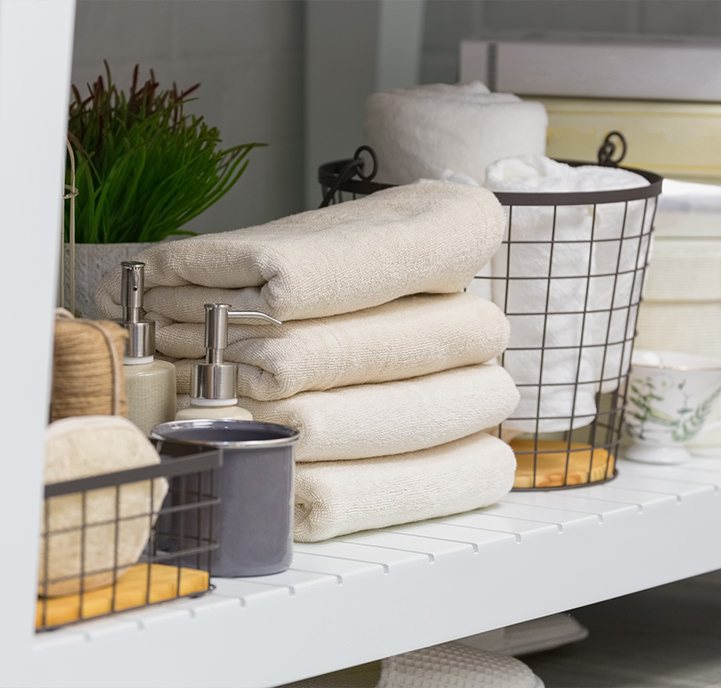 ---
En suite bathroom design ends at the door
---
Sliding doors save space and add character
Bathroom doors are designed to open inwards to prevent you from getting trapped. The problem is that you can't place any furniture in your door's path. With a sliding door, that's no longer an issue and you can make full use of your en suite's floor plan.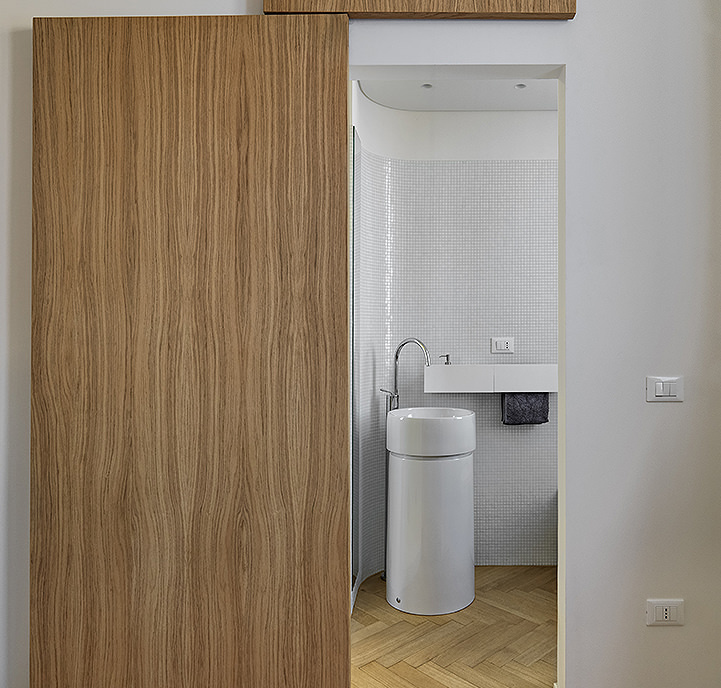 ---
Do you dare lose your en suite door?
If you live alone or you're extremely comfortable with your partner's bodily functions, why not get rid of the door entirely and opt for an open-plan en suite bathroom?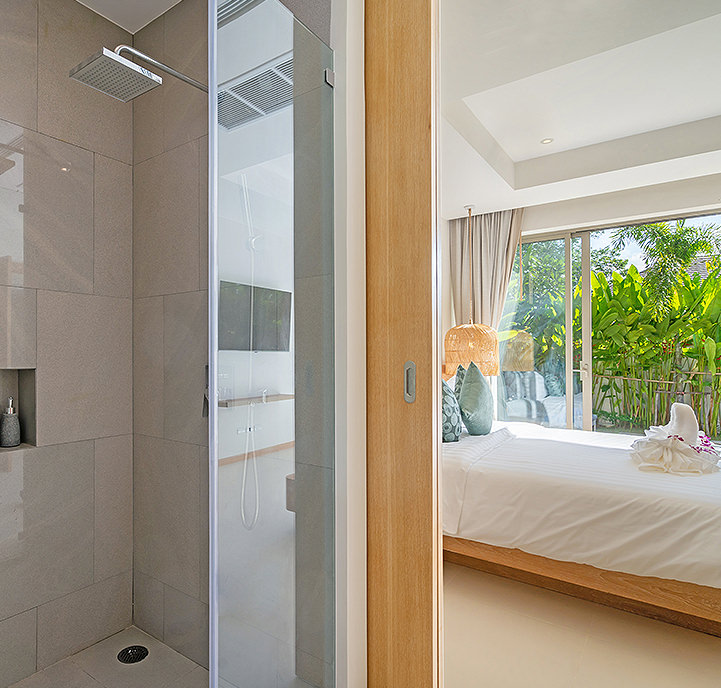 ---
Your en suite is yours, so be playful as well as practical
From the floor to the ceiling, there are so many stylish ways to save space or make an en suite bathroom appear larger. First of all, we recommend deciding what furniture you actually need and whether or not you have room for a bathtub. Also, avoid cluttering your en suite's floor space.
From there, it's all about sticking to a single style. Make sure your decor, fittings, and accessories complement one another, as well as the bedroom. And if your en suite doesn't get much natural light, then make sure your bathroom lighting is on point, perhaps by utilising versatile LEDs.
Lastly, don't be afraid to make your en suite bathroom your own. You'll use your en suite bathroom every single day. On top of that, no one else is really going to see it. Get creative. Play around with the interior design. After all, a small room costs less to redecorate.