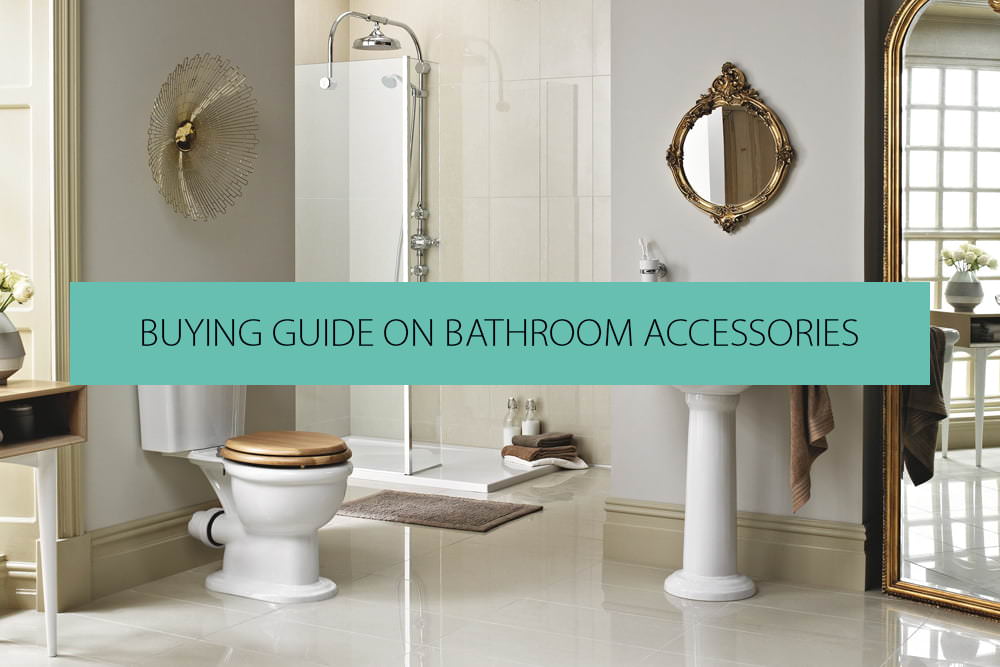 Bathroom accessories can have a real impact on your bathroom. They can help it look as modern or sophisticated as you wish. However, the wrong accessories can make your room look a little out of place. Accessories are the key elements that can make your life easier. These are practical, functional and attractive additions in the overall scheme of things. All you have to do is, wisely analyse certain crucial factors before choosing the right one.
---
More about accessories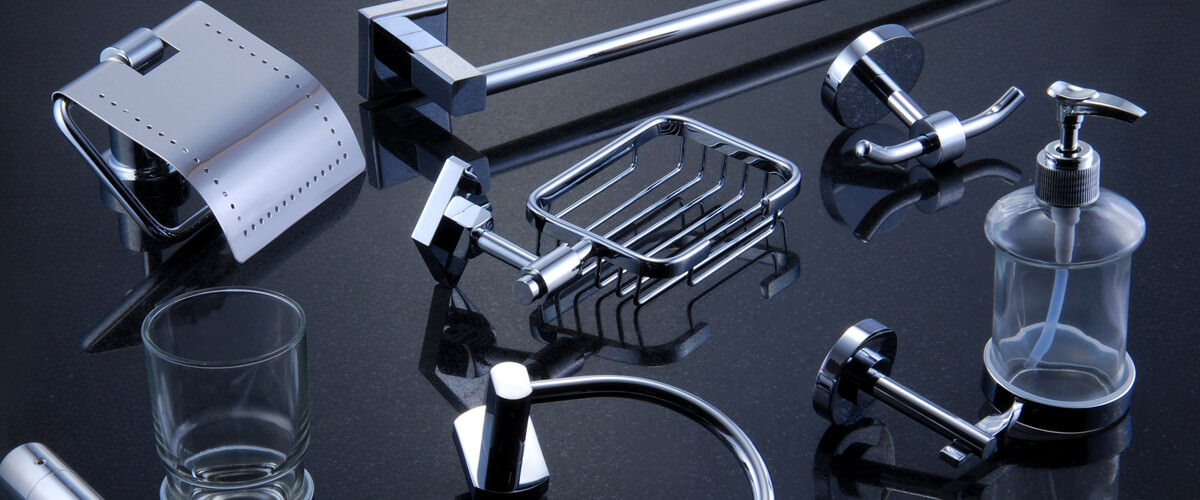 Metal brassware comes with a thick layer of nickel plating, over which the desired finish is applied. This gives a smooth and durable surface look. Bathroom accessories may differ in material, finish and cost, with cheaper products available at very low prices. These may not give a long-term performance and may not come with the necessary warranty. The priority is to get the best product at the most attractive price. When we say "best product", it means best in quality, functionality and performance. There are some crucial factors to consider when buying the right accessories for your bathroom. A thorough evaluation of the area, space, nature, theme and milieu or background is of utmost importance when choosing the right one.
First some integrated design thoughts.
---
Top trends to consider
Art and textiles are the new bathroom accessories that are taking the design world by storm. Bathrooms are not cold laboratories that have to be pristinely white. Bringing large-scale art prints or unexpected textiles or curtains into the space adds interest, depth and aesthetic appeal.
Adding decorative objects that you desire into your bathroom is another major trend. Natural, unrefined finishes such as a wooden shelf or bench in the shower are a wonderful offset to cold surfaces. People want bathrooms to exude warmth and sanctuary. Wood, brick, stone sculptures, and bamboo all provide that tactile and warmer touch to a bathroom. Your soap dispensers may be bamboo or your toilet brush and holder. You can also pair your cool-tone bathroom with brass or copper fittings and accessories to add warmth, or you can choose black for a bold design statement right on trend.
But bathroom accessories come in all colours these days. Why not think of green bathroom accessories to offset your bathroom plants? Greenery in the bathroom is big news, and that means more than a single lonely African violet on the bathroom windowsill. Think large-leafed Monstera and cascading ferns, and other moisture-loving plants.
---
Make an Accessory List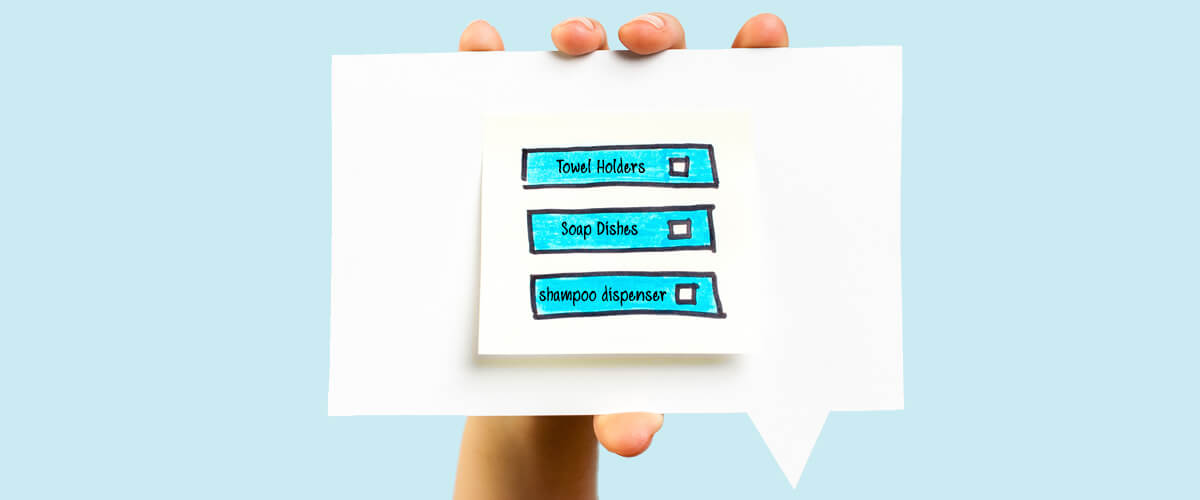 It's not hard to make a list of things that you need. We often find shopping lists a bit of a doddle, but knowing what you need to create the perfect bathroom can be a lot harder. One of the first things you may want to do is write a list of those accessories you know you'll need. You know you are likely to need a soap dish, a towel rail and somewhere to place your sponge, shower gel and towel.
You may also want to decide if you are going to have enough room for a waterproof radio, or even a set of tumbler holders. You should also think about your storage needs, as you will need to keep towels, and cleaning products somewhere.
Here are some of the accessories you may want to add to your list so you remember to buy them:
A soap and shampoo dispenser
A shower stool if you're not too good on your feet
A mirror that doesn't fog up when you use your new shower
Grab bars that will help you to get a firm grip on the shower doors
Free-standing shower caddy for shampoo, conditioner, sponges etc
A surface to place or somewhere to hang your waterproof radio
A sponge rack
Towel Holders
Soap Dishes
Liquid Soap Dispensers
---
Toilet Brush Holder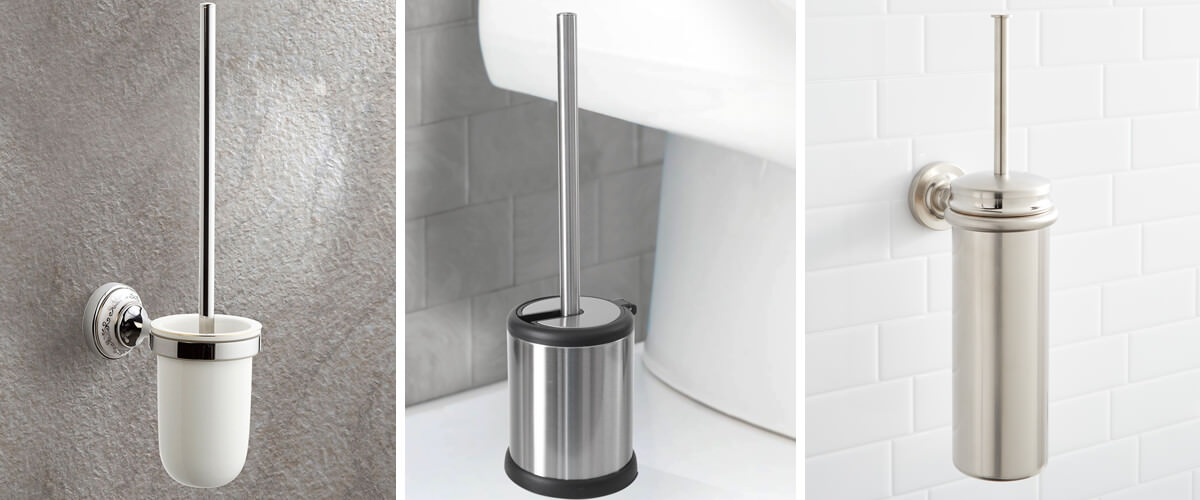 A toilet brush is essential for cleaning WC bowls, and the holder stores it between uses. There are a variety of designs, finishes and colours to choose from when it comes to this important accessory.
---
Why is this an Important Accessory?
It provides a more convenient method of cleaning a WC bowl. The absence of a brush presents a serious hygiene risk. The toilet brush holder prevents the brush from contaminating the bathroom floor with organic waste and chemicals while hiding the brush from view.
---
Materials
Materials used to make this accessory include ceramic, glass, porcelain, slate, stainless steel, chrome-plated brass and plastic. Non-porous materials are the most hygienic because they do not absorb unsanitary substances and are easier to clean. Brush bristles, historically made from rigid animal hairs, are usually made of plastic, such as nylon. The brush handle can be made from a number of materials, including wood, plastic and metal. Handles made from stainless steel or chrome-plated brass are more hygienic than those made from porous wood.
---
Styles
There are a several styles to choose from. It is better to purchase one that matches the aesthetics of the bathroom. Buyers may be mindful of how the holder interacts with the symmetrical balance, texture and colour coordination of the bathroom interior. Toilet brush box shapes include cylindrical, spherical, tapered, rectangular, box-shaped, and a range of novel designs.
---
New Bathroom Accessories Sets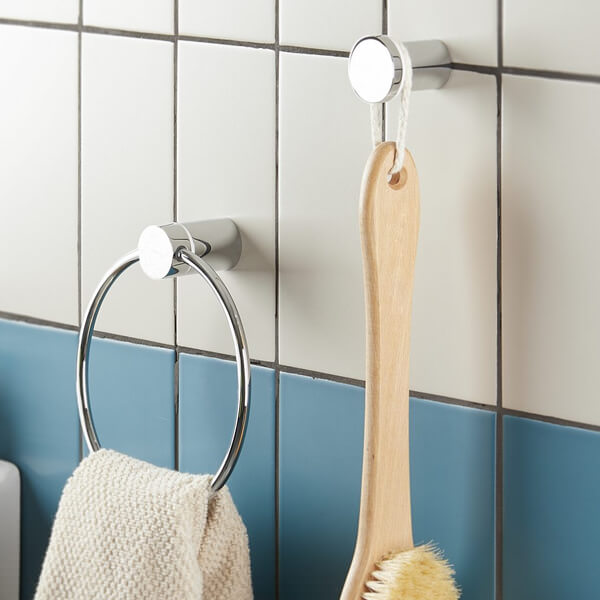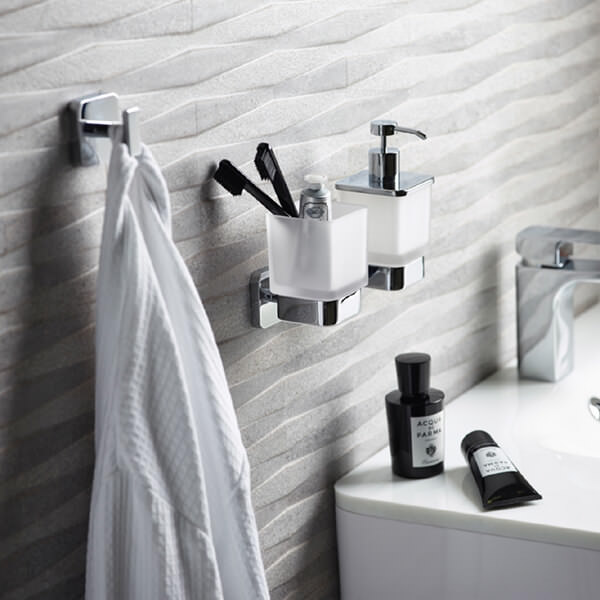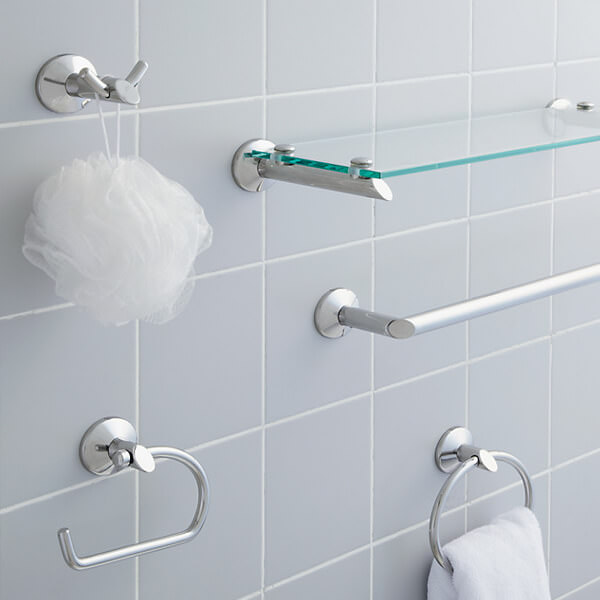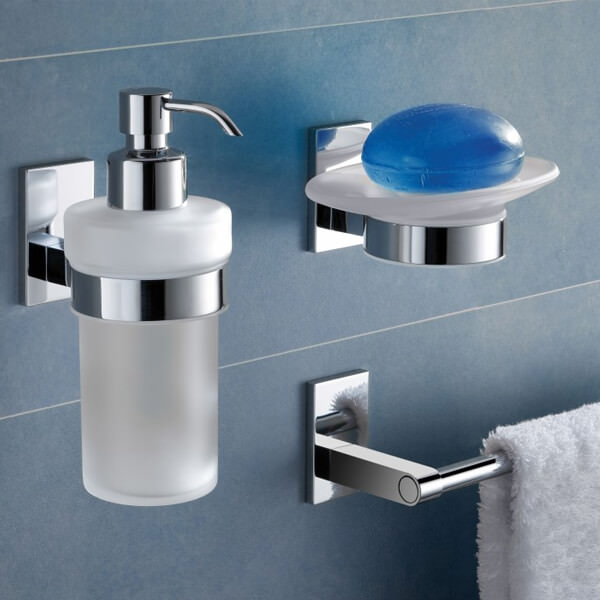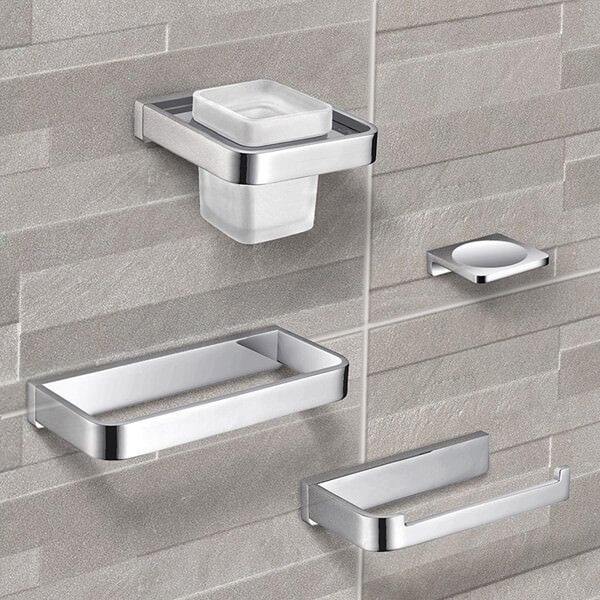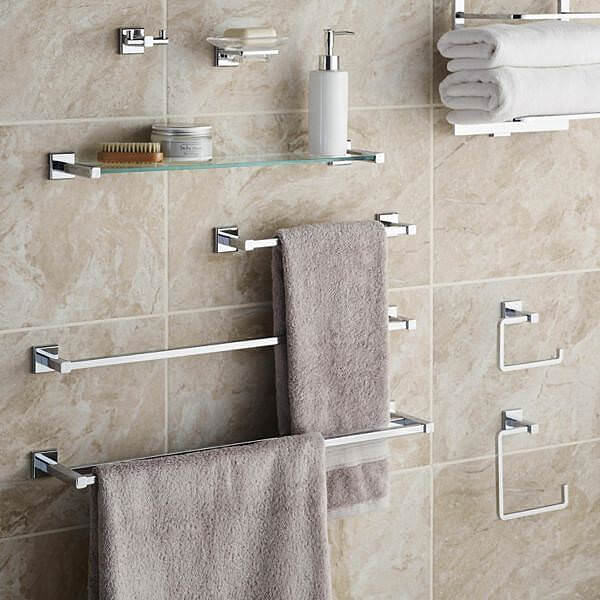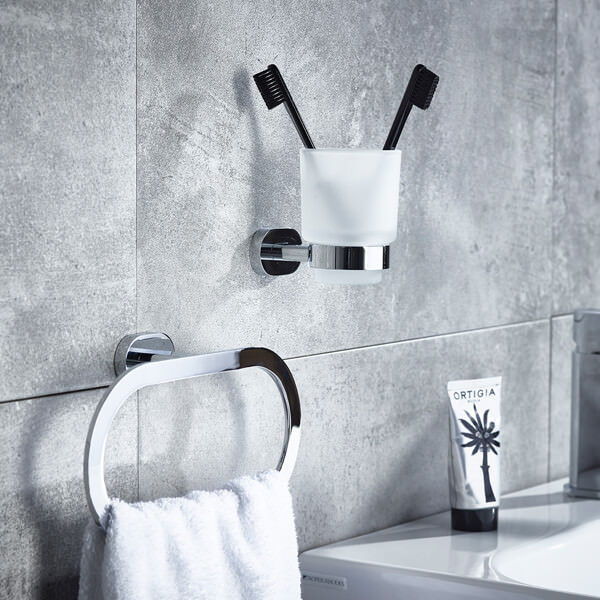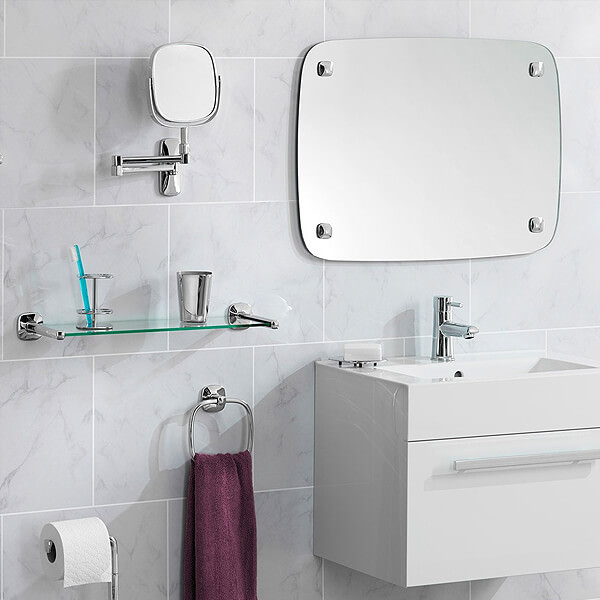 ---
Towel Holders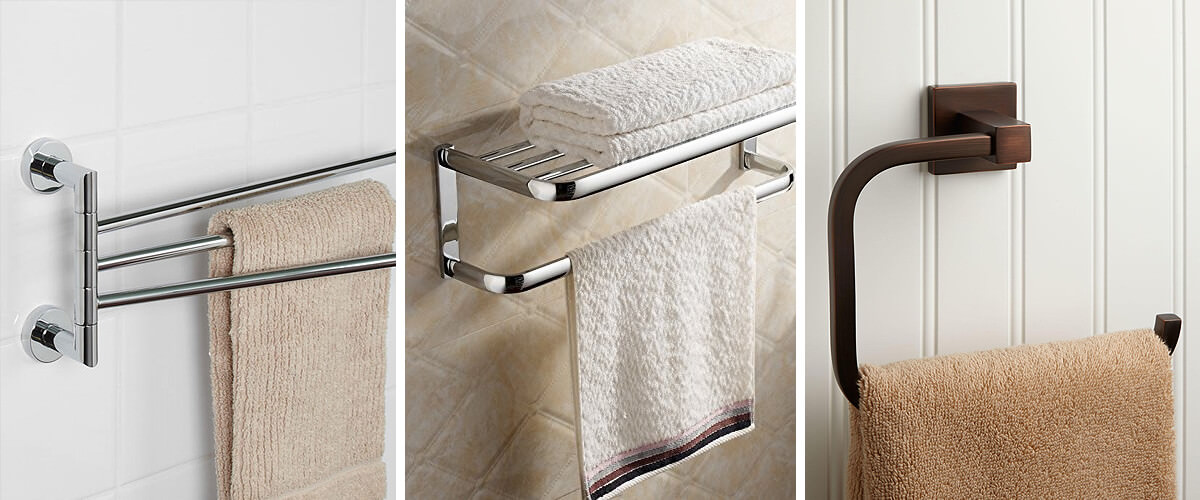 The Towel Holder is such a simple concept and, surprisingly, has been around for many years. It was not until 1941 that an American named Haffner patented the first one. Not only are Towel Holders useful, but are also design accessories
Double Bar Towel Rails or holders are used for hanging multiple towels and are usually used for large families. Single Bar designs are ideal for smaller spaces. You can even use Swivel Towel Holders, where space is tight, with Freestanding racks offering more versatility.
---
Soap Dishes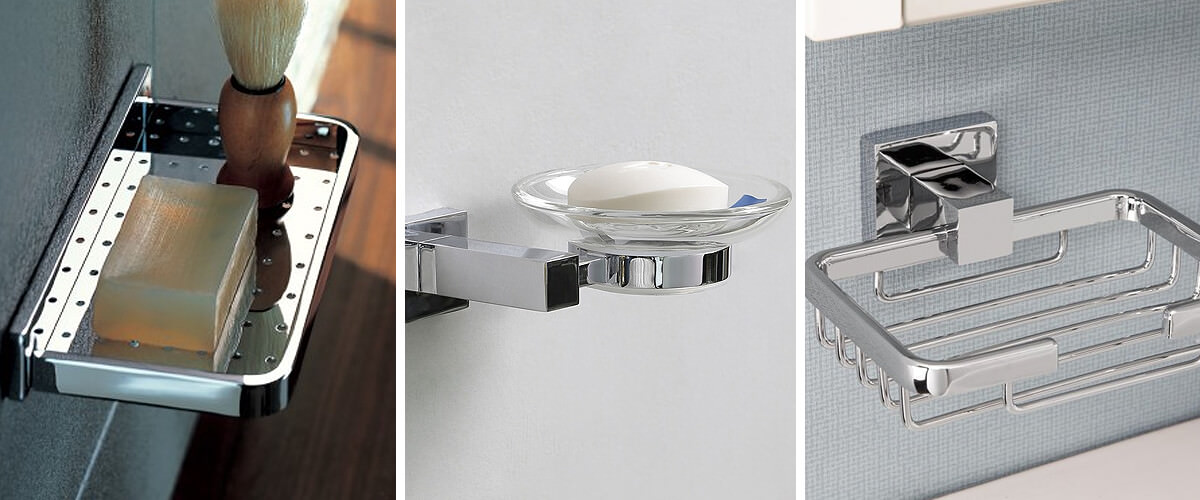 When shopping for a soap tray, you need to consider the right one for your washroom. A tiny one and the soap will drown out the pattern or design. Too huge, and it can look awkward. The key is to consider your tastes and requirements to decide on the size of the dish. If you pick your dish around your usual soap size - bearing in mind the size of your sink - it is a good start.
A good tray for your soap can be practical as well as pretty. For starters, soap trays keep your sink free from soap scum, and it beats scrubbing the sink on a weekly basis to remove soap residue, too. These are an excellent way to tie elements of your bathroom decor together: think patterned curtains, a bath mat, and a soap tray can give a beautiful and professional finish to your bathroom.
---
Which Material You need to Select?
Again, this comes down to individual choice. Aesthetics are important, and picking from among the vast selection on the market can be challenging. A ceramic tray can be a great option, and come in many colours and styles. A chrome or glass tray can give a modern feel to a contemporary bathroom.
---
Liquid Dispensers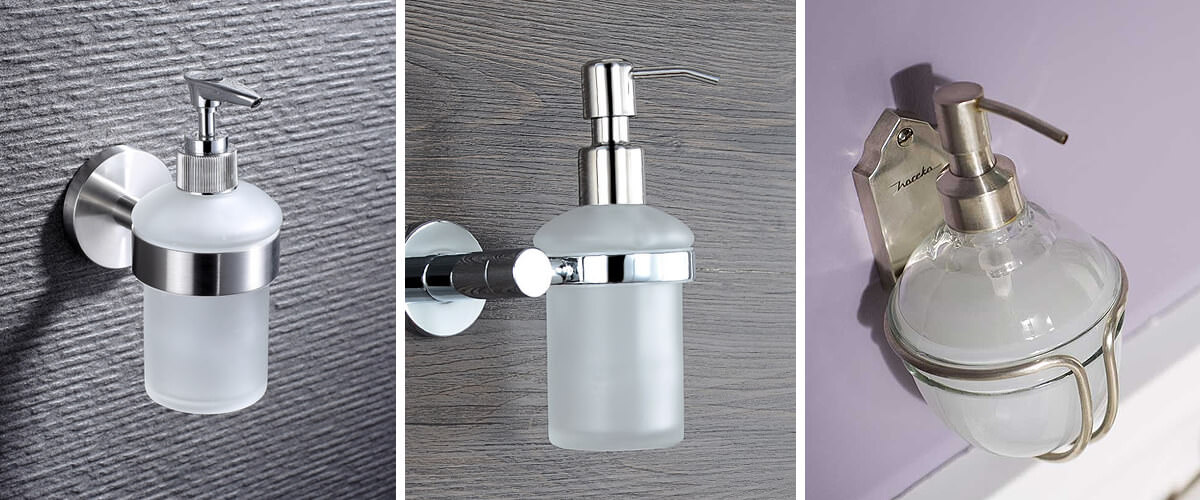 Most commercial bathrooms come with soap dispensers. These accessories dispense liquid soap, a more hygienic alternative to ordinary soap. The products displayed below come with different mechanisms.
---
Manual & Automatic
Manual dispensers come in bottles with a pump. The manual mechanism can dispense liquid, foam or even powder. Some work by using a large button, which releases liquid when pressed, while others use a lever mechanism. These are suited to domestic set-ups. The Automatic Dispensers are hands-free and powered by batteries. These work with a touch-free mechanism that dispenses liquid or foam using sensors. Sensors detect hand motions and activate them to release soap, sanitiser, and other cleaners. Ideal for commercial areas to maintain hygiene and keep germs at bay.
---
Materials
Like every other bathroom product, accessories bring value in terms of looks and functionality. Apart from homes, accessories find extensive use in commercial establishments like restrooms and hotels. There is a multitude of choices to choose from when it comes to their material and its quality.
Plastic: Plastic or PVC is a popular material used to manufacture of manual dispensers. Their advantage is that they come in a range of colours, are cheap and can be easily replaced. On the downside, plastic models are easily worn out and can be easily vandalised or destroyed.
Metal: Metal units are heavier and more durable than plastic. Therefore, when mounting to a wall, these need to be installed with secure fixings. Due to moisture in the bathroom, the surface of the metal gathers grime build-up and must be wiped clean. They suffer less wear and tear and are extremely long-lasting.
Ceramic: When it comes to aesthetics, nothing quite matches the look of ceramic. Besides, ceramic seems to merge with the look of the sanitary ware in the bathroom. Dispensers made of ceramic are normally manual and come in a sea of gorgeous colours. Easy to clean and maintain, their only drawback is easily shattering if dropped accidentally. To prevent that, these may be securely fastened to the wall.
---
Our Liquid Dispenser's Picks
Roper Rhodes Stream
Cast in durable brass, this high-quality dispenser ensures safe and hygienic use for the entire family. Fabricated from fine-quality material and jazzed up in a chrome finish, it will instantly update the room's decor. Suitable for use in homes and offices, it can be mounted to the wall for convenience.
Crosswater Central
This product from Crosswater, assures safe, hygienic use without any waste. This bathroom wonder is manufactured from high-quality ceramic held together by a chrome-finished holder. Its presence will add not only brilliance but also style. With an elegant oblong form, the wall-mounted installation is suitable for use in homes and offices alike. Superior in build, it will last you for years to come.
---
Budget
If you, as a homeowner, wish to buy a good quality product, you can have a perception that an expensive product is always of good quality. This may not always be the case. Inexpensive products also perform the same way as expensive products. Therefore, you are advised to check the price and utility of a product or accessory that you buy for your bathroom. There may be some products loaded with features that may not be entirely of use to you, and you end up paying more for the additional features. So, all you have to do is compare the products that are available, with these points in mind, to make a wise decision in choosing the right product at the right price.
---
The Brand

Usually, the perception about brands is, if it's a reputed and well-known one with a massive presence in the market, it is going to perform well, and you end up paying more. Although this is true most often, sometimes a lesser-known name may perform equally well. It is better to compare the advantages in terms of the functionality of the products.

---
Third - Cost-effectiveness
The term cost-effectiveness is always most commonly used in the business of buying and selling products. Ironically, we don't evaluate that in the true sense. For most of us, cost-effectiveness is something available reasonably cheap, regardless of the performance and durability features. The emphasis here is, do we ask for a warranty or guarantee for the products, or do we just choose them as they are cheap but without any assurance of longevity?
If you're planning a total renovation of your home, then it is advisable to opt for products that come with a lifetime warranty, for they can be effective even if you happen to relocate your flat or apartment frequently. This is important as accessories like bathroom mirrors, bathroom lights, rugs and a few more things can be replaced, if they are under warranty or guarantee. Prioritising quality, performance and cost should be on top of the list while planning to get the best product, but before all that, you need to make a blueprint of your bathroom or restroom, for which you intend to buy accessories.
---
Style up your Room
Minimal-style accessories can be an ideal choice. For vintage-style bathrooms, a combination of wood with chrome finish can be a perfect choice. Washrooms that have gold taps can have matching gold-plated products. Selecting an accessory that fuse well with the decor can be a smart choice.