Buyers Guide: Shopping for Bathroom Parts and Accessories Online
Published on: 18/08/2020
Last Updated: 18/08/2020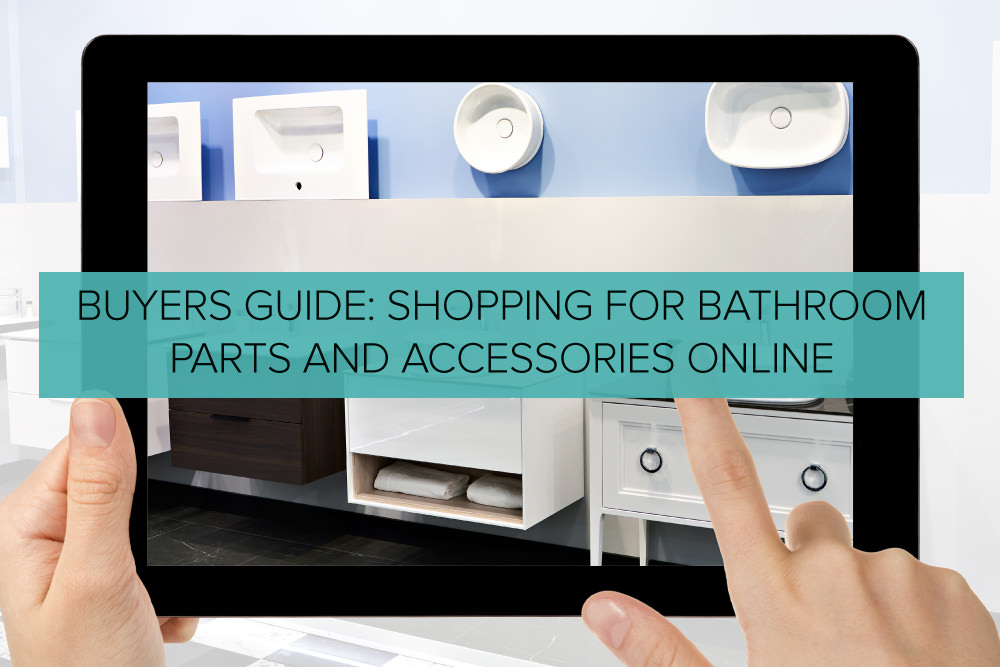 Are you building a new home, moving or redesigning your bathroom and need new parts and accessories? You may likely be limited to only a few choice local hardware or department stores that sell these types of products. Furthermore, these stores may not carry exactly what you need or what you are looking for. Shopping online with QS Supplies gives you access to a wide variety of bathroom parts and accessories. You'll be able to shop your desired price range, texture or material, pattern and/or colour scheme.
While some customers may prefer to physically interact with an item before making a purchase, online shopping has a host of benefits. Aside from easily being able to access a variety of products, some hard-to-find otherwise, online shopping also allows you to:
Compare product details and pricing side by side right on your computer screen.
Read customer reviews.
Shop freely at your own convenience at any time of day or night.
Avoid the need to drive or use public transportation to a store and deal with traffic and/or parking, not to mention carrying your purchases home.
Save time and the hassle of having to visit different stores if one does not have the product you are looking for.
Avoid dealing with crowds or long lines.
---
There are, however, a few important things to consider when shopping online for your bathroom parts and accessories.
For one, you will need to make sure the measurements of the products and accessories you are purchasing will fit in your bathroom. You don't want to do all the online research for the product, purchase it and wait for its delivery, only to find that it doesn't work in the desired space.
You may also need specific tools to install the bathroom parts and accessories you order online. Make sure to carefully and thoroughly read the product details listed on the website and purchase (or borrow) any tools you will need that you don't already own.
It doesn't hurt to call the store or manufacturer you are ordering from if you have any questions regarding the measurements, installation process or tools needed for the job. By being completely prepared for your bathroom project once the parts and accessories are delivered, you'll avoid the need to order anything additional, such as tools, or send anything back that doesn't fit the space correctly.
Here, we take a look at the primary bathroom parts you might order online and explain how to measure for each of them.
---
How to Measure for Bathroom Sinks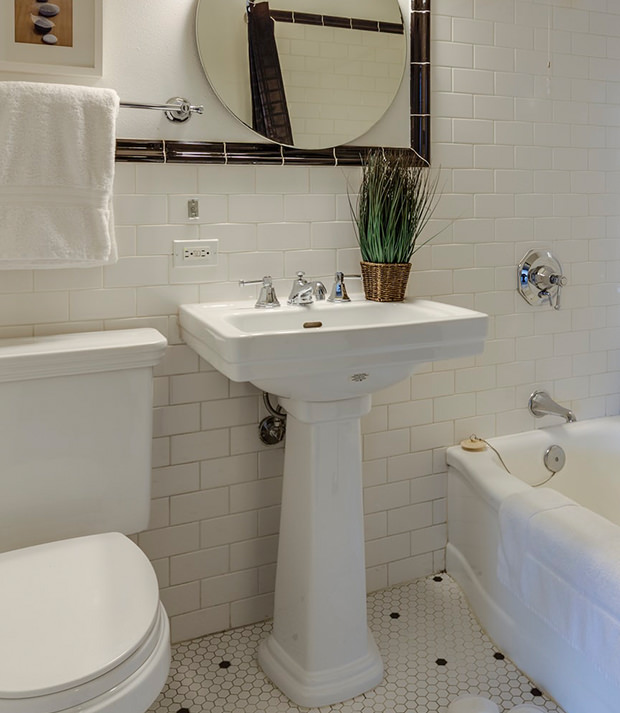 A pedestal sink is one with a column base that holds the sink bowl, but there is no vanity top or cabinet space below. Most pedestal sinks are between 33 and 34 inches high and 22 to 24 inches wide from one end of the sink bowl to the other. Keep in mind that the bowl width is not going to be the same as the bottom of the sink's base, so there will be more open space on the floor around the sink.
Tips for measuring if you are purchasing a pedestal sink:
If there is a windowsill or wall cabinet in the area where the pedestal sink will go, make sure both sit higher than the height of the sink.
Take note of the width of the sink bowl and the length it protrudes from the wall, and make sure you have enough room for installation, as well as a comfortable amount of space for someone to stand and use the sink.
Check to see if your pedestal sink has predrilled holes for a taps. If so, measure the distance between the holes. This is important to know when purchasing the taps because its mounting shafts must match the holes on the sink.
Installing a cabinet as the base for the sink in your bathroom will require a bit more space than a pedestal sink would. Consider all measurements of the cabinet, sometimes referred to as a vanity, and make sure there is enough room in your bathroom to install it, as well enough space around it to stand in front of and use comfortably.
Tips for measuring if you are purchasing a cabinet sink:
Consider the size of the sink purchased for the countertop space. There are two options: You can install a sink into the counter or on top of it. The sink bowl depth is important here, as you need to make sure there is enough room for the drain installation inside the cabinet.
It is recommended that there are 15 inches between the centre of the sink and a sidewall. For vanities or countertops with two sinks, there should be 36 inches between the centre line to the centre line between them.
---
How to Measure for a Bathtub or Shower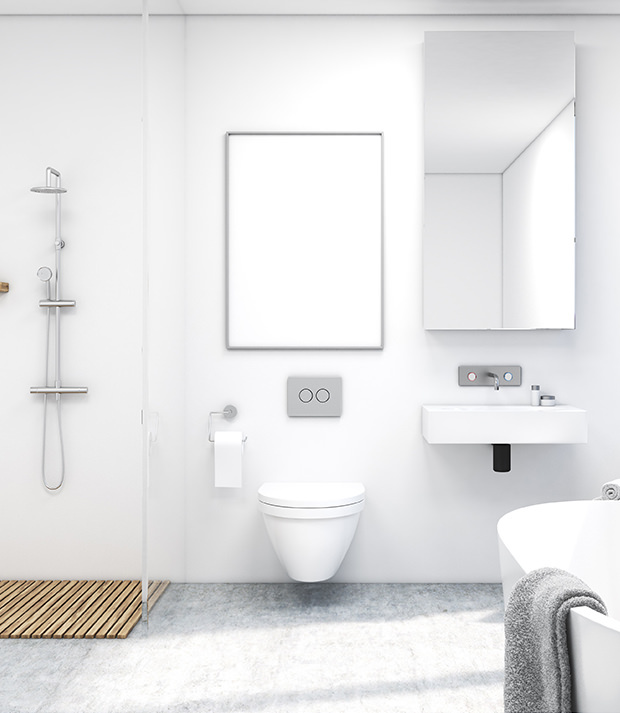 One of the key components to keep in mind when planning for a bathtub or shower installation is having enough space beside it to get in or out. Keep in mind the placement of where other bathroom essentials will be, such as the toilet and sink. If the bathtub is right next to the toilet, the recommended amount of space is 16 inches from the centre line of the toilet. Standard bathtub width is 30 inches, and the height is between 14 and 17 inches. With so many different bathtub designs available online, make sure to check the dimensions on the one you are considering and measure your bathroom to ensure it will work.
If you are installing a walk-in shower with a door, ideally the door should be one that swings out into the bathroom, away from the shower. Take note of the measurements of the swinging door and the measurement of the space that will surround your shower. You need to have enough space on the outskirts of the shower, so the door's pathway is not blocked by the sink, toilet or another fixture.
---
How to Measure for a Toilet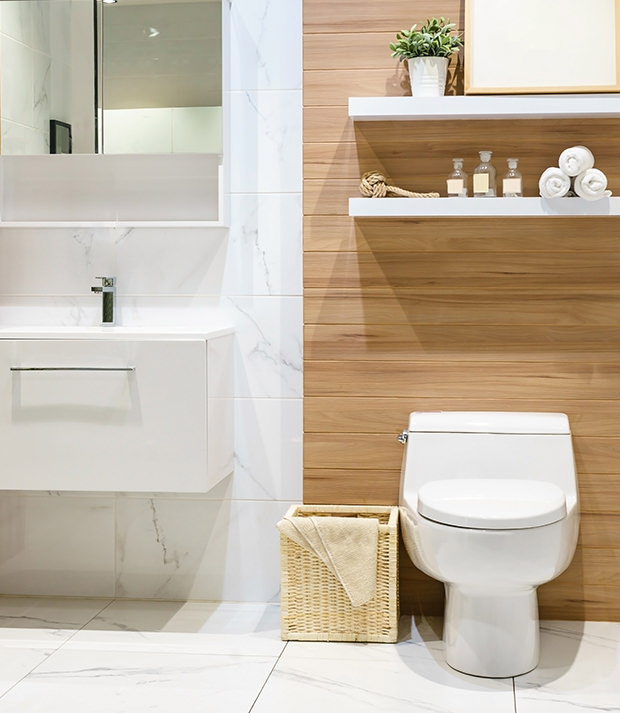 There are a couple of different measurements to note when installing a toilet. There should be at least 16 inches between the centre of the toilet and the wall, sink, bathtub, shower or any other fixture that is on either side. You also need to be aware of the rough-in space. This is the distance from the wall to the centre of the toilet drain in the floor. The standard size is 12 inches; however, older homes could be slightly smaller or larger.
---
Essential Bathroom Accessories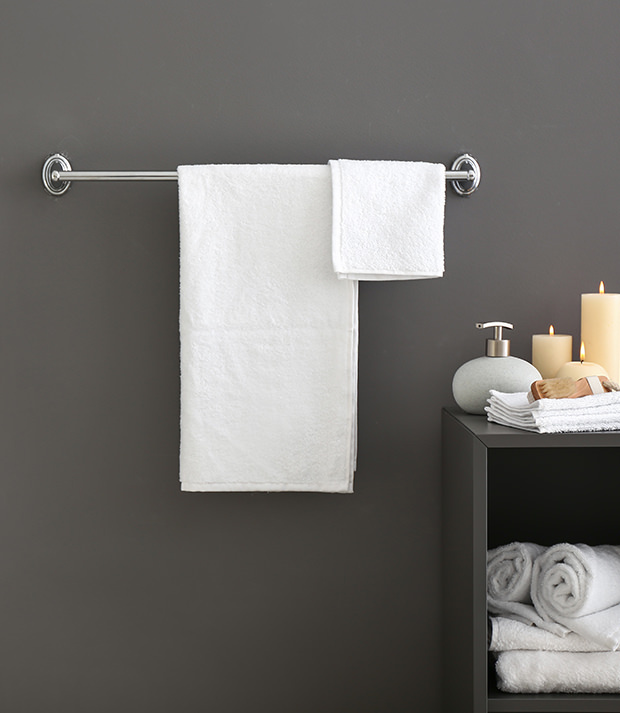 There are standard bathroom accessories that are very easy to find online. These include things like mirrors, towel racks or bars, lighting fixtures, shower heads, toilet brush and toilet paper holders, soap dishes and countertop essentials, such as soap dishes, toothbrush holders and soap dispensers. Many of these things also come in matching sets, allowing you to pull together a theme for your bathroom seamlessly.
Here are a couple of measurement tips for some of these items:
When deciding on a mirror placement, consider the height of those who will be using the bathroom. Ideally, there should be at least 8 inches of space between the top of the sink or countertop and the bottom of the mirror (or a wall cabinet with a mirrored door).
The suggested amount of space to leave between a towel bar and the floor is 36 to 48 inches.
Shopping for bathroom parts and accessories online can be a walk in the park, so long as you prepare ahead of time and know the measurements for the space you are working with. QS Supplies is a one-stop online shop for everything you need to furnish your bathroom, whether you are simply looking for new accessories to spruce things up, embarking on a full redesign or starting completely from scratch in a brand-new home.