Bathroom Heating: What's Hot And What's Not?
Published on: 10/09/2019
Last Updated: 10/09/2019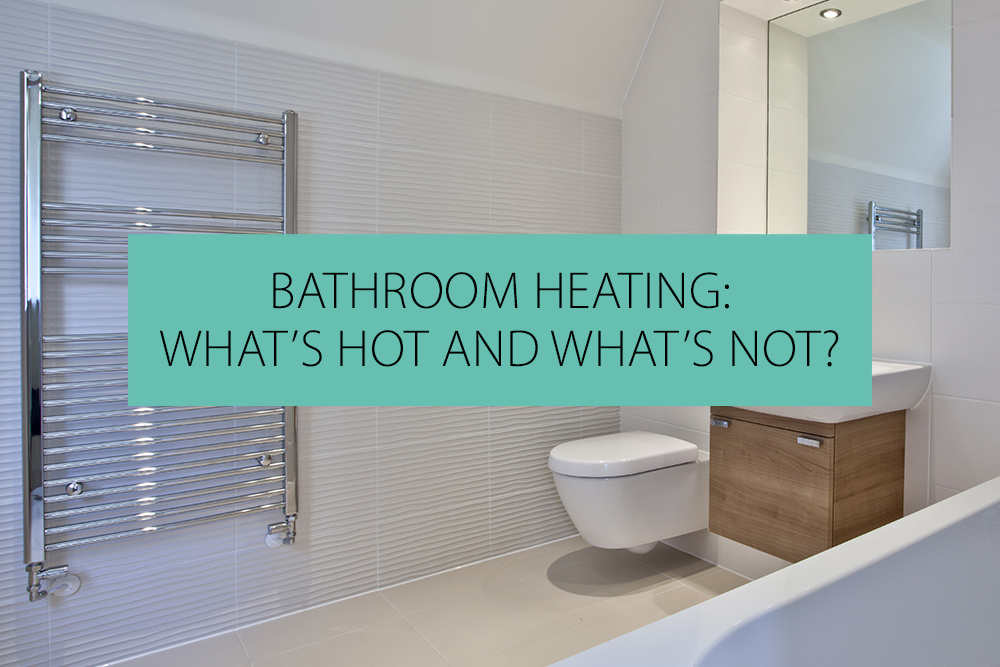 A well-heated bathroom is a must if you want to make your home as cosy as possible. It's often the first room we visit in the morning and the one we leave before retiring to bed, so the last thing you want is for it to be cold and unwelcoming.
Improving your bathroom heating can be as simple as changing a radiator or as extensive as pulling up floorboards to lay underfloor heating. But they lead to other decisions, such as what type of radiator or heated towel rail to opt for, or whether you want electric or wet underfloor heating. This often comes down to the style of your bathroom.
Underfloor heating is perfect for minimal and modern bathrooms, heated towel rails or vertical radiators can be a stylish and practical choice for small bathrooms such as an en suite, and you can even get coloured fittings, ideal if you want a radiator to match your on-trend grey bathroom. It's all about deciding what's the best fit for your home.
---
What to consider when choosing a radiator
Not all radiators are the same. They come in different shapes and sizes to suit different spaces. Choosing the right one comes down to how much you want to save on space and how much heat your bathroom requires.
The first thing you want to factor in is where your existing pipes are. If you want to keep costs down but add more heat to your bathroom, you could simply install a larger radiator, or a double-panel radiator using the same pipes.
If you also want to save space, you can opt for a taller radiator than the one you currently have installed. It'll take up the same amount of floor space but will heat a larger area. Alternatively, repipe and rearrange your bathroom heating to make the best use of your space.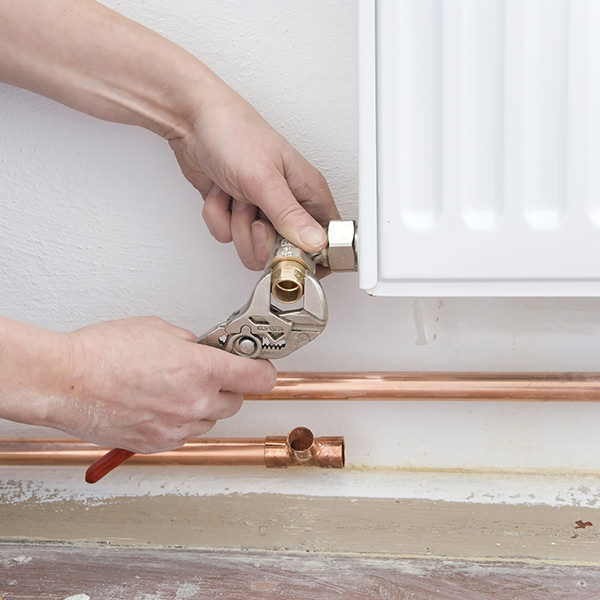 Traditionally, radiators are placed on a bathroom's coldest wall. Often, this is an outer wall and will likely have a window. It should be made from brickwork or masonry, so you shouldn't have to worry about the size and weight of the radiator you fit to the wall.
However, if you want to rearrange your bathroom heating, and you're thinking of installing a radiator on a partition wall, then you may want to get a professional's opinion on whether it will be able to handle the weight.
---
Horizontal radiators
https://www.qssupplies.co.uk/bathroom-furniture-shower-taps/60561.htm
Horizontal radiators are the most common type of radiator. They're popular because they're extremely efficient. Traditionally, people imagine the standard white-painted radiators you see everywhere. However, horizontal radiators don't need to be that boring, designer styles are available, and they're more versatile than you might think.
Tip: Double-panel radiators generate more heat when compared to single-panel options. Consider swapping your single-panel radiators for doubles if you're looking to add more heat to your bathroom.
---
Vertical radiators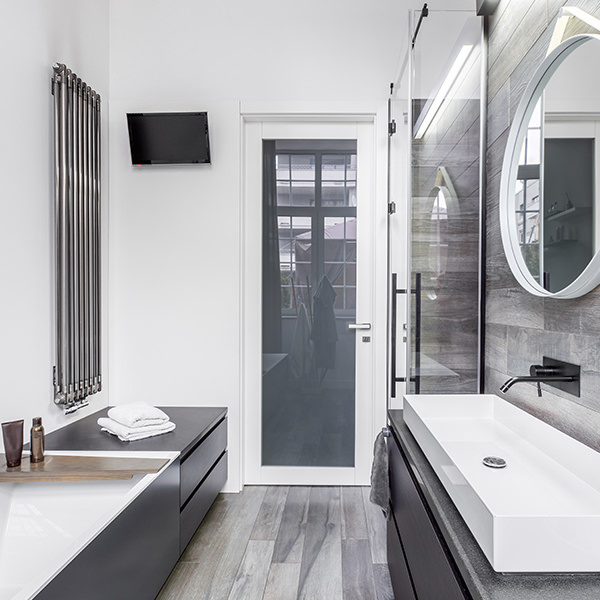 Tall, vertical radiators are very on-trend. But they're not just a bathroom fad. As well as looking fashionable, they're very practical, as they take up less of your bathroom's floor plan but can provide the same amount of heat as a wider horizontal radiator.
Vertical radiators are perfect if you have a small bathroom such as a wash closet or an en suite that you need to heat. You can also get vertical radiators that are designed to fit even closer to your bathroom wall, making them a top space saving idea for small bathrooms.
---
Heated towel rails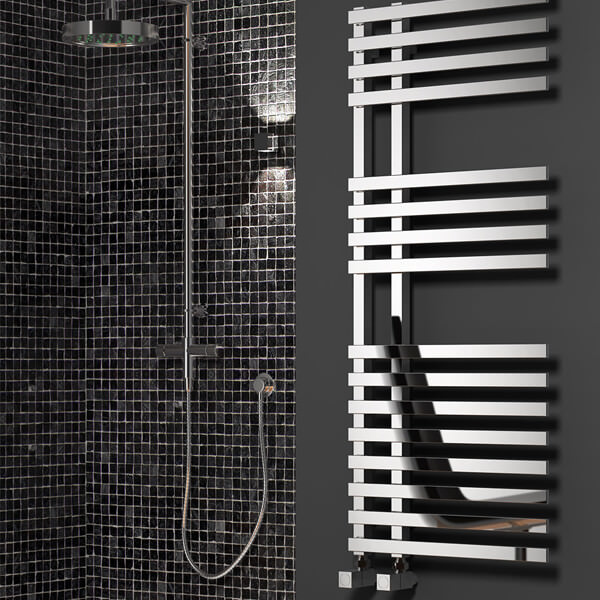 Heated towel rails are an excellent choice in the bathroom, as they save space, heat your bathroom and give you warm fluffy towels in the morning and at night.
Towel rails connected to central heating work in the same way as a radiator. It will only get warm when your heating is on, which tends to be during the winter months. If you want warm towels all year-round, then you'll have to leave your central heating on, but manually turn off the rest of your home's radiators at the valve.
Alternatively, you can install a towel rail that uses a heated element. They aren't as energy-efficient, but they can be more convenient as they work independently of your central heating. You can turn them on and off whenever you want.
---
Pros and cons of underfloor heating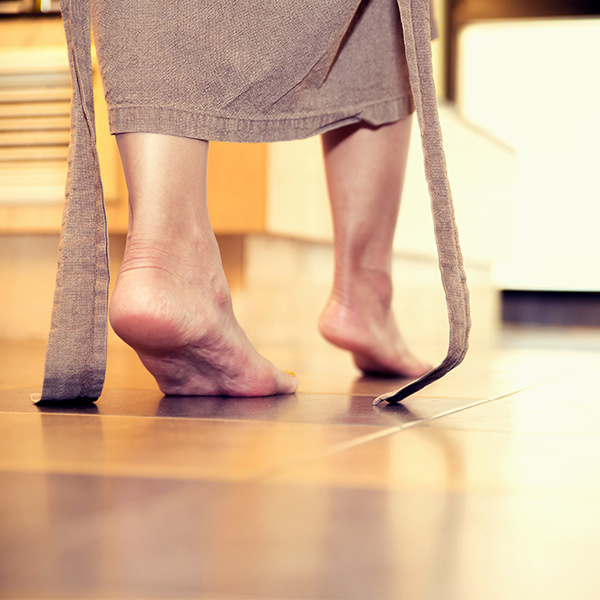 Bathrooms are perfect for underfloor heating. If you're looking for ways to save space, then you'll struggle to find a better heating option than one that's hidden beneath the floor.
Underfloor heating is an especially good option for wet rooms, as it can help to quickly dry out a damp floor after you have used the shower. They're also a safe choice for people with disabilities, the elderly and children as it means there are no hot surfaces in the room which they could potentially scald themselves on.
The obvious downside to underfloor heating is the cost and work involved in the installation.
You also need to question whether you want to opt for a dry system, which costs less initially but more in the long run, or a wet system, which is an extension of your central heating and is more efficient but costs more to install.
---
Electric underfloor heating
Two-thirds of homeowners who opt for underfloor heating choose a dry system. Also known as an electric underfloor heating system, it involves placing a series of electric wires or heating mats beneath your flooring and a layer of insulation, which makes sure that heat travels upwards rather than down.
A dry underfloor heating system is connected directly to your mains supply and will typically use around 100W to 200W per square metre. That may sound like a lot, but in small bathrooms such as an en suite, underfloor heating can be cost-effective.
Compared to a water system, electric underfloor heating is less powerful and has higher running costs. However, it's a lot cheaper to install. You can even lay the heating mats yourself if you're handy when it comes to DIY, but you will need a qualified electrician to connect everything to the mains.
---
Water underfloor heating
Water underfloor heating is the less-popular choice, but it's the smarter option if you have a larger bathroom as it's more powerful and energy-efficient.
Instead of using electric heating mats or wires, the floor is heated by a network of pipes connected to your boiler. But it's a job for a qualified plumber and will cost a lot more to install than an electric system.
Tip: If you're changing your bathroom flooring at the same time, opt for a good natural conductor of heat, such as stone. This will mean it heats up faster and distributes heat for longer.
---
Understanding underfloor heating
Both wet and dry underfloor heating systems can be fitted to almost all types of bathroom. But some factors can make it more difficult.
Wet systems require a lot of floor space, so you may need to raise your floor height to accommodate the system's piping.
A large bathroom, as expected, will require more energy to heat. If it's not well insulated or has single glazing, underfloor heating alone may not be enough.
You won't need to worry about getting planning permission to install underfloor heating unless you live in a listed building.
Real wood floors can shrink and warp when heated. It's worth checking with an expert to see how much heat your floors can take.
Pretty much any boiler will be able to support a water underfloor heating system. However, older, less-efficient boilers may need to run at a higher temperature.
---
Choosing the right bathroom heating
Choosing how to heat your bathroom is no easy decision. Especially when there are so many merits to the huge array of different radiators, heated towel rails and underfloor heating systems.
If you're struggling to make up your mind, we've created this simple map to help you decide on the best option for your home.