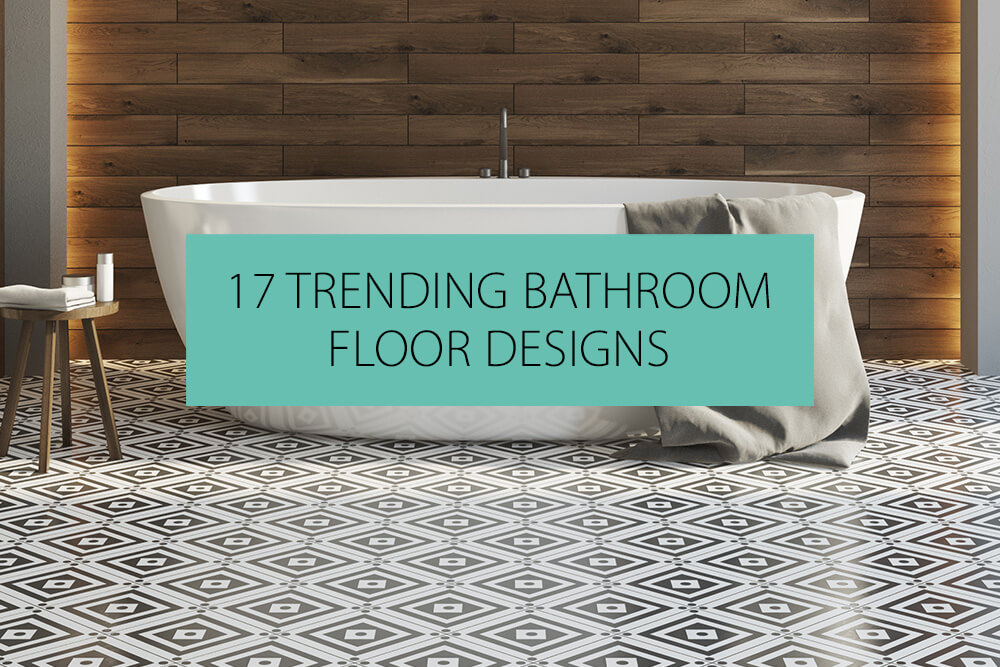 Trending Bathroom Floor Designs
A good bathroom floor not only needs to look the part, but it also needs to be waterproof, hardwearing, long-lasting and stylish. Additionally, upgrading your bathroom floor can be a cost-effective way to add value to your house and give your bathroom an easy makeover.
There's a wide range of options available for all budgets, from traditional styles like wood and ceramic tiling to modern options like vinyl flooring and laminate. Plus, we'll explore some of the hottest bathroom floor trends in the last few years, including geometric tiles, bold colour schemes and textured finishes. We'll also cover wet rooms and underfloor heating to take your bathroom to the next level. Whatever your budget and design, we've rounded up the best bathroom floor trends.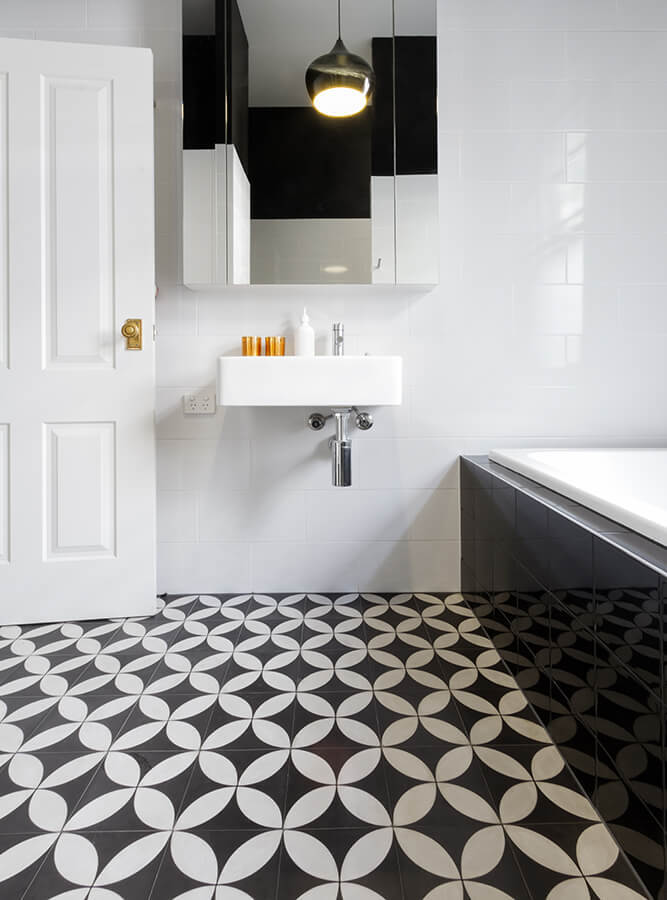 ---
1. Go geometric
One of the biggest bathroom floor trends in recent times has been geometric tiles. Whether you're looking to add some playful hexagonal or trapezoid shapes or echo other designs and motifs in the bathroom, they're a bold design statement. Take your floor design a step further by playing with colour and texture: Together, with the striking shape, these elements will give your bathroom a seriously stylish foundation.
While they can be used to create a dynamic and unique floor, geometric tiles can also be a sleek addition to your bathroom. A minimal, simple geometric tile could be all your bathroom needs for a classic, refined look. Either way, geometric tiles are adaptable, eye-catching and very much on-trend.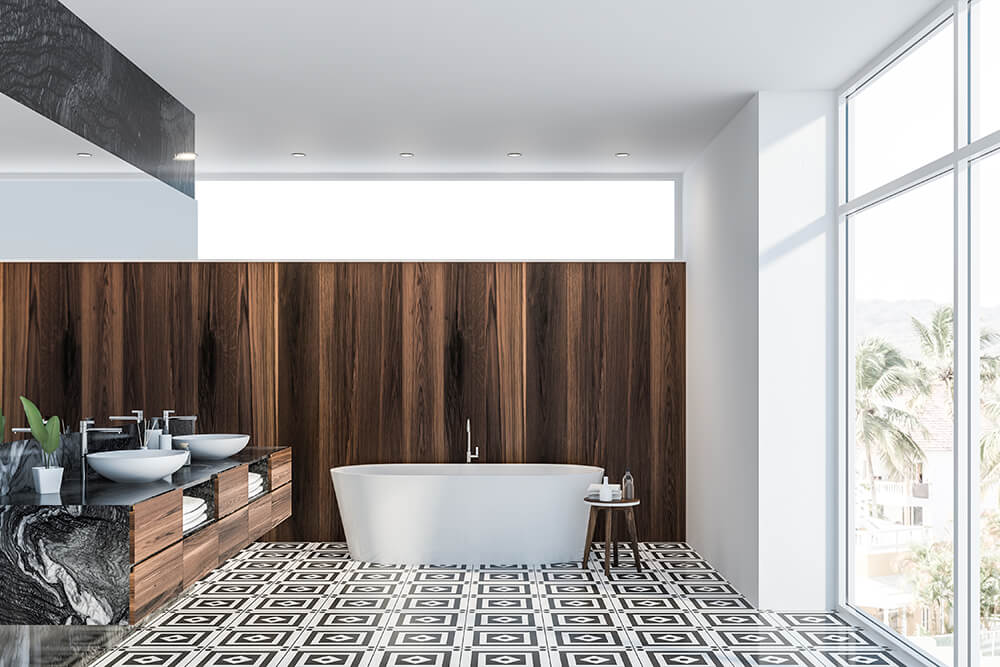 ---
2. Get graphic
Make your bathroom more than just a functional space with bold, bright graphic tiles like blue Moroccan watercolours, which create a soothing and inviting space. Alternatively, keep it relatively simple with black, white or neutral patterns which give a stylish Victorian retro feel.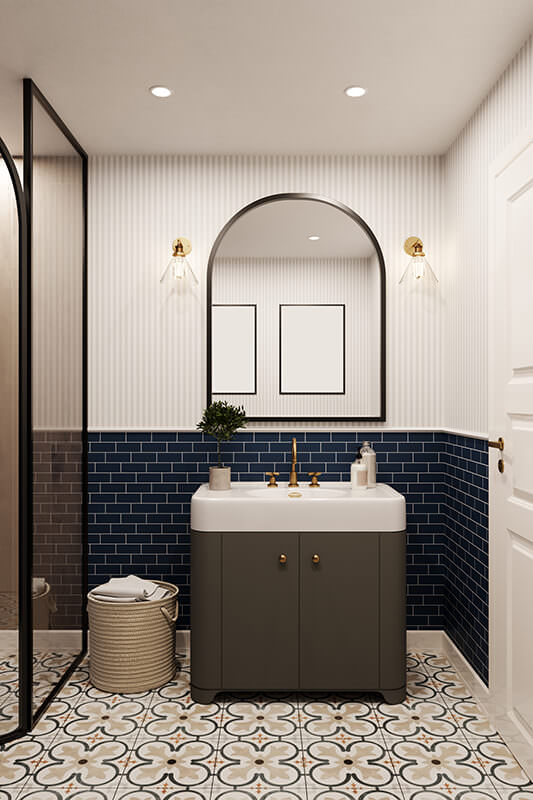 ---
3. Keep it simple
While there's a lot to be said for statement tiling and flooring, sometimes it pays to be more reserved. Neutral tones and simple black-and-white designs are great for creating a harmonious bathroom environment. Porcelain bathroom tiles are a good choice; you can also opt for ceramic tiles-each come with their unique look and properties.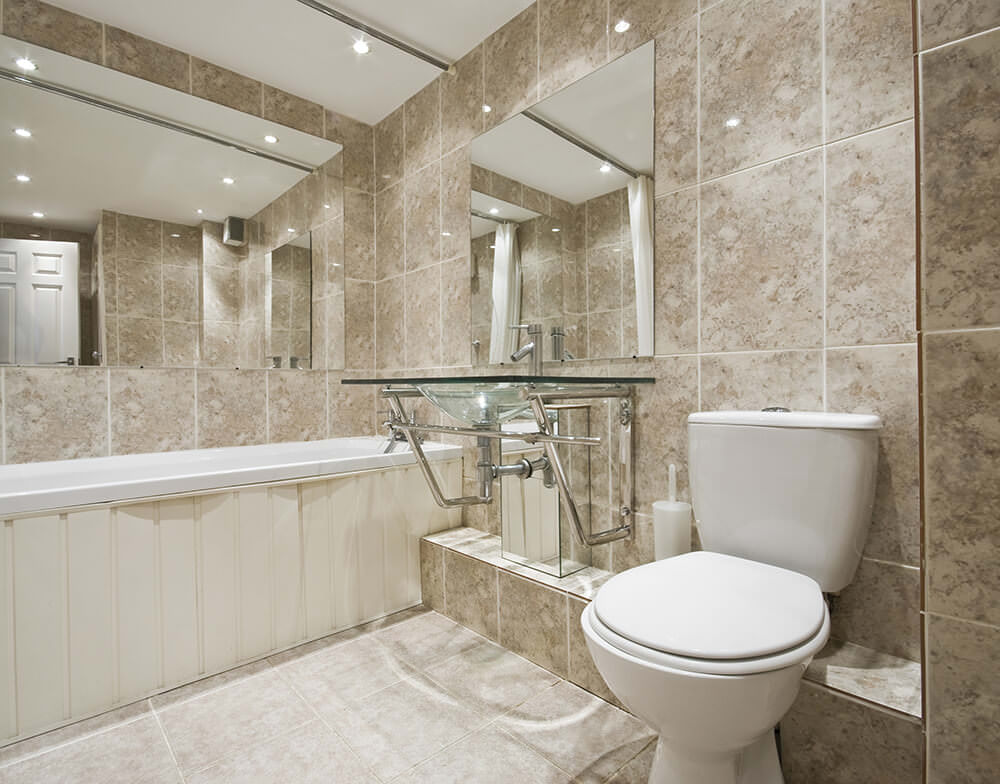 ---
4. Go retro
The vintage look is always in fashion when done right. Channel the 1920s boho-chic style with an art deco design to add a timeless look to your bathroom floor. Go one step further and create your own mosaic design with different colours.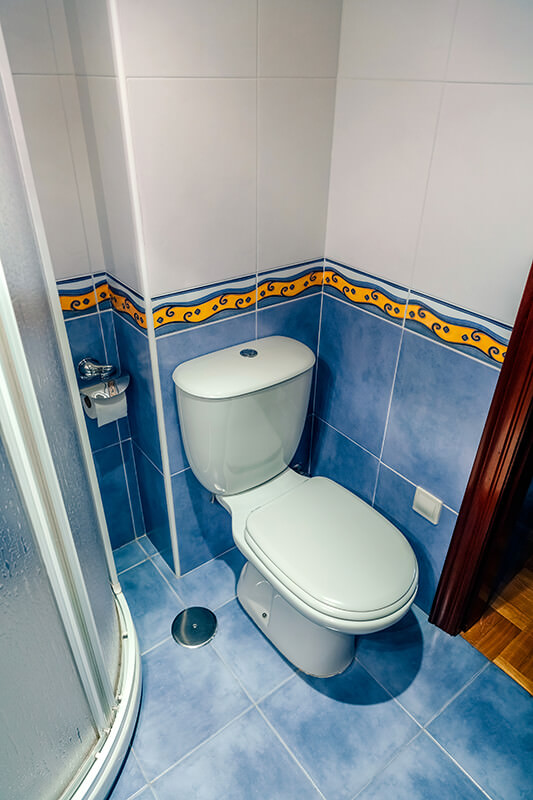 ---
5. Herringbone
Inject some serious style in your bathroom floor by creating a herringbone pattern. Laying rectangular tile at 90 degrees will create a striking floor design. Try alternating colours or using a contrasting grout colour to make the pattern really pop. Take the pattern a step further by using the same design or colours on the bathroom walls.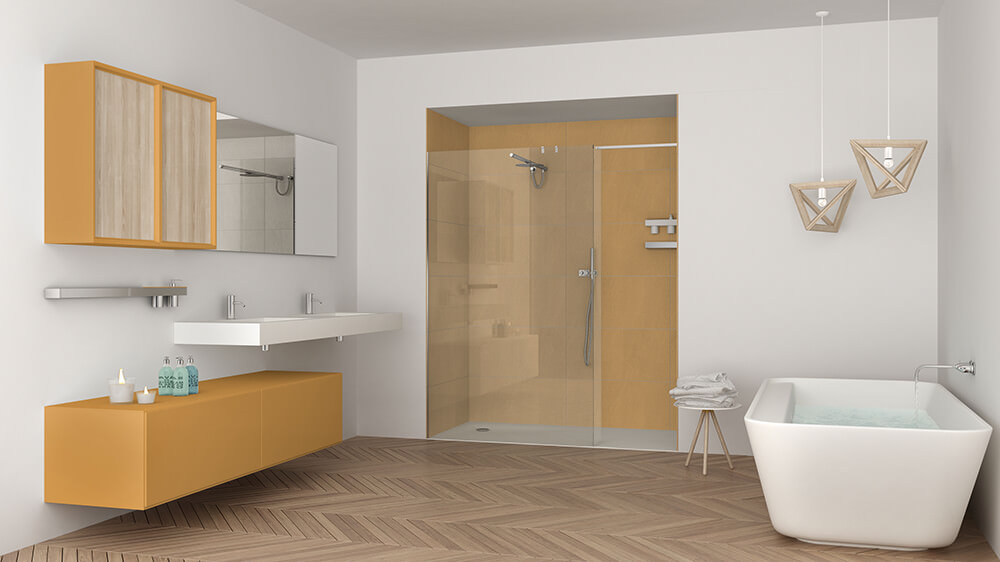 ---
6. Fan tiles
Similar to geometric or hexagonal tiles, fan-shaped tiles will immediately inject some fun and flair into your bathroom floor. Try a muted pastel colour to give your bathroom a relaxing hue, while the gently curved shape gives your floor an increased sense of space.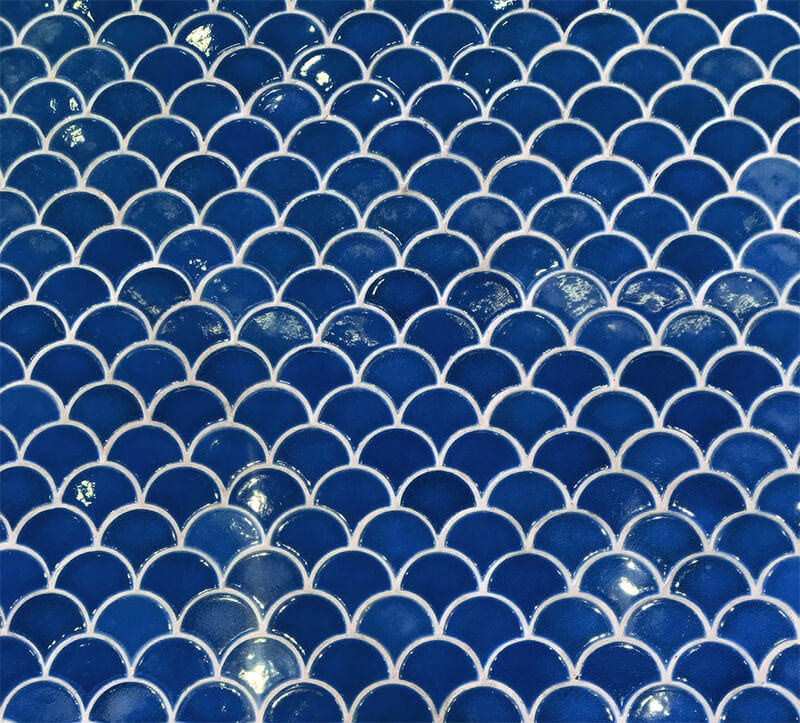 ---
7. Glossy tiles
If your bathroom lacks natural light, glossy tiles will immediately lift the atmosphere, reflecting any available light and brightening the room. Glossy bathroom tiles are also easy to clean, making them a great all-round solution.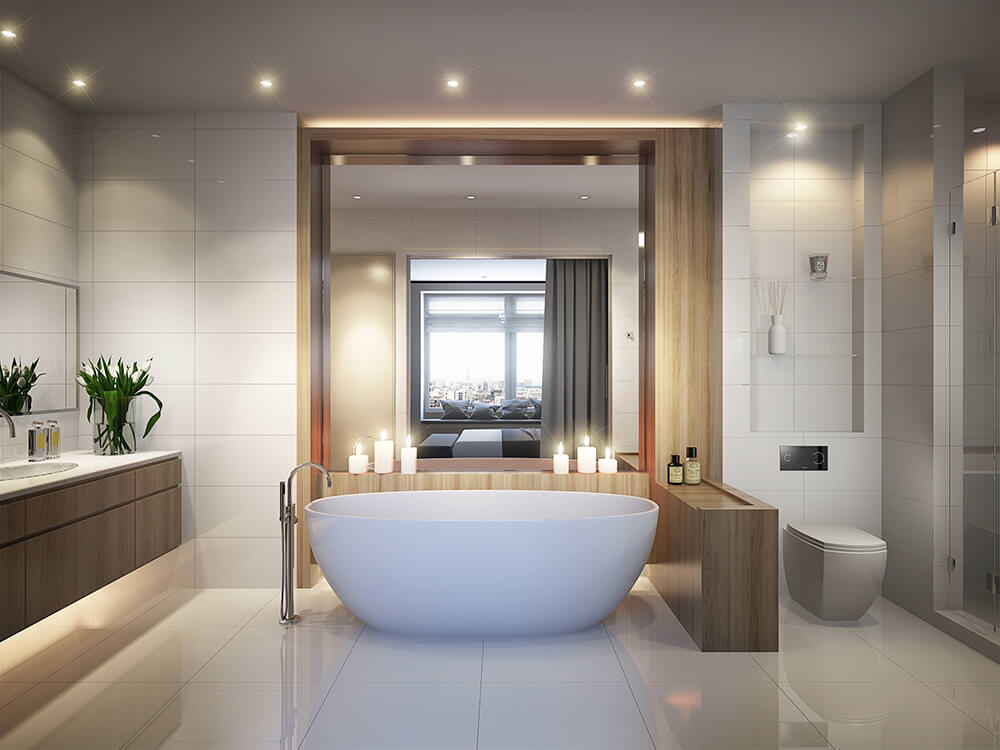 ---
8. Matte tiles
Understated but elegant, matte tiles will automatically give your bathroom floor a modern look and feel. And the textured, non-slip models, are often a better fit for busy bathrooms, especially for children and the elderly, and wet rooms.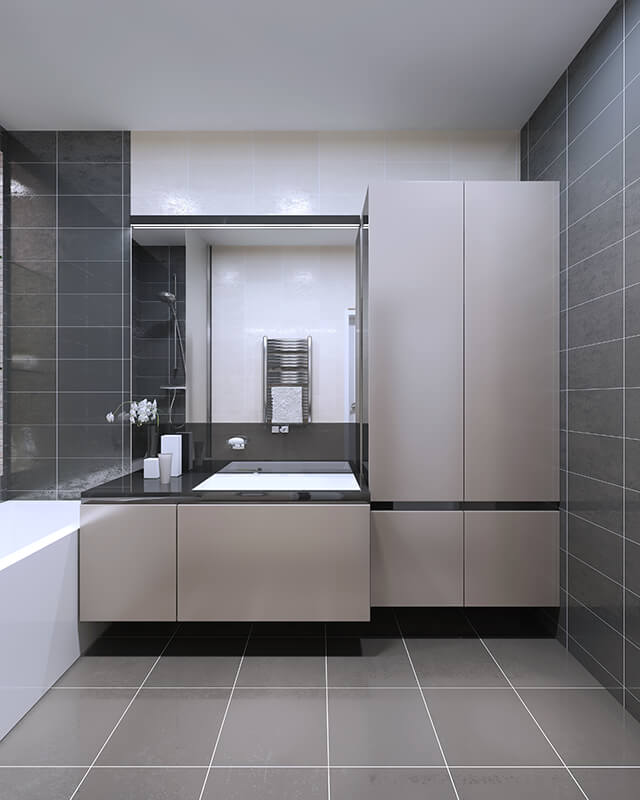 ---
9. Wood flooring
There are few classic styles as consistently on-trend as dark wooden flooring. As well as being hardwearing, wood floors will add depth and warmth to your bathroom, creating an earthy space. And if you use sustainable wood, you can feel better about your environmental footprint. However, you must make sure that your wood is pretreated so that it's waterproof, otherwise the moisture and heat of your bathroom may cause your wooden floor to warp.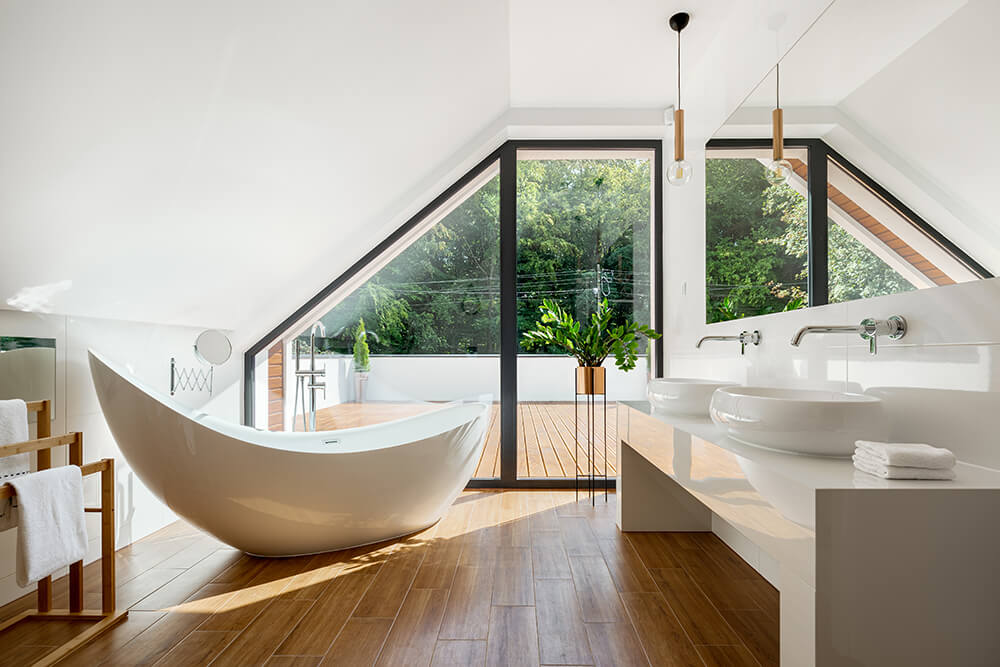 ---
10. Wood effect
If the cost of real wood flooring puts you off, then wood effect tiling is a cost-effective and stylish way to get the same look. Wood effect flooring, made from engineered wood, is incredibly versatile and a great way to "fake it till you make it": It comes in a wide range of hues and shades, and it's cheaper and more moisture-resistant than traditional wood flooring, making it last longer.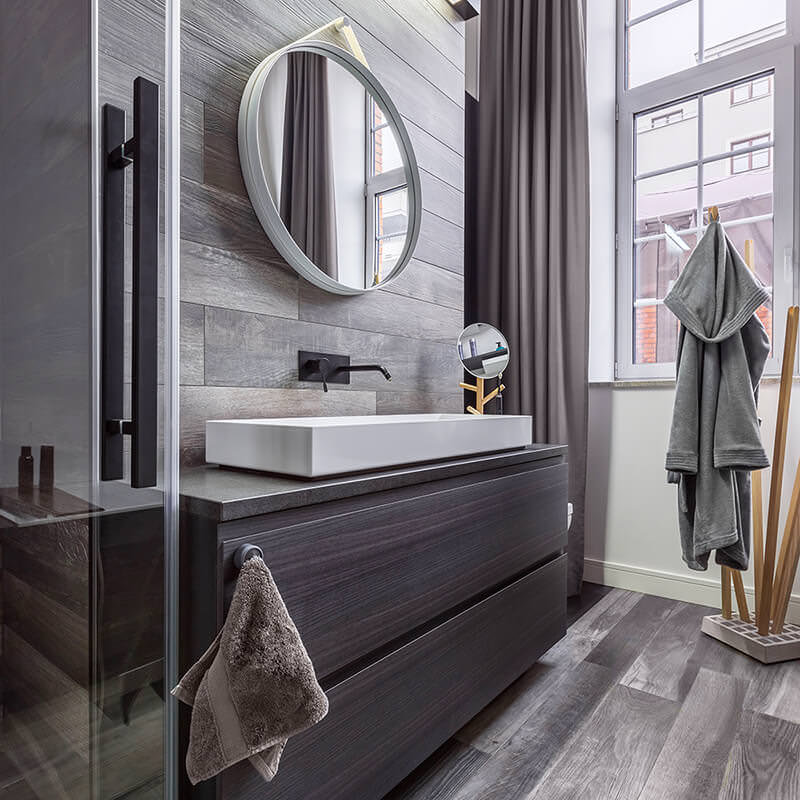 ---
11. Concrete bathroom floor
If longevity is one of the key features you need for your flooring, you can't get more long-lasting than concrete. This industrial mainstay will give you a waterproof floor that's incredibly durable and easy to clean. Whether you go for a polished ultra-smooth surface or a clean matte finish, concrete can make for a seriously stylish bathroom floor.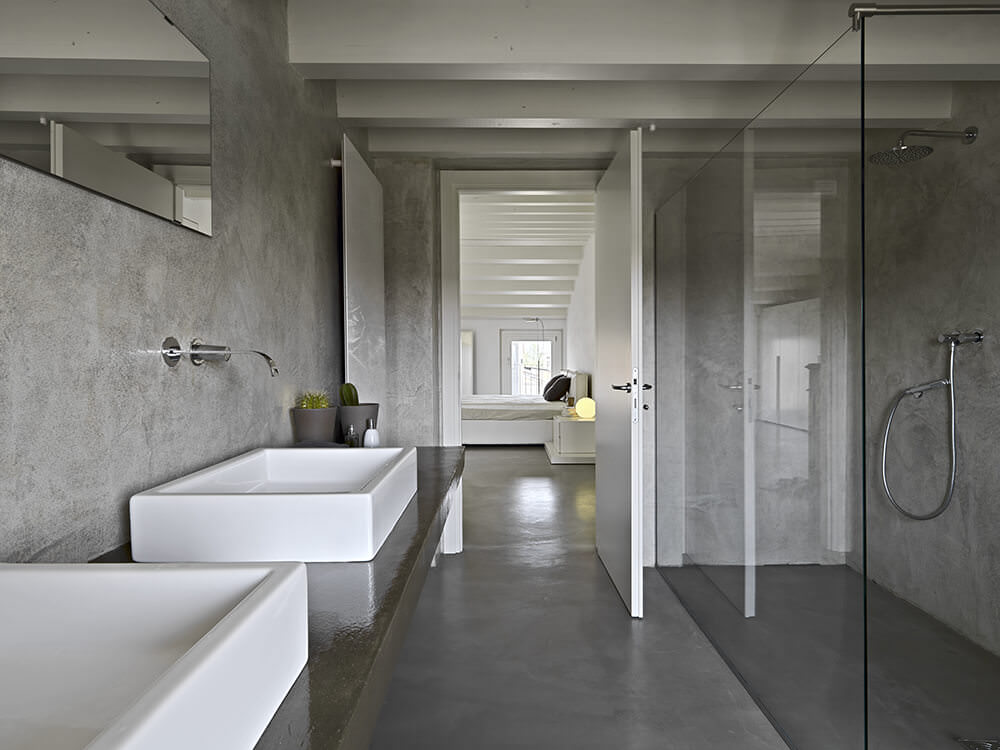 ---
12. Marble flooring
Where concrete is functional, marble is opulent and luxurious as well as hardwearing and easy to clean. A timeless classic, marble flooring will instantly elevate your bathroom design. Plus, marble is available in a wide range of colours, styles and finishes, making it easier to find the perfect style to suit your bathroom design. Be aware that marble is porous and can stain, so avoid using it in areas that regularly get wet or cover up wet areas with bathroom mats. It needs a PH neutral cleanser and the marble surface must be sealed with an impregnating sealer to prevent staining.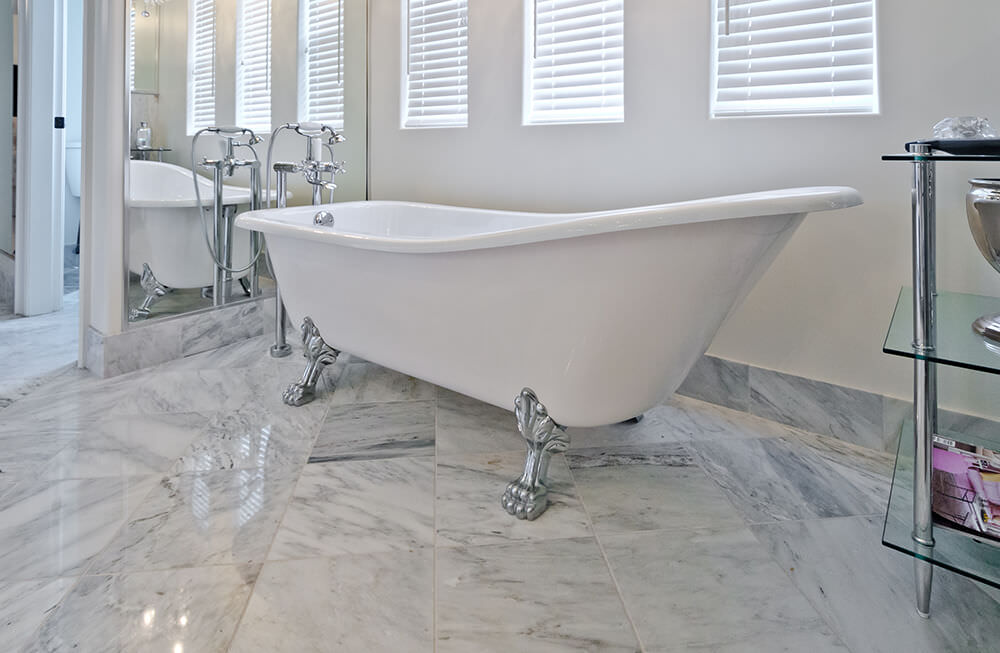 ---
13. Terrazzo
As with marble, no two pieces of terrazzo are ever the same, and this '80s style is back in fashion in a big way. Bought in slabs or tiles, it's a versatile product that comes in a wide range of styles and colourways. It isn't for the faint-hearted, but used sparingly, it can add exciting dashes of colour and character to your bathroom floor.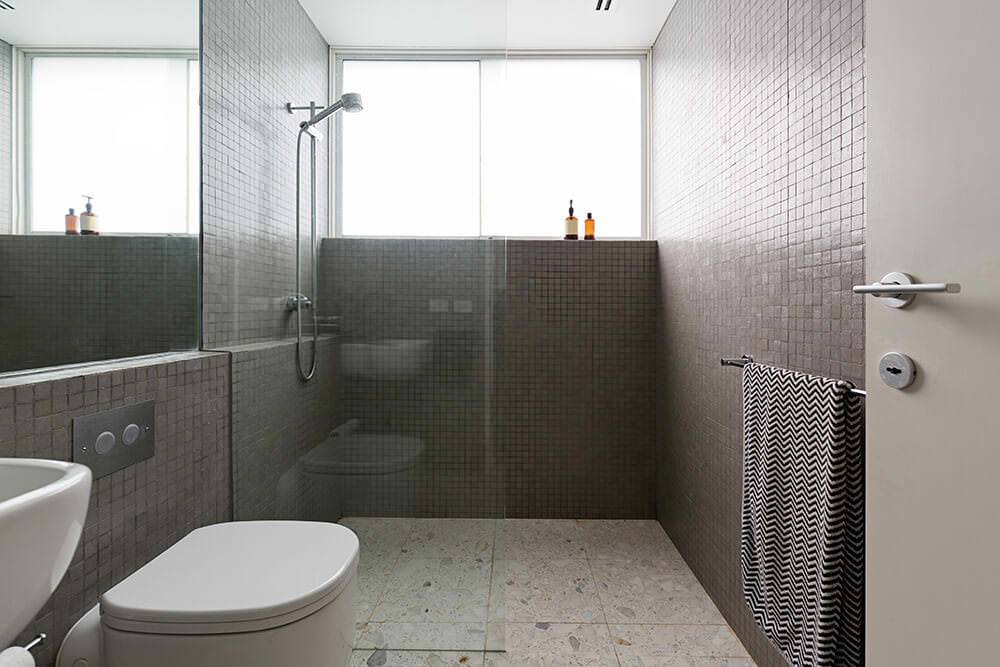 ---
14. Natural stone
Natural stone is a perfect midway point between concrete and marble. It offers the cool texture of marble combined with the hardwearing functionality and natural grip of concrete. Plus, with a wide range of tones and textures, stone floors will give your bathroom a natural lift, creating a bathroom floor that harks back to the Roman era.
---
15. Wet room flooring
Wet rooms are on the rise. They're simple but stylish, easy to clean and can add value to your property. With no bath or shower tray, you can easily create a sophisticated, sleek and minimal bathroom that looks like it's jumped straight out of the pages of a glossy magazine. Wet rooms are also perfect for children and older users, creating fewer bathroom obstacles and a safer showering environment. To reduce the risk of slipping and to keep your wet room waterproofed, opt for non-slip tiles or vinyl flooring. Both will give you a good level of grip and keep your floor watertight.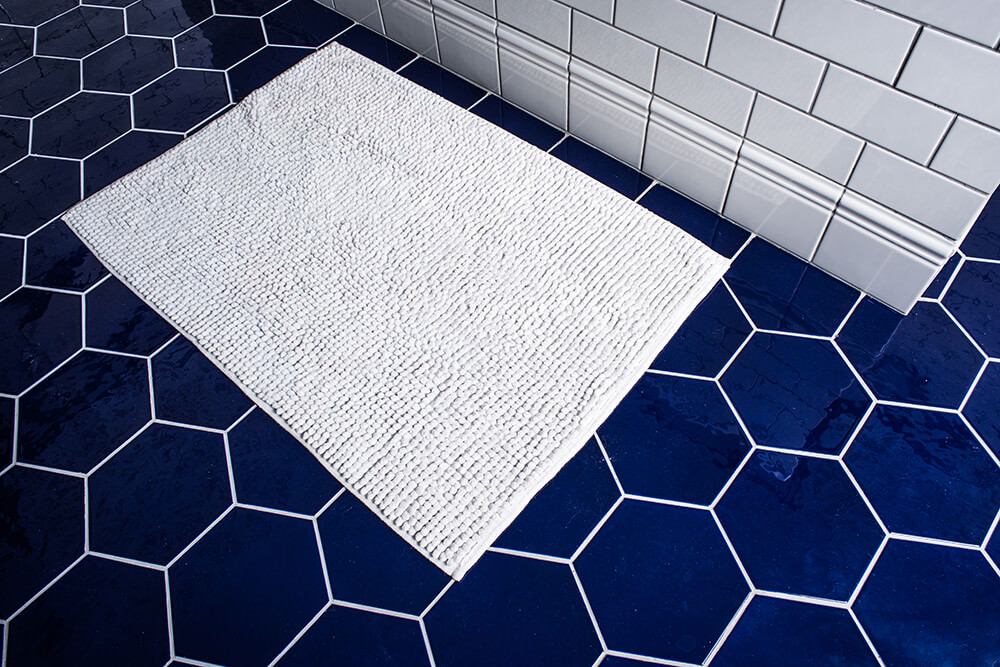 ---
16. Vinyl flooring
Cheap, easy to install, hardwearing and waterproof, there are a lot of reasons to use vinyl flooring. A mainstay since it was created in Scotland in the 1860s, vinyl flooring can be just as fashionable and stylish as more expensive materials like tiling, wood and marble. There are hundreds of different styles and patterns to choose from, including wood and marble effect if you want that those looks but don't want to shell out too much money. Plus, with its noise-dampening qualities and comfort underfoot, it can be the perfect low-cost, easy-to-clean option for a family bathroom or if you have pets.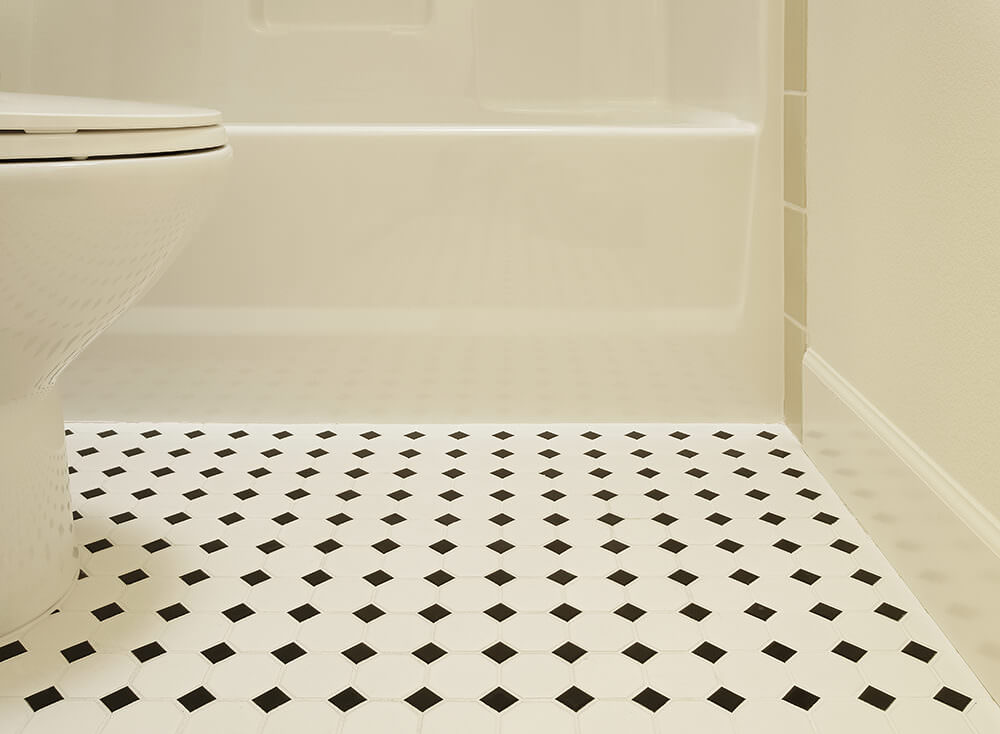 ---
17. Underfloor heating
Whether it's making those midnight trips more bearable as you pad over a gently warmed floor or the long-term, energy- and money-saving benefits, installing underfloor heating can be a great way to improve your bathroom. And the best bit? It works with all types of floor cover including wood, tile, stone, carpet and more.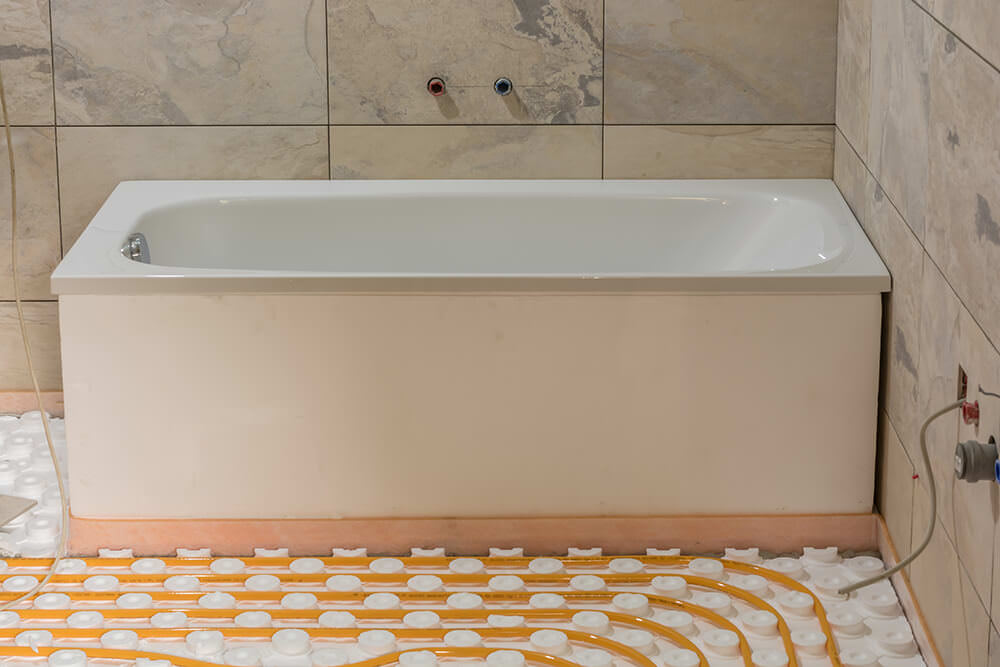 ---
Summing up
It might be one of the most overlooked aspects of your bathroom, but choosing the right flooring can pull the design together or become a fashion statement in its own right. Whether you're looking for sleek and refined or making a statement with hexagonal shapes or a herringbone pattern, there's a wide range of flooring options available spanning tiles, wood, wood effect, vinyl, laminate, natural stone, marble and more.