A Quick Guide on purchasing Shower enclosures
For anyone looking to update their home, the bathroom is a great place to begin. A new bath, shower and vanity can instantly update the room and turn your daily bathing ritual into a relaxing and joyful experience.Choosing the right enclosure while remodeling your bathroom can make a difference to your bathroom. Picking the most suitable option from an array of bathroom brands is of paramount importance. Consider the following simple steps to help you make the right choice for your bathroom remodel. Shower enclosures fulfill the crucial role of providing a boundary to facilitate showers in the bathroom. They improves the bathrooms' role by imparting it dual purpose; it allows for better maintenance by eliminating possibilities of wet floors known to damage the floor over a period of time. Water spillage on the bathroom floor could lead to accidents with mopping being the only tedious solution after every shower which is completely avoidable with a shower enclosure.

Amongst all other rooms and spaces in our homes, the bathroom remains the most frequented room making it the most important area in our homes. In order to elicit a calming effect we ought to apply a touch of creativity right from its inception to execution. The result is nothing short of a reward: unabated relaxation.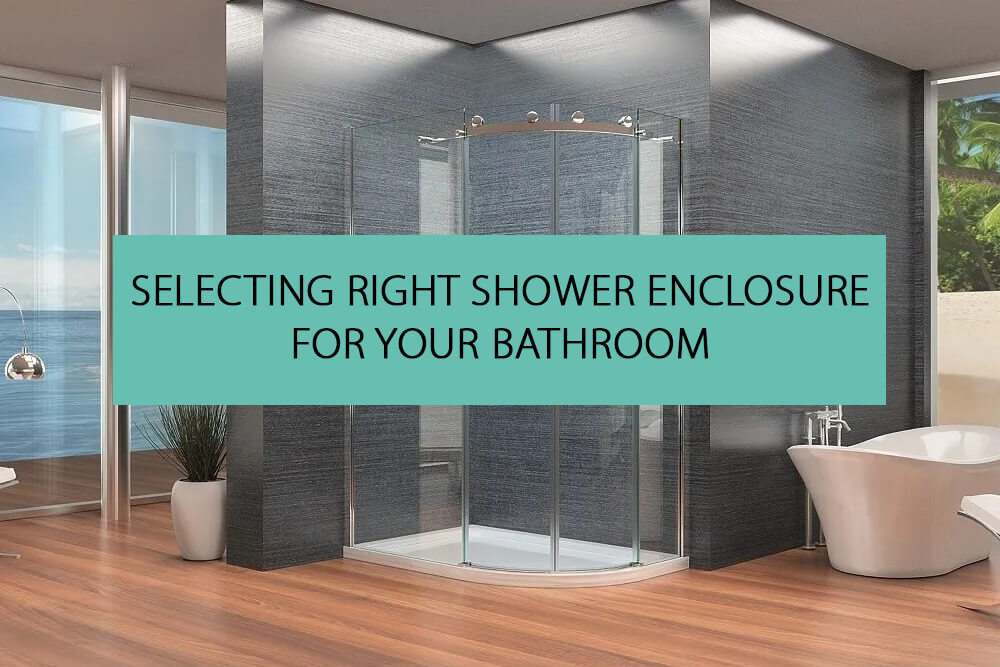 Please consider the following tips before you embark on your shower enclosure purchase:
Positioning - Installing a shower enclosure at the existing area will save time and money incurred for preparing the area and the plumbing works. It's very easy to attach the overhead pipes from the already-existing hot and cold piping.
Trays - After fitting the tray, the entire unit must be tested for leakage. It is important that the tray and the walls of an enclosure be leak-free. This helps to contain the water in the tray and prevent it from spreading to other areas.
Corrosion Testing - A corroding material is not advisable for bathrooms, as it is in constant contact with water, soaps, detergents and shampoos that you use. This is because; the colour of the corroding material spoils the look of bath area. This resonates why it is essential to purchase high-quality metal fittings, especially for shower enclosures.
Strong , Durable and Smooth Doors:. Look for doors with smooth mechanism. The condition of doors is vital to the durability of your shower cabinet. The rollers and the grooves should not be easily destructible by water or bathing chemicals.
Thickness: Shower doors must be made of a minimum 4mm thick toughened safety glass. But the ideal choice is 6mm (A Brief explanation is provided below)
Seals on the shower enclosure must be water-tight
Size, Shape and Height - Showers Enclosures are available in different shapes; square, oblong, rectangular and quadrant. The choice of the sizes and shapes, you select, gives you the space and comfort you need while showering. A review of your bathroom layout, in order to work out the dimensions and placement of the enclosure, is a must before you finalise your purchase to avoid any mismatch.
Cheap Imports: Don't fall for cheap imports which always fail to fulfill expectations and earn disrepute for the product itself. When looking for a new shower unit, many homeowners are tempted to just buy the cheapest one available. However, cheaper doesn't always mean better, and in fact, there are several cons to buying a low-priced item. First of all, buying a cheap one that has been mass-produced abroad puts consumers in a difficult position should something go wrong, as it is virtually impossible to get personalised service and one-to-one attention if there are problems during installation or with the entire unit itself. Secondly, if the product itself is damaged or faulty, the chances of making a successful guarantee claim are very low indeed. Last but not least, manufacturers overseas are unlikely to be familiar or comply with the safety standards that apply to the UK market. To avoid disappointment, it's wise to buy from a reputable retailer. We offer comprehensive post-sales service and exclusively sells products from leading brands such as Twyfords, Aqualux Heritage, Simpsons, Ideal Standard, Imperial, Duravit, Lakes and many more.
Handles & Fixings: The handles for a shower enclosure should be strong and of high quality, preferably metals. Chrome coated plastics are also a choice, and they provide poor experience, and they are easily breakable. Opt for the ones that are made of brass or steel. They usually tend to last long than the plastic ones.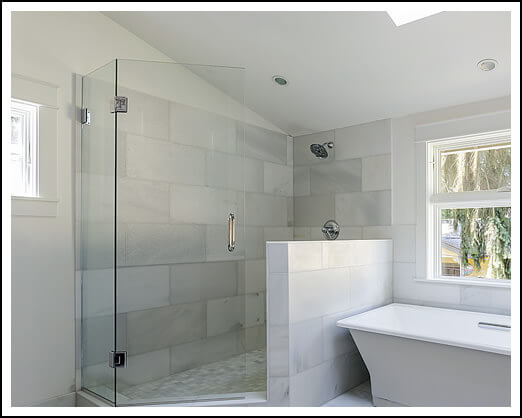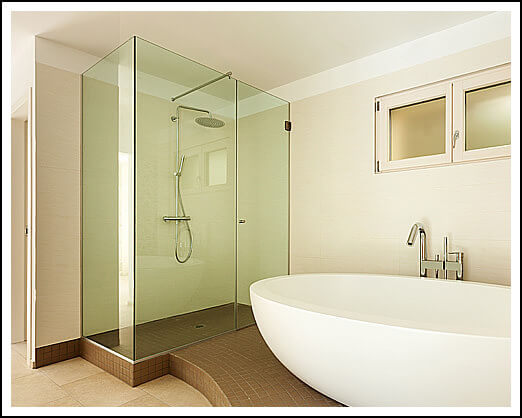 What about the thickness of Glass of an Enclosure?

All enclosures and screens in the UK are made of toughened safety glass, which ensures safety in the event of any accident or mishap leading to the glass breaking. However, the thickness of this glass varies from one brand to another and within the brand itself. Commonly, the range includes 4mm, 6mm, 8mm to a maximum of 10mm. It can get confusing to many buyers as they probably don't understand the difference the thickness of the glass panel can make.

Examples of Glass Patterns

Clear Glass

Rain Patterned Glass

Frosted Glass




Glass Doors and Side panel for a cubicle can be of different types depending on its chemical and physical properties. Clear glass is made with low iron content and reflects sunlight to a very small degree allowing a lot of light to pass through the glass, and offers excellent clarity and uninterrupted views.

Frosted glass on the other side are used more for privacy reasons, as it obscures the vision to a certain amount, and offers a decorative and appealing alternative to clear glass for your enclosure. Rain or Patterned Glass is popular in shower areas—they are a type of textured glass that come with a pattern that resembles water or rain drops running down the glass surface. The rain-like pattern enhances its visual appeal while preventing clear views of the cubicle, thereby offering lots of privacy to the person using the shower cabin.

Why is Thickness so important when it comes to Enclosures?

Just like in everything else, size does matter. At the very basic level, glass thickness determines how sturdy and strong your cubicle will be. However, if you think that the thicker the glass, the better, then think again. It may not necessarily be so. Sometimes the thickness and weight of the glass may be so much that it may decrease its life span and put an unnecessary strain on the other accompanying parts and accessories.

The rollers/pivots/hinges that hold the structure together and let it roll smoothly to open and close, should be able to stand up to the additional weight easily. Subsequently, the more 'heavy duty' these parts are, the more expensive they are. In addition, if you do the calculations, the thicker glass will also cost more, as there are more of the elements packed into it.

Which Should I choose for the best value?

The thickness of glass depends largely on the type of enclosure you wish to buy and on your budget. For instance, for a wet room, 8mm toughened safety glass is the ideal choice. 8mm glass is considerably thick for this kind of application, with the frameless design structurally ideal for such high-quality glass. Besides, the additional weight lends itself beautifully to create a luxury finish in any bathroom.

In the case of shower cubicle, 6mm optimum glass thickness is recommended. Creating a solid feel, 6mm offers the necessary safety along with a high-quality look. As these doors work on rollers, this thickness is just right for a smooth to-and-fro movement that is effortless. Anything below 6mm thick and the doors look flimsy and lack the appeal of a high-quality construction. 6mm Thick glass provides a premium and solid structure whilst not breaking the bank. Buyers, who research their purchase, usually settle for 6mm as they find that it serves the structural purpose of the enclosure, with the quality being just right. If you are shopping on a budget and negotiating the best quality over the lowest price, 6mm is a safe bet.

However, it is important that you personally get a feel of the glass thickness to assess which quality suits your needs before making your investment. There are strict safety regulations in UK and all enclosures have to be tested to British Standards, approved and CE marked. As long as you buy from a reputed brand, you can be sure you are getting industry standard safety and warranties that provide peace of mind, and the problem of finding complementary accessories and other parts is eliminated.

As we know, the most commonly sought after thickness is 6mm. This happy medium thickness generally provides a premium and solid shower enclosure whilst not breaking the bank. Buyers, who research their purchase, usually settle for 6mm as they find that it serves the structural purpose of the enclosure, with the quality being just right. If you are shopping on a budget and negotiating the best quality over the lowest price, 6mm is a safe bet. However, it is important that you personally get a feel of the glass thickness to assess which quality suits your needs before making your investment.

Information on Steam Cabins

Reposed on a steam generator, steam cabins trap water vapour within the enclosure to generate moist heat which is easy on the skin. Seeking to enjoy the benevolent properties of steam, people indulge in steam showers and saunas alike only differing on heat quality preferences, which is dry in the sauna and moist in a steam shower. Steam showers are preferred for relieving respiratory disorders and cleansing skin pores; increased blood circulation along with fatigue alleviation makes them all the more popular.

A key factor in choosing steam shower units is the time duration taken by different models to generate enough steam to fill the enclosure. A host of accessories can be added to your steam shower cabins to enhance your experience. One should also not forget about a good ventilation facility to evacuate the steam once you have your steam session.




The QS Supplies factor

We showcase a variety of products in recognition of bathroom décor diversities. We offer shower quads for mid-sized and smaller area bathrooms to gain more space. Bi-fold, pivot or sliding doors are found to be the most practical choices for extremely small bathrooms while in bigger bathrooms walk in enclosures stand to address style and glamour aspirations. We are committed to delivering quality products and request you to visit our showroom to examine an entire range of shower enclosures that meet or even exceed both British and European Standards.

Our staff would be eager to assist you in selecting a suitable enclosure for your bathroom area. Remember preparation is a key; a little time spent planning on your bathroom remodeling will always pay off.

10 Stylish Ideas For Shower Enclosures

Inline 3 Sided Hinged Door Shower Enclosure

Linea Touch Single Slider Shower




Sliding Door Enclosure

Quadrant Enclosure




OpenSpace Square Shower Enclosure

Pivot Door Enclosure




Offset Quadrant Enclosure

Upstand Corner Shower Enclosure




Corner Entry Shower Enclosure

Corner Entry Cubicle