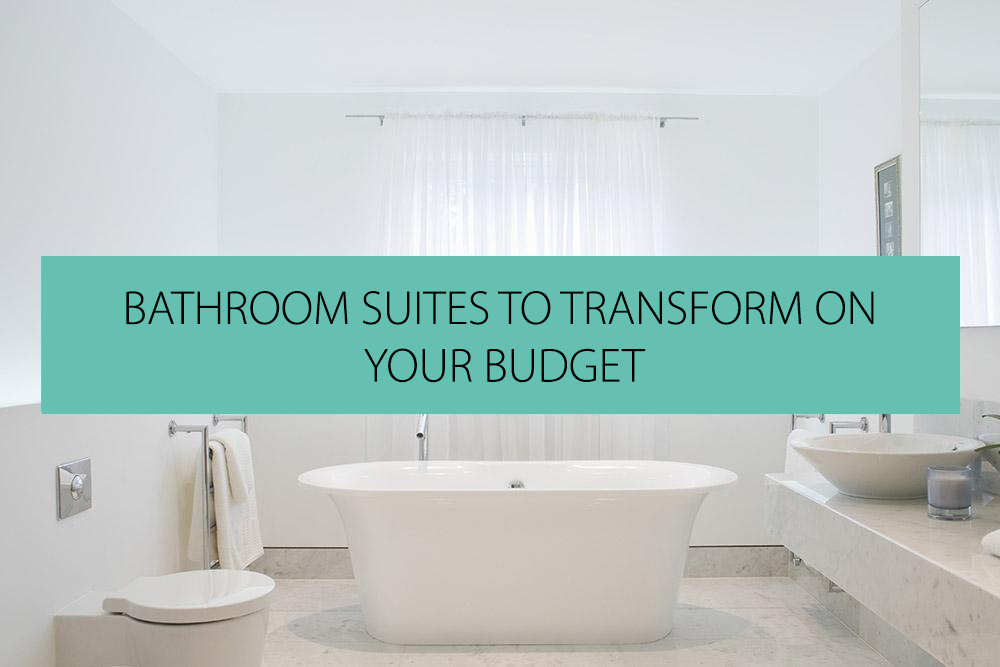 Buying a complete bathroom suite is a cheap and easy way to refurbish your bathroom, which gets rid of the hassle of having to pick out individual pieces of bathroom furniture and makes sure your toilet, bath and sink are a perfect match.
Some bathroom suites also come with taps and other fittings to help save you even more time and money. They can get quite expensive, but we offer a wide range of great brands and stylish suites for every budget. It means you don't need to break the bank if you want to completely revamp your bathroom.
Five Things To Think About When Buying A Bathroom Suite
Measure up your bathroom. Make a note of where your pipes, boiler and electrical wiring are. They will restrict where you can and can't have bathroom furniture, such as cabinets, basins or a toilet.
Decide whether you need any extra plumbing or electricals. Moving items that require specialist services can take a big chunk out of your budget. Only relocate a toilet, sink or bath if you think it's worth it.
Draw a floor plan of your bathroom and highlight dead zones. Note curved corners, a sloped roof and the path of your door when it opens. These awkward areas can make fitting a bathroom a hassle.
Be sure of your budget from the beginning. Beware of falling in love with a designer bathroom suite you can't afford. Don't forget to save some money for a few nice design touches like storage units and soft furnishings.
Double-check what does and doesn't come with a suite. Some also feature toilet seats, taps and rails. Other budget alternatives only come with the bare necessities, so you'll have to buy bathroom fittings.
Choosing The Right Brand For Your Bathroom
QS Supplies stocks a wide range of bathroom suites with excellent options for every budget. If you want to keep costs down, we highly recommend buying from Premier. The budget-friendly brand has a stylish collection of modern bathroom suites that are on-trend and affordable, starting at just over £250.
Burlington offers beautiful, mid-price bathroom suites that are perfect for traditional homes. They combine elegant and tasteful design with less-than-you-expect prices, perfect for revamping a classic English bathroom on a budget.
Don't be put off by the slightly higher prices of our Heritage bathroom suites. They are more expensive, but you get your money's worth with exceptional-quality bathroom fittings, timeless traditional style and some stunning freestanding shower baths. They look and feel bespoke without breaking the bank.
Top 3 Premier Picks For Budget Bathrooms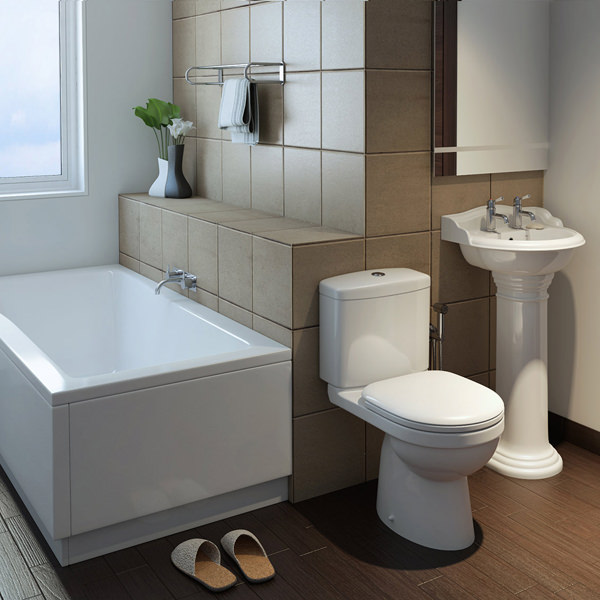 The Premier Verizon is our lowest-price bathroom suite at £253.10, which buys you a full-size bath, toilet and pedestal basin. The clean-and-simple design is a safe and stylish choice for most homes at a purse-friendly price. Just note that the suite does not come with taps.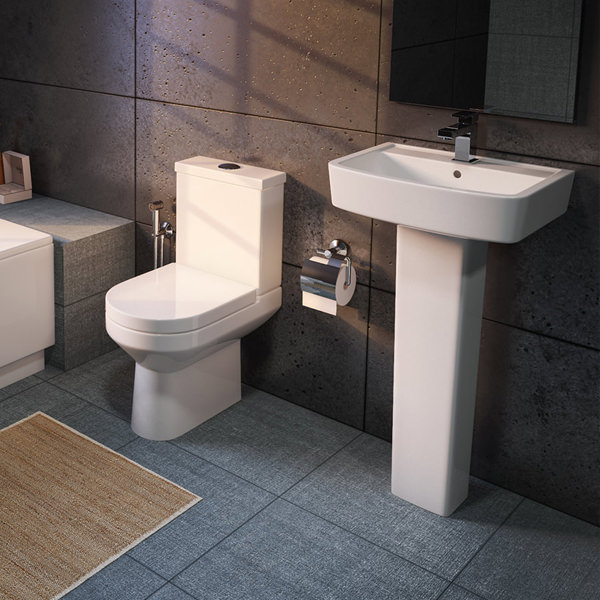 The Premier Modern Vancouver is a modern contemporary bathroom suite for smaller spaces. The sleek white-finish bath, toilet and basin set comes with a five-year guarantee – as does our entire Premier bathroom suites range. The toilet comes fitted with a soft-close seat and dual-flush cistern.
The Premier Bliss Jewel suite is modern and stylish suite with a large bath, basin and toilet. The clean white design makes it a contemporary choice for bigger, family bathrooms, which comes in at just £275.80. Make a note that the suite does not come with a basin or bath fittings.
Beautiful Burlington Options To Transform Your Home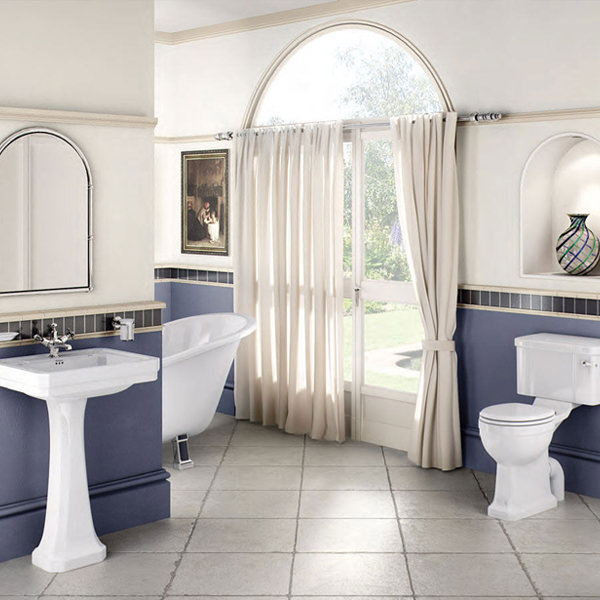 The Burlington Regal bathroom suite is the budget option from our Burlington range of bathroom suites. At just over £850, it features a large basin, a full-size toilet and a slipper bath with chrome feet that's ideal for squeezing into a smaller space.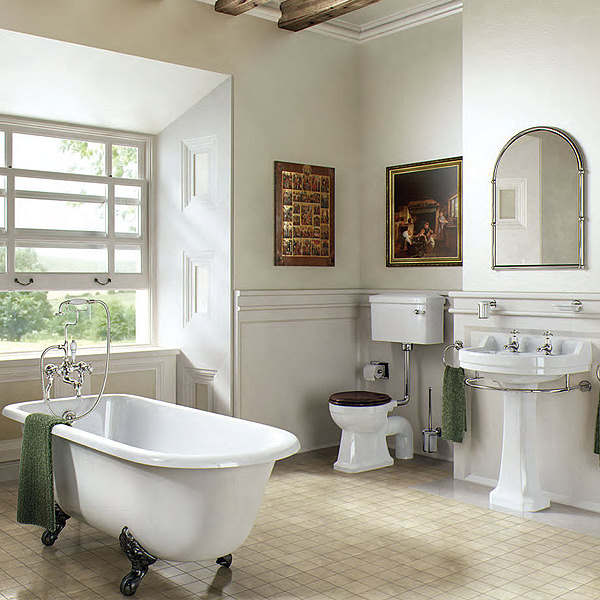 The Burlington Edwardian bathroom suite is brimming with little details of Victorian elegance. It features a large basin with a beautiful chrome-plated towel rail, a low-level toilet with all fittings included and a gorgeous roll-top, freestanding bath with detailed legs.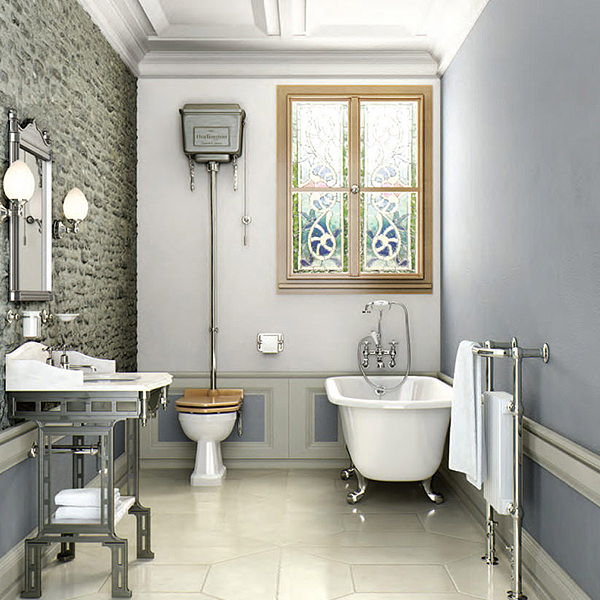 The Burlington Georgian is the traditional bathroom brand's high-end suite. The sink is made of a sublime marble slab with an art deco polished aluminium stand. The old-fashioned cistern has a timeless look, and the understated, stylish freestanding bath complements the rest of the suite.
High-Quality Heritage Suites For A Timeless Bathroom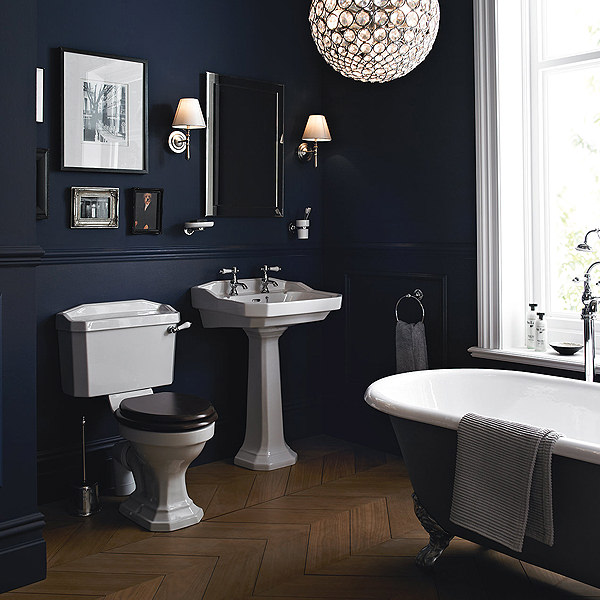 The Heritage Granley suite is your quintessential English bathroom. It comes with an elegant, cast iron, roll-top bath, with a large two-tap basin and lush landscape toilet made of vitreous china, with a walnut seat.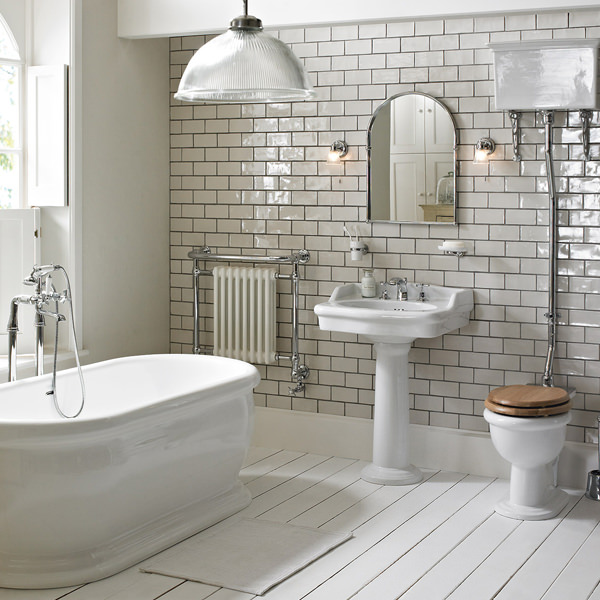 The Heritage Victoria suite manages to combine traditional style with a contemporary 'Wow!' factor thanks to its all-white acrylic, double-ended bath paired with a large basin and classic high-level cistern.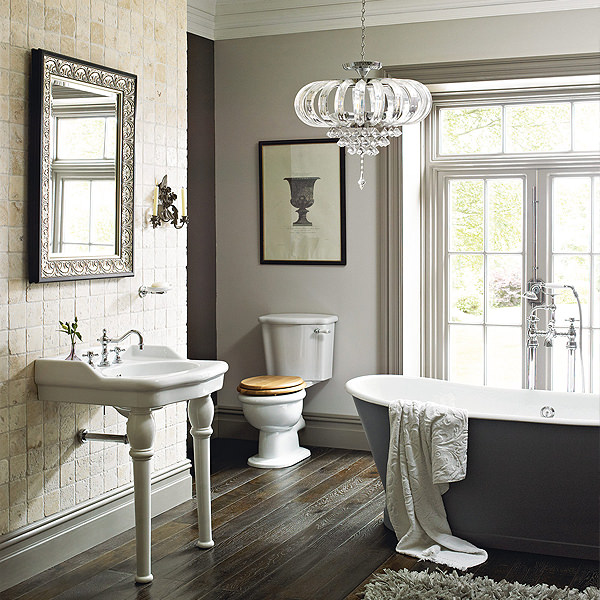 The Heritage Victoria Traditional suite is centred on a sublime cast iron, freestanding, double-ended bath with a deck-mounted shower mixer that hangs over the tub. It's exquisite and elegant, perfect for any English home.
Design Your Bathroom Around The Perfect Suite
Choosing the right bathroom suite is fundamental to having a bathroom you love. So be sure to thoroughly browse our suite range. If your bathroom fittings don't work well with your space, then you may find yourself itching to replace them sooner than your finances had hoped.
Choose your suite wisely, and don't overcrowd the space you have. If you are buying for an en suite or a small bathroom, you don't need to have a bath, and buy a cloakroom suite with a short projection toilet. Browse our wide selection of cloakrooms and find something that'll fit your smaller bathroom space.
Space Saving Products On Offer